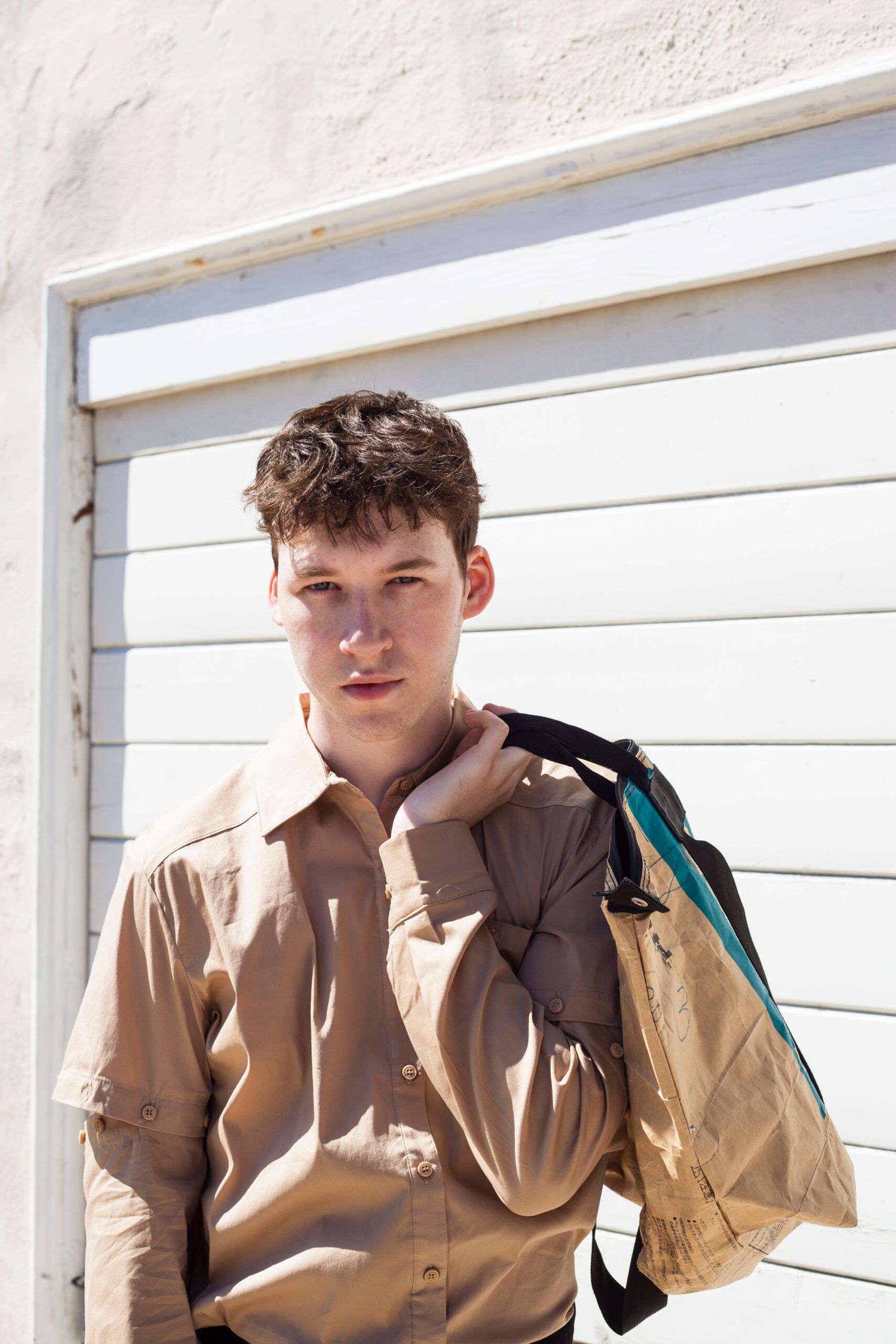 Devin Druid
No stranger to our screens, Devin Druid has taken on roles in all corners of genres across TV and film. Included in this list is the much-acclaimed Netflix teen drama 13 Reasons Why known for its bold portrayal of youth issues and dedicated cult following.
13 Reasons Why's final season and feature film Greyhound have been released, adding to Druid's boundless 2020 screen time, and yet another film The Pale Door out this  month. On an early, lockdown-summer morning within LA, we caught up to talk all things 13RW, the lowdown on upcoming work, and more about the latest string to his bow.
So, the fourth season of 13 Reasons Why came out on Netflix… For those who haven't seen it, what can you tell us about it?
Oh, man. Well, in true fashion, the show is topical and timely and emotional; I think for fans of the show that have been with us since the beginning, it's a continuation of these characters and this story. Hopefully, for everyone watching, it's an ending that leaves everyone satisfied. It's got ups and downs and twists and turns, and mysteries.
The show is renowned for its ups and downs. How much value did you place on a happy ending for this show?
That's a good question. I think it's really hard to please everyone, but I think people know the journey that these characters have been on and I think that the way it plays out is a way that's truthful for these characters. You were talking about the ups and downs, but I think so much of that is due to the fact that people who are really big fans of this show connect with it so deeply because they're empathetic to whatever everyone's going through. At the end of the day, probably the most important thing that fans take away from this show — especially watching it now — is hearing the stories of what these kids are going through and then making that connection and taking those lessons and stories with them in their real lives. I've always had that as a bigger takeaway.
There's obviously a ton of controversy surrounding the themes of 13 Reasons Why. What has it been like to be at the forefront of such a raw, honest, and provocative show over the past few years?
I'm so proud of the work that we've done and the conversations that we've gotten to help be a part of. I mean, as far as I know, this is one of the first and only shows that not only talks about these issues but talks about these issues in the way that it does. For this generation of kids, I think it's amazing that people can sit down and watch it with their parents and use it to start a conversation about what they've been feeling. I get these incredible messages all the time from people saying how much the show has helped them. I feel incredibly proud to have some sort of positive impact on someone. If we help just one person through a struggle, I feel like it's worth it.
Obviously, Season 4 wasn't the toughest season for Tyler, but have there been moments across your time with 13RW when your own mental health has been challenged?
Oh, absolutely. Especially going into Season 2 was tough for me. I wasn't sleeping and I came off an injury before we started the season where I ruptured a disc in my lower spine. I was in a lot of pain and I got home from working 12 hours a day while Tyler was going down that darker storyline. I'm researching all this horrific material that has to do with my character's storyline for that season, you know; the purchasing of guns and violence in schools, and that definitely drained me for a while after Season 2. But you know, we're so lucky [to] have the cast that we have because we're all like the best of friends.
I remember specifically one day; I was kind of down and I just felt exhausted and I wasn't answering my phone because I wasn't in the mood to talk to anyone. We were supposed to go and see Spider-Man: Homecoming; [it] had just come out, and everyone knows that I am the biggest Marvel nerd there is. And not just Marvel. Specifically, Spider-Man has been my favourite fictional character of all time since I was a child. Like, I went to see [director] Sam Raimi's Spider-Man in 2002 in full costume when I was four years old.
Justin [Prentice] had an extra key to my apartment and he came in to check on me, talked to me, and made sure I knew that he was there for me and that everyone was supporting me. Working on this show, we try and take all the messages to heart, you know. It's about putting those words into action and looking out for each other.
You've also got the recently released film Greyhound with Tom Hanks. What can you tell us about that?
Yeah. I can tell you that filming was one of the craziest experiences of my life in Baton Rouge, on a sound stage wearing World War II naval get-up. Tom is just a wonderful, wonderful human being and a fantastic talent; it was such a privilege to get to watch him and speak to him and learn, especially since he wrote the script too. I'm stoked for it.
You're also in a thriller called The Pale Door coming out this month.
This one was exciting. It's from director Aaron B. Koontz, who is a fantastic human being and was part of an incredible team with Cameron Burns and Keith Lansdale to write the script. It's a western horror film that takes place in the 1600s with a band of cowboys and witches. I read the plotline and I saw 'Cowboys, Witches, Horror'. And I was like, 'That's it, I'm in.' It was so much fun.
Up to here, you've had an incredibly varied career. What roles are you looking to get involved with in the future?
Yeah. So, like I said, I'm the biggest Marvel nerd there is. I'm dying to get in one of those movies. I want to be in The Avengers so bad. It would make my childhood and my current adulthood dreams come true. Like I told you, I wore that costume to that movie when I was four years old. I grew up with a Spider-Man silly-string web shooter and Spider-Man shoes, I've seen all of the MC [Marvel Comics] movies in cinemas three times, midnight release. I'm just such a nerd for them. It would be so fun to get in that.
Would you want to be Spider-Man?
Well, Tom Holland's Spider-Man. [And] as a Spider-Man fan, he's perfect. I could never, ever change that. I need to find a place alongside him, so that we could work together because that would just be a dream. I don't know where I could fit in, but I hope we can find a place… @Sarah Halley Fin @Kevin Feige [laughs]… But also, indie films are, of course, my bread and butter. It's where I started. I'd love just anything that's very cerebral. I like working on projects that really make you think and things that have depth and emotion, and you come out of the viewing a little perplexed. I've always loved that about film and cinema.
I also wanted to chat about life right now. How have you been spending lockdown? Have you taken up any new hobbies?
I have taken up a new hobby. I actually… you're gonna think this is so… out of nowhere. But I bought a table saw and I've been watching a lot of wood-working videos.
I love that.
Yeah, I don't know why. I've always been into it. I remember being like 10, helping my granddad put together a workshop table in his garage. I've always liked working with my hands and I like the idea of getting to craft something and having the gratification of not having to order something and waiting for it to arrive. To be wholly dependent on my own ability to get it done. So, I'm excited to get started with that. I've also been working on a lot of demos and rough drafts of songs.
Are you planning on publishing anything?
Oh man, I have no idea. After Season 2, like I told you earlier, it was kind of rough for me. I remember watching an interview with one of my favourite artists talking about how when they were going through struggles [and] they were turned towards songwriting as a way to manage that. So, then I decided to buy a mini controller and music software and just started pushing buttons and trying to come up with things that articulated how I was feeling. I'm not sure I'm exactly ready for everyone to hear those thoughts and I'm also too much of a perfectionist. If I can come up with a way to articulate exactly what I want to say and also find someone who's talented enough within this medium to help me craft it and make it better than I can — because I have no idea what I'm doing — then perhaps they could see daylight someday. But I don't know.
I guess sometimes with those things it's more the process than the product, right?
Oh, exactly. It's cathartic, you know. Getting the emotions out, being able to focus on something, get my mind to calm down. And then you delete it and throw it in the bin, and it's gone and it's like you've worked through it.
What's coming up in the future for you?
Yeah, I don't know. I think everything is still up in the air and uncertain right now. Right now, I'm just trying to stay safe, keep my family safe and healthy and looking at everything politically happening too. I'm trying to use my platform and my voice to try and amplify and echo the sentiments of activism right now, [and] try to be an ally and do my part with my privilege. I don't know. Maybe it's too soon to be looking to the future.
Featured Image Credits
shirt KINDOM bag SACKITEM
Team Credits
interview by Ellie Jackson
photography Ian Phillips
styling Kimberly Goodnight  
grooming Robert Bryan @ Exclusive Artists

13 Reasons Why season 4 currently streaming on Netflix!
Greyhound currently streaming on Apple TV+!
The Pale Door will be released 21st August on VOD and in select theatres!