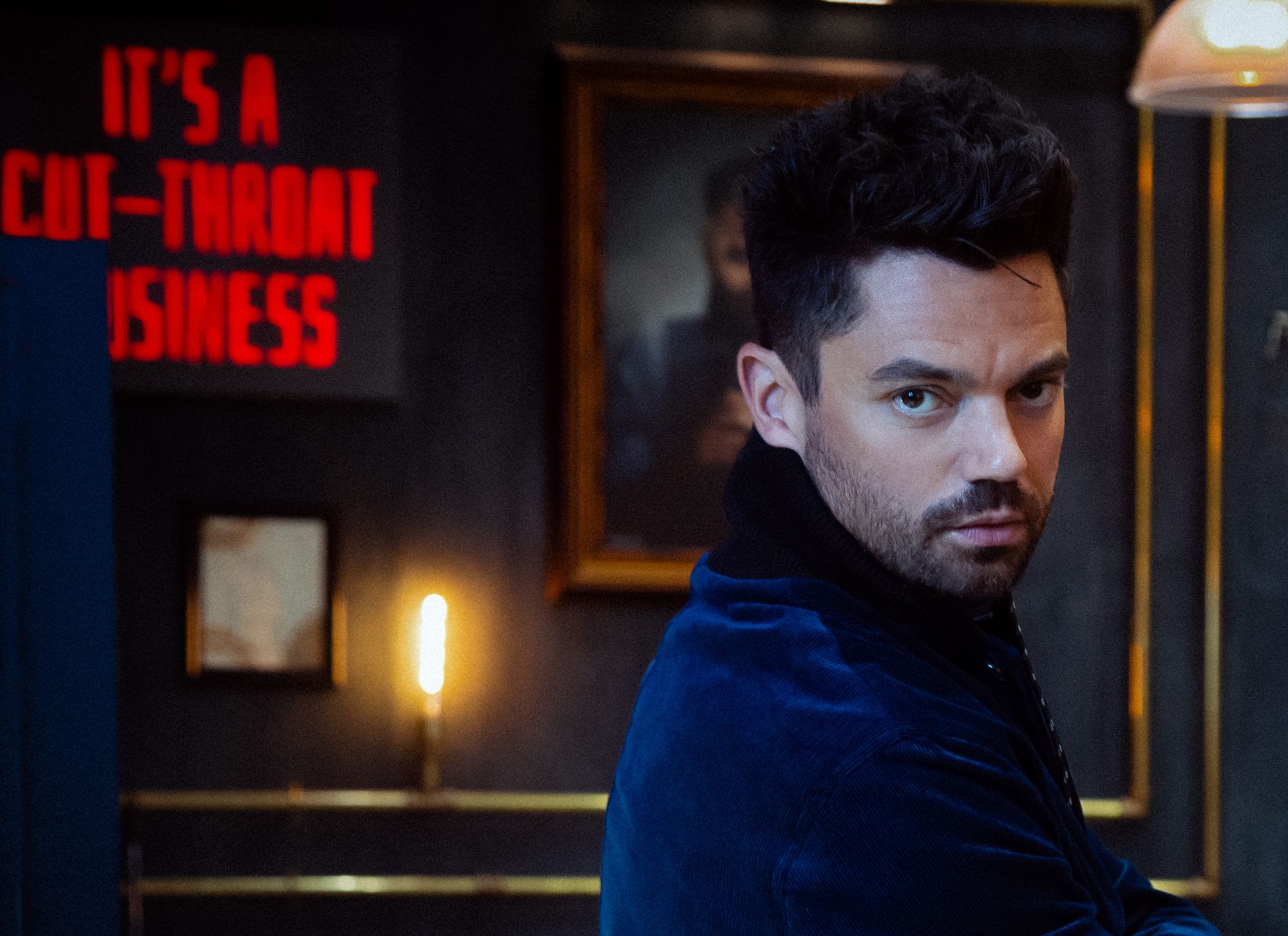 Dominic Cooper
It has been nearly two decades since Dominic Cooper emerged on the scene, dazzling our London stages and conquering our screens in every genre from period drama to comedy to supernatural and now, as the title role in AMC's Preacher.
Here, we talk all things industry from his first gig in the game to acting inspirations and top tips for young emerging actors today.
Preacher, published by DC Comics imprint Vertigo, is now in its fourth season and watched by millions across the globe. How does it feel to be part of such a huge franchise?
It feels like something historic! I am part of a show which really means something to a lot of people who have a fond memory of that comic. It was a frightening proposition at the beginning because I understood what those characters meant to people. There's a certain tradition and a desire to get it right. But it's still changing and it's a credit to the team that it's still creative and relevant – I suppose that's why they update it. With comics the better the illustration, the better your imagination comes to life and the original comics themselves were so graphic they were almost like film scripts! I'm constantly in awe of the size of it and the influence it has had on people and generations.
So, what was it like to shoot?
It was a huge upheaval. It is a very hard show to make in terms of what is required. You're doing extraordinary fight and action sequences and then comedic bits, then gory bits, then intense, heartfelt dramatic scenes! But it was a great privilege and also very exciting. We started in New Orleans, then we moved to Melbourne. Australia gave us what we needed in terms of space, so we introduced many new characters. It is a magical place – the light in the evening, the desert…it's beautiful!
On the show, you play a hard-drinking, chain-smoking preacher from a small town in Texas. How do you prepare for such roles, which I imagine, are vastly different from your natural self?
I think each role is different and you have different material to go on. Some other roles I have played felt closer to home. At the moment I am working in Prague on a new series and I have a lot of access to research and technology. But with something like Preacher, the first series was a prequel to the comics so the comics couldn't help me at that point. It was very, very challenging. Often it could become frustrating – or you would feel slightly anxious that your performance was monosyllabic or boring. But it is very important to cling onto a solid centre. Unlike many others, I never felt that I got this, I was always searching. But maybe that is the kind of person the Preacher is – this sort of lost soul. Always searching.
You got your first big break in Nicholas Hytner's film adaptation of Alan Bennett's The History Boys. With Hytner, now Artistic Director at the Bridge Theatre, any more plans to tread the boards?
Yeah, absolutely! I am always talking to Nick. Theatre is where it all started and it's where I feel very comfortable. Everything happens in that space of time and in that moment on stage. The speed in which your thought process works with each audience being different every night – it's something you can't compare to anything else. It's where my love for this first came from. You have time to really rehearse and get to the heart of what you're trying to portray in a supportive environment. Also, the relevance theatre has to society! Well, it's something you should always go back and keep doing.
As someone who has successfully captured the imagination of both the UK and the USA, have you noticed any key differences between the industry over here and over the pond?
Most people you come across work extraordinary hard and give up a certain amount of their freedom and lifestyle to this profession. It's one where you travel a lot and you're often away from home and family. Ultimately some people get out of it for that reason, but most people enjoy the artistic process and what comes out of it. There are some differences, but I don't think it is to do with the place. I couldn't really define it really…oh, apart from the fact that there are loads more comestibles on set! You get a digestive biscuit in England, whereas you get three tubs of M&Ms in America – the choice is yours!
I have been trying to find a theme in the work you do. But to be honest you've done everything from Shakespeare to Sense & Sensibility to Marvel to Mamma Mia! Do you have a favourite genre to work in?
In some ways, you gravitate towards projects, but you do the work that attracts and excites you. The worst thing is to become complacent or lazy or not be exhilarated by the prospect of performing that part or being in a production that you care about. I think that's the thing which keeps yourself sane. These projects take up a huge chunk of time and your life – sometimes years – so you must be careful of the choices you make. You owe that to everyone working on a project who is committed and devoting their time and life to it too.
Have you noticed any key changes in the dynamic of the industry especially in relation to diversity and representation? I know you played Uday Hussein in The Devil's Double and Mehmed in Dracula Untold… I don't know if that would happen now?
Yes, that was very questionable and a very good point. An Iraqi or a Turkish actor should play those roles. I believe that everyone should be looked at for all parts and I love what has been happening the last year or so. They're small steps but wonderful ones in terms of changing the mindset. It is happening – and thank goodness – at last it is. Before a lot of people were not being noticed for one reason or another and not everyone had the ability to show their talents or get to the work. We still have got a long way to go, but it's great to see change happening. Everyone is now noticing how ludicrous things were, and I think people are working hard on change. When I did those roles, I don't remember anyone really questioning it at the time, or even myself questioning it but ultimately, I should have. But everything is so exciting now and so much better. More diversity means more depth! Different characters, different people, different vision! It opens everything up.
Now you've worked with some huge stars. The list is endless. Who has been your favourite actor to work with? Perhaps someone who has inspired you?
I watched Richard Griffiths perform every night for years when I was in The History Boys. Watching him play that role, it was magnetic, and a real learning curve for us as a group of young actors. Then there are people like Meryl Streep and Colin Firth who teach you about work ethic. How professional they constantly are is a lesson – the work and your behaviour come first. Your responsibility to others not to come late and not to put yourself first. I've been very fortunate to work with wonderful people. Being on stage with Helen Mirren – magical! You take a bit from each person and thankfully I had that going into theatre. It's respect for others, understanding collaboration and that everyone is as important as each other – a cog in the machine. And that keeps you grounded and stops you behaving in a certain way, like those people who have just been thrown into stardom or success. Their behaviour can be abhorrent. They don't know how lucky they are for a start and they haven't learnt from the best. It's a career of ups and downs and you need to understand how to cope with those. Your reputation precedes you – it's a small industry.
Fantastic advice! Finally, are you allowed to reveal what's next for you?
Yes! I am playing an English spy in the '60s before the Berlin Wall went up. I have just started! I am learning a lot about that time and sadly it's very relevant to today. When watching and reflecting on decisions, the past should influence those decisions and we should never forget. It's called Spy City and is written by William Boyd. I always loved his books so I'm really glad it's finally happening – there was a point when we thought it might not, so it's very exciting!
Team Credits
interview by Sarah Agha
photography Yoshitaka Kono
styling Kieron Watts 
grooming Larry King @ Streeters
location Chamber 88 @ Jack the Clipper, London
The Final Season of Preacher is currently airing every Sunday on AMC!