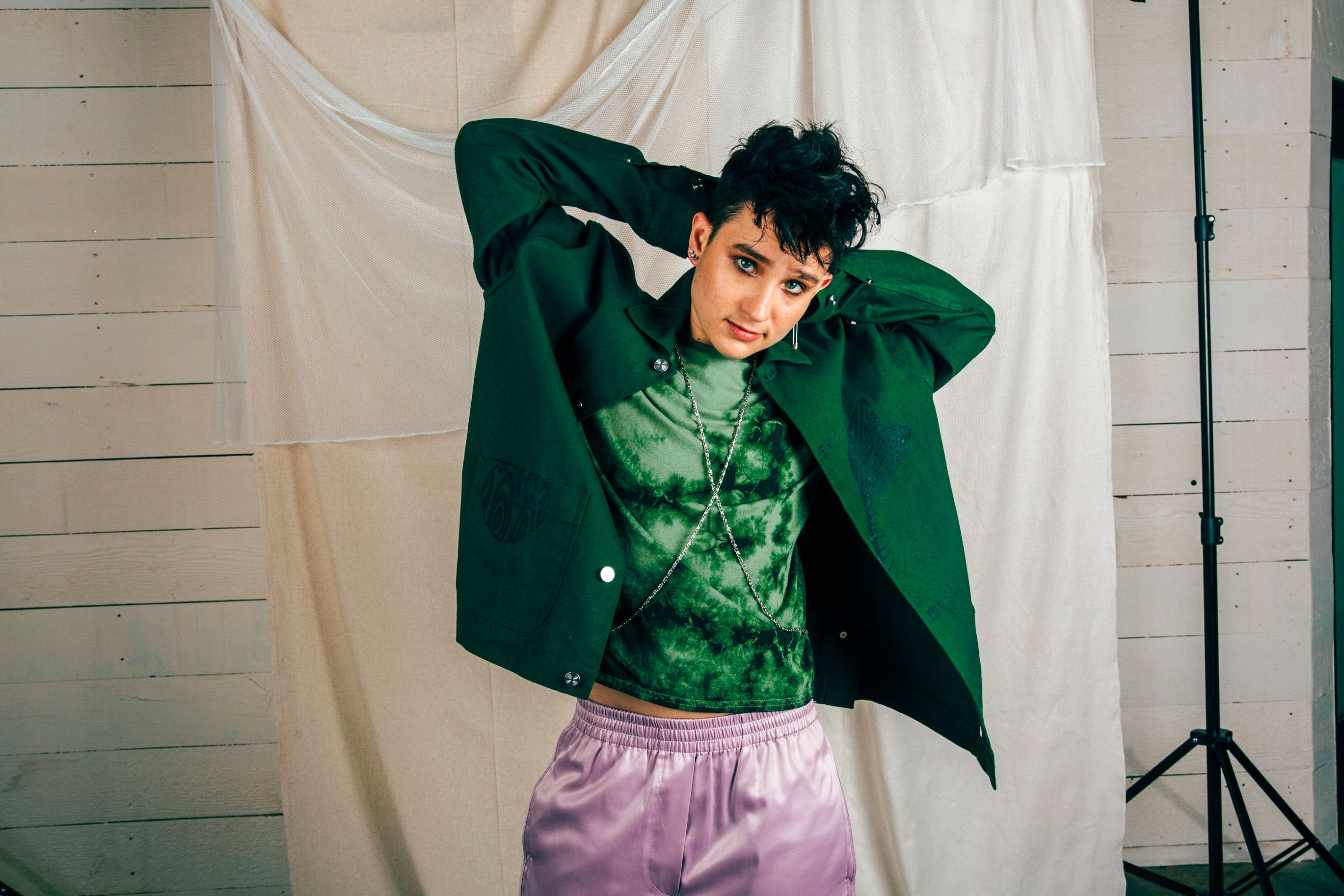 Bex Taylor-Klaus
A Georgia-native, Bex Taylor-Klaus was active in extracurriculars growing up. In the third grade, they started their acting training with Shakespeare in an after-school program.
Later in high school, they not only played on the varsity softball team, but they also performed in the school's Improv Troupe which led them to start a junior high acting troupe to train young actors along with their friends.
While finishing high school, Taylor-Klaus headed to Hollywood eager to begin their acting career, something that was steady and consistent throughout their life. They wanted the real deal and they got it. One of their first roles was playing a series regular named Bullet on the show The Killing. It could be considered Taylor-Klaus's big break as it led to all eyes being on them as the fresh new talent. So much so that creative executives in Hollywood began writing roles with Taylor-Klaus in mind.
Following The Killing, Taylor-Klaus played recurring characters on shows like Arrow, House of Lies, and The Social Experiment. In 2015, Taylor-Klaus landed the role of Audrey Jensen on MTV's hit show, Scream: The TV Series. They also secured another main role on the show Voltron Legendary Defender Motion Comic, an ode to the 1980's icon cartoon series and action figures, where they voiced the character Pidge.
In 2018, Taylor-Klaus played Hannah on Netflix's raved original movie, Dumplin'. Hannah is hilarious and rebellious as the lead character's best friend. Taylor-Klaus then starred in the horror films Hellfest and Discarnate that same year, which they found quite fun and therapeutic as they were just getting out of a relationship and in need of something to distract them.
As someone who identifies as gender non-binary, Taylor-Klaus wants to bring more awareness to the LGBTQIA+ community. They advocate for more diverse and inclusive representations in Hollywood and work closely with LGBTQIA+ organizations like GLAAD. Taylor-Klaus is also vocal about animal adoption and rescue as well as environmental justice.
Speaking with Taylor-Klaus was very refreshing. They spoke candidly and with a lot of vulnerability, which can be rare these days. Recently, they wrapped filming Blackbird, a film alongside Susan Sarandon, Kate Winslet, Mia Wasikowska, Sam Neill, Rainn Wilson, and Lindsay Duncan. They also star on the latest season of the hit Netflix series, 13 Reasons Why, as well as the new and upcoming show, Deputy.
We spoke about their upcoming projects, the importance of representation in Hollywood, and their favorite books.
Your first professional role, which was on the show The Killing, gained you a cult following for playing a gender-fluid lesbian. How does it feel to make such a big impact on the get-go?
Absolutely surreal. Honestly, it was nothing that I expected or anticipated.
As a member of the LGBTQIA+ community, you've done a lot to advocate for more diverse and inclusive representations in film and TV. As you move forward, what are your goals in furthering that movement?
Basically, I don't want anyone to ever feel like they don't see themselves. It's a really painful thing to grow up and have to search and just wade through content, trying in vain to find someone who looks or feels like you. That shouldn't be happening. We have a plethora of media at our fingertips. The fact that some people still can't find themselves is stupid.
Completely agree. And I think it's beautiful what you're doing. I see the diversity in the roles that you play and it's incredible.
Thank you! I love being able to provide some people with representation, but there's so much more. And there are so many other actors who haven't had their shot yet who are just the ideal opportunity for someone to see themselves represented.
How do you use fashion to express yourself?
I spent a lot of time wearing what I thought I was supposed to wear and was told that this is what would look good…this is what will make you desirable. And I'm completely and utterly done with that. I want to wear what makes me happy. I want to wear what I actually think looks good and feels good. And if that still happens to be aesthetically pleasing to other people, then okay, that's an awesome bonus. These days it's all about what's aesthetically pleasing for me. It's all about self-love and freedom.
Scream: The TV Series has a massive cult following as well. Were you a fan of the original movies before you joined the cast?
Yeah, I was a fan of the original movies, though, not like an obsessive fan. I'm a fan of when people mix genres, so having that clear merge – a beautiful merge of comedy and horror – was fun. And it felt like the people who were making it were trying to have fun.
Did you know who the killer was? Or were you surprised like the rest of us? 
Around episode three of season one, they told the original killer that they were the killer and they were preparing a killer bible. Episode seven, they re-evaluated and they switch the original killers to be two different killers. One killer remained the same, the killer that we all know and love from season one, but the accomplice shifted. And this is all season one. Season two comes around and we are told that everything that we did in season one in preparing for the second killer to be who it was was no longer in effect and it was being switched again. We thought we knew but we didn't.
Who do you play in Blackbird, and how true is it to the original Danish film, Silent Heart?
I still haven't seen the original film, Silent Heart, to be quite honest. I made the decision when filming that I was going to go in blind, and most of us did. I believe the only person who watched the original film before filming was Anson [Boon]. So, I am not sure how different it's going to be. I play the role of Chris who is Anna's partner. Chris loves Anna, but Chris isn't always the most reliable person. This is the first time that Chris is really choosing to stay and be there through the hard times.
You've recently joined the cast of 13 Reasons Why, which has a big following as well. What was it like going into that show and that story?
So Tommy Dorfman, who plays Ryan Shaver, and I have mutual family members and grew up together in Atlanta. Before all this, he and I had a conversation about how scared I was to take the job. Because in high school, the book 13 Reasons Why meant a lot. I would not be here had I not read that book. If I watched the show at the same time, I don't know what would have happened. When I did watch the show, it was really triggering for me. Season one was just really, really hard for me to get through and I almost relapsed. I didn't, but it was hard. It was a very tough decision for me. I had to have a meaningful conversation with Tommy to figure out everyone's motivation, what would be promised in season three, what would be changing and what would be the focus. I had a hard decision to make. I do believe that 13 Reasons Why is trying to help and is trying to start a conversation. I think that they didn't really know how to do that as safely as possible in season one. I believe in redemption and I believe in giving people and shows a second chance. For me, season three is the second chance for them to do what they've been trying to do since season one and really start conversations and get people the help they need. I'm telling everyone reaching out to me saying 'I can't watch the show, but I want to watch it for you,' that if it's not safe for you to watch, that's okay. You don't have to put yourself in danger. I'm sure someone will put up a compilation of my scenes eventually if you really want to see what I've done but taking care of your mental health is always the most important thing. And that's what I think 13 Reasons Why is trying to say.
They got rid of some scenes from season one…
They're getting rid of the really graphic scenes. That's what triggered me really hardcore. I had to stop watching for several weeks. I had to turn off the TV and I couldn't finish the episode for several weeks in order to make sure that I didn't relapse myself. I'm really lucky. I've been in therapy with various therapists and treatments my entire life. So, I know tricks and tools to protect myself. I think the thing that was missing from season one was the tools for kids who don't have the experience that I've had to be able to get the support they need and still watch the show. It was really difficult for me. I'm going to be completely honest; I still haven't watched season two and I'm not sure I'm going to. That's okay. I'm gonna take care of my mental health.
So, is season three completely removed from season one and two?
It's still going to be dealing with the aftermath of season one and two. I mean, they're high school kids, and they've been through a lot. But, yes, it is. It's focusing on death and who killed Bryce Walker. Hannah's story is over. It's time for more stories and there's been a lot going on behind Hannah's story.
What other books did you read in high school that you resonated with a lot?
I forget the title, but it's to do with mental health and the cover has a human head with a map inside.
It's Kind of a Funny Story, right?
Yes! That was a great story. It was so, so good!
Deputy is a project that's different than anything you've done before. Are you excited, and what have you done to prepare for this role?
I always wanted to be a police officer or soldier, and I decided to be an actor because I've always wanted to be many things in life. I'm really, really excited about it. Right now is a really tough time for everyone, especially the marginalized communities. A lot of the marginalized communities don't feel safe around officers or cops, and given the experiences that these communities have had, that's really quite fair to have that fear. Doesn't mean it's right, but it is, you know? There's a lot of bad out there and I've seen it. It's different to know it's happening and seeing it first-hand. You can be as loud as you want about the concept but seeing it in person just ignites something in you. I think something I'm really excited for in this job is playing someone in the law enforcement who actually wants to do good and wants to take on a broken system by storm but has to do it methodically. We've got a new sheriff in town, and our new sheriff cares about the people. It's gonna be really interesting to see what plays out.
Team Credits
interview by Naureen Nashid
photography Emily Malan
styling Tatiana Isshac
hair Bryan Gaw
makeup Wendy Martinez
casting + production Angeliki Sofronas
location L.A. Roxx Showroom, Los Angeles
13 Reasons Why Season 3 is now streaming on Netflix!