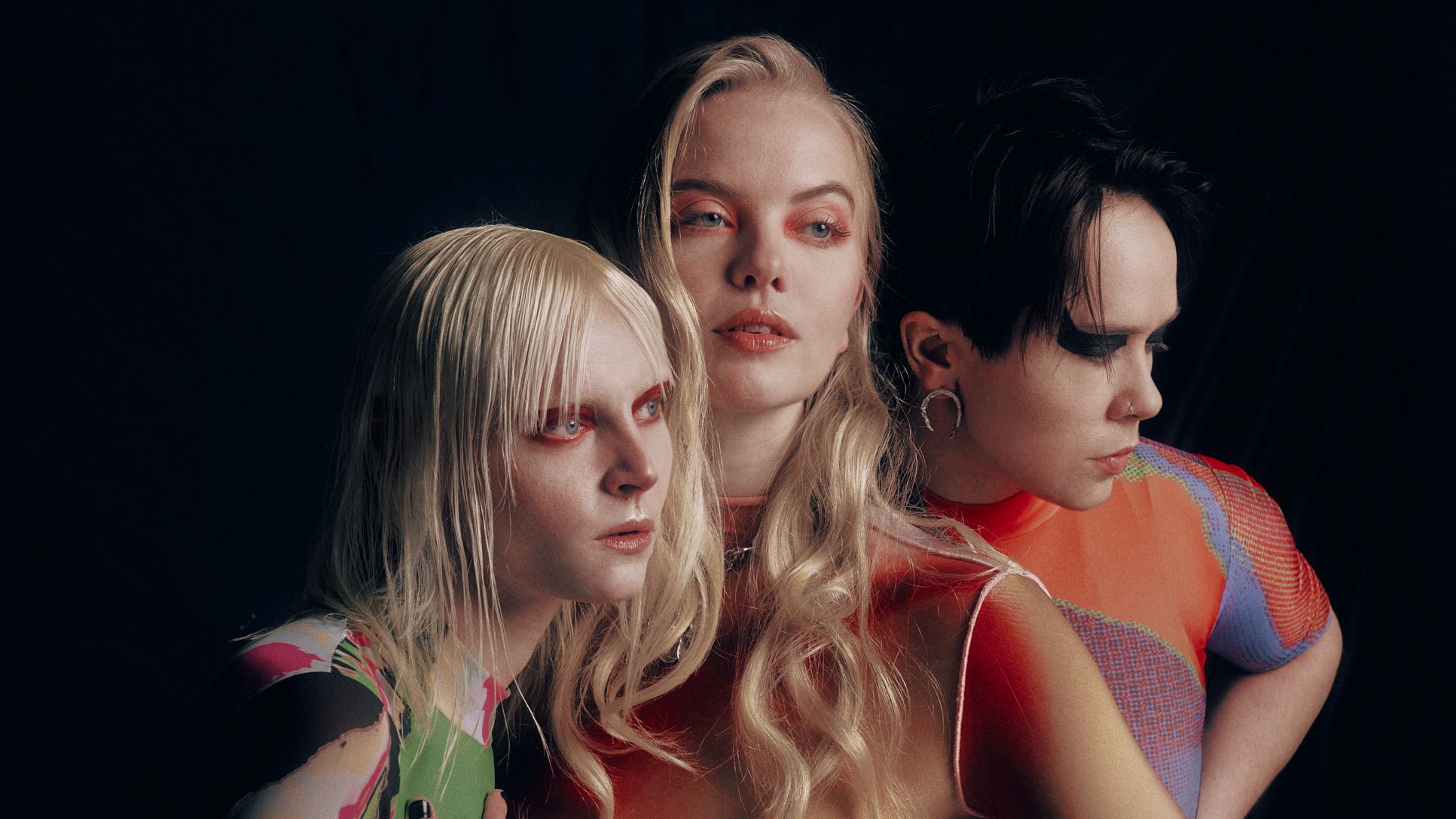 Dream Wife
The three members of British punk-rock band Dream Wife have never left room in their music for misinterpretation. Across their first two albums, the trio—comprised of Rakel Mjöll, Alice Go, and Bella Podpadec—have tackled topics ranging from capitalism to power imbalances to gender fluidity, with candor and raw frustration ever-present in Mjöll's powerful vocals. With the release of their third album, Social Lubrication, the band furthers the heart-pumping, conversation-driving tracks that have become their signature. 
"Be attractive but don't bank on it" warns Mjöll on the album's title track, "Your womb is a ticking time bomb." Featuring crackling, high-octane production by Go and a slew of eye-catching, blood-red visuals, Social Lubrication is nothing short of explosive. Also vital to the album and Dream Wife's sound is an unabashed sense of sexual liberation, which has earned the band legions of fans (from standout track "Honestly": "I will give you my undivided attеntion / Other temptations don't evеn compare to this view"). The arrival of the album marks a triumphant post-pandemic return for the trio, as well as a new confidence: on opener "Kick In The Teeth," Mjöll also declares: "I spent so much of this youth questioning my value / Lolita's all grown up now, who knew."
Having cited their onstage shows as being crucial to the experience of their music, Dream Wife have already begun touring the songs of Social Lubrication in the first of a series of dates across Europe and the U.S. And if a new album wasn't enough, they are already feeding their fans more with their new single "Love You More" ahead of their tour in the UK and Ireland later this fall.
1883 catches up with Alice Go and Rakel Mjöll to discuss the inspirations behind their new music, their onstage experiences, and much more.
Congrats on the album release! As you began work on this album, what did you want to accomplish with this new batch of songs and this new chapter for your band?
Alice Go: We hadn't released a record since the pandemic happened. We were trying to write throughout that period of time, and we ended up just writing a lot of very melancholy bangers. I think when we came back to playing live shows again, it was like we had that realization, "Oh, this is what it's all about." Certainly going forward in the writing process for the third record, it was suddenly like we wanted to write these songs that are meant to be played live. It was all about this celebration of the live show and our live sound. So we had quite a set intention from quite early on. I think the form that took was, we had to write the songs, but the live shows gave us energy again, and that set us on track for what this record was going to be all about, sonically.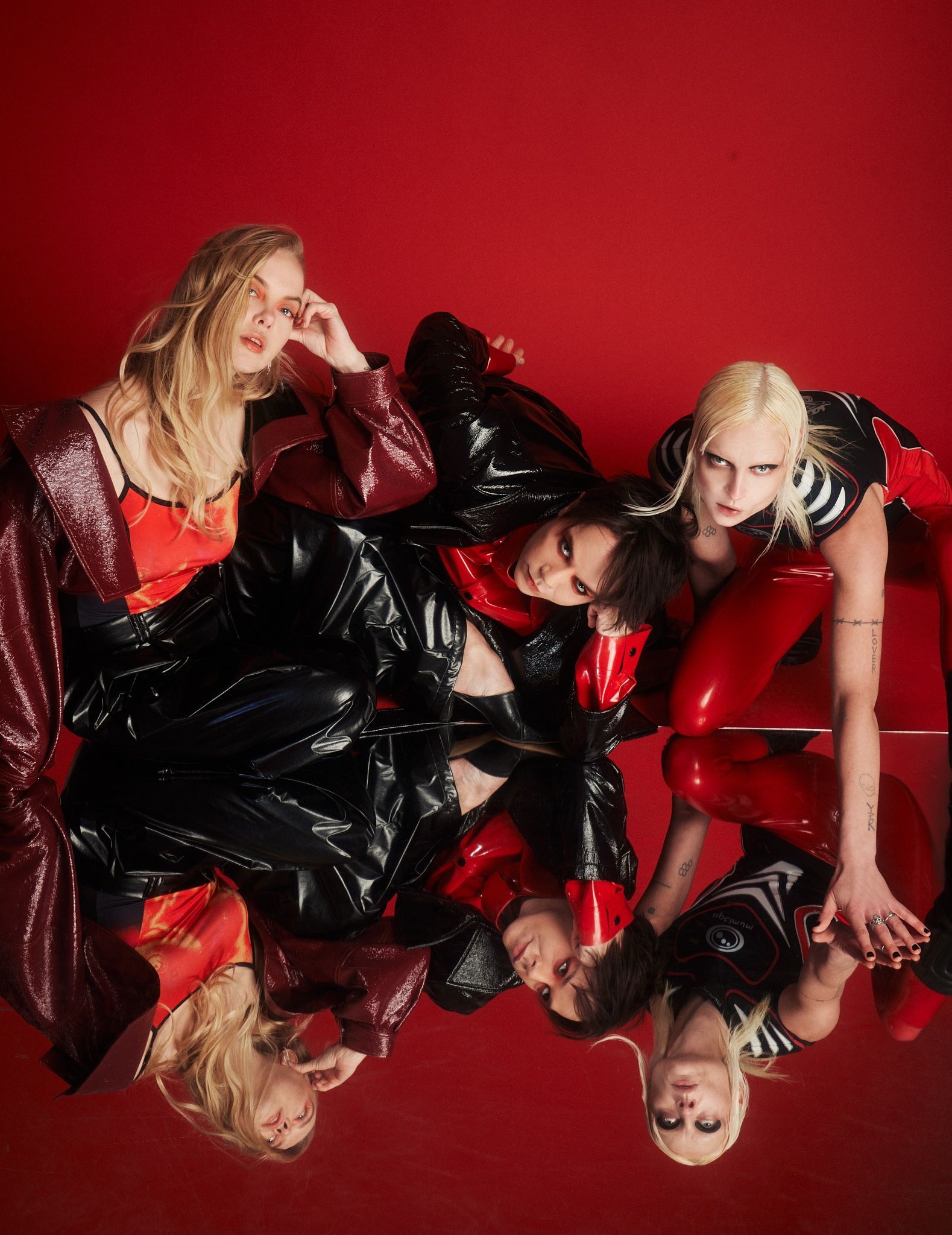 When it comes to your lyrics, where do you get the inspiration for the topics you want to address in your music? Do conversations amongst yourselves typically inform what you write about next? 
Rakel Mjöll: I write the lyrics, but they're very much written from the perspective of the band rather than an individual. It is conversations between me, Alice, and Bella, and our community and our friend groups and experiences. A lot of these songs were written during festival season, where you were just thrown back in with the beautiful community that is live music, and having quite euphoric experiences and also questioning some of the structures of power that are still in place in the music community. There's a song like "Mascara," that is pretty much a love letter to living in London and the time that we are spending here, being in the present moment and the mundane but already feeling nostalgic for it. That's what I really wanted to capture, and we really did it, so that song is a bit melancholic. It's feeling nostalgic for the present moment, and taking it in, but also already seeing it as the past. 
Then there are songs with lyrics, for example, there's a song like "Curious," which we call the bisexual, polyamorous anthem, and that is more written from Bella's perspective. They are, you know, a non-binary bisexual.. what's the word? A polyamorous person. So that is also written from Bella's viewpoint, and it's sort of these conversations that we're having. For example, in "Curious," it's, you know, "I have nothing to wear to the sex party." This was a conversation that we were having, and the recordings were like, "I don't have any tough gear, I don't have any chains, can I borrow your chains? You got any silks? They don't allow cotton underwear. I think we have to have some different types of underwear." 
I guess that's like the conversations that you're having around you. God, I love living in the city. It is very much about the experience you are having with your community and your friend groups, and the conversations that we're having. 
You both have spoken about how important that live experience is — being able to play a show in person and be part of a community. How would you describe a Dream Wife show to someone who has never attended one?
AG: We're a band that doesn't use any playback. It's all totally live, and it's a liberating way to play together because anything can happen. I think a Dream Wife show is a kind of beautiful chaos, the energy in the room. It's the people that come out to see us as well, it's a two-way conversation you're having, and we like to embrace everyone in the room and celebrate the moment all together in that solidarity. It's always really sweet when you hear people talking after the show, and they just made friends in the crowd. This sense of community at our shows a lot of the time is present. Just expect to sweat a lot, scream a lot, get in the mosh pit, and have a really great time.
RM: We do very much address our crowds when it comes to just looking at one another. Let short people to the front! It's important to realize that you're part of a wider community than just a singular experience. That makes festivals and shows more fun, when you're a bunch of strangers in a room, and hopefully, by the end of the night, you won't be. I think that's something really important. The best compliments that we've ever received have been, "I found my bandmates at a Dream Wife show," or "I met my best friends during the 'bad bitches to the front' part." I think that's by far the best compliment you could ever get. 
AG: But then also with that, we've also had experiences where our shows are targeted because it is often a young and queer group of people that come to our shows. That's also something you have to be aware of as any artist. When it comes to shows, we have security briefings. We speak to everyone, being like, "You have to be aware of this," and that's a terrible thing as well. There's only so much you can do, both within the security reasons and protocols with the venue and on stage, yourself and your team. That's another important thing that we try to discuss during our live shows, too, that it's just so important to look at one another, because we're all here to have a good time. We all want to have an experience, and to look out for one another is vital.
You've never been afraid to be political in your music. Has the importance of being outspoken taken on a new weight as your platform has broadened?
AG: Rakel is an amazing poet in this way that she can bring in different strands of current conversations happening around us in our community and between ourselves. That's something, lyrically, where that approach hasn't changed in terms of the statements that are being made in the songs. I think it's really important and really amazing that we've toured the world, yet it's still this thing of lyrically coming back to and addressing issues within our direct community in London. That's something that is still very prevalent in this new set of material, as it was on our first album. It's down to the artistry of Rakel to be able to weave in these different strands and keep it real. [laughs] Keep it rooted in community and in what matters to us, in London and on an individual level.
RM: You can only really speak from your community, from your point of view, within your community or your bubble or what's happening around you. If you're engaged in your community or neighborhood, it's important to start there. A song like "Bleach," for example. "Bleach" is not really a song, it's a statement. 
On our first album, there's a song called "Somebody." That was a bit of a scary song to release at the time, because it was so personal and it was about gender-based violence. It was about sexual assault. It was about being judged for the body that you inhabit rather than the person that you are. When we went on tour with that song, at the time it felt very personal, but the beauty of making any kind of art is that as soon as it's out, it's not yours anymore. If the song has enough fluidity in it, and it's open to the context around it, it can hopefully weave its way into other people's stories and dialogues, and help them or make them feel more empowered, whatever emotion they are going through at that time. 
When we started touring our first album and started playing "Somebody" live, that's when we felt the impact. It wasn't just directed towards gender-based violence. We had a lot of people that were trans that had it tattooed on them: "I'm not my body, I'm somebody," which is the repeated chorus in that song. We had people that were blind and disabled, that were just telling us how much that song meant to them. "Do not see my disability, see me for who I am." It was so interesting that it just had so many layers to it, and it made me care more and more about songs that seemed a bit scary to release at the time. Those are the songs that carry the heaviest punch, and hopefully can be some kind of vehicle for when you need that. 
A song like "Leech" is similar. It is a critique on power, not just within the music industry, but within any industry. There are a lot of topics in that song. It's about violence, and addressing that both hidden and in workplaces. I think when you write songs that feel scary to release, then you know you're doing something good there. You're on the right track if it feels a bit too scary.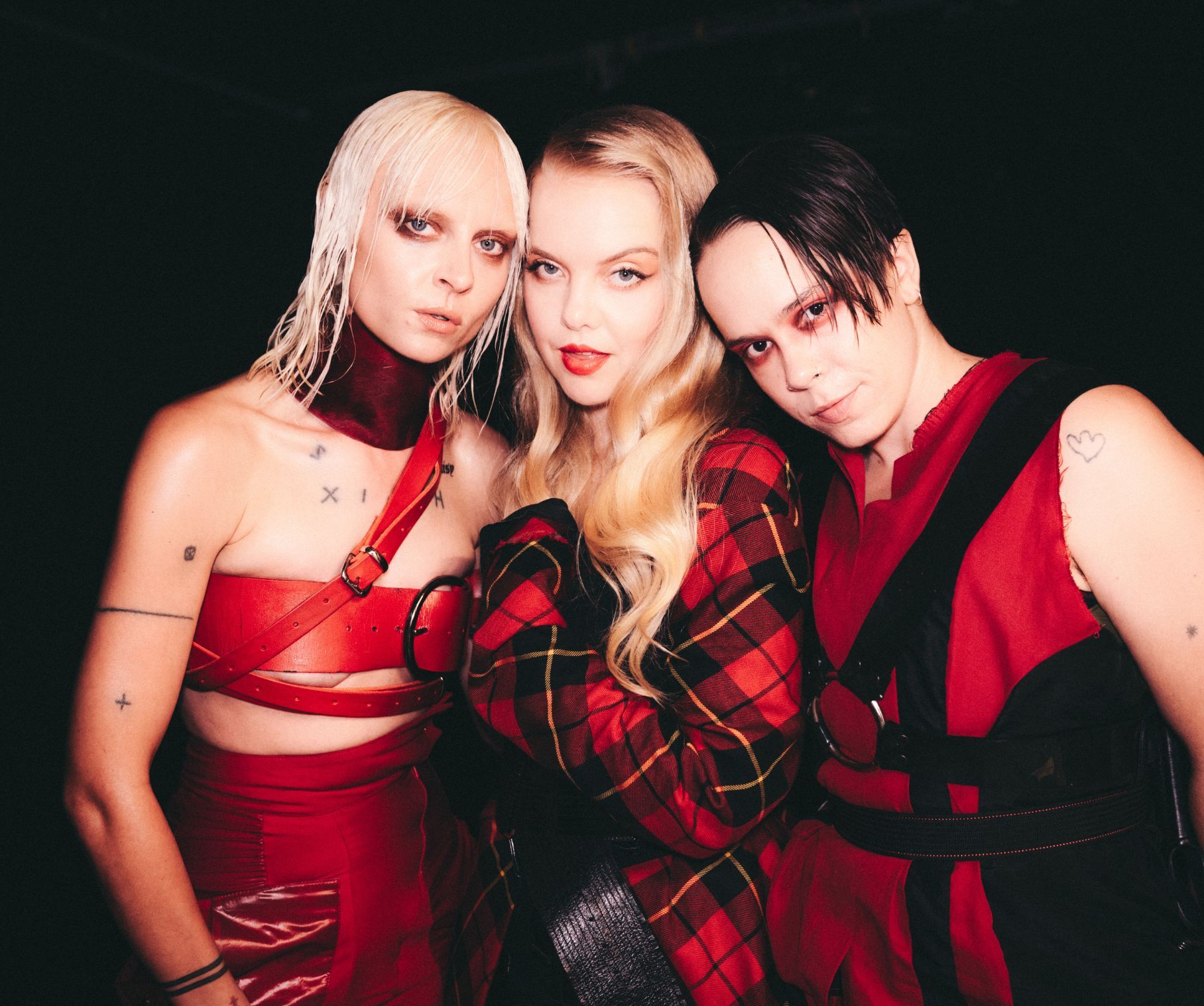 Of the songs on this album, which do you personally feel that you're proudest of and is most representative of your growth as a band?
RM: Well, I'd say the whole album. Alice, she produced it, and I'd say that is a pretty big growth part of this band. It feels like control of your own sound.
AG: Yeah, absolutely. It's like choosing your favorite baby, to choose individual songs. The fact that we can have the juxtaposition of a song like "Honestly," and then also like a song like "I Want You," which really harks back to our first album. It's got these threads running through, where it's a Dream Wife album through and through. I think the boldness in the range that we put forward on this record, yet it's still just dealing with these primary core elements of our live show… like Rakel said, it's a step forward in confidence about what we are, what we're about, and how we're going to say it on this record. I'm so proud of that.
RM: There's a song called "I Want You," which is, I think, under two minutes, and it's just a horny little minx. But with consent, which is always very important on our songs, too! Someone wrote, "Why does Dream Wife always have to have one song on the record that is about making out?" [laughs] There's another one called "So When You Gonna…?" 
AG: "So, are you gonna kiss me?" 
RM: We have to have these songs, about getting down and dirty, and about how you are the one who's starting that fire and initiating. "So, when are you gonna kiss me?" "Hey, let's make out in this car." In the song "Mascara," there's a lyric that me and Alice are obsessed with, in a Blondie song. What is the lyric again?
AG: It's in that song "Picture This" by Blondie, and it's, "I will give you my finest hour/The one I spent watching you shower." It's just that whole idea of ownership of the female gaze, and just not shying away from addressing that. Definitely, that line in "Mascara" is reminiscent of that.
RM: But also, a song like "I Want You," it is that line, just taking ownership of the female gaze and that straight-up apologeticness. It just instantly turns you on because you're not playing, you're not positioning yourself in some kind of role. You're just asking for what you want, and if that person likes that too, and if there's consent there. 
With "Mascara," there's a line that says, "I'll romanticize the outlines of your spine as you lie on the tatami mat with your head between my thighs." It was quite a funny thing when I wrote that line with the Blondie line, trying to capture that kind of gaze. I remember we played it in our practice space, and Alice was like, "Excuse me, what did you say? Do you mind turning up your microphone?" 
AG: I was like, "Wow." 
RM: You were like, "Yes, like the Blondie song." It's a similar kind of gaze. "Honestly" is literally just an orgasm, the whole song. And that was important for us, it was important to have one track that was just like an orgasm on the album… then the other tracks are like, 360 race-car [laughs].
Interview Juliana Ogarrio