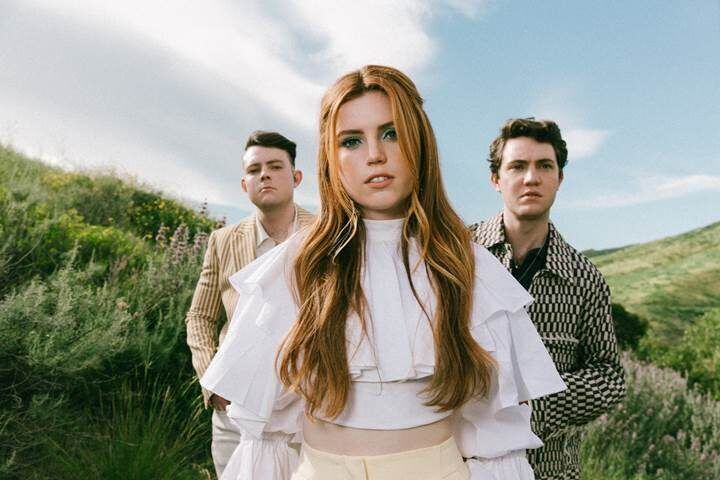 Echosmith
Multi-platinum alt-pop trio Echosmith showcase a mature sonic shift with their latest summery indie production 
Hang Around
, which strips back on the shimmer of the pop sonics to deliver something breezier and hypnotic.
Following the success of their latest single, the act have also announced The Hang Around Tour with special guests Phoebe Ryan and Band of Silver, which is set to be 25-date journey of uplifting live shows kicking off this October.
In conversation with 1883, the band delve into the inspiration behind their tender yet joyous track, how it feels to have their single Cool Kids, from nine years ago go viral on social media, what to expect from their upcoming tour and much more. 
What is the message/inspiration behind Hang Around. How does this track mark Echosmith's artistic evolution or growth?  
Noah: I appreciate that question because it's something we've talked a ton about. Hang Around captures a somewhat simple emotion, caring so much to be around the one who feels heaven sent in our lives. I think the beauty of love is the simplicity it can bring while also carrying a beautiful kind of depth. Our hope was to create a song that sonically and lyrically captured both of those realities. We're in the stage of our careers where we're creating exactly what we want to, with each step being as intentional as possible.  
Your track Cool Kids seems to be resonating with younger generations recently. How does that make you feel?  
Sydney: It's been really inspiring to see how many people are still relating to Cool Kids because I personally still relate to it so much. We released this song 9 years ago and it's been interesting to see how I've grown with it. In some ways, I'm way more confident than I was at 16 but in other ways I'm still really learning what it means to be me and that's been quite the journey. I find it really comforting to know how many other people relate to this song because it really does remind me that I've never been alone in that desire to fit in and ultimately accept who I am. 
The TikTok trend based on Cool Kids is focused on glow ups. So going by the caption" If only X-year old me could see me now," how would a younger Echosmith react to you now and what advice would you give your younger selves?
Sydney: This feels like such an important question because it leaves room for some much-needed reflection. A younger Echosmith would truly be shocked that the songs they wrote in their bedrooms in Toluca Lake, CA would be a part of so many other people's stories across the world. A younger Echosmith would also be really proud of the people we are today, aside from the music career that we're so grateful for. We've all really grown up since 2013 and I think we would be proud of the way we aim to be the best versions of ourselves and live purposefully, no matter what season we're in. 
I would tell younger Sydney that she can slow down a little bit and trust in the process. Hard work is super important but giving yourself room to breathe and take care of your physical and mental health is even more important. I used to think that I had to say "yes" to every single opportunity even if I was really struggling with my health. I think the past few years have been quite the wake-up call to take care of ourselves and live life with more balance. 
Moving on from past Echosmith to now, where do you see yourselves going from here sonically?  
Noah: We've become so much more committed to spending serious time in the studio and dialoguing about every aspect of our music, and workshopping every idea we think of. I hope we can continue to make music that feels both innovative and accessible. We're always listening to music, and studying to find new ways to represent our stories through song.  
In terms of song writing, what's your process? Do you write based on personal experiences or stories around you? 
Noah: Most of our songs begin with a conversation about something in our lives. Some days we feel impacted by someone else's story, so we write off of that, but most days we just have "group therapy" of sorts and figure out how to squeeze those thoughts into a song.  
Speaking of your process, what's your favourite part of the music making process? What's the most challenging part of it? 
Sydney: Song writing has just become more fun over the years. Noah's really gotten more into the production side so its super fun creating the vibe for a new song literally as we write it. We still love writing songs on acoustic instruments, but it really does feel great to execute the song as we create the lyrics and melody, so that we're really capturing whatever is happening naturally.  
Now that all of us live in different cities, we really have to plan ahead of time. We used to all live in the same house, or at least a few miles away from each other so we really took our proximity for granted. Honestly, I do think that having that distance has been really helpful in the end because it forces us to live some life so we have things to write songs about and also helps us be really productive when we are together. 
You've announced your North American tour, what can people expect from that? What part of touring – besides performing and meeting fans- excited you most?
Sydney: People can expect a whole new show: new songs, new unreleased songs that people can hear on tour before anyone else, lots of interactive moments with the crowd, super fun moments and some really intimate ones too. We're really trying to be intentional with how we plan our show with the ultimate goal being connecting with our fans. I don't know the last time I was this excited for a tour. 
We love testing out new songs in the live setting since it brings them to life in such a unique way. So, as we release more and more new music, it really makes us even more pumped to plan a new show around that, while keeping the fan favourites in the set. 
What's the most exciting place you've been to on tour? What places would you love to tour in the future?  
Noah: We've been so blessed to have gone to so many amazing places in this beautiful world. I do think our shows in the Philippines have been quite meaningful to us, as the fans there have this beautifully powerful sense of passion, and performing in front of those crowds feels so electric.  
What's been the most surreal moment of your career so far? What's still on your bucket list? 
Sydney: Every time we play in a new city or country and see people singing along to songs we wrote; it feels super surreal. Every single time, we're filled with so much gratitude because it feels really special to experience our music reaching people in new places in real time. 
It's a big goal of mine to play shows in Australia because we've had a lot of fans reach out from there, we have a bunch of awesome Australian friends, and my name is Sydney after all… So we kind of have to go one day!!! 
The Hang Around Tour starts this October, for more info visit www.echosmith.com.
New single Hang Around is out now.
Interview Malvika Padin