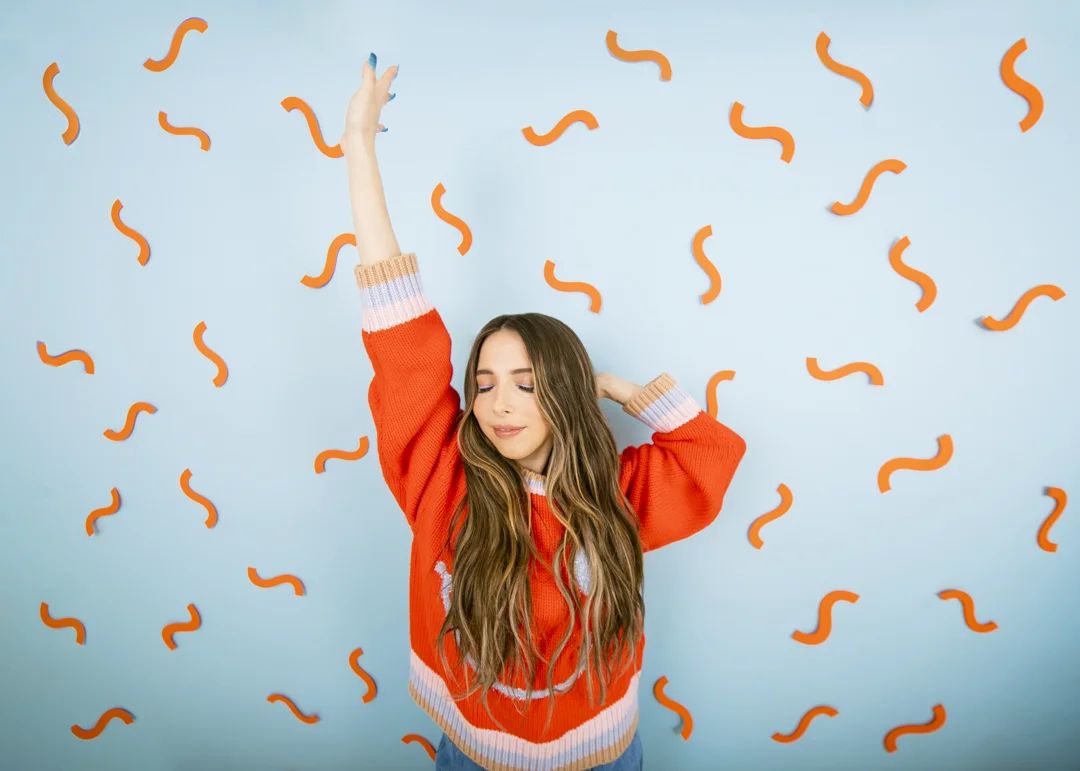 Esther Povitsky
If you're in your late 20s & you're terrified of turning 30, let Dollface's Esther Povitsky give you some advice: you'll become a "real f'ing person."
Between the release of season 2 of her hit TV comedy Dollface, recording her weekly podcast Trash Tuesday, and achieving her dream of hitting the road as a stand-up comic, it's been a busy start to the year for actress & comedian Esther Povitsky. From portraying Maya on Crazy Ex-Girlfriend to Izzy on Dollface to starring as (you guessed it) Esther in Alone Together, a show she co-created, there is a distinct thread that ties all of Povitsky's film and comedy work together. As a fellow water sign (Esther is an obvious Pisces), it's easy to understand why she aims to be as forthcoming about her experiences even if she's just portraying a character: she wants everyone to know they aren't alone in their messy chaos.
Whether it's conscious to her or not when she's making her myriad of projects, the themes that typically appear in Esther Povitsky's work—anxiety, self-sabotage, the occasional joke about a yeast infection—are all topics that deeply resonate with audiences due to the brutally vulnerable approach she takes. Although Esther says herself that she will never be able to write the best "topical news joke" or be the best comic, what she can do matters more than all of that, which is creating a safe space for people to explore some pretty intense topics through the use of lighthearted comedy.
1883 Magazine's Kelsey Barnes chats with Esther Povitsky on the eve of her 34th birthday about filming Dollface, the impact the show has had on her life and friendships, embracing truth and authenticity on-stage in her stand-up routines, what soon-to-be-30-year-olds should expect, and more.
To start, I feel like I have to say that the best thing my ex-boyfriend ever did was introduce me to Crazy Ex-Girlfriend. 
[Laughs] That is amazing. I love that.
Maya is one of the best characters ever! I ended up loving the show so much, I wrote a paper on it for university. I want to bring it back to back when you chose to leave school to pursue stand-up comedy and acting — how do you think you've grown from that moment to now? 
God, I was so lost and so scared. I feel like my subconscious was speaking to me as best as it could. It just kept telling me that it wasn't the right path for me, as if I needed to change it up. I was so miserable at school; I didn't like any of my classes, I didn't feel like I fit in. I made good friends in my theatre program, but because I joined it late I was going to have to stay an extra year. Those friends are still my friends to this day but ultimately I knew that I needed to leave. I was lost and confused, I gained 30 pounds from binge-eating every night which is a lot for someone that's 5 feet tall. I knew deep down something was wrong and I couldn't figure it out. 
Then, as everyone does, I started Facebook stalking people who lived in LA and it just.. Felt right. I was watching The L Word and became obsessed with how they were just gathering around their Los Angeles coffee shop. It sounds so ridiculous but it felt like it was calling me. I knew I needed to leave school and try something else. I knew that if I failed, it was fine. I just needed to do something different or else I was going to go crazy.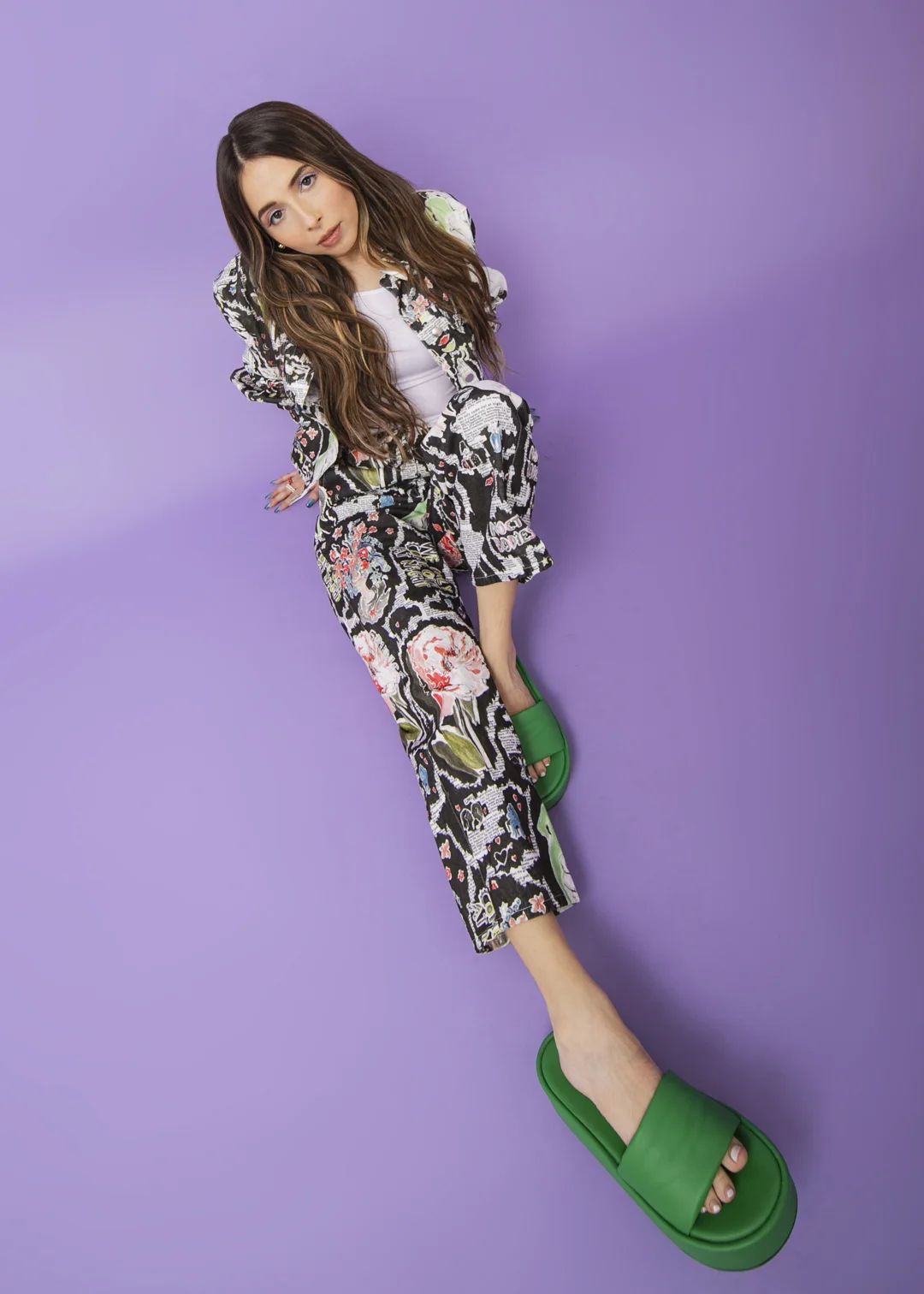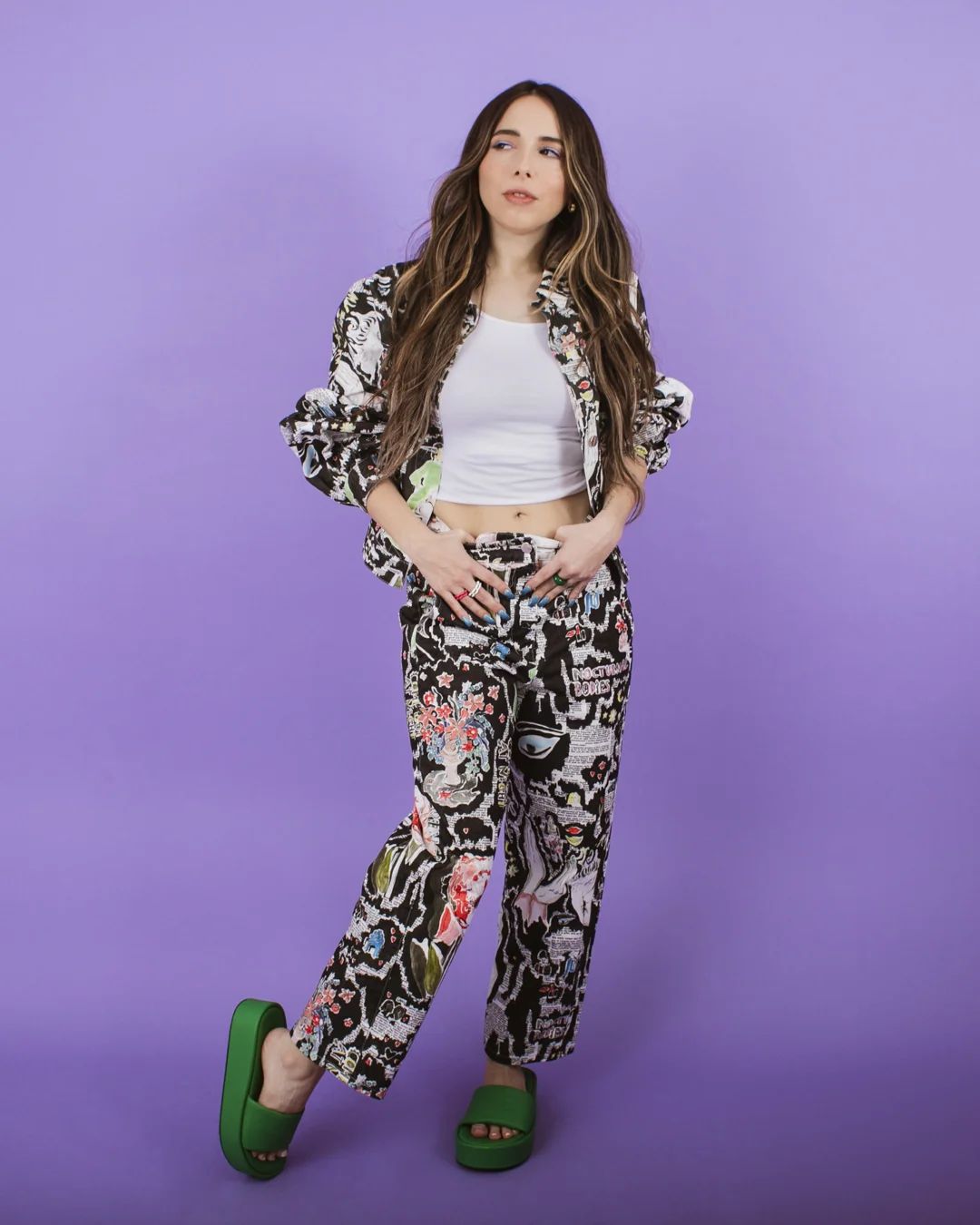 Top/pant set Stine Goya Shoes LMS Rings Misho Designs Earrings Jenny Bird
For someone that was already three years into it, I think it was such a powerful move. A lot of people would just stick with what they are doing. I saw your stand-up on Craig Ferguson back in 2013, was that around the time you decided to leave school?
That was a few years later, but still a super early, big career opportunity for me. Late-night sets kind of continue to mean less and less because it's just a good YouTube clip, but that moment was a big deal to me! I was so nervous, I was wearing a sweatshirt from Target! [Laughs] That was a great example of why leaving school was the move for me, though. That moment was such a big deal and the first big thing I did that made my parents so proud. They said, "We thought you were capable of nothing!" So they were just so shocked that I even accomplished it. I still look back at that moment and think about how I succeeded in what I set out to do, everything else is just extra. 
Obviously we have to chat about Dollface. Dollface's premise is based on women in their late 20s rekindling female friendships and properly taking care of them. The last episode that has all of the girls telling Izzy they'll beat her up if she doesn't start being nicer to her is very accurate. While filming this show, have you approached how you tend to your own friendships any differently?
That's such a good question, I've never really thought about it. I think, to me, the lessons I've taken from that show are really just that we were so well cast and we all fit in as a friend group the same way we do on the show. I really haven't thought about it applying to my real life, but that's such an interesting point. I need to think about that question and get back to you. 
I'm turning 30 this year so I'm looking back on friendships and seeing moments where I could've been a better friend, so it's really cool to see that play out on TV. It's not really a topic that's talked about often. 
I totally agree. I think you're right. I think there are some flaws to the friendships on the show, too. Madison and Jules are a little too codependent, whereas I'm more like Izzy and Stella where we're kind of on our own path. I don't ever want to be codependent like the other two! 
I love that you brought that up because I want to talk about the Codependence Day episode! What would your dream codependence day consist of? Maybe your dream day is not seeing anyone! [Laughs]
[Laughs] Probably! I've been codependent my whole fucking life whether it was with friends, relationships, or something else. I'm turning 34 tomorrow and what I've learned it means to be codependent and I've learned how not to be. There are some days where you wake up and you just want to be attached to your friend and be fully codependent and get your morning coffee together, go on a hike, and just be together 24/7. Then, there are other times you just need to be alone and recharge. I think my dream Codependence Day would be a mix of both.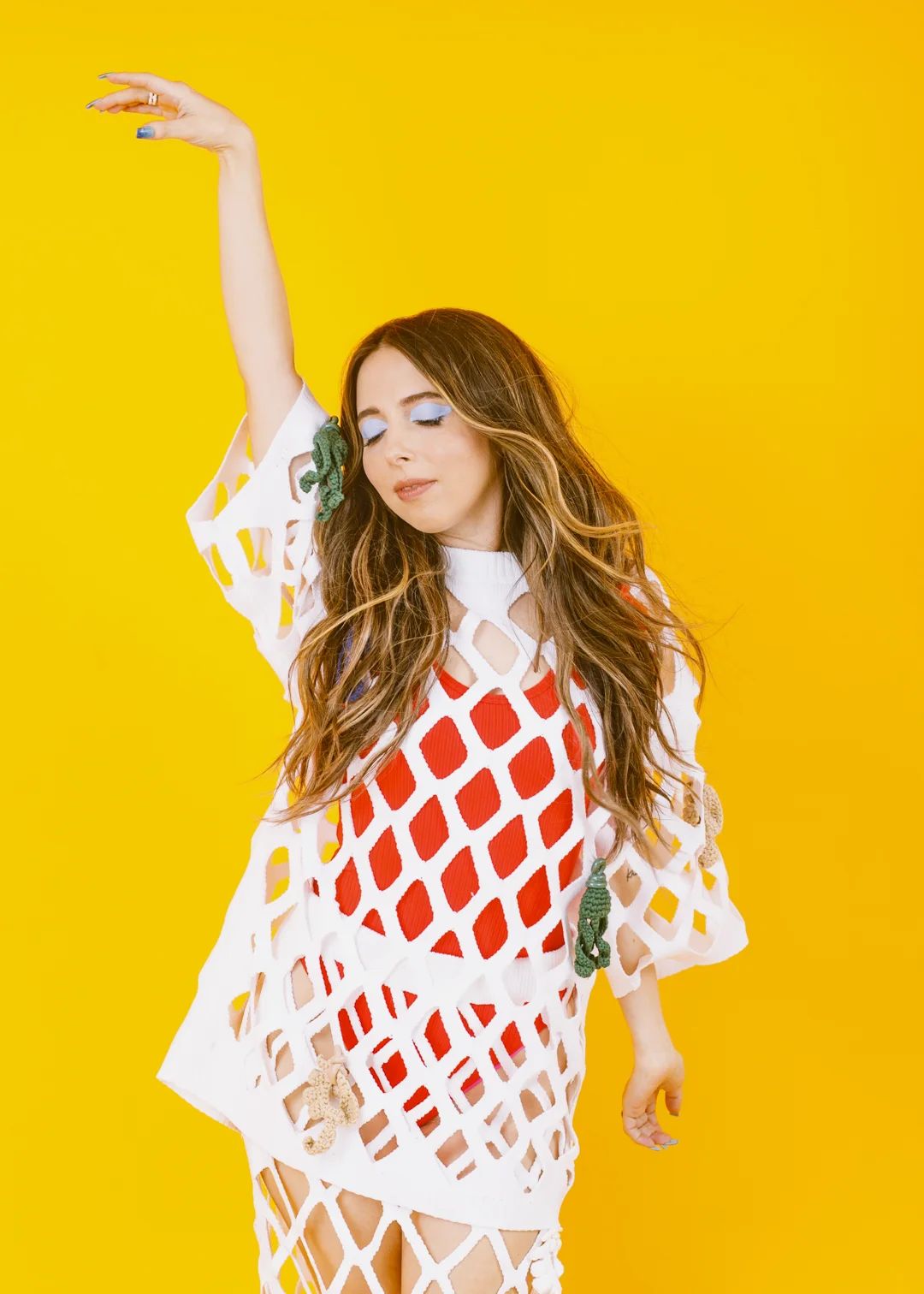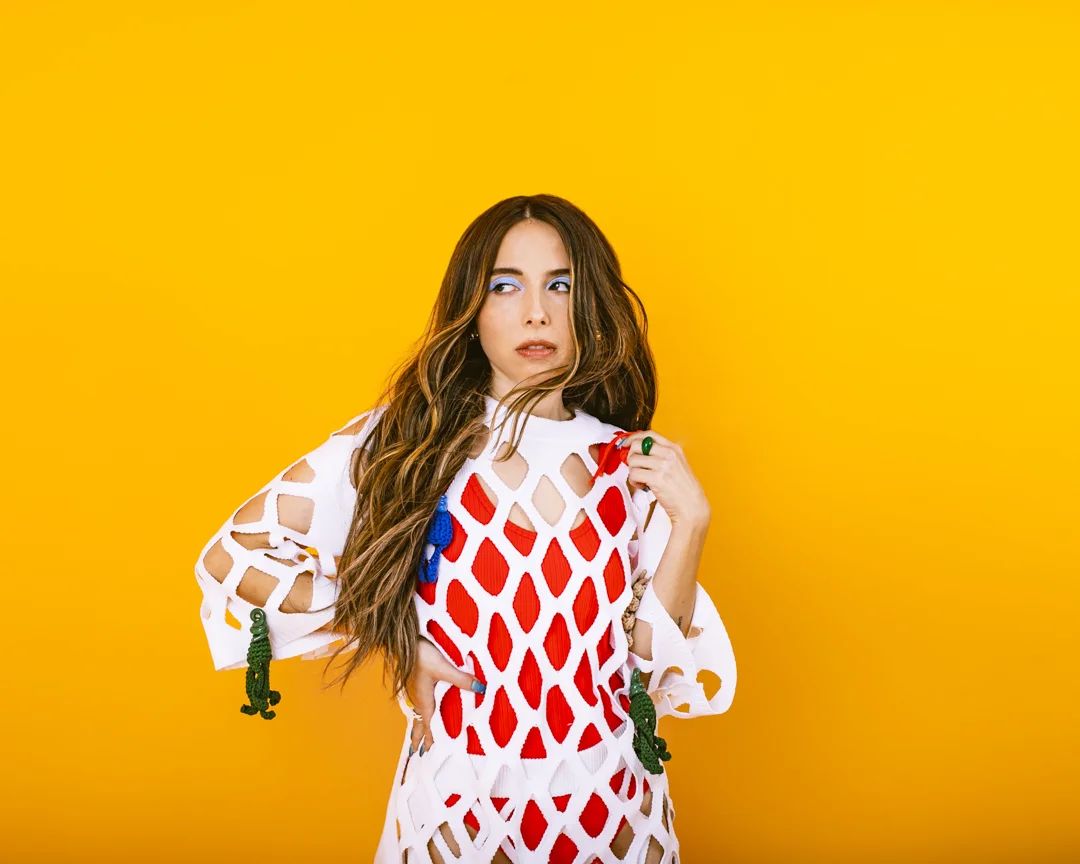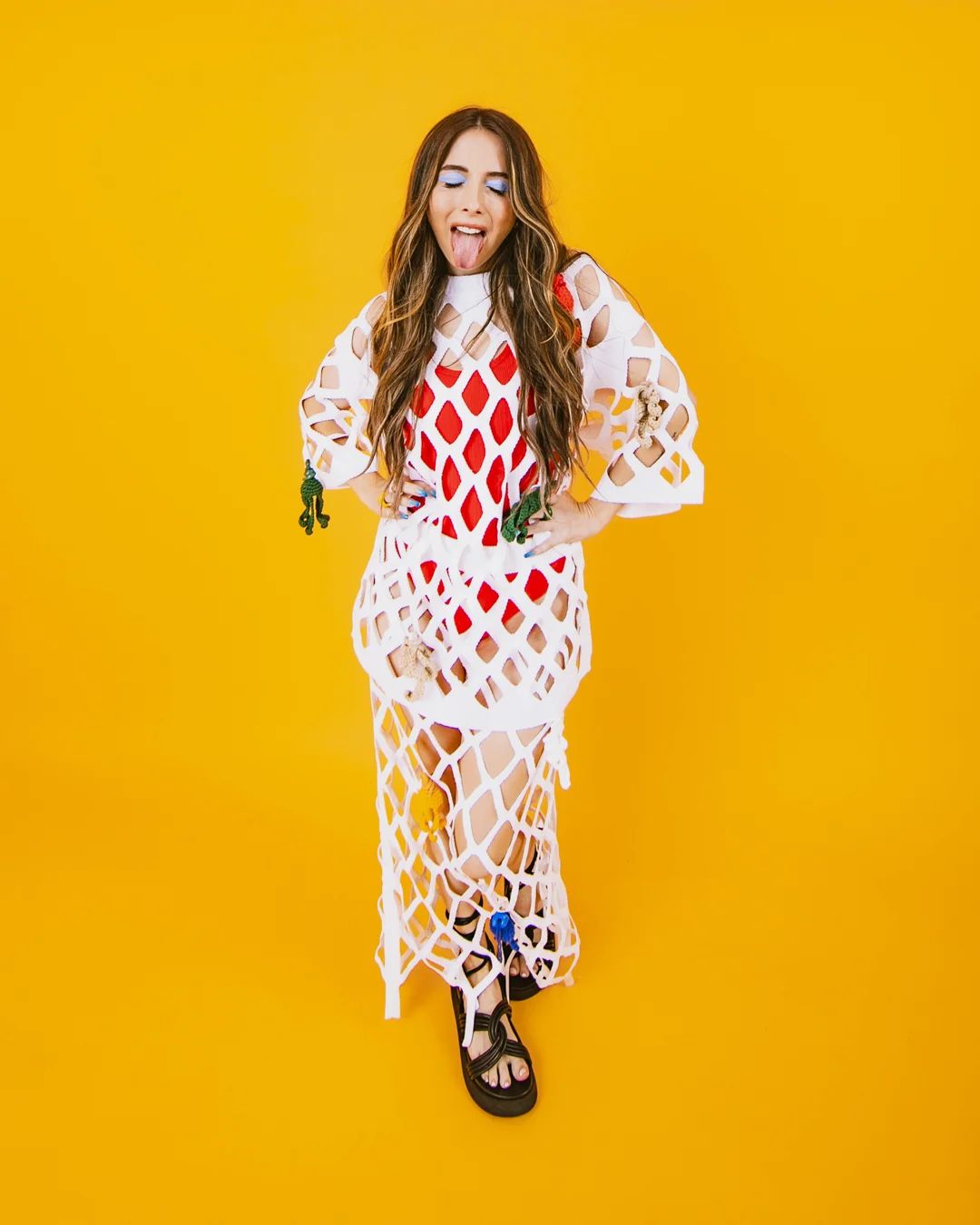 White Net Top/skirt Tibi Shoes Kat Maconie Rings Misho Designs Earrings Jenny Bird
Your song in the second last episode of Dollface was amazing, it reminded me of the Crazy Ex-Girlfriend musical numbers. What was it like filming that?
It was just like Crazy Ex-Girlfriend! Oh my God, it was so much fun. I was so happy. It was such a gift from Jordan Weiss, the creator, of letting me embrace my musical theatre nerd side and throw me a bone. I was so happy and the song she wrote I think was so true. When you listen to those words… I've never heard a song like this with that message before. 
The music on Crazy Ex-Girlfriend always blew me away and surpassed every expectation you could have for a musical comedy and I felt the same way about Jordan's songs. One funny thing that happened when we were filming it is that they asked me to improvise the dance stuff and I didn't realize how hard I was going until Jordan said, "Esther, please do not drop it like it's hot," and asked me to get back into the character which was hilarious.
I think it's really incredible that Izzy was somewhat of a collaboration between you and Jordan. Izzy struggles with anxiety and has some insecurities, like not feeling 'hot' enough for her boyfriend, and deals with a lot of things that I and so many other people deal with, too.
Dude, I know. I feel like Jordan wrote that storyline and I didn't realize it when I read the script or acted as Izzy that I have done all of it. It wasn't until I watched the show that I felt like a mirror was being held up to me and I realized I had done all of it. I spent my 20s self-sabotaging because of anxiety and I feel like I never would've had the self-awareness to put pen to paper and realize it. I needed Jordan to write that for me. 
I was so connected to the material, and collaborating with her is such a gift. It's special when a creator actually wants your feedback and I always find that, in my experience, the collaborative version of a project is the best version. I started my career very independently with stand-up only and I was in charge of what I said. Now, I'm working on different projects that are constantly collaborative experiences. It leads to better art.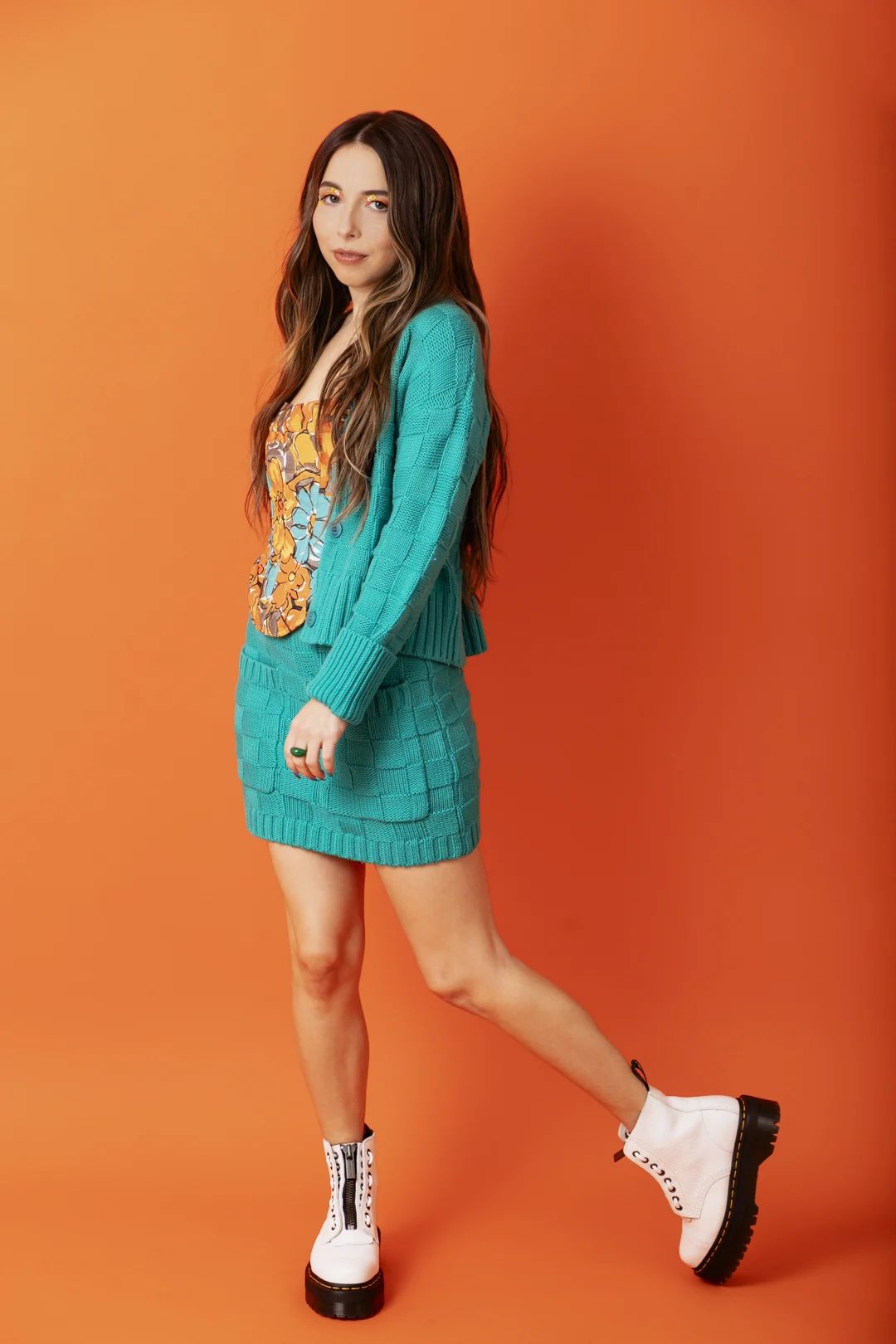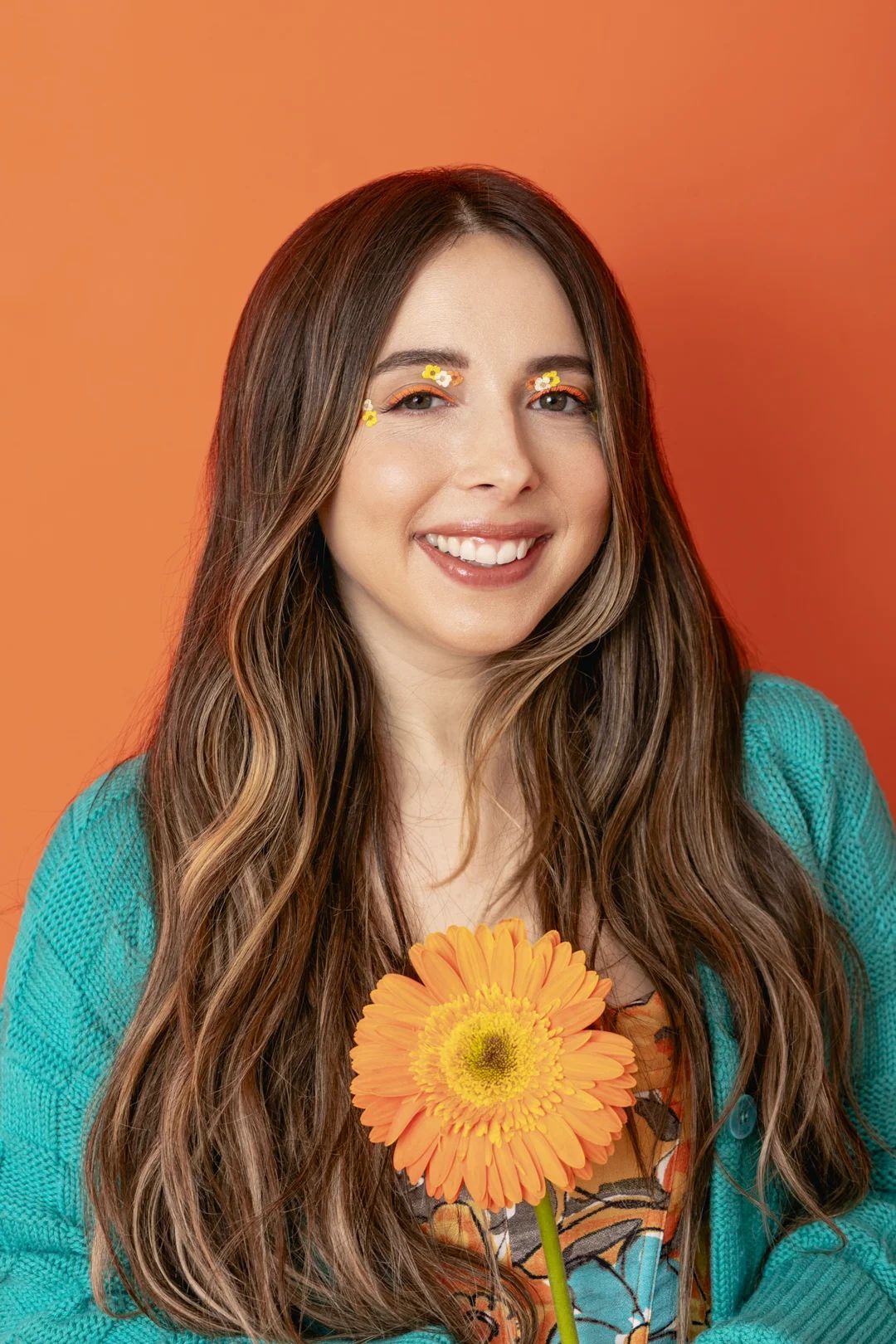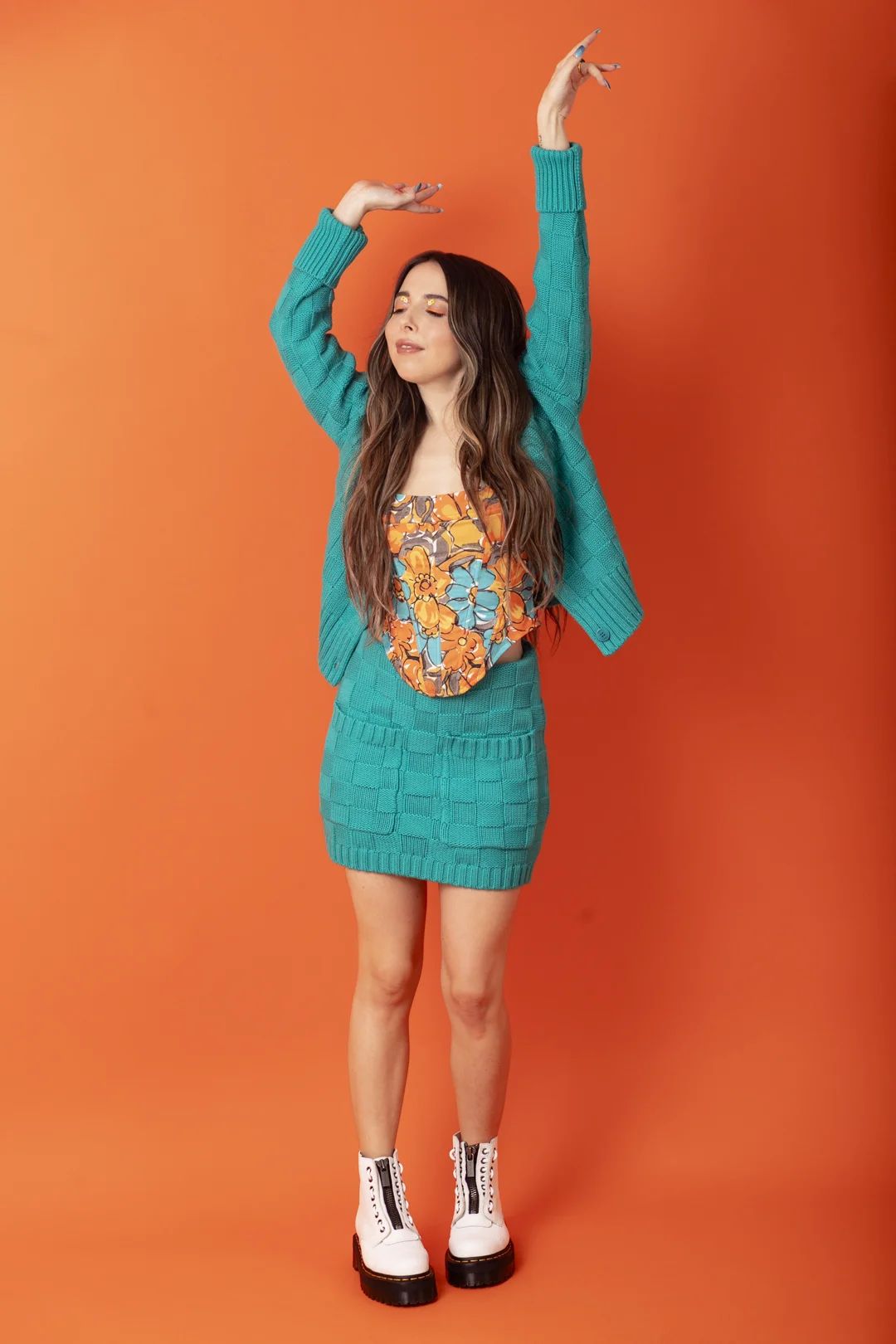 Blue Sweater and Skirt Staud Corset Top Miaou Boots Doc Martin Rings Misho Designs Earrings Jenny Bird
You're on a bit of a break in between dates for your stand-up comedy tour which I read was a dream of yours. How has it been seeing that dream come to life?
It's been so fun to perform for audiences who are showing up that have seen my comedy special or they've seen Alone Together because I don't feel like I'm starting from scratch. When I go up in LA at the Comedy Store, I feel like I'm starting from scratch and I have to introduce myself. That is really fun, too, because I love the challenge in it. Getting up in front of a group of strangers and proving myself is the fun of stand-up, that's exciting to me. It's been a fun new experience where people know me and they've already made me feel like they've seen my stand-up before, so it's just been really rewarding. People leave feeling inspired and happy after they had the last hour with me and it's been great. 
You really cover a variety of topics in your standup routines — whether it's letting everyone know what your perfect wedding day would look like or more serious topics. I think it's really powerful that you're turning your trauma into comedy, which can help others process their own and approach it from a different view. Has it always been natural to you to be more open on-stage?
Yeah, I feel like when I first started to find my voice, I remember I was on-stage for what must've been an open mic and I had a yeast infection, so I just started talking about that. Everyone laughed which was great because everyone that was on-stage before me was bombing. I could remember in that moment thinking, I just have to get up here and be real and share the truth. That's always going to win over some joke about what's happening in the news that day. I'm never going to be the best, I'm never going to write the best topical joke, so I'm going to pivot and be as honest as I can be because being myself is the one thing I can count on.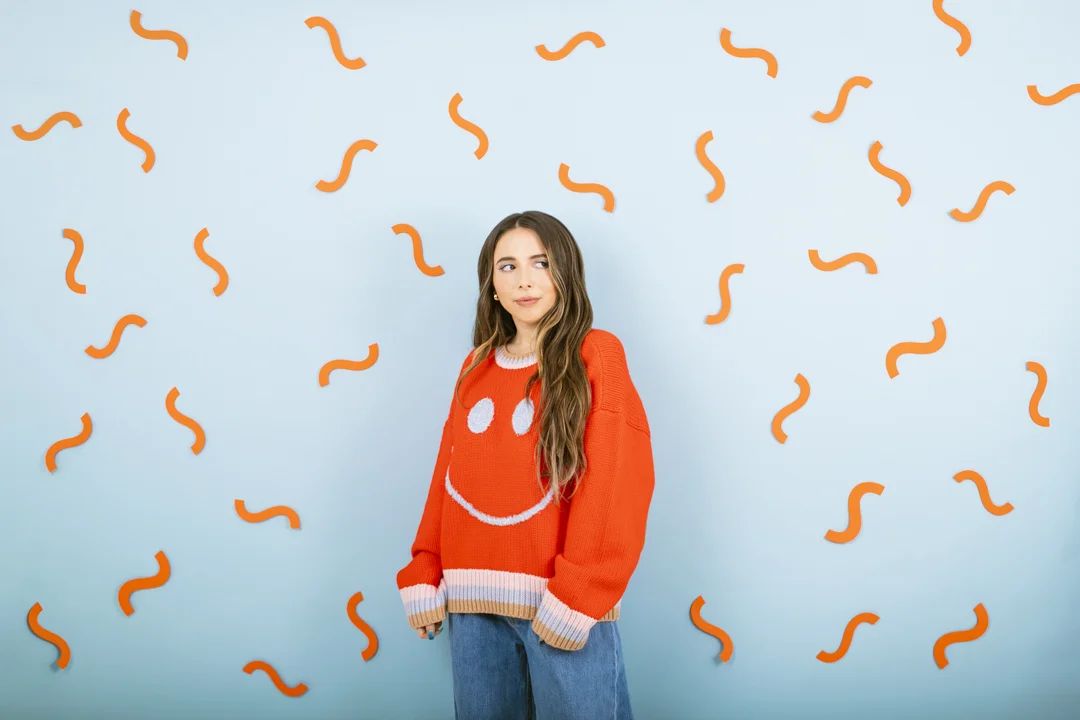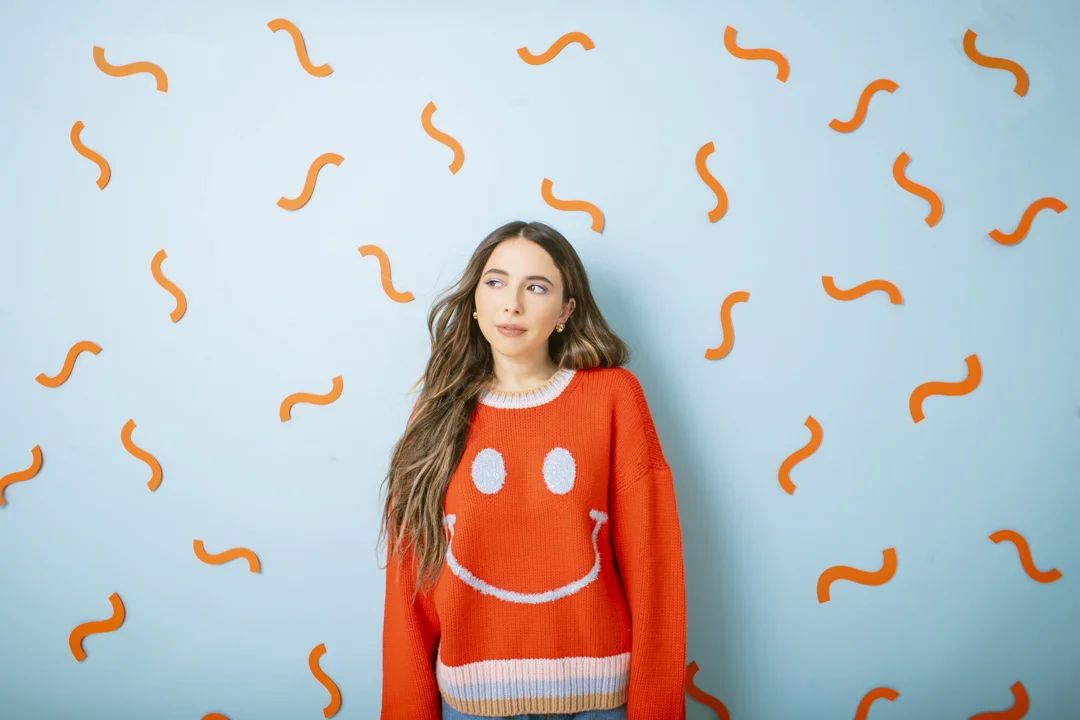 Sweater Joos Tricot Jeans Mother Denim Earrings Jenny Bird
Since Dollface features a bunch of women facing existential crises as they turn 30, I'd love to get your advice to those who are embracing that age — like me!
It's so funny you ask me this because it's something I hear a lot about. Please hear me loud and clear because I'm turning 34 tomorrow and I feel like this—my life—is the best it could ever be. In your 20s you're a fucking mess, you're riddled with anxiety, you're confused, you're definitely not smart, and you don't really know who is your real friend. Your 20s make you think that life is really hard because it's a period of time that is difficult, but let me tell you: your 30s are so much better. You're so much smarter because you've lived through so much and you can finally start to implement the lessons you've learned. Honestly, you just flourish. I really can't believe how wonderful this age is. I remember my dad once said, "life starts at 30," and I thought he was insane. Now I'm (almost) 34 and he was right. You just finally become a real fucking person. 
Dollface is streaming now. Follow Esther at @esthermonster and check out dates to her upcoming stand-up shows here.
Interview by Kelsey Barnes
Photography by Mallory Turner
Styling by Natalie Hoselton
Hair by Clayton Hawkins
Make-up by Brittany Leslie