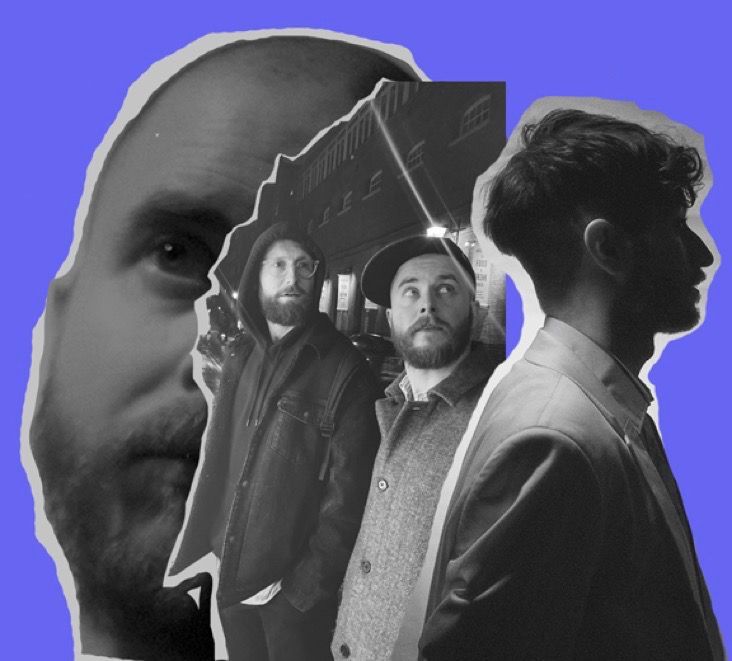 Giant Party
The alternative four-piece Giant Party have revealed their debut record, Blue Hymm.
For a fairly new band still establishing themselves, they've already caused quite a stir. Giant Party have been supported by various tastemakers, played numerous festivals in the UK & EU, and have been championed by Elton John on his Beats1 show. It's all Thanks to their infectious synth-led sound which boasts many euphoric highs. If you had to place the band somewhere, they would fall between the likes of New Order, Talking Heads or Future Islands. Comprised of chief songwriters the Harrod brothers, Al & Tim, the group have finally released their debut record entitled Blue Hymm and the record focuses on both of the brothers' shared poignant experiences. Recorded at Save Sound Studios in Hastings with Producer Kevin Vanbergen (Kid Kapichi, Nova Twins), the record has a big and vibrant pop sound. If you listen closely to the lyricism, you'll hear heartfelt and moving tales about losing loved ones and existential dilemmas. the album manages to be full of energy and introspective stories, making it a versatile experience.
Giant Party's Al Harrod spoke to 1883 Magazine about writing Blue Hymm, his earliest memory related to music, and what he hopes to achieve in the next two years.
Al, thanks for speaking with 1883. Giant Party's debut record Blue Hymm is out now! It's always a special moment when you finally get to release a debut record that you've been working hard on. Can you tell us a bit about the writing process for this record, how it came about, and what you are most proud about it, please?
Thank you for having me. It is out now! There's a part of me that actually can't fully process that it is out as we've spent a long time with it being an internal project that will "come out one day" and working on it to make it the best it can be! Hahaha! I'm incredibly proud of this record and so grateful to everyone that helped us make it. The seeds for the writing process for this record probably began around mid-to-late 2019, when I underwent a series of major events and personal changes in my life. But I would say things really felt like they were heading somewhere in January 2020 when I wrote the demo for "Angels Pout For Cameras," and me and Tim (brother and fellow member) began to carve out the idea for "Broken Balloons." It was the moment where I thought "Okay, this actually feels like I do and sounds like a record I'd be into." We then arranged and recorded those tracks in the studio, thinking the process had begun, but like everyone, we felt the full swing of the pandemic hitting.
Of course (again like everyone), we were frustrated as we couldn't play together in person, but the lockdowns actually gave me even more space to lean into these personal subjects. I was able to explore a lot of what I had been going through both lyrically and musically and came out of the summer lockdown with around 40-45 demos for songs. We then worked on the ones everybody liked when we came out of lockdown and went back into the studio in late 2020 to record some more. We then spent a lot of time working on, mixing tracks and recording even more songs over 2021 to get the album how we felt it needed to be, and we finally felt it was done by the beginning on 2022.I think there are a lot of things about this album that I'm personally very proud of. I feel like the biggest is probably that I was able to capture myself in the swing of a major transition in life. Not only addressing but letting go of what had been weighing me down and causing me personal problems for a very long time. I'm also incredibly proud of specific moments on the album. Little things that felt captured in that specific moment in time, like a little unintentional sound on a drum fill, or a wobble in a voice that brings more character. These things have always been the best for me. It makes it feel more like the capturing of the human moment, rather than building something "perfect."
I'm aware that Giant Party is made up of yourself, your brother, and your friends. You've all been in different bands in the past, so I'm curious to know how this band came to be? And why do you think Giant Party has stood the test of time compared to the previous projects you were all in?
You know, I've not actually thought much about that if I'm honest. I suppose I'm personally all about trying to stay in the now and evolution, and all the guys in the band are open-minded and have such a wonderful musical palette. They're all happy to go with things, experiment and chop and change until we find something that feels right for us all. That's probably why, openness and the understanding that we all want the same outcome, just something we're happy with.
Thematically, the record touches on your experiences from undergoing therapy. It's fantastic that you're being so open, it's not easy to be vulnerable or to bare your soul in a piece of music that is now out there in the world. Have you always found it easy to write about personal topics or has therapy made it easier to talk about certain things when penning songs?
No way! It makes me nervous as hell!! Hahaha!! Even when a song's written, recorded and released, I still feel a grimace and think "oh boy do I feel pretty naked here." But I think that's essentially because they are embarrassing to me. A lot of these kinds of songs are me admitting something about myself that is probably not true. I spent a long time hanging on to things that were terrible for me growing up, and when my estranged Father died in mid-2019, it tipped me over the edge of real desperation and exhaustion. I just knew I needed to ask for help for the first time in my life, but I really should've been asking for it for the 30 years prior to that moment. 
So in regards to writing these songs, I think my willingness to talk about vulnerable subjects essentially came out of resignation. I'd had enough of pretending I was doing okay and was ready to talk about things for the sake of making everything healthier in my life. Re-calibrate unhealthy habits and approaches to improve my life moving forward. I was just lucky to be writing songs and lyrics at the same time! Hahaha! I'm still working on all these things every day, so who knows what I'll need to address next! Hahaha!
What is one fun fact that people might not know about yourself?
I witnessed the Berlin Wall being knocked down in November 1989? (I was 2).
As a band that is starting out and gaining more traction, do you feel there is pressure to prioritise streaming figures? Obviously, you're all passionate about what you do, so the music comes first and foremost. But as an emerging band, there are so many things you have to think about and work on e.g. streams, social media presence etc…
Yeah, I think the pressure is definitely there but I try not to really think about it. I think the moment you're thinking about a function for your music or life even that function begins to inform the process. So for me, I'd rather have fewer streams and less adherence to social media trends so I can be honest, happy and okay with how I'm living and creating. Plus as much as we know it's a vital form of an artist's (and a person's) communication to an audience, it's clearly very unhealthy for all involved. I also am a firm believer that it's none of my business whether anyone else likes my art or not, positive or negative, and to manipulate or change to appeal to people feels a little dangerous to me. Evolving and learning is great but changing to fit an audience is a little patronising to both them and yourself. We're all better than that!
The album's artwork is very interesting, what inspired it?
The design was done by a great guy named Steve Hyland (check out his company Geometric Love!), and it was mostly inspired by all the vinyl sleeves that we all love! We all like vinyl sleeve layouts and designs a lot and we wanted it to be the kind of cover that would sit nicely in our collection at home.
What's your earliest memory related to music? It could be anything: the first gig you attended, the first vinyl you purchased, the first moment you picked up an instrument, or anything you want to share!
My first real memory of music was actually as a four-and-a-half/five-year-old on my way to meet my newly-born brother (Now a member of the band) in the car! I remember hearing Mrs Robinson by Simon & Garfunkel but the song that absolutely blew my mind was More Than a Feeling by Boston. I had zero concepts of harmony or double-tracking, so I just had this amazing image of this person singing with this alien-like voice that sounded like ten people. I asked my Dad to rewind the tape like ten times on that journey, he must've been so sick of it by the time we arrived at the hospital to see my brother [laughs].
Finally, what would you like to achieve with your band over the next two years?
Well, the most honest answer that I can give, is that I don't mind. As long as we stay musically and artistically ambitious, and try to be as much of ourselves as possible, (whatever that is) I'm happy! To expect any sort of outcome from it feels a little silly to me these days.
Thanks for chatting, Al.
Thank you for exactly the same, so nice to talk!
Blue Hymm by Giant Party is out now. Follow Giant Party @giantpartyband
Interview by Cameron Poole