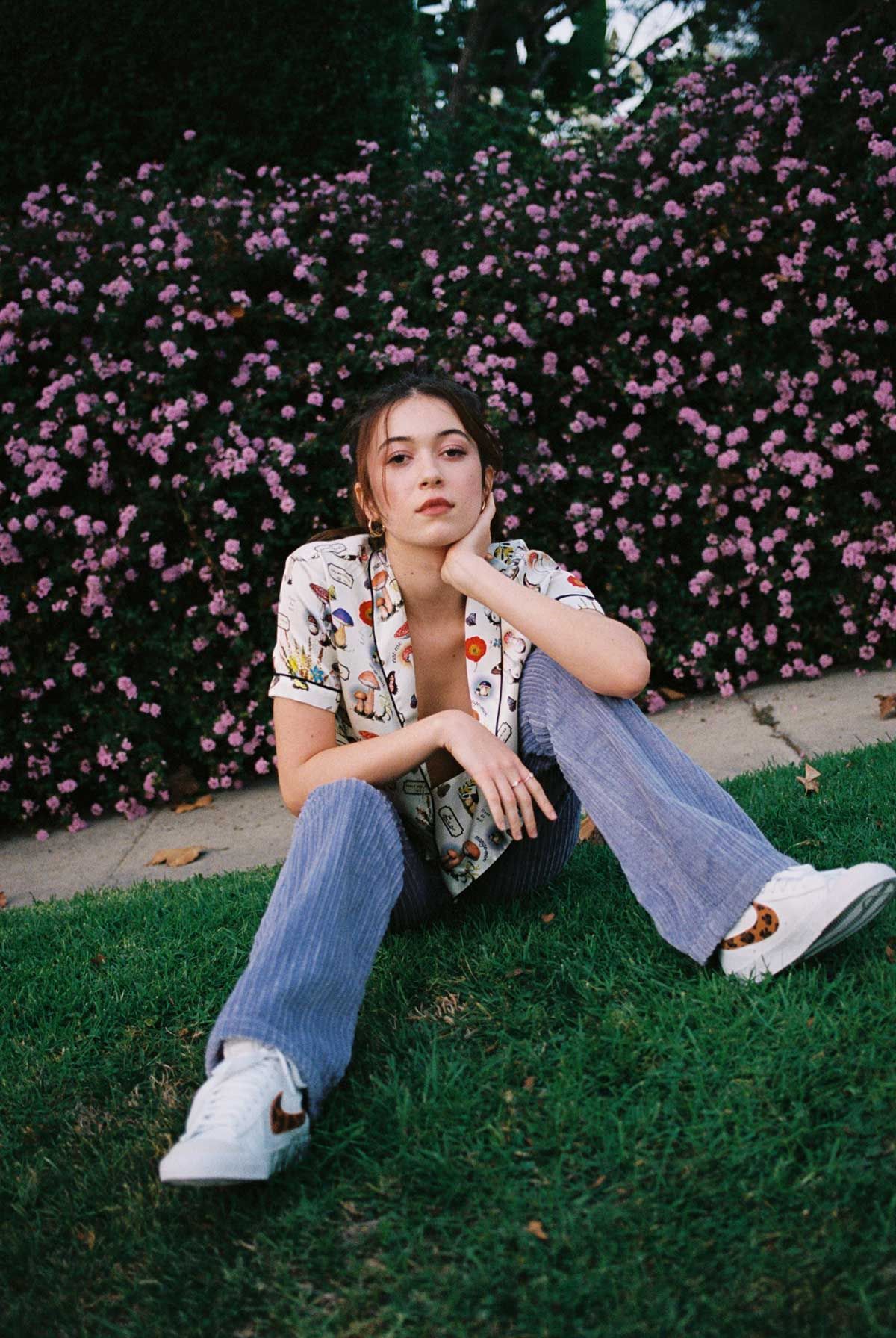 Grace Kaufman
There's a reason why Grace Kaufman beat out every other rising actress for the lead role in The Sky Is Everywhere.
When the Zoom cameras are turned on, it's immediately apparent that every inch of Grace's life is filled with colour. Behind her is a collection of childhood art, created by Grace and her brother throughout their adolescence, that plasters the walls, a "quarantine project" set in motion by her mother during a time when life was at its most darkest for some. For Kaufman, who both graduated high school at the height of the pandemic and booked her first major film role for The Sky Is Everywhere, quarantine was a chance to connect with her character in a way that most established actors would dream of.
The A24 film for Apple TV is an adaptation of Jandy Nelson's critically acclaimed (and much loved) young adult novel. Kaufman plays Lennie, a teenager navigating the sudden loss of her older sister. The film is a kaleidoscope of emotions; while audiences see Lennie and her family grieve the loss of her sister, they also watch her as she experiences love for the first time. Like any true coming-of-age story, there are moments of drama, but The Sky Is Everywhere is a film that completely rewrites what it means to be in the young adult genre.
The crux of The Sky Is Everywhere rests on understanding that without love, there is no loss. Tapping into her personal experience with loss and grief, in addition to the isolation she felt during the pandemic, Kaufman found a kinship with Lennie, and she does more than merely rise to the challenge of portraying a grief-stricken teen: she completely embodies what it means to be present as an actress. Her profound talent is likely why she beat out every other rising actress for the role (but she's far too humble to admit that).
1883 Magazine's editor Kelsey Barnes chats with Grace Kaufman about filming The Sky Is Everywhere, depicting grief and loss on-screen, what she did to get into character, and more.
Congrats on the release of The Sky Is Everywhere, Grace! I bet this has felt like a bit of a whirlwind time for you. 
Oh my gosh, thank you so much. It has felt like the longest wait but also the fact that it's coming out now is insane. I feel like I'm in another reality.
I saw you booked the role a few months after your high school graduation, too. I can't even imagine going through all of that at one time.
It was crazy. Amid Covid, too. It was the wildest year I've ever experienced. I started the audition process in February of that year but I was trying not to get my hopes up in case I didn't end up booking it, but I did right after graduation which is just crazy. 
And you beat a lot of other rising actresses for the part which is equally as crazy and shows your talent! 
I did. I honestly had no idea. When [the director] Josephine Decker said that, I couldn't believe it. I felt no pressure at all! [Laughs] 
You aren't new to the industry, though. Your first gig was in an episode of Disney's Jessie back in 2012 when you were 9 and now you're 19! How has it been working in the industry throughout the time while also balancing school?
I started doing mainly theatre and, if I'm being honest, I kind of imagined myself sticking with stage work for the rest of my life. I would have been super satisfied and happy with that. But then I transitioned more into TV and film work and I now equally love them as much because I love how different and contrasting all these different experiences are. They are each so fun in their own unique ways. Both of my parents are actors so I grew up in this acting world and I admired them for what they were doing. You could say it runs in the family! 
Was it something you just naturally fell into despite being around it all of your life or did you ever feel like you might want to try something else?
It really did feel so natural. Growing up, I loved movies and I loved theatre. I loved putting on shows and dressing up, my dad and I would sing and perform together just at home. I was always drawn to it and it's been really cool to find my own path in the industry because there's so much to it — from theatre to TV and film to voice acting. 
I don't speak to many actors that have done voice acting, so it's really cool to see how you have a hand in everything which is crazy for someone at 19!
Yeah, when you're living through those experiences, it feels so slow. Now, looking back, I'm like, "Wow, there's like a bit of an accumulation there." 
It's nice you have your family to guide you, too. 
It is so nice having my parents be these guides in the industry. They just get it firsthand and understand. They've invested so much of their time and support into me and I'm so thankful for that because I genuinely would not be where I am today without them.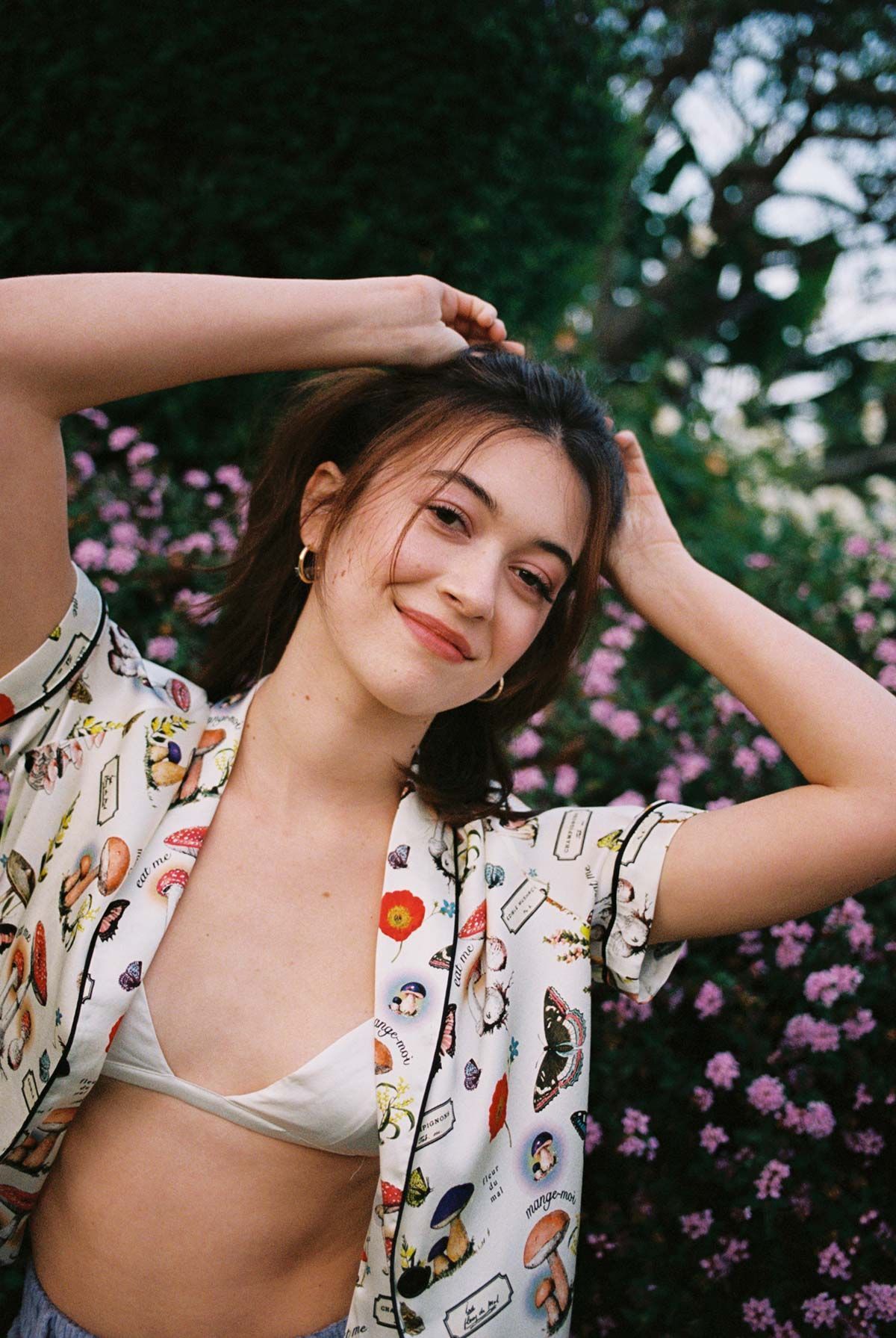 Let's chat about The Sky Is Everywhere. Were you aware of the book by Jandy Nelson prior to getting the script?
I was aware of it, but I'd never read it. When I auditioned, I recognized the title right away. 
I don't blame you for not reading it, you were in high school and had enough homework!
[Laughs] Exactly! I approached it by doing what I thought the way the scene would go and I was hoping it was what they wanted. Towards the end of the audition process, they sent me the script and I read that in its entirety. Then, when I got the part, I read the book. It was kind of a backward order. 
I feel like that's the best way to do it, though! You were able to approach it with not a lot of knowledge of it which allowed you to shrug off some of the pressure. 
Yeah, I made her my own and was able to connect to the scenes by interpreting what I thought it would be like which gave me a lot of creative freedom. I had the same creative freedom working with Josephine [Decker]. She made that set environment so safe; the atmosphere was so just warm and welcoming. We all felt this immense freedom to play and make everything our own with zero fear or judgement or worry. It was so, so special. 
Comparing the book to the script was such a unique experience because the story is the same, but they are so different! There's this magical realism and imagery written specifically in the script, which Jandy wrote. That's the beauty of someone that wrote the book to write the adaptation, too. It was entirely Jandy's vision—that story is her baby—and she was able to write it as she wanted it. 
Imagination is kind of its own character in the film; Lennie imagines musical notes when she's dreaming about a new boy, she watches as her sister's possessions fall around her as she feels overwhelmed by sadness. As a young actress, did you tap into that sense of childlike wonder when filming?
Totally. It was so fun getting to play and be out of my head. All of us were encouraged to just be as free as possible without worrying about the end result and it allowed for us to be more present. What really helped us was when we went two weeks prior to shooting to northern California and we were doing rehearsals and fittings. Josephine had Jacques, who plays Joe, and I participate in these icebreaker workshops that doubled as a bonding experience. They were so theatrical. I was looking into Jacques' eyes for three minutes which is a really vulnerable thing. By the end of it, it elevated our bond and I immediately felt so connected to him and at ease. I knew he was my Joe. We started to intertwine those feelings right away. 
Josephine also had me, Jason [Segel], Cherry [Jones], and Jacques embody animals. It was a way for us to get out of our heads and look stupid, but it was incredible. We just let all of our walls down and pretended to be foxes and panthers and giraffes.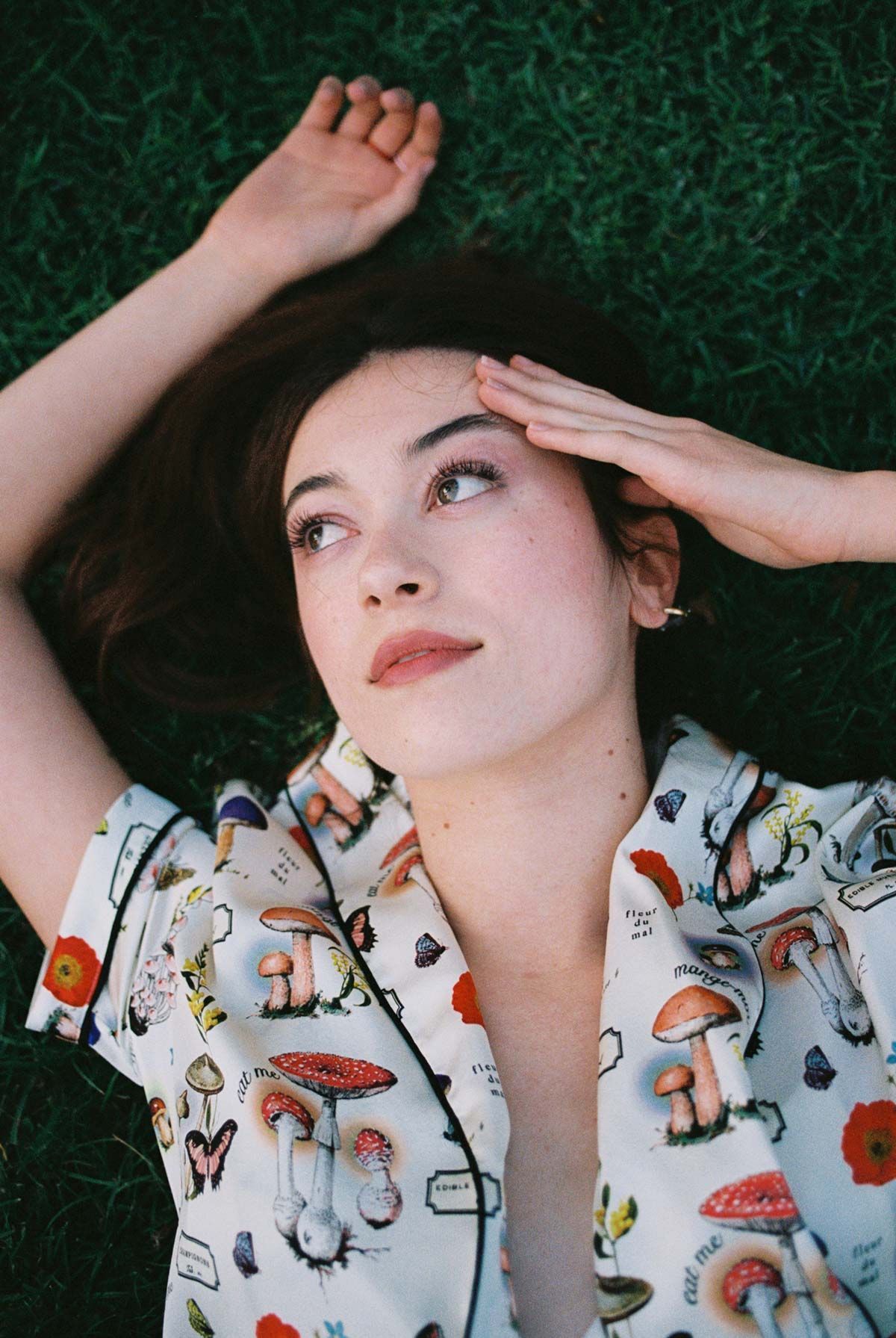 She wanted you guys to get out of your head and completely allow yourselves to just act silly which breaks walls down.
Yeah, she wanted us to stop worrying about what we looked like and enjoy the bonding experience. It came into play by the time we started shooting because we felt so connected and it felt so real. More importantly, there are so many expectations now. We live in a world where we are obsessed with looking perfect. It was amazing to embrace the weirdness, messiness, and awkwardness of literally pretending to be animals.
I think it's so wonderful that your first major film role is with an A24 production, a company that prides itself on creating unique, genre-defying films. 
I had to pinch myself every day on set. I know people say this all of the time, but it felt like I was dreaming. I felt this presence on set and it completely brought me to another level; I was so inspired by how I felt. A little surprise: I actually got my first tattoo because of my experience while filming.
That's amazing.
At first, it was going to be a little music note as a nod to the film, but I decided to get "Here, now." It's a permanent reminder to stay present and that's exactly how I felt during filming.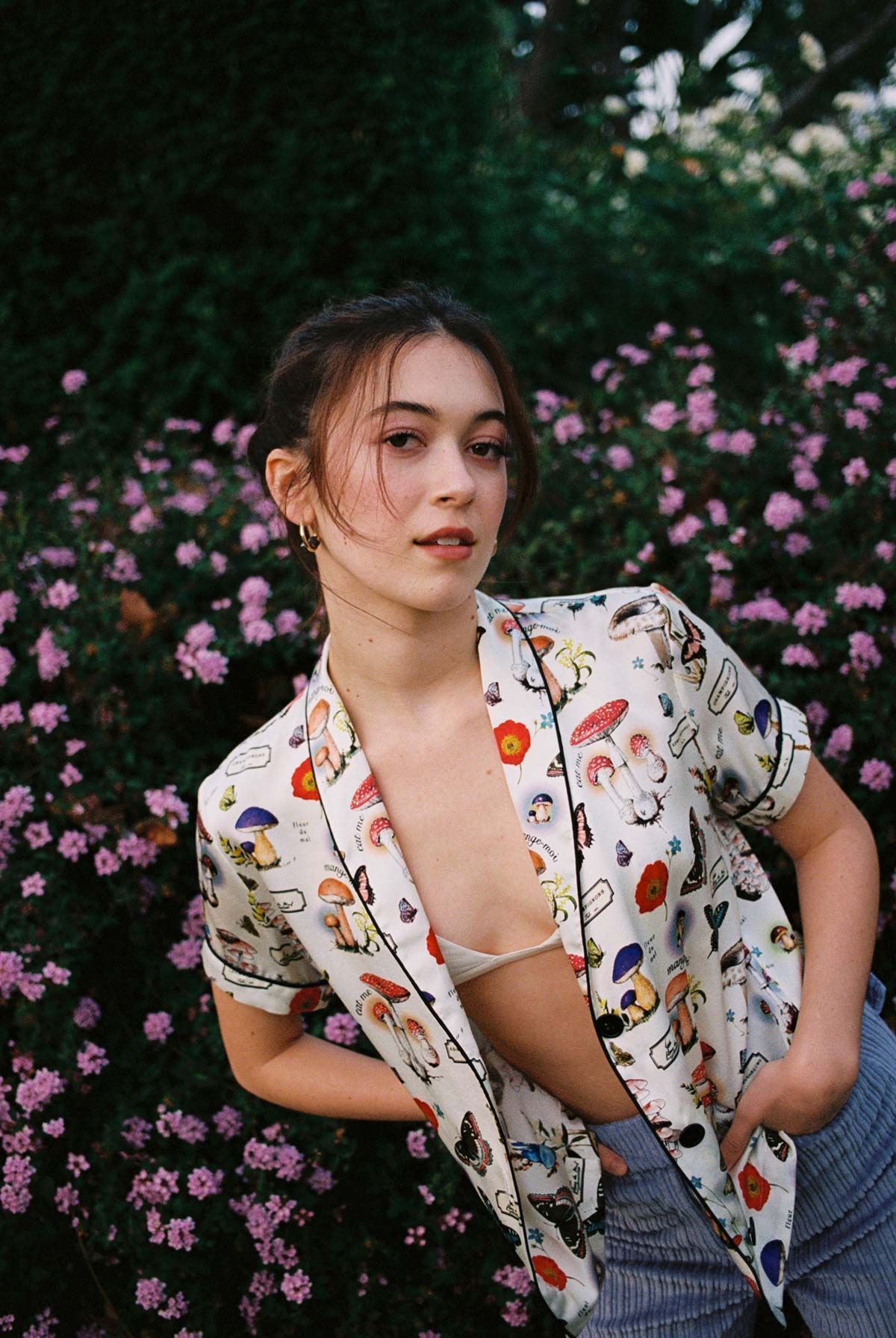 Although this is a young adult film, the themes explored and visuals feel so unique to this genre. The characters grapple with loss, love, acceptance, and more. What was it like working through those themes?
For me, I took it day by day. I feel grateful that we had Josephine to guide us and that I was surrounded by other actors who were just so talented and so passionate about what they do. I know that when I go to my next project I will feel so comfortable and feel okay with being vulnerable again because of what I experienced on set for The Sky Is Everywhere. Getting to tap into those themes changed my frame of mind and I still carry it all with me. I wanted to get to the root of Lennie's emotions and portray them as closely as I could. Applying some of my personal experiences and feelings as a way to relate to her helped, too.
Yeah because you are only a year or two older than Lennie, and being a teenager, in general, is difficult to navigate at times. 
It's a crazy time and really hard to navigate! I was trying to feel the weight of that. I was her age and going through the pandemic, so I understood her feelings of isolation and loss. I also really tapped into music specifically. For the first time, I made a playlist of songs as preparation for Lennie and it's going to be something I do in every role from now on.
I was going to ask if you did that! I heard Robert Pattinson made one for Batman and, obviously, music and art are their own characters in the film.
I think if you're able to put yourself in your character's shoes and find music that you truly just feel that they would listen to and that makes them feel certain things, it really helps you get into their mind. I added songs that I imagined Lennie would listen to while she thought of Bailey, Joe, or even Toby. I believed music would influence her and her moods because it's such a huge part of her life. It would really help me get in the zone.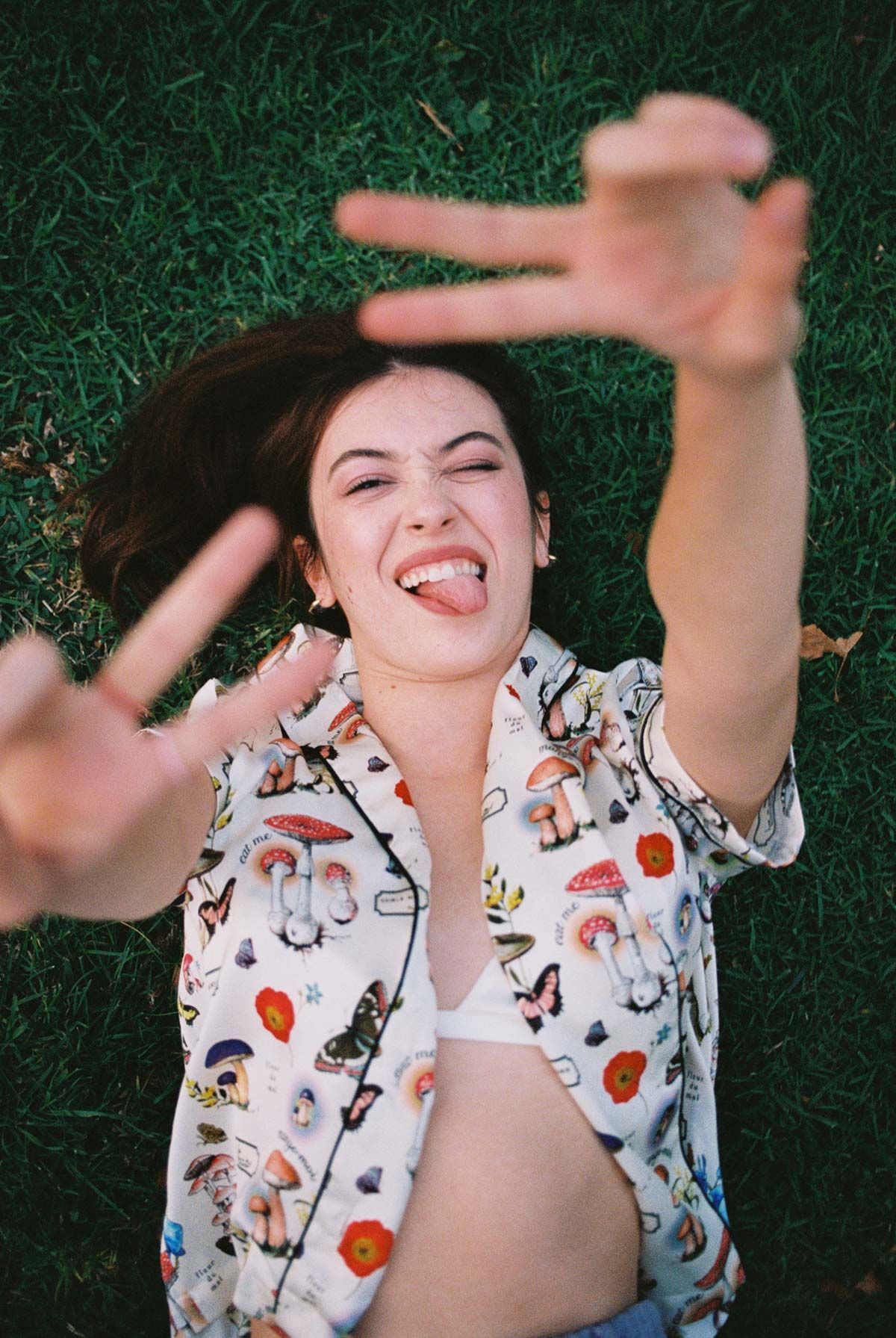 When you look back on your time with Lennie, what do you hope you take away from her?
I love this question a lot. I think embarking on this journey—learning how to be present—is what I will take away from my time with Lennie. Putting myself in her shoes, and allowing myself to feel all of those feelings alongside her, was an incredible experience. It taught me there is no right way to grieve; it's different and unique to everyone. It's evident in Lennie's case because she gets wrapped up in this relationship with Toby that she knows wouldn't happen if Bailey didn't die.
Another thing I took away from Lennie is learning how to be more in touch with my emotions. It was so freeing to be my honest self every minute on set. I would be on set sobbing my eyes out one morning and the next scene was all of us playing music and dancing. It was a lot of feelings happening all at once and it taught me to embrace the beauty of feeling things as deeply as you can. That's like what makes it all worthwhile. You need those things to appreciate the joy alongside feelings of loss.
Yeah, the movie touches on that—"Grief and love; we don't get one without the other." 
Yeah, it's so true. There's another line that Lennie says to Joe which is my favourite quote from the movie: "I learned this really terribly recently that the absolute worst thing you can imagine in life can happen at any time, but today I also learned that the absolute best thing you can imagine in life can happen at any time, too." Life is so precious and it's so important to just be present and to take it in. You really can experience the worst but also the best things at any time.
Lastly… I read that you're a gelato connoisseur. What's your favourite flavour?
This is the perfect last question. I think that I'm gonna have to go with Nutella. I love that it low-key just kind of tastes like you're eating Nutella on its own but slightly colder. I love Nutella, I could just eat bowls of it. When I was in Italy a couple of summers ago with my family I was having four or five cups of Nutella gelato every day because there are gelato places on every single block and because you're doing so much walking you can justify it! 
It's a classic choice.
It is! I want to end every interview by chatting about my obsession with gelato! [Laughs]
The Sky Is Everywhere is out now on Apple TV.
Interview Kelsey Barnes
Photography Nicholas Chalmers
Makeup Loren Canby
Hair Kiley Fitzgerald