Aisling Franciosi
Although there's a recurring joke that actress Aisling Franciosi tends to portray troubled characters, one thing is for certain: she approaches every single character with grace.
After starring in shows like The Fall and films like The Nightingale, one might think Irish actress Aisling Franciosi enjoys crafting a filmography of roles & projects that are equal parts dark and gripping. Although she didn't exactly set out to do that, what she has done is create a body of work that not only showcases her deft touch as an actress to the point where it would be remiss of anyone to not acknowledge the breadth of her talent.
Her latest film is Netflix's The Unforgivable, starring opposite the celebrated Sandra Bullock. Franciosi plays Katherine (or Katie), a talented musician that is adopted at a young age after her sister, Ruth, played by Sandra Bullock, is sentenced to 20 years in prison for a brutal crime. After being released from prison and attempting to re-enter society, Bullock's character begins to grapple with what she's missed out on throughout the 20 years away. Katie's story is the thread that ties both the plot and Ruth's character together and, even though Franciosi's screen time as Katie is brief, she utilizes every single frame to not only depict Katie's trauma and emotions, but to demonstrate her ability to be a scene-stealing actress even with just a single frame.
1883 Magazine's editor Kelsey Barnes chats with Aisling Franciosi about filming The Unforgivable, the pressures of social media, what it's like to be turning into a red carpet style icon, and more.
Your first acting credit was back in 2012, how would you describe how you've grown and developed as an actress in the past decade? What have you learned about yourself and your craft in that time?
I would say I try more and trust myself a little bit more every time. I try to stay out of my own way. I don't always succeed of course, but I try. That's when you do your best work, I think. I have also learned time and time and again, when possible, to do work you actually care about. Work that you think actually means something. Because then it is so much easier to let go of people's expectations of how the project turns out. If you can give yourself wholeheartedly to something, give everything you have, then it doesn't matter if people think it's good because you can be comfortable knowing you did your absolute best.
​​When you get a script for a film like The Unforgivable that has such a complex story with equally complex characters, what excites you most about the project? Is it the writing, who is attached to it, or something else?
Generally, the writing is what I consider to be most important. Great writing, regardless of who else is involved, is what will excite me most. But you don't always get the whole script when auditioning for a project. In that case, you have to see who is involved and take a bit of a leap of faith. Great writing and great people.. that's the dream!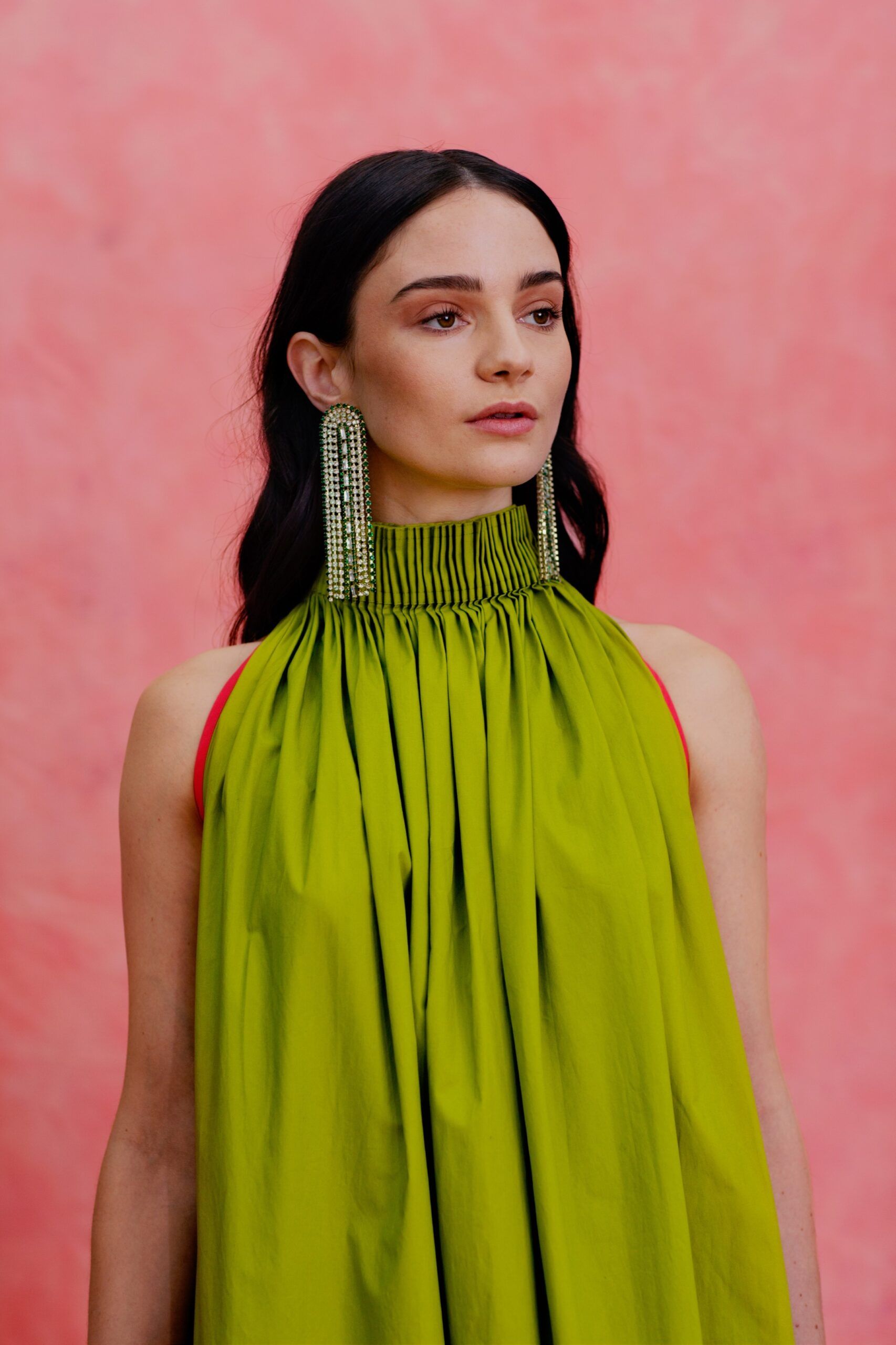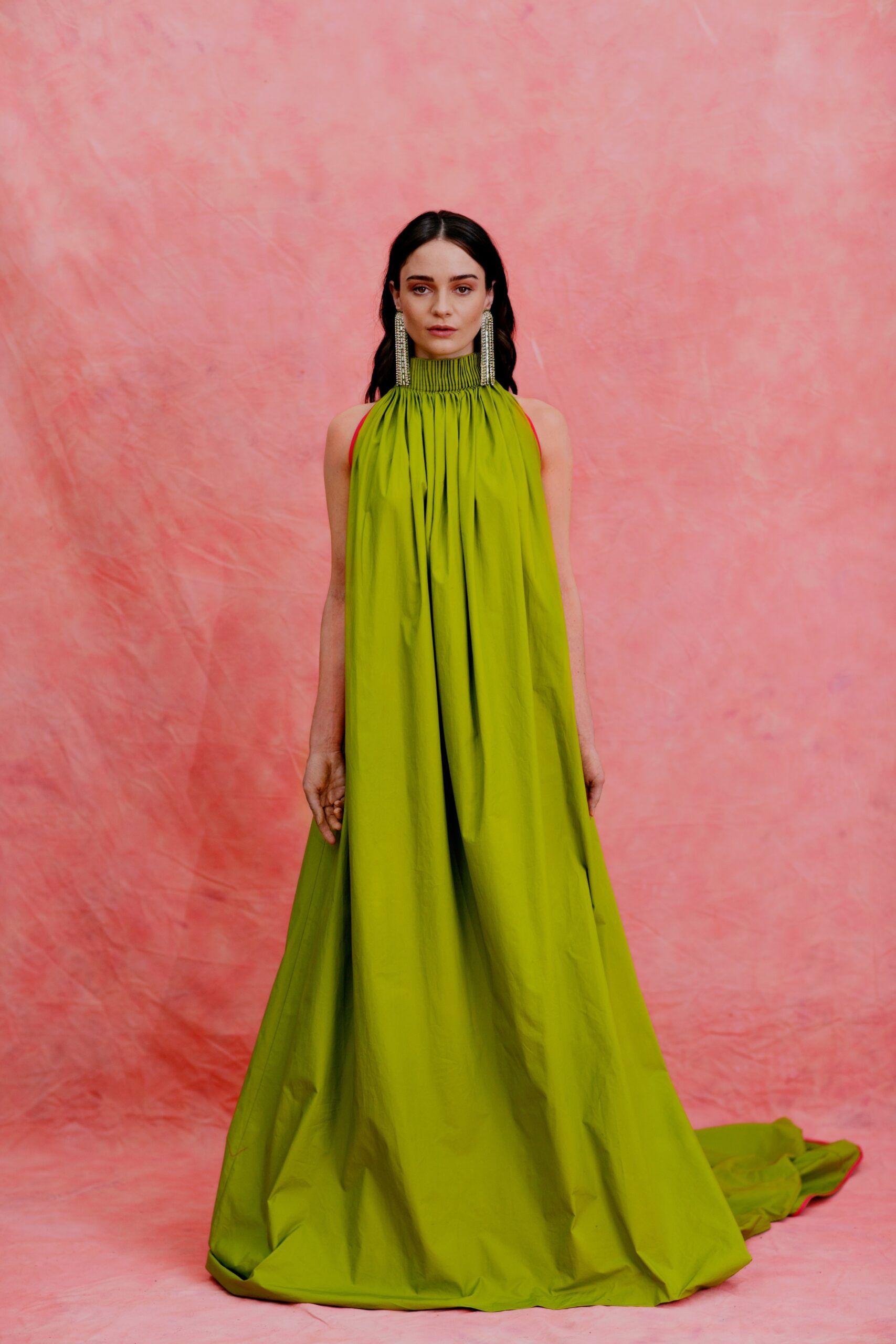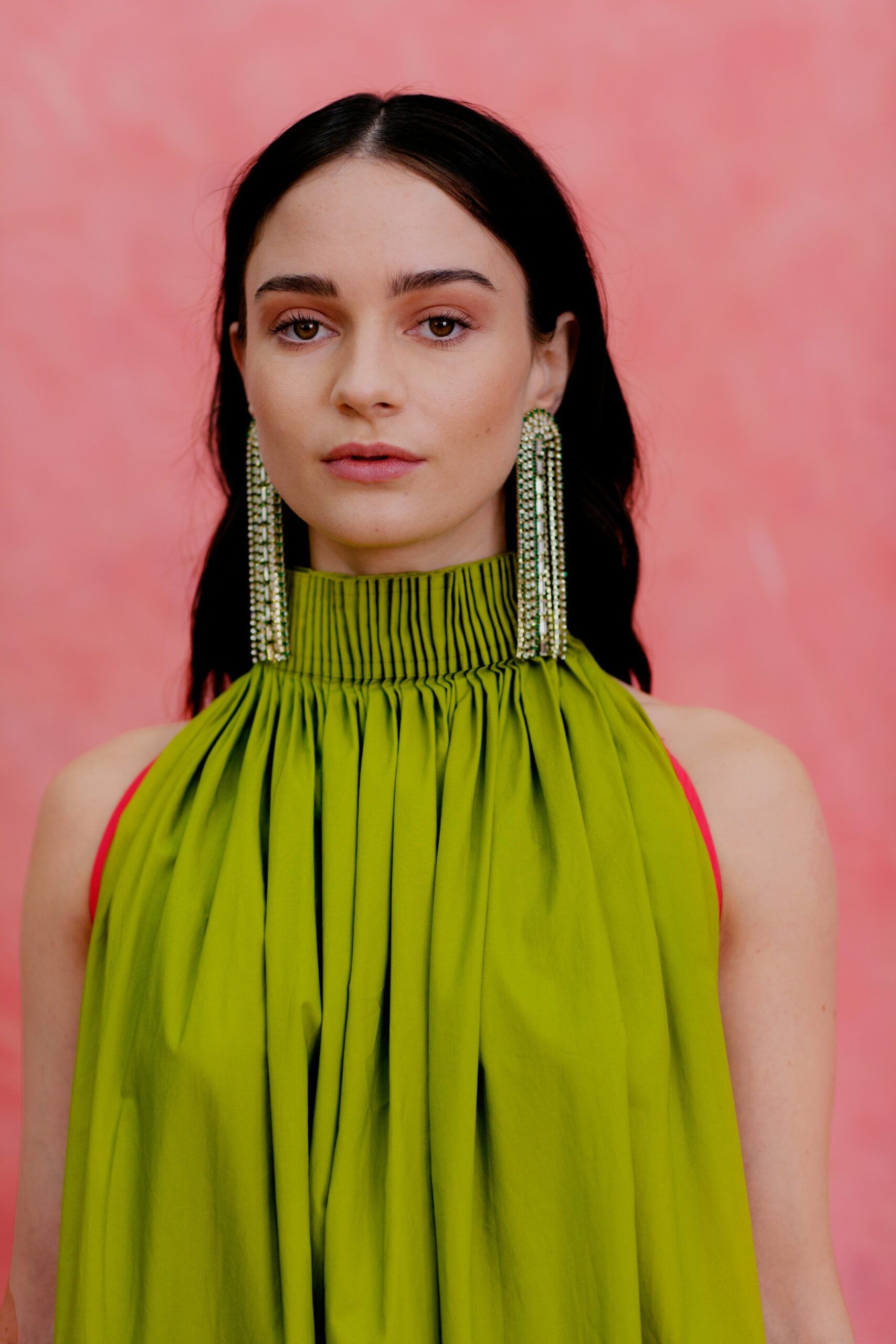 Dress Roksanda Earrings Rosantica Shoes Roger Vivier
With someone like Katie, who has had a tumultuous and chaotic life, how do you approach fleshing the character out? Is there anything in particular that you do, read, or watch to get into their mindset?
I always start with what's on the page. Not just with what the character is saying but how other characters interact with her. How they talk about her. From there then I'll let my imagination wander and then "try on" different versions of the character and see what fits. Then there are things like specific research of course. I love to research. And then it's also a collaboration with costume, hair and make-up, and the director's overall vision.
You flexed your pianist muscles for The Unforgivable, what was it like incorporating piano, something you hadn't played for some time, for the role?
Initially, the prospect freaked me out. I studied piano for about 12 years but for some reason, towards the end, I developed a real mental block when it came to playing in front of people. I couldn't get past it. But I wasn't going to let go of a role because of it and so I just had to grit my teeth and power through. With the help of a great pianist called Adam Nielsen, I was able to learn the sections I needed to and, actually, having to just go into work mode on set helped me get over the fear a little bit.
There's a bit of a recurring joke that, with your role in The Fall, you have a penchant for playing troubled characters! It always seems like any good actor always tries to empathize with their characters, no matter how chaotic and messy they may be. Is that something you subscribe to?
Absolutely. You don't have to like your characters as people, I don't think, but you do have to empathize with them or at the very least try to truly understand them and their motivations and actions. Side-note…yes, I would love to do a comedy!! [Laughs]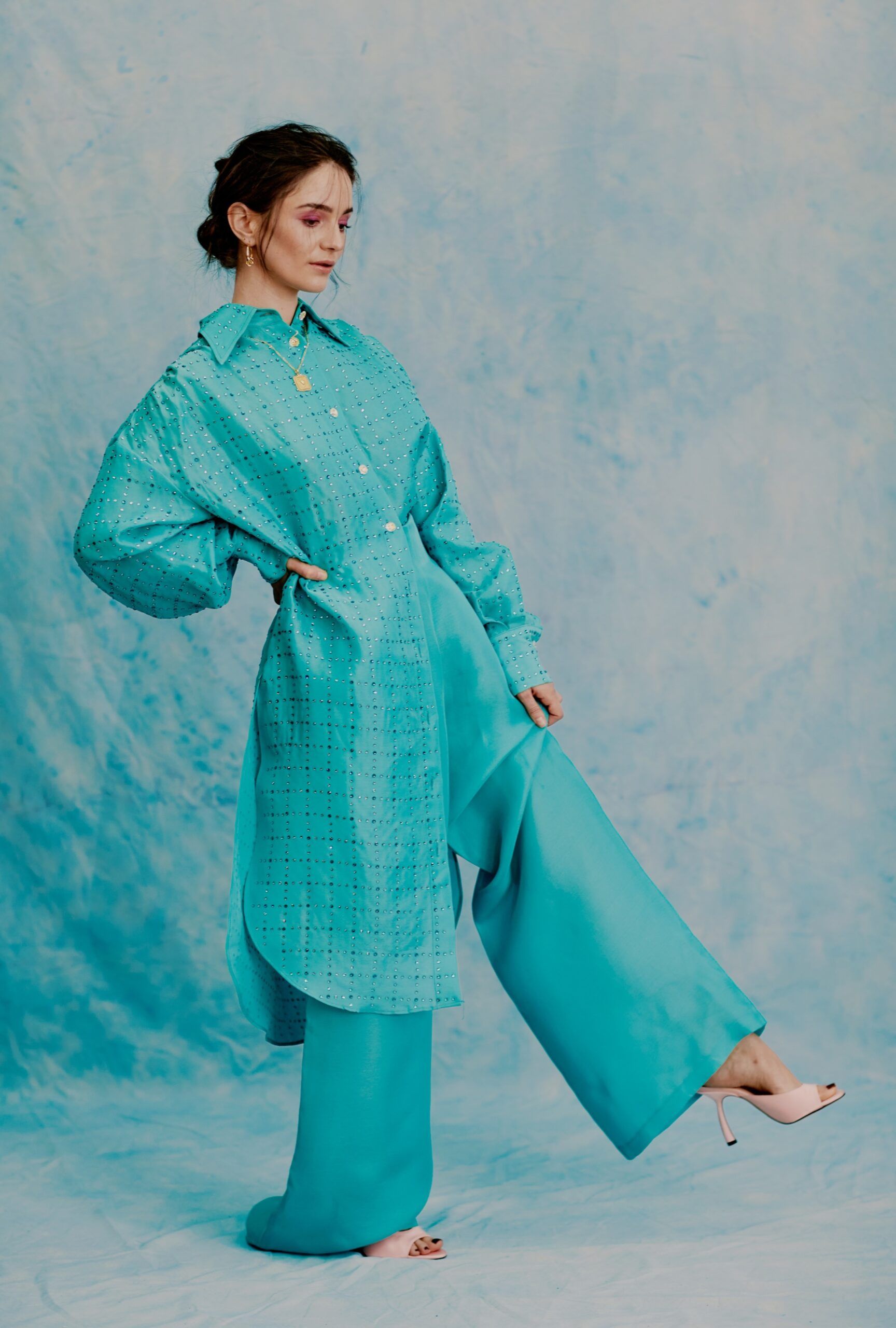 Blouse & trousers Christopher John Rogers Shoes PIFERI Earrings Motley Necklace Sophie Theakston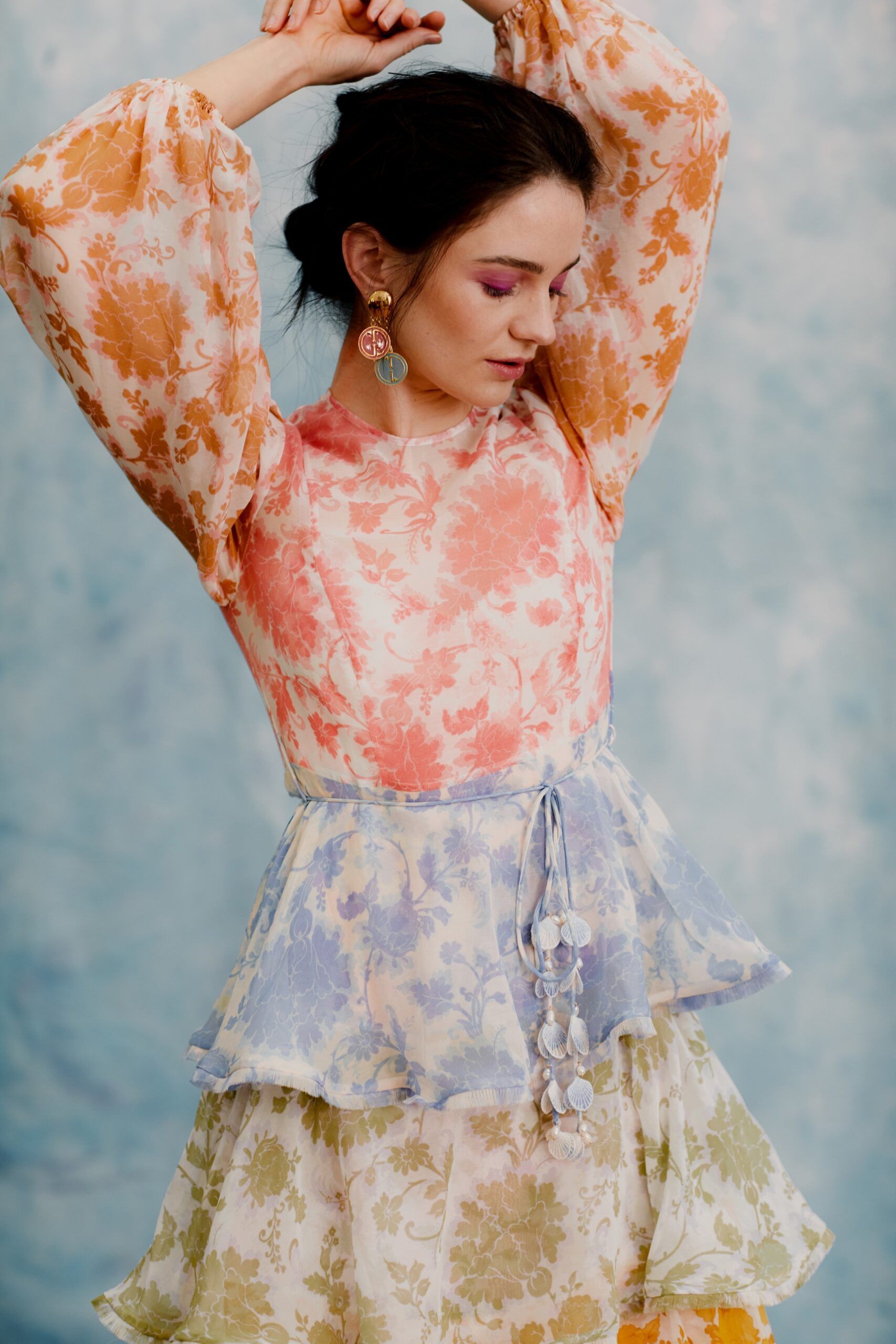 Dress Zimmermann Shoes Jennifer Chamandi Earrings Vintage Gucci from Omnēque Vintage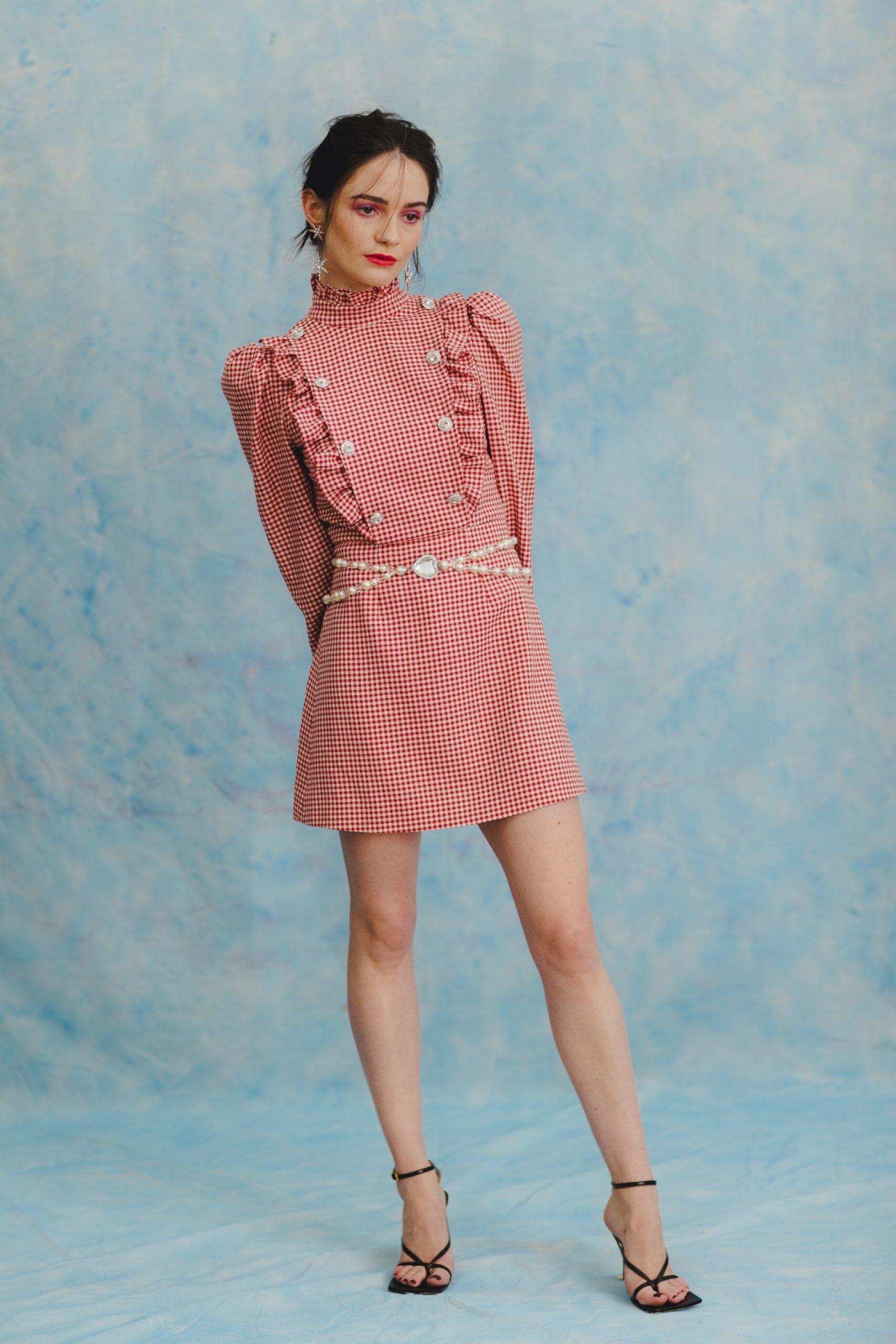 Dress Alessandra Rich Shoes Bottega Veneta Belt Alessandra Rich Earrings Jennifer Behr
I read an interview where you speak about actors that are overtly on social media which can be distracting as a member of the audience when viewing their films which I totally agree with! How do you balance promoting your work and showing glimpses of your life on social media while still maintaining a sense of privacy?
I am terrible at social media. My profile is quite clinical and anonymous. It's crazy to me that a selfie will get thousands more likes than something actually interesting or even a photo from a shoot. Why? It baffles me. And it's not that I'm a super private person but I just hate being put into a box. As an actor, I don't want anyone thinking "Oh, that character is so different (or similar) to how she is in "real" life." I use inverted commas because Instagram is anything but real.!
You're quickly becoming known for your incredible red carpet style—the Givenchy dress you wore to the premiere was stunning. Is fashion something you've always liked to use to explore and express yourself? Who are some of your favourite designers?
Growing up, I couldn't have cared less about clothes or make-up. To my mum's dismay, I was always in jeans, trainers and some jumper. But then, the more I worked, the more I realized that much with how my costumes influence how I feel as a character, so can the clothes I wear in real life. Red carpets and shoots are great fun because you can wear totally wonderful but impractical outfits. 8-inch heels and a crazy dress while on a shoot? Yes, please. While running for a tube? No thank you. 
I have to credit Rebecca Corbin Murray for the red carpet looks. She is amazing to work with. She is great at her job and knows her clients so well. Givenchy gowns are always gorgeous. Chanel always feels luxurious. But that's of course in the work sphere. In reality, I try not to shop much. I try to buy quality pieces that will last me for years. I love relaxed suits and blazers…dresses are such an easy go-to piece. And trainers. I love trainers because I walk everywhere and like to be speedy while doing it. I do believe in investing in a great coat and great boots.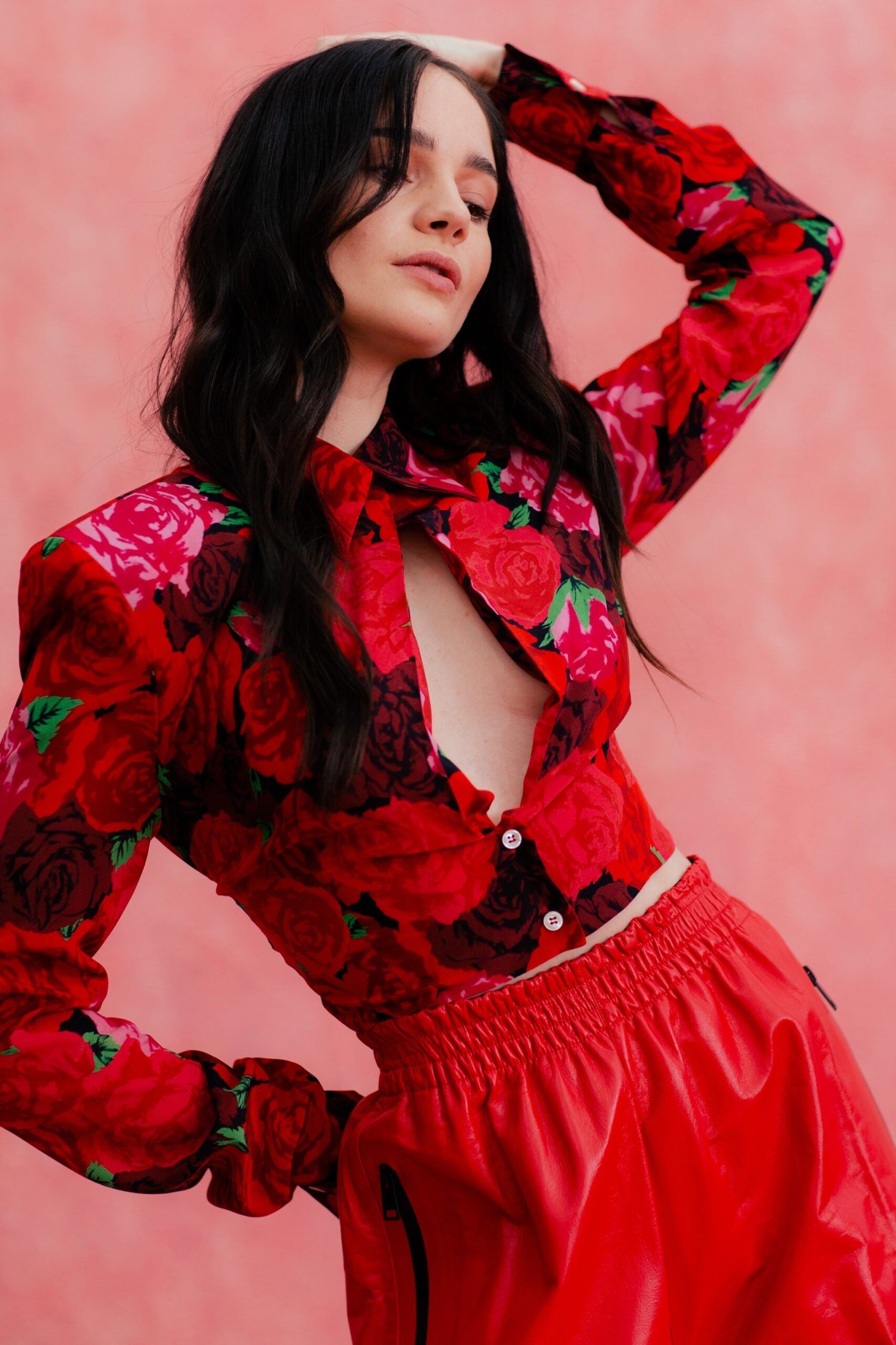 Shoes PIFERI Shirt Magda Butrym Trousers Bottega Veneta Earrings Vintage Chanel from Omnēque Vintage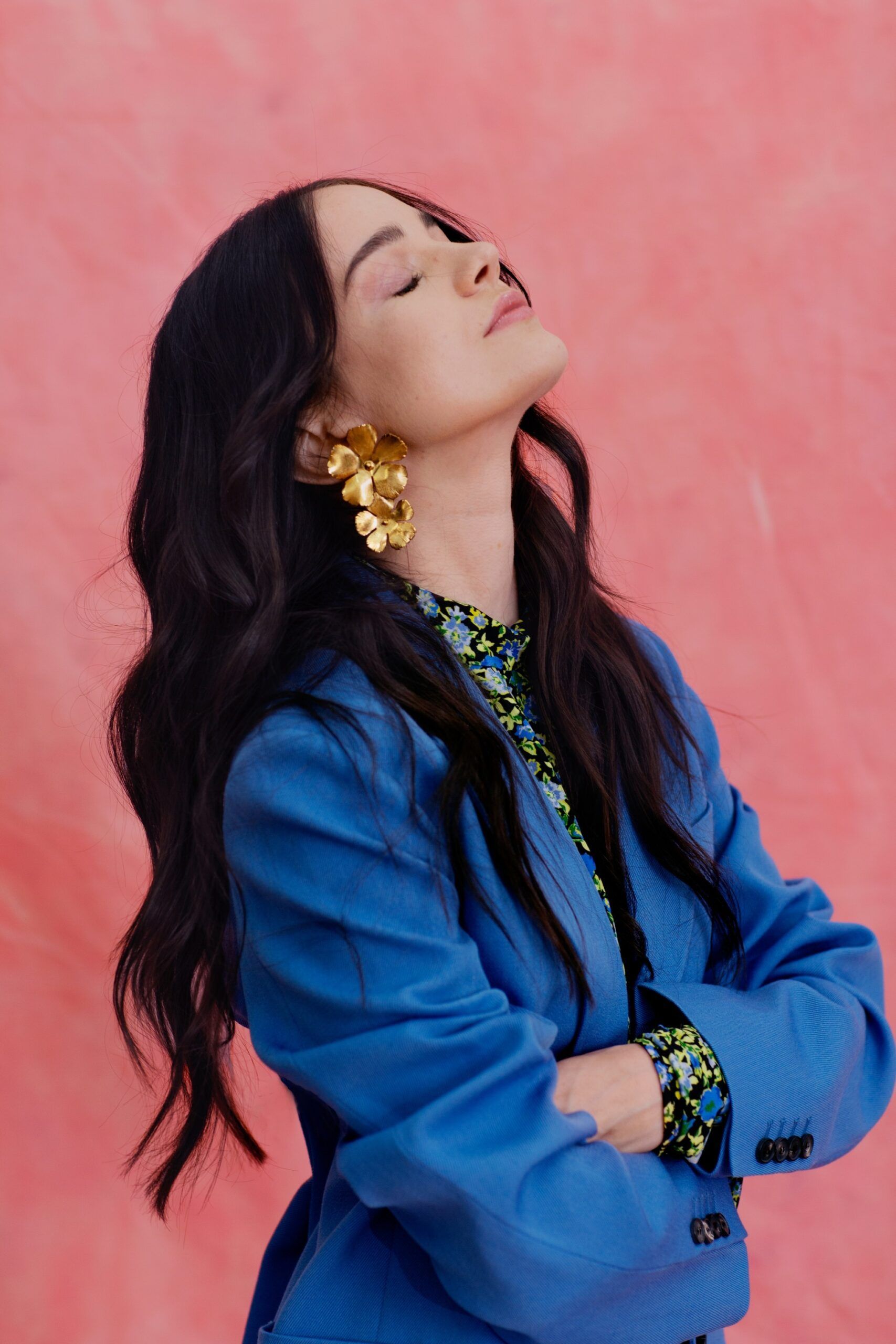 Suit & top Victoria Beckham Earrings Jennifer Behr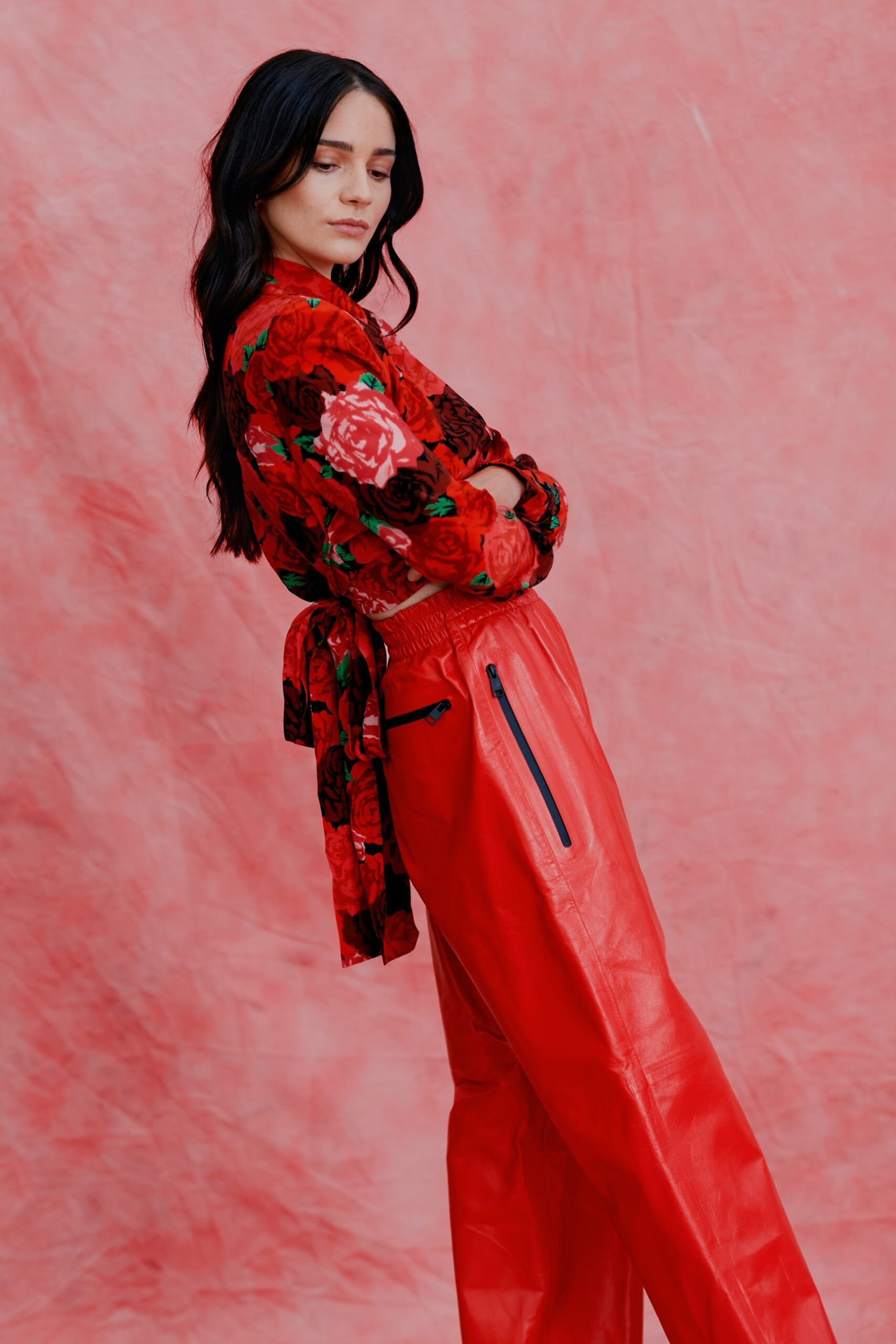 Shoes PIFERI Shirt Magda Butrym Trousers Bottega Veneta Earrings Vintage Chanel from Omnēque Vintage
What is the last album, book, and film/TV show that you absolutely loved?
I binged Ted Lasso recently. It's just such an unashamedly cheerful show which we all need now and again. I'm a little bit obsessed with Foy Vance's music these days. My favourite book to recommend is The Chronology of Water by Lidia Yuknavitch.
Lastly, if you could manifest something for yourself in 2022, what would it be?
Firstly, great health for myself and my loved ones. Aside from that, I would love to do a really, really different role. A transformational one that would surprise people.
The Unforgivable is out now. Follow Aisling at @aisling.franciosi.
Feature image: Suit & top Victoria Beckham Earrings Jennifer Behr 
Interview Kelsey Barnes
Photography Hannah Cosgrove
Stylist Harriet Nicolson
Hair Sophie Sugarman
Make-up Brooke Simons
Set design Ian CY