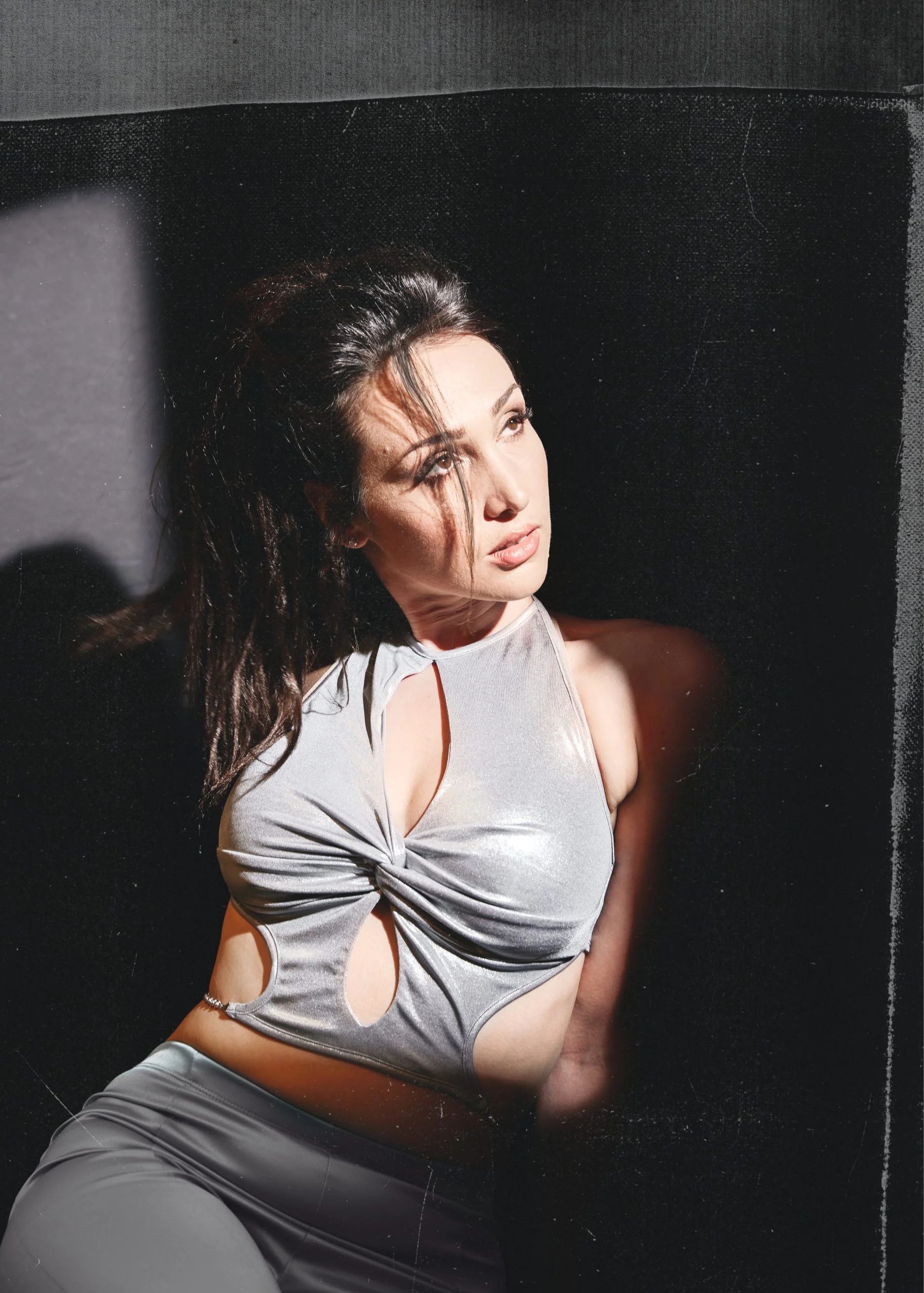 HARLOE
L.A. based singer/songwriter HARLOE is no novice to high-profile music collabs. Celine Dion, Neyo and Britney Spears are only a few of the many chart-topping artists for whom she's already co-written and produced tracks, not to mention the Grammy nomination earned for Ella Mai's self-titled album (she co-wrote 
Run My Mouth
).
Now, HARLOE's vocals are on the prowl of a dance floor near you with her disco-infused new single, Overthinking, featuring legendary guitarist Nile Rodgers. Slick 70's baselines and velvety synths make the perfect backdrop for this catchy tale about overthinking the other person's unexpressed feelings in a modern-day courtship. 
The song itself materialized amid an off-the-cuff studio session with fellow Roc Nation producer Fred Ball (Jessie Reyez, RAYE, Little Mix) at the iconic Abbey Road Studios in London, where Nile Rodgers also happened to be recording at the same time. During a chance meeting that placed Nile and her in the same room— HARLOE readily admits to using spur-of-the-moment antics to garner Rodgers' attention— he added a singular funk guitar line to the track, along with the suggestion to not overthink the lyrics. Accompanying the release is a stylized retro-tinged visual that records a fly on the wall perspective of HARLOE during a photoshoot in downtown Los Angeles.
With a coterie of chart-topping singles and award-nominated collaborations under her belt, HARLOE retains the kind of low-key effervescence that is refreshing and delicious. On the heels of the release of Overthinking, the keytar slinging crooner chats with 1883 about the magic of working alongside Nile Rodgers, the use of timeless tunes to chronicle her own evolution, and the name change that's been a game-changer for her career.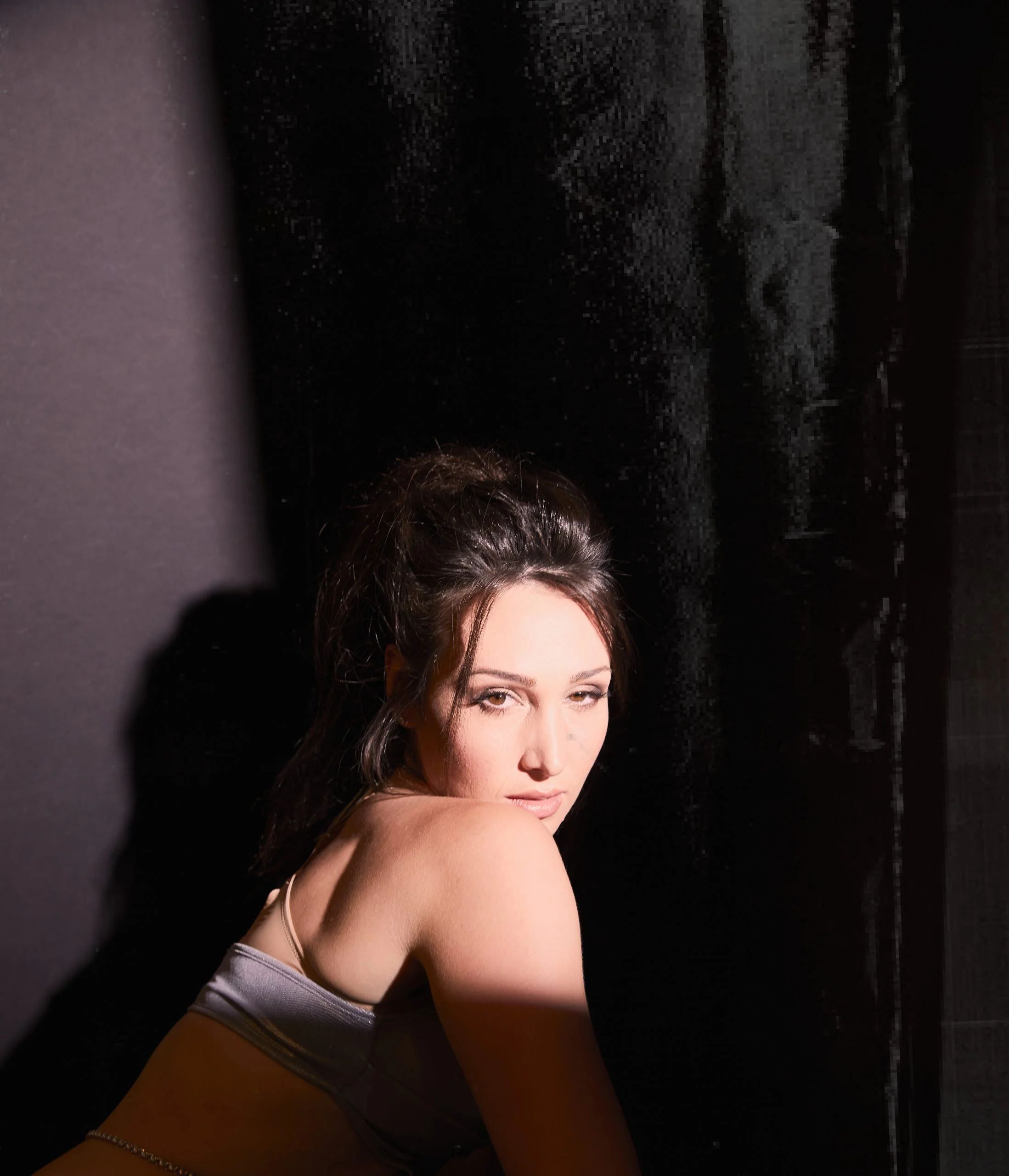 How familiar were you with the legacy and sound of Nile Rodgers before doing this collaboration with him?
It was really cool how it happened…sometimes managers and people around you will set you up with sessions and curate it for you, but in this case it was so organic and I just happened to run into him in Abbey Road in London… I was really a fan before knowing what a super fan I was. His songs have been a part of the soundtrack of my life since I first loved music, especially all of the soulful Motown stuff that he did. I mean he wrote We Are Family! The legacy and history of what he's been a part of is incredible. He just loves music and is so humble about what he does. 
How did the collaboration actually come about? 
We [HARLOE and producer Fred Ball] were writing for Demi Lovato, and then we had some extra days in London and we ended up writing my first EP in a week. And so going back to London felt natural, and the thing to do…and the first night there, I landed and Fred called me and said, "Get to the studio right now!", and I just came in from a flight, so I said, "Well maybe I'll come in the morning". And he texted me, "No, come right now!". And that's when I came over, and that's when I saw Nile on the other side of the studio. And we thought, "How do we get Nile over here?". 
Wait a minute— so the two of you were actually planning together on how you were going to meet Nile that night so you could ask him to do a project with you?
Yeah.
Talk about manifestation!
It gives me chills to think about it, because you can't really plan that. 
But you did. 
Right?! You gotta be open to receiving and that's the beautiful thing that I realized and tried to take in during this experience. You never know the goodies that life is going to throw your way if you're just open. Fred Ball and I were working on something unrelated and I said to him, "How do we get him [Nile Rodgers] in here?", and he said "Let's do a really funky track, and blast it really loud so maybe he'll say, 'Hey, this is dope, what are you guys working on'. [Laughter]. 
You know what I love about this story? It proves life is not just about 'visualization'. When opportunity arrives, you have to grab it by the ponytail and strategize how to make the most of it…Do you have a favorite Nile Rodgers song?
I love the stuff he did for David Bowie, like Let's Dance [singing "Let's Dance"]. The production is pretty amazing. I love what he did with Daft Punk— he's always in music through every freakin' decade. He has never fallen off. And he's such a badass. 
Do you have a favorite moment from working in the studio with Nile? 
He told me stories about meeting Nelson Mandela backstage at a certain event. You know, we didn't work for that long a period together— we did this one song together, but we've become homies because it just happened so organically. And we're always talking about doing more together— he's always sending me tracks that I should write to. We didn't create a whole album together— although I'd be obsessed with that…But my favorite memory— and I have video of it— was when we wrote this song. The bridge of the song was actually the chorus in my head, but it wasn't good enough. He taught me that a chorus should be something that everyone should relate to one part, and then sing something back from it. Even if it's not the whole chorus, they gotta remember something. It has to be digestible. And he taught me that…It was already midnight, and I asked him, "So do you have an opinion on the vibe of this song?". And he sits down and says, "I always have an opinion"…And he asked me, "What's the song about?". I explained, it's when you're overthinking about somebody, and you're just in this place of being obsessive…And he said, "What if it's [the hook] just that? 'I'm over thinking, over you.' [Singing like Nile Rodgers] ". 
What a genius?!
Genius. So we kept the idea going, but he didn't bring his guitar in, and it was 2am. Me and Fred were like if he leaves this room and we wrote this song, we need his guitar on it. We can't have a Nile song, and not have his guitar. So we exchanged information and Nile said, "I'll show up to your studio tomorrow". And he did. 
And this all happened in London, within the 24 hour period of your flight arrival?
The whole thing happened within 48 hours. 
You wrote the song within that same 48 hour period?
We wrote the song that night. We had the track, laid the vocals. The bridge of the song right now was the chorus…and then Naughty Boy— another amazing producer and writer— was there too. So it was the four of us—
You, Naughty Boy, Fred Ball and Nile Rodgers?
Yes. It's one of those things where I can't wait to one day tell my future children about this…Because I love music so much, and I'm in this thing just because I love music. So when you're a super fan and you connect on a heart space level, it's a cool feeling. 
I read that you're a native New Yorker, from Queens.
Yeah. 
I'm live and direct from Queens right now. [Laughter]. But tell me, is your family part of Nile Rodgers' fan base too?
Yes, especially my mom. She's a huge Michael Jackson fan, Prince. I think I must've gotten that from her. She loves singers—Tina Marie— and real divas. And Nile did that whole Madonna project, Like a Virgin—
Nile Rodgers did Like a Virgin?
Yeah! When you go back and listen to it, it feels like that same kind of groove that he did on Let's Dance. Dum dum dum doo doo [singing the guitar groove]. Those baselines. That's another thing that was so amazing when we were working together— it really felt like I was watching some of my favorite records come to life in a new way. It was like, "Oh wow, that's how you did the base on that track?". Because he was doing it on the song that we were working on. It was just really special. He's really awesome. 
The way how you talk about working with him now, with reference to the previous projects that he's done, is absolutely magical. You're experiencing this genius—that genius— within your own manifestation. 
I love how you phrase that. It is magical. When it's in the moment, it happens fast…And some of your favorite moments, you look back at them and then you appreciate the magic of them…because when you're in it, you can be in your own head. And then for me, as an artist/ songwriter, to work with someone who is revered so much in your head, as much as you're in the moment, you want it to go smoothly…and to make it the best it could be. But when you take a step back, and it's months later, it's like "Wow! That was crazy!"…
The experience is a kind of divine manifestation. It's rare to see it, but when you see it, it's divine. 
Exactly… I love all artists— current and throwback— but there is something about that legendary status. They're just so into their craft, it's beyond fame. They're into their artistry, and I'm really inspired by that. 
But you know what? You give that. I've watched videos of you singing, where it's just your voice alongside the piano, and it's so straightforwardly beautiful. 
Thank you. 
When you first came out, you went by Jessica Ashley. By the way, Souvenirs is my favorite song from that era—
That's so funny, because I was just talking to my mom about this before we got on the phone…So I've been living in L.A. for ten years and so I left New York to pursue this. So when you mention Souvenirs, it just reminds me how it's been so long, it's amazing. It was one of the first songs that I wrote. I was still in New York, but about to move to L.A. 
You're a born and raised New York girl. When writing, is it a different creative process for you— inspiration-wise— writing in New York versus being in L.A.? L.A. is a different vibe. 
There is a difference, which is why I do like going to New York to write, and I do like going to London to write. I love seasons and weather and watching people. I love the culture of seeing people wrapped up in winter coats— in New York you see more walks of life. It could be that people just don't walk a lot in L.A. so you don't really get to see people. 
And this affects your creative process? 
Yes. So I try to tap into my creativity [when songwriting] in other ways. And find different ways to tell my own story…I've learned to find that creativity in other ways, whether it be from listening to another song…I love taking something I've heard and reimagining it in another way. Seeing shows again has been really inspiring— I went to a couple of concerts recently, and am really excited about music again. But New York will always be my home.
Do you ever look through the archives of your own music— let's say the "Jessica Ashley" phase— for inspiration when writing for current projects? 
I'm always going back, and some of the stuff that I have sitting on my laptop is some of my favorite songs because I look at songs like eras of my life, and sometimes though we move on to another era it may be hard to tap into that exact emotion from two years ago…you're never going to write with that exact same emotion. So in that way songs become more special because they're like little time capsules. 
Mellifluous time capsules unto themselves. That's so brilliant— songs as time capsules. You need to coin that expression. 
Yeah. [Laughter]. I mean for example, everyone is talking about Adele again because she's back with a new project, and it got me thinking how amazing Someone Like You was. And it still is so amazing because it's like literally her whole life into this song. And we could relate…And that's why I would go back to other songs— there might be something in there that I don't feel now, but I felt then and you sing it [the song] and you're right back there, so you could express that. Without it, there's no way I could do it now, because I'm not there. 
I love the thoughtfulness of your process— it sounds like you're in the process, but simultaneously outside of the process, watching the pieces come together…What inspired your name change from "Jessica Ashley" to HARLOE?
I was signed as Jessica Ashley to Epic Records around 2013…I was working with Neyo, and all of these people. And then I got dropped…When you're so attached to a certain thing, you don't realize that the power is within you— because you're so attached to exterior things. And I was very attached to those things, and it was like "What am I going to do"… I got dropped from Epic, moved back to New York and taught Zumba in gyms and dance studios for a while. I didn't know where my path was going to go…And then my publisher at the time was like, "You should move back to L.A. and write", around 2015. So I came back to L.A., and started writing and realizing how special it was to have other people singing my songs. It was liberating and fresh…I went to Sweden for a writing camp, and saw the name HARLOE somewhere, and it was spelt differently. I had been wanting to change my name for a while for a fresh start— to something that felt like me. When I write and perform, I feel like I tap into a more empowered…warrior. I feel stronger. 
Writing is your superpower. 
Yes. It's my superpower. When I get on stage and perform I feel like I'm ready to express myself. When I'm Jessica, I'm just me. It [HARLOE] excites me in a different way…I believe in the power of words, so I don't see why names wouldn't have the same power. When I became HARLOE, I felt fresh and excited by what I had to share…You gotta love the name that you are given, but it doesn't feel like my artistry. 
The name change ushered in a newness in expression. 
Certain things in life you don't get to choose, but the things that you do get to choose, I think you should choose them. 
'Overthinking' feat. Nile Rodgers is out now, follow HARLOE via @harloemusic
Interview Constance Victory 
[embedyt] https://www.youtube.com/watch?v=3-qpEAiJnDk[/embedyt]