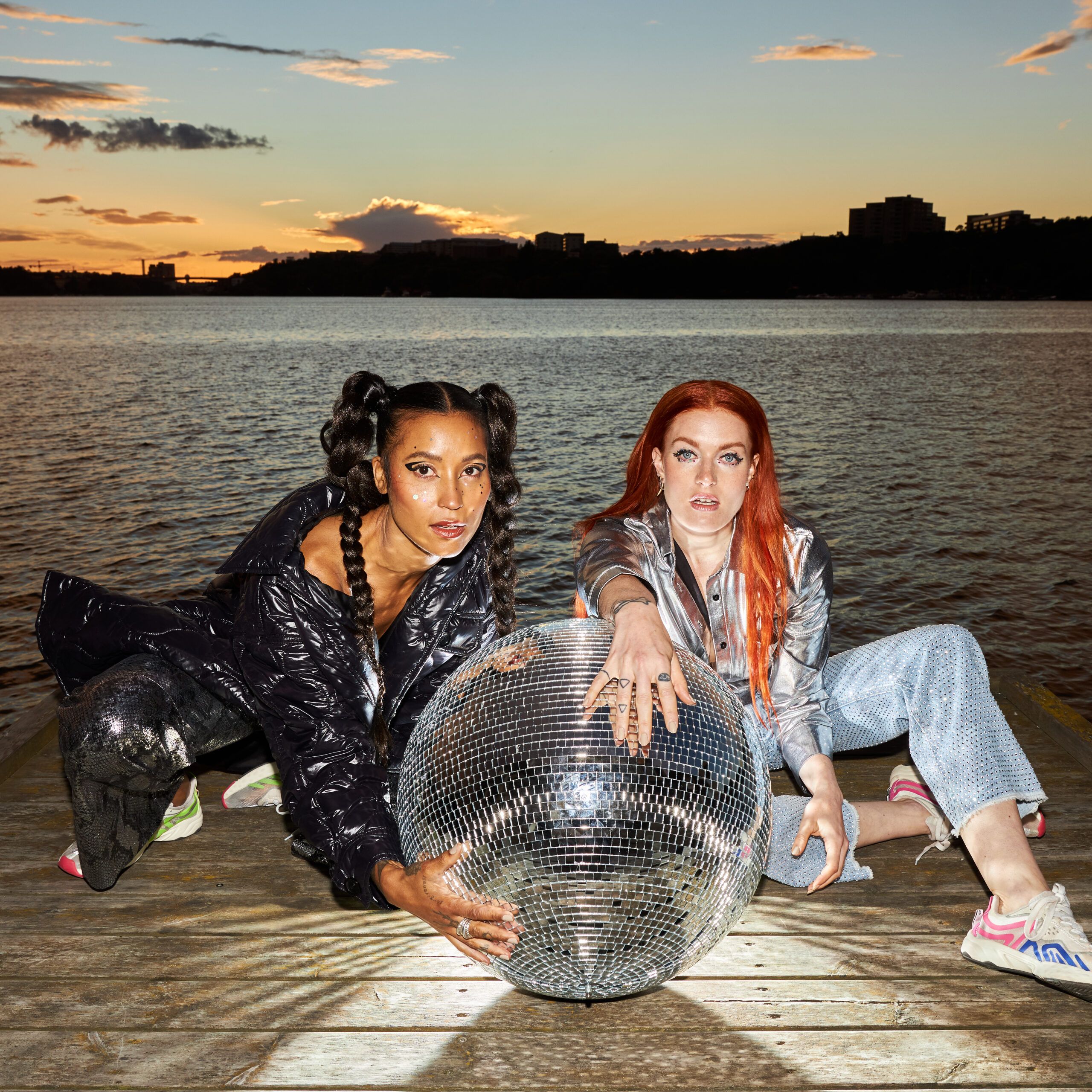 Icona Pop
Hailing from Stockholm in Sweden, Icona Pop have recently released their collaborative single with Ultra Naté, You're Free.
Forming in 2009 with electro house and indie pop influences, Swedish duo Icona Pop comprise of Caroline Hjelt and Aino Jawo. Garnering critical acclaim from the likes of Pitchfork and Rolling Stone with their debut album This Is…Icona Pop, the pair have supported sold-out tours with Katy Perry, Miley Cyrus and One Direction. Being best friends for the past 13 years, they have such a strong, trusting bond with each other which comes across within their music.
 "It is the ultimate expression of what we want Icona Pop to represent: freedom to be whoever you want to be, live life to the fullest, and have fun." The pair said when talking about their recent collaborative single with dance music legend, Ultra Naté. It's a fresh take on the original track, Free introducing it to the next generation of clubbers with a brand new feel. You're Free gives us the first taste of what is next for Icona Pop with new music on its way, I'm excited to see what they've been up to.
1883 Magazine chats to Icona Pop on their new single, hopes for the future and how their friendship has stood the test of time.
Hi Aino and Caroline, it's great to see Icona Pop back releasing music. Your new single You're Free is a collaboration between you and the original artist, Ultra Naté. How did the pairing come about? 
We were in the studio playing around writing music and started to sing on Ultra Nate´s magical song Free. It felt so perfect for the verses we were writing that day.  We decided to reach out to her and ask if we could use it never thinking she would answer but then we got the thumbs up. We felt something was still missing in the song, so we reached out to her again and asked if she wanted to join, since the original song was released 25 years ago, we thought it would be very cool to give the song something very special and what would be more special than if the queen of dance would join us. When she said yes we were jumping and screaming in the studio. We are such big fans of her, she is such an icon. 
What drew you both to create your own version of such an iconic song?
Free was one of the bangers we grew up dancing to. It's been with us for such a long time and it never feels old. It felt very natural for us to make a new version of it. 
What was your experience collaborating with one of the most successful dance artists of all time? With a career spanning nearly three decades, has Ultra Naté had a big influence on you both musically?  
Ultra Naté one of the nicest and coolest people we've met. She came to Sweden a month ago and we got to meet in real life and perform together. It was a huge moment as female dance artists to meet the queen of dance and to join the stage with an icon. 
The two of you are best friends and have been since you first met by chance at a party in 2009 despite attending the same music school in Stockholm. How has your relationship developed over the years?
It's crazy how time moves so quickly. In a way, it feels like it was yesterday we were sitting hungover on the sofa at Caroline's place writing our first song. 
We've been through so much together. Fun, devastating things, crises and pure happiness. It has been such a luxury to always have your best friend beside you helping you go through life, but also someone to share and make new memories with. Our friendship is not dramatic, it's just a beautiful vibe.
Has your creative process changed much as you have matured and spent more time in the industry? 
Yes, after many years you lose the beautiful naive way of doing and thinking things, but at the same time thank god for it. We've learned so much through our mistakes, and now we know what we like and don't like. 
In 2018 you teamed up with Avon for the #Stand4Her movement, a campaign to encourage young women to dream big and aim high. Female empowerment and gender equality are something you are extremely passionate about. You mentioned you felt the music industry was changing with regards to feminism and women and girls speaking up about their negative experiences and finally being taken seriously.  Have you noticed these changes continuing in the right direction? Are there any things you hoped would change back then which are still major issues today?
We have seen such a big change and more is hopefully about to happen.
It's so important to speak out and tell your story–If you feel comfortable of course. To make sure you stand your ground and to show the young woman that it is not ok to be treated in certain ways. Equality has always been normal for us and our friends, so when we started to tour around the world and realised we were treated differently because we were women we were very disappointed. People constantly question if 'we really play live' or if 'we really DJ' and so on. Questions a man would never get. At a lot of the festivals we were the only women headlining, I have to say, most of the time it was beautiful. A lot of women talked to us after the shows and said we were a big inspiration which means the world to us.
Icona Pop have achieved so much. From touring with Katy Perry, Miley Cyrus, and One Direction to performing on big shows in America such as SNL and The Tonight Show Starring Jimmy Fallon, what would you say are the stand-out moments from the last 10-plus years? 
We will never forget our first headlining show at Glasslands Brooklyn, NYC. I think the capacity was 100-200 people. It was such a big deal for us to travel all the way to NYC from Stockholm and see people who bought tickets to see us. That feeling is something we will never forget or take for granted. 
There are so many good memories throughout the years, we would have to write a book to tell you all about it. Touring with all the amazing artists you mentioned also left so many good memories and lifelong friends.
We have to talk about the song that propelled you both to the point you are at now. I Love It ft. Charlie XCX was first released in the UK in 2013 charting at number one in the UK singles chart and going on to sell over 4.3 Million certified downloads, with the song being originally written by Charlie XCX. When you first heard the track, did you have any idea or inkling it would be so well received, gaining such great accolades? Having joined forces with artists and producers such as Charlie XCX, Afrojack, Hudson Mohawke, and more recently, Cheat Codes. Who would be your dream collaboration? 
It's crazy, who would have guessed? Not a lot of people believed in us and definitely not in that song. Charlie used to be in Stockholm a lot writing with the same people we did, we had met her so many times and we were always talking about how we needed to do a session together. We've seen her grow from a young girl into the awesome woman she is today. We really love her!
When we heard the early version of I Love It, it was a very cute track and sounded pretty with her punky voice. We felt it needed a bit more work though so we ended up sending it to one of our favourite DJ's who used to be based in Berlin, Style Of Eye (Linus, the other half of Galantis). We wanted more grit and together with Patric Berger this version of I Love It was born. 
We have so many dream collaborations. We can't really tell you about them though as some of them may happen and we don't want to jinx it!
Finally, what's next for Icona Pop? 
 Right now, we're in the studio wrapping up our album and we can't wait to welcome you into our world and also to let people know who and what Icona Pop is in 2022/2023.
Follow Icona Pop @iconapop
Interview by Gabi Oates