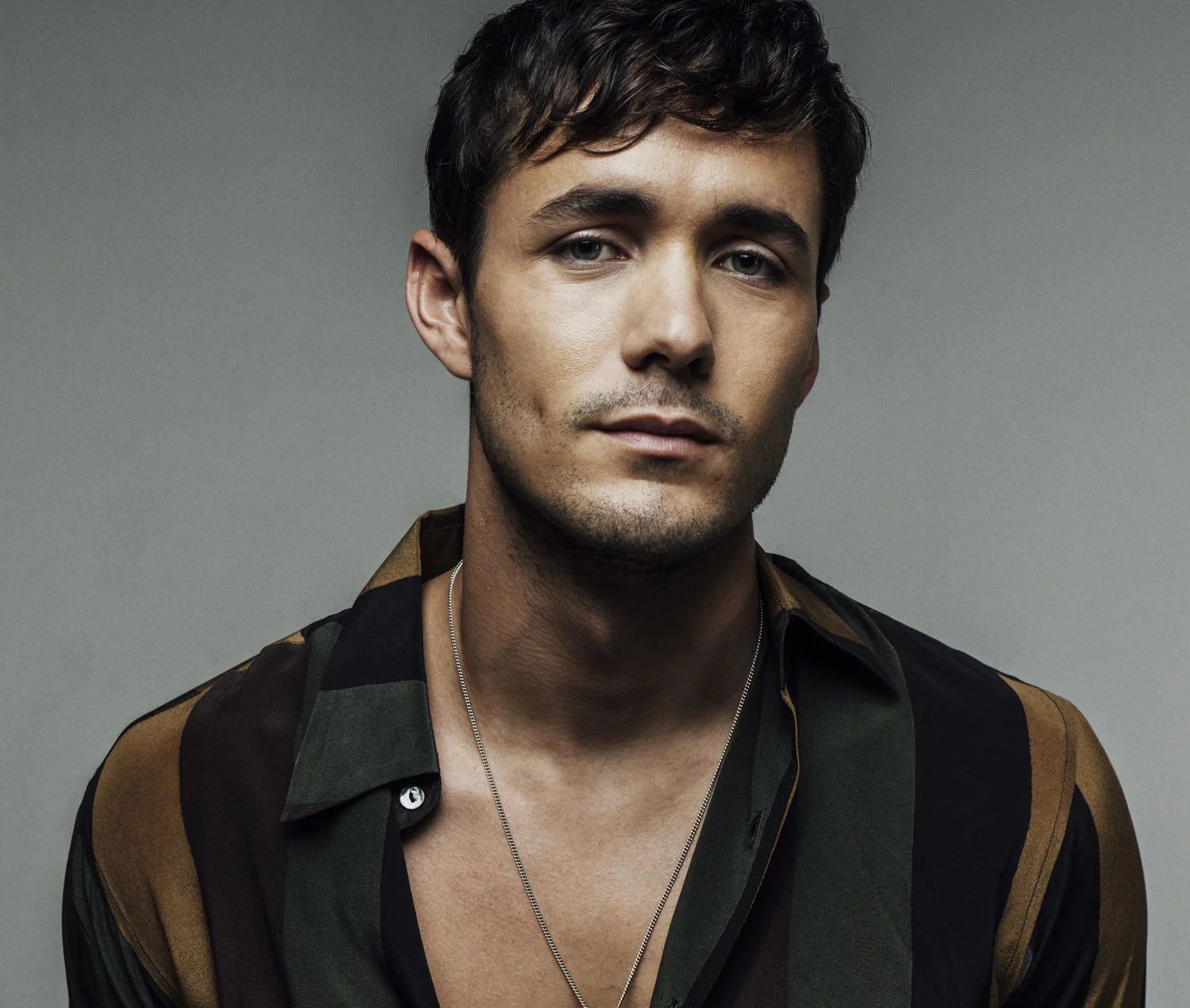 Jonah Hauer-King
Twenty-four-year-old Jonah Hauer-King is not a novice in the industry, having performed on stage and in films next to the likes of Sir Kenneth Branagh [The Entertainer], Hayley Atwell [Howards End], Sean Bean and Helen Hunt [World On Fire], just to name a few.
The British actor, who is a star in the making himself [and you'll mark my words], has just wrapped up filming BBC One and PBS World War II drama series World On Fire, playing a troubled translator-turned-army officer Harry Chase who is also entangled in a complicated love triangle, fighting for his country and his beliefs. Christopher Nolan-esque and multi-layered, the drama tells a tale of the war through the eyes and lives of ordinary people. And without further ado, let me tell you this — it's gripping television at its best.
No wonder Jonah couldn't be more proud of his latest venture. 'I was excited by the prospect of really taking someone on a journey,' — he says while reminiscing of his character. With a diverse line of movies scheduled for the rest of this year and early next year [The Song of Names with Clive Owen and Tim Roth, Once Upon a Time in Staten Island with Naomi Watts), we meet Jonah at Blundell Studios who is finding his authentic voice and audience in the ever-changing world of arts.
Recently you came back from the Toronto International Film Festival (TIFF). Congratulations on the premiere of one of your World War II projects, The Song of Names. Have you read Norman Lebrecht's novel of the same name and can you reveal more details about your character in the movie, Dovidl 17-23?  
Thank you! Yes, I have — although I came to it after I had read the script, which was kind of an interesting experience. The book and the film are structured completely differently, but the essence is the same. The story is about a young Polish boy, Dovidl, coming to England to both further his musical career and to escape the horrors of the Nazi occupation. He's talented, volatile, arrogant, but deeply sensitive. He has a lot of guilt that his music allowed him to escape, whilst his family were left behind.
The friendship between Martin, who is another character in the movie, and yourself is revealing a story of promises that haven't been kept. When was the last time you broke a promise that you've made? I can easily remember mine, though, I'm still trying to follow my one-liner 'I promise to use less sugar in my diet.'
I tried the sugar one too — it didn't work. I also promised myself I wouldn't get false hope about Arsenal [football club] this year. That hasn't worked either.
Your career has been profoundly impacted by your work in theatre. What did you learn from your experience on stage that you've applied to work in movies and vice versa?
I started out doing theatre and I think it's informed me a lot. Doing a play has a great sense of a 'company', and the feeling that you're all working towards the same thing. I think being respectful of everyone's job, and recognising the importance that everyone has in the process — that's when the best work is made.
Did your upbringing make an influence on the choice of your career? What advice that you greatly follow did your mum [theatre producer Debra Hauer] give you in terms of working in this industry?
I'm not sure my upbringing influenced what I chose to do, but my mum has always been really supportive and offered good advice. It's simple really — work hard, be nice to people, learn your lines!
You were actually pursuing your degree in Theology and Religious Studies at Cambridge University while juggling your acting career at the same time. Do you think this made you more grounded?  
I'm not sure, really! I'm definitely grateful that I had the chance to go and study something completely different and unrelated to acting. It was great being surrounded by people who were doing different things and had such a diverse range of interests.
Let's talk about the up-and-coming BBC One premiere, World On Fire. How much did you know about the historic period of World War II?
I guess it's a big part of our history and our education growing up, so I knew a fair amount. But it was cool being really specific about certain locations and periods of time. I think what I took away from it the most was the war's universal impact. What our writer, Pete Bowker, tries to capture is the sense of one degree of separation. WWII was, obviously, so divisive, and yet strangely bonding as everyone was impacted in different but equal ways. Pete's not told the story in some kind of a binary way. It's not about heroes and villains. There were pain and loss on all sides.
I've enjoyed watching the first episode as it's a sample of both good acting and writing as the war phenomenon is exposed using compelling storytelling through the eyes of individuals, whose lives were shaken by it. And then there's more to the story itself — the love triangle involving your character, Harry, Polish waitress Kasia [actress Zofia Wichlacz] and Mancunian factory worker Lois [actress Julia Brown]. When you first hear the words 'love triangle', you're instinctively looking for a person, perhaps, to blame for his or her infidelity or a third wheel who's actually not loved at all. But this story has a different angle to it… With avoiding any spoilers, what relatable qualities, if any, do you recognise from your character and his choices in yourself?
I think you're right that it's not your average love triangle. Harry genuinely falls in love with two people, perhaps, representing different aspects of his character or life, and he feels that he is pulled in two directions. That said, I think he has a lot to learn. He's well-intentioned, compassionate, but also deeply flawed. When we meet him, I think he's a little selfish, a bit callow, and quite reckless. Harry's indecisive and he doesn't fully know what he wants, or who he is. I've never loved two people at the same time, but I can definitely relate to that feeling of trying to find purpose and not fully knowing who you are yet.
It also seemed to me that in the trailer of World On Fire, your character, and do correct me if I'm mistaken, is revealing a transformation that he'll be going through the term of the series. From an innocent, or should I better define him as an unassuming translator, to becoming the Officer-in-Charge as Harry bravely voices to his peers. Was it the complexity of the character that has attracted you to the script?
I really hope you're right! That sense of transformation was definitely what drew me to the role. To be honest, I found it quite difficult to like him at first. But as I read more of the scripts and watched his story unfold, I was excited by the prospect of really taking someone on a journey. He isn't perfect at first — and he probably will never be — but trying to show him learn and grow over the course of the series was a really rewarding acting experience.
Without giving too much away, will we see Harry Chase coming back to the screen?
As in for a second series? I don't know! Maybe. The first series covers the first year of the war, so there's definitely a lot of material…
You've explored various genres throughout your career so far. What genre would be your go-to-choice now? Horror, musical, biopic?
I hadn't thought of it, but actually yes — I'd like to do a biopic. I've always found it interesting how far actors push impersonations of the people they're playing, as opposed to just trying to capture some kind of 'essence' of them.
And if you'd need to audition for a musical, what song would you choose to perform?
Wouldn't say no to a musical, either. I usually choose an Amy Winehouse song. Not that I do it any justice; she's just one of my favourites.
I'm asking about music as I was pleasantly surprised when I saw a delicately wonderful Leonard Cohen's 'Hallelujah' cover performed by yourself. You also recorded some tracks for other projects before, one of them being the film Postcards from London.
Ah, thanks! Yes, the Postcards from London experience was great. I was acting in the film and found out that Steve, the director, was being fairly open-minded about his musical approach. I kind of just muscled my way in there, brought my guitar on set one day and constantly dropped hints. Pretty shameless, but it worked?!
I'd like to go back to one of your projects as it does resonate with my cultural background as well. Ashes in the Snow, a heartbreaking story about the Soviet occupation of my native country of Lithuania. A story where art prevails all and becomes as important as oxygen. I think it's an authentic location where in some rural areas, the aftermath of the occupation can still be felt… How would you define your experience shooting this particular story?
 The experience was amazing. As you said, it's a country that has been through so much, and you can often feel the effects of the war. All of the crew and a lot of the cast were Lithuanian. Everyone has their own personal story and connection to this time of history. Our director's [Marius A. Markevicius] family was from Lithuania too. It made the experience incredibly moving, and all the British actors definitely felt a massive responsibility to try and tell the story authentically and truthfully.
'It's normal fearing it, just got to outrun it.' These lines were used in the opening sequence of the trailer for World On Fire. What do you fear the most and what helps you to cope with your fears?
Agh, that's a big question! They range from a fear of heights, Arsenal losing, the word 'moist'. Generally, I've always found my friends and family to be the best comfort. They make me laugh — that seems to be the best antidote.
Team Credits
interview by Miglė Kriaučiūnaitė
photography Joseph Sinclair 
styling Ella-Louise Gaskell 
grooming Chantelle Phillips
location Blundell Studios, London


World On Fire currently airing Sundays at 9pm (BST) on BBC ONE and BBC iPlayer!