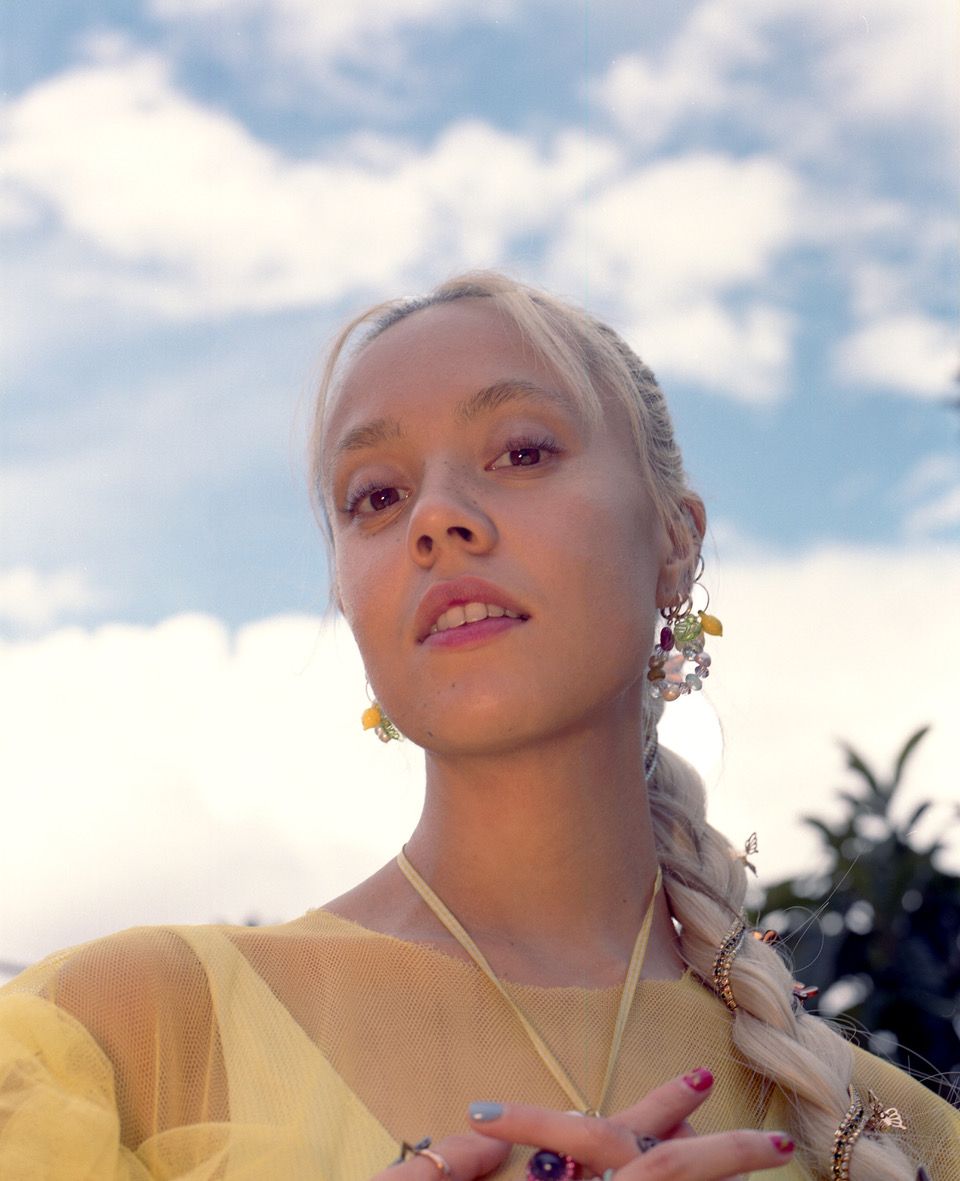 Josie Man
Youthful yet world-wise South London singer Josie Man makes music that's both positive and powerful.
Her latest single Grow delves into finding the silver lining even within hurt and growing from it as the hypnotic performers weave her interests in crystals, energies, and spirituality into poignant narratives of honesty and acceptance. From her debut single Colours in 2019 to now, Josie has risen quickly yet steadily having released her debut EP Baby Pink & Blue in early 2020 and supporting Beabadoobee at her South London AMP live show.
Josie's music comes straight from her heart and wraps listeners in its comforting, encouraging messages that stand-out for its ability to find beauty in everything. With gratitude and self-confidence as cornerstones of her musical creativity, Josie wants people to know that they are never alone in their experiences. In conversation with 1883, the rising star delves into her musical journey, writing introspective lyricism that simultaneously strikes a chord, what spirituality means to her, her motto in life, and about her love for fashion and tattoos.
What's the message and inspiration behind your latest single Grow?
The track was written over a year ago now but it was going to go on my first EP but it just wasn't ready at that point. The message is to say you can get through hard times and you'll grow from that situation. I think it's really important to be hopeful because when you're going through a bad time sometimes all you need to hear is 'you'll get through this.' I also wrote thinking about how amazing it is to look back at those times and see how much you've grown.
This theme of growing from your hurt is very relatable. In general, would you say your music is more introspective or do you tend to draw from the world around you?
I like to look into my own experiences and write them in a way that other people can relate to it. I feel there's something really comforting about someone going through something similar to us. It makes you feel like you're not alone.
The track and video seem to have many elements of spirituality such as discussions of energy, crystals, etc. What role does spirituality play in your life and to what extent has it influenced your music? 
Spirituality is a massive part of me. It's what helps me get by every day and when I go to the studio it's just within me so it kind of comes out in my music. It's just my way of expressing my feelings. I express things through my spirit, I feel confident when I've got my crystals. It brings out the best in me and naturally flows into my music as well. It's not just spirituality but everything that I've learned in life, I pick up and take that with me throughout life.
Similar to your interest in energies and crystals, are there any other kinds of interests you haven't had the chance to experiment with yet that you'd like to do in the future?
Outside music making my own clothes is something I'm really interested in. For me clothes are more than just about how I look, it's about how it makes me feel comfortable. It makes me feel like me, makes me feel like I'm being my best self. I'm also really interested in tattoos – I love the look of them and want them to be a part of me. I can't wait until I'm old and have loads of tattoos, because it'd feel like a journey.
What's the most favorite tattoo you've gotten so far and what's something that you love to get tattooed in the future?
I've got this massive tiger on my leg, and after lockdown I am hoping to get a back piece from this girl who coincidentally happened to be from the same sound healing session. I feel this connection to her and think getting my tattoo done by her will definitely mean something.
Your music is very much centered around self-love, acceptance, kindness. It's all about taking something that hurts you and then making it something better like you said. But what was your journey to getting to this place as a person and artist? 
How I got to write about what I do came from me being a bit afraid to say how I feel. But then as I became more confident to speak out I was able to write the music that Ido now. It definitely took a while for me to feel brave enough to say things about my own experiences but when I saw how much people related to it, I was able to feel confident about what I was putting out.
Who inspires you both professionally as well as on a personal level? 
Jhene Aiko really puts her energy into her music and it feels very magical. It's quite rare to find someone who uses things like frequency healing beats in their music, it feels very pure and connects with people. I always find myself drawn to people who make things that connect with my heart and feel really raw.
So what would you say has been the most surreal moment so far in your career and what's on your bucket list?
Yeah up until now I think it's just being able to release music. I've literally got such an amazing team and I couldn't do it without them. I think that's something that's really amazing. Something on my bucket list is doing intimate live shows. It feels like I'm connected to every single person there because that's what it's all about.
Speaking of live shows considering there are none at the moment how have you kept up a connection with your fans? Also, what's a fan comment or interaction that made you smile recently?
I've done Instagram videos and people can message me on there and I always reply. Being on social media can be quite draining but I think it's good to keep up with everyone because I wouldn't want to go quiet for a bit and come back only when I make music. In terms of interactions, honestly, the biggest compliment is that I've been able to cheer them up with my music. Even if for the duration of a song, I want people to be able to turn off their busy minds and reside in the music.
Finally, what's your motto in life? 
People spend so much time worrying about things so I always ask myself 'Will I be worried about this when I'm 80?' I remind myself to be grateful for the simple things right in front of you even if that's something like a toothbrush.
'Grow' is out now and you can check out the video below. Follow Josie via @agroovyboothang
Interview Malvika Padin
[embedyt] https://www.youtube.com/watch?v=GH4d_KIXlNU[/embedyt]