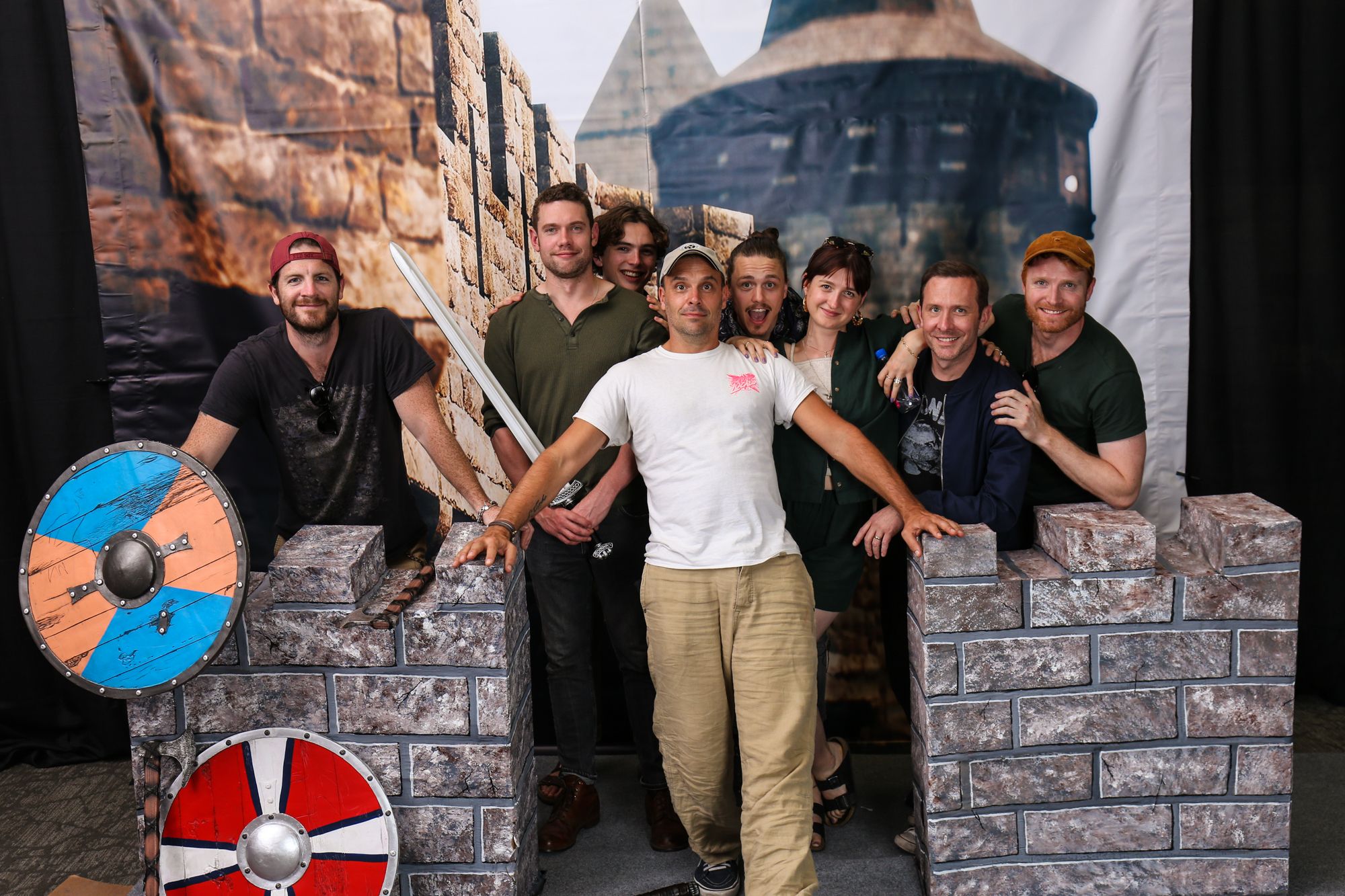 KiCaSS — Kingdoms, Clans and Swords 'n Shields 
While your brain may conjure images of women wearing bonnets when you think of Salem, Massachusetts, you're most likely thinking of the women who were hanged after being accused of witchcraft and not the women who grace the screen on
Outlander
.
On a beautiful weekend in July, though, these worlds collided at the Kingdoms, Clans and Swords 'n Shields event hosted by Pinkie Swear Productions (comprised of Elaine Milo, Shawnette Boggs, Jenna Chevier, and Kira Burt). Partnering with The Screen Chronicles and The Outlander Lounge, the trio united to put on a unique fan convention featuring appearances from Outlander and The Last Kingdom cast members. 
Though Lauren Lyle and Caitlin O'Ryan thankfully didn't have to adorn their bonnets during the weekend of panels, activities, and photo ops, the pair were present alongside fellow Outlander cast mates César Domboy, Tim Downie, and Tom Brittney. The five members of Outlander appeared at the convention along with a legion of men from The Last Kingdom, including Magnus Bruun, Joseph Millson, Christian Hillborg, Micki Stoltt, Harry Anton, and Harry Gilby. I was graciously invited to attend the hybrid event by floor manager Jenna Chevier and the event organizers after hearing about the weekend from Tom Brittney. Some of you may remember when I somewhat chaotically interviewed Tom for 1883 last year, and though I'd like to tell you that spending the day with him at KiCaSS was more structured than our original interview, I think it inevitably went in the same direction.
Prior to my arrival, I had an idea in mind of how the day would go. I'd attend the cast panels for both Outlander and The Last Kingdom. I'd see Tom throughout the day and occasionally ask him for comments. In the meantime, I'd enjoy the various activities, which included axe throwing, photo ops, and casual meet-and-greets with the actors. I did, technically, partake in almost everything aside from the axe throwing (which was probably for the best since I'm clumsy), but in between these moments, I followed Tom around as his very small bodyguard/schedule keeper/the person he invited to hang out with everyone even though no one knew who I was. 
You'd think the situation would be awkward for a bunch of actors, especially considering the fact that I'm a journalist and therefore can be seen as "the enemy" à la Almost Famous. However, when I walked to the trailers with Tom, everyone kindly introduced themselves to me and shook my hand. They made conversation while Tom offered me an abundance of snacks that I largely declined (Hot Cheetos, which I've never tried, Veggie Straws, which I have tried, Oreos, which I liked but didn't want to eat at 11:00 a.m., and cupcakes in a jar, which were as confusing to Tim Downie as they were to me). To respect the sanctity of the people who graciously allowed a total stranger to hangout with them for nearly two hours, I'll keep most of the details appropriately off the record. 
Highlights from the Outlander panel— consisting of Tom, along with Lauren Lyle, César Domboy, Tim Downie, and Caitlin O'Ryan — included anecdotes about how riding a horse on the show is more complicated than it seems. César mentioned that, not only do you have to help the horse navigate the terrain, but you also have to deliver your lines and "you're supposed to look good" at the same time. Tom added that his horse "was trying to murder him" since it kept teetering over the edge in lieu of following commands. Lauren's experience was even more difficult, as she had to control two horses and a cart during an intense escape scene on the show. She mentioned how, when the cameras start rolling, "You forget everything you've been taught," and you have to go with the flow of the moment instead. Tim added that, since horses can sense fear, the horses he worked with "hated him" because one scene required him to fire a gun near the animal, which naturally caused the horse to bolt.
Caitlin discussed how she didn't have to ride horses for the show, but that "Season 5 of Outlander was essentially the season of Lizzie and the babies," which posed its own set of unique problems. They all went on to highlight the fact that they often have to record sounds after the fact for fighting scenes…and for love scenes as well. Though no one went into exact detail about how awkward that must be, we can all use our imaginations to fill in the blanks.
One of my favorite moments of the panel happened when the actors were asked what theme song they would pick for their character. Their responses were as follows:
César: "This Charming Man by The Smiths."
Lauren: "Acid jazz. Look it up!"
Caitlin: "Sexual Healing by Marvin Gaye, but the Hot 8 Brass Band version!"
Tom: "Whatta Man [by Salt-N-Pepa]."
Tim: "Either 9-5 by Dolly Parton or It's Raining Men by The Weather Girls."
After the panel wrapped up, I attended a meet and greet session with Tom and Tim, where Tim chatted about Otta Swire, Scottish folklore, and Neil Gaiman. Tom chatted with the women on his side of the room about a variety of topics, many of which I couldn't necessarily hear from where I was seated. Both Tim and Tom had excellent responses, though, when they were asked what their dream roles would be.
Tom: "James Bond." *points at me* "THAT you can put in the piece." At which point everyone in the room nodded their heads in agreement since they were all apparently thrilled at the prospect of Tom taking over the helm from Daniel Craig. 
Tim: "I'd love to play a villain. It's all about the hair, though. I want hair I can toss over my shoulder." It was at this point that I began to wonder if they shouldn't have cast Tim as Lucius Malfoy in Harry Potter instead of Jason Isaacs. 
Following the conclusion of the Meet and Greet sessions with Tim and Tom, I made my way back over to the main area to attend the panel for The Last Kingdom. Harry Gilby shared an incredible story about the time he learned how to ride a horse for the show. He said the man who was teaching him was much older—"He had to be at least 90 years old,"—and Harry was asking him who he had worked with before. The man then replied that he had taught Peter O'Toole how to ride a horse for Lawrence of Arabia before asking Harry what he was starring in. When Harry replied "The Last Kingdom," the man stoically said, "Never heard of it."
This sparked a conversation amongst the TLK crew about their various horse riding experiences while filming the show. Joseph Millson mentioned that his horse was "insane" but that he managed to get his big moment done in one take despite the issues. (Which is pretty impressive, if you ask me). Christian Hillborg said he's always loved riding horses and didn't face much difficulty, whereas Micki Stoltt said he waited around for about a month to learn how to ride before he was told that he wouldn't actually have to ride a horse for the show.
Joseph also discussed how it was "The right time to make The Last Kingdom," since the creators were able to put together the right mix of people to make "the magic of the show" work. Christian echoed this sentiment and added that he "really grew as an actor" during his time on The Last Kingdom, as he was able to learn from his fellow castmates on set. 
This general level of kindness and camaraderie was evident throughout the entire course of the event. During the opening panel that took place with both casts, everyone took turns discussing the kind, thoughtful messages they receive from fans on social media. Christian said he's had many "sincere conversations" with fans online, which he really enjoys. Harry Gilby amusingly said that people often approach him and say, "Hey, are you Timothée Chalamet?" which made everyone in the room laugh. Harry Anton echoed Christian's sentiments and then hilariously added that some fans "Send him some weird shit," which all the other actors nodded in agreement with. Lauren Lyle said that more often than not, people will come up to her and ask her to "Call them a whore," in the same way she says the word in Outlander. This got another big laugh from everyone in the room. 
César Domboy said fans message him to say "You need to be nicer to Marsali!" which Lauren agreed with (and rightfully so). Caitlin O'Ryan said she receives a somewhat mixed bag of responses when she meets Outlander fans in person. Some people give her a rather backhanded compliment: "You're so much prettier in person! Why do you wear that bonnet?" whereas other people approach her with a simple request: "Can you give Sam Heughan my love?" Tim Downie said people usually message him to say, "Red isn't really your color. You're horrible, hope you're well," sparking another round of raucous laughter. 
Another great moment happened when both casts were asked if they had ever geeked out when meeting someone famous. Joseph Millson chimed in right away and spoke of an impressive list of iconic skateboarders he's met over the years, including "Jay Adams, Tony Hawk, Tony Alva, and all my other skateboarding heroes." (To say I'm jealous would be an understatement). Tom Brittney said he experienced this moment when he met fellow attendee Magnus Bruun, who voices Eivor (and several other important characters) in the video game Assassin's Creed: Valhalla. Tom rather enthusiastically pointed to Magnus and added, "I've played as you! I've lived in your skin!" which got a laugh out of Magnus and everyone else.
For his part, Magnus said he experienced this sensation with Nick Cave. While attending one of Nick Cave's concerts, Magnus said that Cave invited audience members on stage, and Magnus was able to sit next to Cave's piano. When Cave started belting out his famous song "Red Right Hand," he held onto Magnus' shoulder while he was singing. Magnus then looked over to Joseph and said, "Nick Cave is MY Tony Hawk." 
Christian Hillborg kindly recalled how fortunate he felt to work with the late-actor James Caan on the film The Throwaways a few years ago. Harry Gilby spoke of the time he met the actor Ben Mendelsohn, and how he had approached Mendelsohn to express how much he loves Mendelsohn's work. Harry said that Mendelsohn jokingly replied, "No one ever taps me on the shoulder," and then proceeded to hang out with Harry for about 10 minutes. It was nice to see that, even when you're famous yourself, you still have moments of awe and adoration when you meet someone you admire.
As I meandered through the event during the rest of the day, I took time to speak with event organizers and attendees, and it became increasingly apparent to me that this convention was much different than standard fan events. There was a level of closeness and accessibility that was really appreciated by those in attendance. Adding the presence of the Steel Soldiers, a group of military veterans who "take up arms and armor to battle their PTSD," enhanced the experience even further, as the actors seemed to have fun duking it out with the Soldiers during their downtime. Everyone involved in the weekend—from the actors to the organizers to the attendees—had such wonderful, positive attitudes the entire time. We were all just happy to be there, which is how fan conventions should always be.
Words by Sam Cohen