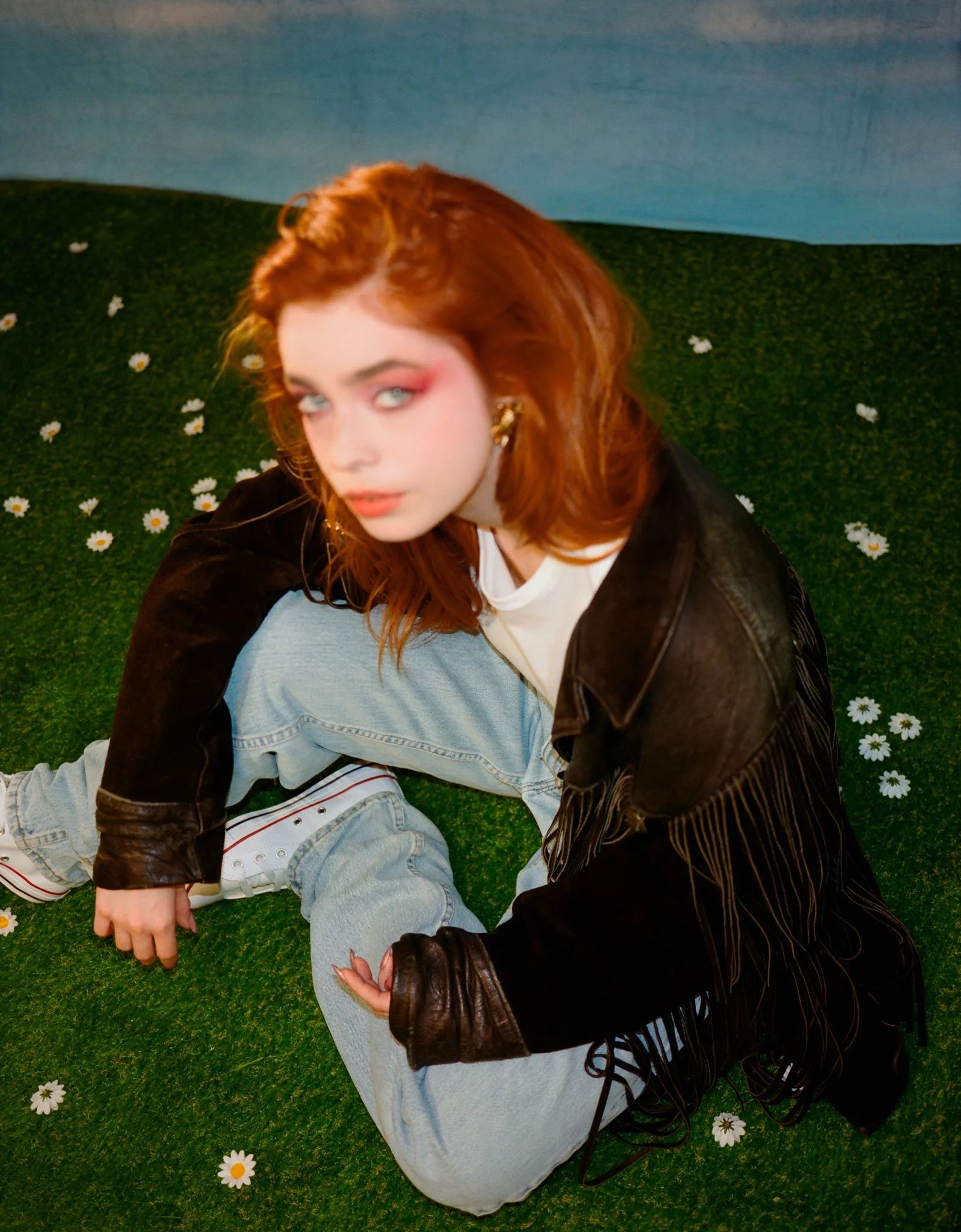 L Devine
Described by Charli XCX as "the motherfucking future," British singer-songwriter L Devine has succeeded in living up to that title.
Born Olivia Devine, the 24-year-old has never limited herself and has embraced the various sides to pop music with each release.
With four EPs to her name and collaborations with Route 94 and Tinie Tempah, Devine has also penned tracks for the likes of Icona Pop, Rudimental, and Rat Boy. During the ongoing pandemic, Devine dropped two projects — Near Life Experience Part One and Two — and recently embarked on her long-awaited nationwide UK tour. 
With a growing fanbase and a career that has yet to peak, Devine has started to think about her debut album and is itching to get on the road again. During a chat with 1883, the emerging star opened up about the stories behind some of the tracks from her latest projects, tour life, and what the future holds for her.
I wanna delve into the two EPs you released this year and discuss some of the songs. First up, Priorities. I feel like this song has become a fan favourite?
Yeah, it's definitely a fan favourite, I feel like that one goes the most off when performing it live. It's so fun seeing how the songs translate to live shows as well because it's full of surprises as you don't know which one is going to go off and that one's just a party. That song is the opening of the first EP and it feels like getting into a car, starting the engine, and getting along the journey, that's why I wanted to open up with that one. 
I wrote that in LA a couple of years ago and I think the reference at the time was We Found Love Rihanna meets Lorde Green Light, which is an odd combination but I just wanted something super anthemic but heartbreaking at the same time. 
I'm going to pick a more low-key one — Off The Grid.
I love this tune and it felt like I was exploring another corner of pop I hadn't gone into before. I had the title Off The Grid written in my notes for ages and I was seeing this person who was aloof and I couldn't get through to them. I thought Off The Grid embodies our whole relationship, I tried to get closer to this person and as soon I tried to open up and say something real, they went somewhere else. The production as well, it was fun to pay homage to the lyrics as it feels really glitchy and almost like your losing signal and actually going off the grid. I like the lyrics and production meeting together, it's cool.
Let's talk Die on the Dancefloor, your latest single.
I fucking love this tune! I was waiting so long to put this one out. The wait to put the song out went hand in hand with waiting to get back into clubs and life getting back to normal, so it's kinda funny how that happened. I feel like I've said this before but it's an ode to all the nights out we've missed out from the past two years. It's about going so hard that you perish on the dancefloor.
Did you come up with the concept of the video yourself? It looked fun to shoot!
For this one, I didn't. It was Jade Jackson who is an amazing director. She sent over an almost "Jennifer's Body" reference, which is funny because then there was that Olivia Rodrigo thing that came up with that reference. I guess it's because Megan Fox is back in our lives [laughs]. That was one of my favourite movies growing up and I wanted to do something that was a high-school horror kind of thing. Also, it reminded me of growing up and loving that Katie Melua video for Nine Million Bicycles where she's getting dragged on the floor. It also made sense as well because of the title and getting dragged across loads of different dance floors. It was a fun shoot but my hair was disgusting after getting dragged through puddles of empty cigarettes buts and stuff. It was gross.
What about Peachy Keen? I get summer vibes from this one.
Yeah! It would have been summer when I wrote it. This one came out as a single before the EPs were released. I wrote it on this boat which is Pete Townshend's studio at London Bridge, it's fucking incredible. In the summer you could lay on top of the deck with a guitar and start jamming. I loved the Bette Davis Eyes sample in that and that was the idea behind the track, doing something fun with that sample and exploring a different of pop that I hadn't done before. 
Lastly, Boring People. This one sounds a lot more indie.
This one I did with Ali Payami who is a massive idol of mine before I started working with him and still is, I love him so much, I still can't believe he gave me the time of day because of the tunes he's worked on. He's one of my favourite collaborators and that was one of the first tunes we did. He had the idea of the song already and was pretty much like "you're the only person I want to work with on this" and suggested I should take the song and do something with it. I then wrote all the verses around it, which was really fun because I had never done something like that before. I took the song and interpreted what the song meant to me. It was fun to delve into something more grungy and like you said, indie. When I perform it live, it allows me to rock out on the guitar a bit.
I really want that oversized coat you were wearing on the cover!
Ugh, so good. It was a coat, it was fucking huge like a massive duvet. You look at shoots and think they're so glam but it's actually cold, sticky, covered in hairspray, people touching you all the day. Putting that coat on was a fucking dream. Unbelievable, best shoot ever.
Did you get to keep it?
No no, I didn't get to keep it. Imagine! If I did get to keep it I would be sitting in it right now. 
The EPs are in two parts. What made you want to release them in that way?
To me, it's an assortment of different corners of pop and that's what it's meant to be. I wrote all these tunes but I still felt like I was experimenting and having fun delving into different styles and exploring who I am as a songwriter. I felt like putting it in two halves was better because I wasn't ready to do my first album then and I don't know if those songs are what I'd imagine my debut album to be as I was still finding out which kind of styles I liked to do. It also kept fans fed that way.
You just recently finished your debut headlining tour. How was that experience?
It was unbelievable because like you said, it was my first tour and I kept forgetting that as well. It was absolutely insane, I'm still on a bit of a comedown from it because it was so good. Going on stage every night and having that adrenaline! It might sound a bit vain and daft but people there remind you that you're actually good at what you do every night and love your songs. Over the past two years, it's been easy to get into your head. I had a lot of self-doubt shit as you're not as busy and you start to question things. But, getting out there and seeing people's REAL faces and real energy from people and seeing what the songs mean to them was the best feeling ever. I got to go across the UK with my best mates and have an absolute laugh, it was good. 
Is the stage where you feel most comfortable now? Or do you love it just as much as the studio?
Yeah, it's weird. I would have always said the studio is my home as I'm a songwriter first and foremost. I probably feel more comfortable in the studio depending on who I'm in there with but it's definitely not the same. You're not in the studio with people screaming at you. I wish I did [laughs] as I would stop second-guessing all the tunes. I feel so at home in both places. A lot of my friends are sometimes surprised when they see me on stage because I'm really chilled and laid back but before I go on stage, I flick a switch and I'm like "let's fucking go." It would be more embarrassing if I went on and was really awkward, so you've gotta go for it. 
Have you already started working on new music?
Yes, Julian who is the guitarist and does keys in my band, he's a producer and this past year she's been coming to Newcastle once every two months for a week and we've been making what I'd love to be my first album. There are some of my favourite songs ever written and I'm really excited because, for the first time, I'm working with someone who plays with me live so we've been thinking about the songs from that perspective when writing about them. I've never really done that before. 
Are you sure it's going to be an album and not another EP?
I've been doing this for five years now and I've been doing a lot of EPs. I do wanna show people I can do something top to bottom. Something cohesive that tells a story. I hope, anyway. I really wanna do an album but maybe I'll be eating my words, you'll be interviewing me for my next EP.
What has been influencing the new material?
I've gotten into my production a lot more so I've been delving into electronic stuff. I've been going back to old albums I used to listen to when I was a kid like the Weezer album, which is cool. 
Your biography states that you couldn't perform under your birth name — Olivia Devine — because a porn star already went under that name. Were you aware of this before officially going by L Devine or were you forced to change it?
No, I did know! I remember one of my teachers at school when I used to post YouTube videos as Olivia Devine told me he googled my name and told me something else came up and told me I should have a think about changing my name. I went and looked and was absolutely mortified. I did know for a while but that was before I signed to a record label so I didn't know that would be a problem. When we first put out my song School Girls, I had to have a think because there really was a video of Olivia Devine dressed as a school girl [laughs].
Another thing I want to mention is how similar to Billie Piper that my friend and I think you look. Do you get that a lot?
I've had that before! It's funny that you say that my mates in the group chat were saying I should dress up as Rose from Doctor Who. I love that, I think we've got similar mouths. I love her, what a legend. I got Stacey Dooley not long ago as well. All British legends. 
Die On The Dancefloor and Near Life Experience Part Two are out now. Follow L Devine via @l.devine
Tickets for Dork's Night Out Christmas Party at Colours Hoxton are available via this link
Tickets for her tour go on sale on Wednesday 17 Nov @ 10am. See dates below:
8 Dec –  Hebden Bridge, The Trades Club
9 Dec –  Durham, Old Cinema Launderette
10 Dec –  Newcastle, Three Tanners Bank
12 Dec –  Margate, Elsewhere
14 Dec –  London, Dork's Night Out Christmas Party, Colours Hoxton
Interview Fabio Magnocavallo