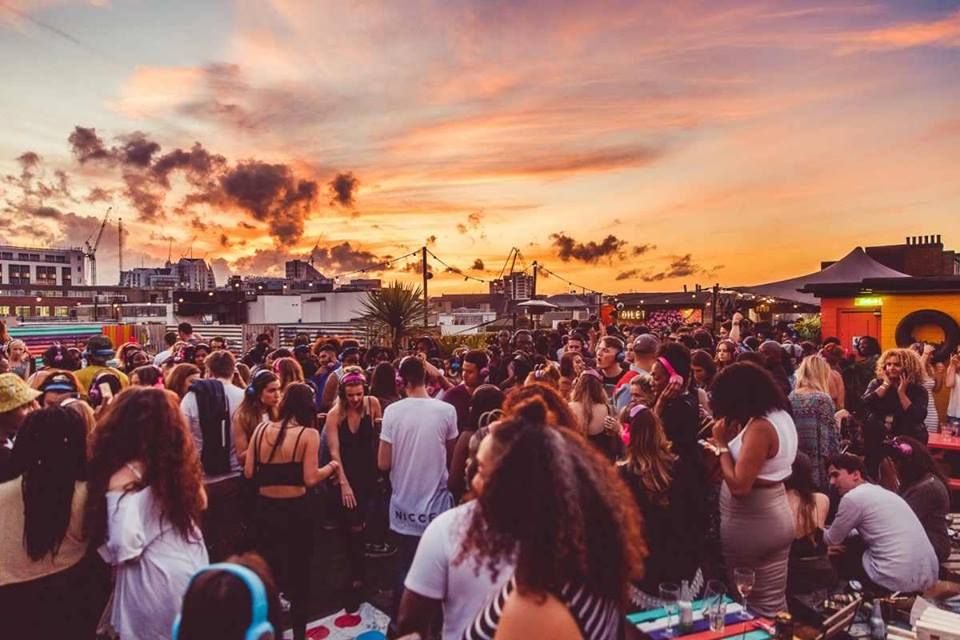 A budget guide to London's best rooftop bars
As always, our British summer continues to be extreme and unpredictable, alternating between a 38-degree heat wave and torrential downpour.
Typical.
However, in true Brit style, we remain poised and at the ready for the next burst of glorious sunshine for our final few weeks of summer.
When this time comes, the search continues to find the top spots in London to bask in the summer sun with a drink in hand. Our best options in the city? Rooftops, preferably those that won't break the bank. We've pulled together the best spots in town on a budget, so you can be prepared when the sun returns.
Maybe you're looking for panoramic views to cure your Sunday blues? Netil 360 offers chilled vibes with superb views of East London. Looking for somewhere with upbeat tunes to dance your Saturday away? The Prince of Wales rooftop in Brixton offers terrace parties all summer long. Whatever you're looking for, our options will allow you to enjoy views of the city up in the sky whilst sipping on the perfect G&T. Glorious.
1. Netil 360, Hackney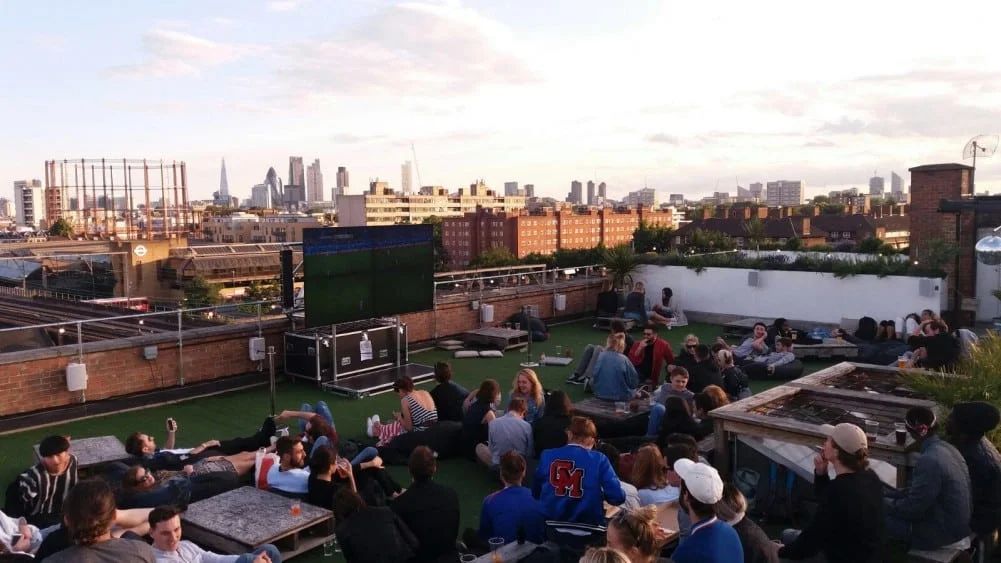 An all access urban oasis; think panoramic views to de-stress the week away with an ice-cold beer.
This non-exclusive rooftop overlooks East London in Hackney and serves as the sun basking location of dreams, with an oversized pergola covered in fairy lights with a sun twinkling disco ball twirling centre stage. You'll find no seats outside, only AstroTurf grass that stretches out across the roof, except for a small, inviting sofa area to one corner. Re-used skylights serve as tables, further promoting the relaxed, accessible feel.
DRINKS:
Serving up generous cups of Merlot for £9 and jugs of Pimm's for £20.50, the panoramic views are sure to sing your hangover away with their reasonable prices.
VERDICT
With the bar and additional benches under a covered roof looking out onto the open space, this roof remains and option even on a rainy day. Whether you're after post work drinks or Saturday evening pres., Netil 360 is a no brainer. Also with outside plugs, that are handy as hell. (Only open until 11.30pm).
For more info visit www.netil360.com
2. Frank's Cafe, Peckham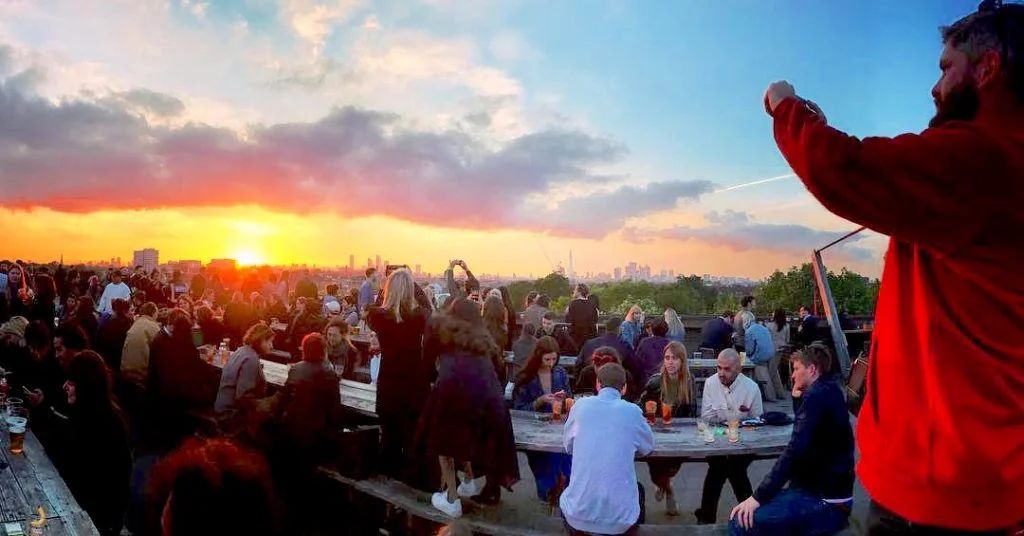 Negroni's, chilled vibes and killer views of South London
A South London firm favourite is Frank's Cafe, the former multi-story carpark that placed Peckham on the map. Head down after work and enjoy one of their famous Negroni's whilst watching the sunset. Son to the not-for-profit art organisation Bold Tendencies, the venue has held a series of 'Multi-story Orchestra' performances over the summer months, bringing some local culture to your Saturday nights.
FOOD & DRINK
From Margaritas to Vodka Moscow Mules all for under £8, including Frank's perfectly blended gin and campari Negronis (£7), you'll be sure to get your money's worth. At the bar there's a range of sharing dishes: go for the smoked aubergine and pitta, guaranteed to cure the peckish.
VERDICT
The venue stays open until late September, giving you limited time to trial the hotspot before its doors close for winter. Head down with your mates and enjoy the views, Frank's lands high on our list.
For more info visit www.boldtendencies.com/franks-cafe
3. Prince of Wales, Brixton.
Rooftop parties to dance away your Saturday
South of the river you'll find the POW, a resident favourite that's a handy five minutes walk from Brixton station. With a curved rooftop that extends over two levels, the terrace offers a long list of summer 'Rooftop Sessions' that are arguably the best in London. Although most events are ticketed (costing between £10 and £15), they're well worth the investment if you're up for a day event that will proceed late into the night. With themed nights such as a '90s Kevin and Perry Rooftop Rave' or a 'Summer Disco Rooftop Fiesta,' what's not to love?
DRINKS 
The trusty Rum Shack bar is always on hand to serve up your favourites along with food from Ted's burger bar, to ensure your night can continue until the early hours of the morning.
VERDICT
This weekend hotspot is a diamond delight for Saturday day drinking in the sun. To avoid disappointment, check the rooftop opening hours (Sundays it's closed).
For more info visit www.pow-london.com
4. Dalston Roof Park, Dalston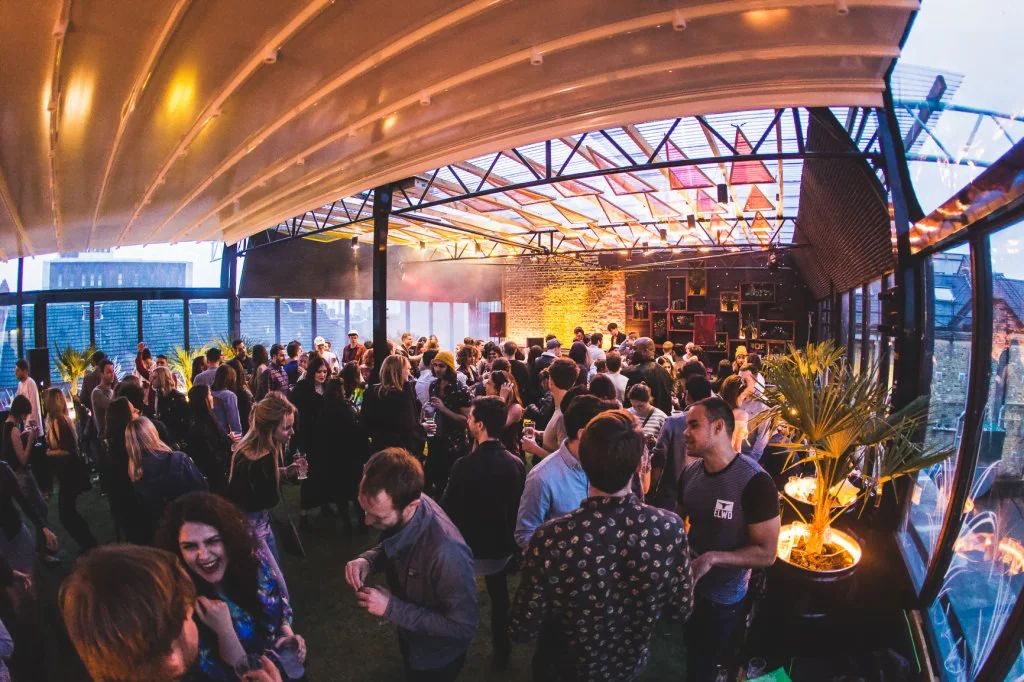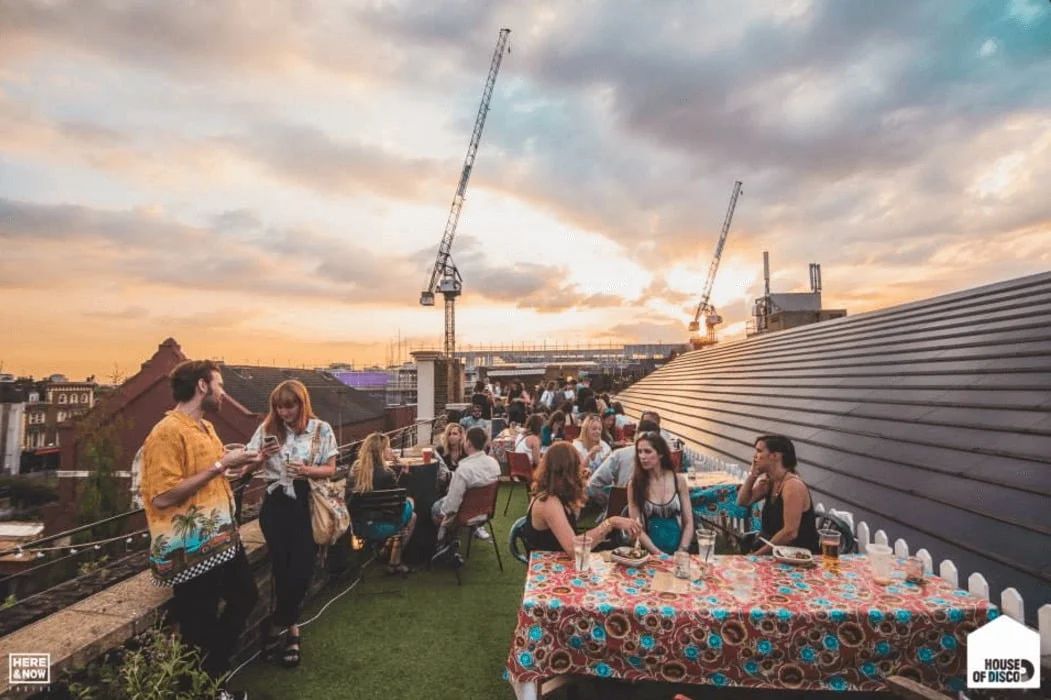 Dalston's rooftop hotspot offers events to see your summer off with
After an acceptable £3 donation, access all year round is granted to this oasis, Dalston's only rooftop bar. With part of the rooftop area covered, making it the perfect rainy-day option, the space has been busy hosting rooftop parties all summer long – whatever the weather. Brought to you by the Bootstrap Charity, all proceeds go towards empowering young people and businesses. The rooftop is cared for by a local ground of gardeners who volunteer in the day to keep the space in tip top shape.
DRINKS
With decent drink prices and access to rooftop parties for just £5 a ticket, the small venue is ideal for both early evening catch ups and weekend nights out.
VERDICT
With spectacular views of East London, we can see why this rooftop is a local Dalston favourite, ensuring you feel a long way from the city.
For more info visit @dalstonroofpark
5. Queen of Hoxton, Shoreditch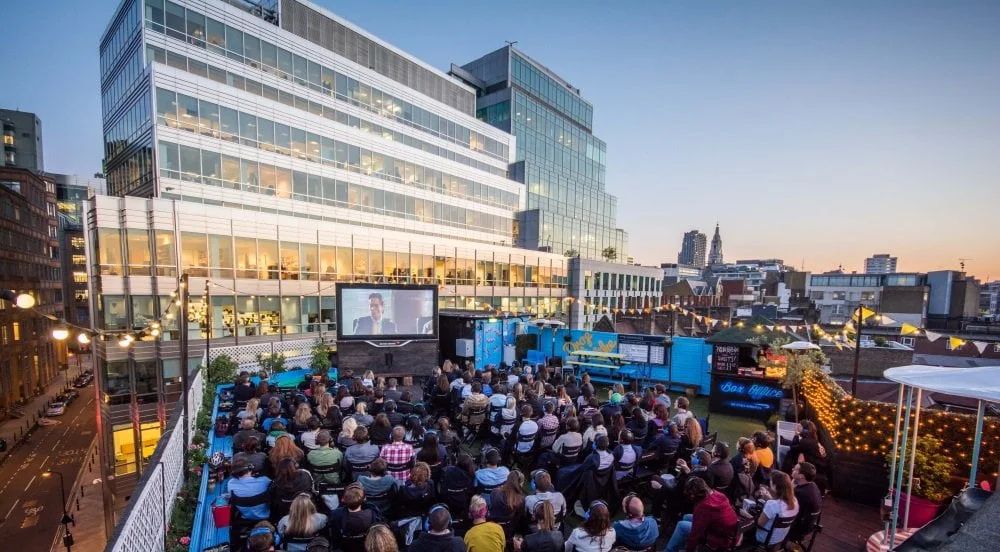 Perfect for group catch ups in the sun
If catching some rays at golden hour sounds more your scene, Queen of Hoxton's rooftop in Shoreditch poses as the perfect option, promising a buzzing atmosphere to start your night. The space has become known for its seasonal change in appearance, currently harboring a multicoloured circus-festival theme; accessorised with bright bunting and hanging cactus plants for summer. Seaside huts are used as toilets and rainbow painted picnic benches stand ready to serve group reunions. Full of carefree hipsters and de stressed day drinkers spread out over three floors (think party in the basement, cocktails on the ground floor and sun lounging with friends on the roof) and you'll never want to leave.
DRINKS
From chili and mango margaritas to Moscow Mules, there's a drink for everyone that with the £5 happy hour makes them taste even better, served everyday 4-7pm (ground floor bar only). Although disappointed with weakened Aperol Spritz' (£7 a pop) that we washed down within minutes, a bobbing singing barman soon redeemed our negative thoughts as he served us up two large glasses of Sauvignon Blanc for just £11.80 (great deal or reduced price? We didn't care).
VERDICT
Perfect for catching some rays, an ideal day drinking venue for group reunions. Expect queues at the bar but well worth a visit.
For more info visit www.queenofhoxton.com
6. Golden Bee, Shoreditch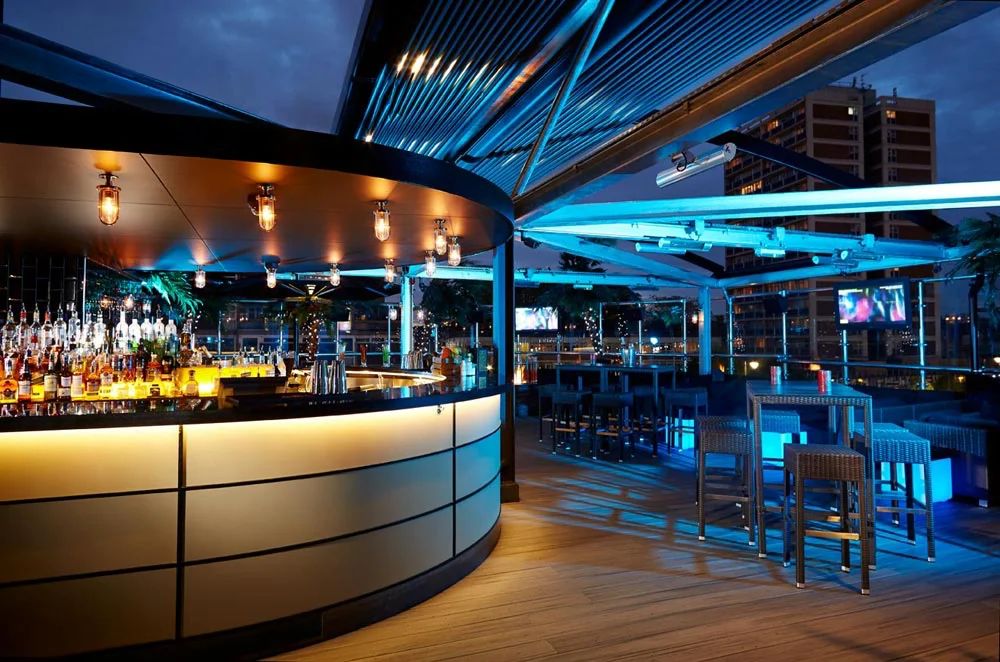 For a classier evening spent enjoying after work cocktails
Under a retractable canopy, this roof terrace has an open fire pit with a variety of seating, ideal for the unpredictable British weather. Plush sofas swallow up much of the space, with a circular open bar standing centre stage.
DRINKS
Enjoy a Lychee infused gin and tonic (the Lychee Collins) for £10 on happy hour, served up Monday to Thursdays (until 7pm). I was pleasantly surprised outside of happy hour to buy a bottle of Pinot Grigio for £21.
VERDICT 
Expect heels, dresses and shirts to occupy the dress code, along with a slightly older crowd to cater to the over 21's age restriction. A fun Friday night spot (even in the rain).
For more info visit www.goldenbee.co.uk
7. Prince of Wales Feathers, Fitzrovia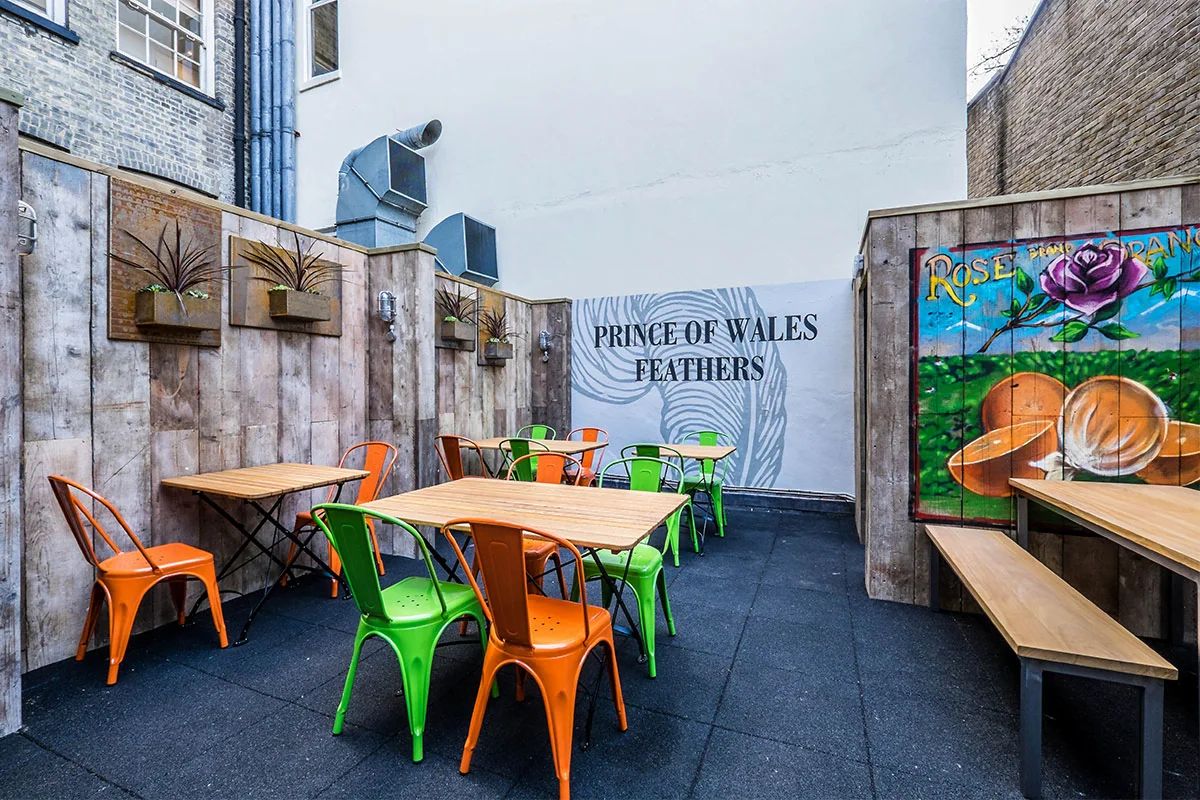 Ideal for one on one get togethers or after work drinks
This prime after work hot spot sits opposite Warren Street Station and offers an ideal space to de stress after a hard day's slog. One floor up sits the cosy urban roof terrace, where a mix of high benches and wooden sofa seating can be found tucked next to an outside bar.
DRINKS
Although not such a sun hot spot, this terrace is an easy after work stop to visit.
VERDICT
Perfect for small group catch ups. Although not such a sun hot spot, this terrace is an easy after work stop to visit.
For more info visit www.theprinceofwalesfeathersw1.co.uk
8. Pergola Olympia, Kensington.
A strong day drinking contender that overlooks the West London skyline
Pergola Olympia sits beneath a covered roof of hanging greenery and fairy lights, with oversized windows that look out onto the city. Although undercover, the space offers views of the city that are well worth the trip on a sunny day to watch the sunset. With a bar at either end, dance floor, open terrace for the smokers and chatters in the group and never-ending space, this location is one you will never need to leave.
DRINKS AND FOOD
Although not the cheapest for drinks, we enjoyed a house bottle of white for £24 and single spirits for a more reasonable £7. Food wise I recommend Jeffries, the succulent fried chicken sub brand from Patty & Bun, with sandwiches for £7 that are served late into the night – they also offer vegan plant-based chicken nuggets (£4.50).
VERDICT 
Expect day drinkers from midday, with an increased volume and music change from 9pm when the dance floor opens out. Ideal for weekend day drinking.
For more info visit www.pergolalondon.com/pergola-olympia
By Miranda Bunnis