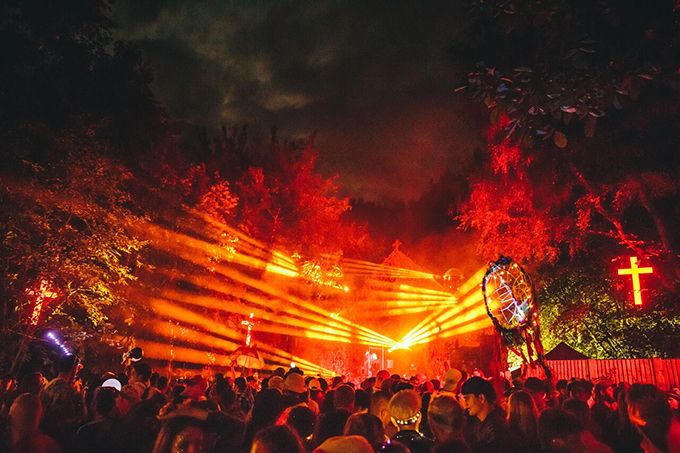 Lost Village 2018
On August Bank Holiday weekend, we took to The North in search of a new festival experience, and that is exactly what we got – introducing: Lost Village. After the last half decade, experiencing the same cycle of UK festivals (which we still dearly love), we wanted to try something new, refreshing and delicious. Despite now being in its fourth year, Lost Village still seems to be a bit of a secret, for those who aren't necessarily in the 'festival' know, and we were excited to find out what it was all about.
After a mighty four hours on the motorway, we were riled up and ready for the festival-ing to commence and tried to ignore the angry rainclouds threatening to drench us. Our first impressions were great – easy to enter, inoffensive queue sizes and pleasant security staff. And the campsite was just a stone throw away from the music stages. Our first night was a weird and wonderful blur of bright lights, wondrous sounds, new friends, and trees trees trees. Safe to say, it was everything we wanted from our first LV experience.
Set amongst a labyrinth of winding pathways, mystical forests and sweeping fields, it took a little while to gather our bearings (admittedly, this wasn't until the Sunday…). However, the intricate layout added to the charm of Lost Village. Getting lost almost constantly led to the discovery of new stages, and more importantly new experiences. From the Junkyard stage, where we danced to disco on abandoned cars, to the main stage Burial Ground, we were impressed by the creativity of the production. Ending every night with a set at the Abandoned Chapel, the crowd were illuminated by four huge luminous crucifixes, adding to the trippiness of the festival's setting.
Musically, we were treated to a diversely cool pick 'n' mix of acts. A rainbow of electronic sounds came from our favourite artists of the weekend: Four Tet, Maribou State, Paggy Gou and of course, when we ended the festival with two hours of drum and bass rollers from music royalty, Goldie. Despite there being so many music festivals on the scene in 2018, Lost Village truly stands out from the crowd with its original and imaginative line-up. It offers the perfect balance of genres, with a few unexpected surprises, and we can't wait to see what they have in store for 2018.
For more information visit lostvillagefestival.com
2019 ticket details coming soon…!
Words by Ama Samra
Photos by Andy George