Manjit Thapp
Ahead of the opening of her solo exhibition at NOW Gallery, Birmingham born artist and illustrator Manjit Thapp sits down for a chat with 1883 Arts Editor to discuss her work addressing themes of feminism and female empowerment.
Working across book covers, fashion, animations and movie zines, Manjit Thapp blends traditional and digital drawing to create bold, eye-catching and richly layered illustrations tackling themes of female empowerment and representation in popular culture. Thapp's pensive, bushy-browed women of colour are representative of a narrative challenging gender stereotypes and bias within – and beyond – a largely male-dominated art world.
A graduate from Camberwell College of Arts in London, Manjit boasts an extensive portfolio of collaborations with brands including Tate, Google, Adobe, Alexander McQueen, Armani, Apple, Stylist and ITV. In 2018, she illustrated Julia Pierpont's The Little Book of Feminist Saints, and in 2021 her debut graphic novel, Feelings: A Story in Seasons, was published by Penguin Random House.
1883 sits down for a chat with Manjit Thapp ahead of the opening of her first solo exhibition at NOW Gallery in Greenwich, London. My Head Is A Jungle (23 July – 31 October 2021) sees the artist's signature characters brought to life within a lush three-dimensional, forest-like structure adorned with murals and sculptures, and a large fluorescent red sun – a recurring symbol in Manjit's work – hanging from above.
My Head Is A Jungle is the third commission for the NOW Gallery Young Artist programme. Celebrating the best rising talents in the fields of visual arts and illustration, the programme is designed for artists who have an unusual approach and standout visual aesthetic. Previous commissions include award-winning Pakistani visual artist Sara Shakeel and popular London illustrator, Hattie Stewartwhich.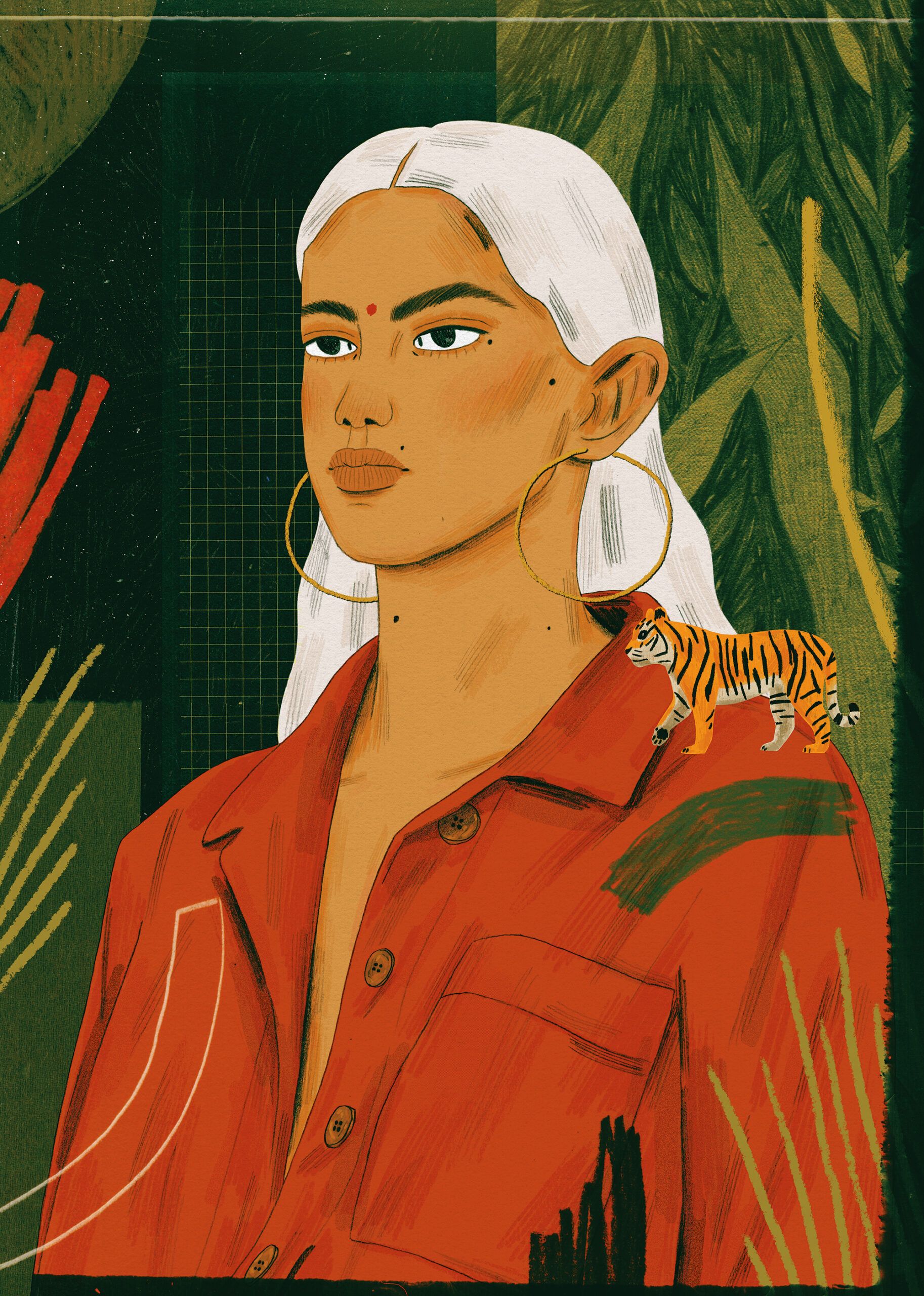 Hello Manjit, thank you for finding time for 1883 Magazine.
My Head Is A Jungle at NOW Gallery provides visitors with an immersive experience into a jungle-like environment; I wondered, how does it feel to see your bi-dimensional illustrations expand into the third dimension?
So surreal! It's been a fun challenge getting out of my comfort zone and coming up with ideas to bring my 2D drawings to life. I've enjoyed creating a narrative that can be explored in an immersive format and I'm so excited for people to see and experience it!
What themes does the exhibition address?
I'm using the setting of a jungle as a vehicle for exploring our minds. The gallery will be transformed into a maze like structure complete with its own dead ends, moments of light and dense shadows to mirror working our way through our feelings.
Much of your art revolves around female characters and touches on themes of feminism and female empowerment. What is your perspective on equality for women in the art world?
Representation is so important, the art world has been so male dominated and it's great to see that slowly transforming. I want to see female artists, particularly women of colour, hired and given opportunities and also see women 'behind the scenes' in the industry because that is just as important. I love that social media platforms have given female artists a platform and made the art world feel more accessible than it used to feel growing up.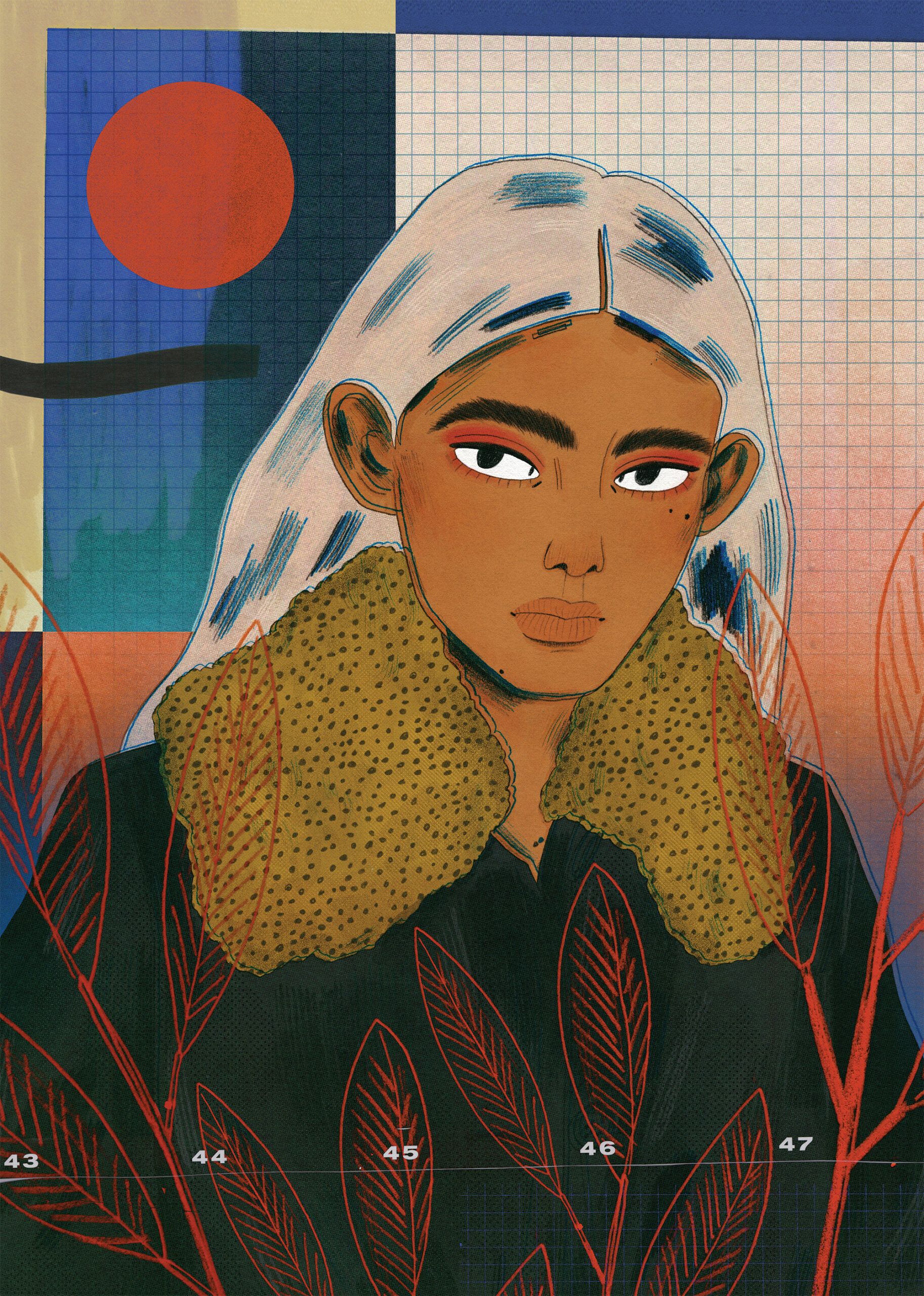 Out of curiosity, what got you into illustration in the first place, and when did you decide you wanted to pursue it as a career?
For as long as I can remember I've loved doing anything and everything creative. As I got older I started taking drawing more and more seriously. I began posting my work online while I was at school and loved the pattern of making work and then sharing it online as a way to document my progress. I soon realised I couldn't see myself pursuing anything else.
May I ask which artists you are most drawn to for inspiration?
I've loved Frida Kahlo's work for a long time. I'm inspired by how she puts so much of herself and her life into her portraits. I also love Amrita Shergill, Toyin Ojih Odutola, Pierre Boncampain and Yoshitomo Nara.
I read your work blends digital and traditional media and techniques; can you talk us through your creative process?
Each drawing will most often begin in pencil because I love the texture it gives. I then add colour digitally. I love mixing the two because it allows me to have the best of both worlds. I like layering my pieces with textures and patterns to create a collage like feel. Colour is my favourite part of the process, I pick palettes that will convey a certain mood and atmosphere to the piece.
Besides illustrations, your work encompasses photography and animation; how do you see your art evolving and developing in the near future?
Working on the show has really inspired me to try more mediums in the future. I find myself getting too comfortable sticking with what I'm used to so I've loved exploring new mediums for the show like tapestries, mirrors, interactive elements, etc. I hope I'll have more opportunities in the future that will continue to challenge me!
You have worked on commissioned projects for brands such as Apple, Google, Moleskine, Armani; you have illustrated books such as The Little Book of Feminist Saints; have you got any more collaborations in the pipeline?
I will be working on the illustrations for a children's book in the coming months which I'm very excited about, especially as it'll be first!
As a last question, what does the future hold in store for you?
I hope a good balance of downtime and fun projects!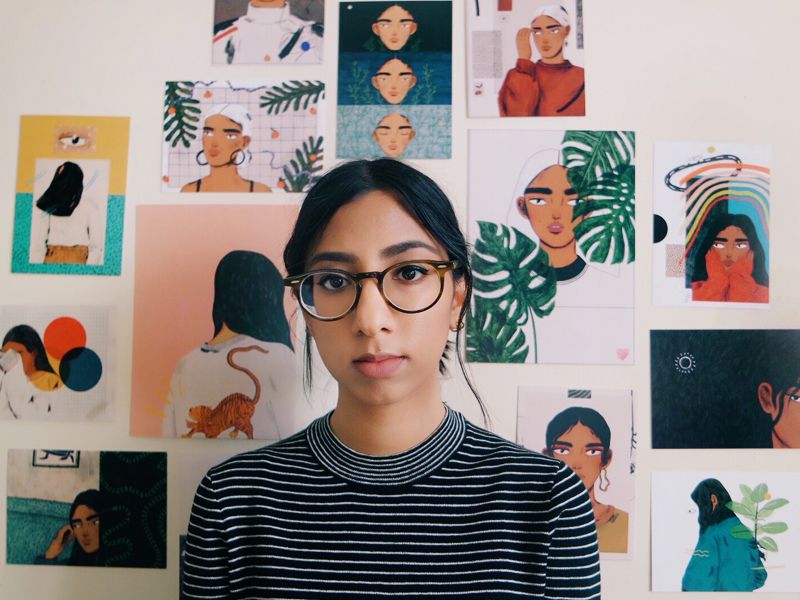 Manjit Thapp
My Head is a Jungle will be on display at NOW Gallery from 23 July to 31 October 2021
www.manjitthapp.co.uk
www.nowgallery.co.uk
Words and interview by Jacopo Nuvolari