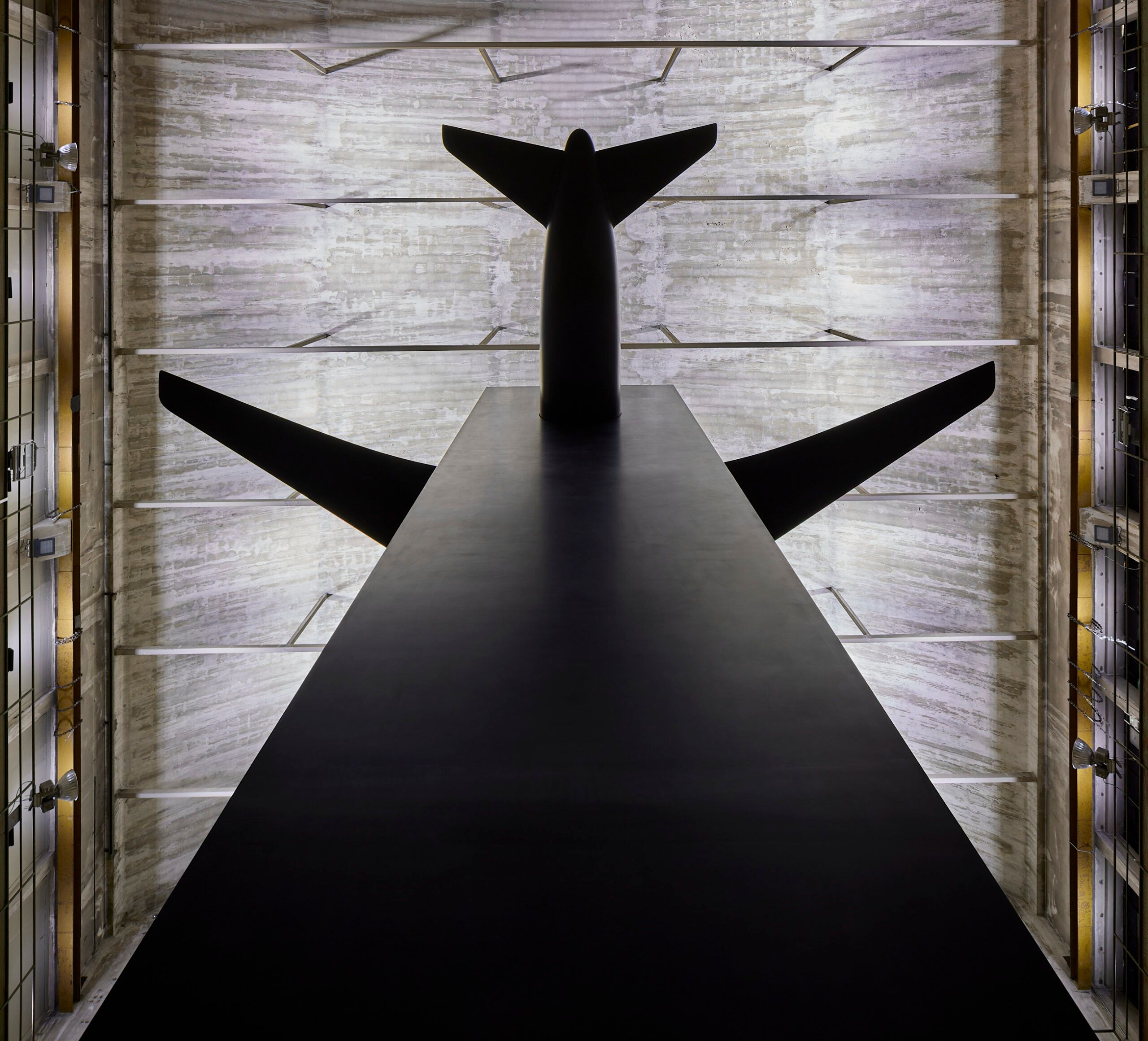 Maurizio Cattelan – Breath Ghosts Blind
Best known for his dangling horses, 18-carat gold toilet and duct-taped bananas, art world's favourite prankster Maurizio Cattelan grapples with existential questions in a new exhibition in Milan.
That of the court jester has never been an easy role to fulfil. It takes wit, talent, resourcefulness and bags of chutzpah to navigate the treacherous water of satire in order to challenge the status quo and put a new perspective on things while eliciting a laugh in the audience.
And needless to say, the role doesn't come risk-free. The jester walks a tightrope of diplomacy and balance, caught as they are between the rock of falling out of favour with the king for saying too much, and the hard place of being labeled a sellout for saying too little.
Often referred to as the art world's prankster par excellence, Italian-born artist Maurizio Cattelan has never shied away from courting controversy. In a career spanning over thirty years, Cattelan has unrelentingly and consistently overstepped the boundaries that define the so-called art system with iconoclastic zeal.
Playfully operating between realism and artifice and confronting themes that range from pop culture and history to organized religion and the human condition, his work ultimately serves as a blunt, jocular commentary on power and authority both within and beyond the world of high art and its institutions.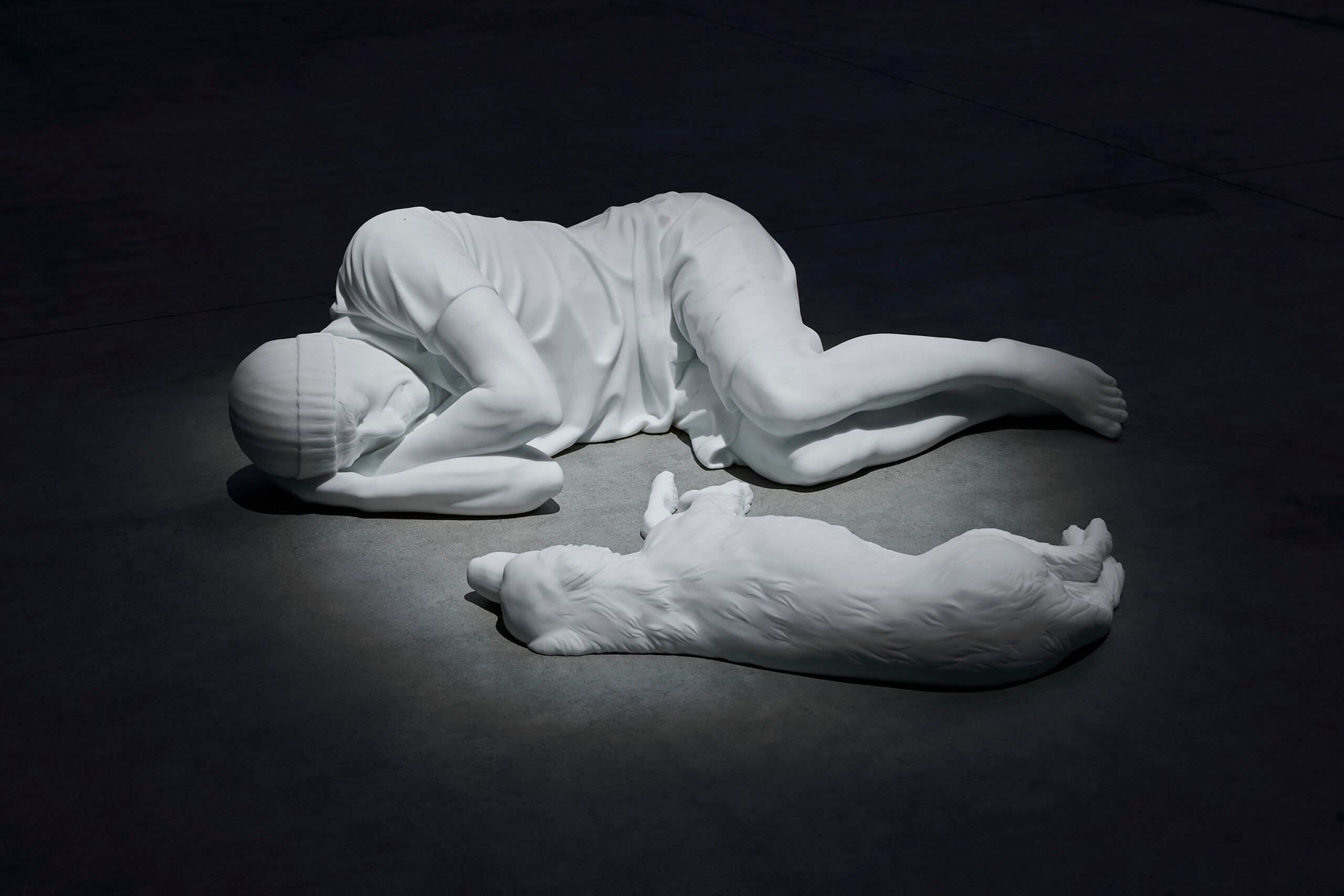 Maurizio Cattelan – Breath, 2021 Installation view, Pirelli HangarBicocca, Milan, 2021 Carrara marble Courtesy the artist, Marian Goodman Gallery and Pirelli HangarBicocca, Milan Photo: Agostino Osio
His most notable artworks include life-size waxworks of a praying Hitler, titled Him (2001), and Pope John Paul II struck down by a meteorite, (La Nona Ora, 1999); a suicidal gun-toting red squirrel (Bidibidobidiboo, 1996); a taxidermied dangling horse with elongated legs (Novecento, 1997); an almost five metre-tall marble hand flipping the bird outside Milan's stock exchange (L.O.V.E, 2010).
In 2019 the artist made headlines for the installation Comedian – a ripe banana duck-taped to the white wall of Perrotin gallery's booth at Art Basel Miami Beach – which sold for $120,000. Far from being a mere gimmick in which a commodity is proclaimed a high-priced work of art, Comedian invites reflection on the art market and its seemingly arbitrary ascriptions of value.
Despite – or perhaps thanks to… – his rebellious, anti-authoritarian streak, the art establishment – the one he has been pocking fun at for years – loves and adores Maurizio Cattelan. His work sells for millions (the aforementioned Him was sold for $17,19 million at a Christie's auction in 2016) and has been extensively exhibited worldwide (the artist was even honoured with a retrospective show at the Guggenheim New York in 2012).
For his latest show – Breath Ghosts Blind, at Pirelli HangarBicocca, a locomotive factory turned art gallery in the outskirt of Milan – Cattelan has ditched the dangling horses and fallen prelates for something quite different, yet no less stirring and thought-provoking.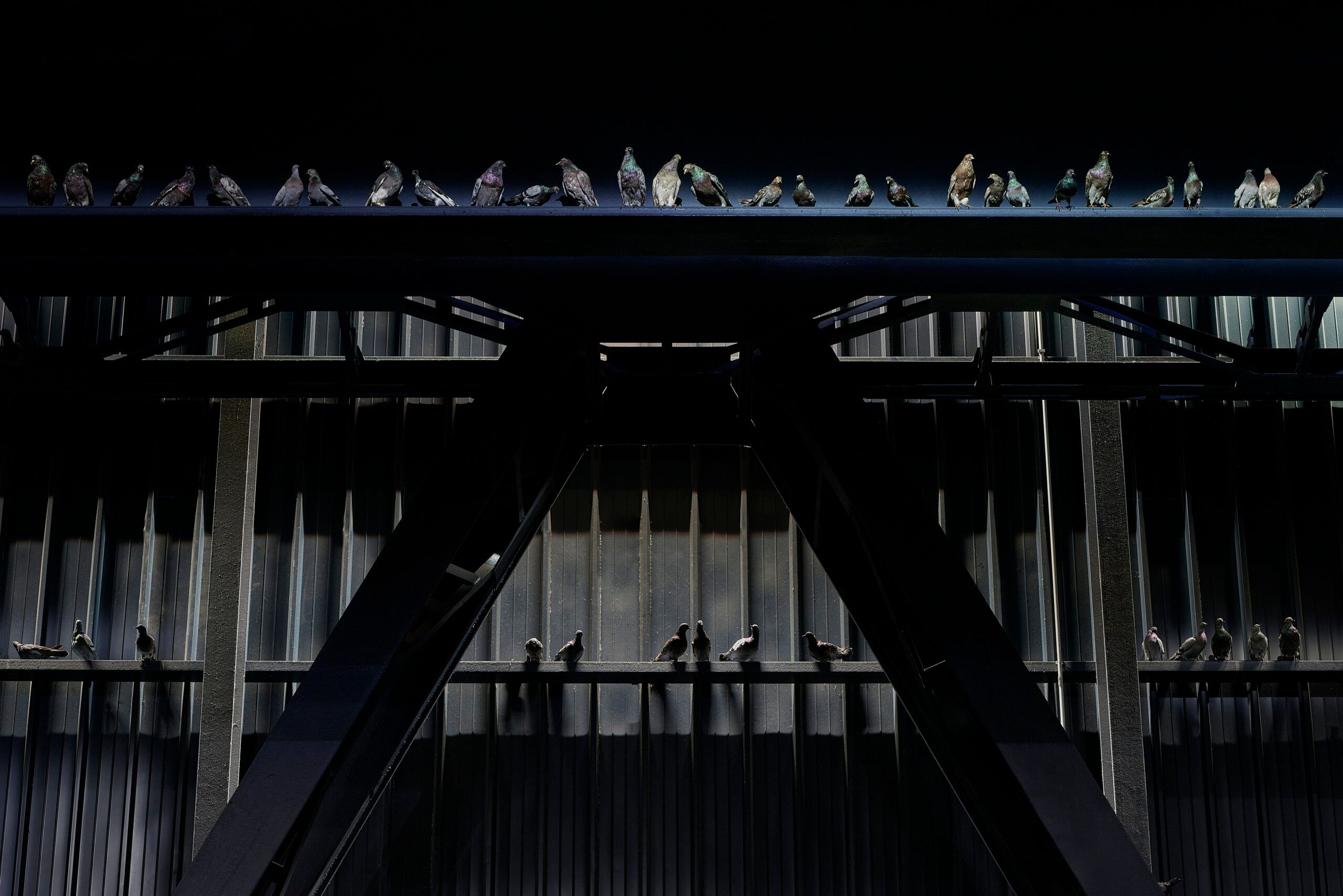 Maurizio Cattelan – Ghosts, 2021 Installation view, Pirelli HangarBicocca, Milan, 2021 Taxidermied pigeons Courtesy the artist and Pirelli HangarBicocca, Milan Photo: Agostino Osio
Unfolding as a play in three acts, the exhibition, curated by Roberta Tenconi and Vicente Todolí, addresses universal themes of creation, life, death, and reflects on the artist's ambition to become eternal through their oeuvre. Driven by a sense of omnipotence and burdened with a sense of impending failure, the artist scales the heights of creation and plunges into the depths of self doubt, in a painful, rocky and exhilarating rollercoaster of ups and downs that serves as a metaphor for every person's journey through life.
Upon entering the exhibition we are confronted with Breath (2021), a life-sized Carrara marble sculpture of a man – seemingly a homeless – and a dog both lying on the floor in a foetal position, the figures facing each other. While suggesting a sense of intimate fragility, the sculpture alludes to the vital function of breathing to represent the cycle of life.
The second work, Ghosts (2021), is a reconfiguration of Cattelan's 1997 Tourists, which was presented at the 47th and, again, at the 54th Venice Biennale under the title Others (2011). Consisting of thousands of taxidermied pigeons perched on the beams and trusses of the gallery, Ghosts conjures up memories of the building's industrial past, while bringing about a reversal of roles, where the human visitors become the intruders and the birds the permanent dwellers of the space.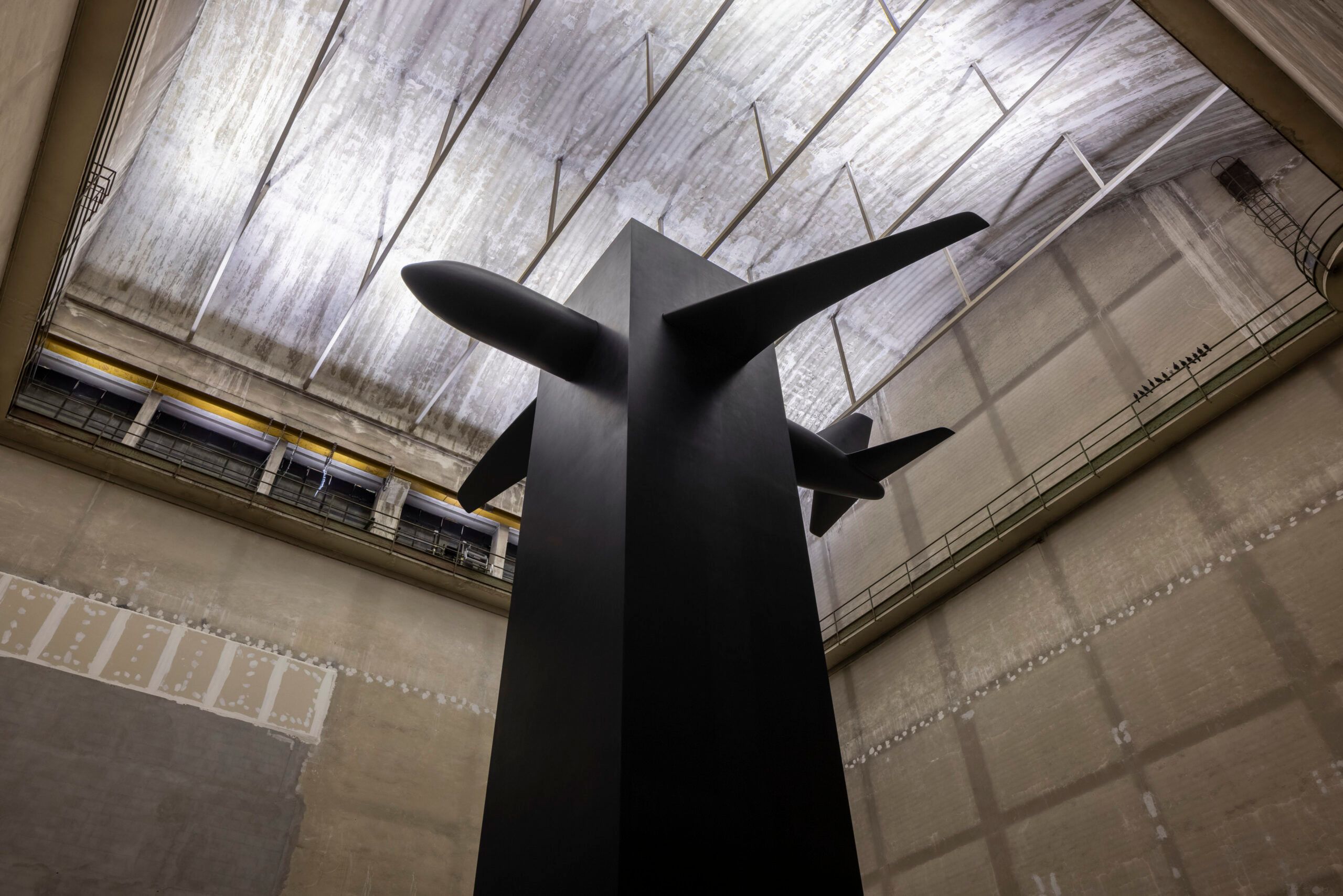 Maurizio Cattelan – Blind, 2021 Installation view, Pirelli HangarBicocca, Milan, 2021 Resin, wood, steel, aluminum, polystyrene, paint Produced by Marian Goodman Gallery and Pirelli HangarBicocca, Milan Courtesy the artist, Marian Goodman Gallery and Pirelli HangarBicocca, Milan Photo: Agostino Osio
The third act of the show consists in a poignant memorial to the terrorist attacks of 9/11. A towering black monolith intersected by the silhouette of an aeroplane, Blind (2021) transcends the specificity of its subject matter to become a symbol of the fragility of the human condition in general. By appropriating an image that is familiar to us all, the artist goes beyond the events of September 11, to present us with a work that takes on themes of shared pain and collective loss.
Tackling existential issues and fundamental human concerns with gravity and solemnity, Breath Ghosts Blind marks a welcome return to Milan for Maurizio Cattelan after announcing his retirement from art in 2011.
Breath Ghosts Blind is on display at Pirelli HangarBicocca, Milan, until 20 February 2022.
Words by Jacopo Nuvolari