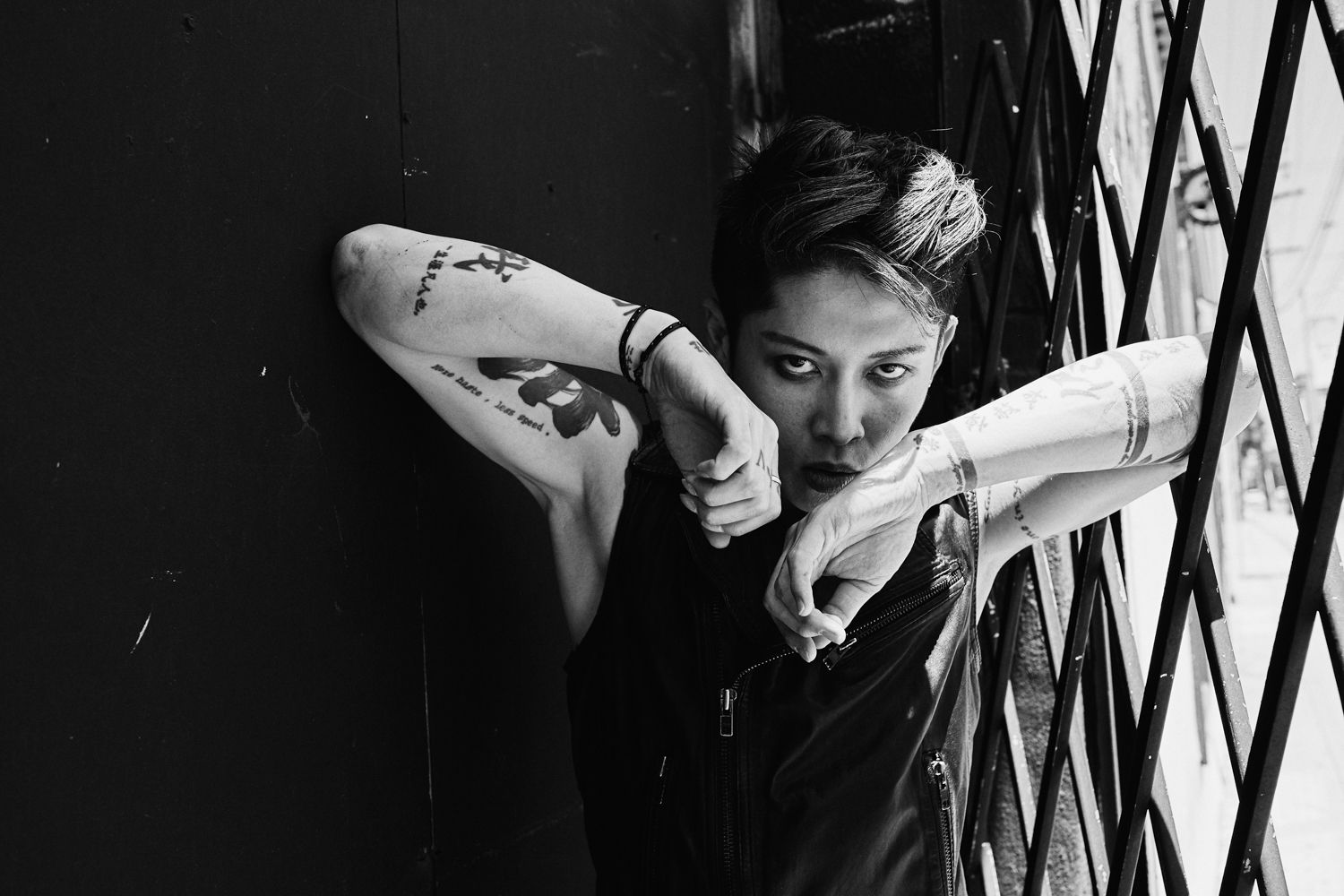 MIYAVI
Following his iconic 1883 cover in 2019, MIYAVI, the multi-talented guitarist, singer-songwriter, producer, and actor, has not slowed down at all.
In the fall of last year, the rock icon reached a level not many other artists can say they've done: the release of his 15th original album, Imaginary. The 11-track record is as fresh as MIYAVI's debut back in 2005, exploring the imaginary universe flickering throughout each track, encouraging listeners to think outside the typical sonic soundscape and entice them into truly defying gravity through MIYAVI's out-of-this-world visuals. As we inch closer to the two year mark of the pandemic, MIYAVI's Imaginary is equal parts timeless and incredibly on the nose; it's one that requires us to be ever-present in an era where the world is changing quickly and we must, above all, lean into our own imaginations.
1883 Magazine's Kelsey Barnes chats with MIYAVI about Imaginary, what it was like to go on tour again, his role in Netflix's Arcane, and more.
When we last spoke to you for our 2019 issue, your album No Sleep Till Tokyo just came out and you were on a world tour. Since then, you released Holy Nights and most recently your 13th album Imaginary. It dropped a day before your 40th birthday. What was it like marking your birthday with such a monumental body of work?
So much has happened since we last spoke. I am now an ambassador for UNHCR which is a refugee agency in the United Nations supporting refugees that have to flee their countries due to conflicts and war. As an artist, I want to use my platform to raise awareness for the people in need especially in developing countries. There's many problems in third world countries but those issues are not urgent to people in developed countries. The concept of "Holy Nights' ' is about living in a disjointed world. Developed countries are very peaceful but when you look at the rest of the world, we are facing lots of problems like the refugee crisis to mental health issues, gender equality, racism, wildfires, global warming and more. Addressing these issues in my music is crucial and I try to spread a message of positivity, which I aimed for with "Holy Nights" and then this pandemic happened out of the blue.
How would you say you've grown and changed as an artist your 1883 cover in 2019?
I've grown not only as a musician but in my career as an actor and a model. Despite the pandemic, I tried to keep improving because ultimately that's all we can do under the circumstances. Once I found out that I wasn't able to go on a tour,  I started live streaming from my workspace in Tokyo. I made a band with my daughters because we were stuck at home under the Japanese government's Emergency Declaration. We ended up going viral and were asked to perform on national Japan TV stations and in the media. The pandemic was an opportunity to spend time with my daughters versus always being on the road, and I wanted to treasure these moments with my family.
While at the same time, I was able to live stream concerts from home for my fans to help entertain them through a very hard time. I was performing live performances with my daughters on Instagram, TikTok and social media almost everyday during this time. I am one of the artists that did virtual reality the most in 2020 from Japan. I performed so many virtual concerts in the past 2 years including a virtual performance from TeamLabs which is an art museum in Tokyo. Then we did a virtual reality show called MIYAVI Virtual Level 5.0: Synthesis on Amazon Music'sTwitch in 2020. Last year, we did a livestream performance at the Kiyomizu Temple in Kyoto.
To answer your question, no matter the circumstance you're in, keep moving forward. As an artist, I keep improving. As a voice actor, I did the animated film "Bright: Samurai Soul" and the animated series "Arcane: League of Legends" which is an anime spinoff of the video game "League Of Legends". As an actor, I appeared in a movie "Kate" on Netflix and filmed an epic fight scene. I was then a judge on The Masked Singer Japan plus two Japanese movies in 2021. We accomplished a North American tour in October 2021. I've kept busy and I keep moving forward.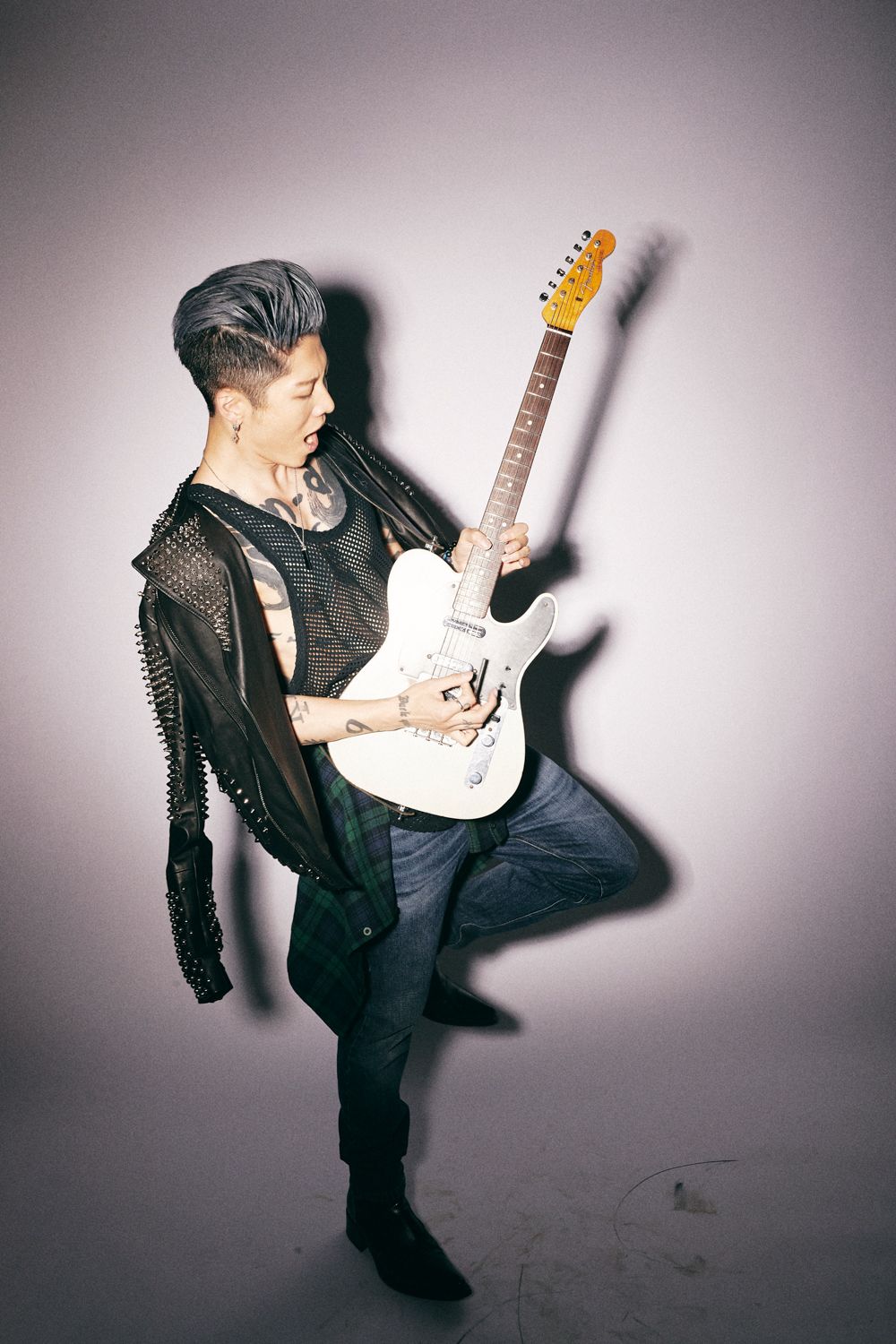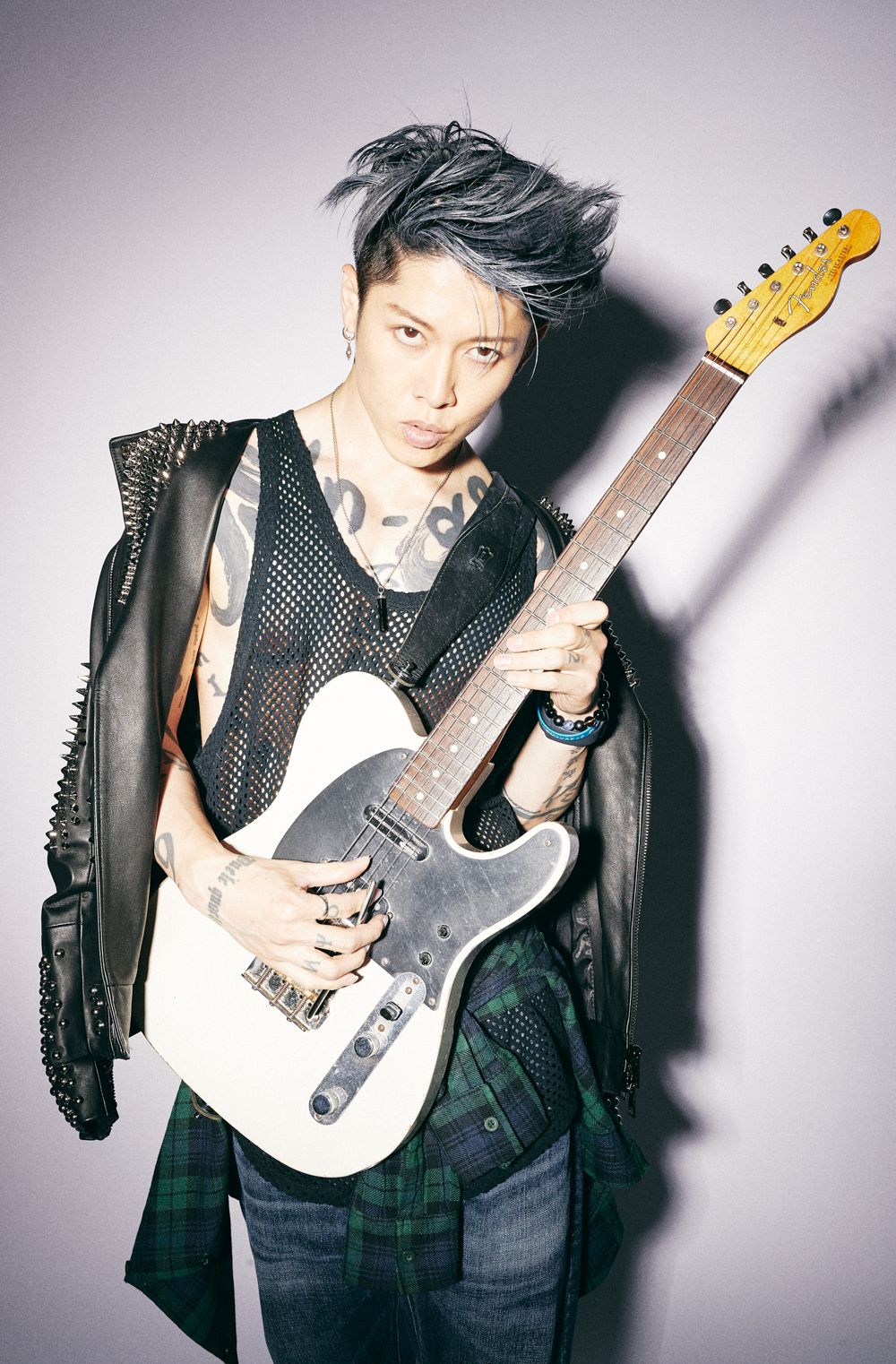 Shirt Soulstar Leather jacket Hysideis Jeans R13
This album explores how imagination and creativity will be the thing to carry us into the future. What was it about these themes that inspired you to make an entire record about them?
We were supposed to release "Imaginary" right after the Olympics in 2020 but the games were postponed. We had to reschedule everything of course, including postponing a world tour and a film shoot. For this album Imaginary, I wanted to remind people of the power and importance of imagination because of this virus. The pandemic reminded us of how scary life can be when we cannot see the future and that's actually similar to situations the refugees are in. Over the years, these refugees as I mentioned earlier don't know what to do. They can't even work. That's really scary and frightening. But with music, our role is to show that the future is bright, and we musicians can build a path to the future through this hard situation. This message is something we can be inspired from and also excited by so I want to make something like that with my music.
You have collaborations with K-pop singer Kang Daniel and rock singer Troi Irons on Imaginary. Is blending different sounds and breaking out of the stereotypical genres norm something that's important to you as an artist?
For me, it's crucial and normal to go beyond the border and genre. Maybe people think K-pop singers are different from my music or from Troi Irons' or Kimbra's. I've been playing a guitar with a DJ. I don't think it's important to be in one category and limit yourself. To me music is music, and there's a beat and a message. That's it. No genres. Kang Daniel, Troi, Kimbra, and so many other talented artists in the world. I always learn from them. I always discover new things in me as well from working with them. Now we're making a new music video for "Hush Hush", which should be out soon. I want my fans and everyone's fans to anticipate this creation as well.
Standouts from the album are "Super Hero" "Are You With Me?" and "Living In Fire." What's the inspiration behind those tracks?
Super Hero is a song I wrote over 10 years ago. This is a remake and an attitude that I want to show my fans that have been long supporters. This version of the song shows improvement and evolution. I've been changing my style both musically and visually. By creating this track in my current style, proves that the core of myself hasn't been changed. I think my fans can feel it from this track. Of course, the way I express myself is different, but the core is the same.
"Are you with me?" is a song I made for the language school in Japan. The theme is you never know until you open the door. Especially for me, studying English was like that. Even if people kept telling me that I was stupid. You should keep going in your career. I had to stop my career for a while after my debut. Now they see and I see that it was the right decision.
"Living In Fire" was the one that I wasn't sure if I should've put it in the album. I wrote this one a long time ago, even before COVID and "Holy Nights". But as a bridge between "Holy Nights" and "Imaginary", we thought this track could work. "Living In Fire" is literally us living in fire. It's like a wolf howling on a cliff. The song is an image like that, of wolves calling out for each other.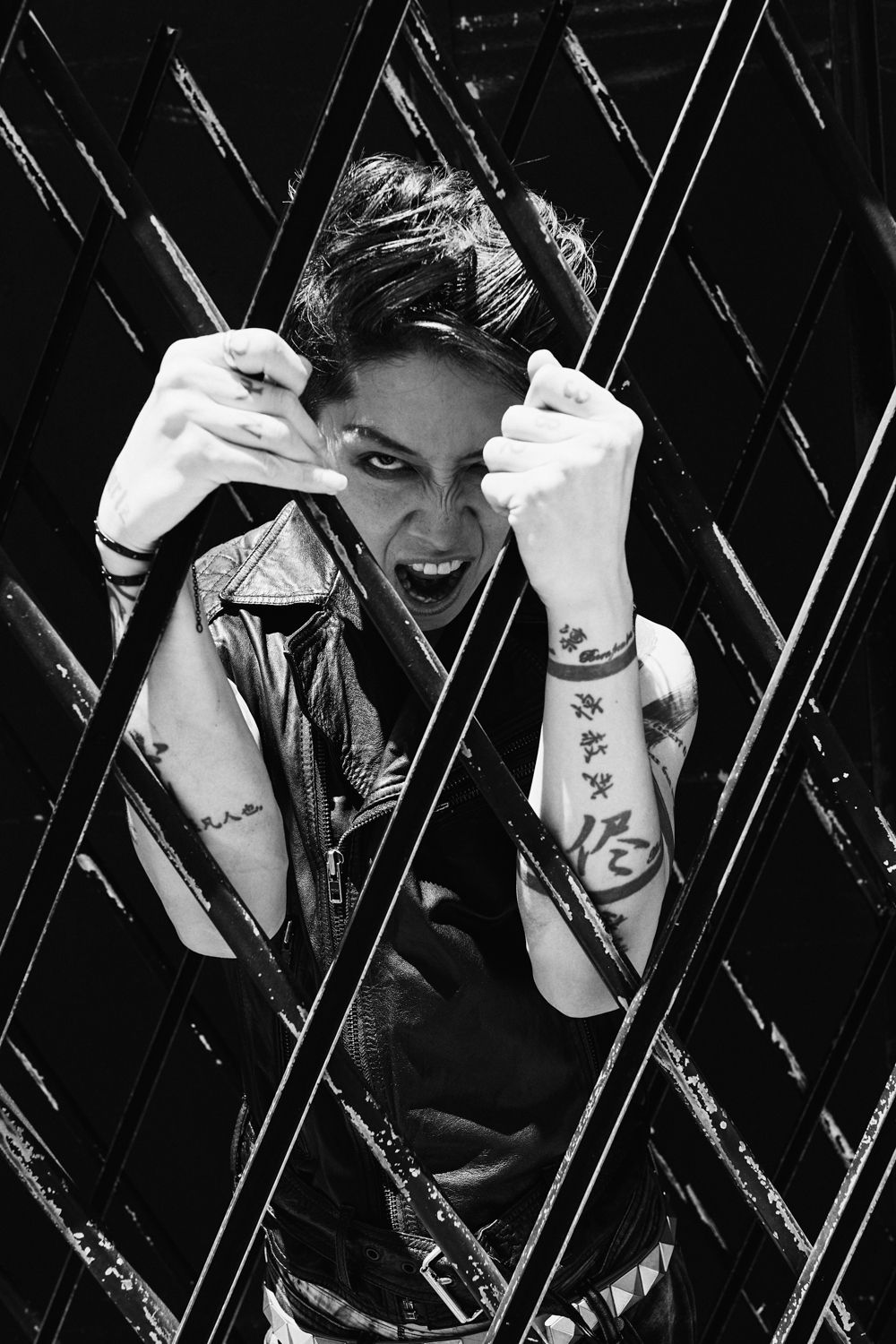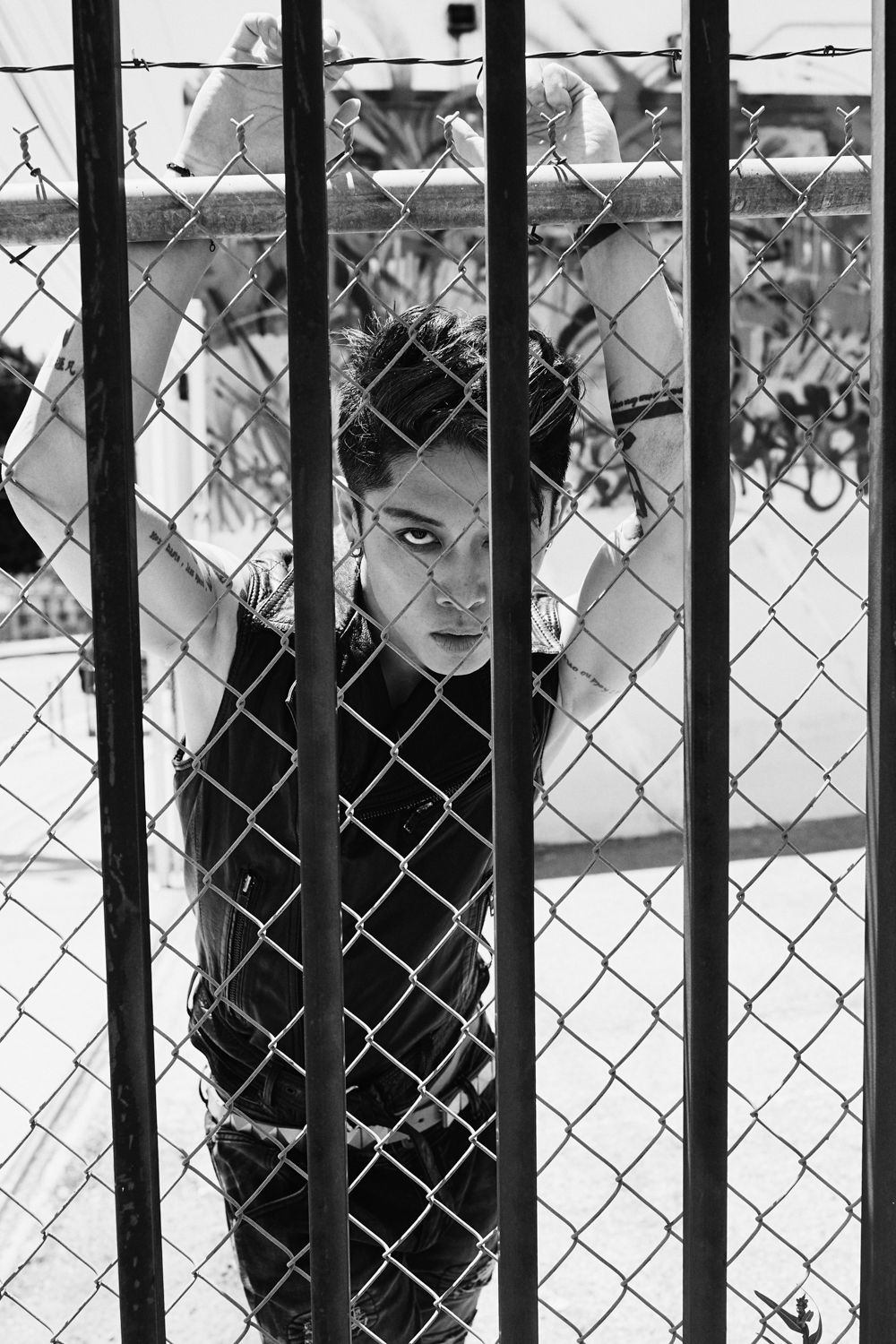 Leather vest Saint Laurent Pants A.Tiziano Belt Armani Bracelet Eva Fehren 
What does the word "imaginary" mean to you?
Future with lights. Always. Bright beams and layout of light towards the future.
Your aim is to have this record act like a shining beacon of hope. What do you hope fans take away from this record?
That's it, a beacon of hope. I just want them to know that the future isn't that bad, with listening to our music. There are so many tracks that are bringing people down. The news is making people anxious, so that they create more demand. It creates more demand but it's like junk food. Hopefulness is a message I can deliver with my music.
Your visuals are always incredibly captivating; they feel like mini-movies that transports viewers. When writing and recording, are you already in the process of coming up with visuals or is that something that comes later?
While we're recording and writing there's always things to consider. However, those studio sessions don't always translate to the visuals. The fun part is collaborating on the visuals with other creatives. Even when I am performing on stage, there's so many ways to engage with my audience through visuals, camera angles, and human expression. The human face is very expressive and it's key to express myself while on stage.
Is being involved in the creation of the visual concept important to you as it helps tell your story?
It's really important. Technically, everything you make should be from you. As a musician and a creator, it is crucial that your creative concepts are being delivered authentically. Even the budget meetings and brainstorming sessions, I try to be in because I know something might come up. It's really important.
You just wrapped a 20-city US tour. What was it like finally getting back on the road after so much time away?
I even cried at the end of the tour. It's not easy. The ride and the road were bumpy, there's so much trouble. In the end, it's really great. I've done virtual livestreams a lot. But real life shows? It's nothing like a virtual livestream could replace. Subconsciously, I was missing it. I was not realizing how much I missed the moment. It's an energy exchange. We give the power to the audience and the audience gives the power back to us. It's even spiritual. We're channeling every time. It was really precious. I enjoyed every on-stage and off-stage experience. Thanks to the tour group members, who were really positive all the time. They also really enjoyed the reunion with our fans. Especially after the pandemic. It's really emotional for everyone.
I read that you performed a great cover of Somewhere Over The Rainbow! What is it about that song that made you want to cover it while on tour?
I just have this track because it's a concept that I had on the track "Long Nights" and "Holy Nights". Sometimes, it's tough to find a solution or path to move on. But this song is an imagination, that it's never possible to find the root of the rainbow. We imagine there is a root. The adventurist in us can hope and allow our minds to be excited. The power of believing in something is actually one of the most important things in life to live strong. Even if it's not a reality, at least you know that the sun comes out the second morning and you can get over the long night before. Without knowing the sun will come up, you can't be in the zone. Imaginary hope and an imaginary future. We're the ones responsible to make it happen.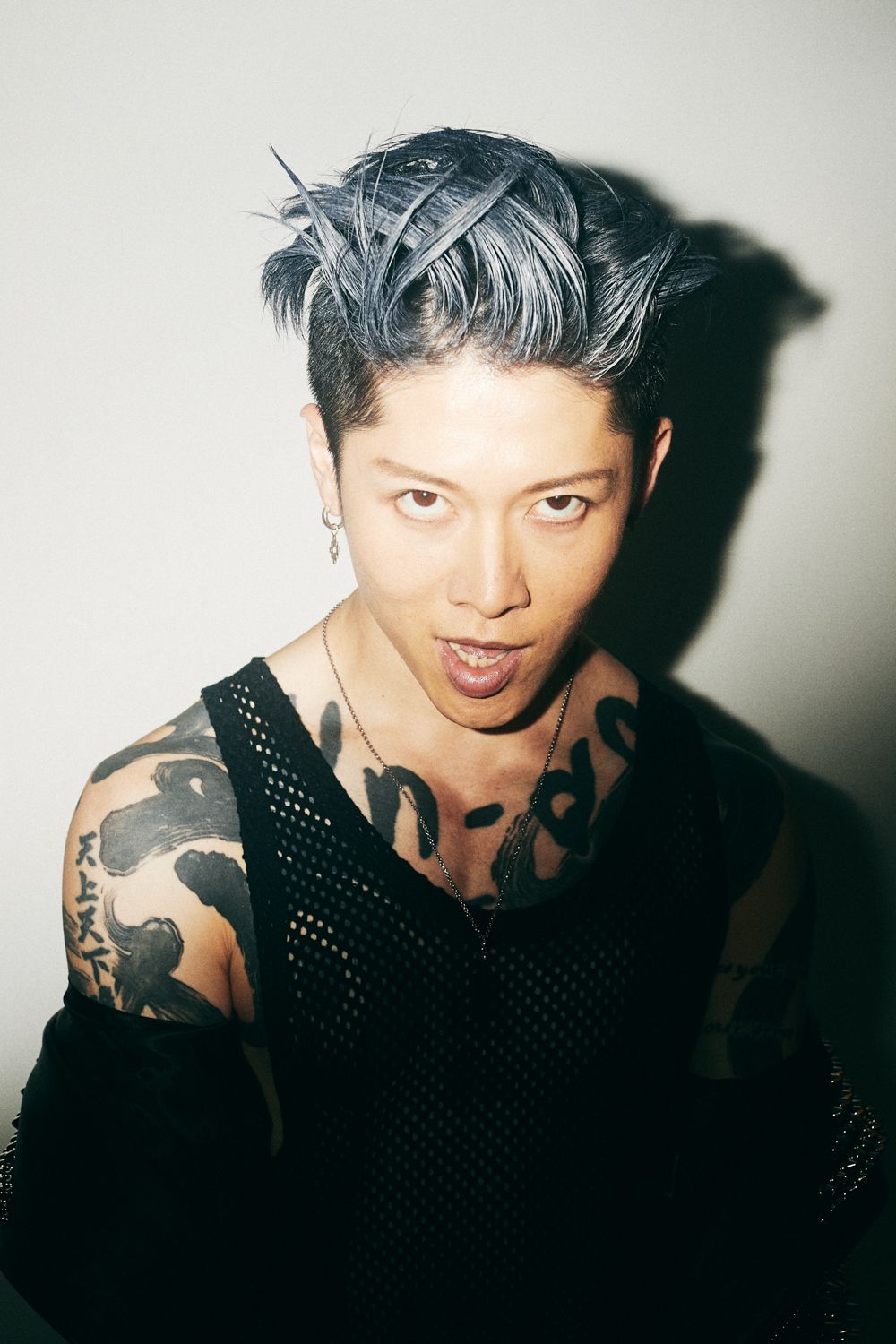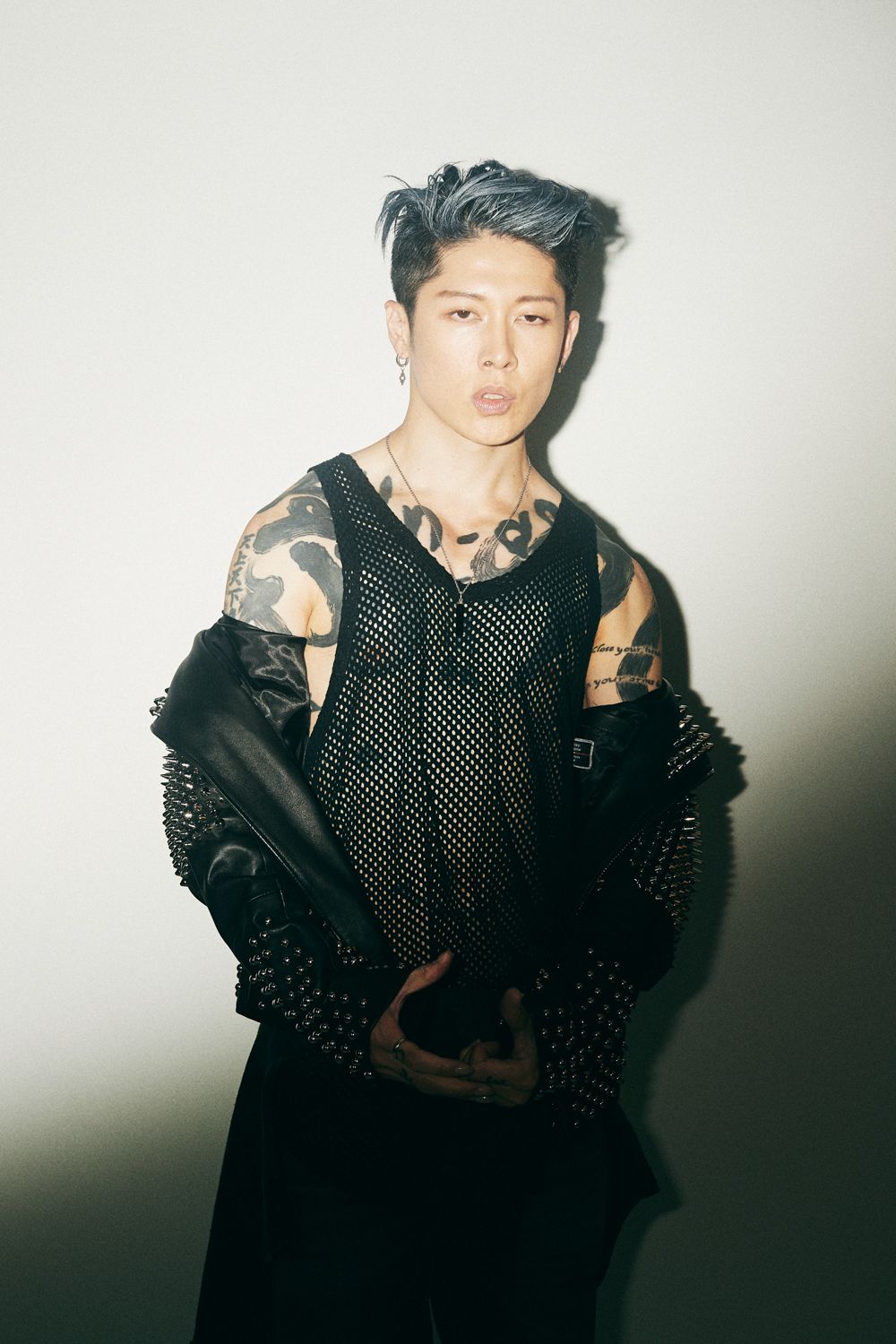 Tank Anthony Thomas Melillo Leather Jacket Hysideis
You lend both your vocals and your voice to Arcane: League of Legends soundtrack on the Netflix show where you have one track "Snakes" with PVRIS and you are voicing a few episodes. What was it like working with PVRIS? What was it like lending your voice as an actor for some episodes?
First of all, PVRIS is awesome and she's an artist I really like. She's so cool. The keyword that I got from Christian, the executive producer, was "Girl Power". Especially for the scene that I made the music for with PVRIS. The scene where the main girl fights with her enemies. The guitar riffs and tones in the music, we wanted to make those tones sync with her fight scenes. PVRIS did a great job with the lyrics and the topline. We started working on the track in early 2020. It took time. Christian had that specific visual. We revised a lot and we got to the point. The track ended up becoming really edgy and energetic. While recording Snakes, Christian asked me what else I was doing at the moment. I happened to be shooting a movie and being a voice actor. He asked me if I wanted to do voice acting in English. So, I voiced a role in English and it worked somehow.
I ended up recording the role for both the English and Japanese subtitles. It's great for me to challenge these things. Because I just became a voice actor. The visual you get from the voice is way less than live action. The voice needs to cover that character. I learned a lot. I was really nervous when I did it for the first time. Now in Japan, they asked me to do it and I'm okay with that. It's weird to do the same character in different languages. But it was a great opportunity. And I'm so honoured to be a part of this creation. It is a masterpiece creation that we made recently. I remotely met the creative team in France. They were really passionate. I like the idea of not only novels, live action or anime. In the metaverse people can hang and exist. The generation is shifting. This creation combines both of them. There is so much potential. It's crazy.
Lastly, if you could manifest something for yourself for the next year, what would it be and why?
I don't know. I want to polish up my skills. Signing, performing, voice acting, making sake, releasing hair wax, doing a lot of ambassador work. Most importantly UNHCR. I know at this age and stage for me, it's very important to brush up on skills and bring the level of my creations up. I'm learning Chinese as well right now. I'm still exploring the world. There's so many things I didn't experience. I want to travel more and beat this crazy virus. I want to go on tour and meet more people. I want to fly. That's my life.
Also my new born baby, Skyler. My first boy. Family time is also important. Thanks to their support I can be a rockstar and rock the world. I want to develop my language skill, English, Japanese, and Chinese. I want to be stronger as well with boxing. 2022 is actually MIYAVI's 20th anniversary from my debut in the industry. We're now trying to plan lots of stuff in Japan and outside of Japan. Releasing music, acting as well. I've been busy so I hope I've been active. Whatever I do is for the future, so people can feel the future. I'd love to meet my fans more.
Imaginary is out now. Follow MIYAVI at @miyavi_ishihara.
Interview by Kelsey Barnes
Photography by Daniel Prakopcyk
Styling by Sky JT Naval
Grooming by Anny Kim at Exclusive Artists using R&CO
Casting and Production Angeliki Sofronas