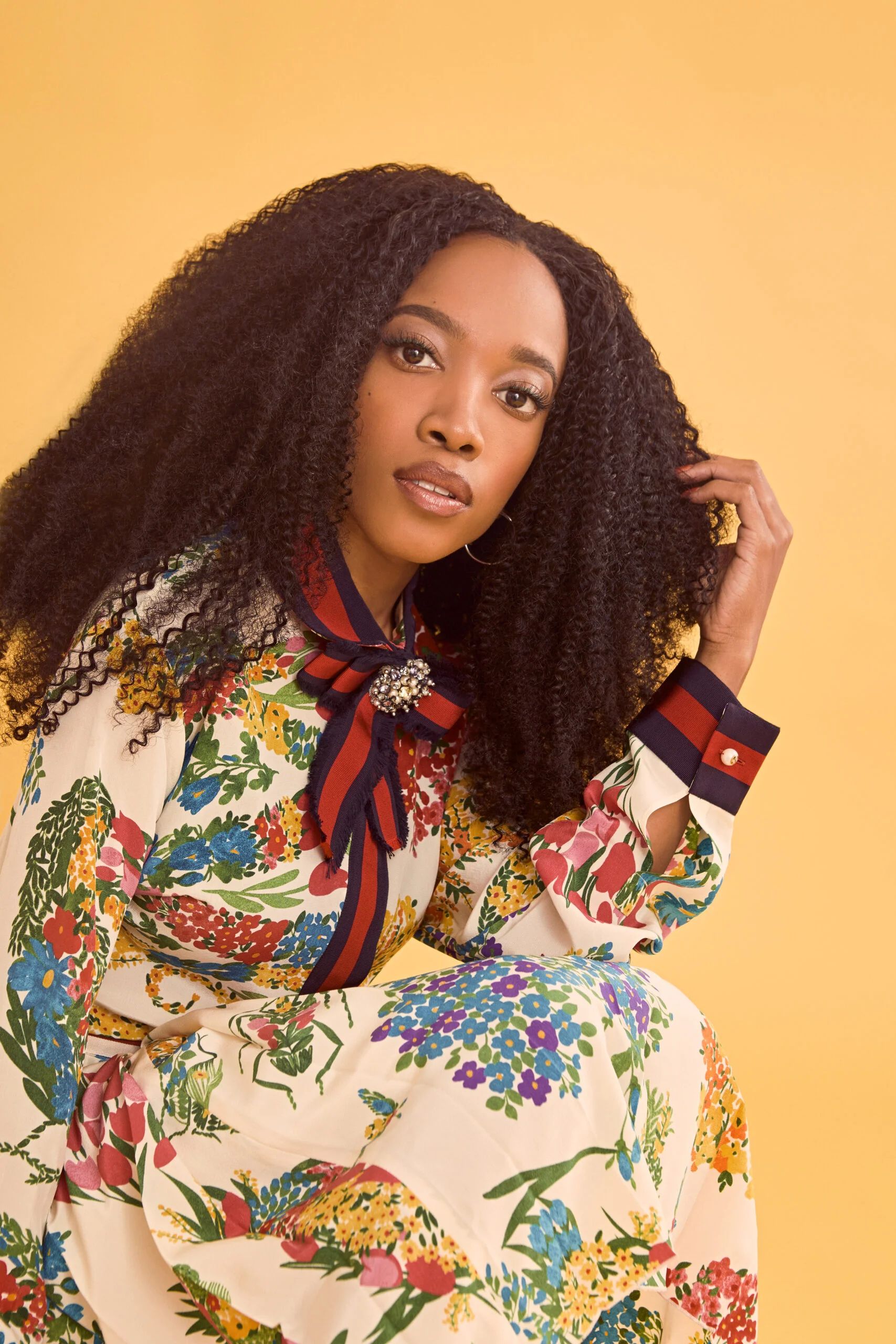 Nathanya Alexander
Nathanya Alexander is one actress you should be keeping your eyes on.

When it involves opening one's heart to their character, no one does it better (or with more care) than Nathanya Alexander. Her latest role as the sometimes ruthless & cutthroat Arianna on HBO Max's hit show genera+ion has given Nathanya a lot to work with; where Arianna is shown to be abrupt and careless with her words, Nathanya understands there's more to her than meets the eye (or, in Arianna's case, there's more than behind that sassy, snide remark). The show, which was created by 17-year old Zelda Barnz, follows a group of teenagers at a high school who navigate sexuality, love, friendship, and family in a conservative community. It's been lauded for its authentic depiction of teen life in 2021 and received love from fans thankful to finally feel seen on-screen.
1883 spoke with Nathanya Alexander about genera+ion, peeling back the layers of her characters, her beginnings as an actress, and more.
What was the moment when you decided acting was what you wanted to do as your career?
I grew up in Brooklyn and my family has strong Caribbean roots with a lot of my family being from Jamaica. My great-grandmother was the first Limbo dancer in Trinidad and Tobago, so she was an inspiration to me and why I gravitated to the arts. I grew up in the late 90s where I felt endlessly inspired. At 11, I totally fell in love with acting after joining community theatre. From there, I auditioned to go to LaGuardia High School [of Music & Art and Performing Arts] and got in and the rest is history.
I spoke with Sydney Mae Diaz earlier this year and we discussed how New York is an amazing place for actors to hone their craft because it's very much a hustle & bustle mentality.
Yeah, definitely. I immersed myself in a group of actors in New York and it was cool to see us hustle to try to get our careers starting. They definitely inspired me to keep going; they help push you to try to make your dreams come true.

For those who haven't seen or heard of it, can you tell me a bit about Genera+ion and your character Arianna?
Genera+ion is a show about modern sexual identity and it follows a group of high school teenagers as they navigate their lives. It's funny and so messy at times. I play Arianna, one of the high school students you are sometimes hard to fall in love with because she's so bold and, at some points, deeply offensive. But you have to go to bat for her; she's adopted and feels she has to be tough. Under that hard exterior is a really good heart and a lot of vulnerability. I love that about her. 
In the first part of the show, we see Arianna be slightly insensitive — with TV in particular as an actress you get to grow alongside your character while they are learning and changing. When you get a script like this, is it difficult for you to understand why a character is acting this way or do you try to understand where they are coming from?
I try to better understand her and figure out her circumstances, then I add my own creative juices to developing her as a character. I always want to understand my characters better and that's why I created a playlist for Arianna. I always tried not to judge her and I'm so happy I never did because, as you said, we see her chart her own journey and see the depth of who she is. 
I think about who I was as a teen and I wouldn't want people judging me then for the stupid stuff I did or said! The show really is depicting teenagers in an authentic way. It made me reflect on the things I did when I was younger.
Yeah, the show really shows you that you never know where life is going to take you so it's better to not judge one another for what you say or do. I'm really happy I'm able to discover all of these different layers of Arianna; even someone who comes off as harsh and abrupt as she does also has a really rich heart, which I think is important to show. Never judge a book by its cover! [Laughs]
Arianna had her heart broken by her friends and we see the depth of how much they hurt her, which isn't a theme that's explored very much in TV since heartbreak is usually associated with romantic love. What was it like exploring that on-screen?
We've all been there, especially in high school, so it was important for us to show it. I liked addressing it authentically; Arianna didn't go off on them immediately which is what I would say happens in high school. We sit with our feelings and let them fester and digest them and really feel the situation and feel the pain.
The show focuses on LGBTQ+ characters rather than having side characters and playing into stereotypes and tropes. How does it feel to star in a show that is highlighting and lifting these voices?
It's amazing. These are all authentic coming-of-age stories even if they aren't exactly true or real. I'm touched every time I get a DM from a younger person saying they are feeling seen and heard in our show. I feel very proud to be a part of something that impacts viewers in a time where people are seeing their true authentic selves. 
Lastly, if you could manifest one thing for yourself this year what would it be & why?
I think it wouldn't be for me but for the world… We are coming out of a really hard year and I'm hoping everyone comes out of it happier and stronger. I hope we can all come together and be united and feel like we are all in this together. 
Interview by Kelsey Barnes
Photography by Emily Assiran
Fashion Styling by Mickey Freeman represented by the Only Agency
Stream genera+ion on HBO Max now.