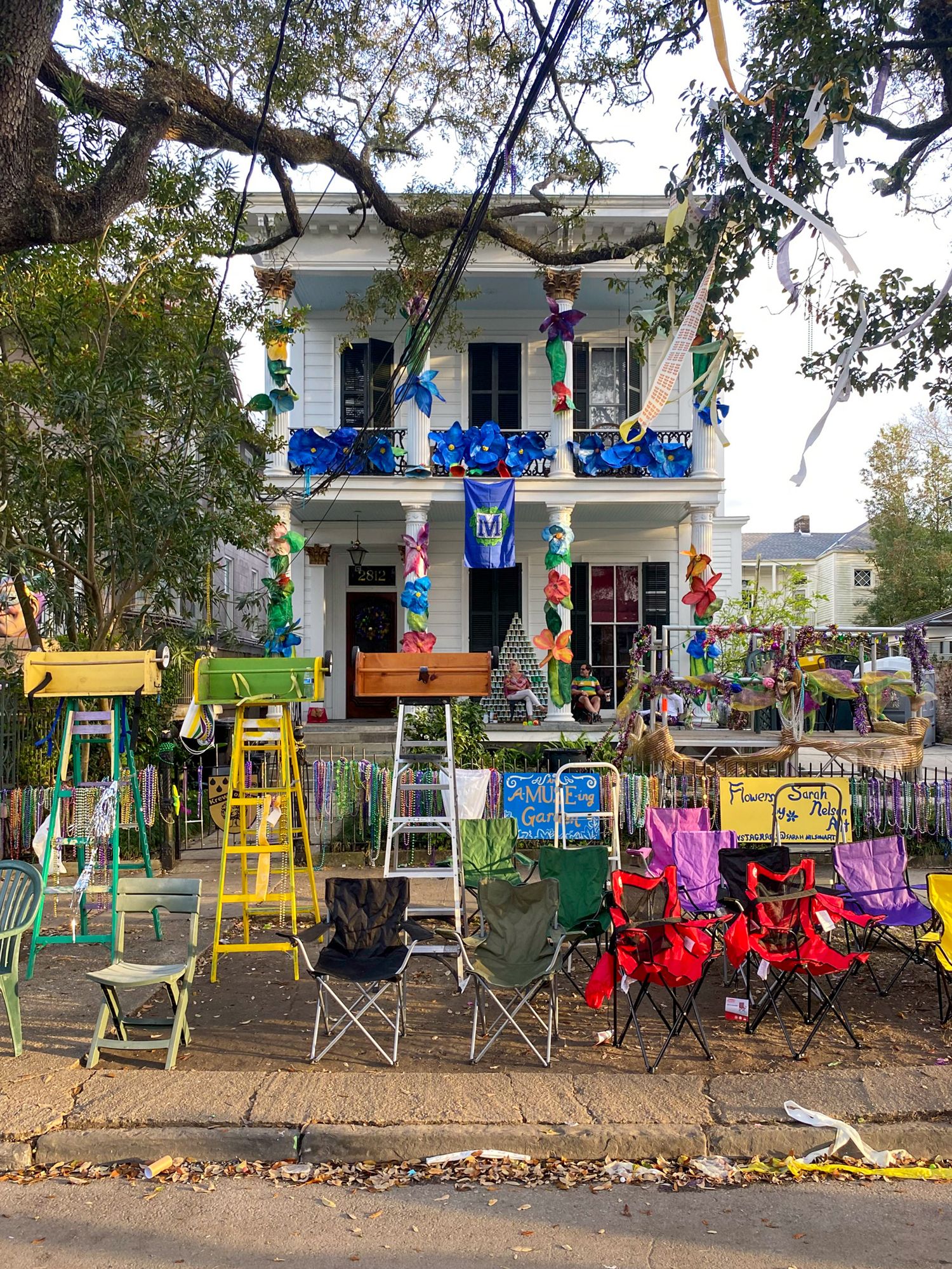 New Orleans – Mardi Gras 2023
New Orleans Mardi Gras has been top of my 'to do' list for many years, after watching the 1969 culture classic, Easy Rider.
The film sees two hippies, Peter Fonda and Dennis Hooper, road-trip their Harley Davison's from California to Mardi Gras after a successful drug deal, picking up Jack Nicholson on the way and then dropping acid with two prostitutes in a graveyard.
We were on a similar journey having tied the knot in Las Vegas, by Elvis, at Graceland, then hot-stepping it cross-country in time for Mardi Gras, without the acid or prostitutes.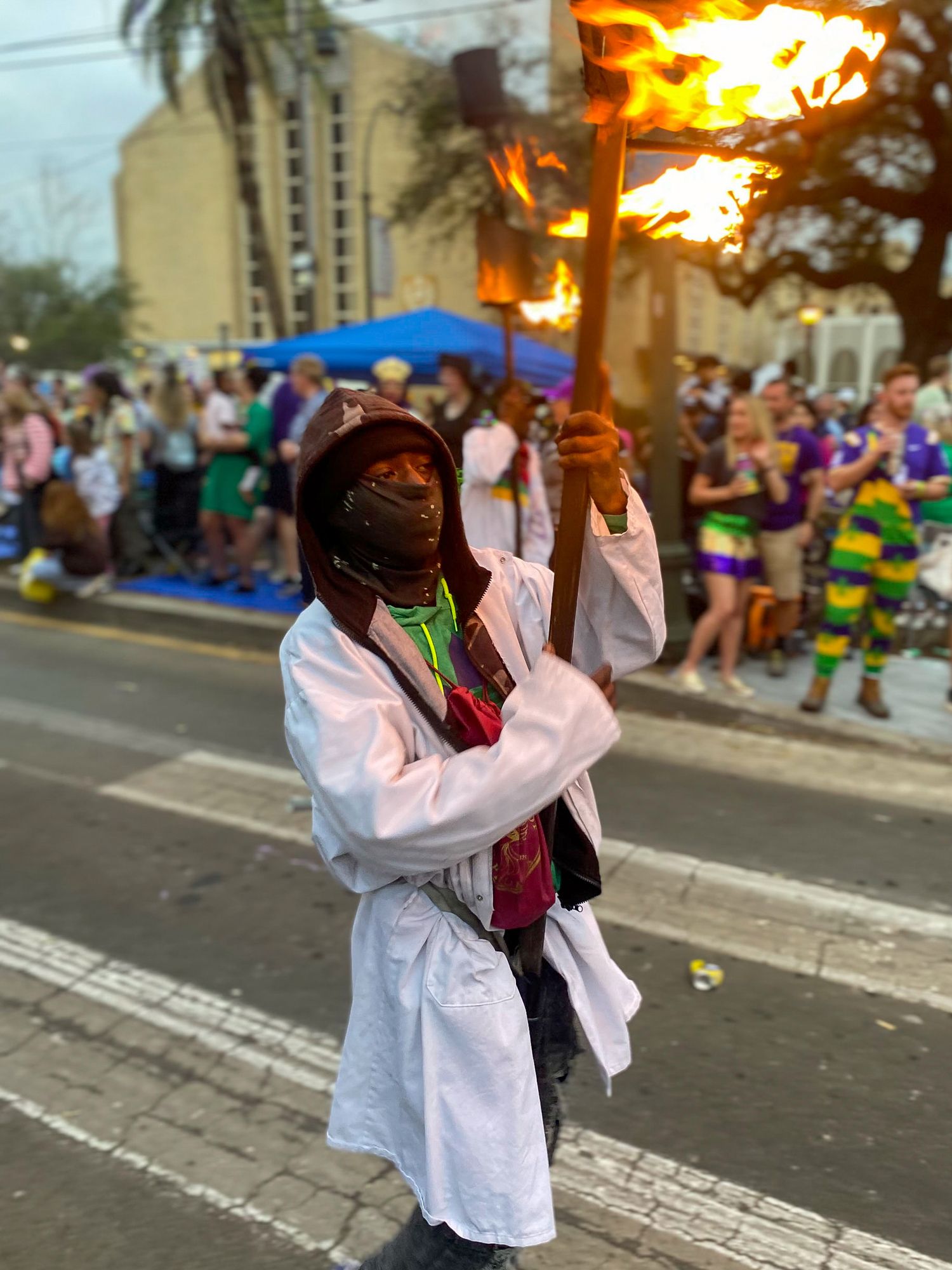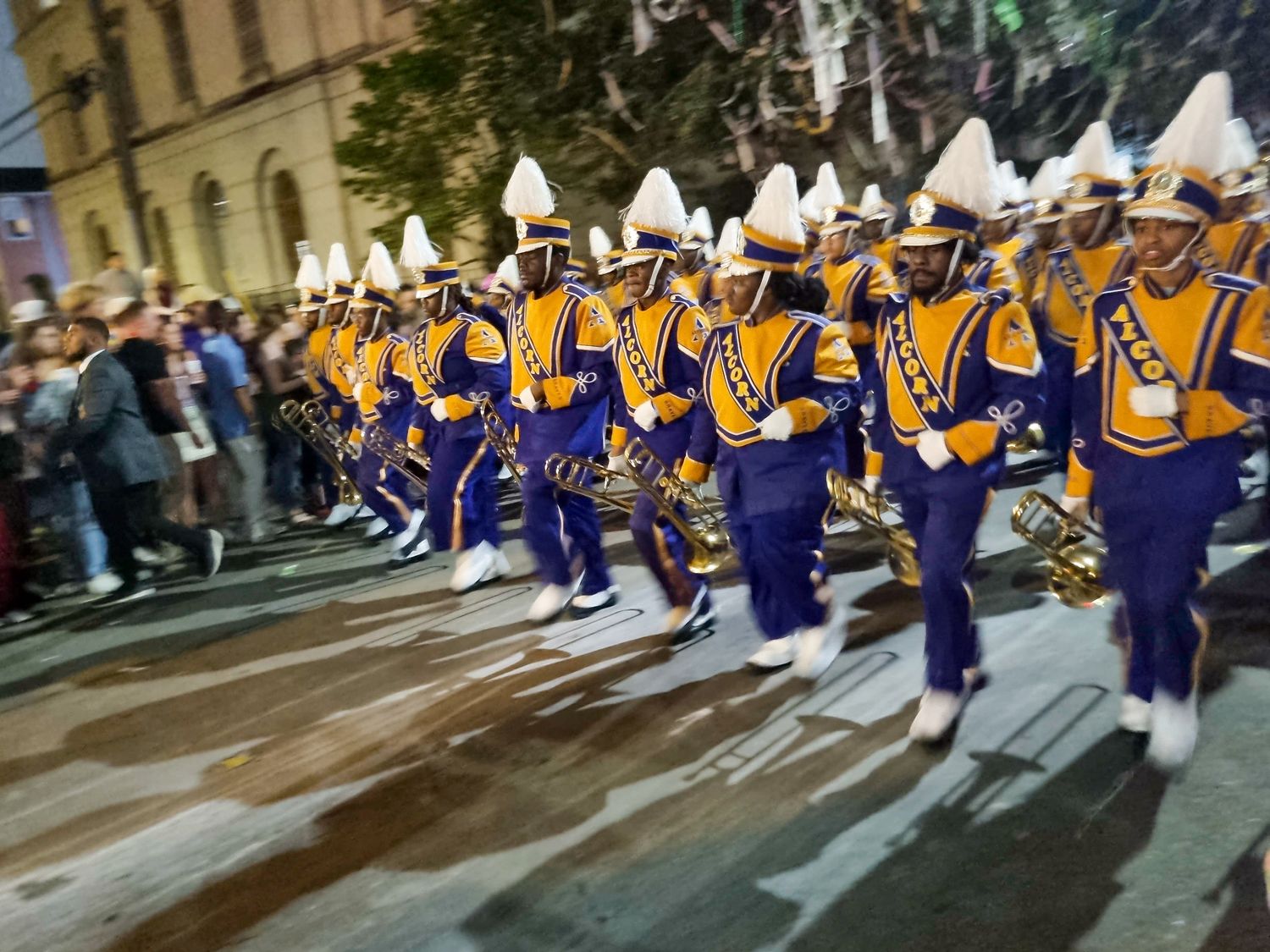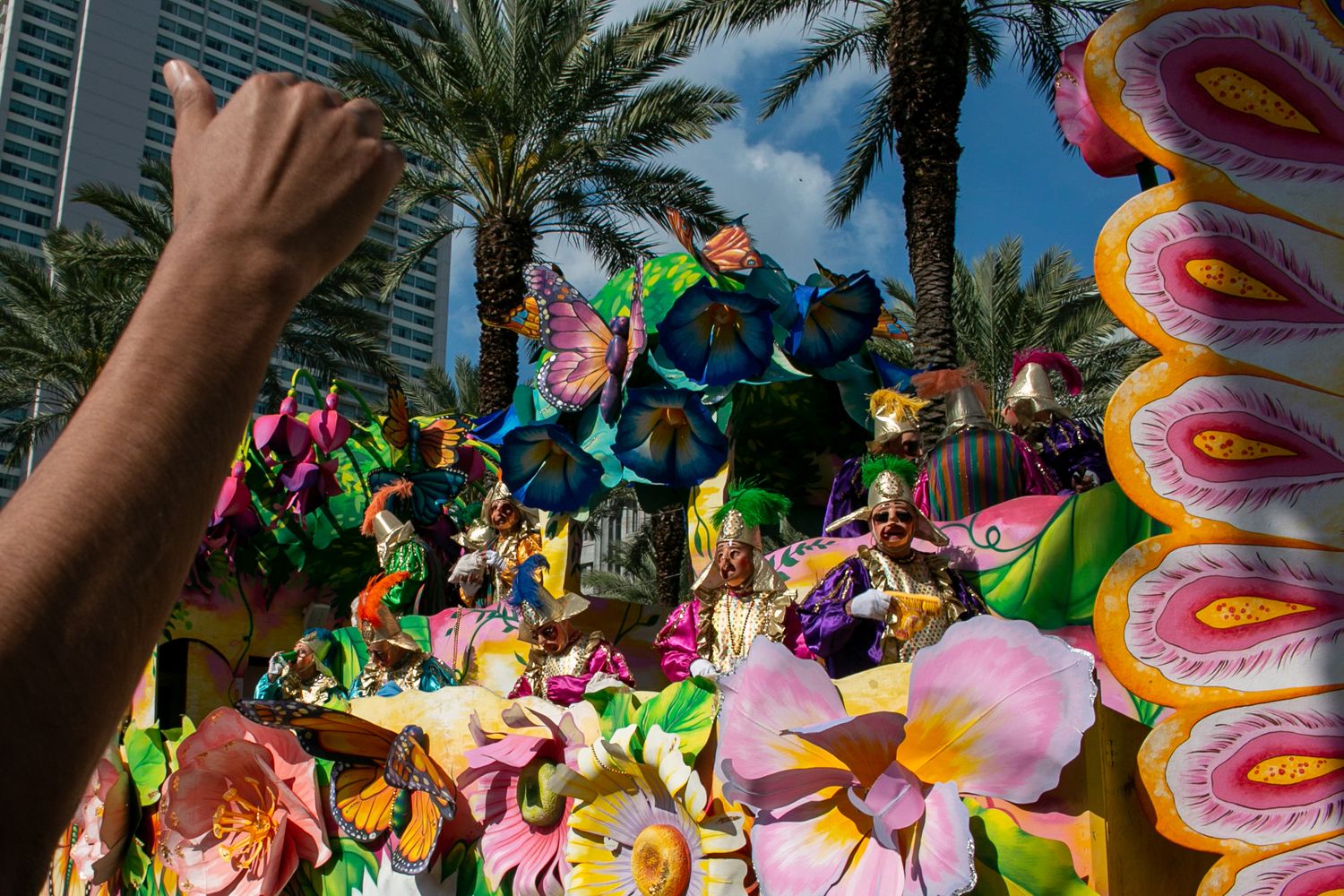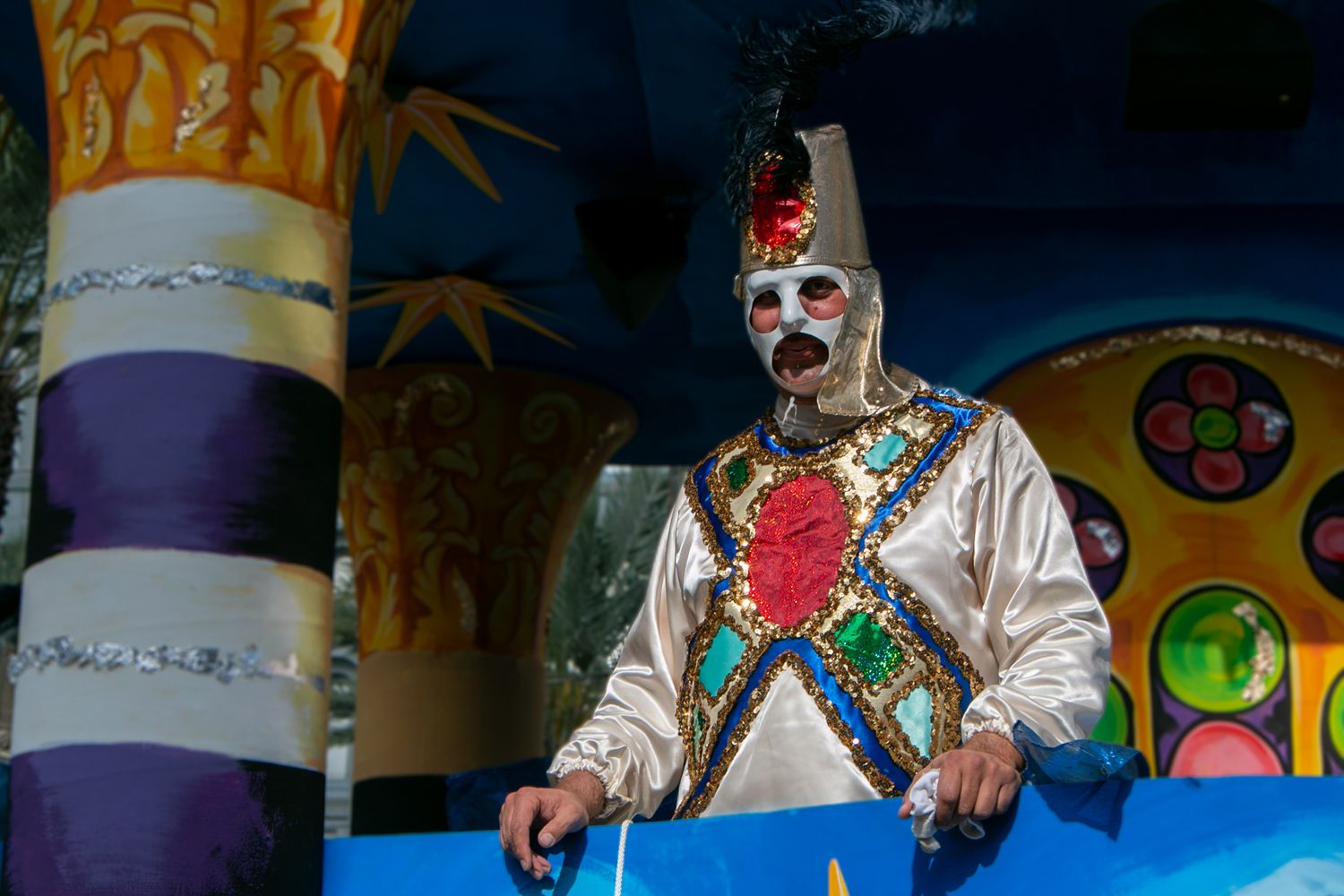 The origins of Mardi Gras can be traced to medieval Europe in the 17th centuries, then in 1699, French-Canadian explorer Jean Baptiste Le Moyne Sieur de Bienville arrived just south of New Orleans, and named it "Pointe du Mardi Gras" as it was the eve of the festival in his native France. By the 1730's Mardi Gras was celebrated openly in New Orleans with masked balls, supper dances and the parades officially starting in 1838.
Traditionally Mardi Gras organisations developed from private social clubs with restrictive membership policies. The organisations formed 'krewes' and the krewes often named their individual parades after Roman or Greek mythological heros or gods. The krewe structure is a parody of regal establishments: King, Queen, Dukes, Knights, and Captains.
From what we saw the krewes were quite racially divided, and traditionally few in black areas felt they could participate in the parade because of cultural separation resulting from slavery and racism. Black neighborhoods gradually developed their own style of celebrating Mardi Gras. Their krewes were named from imaginary 'Indian' tribes according to the streets of their ward or gangs, to pay Native American's homage for their assistance in escaping the tyranny of slavery. New Orleans was the largest slave market in the USA and now has the second worst income inequality in the USA, with 24% of the city living in poverty.
Traditionally Mardi Gras was a violent day for many 'Indian' krewes, as it was used to settle scores whilst the police were occupied, the streets crowded and revellers masked. Although there was a history of violence, that is a thing of the passed. Having said that the night we arrived a teenager was shot dead, and a 4 year old girl and 3 others wounded. But in reality it didn't seem much different to attending Notting Hill carnival.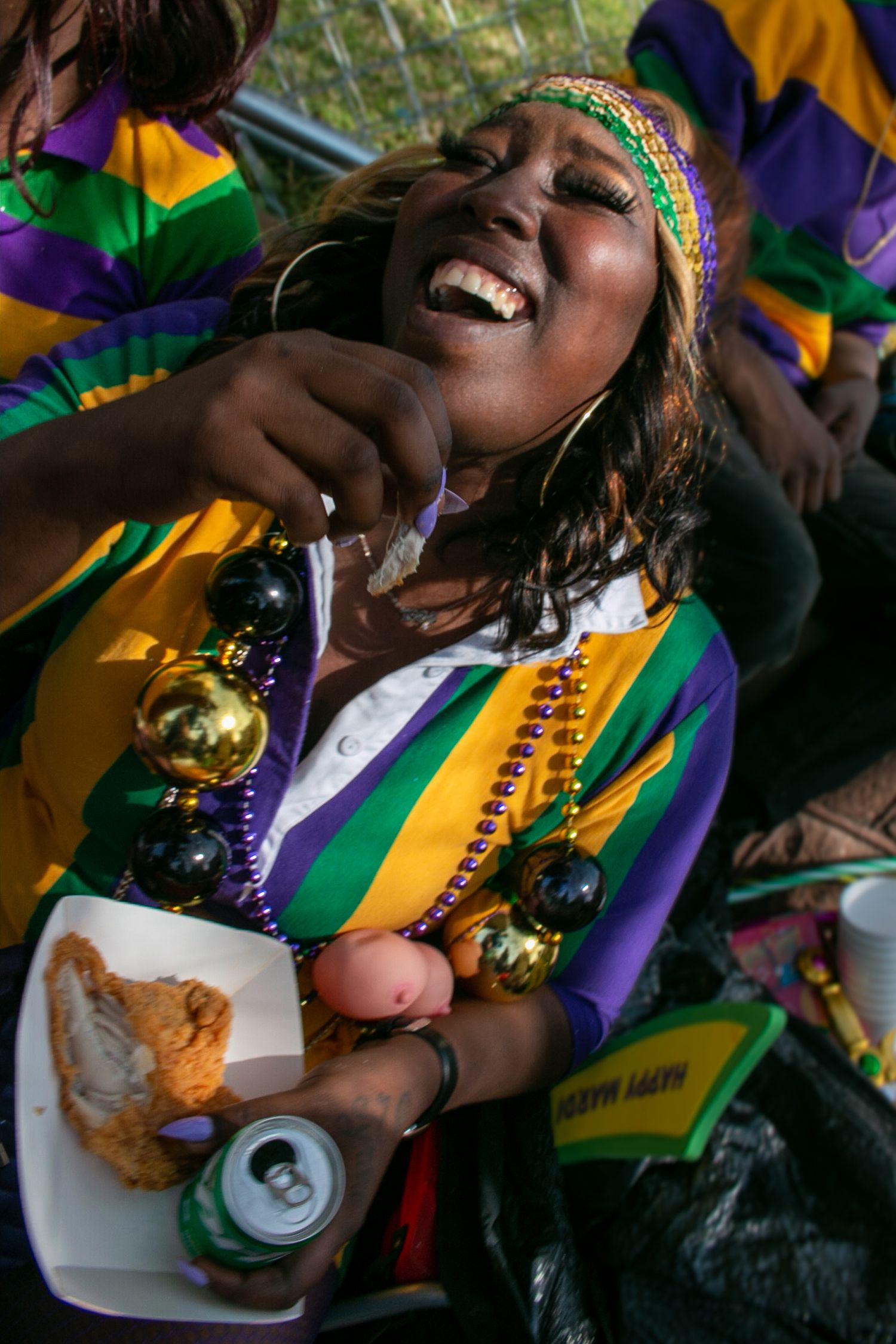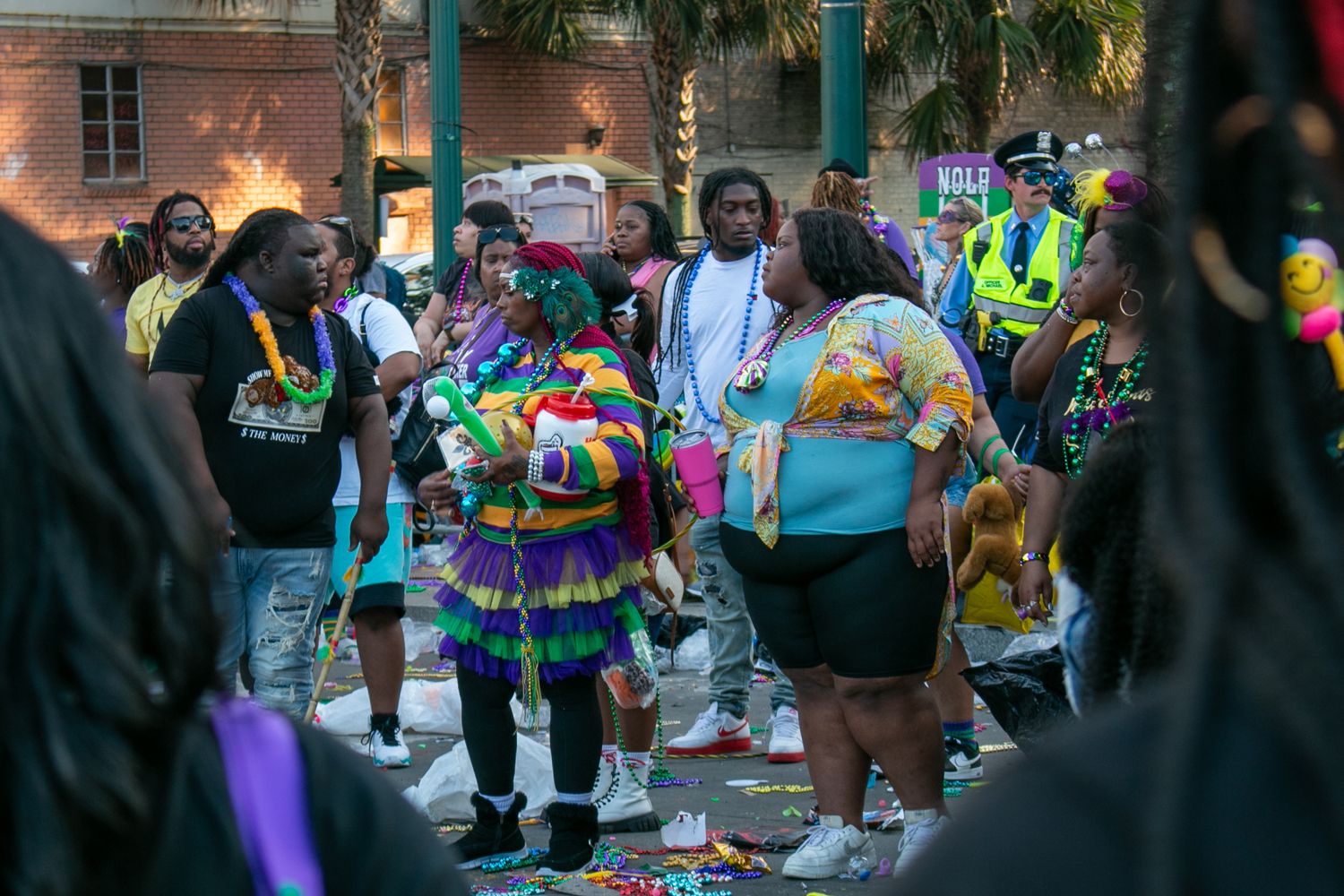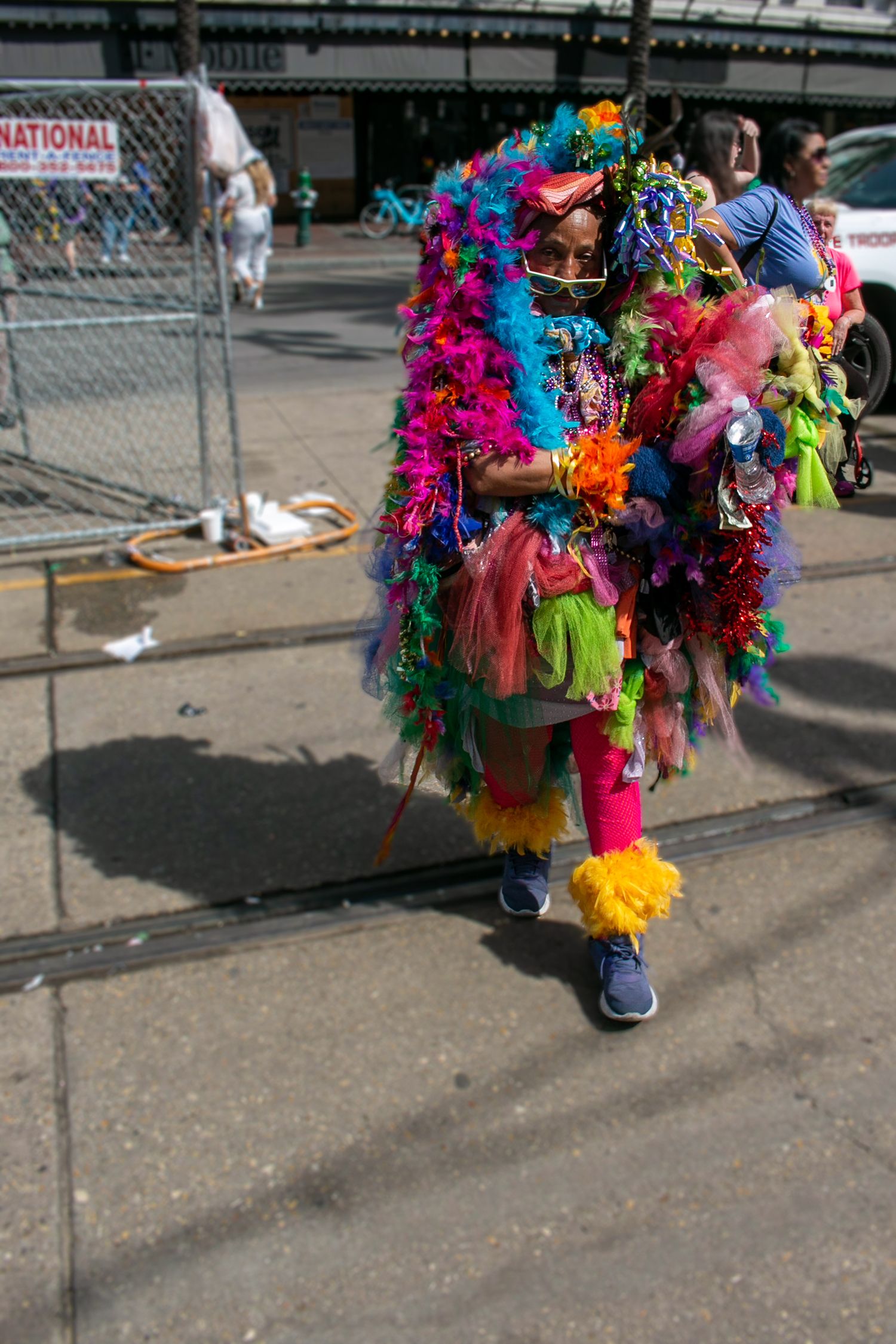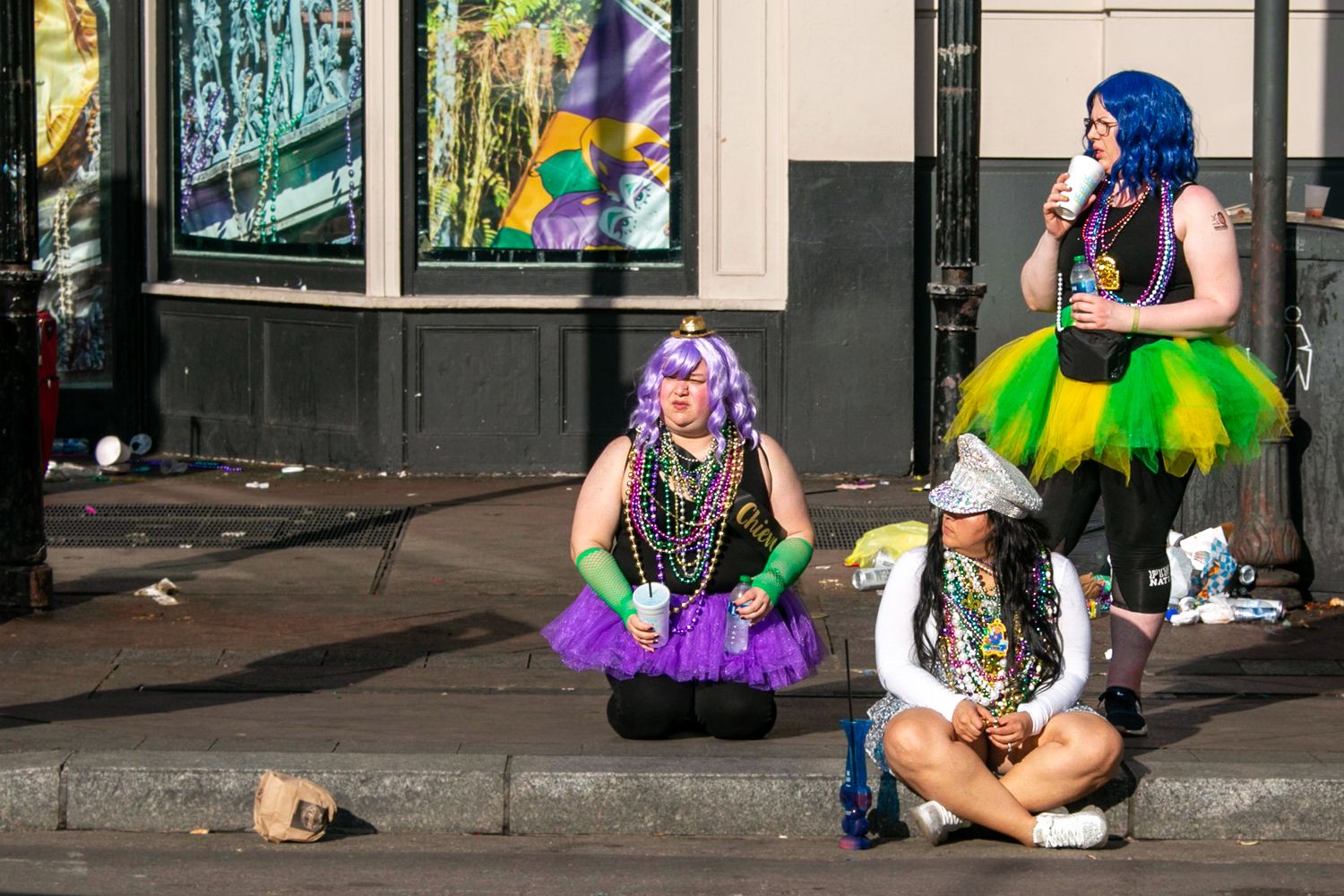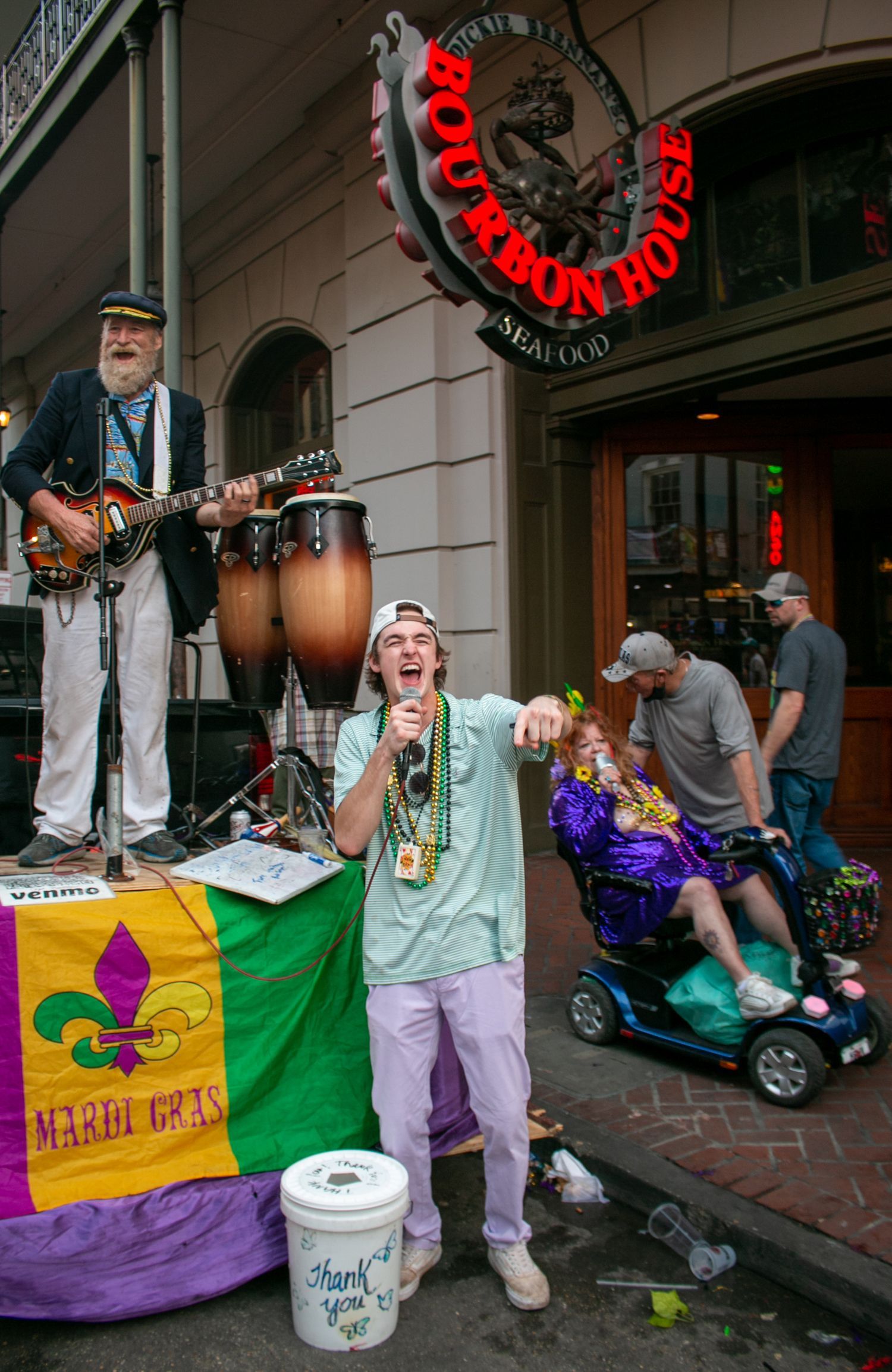 We arrived late Sunday evening on Sunset Unlimited Amtrak train, after a 16 hour journey from San Antonio in Texas. A little weary we jumped into an over priced Uber, £60 for 10 min ride, to take us to our hotel on the other side of town. A shitty motel charging £150 a night, 7 miles from the action. So if you're tempted to hit up New Orleans when Mardi Gras is on, then book as early as possible and expect inflated prices as a million people take to the streets in a city that has a population of 375k.
The next day refreshed and ready for battle we headed straight for the French Quarter where we thought the action was, but we soon realised that's where the media often present Mardi Gras from, but there are no parades there and it's just where the tourists head to get drunk and flash their breasts for beads. Beads, doubloons, cups, stuffed animals, and a wealth of other shit are thrown out by krewes to the general public, but some unscrupulous people ask women to flash their breasts to gain the best items, and quite a few, especially in the French Quarter, are more than happy to oblige. Mardi Gras 'throws' are a major part of the celebration, and historically those that caught the then glass beads, were thought to get good luck for the coming year. The most sort after 'treasure' is the glitter clad Zulu coconut thrown out by Zulu Chiefs.
Aside from the racial divide, one thing that grated on us was the amount of tat thrown out from the floats, for us it served no purpose, as what the hell are you going to do with a load of plastic beads? But people where going wild for them! Even filling up bin bags full of the stuff. Near the latter part of the day the route was covered in rubbish, sorry I mean treasure… But TBF the New Orleans cleaners were on it and cleared the streets straight away, a commendable effort. I mentioned this qualm to a native New Yorker and his reply was "You went to Mardi Gras and were worried about the rubbish, you should have been ten beers deep and having the time of your life!".
Since all the parade organisations completely fund themselves, and the tat they throw out, New Orleanians call it the Mardi Gras the 'Greatest Free Show on Earth', I can only help think that the money could go to a better use than a landfill. Then again, economic impact reports indicate that Mardi Gras generates over $1 billion in annual spending, and I guess me berating the beads and mess is like going to Burning Man and moaning about getting sand in my shoes, or Rio Carnival and complaining I got sunburnt!
The Monday was Lundi Gras where traditionally Rex, the King of Carnival, would arrive by boat at the riverfront. Rex selected the Mardi Gras colors in 1892 and assigned meaning to them; purple stands for justice, green for faith, and gold for power. There were three processions that evening but as two were taking a similar route we decided to head to see what Proteus and Orpheus had to offer. Founded in 1882, the Krewe of Proteus is the second-oldest krewe in Carnival history and Orpheus' 'monarchs' have included Quentin Tarantino, Sandra Bullock, Whoopi Goldberg and Stevie Wonder.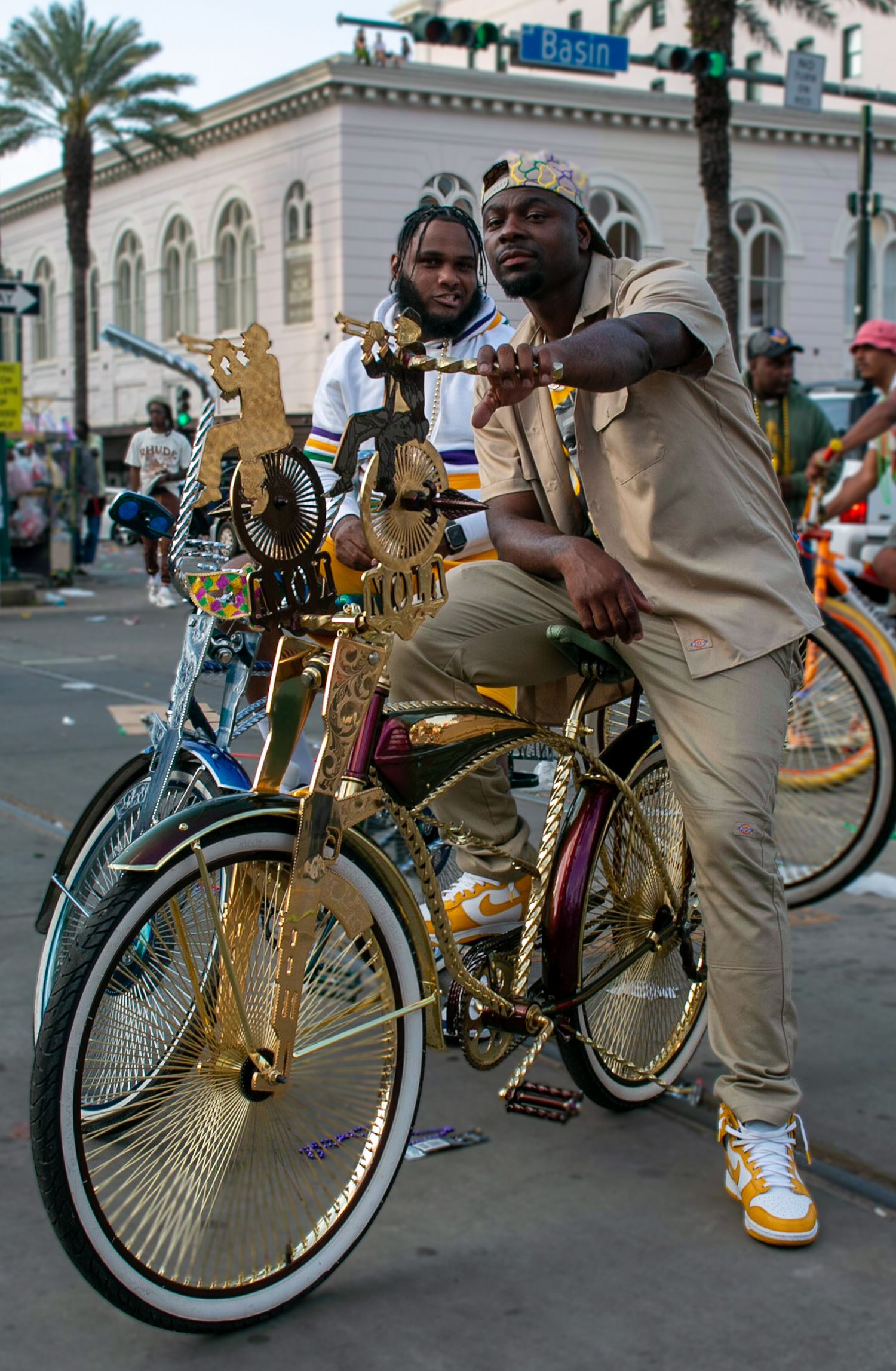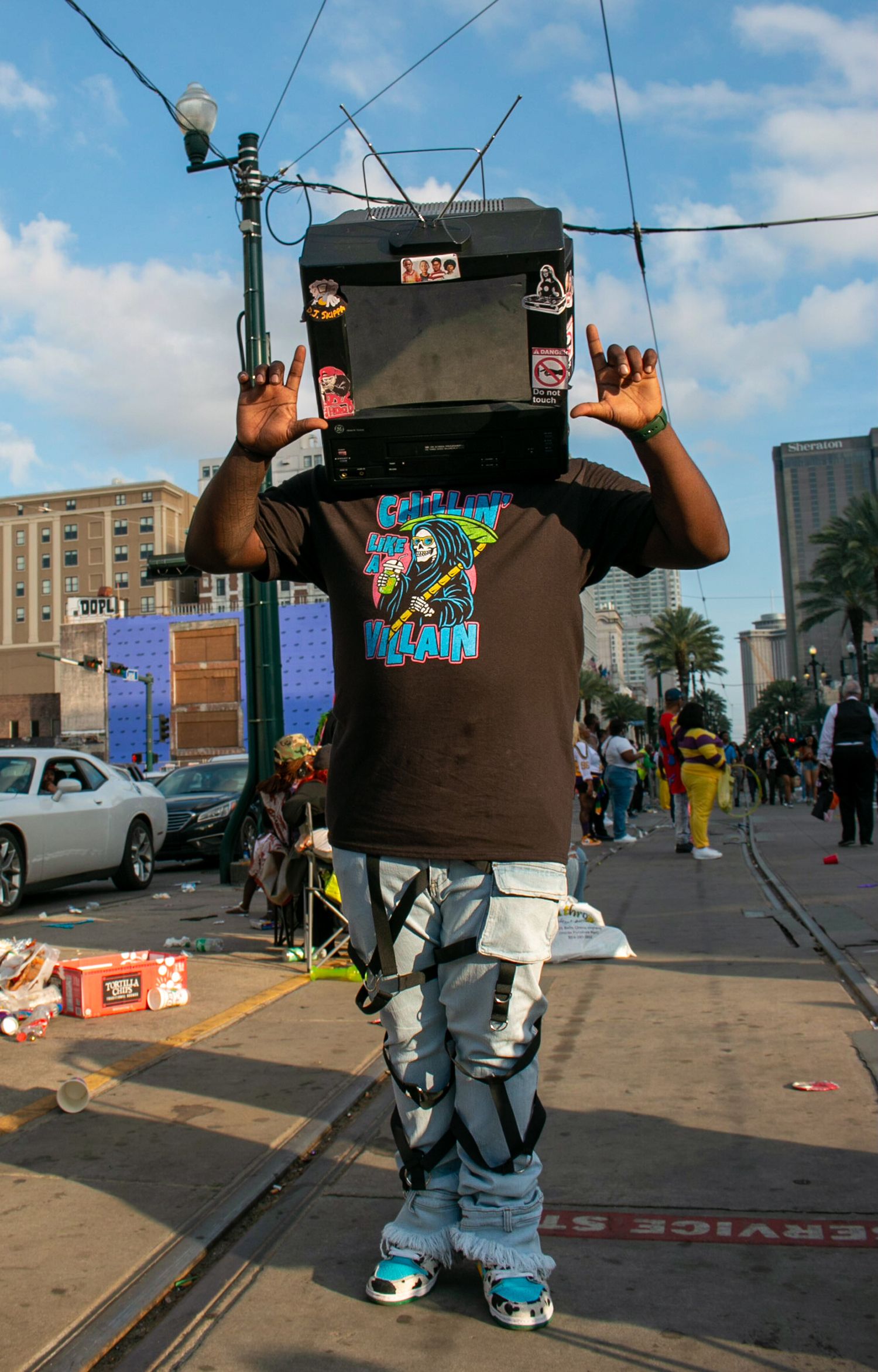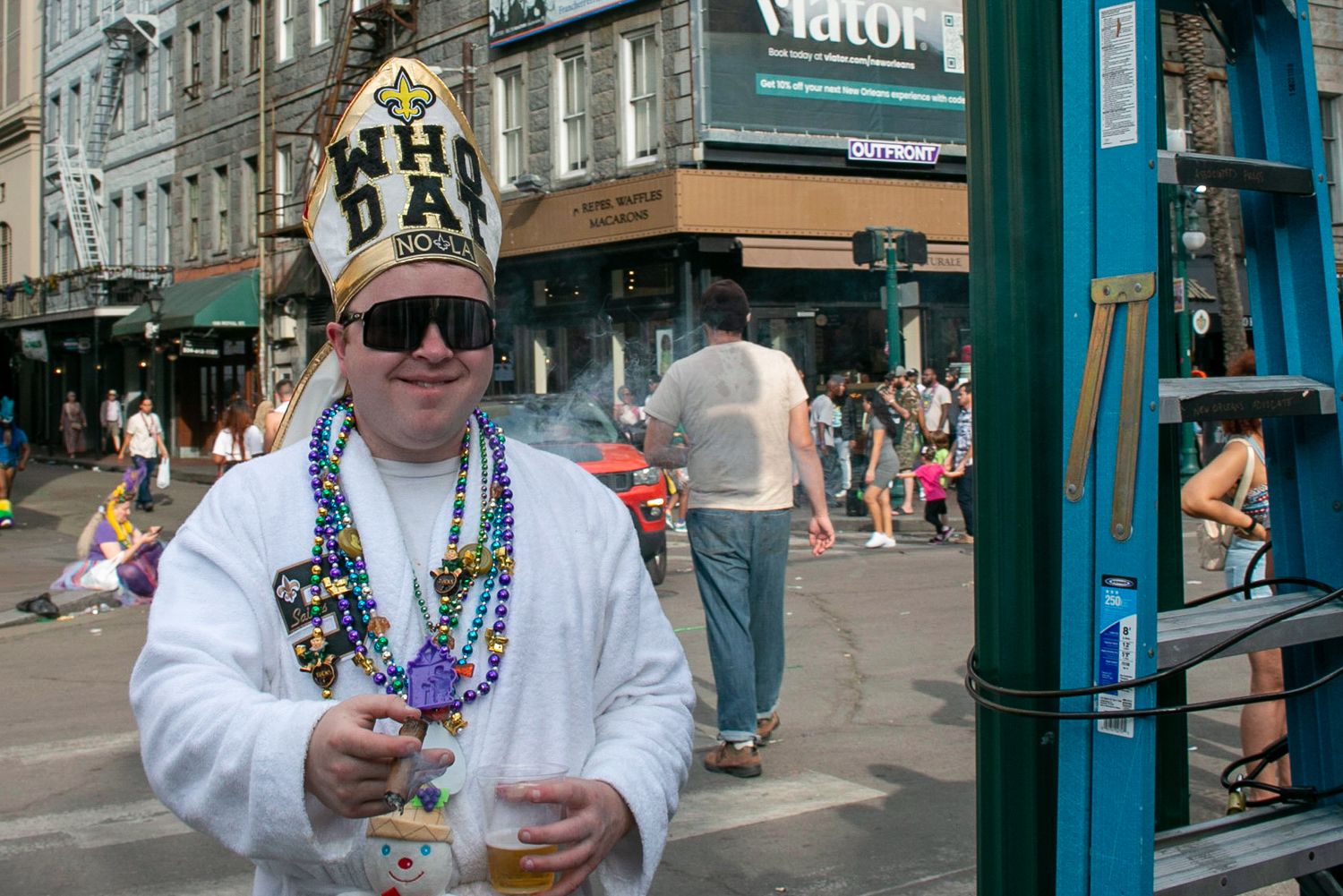 We walked down St. Charles Street to meet the first float and then stopped in the same spot the majority of the evening. The streets were packed with locals, as it seemed the tourists stayed in town. The floats, the marching bands, the dance troupes all mesmerised in their bright colours, upbeat tunes and general flamboyance, and the crowd were certainly lubricated and in a party mood. We made friends with a woman that lived a street away in her quintessential New Orleans style cottage, which was the urban version of the French-Colonial plantation house, equipped with porch and rocking chair. The house was like a museum and her children were super accommodating as they let us use their bathroom and have a mooch around.
One thing that struck us was that the people that rode the floats were older white males, the marching bands or dance troupes were young black men and women, and those on horse back, once again older white males but wearing colourful, what I can only describe a Ku Klux Klan outfits, lead by black men. I questioned this to a man from Alabama and he just agreed that it was "a bit weird, but tradition".
What was nice about the evening parade was that Flambeaux's lit the streets, basically black men carrying burning torches. The original Flambeaux's were slaves who were tossed coins, a tradition that continues to this day. The coin bit, not the slavery, thankfully. Masks are prominent, and I later learnt that by law, float riders must always have a mask on, which added to the mystery of the parade.
The next day was the main event and we were prepared, aka had a full bottle of Fireball Whiskey to lubricate the ride, and some edibles. We ended up walking a lot, drinking a lot, chatted to loads of interesting people, who loved the fact we were from Europe. Everyone was in good spirits, no matter what race, creed or colour.
You do have be aware of where you're at, literally, as the Lonely Planet guide points out "New Orleans has a high violent-crime rate and goes from good to ghetto very quickly." We fell into this trap whilst trying to find the bus home, a little worse for wear, we walked into a 'Bike Life ride out' in Treme, which was an unexpected occurrence. I just wish I had the balls to get my camera out as there were a few hundred riders flexing their skills including a few burnouts. We quickly retraced our steps as the crowd got rowdy and the police sirens encroached.
New Orleans aka NOLA, is a must see city and if you're there for Mardi Gras then all the better. This magical home of American Voodoo is a culture clash that attacks you from all angles and Mardi Gras is soaked in tradition, booze, the smell of weed and a splash of pagan mysticism. The people watching is like no other and the party gets rowdy as night falls. If you want your senses to be overwhelmed, then this is the place for you, even if you don't venture out of the French Quarter, you'll still have a memorable time, well, if you like beer, beads and boobs…
Words by Woody Anderson.
Pictures by Woody Anderson and Kasia Anderson.