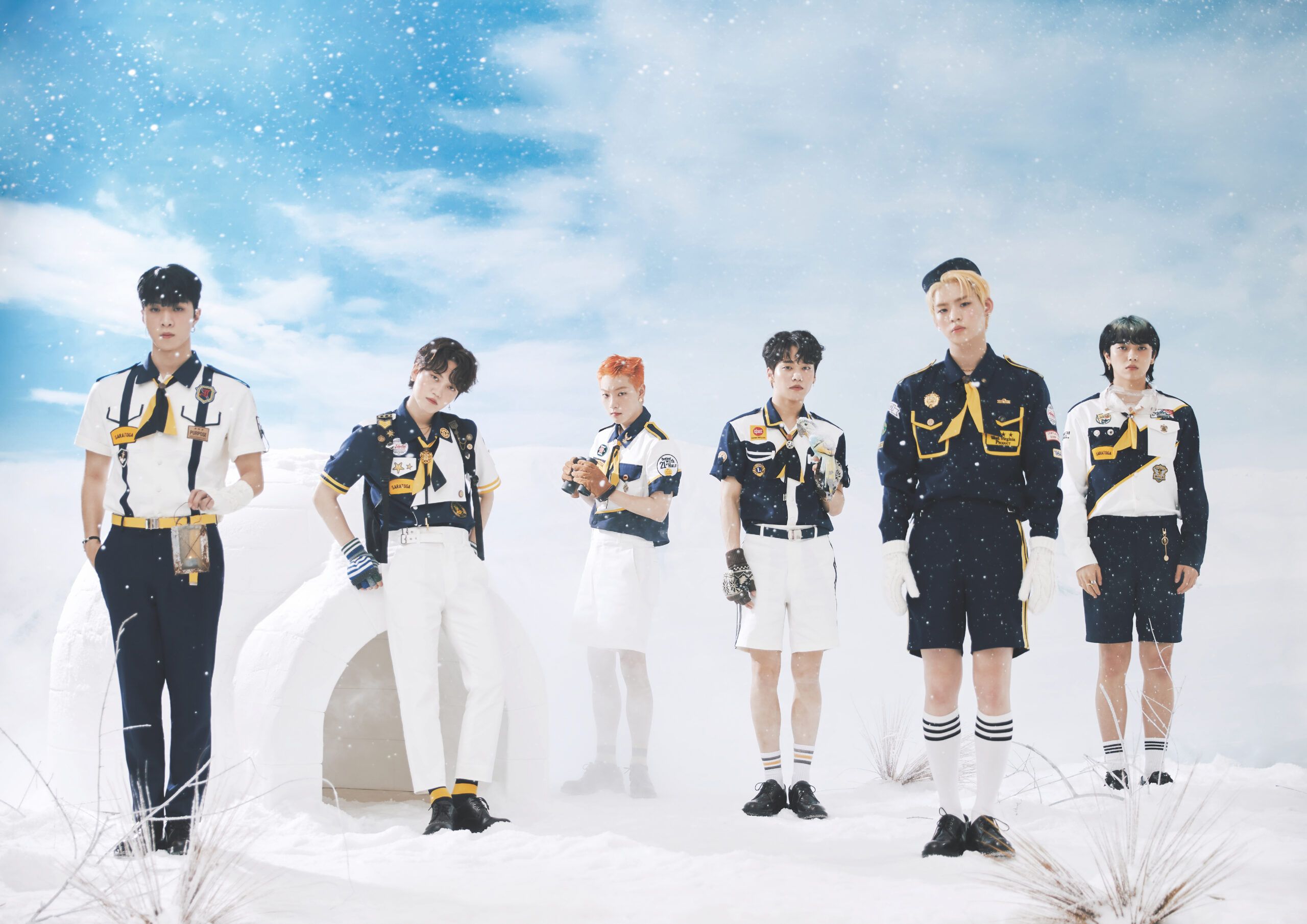 ONF
Summer may be drawing to a close but K-Pop group ONF are drawing out every last drop with new EP "Popping."
While many of us are mourning a Summer that we didn't realize had already passed us by, K-pop group ONF are proving that the season can be as long as we want it to be. The sextet, composed of members Hyojin, E-Tion, J-Us, Wyatt, MK, and U, released their latest EP "Popping" in August, and with it a title track and music video that draws every last drop out of these last sun-dripped days.
Emerging onto the scene in 2017, ONF are made up of two subunits – the vocal-focused ON arm consisting of Hyojin, E-Tion and MK and the performance-focused OFF group of Wyatt, J-Us and U. The group has grown from strength to strength since their debut, releasing 6 EP's and one full-length studio album and charming fans (dubbed Fuse) with their distinctive pop sound with every new release. Back in February, ONF wowed with their single "Beautiful Beautiful," reaching new heights in the charts and drawing the eyes of critics and new fans alike. It was an apex for the group, that is until "Popping" was released just 6 months later. A spiritual successor to the vibrant track, this new song and album shows that when it comes to extending the Summer, there's one band that holds the secret ingredient.
1883 sat down with the group to discuss the new EP, favourite Summer activities and hopes for the future.
Congratulations on the release of POPPING! It's such a fun and summery single – did you have fun recording the song and filming the music video?
J-Us: We filmed our music video this time at school. The sky was especially blue and the clouds were pretty, so the weather itself brightened up the mood on the set. The basketball scene with the members especially felt like I was back in high school. I remember having fun while filming the scene as if I was playing a basketball game with the members. Also, the scene we filmed in the school auditorium reminded me of the performances I did when I was a student. I missed the old school days!
MK: The title track "POPPING" is a refreshing song like cold soda pop in summer so we cheerfully recorded the feel-good vibe of the song. We paid extra attention to the intro chorus part that's in English which leads the mood of the song and evokes the feeling of the part. We also had so much fun with the scene where we all played with water guns that we forgot that we were shooting.
U: Whenever we prepare for a new album release, we get excited and worried about whether our fans will like our new songs and performances. We were excited when we recorded this album as we were getting ready to release our first-ever summer pop-up album. Each song has the word 'summer' in it and expresses summer through various moods and lyrics. So we focused really hard to evoke the mood of each song. When filming the music video, there was a scene where E-Tion was seeing me off, and the director played a sad song for me so I could immerse myself in the role.
What is your favourite part about releasing new music – is it the recording, the filming, actually releasing it to fans?
Hyojin: We were most excited about showing our music and performances that could emphasize our strengths even more through this summer pop-up album. We couldn't wait to show our stage to our fans, knowing that they like and look forward to our bright, energetic and refreshing side. If you try to discover how ONF's universe continues throughout the music video, you'll be able to feel not only coolness but many emotions as well. I hope that many people who listen to our music will be able to feel these emotions.
E-Tion: This is a summer pop-up album showing multiple summer stories with sentiments unique to ONF. We thought a lot about how to express all five songs differently. We always think hard about making music and performances that many people will describe as "This is truly just like ONF." In the end, we concluded that we want to deliver output to our fans that won't let them down. Despite the worries that we feel with every new album release, the love and support from FUSE are what drives us to keep going to the next.
Wyatt: On the day of our album release, we wait throughout the day feeling excited and nervous, and monitor reactions. Especially because many people say about our songs are masterpieces, we're nervous about how our songs will be received. Writing lyrics for my rap that expresses the mood of the song is always difficult but I thought a lot to show different sides of summer in each song for this album, especially. If you listen to the lyrics carefully, you'll feel deeply the sentiments unique to ONF.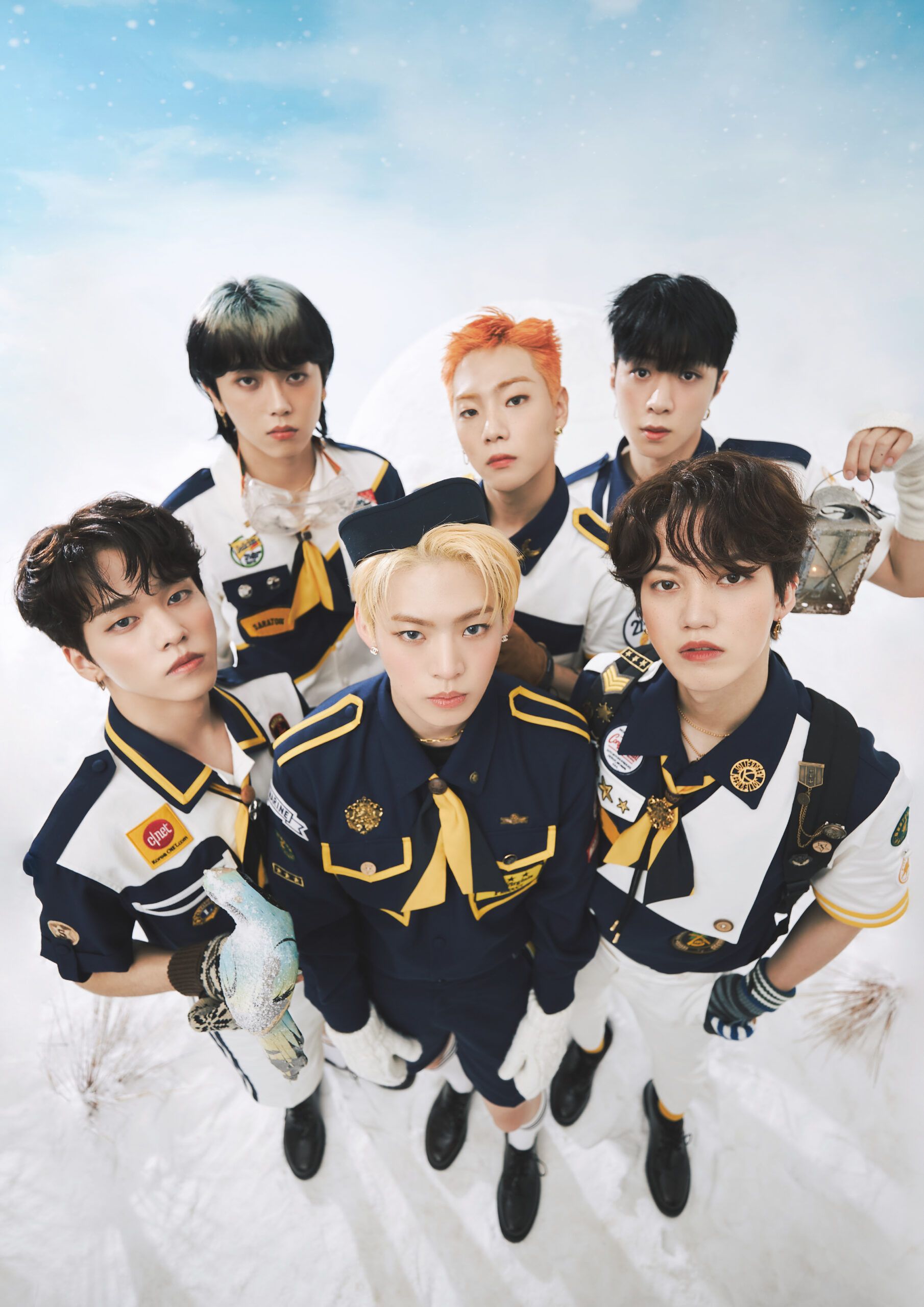 It has such a great summery vibe, which is very needed right now! What are some of your favourite summer activities?
E-Tion: I like all summer activities in the water. But this summer I can't afford to play in the water because of our album promotion and COVID. I want to stay at a cool, pleasant cafe and read my favourite book with my favourite music while having an iced Americano if I have time. I think I will enjoy taking this time out of my busy schedule to feel relaxed and stay cool this summer with this mundane type of activity.
J-Us: Cool swimming pool is the first thing that comes to my mind when I think of summer. When I was young, my family and I used to go frequently to a water park in summer every year and I played in the water all day. When things get better, I want to go to the pool with my family and my members.
U: When I was young, my family and I often went to the sea or swimming pool. These days, I turn on the air conditioner in the dorm and eat cold food like watermelon, cold noodles, and ice cream which I think is the best and the easiest way to beat the summer.
Do you each have a favourite track from the album?
Hyojin: My favourite track is "Summer End." This song makes me feel like I've really come to the end of summer and I feel sad that summer is already over. You will feel our emotions through the lyrics. I feel teary already thinking that I will break into tears on the day when we get to sing this song in front of our fans.
Wyatt: "Summer Poem" is my favourite. It's a drama-like song full of romance depicting the moment of confessing while strolling in the city. This song makes my heart flutter also. Since it's Bossa Nova's melody, I listened to a lot of Bossa Nova's rhythm when I was writing the lyrics. I think summer will remind me a lot of Summer Poem and Bossa Nova rhythms from now on.
MK: My favourite is "Summer Shape." When I listen to the emotional lyrics about different sides of summer that people encounter with the clear voices of each member being expressed, I feel like I can put down my thoughts for a while.
During your last album, your song "Beautiful Beautiful" reached new heights in the charts and was so popular. Did it feel exciting to release another new album after that? Did it boost your confidence as a group?
Hyojin: "Beautiful Beautiful" was the song that delivered the energy unique to ONF to many people. Some described it as ONF's genre and it received a lot of love so we could feel more pride and confidence in our performance. I like it when people say "it's music unique to ONF." I think about expressing music in an ONF way for every album we work on even if it's a different genre or mood. I'm glad that this album delivered coolness, energy, and emotions unique to ONF.
E-Tion: I felt we were complimented on the hard work we've put on so far when we took No.1 with "Beautiful Beautiful" for the first time and memories of all the activities we've done crossed my mind. And the happiness from our fans who show us great love and support motivated us to work harder. We gain confidence thanks to our fans.
U: I was so happy and thankful that the song received interest from many people. That motivated me to keep going and work on another song and performance hoping to show it to our fans quickly. I was happy that many people liked our bright energy from 'Beautiful Beautiful' and it led us to feel more confident and responsible.
Interview by Lucy Ford
Photography via WM Entertainment
ONF's "POPPING" is out now. Follow ONF @wm_onoff