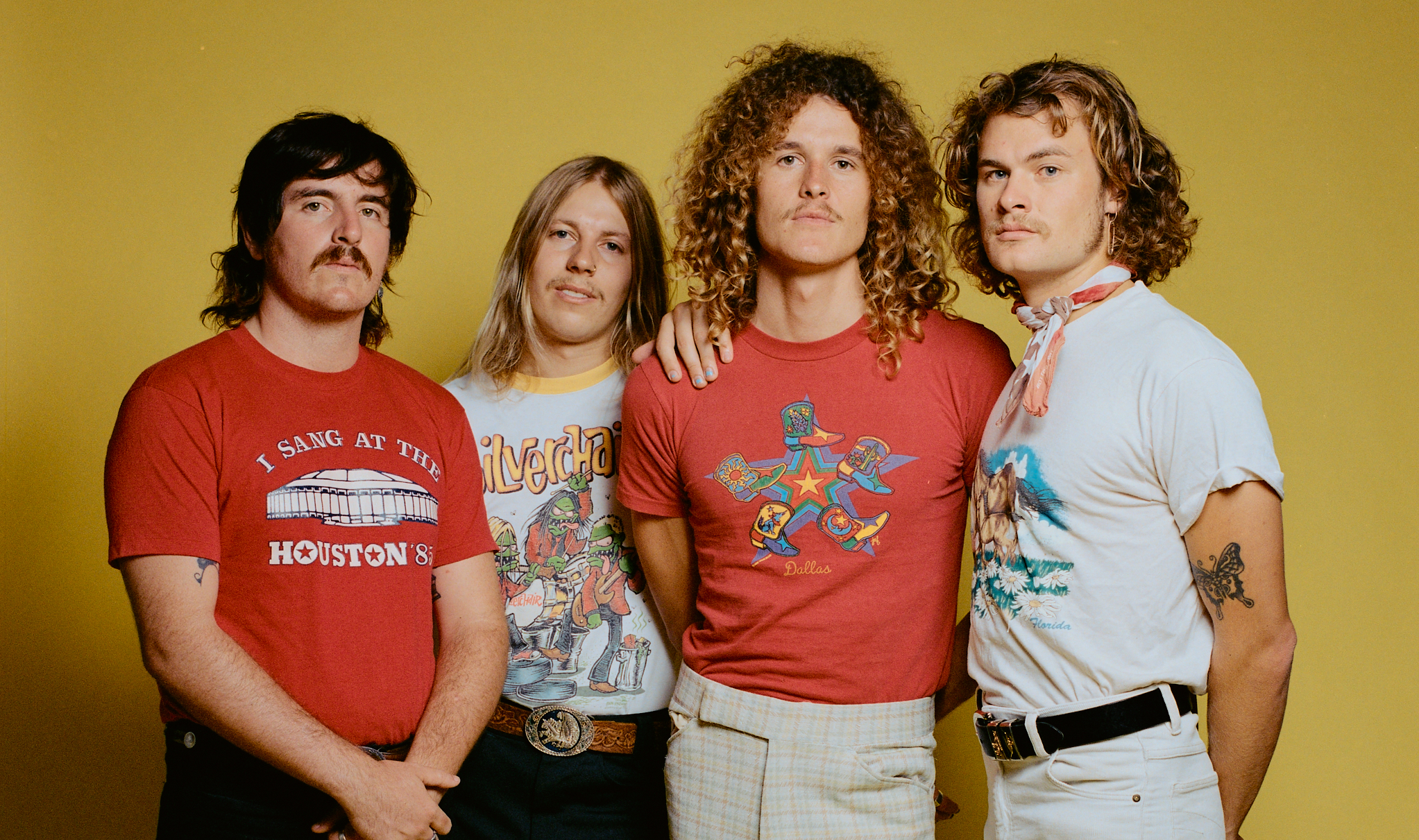 Pacific Avenue
Australian quartet Pacific Avenue have kicked off 2023 with the release of Spin Me Like Your Records, a high energy, groovy track infused with an earworm chorus and dreamy guitar lines that's perfect for summer.
A fresh take on classic rock, Pacific Avenue is bringing their own unique twist to a beloved genre. Fresh off of a string of tours supporting major acts like DMA's, 5 Seconds of Summer and Louis Tomlinson, Pacific Avenue shows no signs of slowing down. 2022 was a huge year for the group, and it seems that 2023 is set to be even bigger.
Currently, the group is gearing up to release their debut album Flowers on May 5th, 2023. Pacific Avenue has been actively promoting the record on their social media, regularly playing live shows, and even giving away a Pacific Avenue branded surfboard in a raffle contest for those who preorder the album. In the midst of all of this, they still manage to authentically connect with their audience on social media, responding to and liking comments regularly. They also recently shared a cover of Snow Patrol's Chasing Cars, a song they often cover in their live sets. Their genuine passion for their craft shines through in everything that they do, and their personalities are just as infectious as their music. 
Ahead of the release of Flowers, 1883 Magazine sits down with Pacific Avenue to talk about Spin Me Like Your Records, live shows, and everything in between.
Congratulations on the release of Spin Me Like Your Records! How are you feeling about the response to it?
The response so far has been really lovely. You can never really be sure about how people are going to receive new music, but from everything we've seen so far people have been able to connect with it, and that's really all we could ask for. We're just excited to be releasing stuff again!
Can you tell me a bit about the creative process behind the track, and how you decided on it being a single?
Spin Me Like Your Records was actually the last song that was written for the record, we had a listening party when we thought the album was complete, and all sort of collectively agreed we wanted 2 or 3 more upbeat rock songs that you could jump around to, so we got back to writing and literally jumped at a speed we thought we could see a festival crowd moving to and went from there. We also wrote our previous single 'Leaving For London' and another track 'Modern Lovers' with the exact same process.
I saw you just released a stripped back version of "Spin Me Like Your Records", what made you want to record and release this alternate version?
A lot of the time when writing the songs, we start off by sitting down at a piano to get an idea of how the chords and lyrics can sit together, it's nice to show people a different look of the song when it's a bit more raw because they might be able to hear it in a new way. We've grown up watching all the classic bands that have performed unplugged, you always know a song is good regardless of whether it's a massive rock song or it's been really pulled back. We try to keep that in mind when writing, to try to make it sound nice either way we perform it.
You have a clear classic rock influence in your sound, what inspired that? Did you grow up listening to classic rock?
We all grew up with different musical backgrounds but I think one thing that ties us all together is our love for classic rock, especially that of the 70's. We still definitely have our differences in taste but I think that also helps when it comes to the writing process. There may be a straight down the line classic chord progression, but each of us having our own personal influences helps to be able to create a song or piece of music that then becomes our own sound. 
Your debut album Flowers is out May 5th, what was the album creation process like?
Our Debut album Flowers was recorded in Byron Bay at the Music Farm. We did this with the incredible producer Chris Collins. Writing this album was an incredible feeling for us. We had gotten to the point where we had finally figured out what our sound was and what we wanted people to recognise us as. One or so members would have an idea and then we would branch out from there and work on what would then become part of this narrative. The studio is incredible, so it was amazing to be able to all be in the room together working on the tracks.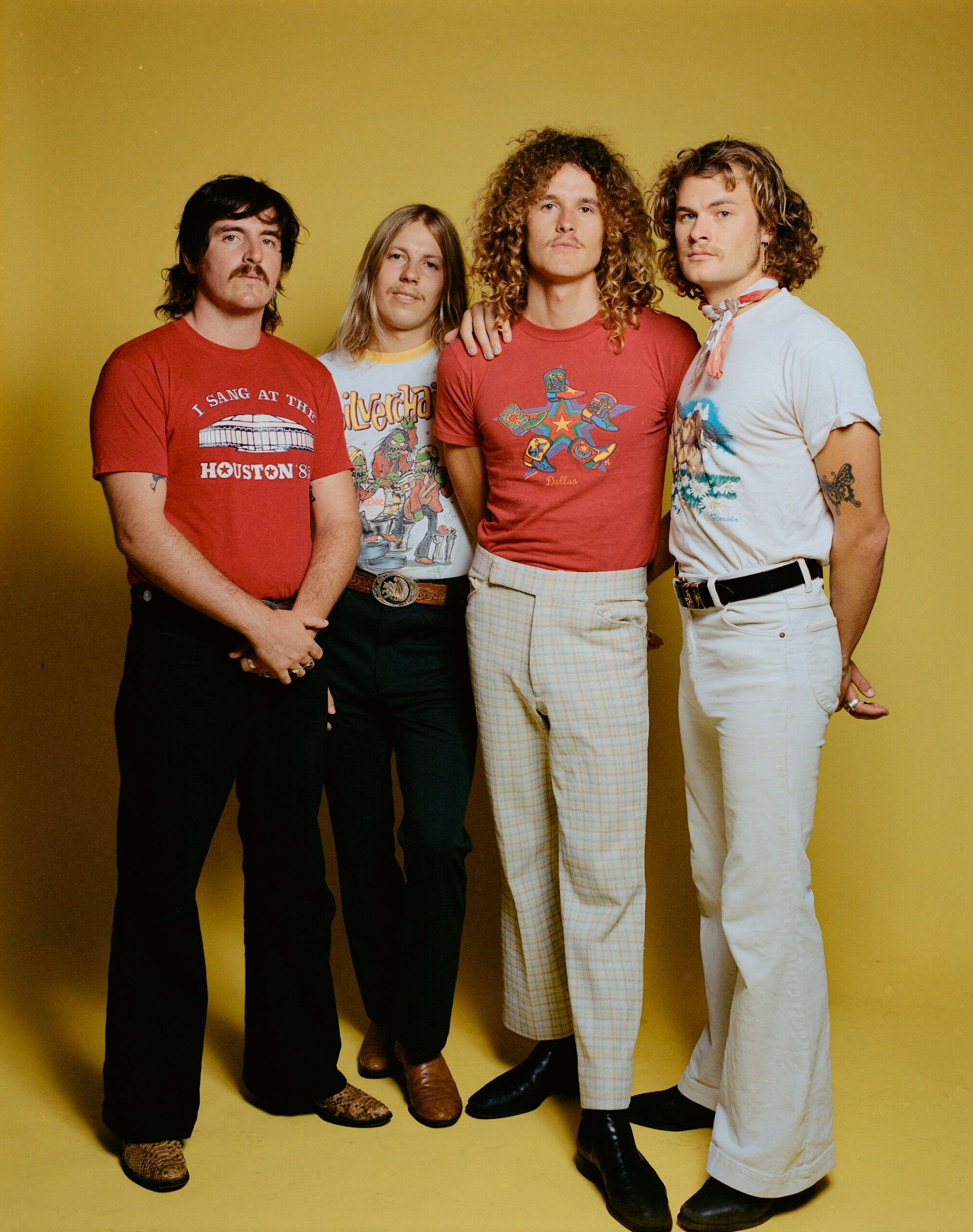 What were the big differences between creating an album versus creating an EP, like Strawberry Skies?
I think when we made the EP we were really just starting out, so the few songs that went into it would've been whatever we were lamming through at the time, so people had an idea of what our live show was like. Making the album definitely feels like more of a statement to what sound we want to be known for and has taken a lot more planning.
How did you decide on Flowers as the album title?
We had 1 or 2 working titles for the album and Flowers was actually the name of one of the songs on the record for a long time. When it came to choosing it just felt right with everything we were trying to do with the whole album, there's a whole lot of life and colour and in the music and single covers, and we wanted to stay with that.
What do you want listeners to take away from the album? What can they expect to hear on it?
Our hope for people listening to the album is that they come out and want to listen back to it over and over again. We have aimed to build some sort of emotion through the record and hope that people are able to listen along and feel some sort of connection, whether it's to the music or a loved one. Flowers encapsulates those nostalgic sounds of the 70's along with some modern touches to make you want to dance, cry and tell someone you love them all at the same time.  We hope people are able to love the record as much as we do. 
How do you feel your musical style/sound has evolved over the years?
I think our style evolved most from playing shows, since the band has started our focus has always been on playing live to people. I think we played over 100 shows in about 3 years. It's the best place to see what music works and what isn't hitting as well, so that's been one of our biggest factors in making the record, just making sure the songs can connect with the audience and they can come to a show and have a good time.
You recently toured with Louis Tomlinson and 5 Seconds Of Summer, artists who both have very dedicated fanbases! What was it like trying to connect with those audiences as a supporting band? Did those performances feel any different from other live shows you've done?
The shows were fantastic. Both of them were by far the biggest venues we've ever played in and the crowds seemed to have responded really well! It's always interesting supporting an act where their fans are so dedicated, if they're going to be interested in the support act. but they were amazing. They'd learnt songs and a bunch of them had signs which is always so surreal to see. Couldn't have had a better time with the shows and both Louis and the 5SOS guys were so welcoming and enthusiastic about having us play.
Following this most recent single release, are there any other projects or releases that fans can expect before the album release?
Before the release of the album we have a bunch of cool things lined up ahead of release. Hopefully some super cool surprises for everyone. We have also released a few pre order items that are available, including our first ever vinyl!
Flowers is due for release on May 5th.
Interview Brigid Young