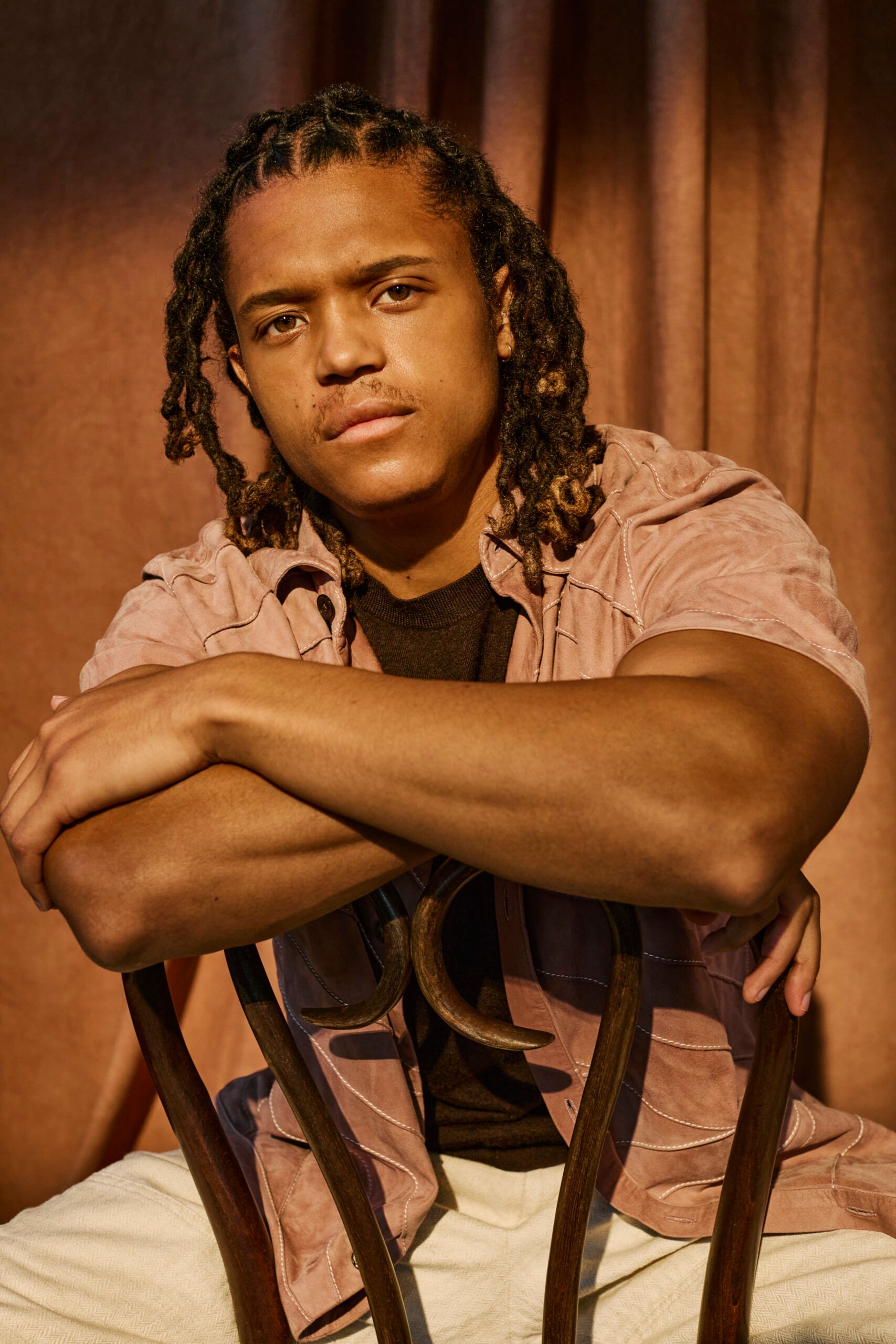 Percelle Ascott
Are true friendships always for life? Being raised together does not necessarily guarantee a long lasting, sweet friendship for graffiti writers Jay and Toby – Percelle Ascott and George MacKay – who play childhood friends in the compelling new Netflix thriller I Came By.
London based, Zimbabwean-British, multi-tasking creative Percelle Ascott stars in the new film directed by BAFTA winning Babak Anvari (Under the Shadow and Wounds). It's a film that offers twists and turns, destined to keep you seated. Tackling the subject of friendship, it examines how easily cracks can occur between 'best' mates, while it also raises issues of wider, social scale, and the modern genre-bending drama offers pioneering style coupled with a surprising narrative.
Regularly targeting the homes of the U.K's richest, things take an unexpected turn one day, when Toby breaks into the home of renowned former High Court Judge Sir Hector Blake (Hugh Bonneville), where he discovers a shocking secret, and he soon embarks on a journey that puts himself, and those closest to him, in danger.
1883 sat down with actor, writer and production business partner Percelle Ascott and gained some fascinating behind-the-scenes insights. Opening up, conversation topics such as character development, co-star acting methods, and the latest on Ascott's thriving production platform – Wall Of Productions – were up for exploration.
Upon watching I Came By, the story line and genre blend stand out. What initially appealed to you about the film project?
It's clever. It touches on social institutions, and just how the different characters will come together, it examines current class tensions. It is done as an inner thriller, using the genre to tell the story. When I first read a summary script, I remember just reading, thinking about how surprised I was about where the story is going, the twists and turns. You don't actually know, what's going to happen to the characters, and I guess, that's the big mystery about it.
Do you prefer a script where the story line has twists and turns, where it's difficult to predict what is going to happen?
Maybe not when it comes to all scripts, but certainly for this script, knowing the goal and what we were trying to achieve, I did enjoy that. Especially with this type of film that a lot of people can watch. I love cinema, and I enjoy the experience of what films do to me in terms of my emotions. I like films that keep me gripped in my seat, where I'm just rooting for each different character, or trying to second guess what's gonna happen next. I just love things that do surprise.
You mentioned the social dimension, and you can tell authenticity and accuracy shine through every aspect of the film. 
George and I talked a lot about our characters. George plays Toby, and Babak is very collaborative in terms of building the characters, and the process of making everything authentic and true. So in the film, you see a lot of the graffiti terminology being used about the type of writers etc., so it was very good for me to just investigate all backgrounds and understand the choices that they would make and understand the stakes that Jay has. For example, his girlfriend learns that she's pregnant, and this becomes a big thing for my character.
I like Babak's style, and how he directs. I remember from the first chemistry read, I hadn't even received the role, and we would be doing quite a bit of work there. Then when I did receive the role, we started up a WhatsApp group, which helped us. As part of the routine before filming, I brought in a friend, who has got years of experience with graffiti, he came in to be a consultant.
Tell us more about Babak Anvari's ways of working.
He took me and George under his wing, he taught us things about style, and how to actually influence the craft, and we wanted to make sure that we could do this, even though it's not a massive part of film.
Essentially, for these characters we wanted to make sure that it wasn't make believe, we got someone else in, we got a stunt actor to pretend they were doing graffiti for us to feel what that is like and make sure that we got the right techniques involved.
How much did you know about Anvari before accepting the part? Was the process of building a relationship smooth?
Not a lot. I had brief from my agent about the auditioning, and I did some research, so I knew some things about him. I got to experience everything first-hand, then once I got to understand the style of it, I'd try different things on set, and he would come up to me and say a few words. There are some elements in the film where we do play with that feeling of suspense and tension, and there was a big moment for me where it was using techniques I've not used before. So it's nice to get a chance to work with different directors, as each director brings out so much more than you imagine, and more than what's written in the script.
Emotionally and physically, your character goes through a lot. How did you handle this creative challenge?
As an actor I needed to understand where Jay goes. For me, the emotional trajectory was very important, and I enjoyed finding out about him to understand his choices, why he wants to do this and that. It's important to make sure that the emotions are real, and it remains authentic. You have to believe in the world and its characters.
So it was key to hit those moments, and where Jay goes emotionally. I remember being on set, just taking my time with things, Babak would push me to those places. When I watch something, maybe I'm critical of it, but if you can see that emotion is in the eyes, it becomes more memorable. I felt that Babak wanted me to make sure that I could believe in where things were going in terms of Jay's journey.
It must be rewarding to form creative, professional relationships with members of cast and crew, and this production offered big names.
I've definitely had a couple of those pinch me moments, but because Babak believed in me, I also knew I could rise to that occasion, and share the screen with Kelly Macdonald, Bonneville, MacKay etc., and they were all so supportive. Everything Babak does is super-collaborative, and that's why I was learning so much. We built nice working relationships with each other, and as a group.
You continue to add to your list of credits. Having done a considerable amount for Netflix, do you prefer to make TV content for streaming platforms, or are you open-minded when it comes to media channel and platform?
I'm open-minded. I'm a firm believer in good projects, it doesn't matter where their home is or where they're distributed. The other day I watched a film in a cinema that completely blew my mind, so I am definitely open to everything. But in terms of working with the latest film, TV show, digital shoot, my relationship with Netflix is great, and I just love working with them.
A few years ago, I had a part in The Innocents for Netflix, and that was my introduction to working with the company. Then, when I got the role in I Came By, I was so chuffed to meet the team again, seeing the people and work with the teams behind the scenes.
How do you go about selecting and securing work? Does your agent contact you or do things also happen on a more speculative basis?
Yes my agent calls me about castings, and a lot of the time I'll probably say no, because I also have my own company, it's called Wall Of Productions. Through Netflix, I got the opportunity for my company to work on Stranger Things, we did promo for Resident Evil as well as Top End Wedding, which is amazing. I get to be behind the scenes, and I get to produce and direct. I also write scripts and develop projects, a lot of times I've used YouTube as a platform to represent that work. Over the last few years we've released a few titles, including Shiro's Story, which came out two to three years ago and picked up millions of views. It was with director Rapman, who now works on Netflix series Supacell.
Can you give 1883 some background on the production company, how it all began and where things are at now?
I went to the BRIT School with my best friend Joivan Wade, who is my business partner now. We created Mandem On the Wall, which was a series on YouTube. It blew up online and on social media. We got picked up by Channel Four, we did a series for them, and after five years of doing that, we basically wanted to create a platform, not only to look after things that we were creating, but also to help the next generation of talent, people like Yung Filly, Chunkz and Harry Pinaro etc., all these new entertainers, who were finding their breakthrough with this medium.
Now we're in a position, where we set up our production company, we've got a platform, and over the last few years we've been producing online TV content, and we just got into film as well. We're about to make big headway with some films that we got in development. In fact, this year we won New Voice Awards at the Edinburgh TV Festival 2022, which was amazing. We are finally getting that recognition from the industry, and we will be releasing a couple of shows on Channel Four and on Amazon Prime.
But it's not just myself. We're a team of twenty people, a proper team working behind the scenes, with our managing director Tafara Makopa, and my business partner Joivan Wade, who I mentioned earlier.
Anything else you wish to share with 1883's readers?
Hopefully, we will be able to deliver some good news on the projects that we've done, very soon. Over the next ten years of my career, I hope to be working on loads of different films, across the board. The plan or vision is that we get to collaborate with more companies.
I Came By is out on Netflix
Interview Susan Hansen