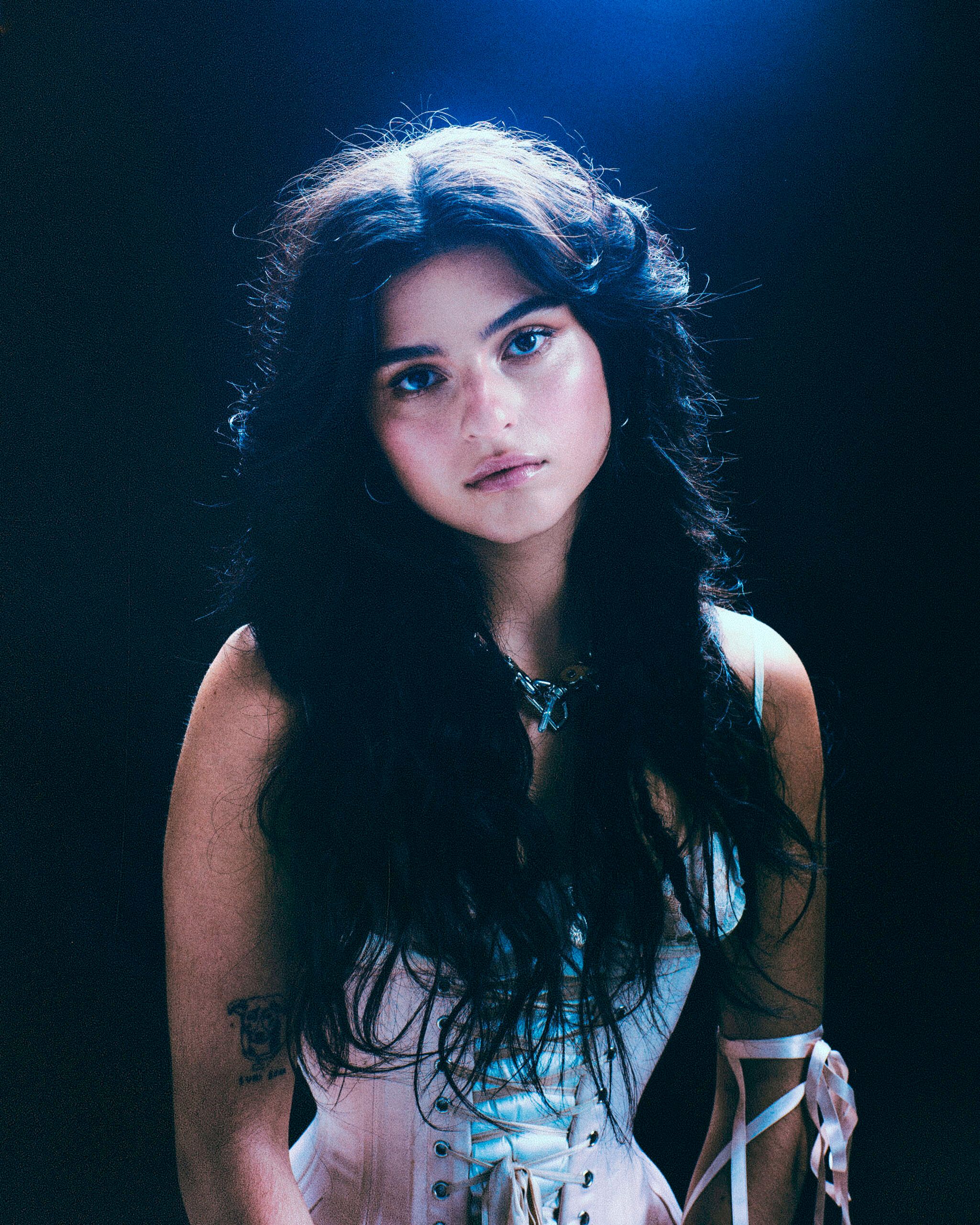 renforshort
Canadian singer-songwriter renforshort is an alt-pop superstar in the making.
Ever since Lauren Isenberg AKA renforshort released her debut single Waves back in 2019, the singer-songwriter has been ascending to new heights over the last three years. She's dropped two well-received EPs in the form of 2020's Teenage Angst and 2021's Off Saint Dominique, garnered millions of streams, collaborated with Linkin Park's Mike Shinoda, toured with Yungblud and that's just a few of the highlights so far. Undoubtedly, It's all thanks to the Toronto-born artist's gift for penning emotionally charged alt-pop anthems that deeply resonate with her fans. Lyrically, her work is raw, emotive and unfiltered, whilst the sonics are exciting, empowering, and infectious.
Everything that has happened so far for renforshort has been manifested by her hard work over the years. As a child, ren was brought up on acts  like Nirvana, Billy Joel, The Velvet Underground, and Amy Winehouse. At the age of 13, she started writing songs and spent the next few years cutting her teeth and honing her skills by posting covers on Youtube and performing countless shows at open mic nights. Now at 19-years-old, ren is truly reaping the rewards of her hard work and it's surely only a matter of time before she reaches the next level.
Last week, renforshort dropped a new single entitled, Made For You. It's a guitar-driven grunge-pop tune with dreamy vocals. So to celebrate this, 1883 Magazine's Cameron Poole sat down with renforshort over zoom call to discuss the writing process behind Made For You, her top tips for visiting Toronto and which artist she would make a fan page for.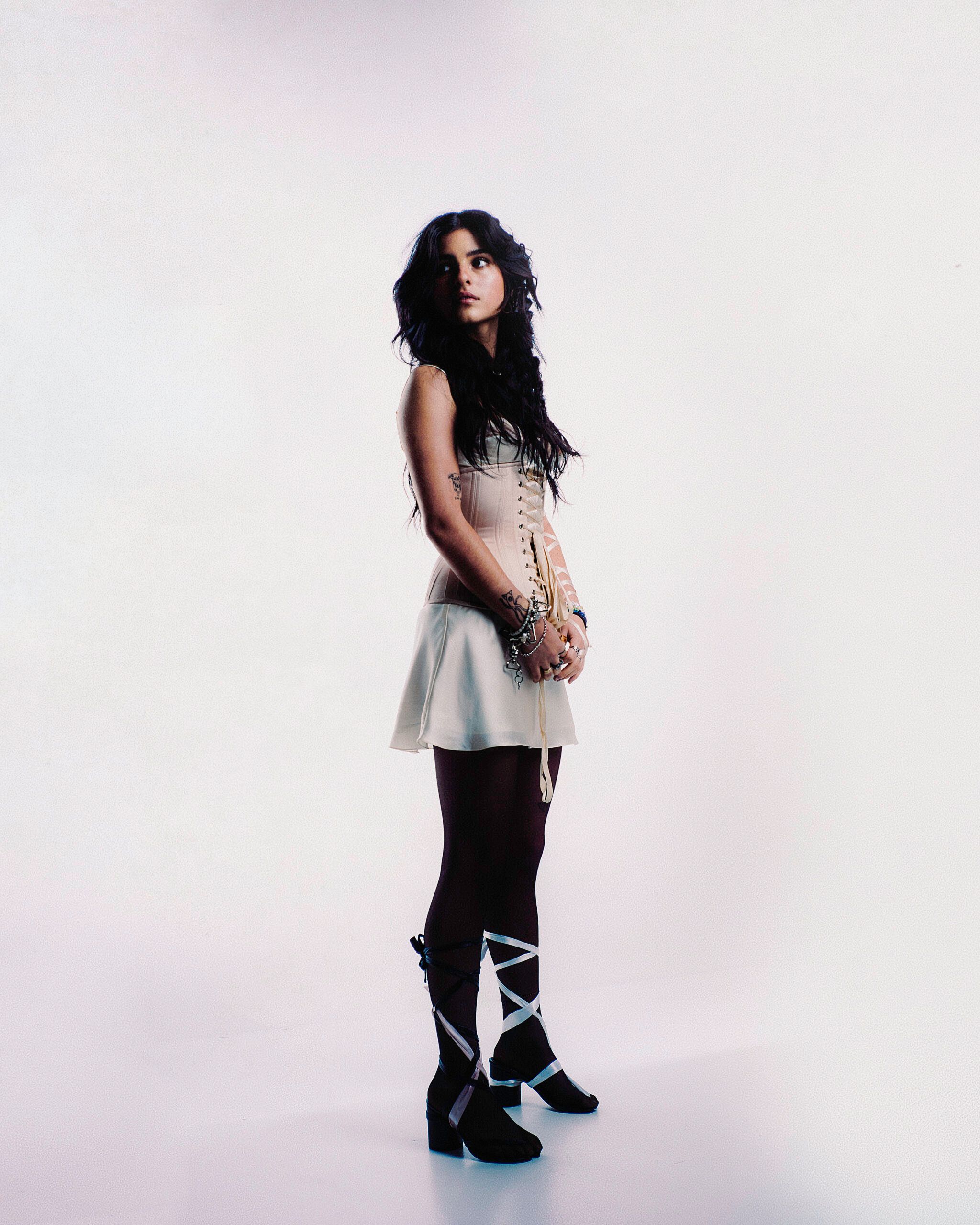 Hi Ren, Made For You is out now. Can you tell us a little about the writing process behind the song?
Yes, so for this song I was working with a producer duo called Afterhrs and songwriter John Ryan. It was my first time working with them and I had the concept of what I wanted to do and what I wanted every song to sound like or be about. At the time of writing it, I was super inspired by The Strokes. So for this track, I just knew I wanted something in double time. So sonically it's heavily inspired by The Strokes but it's not as strokes-y as The Strokes are. My references for the song were The Strokes and Joy Division.
The concept of the song is based on when I was just getting into a relationship and I was thinking about how often people pretend they're into something or pretend they like something at the beginning of a relationship so that you seem more appealing to your partner. Obviously, I exaggerated that theme a lot but I was just thinking about when I was younger and when I had crushes, if a guy was into sneakers, I would spend hours on sneaker websites and post pictures on my Instagram story just so then he would be like 'oh, she's sick, she likes sneakers' even though I don't actually like them.
For sure, I think most people do that when they want to impress someone they like.
Yeah, exactly. So it's basically just about changing little things about yourself to appeal to another person that you're infatuated with or that you like and you want them to like you back. You want to be sure that they're going to like you back but sometimes it doesn't work.
When an artist starts out making music they may not know exactly what their style or sound is, it's something that continually develops over time. You started out writing songs (e.g Hopeless Town) and uploading Youtube covers at 13/14-years-old, some of the songs you made in your formative teen years didn't see the light of day because they didn't show off your full personality. What would you say were the key factors that have helped you find your sound and voice so far?
That's a great question, I think the short answer is: as you grow as a human and as you get older, your music just grows with you because you're experiencing more things, you are hearing more sounds, you're finding more music, you're being inspired by more things that you've seen and that you've heard. In turn that affects your art. I wrote some of these songs when I was thirteen or fourteen for that EP, and I was literally so young. It's like asking a fourteen-year-old 'what do you want to do when you grow up?' You kind of loosely have an idea but that changes. So I think as I grow, my music grows too. I don't think that's necessarily a bad thing because subject wise I'm going to continue to talk about the same things because that's what I'm passionate about.
With your career taking off over the last three years, how have you handled this quick ascent upwards in the music industry? How do you stop the pressures of the industry from getting to you?
That's a tough question. I have music and then I have my personal life. I think these two things inevitably come together. I find that 98% of my time is spent thinking about making music, talking about music, and then I have that other 2% where I'm just in my own space, knitting, on FaceTime with my mom talking about whatever, playing with my dog, and that's a good balance for me. It's 98% of my career and 2% of my life and that's fine for me, I like that. So I think it's just about finding that balance and finding some sort of time for yourself. It's also important to find time for your fans. It's just amazing to talk to them. I Skype called a bunch of fans yesterday. Sometimes we forget that they're people that love and care about you. Getting to talk to them reminds me that you're putting faces to numbers basically. It's so fucking crazy to say and I hate saying that but people that listen to my music, when I see their faces, that brings me back to a place where I'm very happy that I'm making music.
Obviously some days can be stressful but regardless of that, you love what you do and you're passionate about music. When you get to speak with fans or things like that, it's just a nice reminder that you're helping them in a sense because obviously if you're a music fan and if you hear one of your favourite artists release a song or something, you think 'great, that's improved my day'. Or even you saying hi to a fan might just completely make their day. So it's a nice reminder of the positive influence you're having by making music.
Exactly, it all doesn't have to be like – 'things are so overwhelming' because it's genuinely not. I can't speak for bigger artists but I speak for myself when I say that it's not. It's actually the best, When everyone's being respectful in situations, it really is the best thing ever.
There have been so many amazing opportunities for yourself so far. Touring with Yungblud, having artists like Linkin Park's Mike Shinoda remix one of your songs, or performing On The Late Show With Stephen Colbert are just a few examples of those opportunities. What would you say has been your main highlight so far?
There are so many highlights. But there is one that stands out but I can't really say yet because it's an artist featuring on one of my songs. But basically I got a feature on a song on my project and it's my favourite artist ever. I would say that's probably a big highlight because they're the sort of artists that I didn't even really want to talk to because I love them so much that I don't really want to talk to them, to be honest….
You don't want to shuffle the illusion you have of them in your head!
Yeah, exactly. They were like a dream to work with and basically my manager surprised me with the feature. So I wrote the song and I didn't write a second verse for it and I said "if this person is not on the song, I'm not putting it out, and I'm not writing this verse and that is because this person will be writing this verse." My manager then called me one day and told me to check my texts as they had done an update on this song. I listened to the track and that person was on it. So I started bawling my eyes out and I couldn't feel my legs, it was insane. I'm so hyped for it to come out, so I can be like 'it's this person!' and then everyone will be 'oh that totally makes sense!' But yeah, he's a brit.
Exciting, fans will have a lot to look forward to whenever that moment arrives in the future then.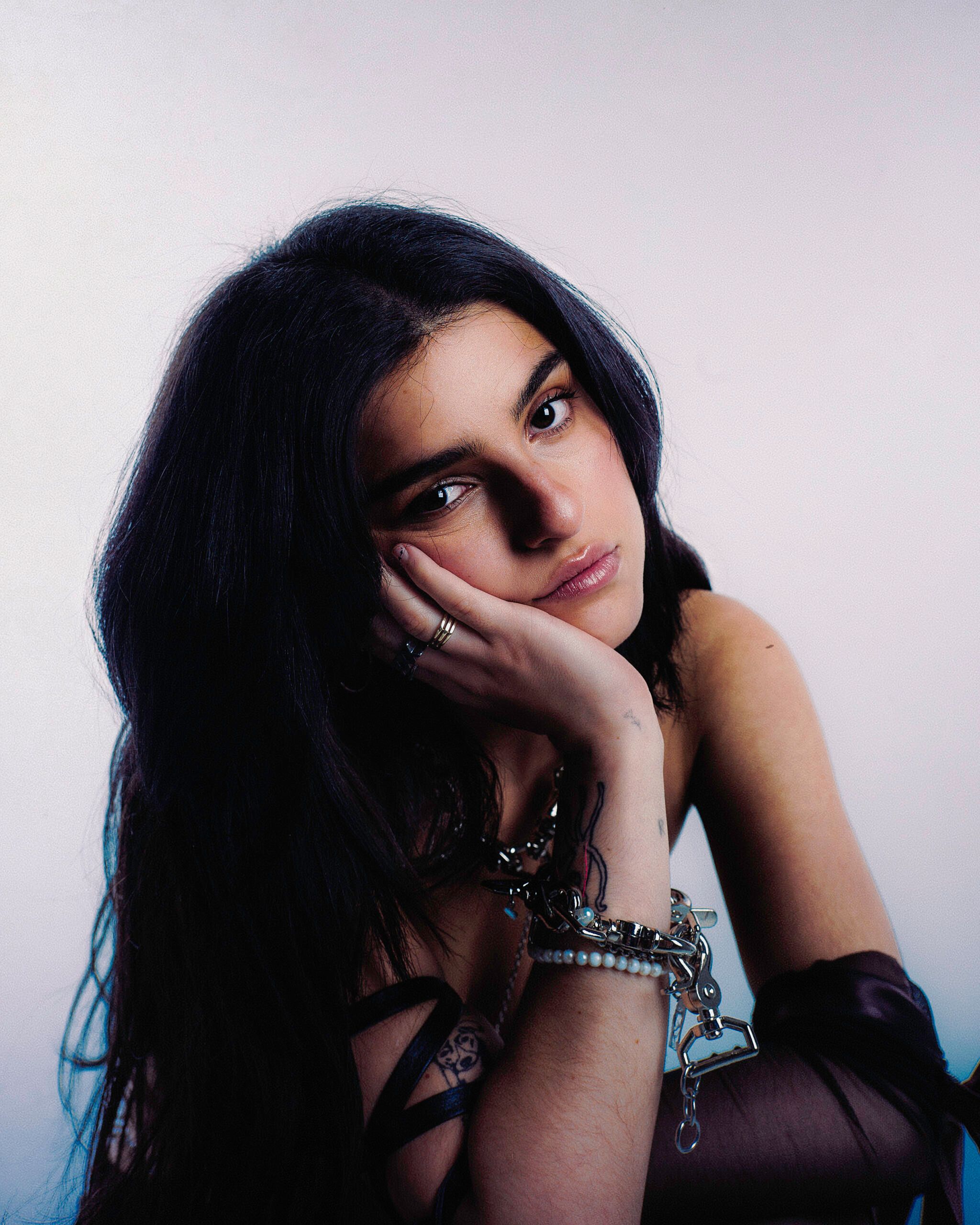 I know you're based in LA at the moment but you're from Toronto, Canada. Are there any little locations in Toronto that you adore that more people should visit – what are you tips?
Toronto is the best, I love it so much. I would say that people should visit Kensington Market, there's some fun shopping and some really good food. Don't go to the CN Tower, don't go to Ripley's Aquarium, don't do really tourist-y things. There is just so much good food, you could walk in basically anywhere and get some. I would recommend going on a walk by the ravine because the air is very fresh and the trees are pretty. It's just a nice city to explore. There are some really pretty parts. Just get on a street car and make your way around. I would stay away from the major tourist-y things that I feel every city has. Go to a hockey game, that's really fun.
It's really cool that all your family are passionate about music as well. Your siblings are musicians, your dad played in several bands, and your mum managed band fan clubs when she went to school…
She was the head of a Duran Duran fan club and a Santana fan club. My dad was in a 'dad band' that would just play after work, it wasn't a cool band. He just wanted to play bass after work haha.
Your whole family must be over the moon for you, right? And have they given you any advice?
Yeah, my dad sends me a motivational quote every day haha. They've given me a lot of advice. They encouraged me to write, they encouraged me to get up and do shit for myself. They're just very encouraging and they're real with me. They aren't like 'You're incredible, you're amazing', they're like: 'You are great. I love you. I would do this differently. But ultimately, it's up to you. This is just my opinion.' And I love that because I trust their opinion probably the most because like they're great.
It's cute because my entire family and my grandparents love showing me concert reviews for my shows and just talking about music and it's fun for them too. They also get to travel, and they followed me around the UK. They're obsessed with Plymouth because of a castle on a hotel thing and they were obsessed with the place. We'll be coming back!
Also hypothetically, if you decided to start an artist fan page who would you decide to make one for and why? (obviously, I don't think many people make these as adults, it's something that happens when you're a kid haha)
I definitely used to make fan pages. But right now, if I were to make a fan page for a musician it would be Bon Iver. I love his work but also there's just not enough Bon Iver content on Instagram. I think they like it that way but sometimes I want to see more. I would spend hours on YouTube watching Bon Iver content, so I would just put it on Instagram or something.
What advice would you offer to new artists that are trying to break through in the music industry?
I would say don't rush, time is very precious. Be sure what you want to say, make sure you've nailed your sound on the head because for the rest of your life you will be put in some sort of category and that normally happens with the first song you put out. That's just the rule. So don't rush and make sure you have a thick skin because it's not as easy as it seems, get ready to do some business. That's my advice but don't give up when it gets hard because it gets fun again.
With two EPs out so far – 2019's Teenage Angst & 2021's Off Saint Dominque, what lessons have you learnt from working on those two EPs that you hope to use in future releases?
Teenage Angst was super raw and honest when it came to the lyrics and I think that there were elements that I lost in Off Saint Dominique because I focused more on the sonics rather than the lyrics. Now, I'm definitely just trying to figure out how to mix them both perfectly. I'm trying to make the perfect cocktail. I learned a lot from both of those EPs and I guess that's what I took from both of them. So I've learnt that I need to focus on the lyrics and the sonics by bringing them together, I need to take my time when writing music, as I want to make something that I will be proud of two years from now.
Finally, is the world ready for a renforshort debut record yet? And do you have anything exciting coming up this year that you can share with us?
There will be more music and I'm still working on lots of things but hopefully there will be a project by the end of this year. It's going to be a little different compared to the others. You can also expect to see me back in the UK, so there will be a lot of music, shows and fun.
Made For You is out now. Follow renforshort @renforshort
Interview by Cameron Poole