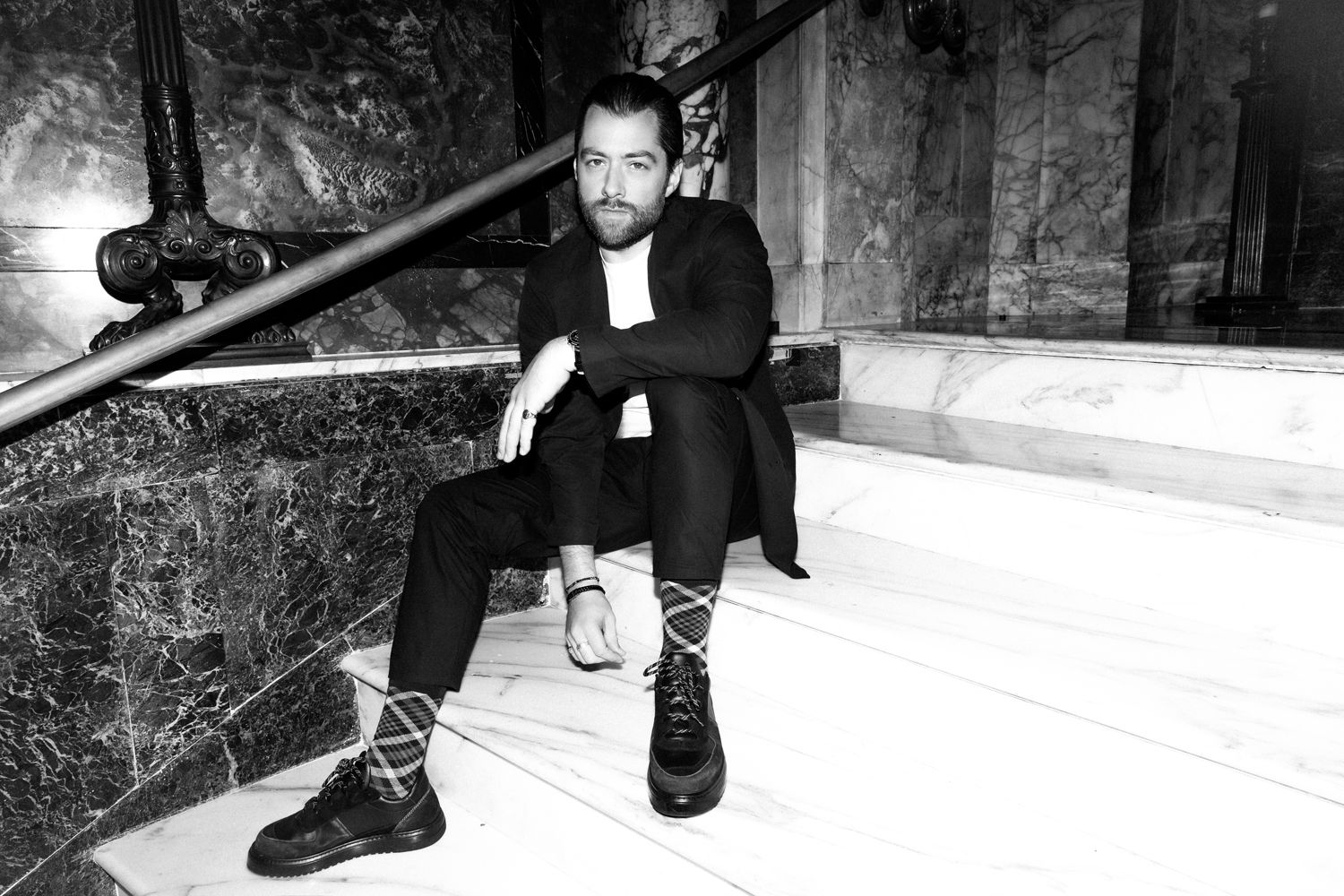 Richard Rankin
Good news. #Droughlander is finally over!
With the previous episodes no longer needed to be rewound over and over back to that one scene you could probably perform a whole monologue of by now — the once, early-nineties-bred fantasy novels under the title Outlander, is back to its usual TV scheduling. And only a whole year later.
Taking the United States and just about every other nation by storm, the series produced by STARZ is back for its fifth season and continues to follow Claire, a WW2 nurse who's transported back in time to the Jacobite Rebellions. Its delicate anchorings through historical realities aided by the help of a budget just about big enough to portray misty eighteenth-century Scotland, as well as the few drizzles here and there of titillating nudity — it's no wonder its legions of fans are so thirsty in its wake.
Recently sitting down with the man reprising his role as Roger Mackenize, we rack Richard Rankin's thoughts on Scottish tourism, the female gaze, and his latest art exhibit overseas.
Congratulations on the premiere of season five! With your character appearing since the season two finale, how does it feel to be a regular member of the cast?
Roger was always going to be a lead character on the show; I always knew that before starting. It's quite a big decision to take on such a commitment. I had no doubt about the popularity of the show, and I knew we would run for quite a few seasons and I was given plenty of information from executive producers and the creative team about where the character was going and what that would become. And that was one of the main influencing factors. I knew that Roger was going to be one of the lead roles on the show from about season four onwards, and I was aware season two and three were going to be more of an introductory period for these characters as it is in the books…
Which leads us to my next question: Were you familiar with the books by Diana Gabaldon? 
I read the books and read up to book five. I knew about the books beforehand and began reading them when casting had started. I'd already auditioned for one or two parts — for characters that appeared in season one — so I was very familiar with the show. It really arrived with an impact in Scotland, and it still has a huge impact. I read the books for a few reasons: One, before I was officially cast, to give me an idea of this character and to give me an idea of where he was headed; and then after I was cast, reading the books took up a large part of my researching and prep. So, my character development was initially based on what I got from the books.
It is a proudly Scottish fantasy and a huge hit, so how does that make you feel as a Scotsman?
The popularity of the show has done many, many things for Scotland and representing Scotland. It's a fascinating thing, really. Diana writes Scotland so beautifully, and it still amazes me. It's not as if Scotland was required to be put on the map. I think most people are familiar with the existence of Scotland just as a country.
But Outlander single-handedly increased Scottish tourism by quite a significant amount. There are so many tours now that exist just because of Outlander, and it's quite incredible. Throughout the entire year, people are visiting locations we've shot at, or parts of the country that are represented in the show, or parts of the country that are pertinent to our characters. And they go on tours, private tours, coach tours, tours by themselves all around the country. So, from that point of view, the show has made such a huge impact. What Outlander has done is really increase the significance of film and television in Scotland. It's really promoting production in Scotland, and now we have four or five stage studios, and we employ a huge pool of crew from Scotland. It just gives so many people opportunities. There are apprenticeships for newcomers and junior newcomers, and all of this is constantly driving new talent. So, I think that in itself is an amazing achievement, and I think what this show provides with the final product, is quite extraordinary for Scotland.
The show has enormous success in America. Why do you feel this might be?
[Laughs] I don't know. I honestly don't know. I think it might have something to do with so many people having connections with Scotland and Ireland, and of course, a lot of the story taking place on the East Coast and North Carolina, which has huge Celtic connections. I think quite a large majority of people from there can trace their roots back to Scotland or somewhere in the UK. And there's a huge number of people who will identify with Outlander just from their ancestry alone, and also since it's an American production, it goes out to an American audience. But even aside from that, it's just a great story with great characters. It's a great fantasy story that appeals to a huge audience anyway, without the Scottish involvement. But people abroad seem to love the Scottish accent, they love the historical element of it.
Known for its raciness, it is also praised for its portrayal of the female gaze… What are your thoughts? And how does this make you feel, as an attractive man?
I think it's well balanced because it's based on a novel by a woman and our lead is a female, with a lot of the story seen from her perspective. Claire is a very strong-willed, intelligent, modern, free-thinking woman — and she's very ahead of her time. There is a lot of raciness, but we also touch on a lot of sensitive historical subjects with a lot of rape in the show, but it's handled really responsibly and sensitively from our team and from the actors who are portraying the characters in these situations. And I think it's dealt with delicately but truthfully to its time, which often gives it more impact and it's a bit more provocative, but in a good way.
I've had two or three sex scenes in the show now and they can be quite an unsettling thing for the actors, and sometimes even for the viewers. The way it's handled in the show has never felt gratuitous. It's always there when it's relevant to the story, and it furthers the plot or is character-driven. You never really feel like you're being shown nudity and sex for the sake of it, which is just not what I'm about.
As a subject of that gaze, how does this make you feel?
With it being a predominantly female audience, I suppose there could be a danger of feeling objectified, and so there is a little bit of a role reversal compared to the way that it's normally portrayed. There are many ways to approach it. For me, I think it's a very vulnerable position for an actor to be in and it's absolutely far worse for female actors who are so used to being objectified all the time. I completely understand that and I'm sensitive to that.
And I'm just looking for it to be portrayed in a respectful light, in a non-gratuitous way and in a way that is going to have a purpose and help the story or the characters. If it does these things, then I'm satisfied with that. And then what happens out with that is out of our hands. The fans of Outlander are very respectful. They're a very, very respectful bunch and I don't feel like I'm being particularly objectified in that way, I don't think. Or, at least, I don't look at it that way.
Where do you see the show going?
I would love to see the story concluded in some way. Hopefully, we'll finish whatever story Diana has to tell. We're going to film season six this year and I'm perfectly happy in the show. I love the character and I love my co-stars, and I love where the story is heading and the popularity. It seems to be gaining a lot of traction and a lot of momentum, and I hope it continues and I'm content with that.
Could you tell us about your photography exhibition, His Mind's Eye in New York last summer?
I've been doing photography for a while now. It's something that I'm very interested in and quite passionate about. I'd developed quite a catalogue of stuff I was quite proud of, and some people had gotten in touch with me via Instagram about potentially putting on an exhibit in New York because people were quite interested in my work. And I mean, I did wonder, 'Are they? Really?' But it turned out to be true and I sent them some more sample images and I said, 'Well, have a look at this stuff and if this is still the style of work that you're interested in, then we can talk about doing something.' And we did.
We did an exhibit in New York featuring twenty-five images of my work. I try not to pigeonhole my work too much because there is a danger of going too far down the rabbit hole of a particular style and not being able to escape that. But I'm trying to keep as wide a spectrum as I can with photography, and I'm shooting a lot of landscape and a lot of street art, and a little bit of abstract stuff. The camera's always on set. I've even got a few photographs of photographers taking photographs.
Anything exciting you're working on you'd like to share? Personal or professional?
The photography. It's a very creatively fulfilling project, and it also takes up a lot of time. The editing, the sorting, the filing — that takes a lot of time. Just cataloguing your work takes up a lot of time, and it's something that I often fall behind on. I still have a lot of work to do on that front, just to correctly catalogue and put things in order before you even come to editing anything. But committing to any travel project, I think there's a lot more work in that than people realise. It takes up a lot of time. You have to commit to it, and you have to have a lot of patience. If you're doing landscape photography, for example, there's a lot of things to consider, and a lot of things to plan. Are you shooting sunrise? Are you shooting sunset? Are you trying to go for some Astro-photography — which, by the way, is a whole other world in itself, because I do like Astro-photography and that's one thing I'm focusing on just now.
Featured Image Credits
jacket Descente ALLTERRAIN trousers Loreak Mendian @ BROWNS shoes Filippa K watch LARSSON & JENNINGS socks Burlington Sock
Team Credits
photography Aaron Crossman
styling Kieron Watts
grooming Nadia Altinbas
location Andaz London Liverpool Street
Outlander Season 5 is airing now on STARZ and Amazon Prime Video!
[embedyt] https://www.youtube.com/watch?v=t745AinnAno[/embedyt]