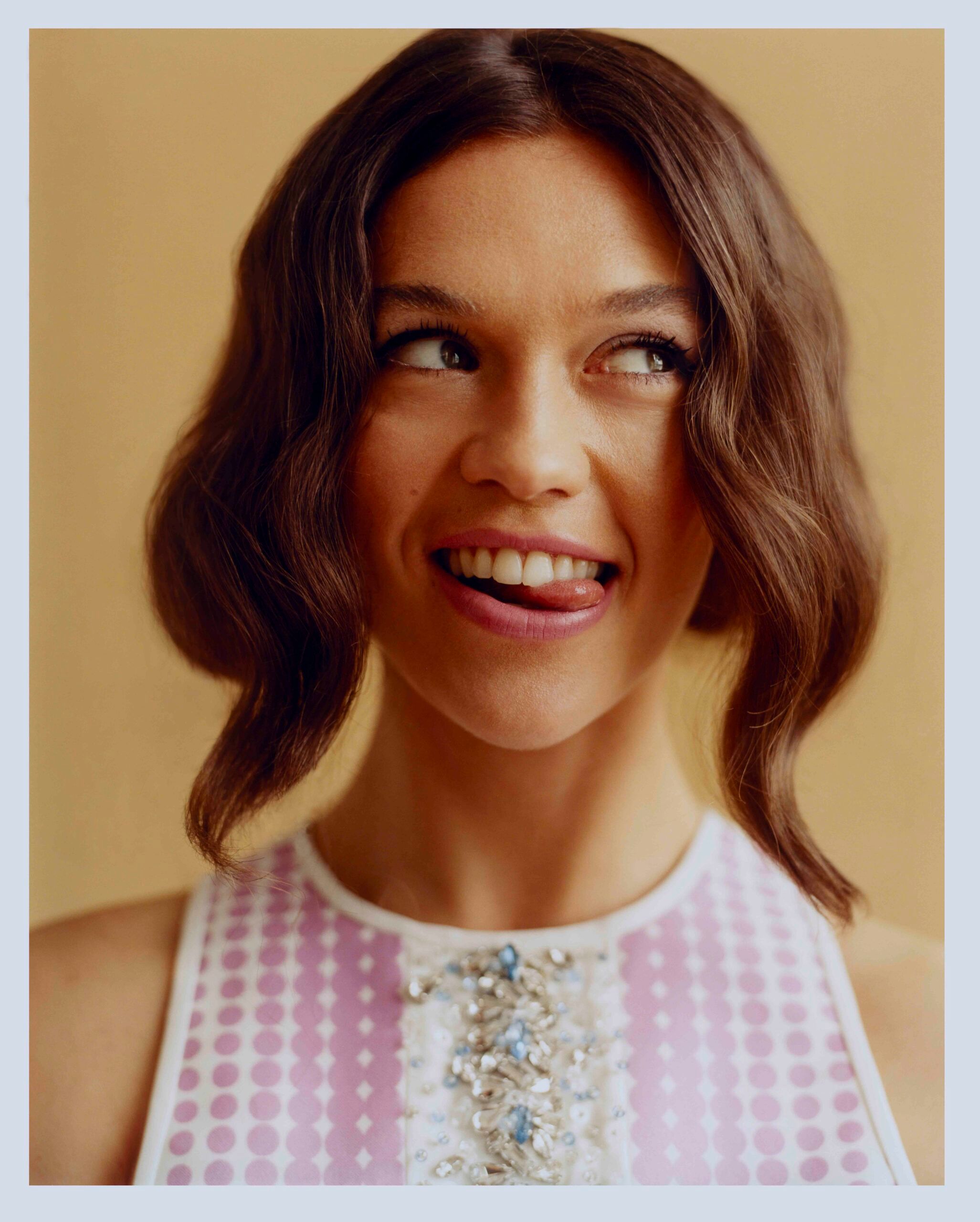 Sabrina Bartlett
Trusting herself and taking leaps of faith has always served English actress Sabrina Bartlett well.
The actress who broke out into the scene in 2014 has gone from strength to strength with an ambitious list of guest roles including Game of Thrones and Doctor Who over the years, with her appearance as Siena Rosso in Netflix smash hit Bridgerton capturing hearts. 
With a career that she describes as "surprising, romantic and perseverant," the actress who shot to fame within the confines of the pandemic hopes that her performances build a world that takes people on a journey more than anything else.
In conversation with 1883, Bartlett who is set to appear in the upcoming remake of The Darling Buds Of May shot to fame speaks about her character Mariette, her future dream of directing a project of her own and the creative freedom she gifts herself when trying to get into any character, among other things. 
What can you tell us about your role in The Darling Buds Of May? What attracted you to the role?
I play a free-spirited girl called Mariette living in a gorgeous eccentric village in Kent in the 50s. She's the eldest of five siblings and although she loves her family she is torn between staying in the village and spreading her wings and discovering her independence in Paris.
On first reading the script I loved the tomboy element to the character, riding horses and working on the farm and basically living in jodhpurs. Coincidentally I also grew up in Kent riding horses with my sister and playing in the countryside so immediately I felt a real connection to the part. 
Tracing your journey as an actor, how do you feel you've evolved or improved most? What areas are you keen to further hone?
I think having the courage to free fall into the unknown. To trust myself in taking leaps of faith and believe I may not fall but could fly. I'm always learning that being curious and open-minded is essential to staying creative and hungry. To think anything is concrete or easy means there is no growth or humility – which is crucial if you want to evolve. 
After being involved in Bridgerton, have you had any memorable fan interactions?
The wildest thing of all is to experience its popularity within the confines of the pandemic! Not being able to mix in the world and suddenly being a part of something so many people have watched has felt quite surreal. 
Given its huge success do you feel any pressure to keep outperforming yourself? If not, how have you managed to keep yourself grounded and focused?
I think the pandemic has blown reality as we've known it out of the water. Above any dream or career it makes you really appreciate what the most important things are in life, what truly matters. In terms of outperforming I just always feel so lucky to get any work, especially when there is such incredible scope for so many talented actors out there. To be the person chosen for any role is unbelievable. 
What's your approach to taking on roles? What makes a "good role" for you personally?
A person or a world you can take the audience on a journey with. I also find a role which requires learning a new skill is something I am both attracted to and terrified of.
How would you describe your process as an actor? Do you take inspiration from stories around you or from within to get into character? 
During the past year I took a volunteer job at Spitalfields city farm to learn about farming ahead of shooting The Darling Buds of May. I wanted to experience first-hand what daily chores or routine Mariette might have in her day running the farm with her family. I ended up falling in love with the people and the animals and can't really imagine not working there now! It's also been a lucky distraction and focus during the pandemic to be working outdoors and learning new skills. 
What's your first step in understanding a character and how do you go about break things down? 
Generally I don't tend to have a technique or pattern with prepping for a character – each project seems to lead me down a different road of discovery each time! Weirdly I've found inspiration can come from looking at the complete opposites to the genre or vibe of the piece and character. 
If you could pick, what would be your dream role? Is there a specific kind of role that fascinates you more than others? 
A dream role for me doesn't exist. I don't have an idea in my head of what that goal would look like – but I think to grow as an actor I don't believe setting an end point or destination in my career is creatively helpful. I think you just have to trust in your own journey and what roles come will be meant for you. 
Aside from acting, are there any passions or interests you haven't yet explored that you'd love to do in the future? 
On a personal level I would love to spend more time learning about different foods and cultures, traveling and experiencing different cuisines. My dream would be to shadow someone in their own kitchen alongside their family or in their restaurant and observe how they work, understanding their tastes and technique. 
Speaking of the future, what's on your bucket list both professionally and on a personal level? 
I would love to direct. I grew up devouring plays and obsessively watching Hitchcock films so I am hoping in the right time and place in my life I would love construct bringing a story to life. 
A bucket list dream would be to get all my friends in a beautiful villa somewhere gorgeous by the ocean with amazing food and make lovely memories we can look back on and cherish. 
If you could describe your career so far in three words what would they be and why? 
I would say: 
Surprising – meeting people and being inspired to try things or look at the world in new ways. 
Romantic – the beauty and magic of costumes and places I'd never have the fortune to ever visit or opportunity to be transformed into. 
Perseverant – from all the times I've had to pick myself up and keep going, riding the rollercoaster of the unexpected and to keep fighting and believing in myself. 
Finally, what's one question no one has asked you in an interview before that you wish you were asked?
It would be: If you could speak to anyone from the past who would it be and why? 
I'd have to say I'd be very interested in picking Marilyn Monroe's brain. Being such a legend in Hollywood so many people projected onto her their ideas of who she was or should be – I'd love to get to know the person she was underneath and how she really felt. 
Interview Malvika Padin
Photography Rhys Frampton
Stylist Olga Timofejeva
Hair Anastasia Stylianou 
Make Up Jacinta Spencer 
Top photo clothing credit
dress Miu Miu