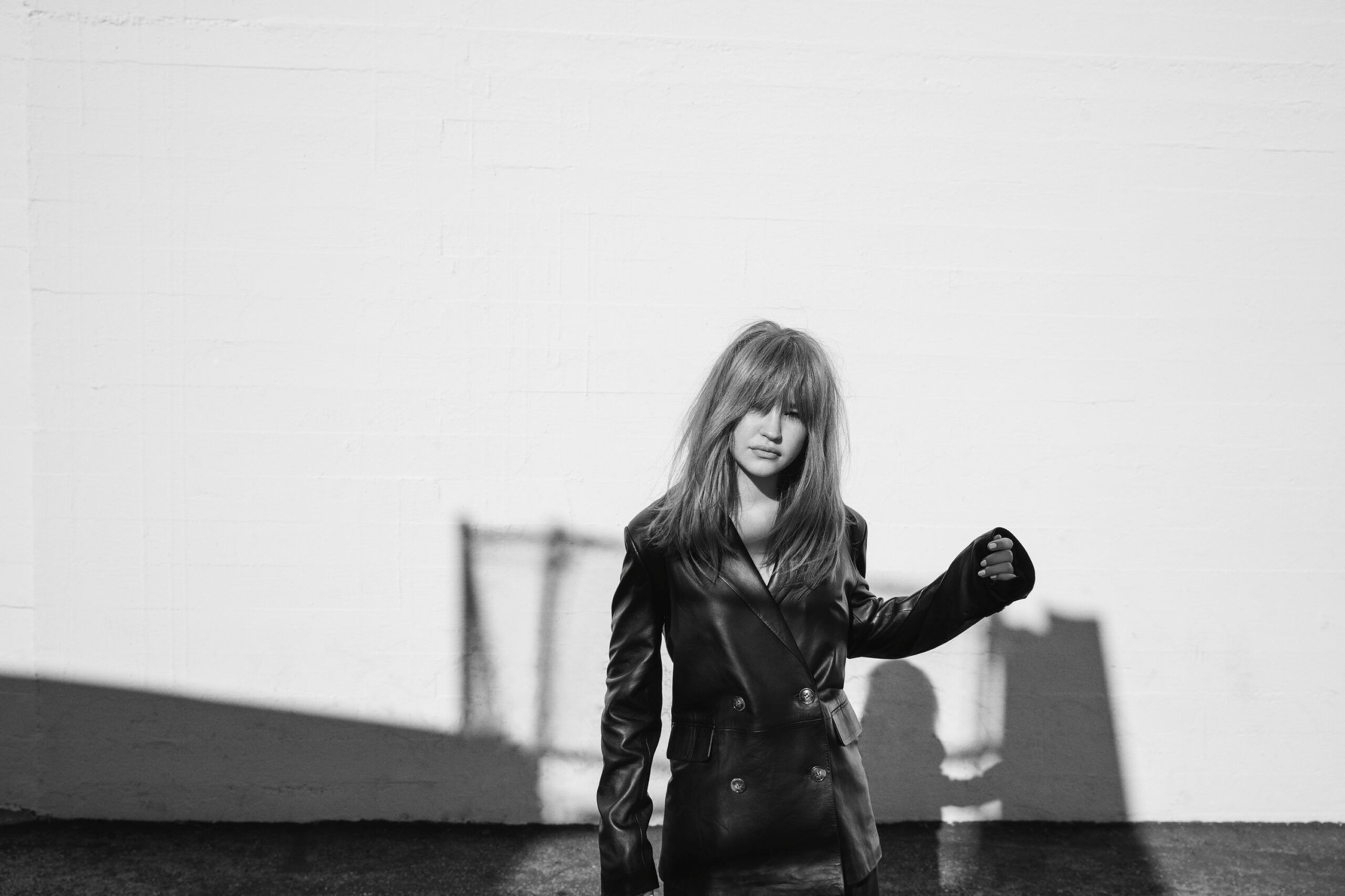 Sadie Stanley
'I needed those years to become the person I am now; to grow and to believe in myself.'
At eighteen years old, Sadie Stanley has already learned quite a few life lessons. Her breakout role as Kim Possible in the Disney live-action adaptation catapulted her into the spotlight, forcing her to learn on the go. Watching her perform, you would never guess that she was a 'newbie', as she so affectionately calls herself, to the industry. With quite a few notable roles under her belt and with more to follow, the actress is steadily making a name for herself.
We sat down to talk to Sadie about her upcoming film The Sleepover, her obsession with cats, and what she's got cooking next.
Your new film, The Sleepover, debuts on Netflix today! Tell us a little bit about the premise of the movie and your character, Clancy. 
So, the movie takes place all in one night. It's basically twenty-four hours of adventure. My character Clancy and her little brother Kevin [portrayed by Maxwell Simkins] find out that their mom [portrayed by Malin Akerman] is in the witness protection program. She had this whole secret life where she was a criminal and a thief and that got her in a lot of trouble.
People from her old life track her down and force her into doing one last job and she doesn't really have a choice, so she and our dad [portrayed by Ken Marino] get taken away. Me and my little brother and friends go on an adventure to get our parents back. The cast was really amazing. As far as my character, she's a regular teenage girl in high school, more reserved and artistic and shy. She plays the cello and there's a crush and mean girls; a typical high schooler who's forced and pushed into this huge adventure.
You were very involved in local theater as a kid. If you could give your past self any advice or tips for acting, what would you say?
You know, I think as a kid I had a lot of growing to do when it came to performing in any capacity. When I was doing a bunch of shows for the community and school I was so afraid of what people would think or that I would mess up and wouldn't live up to expectations, so I would say to my younger self to just try and get out of your head some more. Just do it and love it to the best of your ability and see what happens. Stop limiting yourself because you're afraid. That probably wouldn't have changed anything, though. I needed those years to become the person I am now and grow and believe in myself. To tap into a courageous part of myself that does have these hopes and dreams. Honestly, it kind of reminds me of Clancy [in The Sleepover] because she's so afraid to have dreams and doesn't believe in herself and throughout the movie she has this bravery inside of her this whole time, it just took adventure and friends and family to find herself and say, 'I am talented and I can be a leader.'
Before you got your first role, is it true that you Googled 'How do I become an actress'? If so, did you follow any of the tips you found? 
[Laughs] I love this. This is true. Wow, you've done your research! It's very true. I was fifteen, somewhere around there, and I just really wanted to be one of the actors I saw on TV. I wanted to be on television and in movies like the actresses I looked up to. I didn't know the first thing. So, I googled 'how do I get started?' or 'how do I find an agency?'. I have to say it wasn't the most helpful; I honestly don't know how I got here. I'm sure it said some stuff about agencies and talking to your parents and going to casting calls, which I did, so I guess it helped in some ways! Acting is strange; nobody tells you genuinely how to start. It's very secretive.
Kim Possible was your breakout role; do you remember any specific moment when you realized you had made it? And how has that role influenced your career going forward? 
I think maybe it was the first day on set when I realized I was an actress. It was a gradual thing. When I got the call I booked Kim Possible, that was the biggest moment of my life and changed everything. There was so much preparation — Tae Kwon Do and stunt coordinators; it was a whole process. And rehearsals and figuring out how I wanted to play Kim and what was special about her. But probably the first day on set when you get in front of the camera and they say 'action' and you're just doing it; there's no going back, so you dig deep and do what you came to do and that was the moment when I was like, 'Wow, this is the best thing ever.'
I learn more and more from every set and every job and every character. I'm still learning so much; I've only been doing this for two and a half years, and so I still feel like such a newbie. I feel so green, still. But it's so exciting to do more and become more confident and challenge myself more with each character.
You also sing; I imagine you have future plans to record some tracks. If you do, what direction of music would you go in? Anything you have worked on so far?
You know what, I sing but I'm not a singer if that makes sense. I play piano and guitar and ukulele, and definitely got into it a bit more in quarantine, but I don't know about a career in singing. I think it's really fun when I get to combine the two [acting and singing]. Like with Kim Possible when I recorded the theme song. I was so honored to recreate that in a new way, and I'm excited to continue to combine the two. Maybe do more musical theater and go back to stage work one day. But I don't know about an actual career in singing. It's a whole other world. But maybe! I don't want to write anything off.
The episode of Room 104 that you're in is out on HBO Max now. The show is an anthology series in which each episode features a different story and group of characters. Your episode is set in the '90s, which makes me wonder if you could go back in time and live in any decade, which would you choose and why?
Ooh. Aesthetic-wise/fashion-wise, definitely the '90s or even the '50s/'60s. I love the style back then. But as far as society and the progress we've made, I think the generation I'm at is good. I'm proud of our generation and inciting change and I think we have a bright future ahead of us. I like where I'm at.
Your character Parker in Dead to Me is less than likable at times but ends up playing a larger part in the story than we originally thought. What was the most interesting part of playing Parker, and were you shocked with how important she ends up being at the end of the season? 
Great question! Well, I was a huge fan of the first season. I binged the whole thing in like two days and loved every second, so I was obviously super excited and pumped when I booked it. The most exciting thing was getting to work with the cast and Christina Applegate. She's such a gem and so, so talented, so being in her presence was great. She's so funny and made me laugh so hard and threw in some improv, so it was really exciting to be on a set with such amazing people. I was excited Parker was a catalyst for something. Not to spoil but she calls some people up and exposes some people and moves the story along, so I was excited to have a small part in that show and season two has done really well.
You have another film coming out this year called Let Us In. In a few words, what's the movie about? How would you describe your character, Jessie? 
That project was kind of just a last-minute thing that I threw in and was excited to be a part of! It's an indie film with a great cast and crew and it's based on a folklore about the black-eyed kids. It's like a sci-fi thriller and my character, Jessie, is so sweet. She's an older sister to one of the main characters and she's a very maternal figure who is there for the people around her and is very supportive. There's this crazy, dangerous adventure —  mystery, maybe, is the right word, and it's really cool that I got to be a part of that.
I think it's safe to say that you have a bit of a cat obsession. Why do you think cats are better than dogs? 
I am obsessed. I have two kittens that I got back in January. They're my pride and joy. I loved orange cats as a child, and I love black cats as well. My black cat is next to me right now. She was actually the last of her litter; black cats don't get adopted as much because of the superstitions. The second is stripey and tigery looking. I love his pattern. But I am obsessed with them. I want seven more. I'm addicted. I just got them a cat tree tower. As far as why they're better, you know I love dogs too and I want one eventually, but cats are just way less work and so independent and can vibe and entertain on their own. I want a dog so bad, but I just don't have the time to train them and take them out. But cats are so sweet. If you don't like cats, you just haven't had a good one.
Everything is a little uncertain and up in the air right now, but is there anything coming up in your career or personal life that you're excited about?
Well, I actually get to go back to work in a couple of weeks, which I'm so excited about! I did some guest star episodes of The Goldbergs season seven which was so fun and got to work with Sean [Giambrone] who played Ron in Kim Possible. The Goldbergs is so funny and it's such a great cast and crew, so I'm super excited to be back for season eight and I'm so excited to be on set again. It'll be very different, and we have lots of precautions and protocols, but we were approved by SAG to get started and I'm very blessed and grateful.
Featured Image Credit
suit LOULOU STUDIO 
Team Credits
interview by Lauren Ablondi Olivo
photography Anaïs & Dax @ Apostrophe Reps
styling Lauren Knudsen @ Walter Schupfer Management
hair Rena Calhoun @ A-Frame Agency
makeup Toby Fleischman @ Tomlinson Management Group
casting + production Angeliki Sofronas

The Sleepover is now streaming on Netflix!