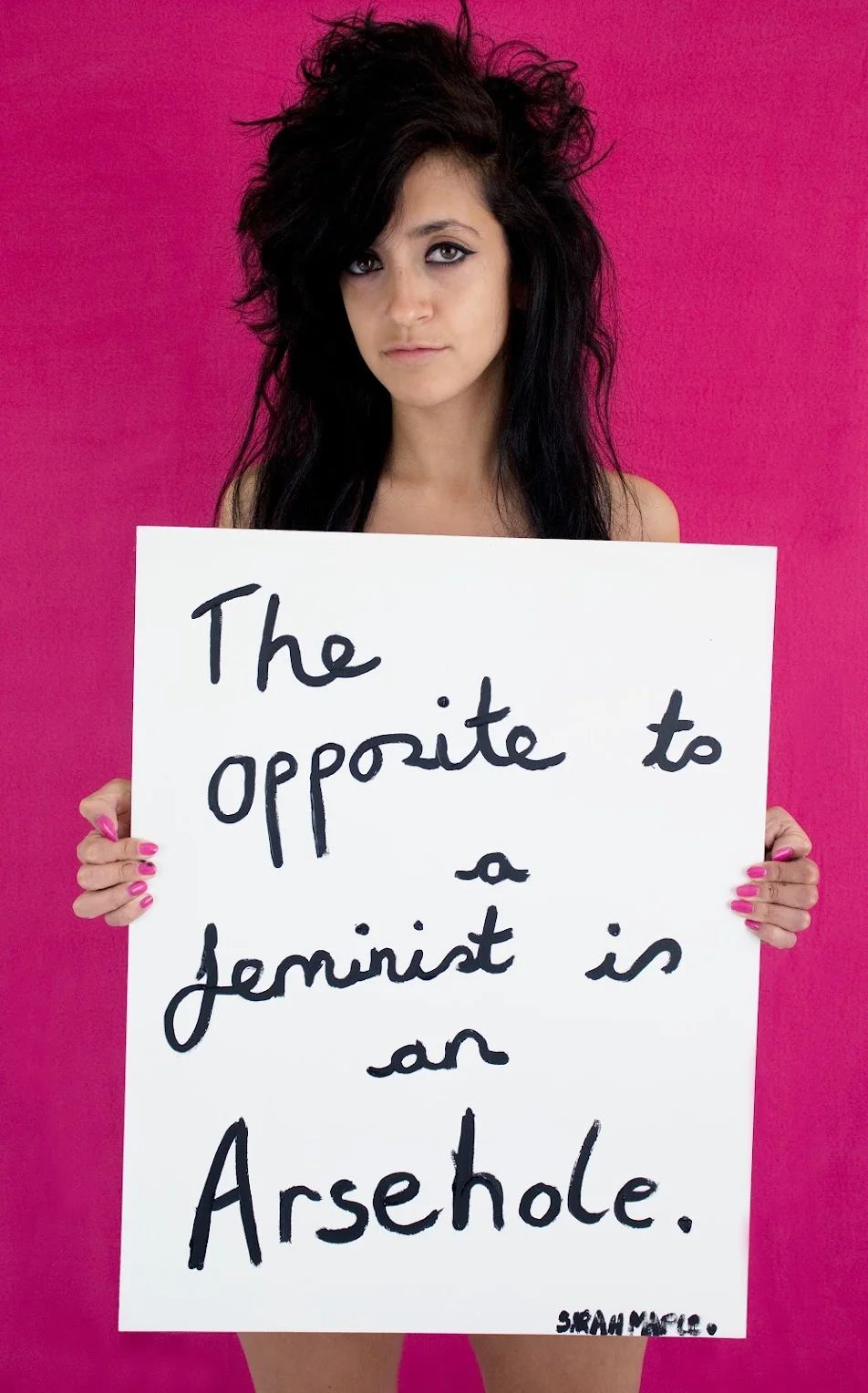 Sarah Maple – The Opposite of a Feminist
In a world where women are kept down and struggle to make their voices heard, seminal British artist Sarah Maple never shies away from challenging the structural and everyday misogyny and sexism in our society. Her work is on display at GIANT until February 2022.
Fifty years have passed since the publication of Linda Nochlin's seminal Why Have There Been No Great Women Artists? (1971). Widely acknowledged as the first major work to reframe art history from a female perspective, Nochlin's essay challenges the white Western male viewpoint through a critical analysis of how systemic institutional bias and social prejudice against women undermine the importance of female agency in the arts.
Rather than simply trying to rescue the reputation of critically neglected women artists, Linda Nochlin opened the way to a new research paradigm, one that aims to take into account all the factors – social, institutional and otherwise – preventing women from excelling in the arts.
Fifty years may have passed since its publication, but Why Have There Been No Great Women Artists? remains as urgent and relevant as ever. Despite progress towards economic, legal, social and cultural equality, we still live in a male-dominated society where women – when they are not actively marginalised, discriminated against, exploited or subjected to physical violence – continue to play a largely secondary role.
According to a 2019 report commissioned by the Freelands Foundation, only 35% of artists represented by twenty-seven commercial galleries in London were women, and a mere 34% of gallery solo exhibitions during Frieze Week the same year were by female artists.
Moreover, of the 668 works that came into the Tate Collection in 2018/19, 67% were by men. The report also shows that 86% of the lots at Sotheby's contemporary art evening sales in 2019 were works by male artists, and in 2018 and 2019, only 3% of the top highest grossing sales were works by female artists.
The above stats paint a rather dispiriting portrait of inequality within the art industry – one that mirrors the broader inequality in our society. In a world where women are kept down and struggle to make their voices heard, the work of feminist historians such as Linda Nochlin and artists in particular has proved instrumental in uncovering the process of marginalisation and attempted erasure of women from and beyond the arts sector.
Known for her boldly political and provocative work encompassing different mediums, Sarah Maple is one of the most outstanding and prominent voices among a new generation of female British artists exploring themes of inclusion and representation from a feminist standpoint.
Challenging notions of gender, identity, class and religion, Maple looks at the role of women in the arts, media and society with honesty and irony. Often using herself as a model and a conduit to address normative stereotypes and behaviours, the artist never shies away from laying bare the inherent misogyny and sexism of the patriarchal narrative that relegates women to the background.
Spanning over fifteen years, The Opposite of a Feminist – on display at GIANT until February 2022 – delves into Sarah Maple's diverse practice that includes paintings, photographs and films to look at the artist's engagement with feminism. 1883 caught up with the artist to discuss her work and how women's issues inform her practice.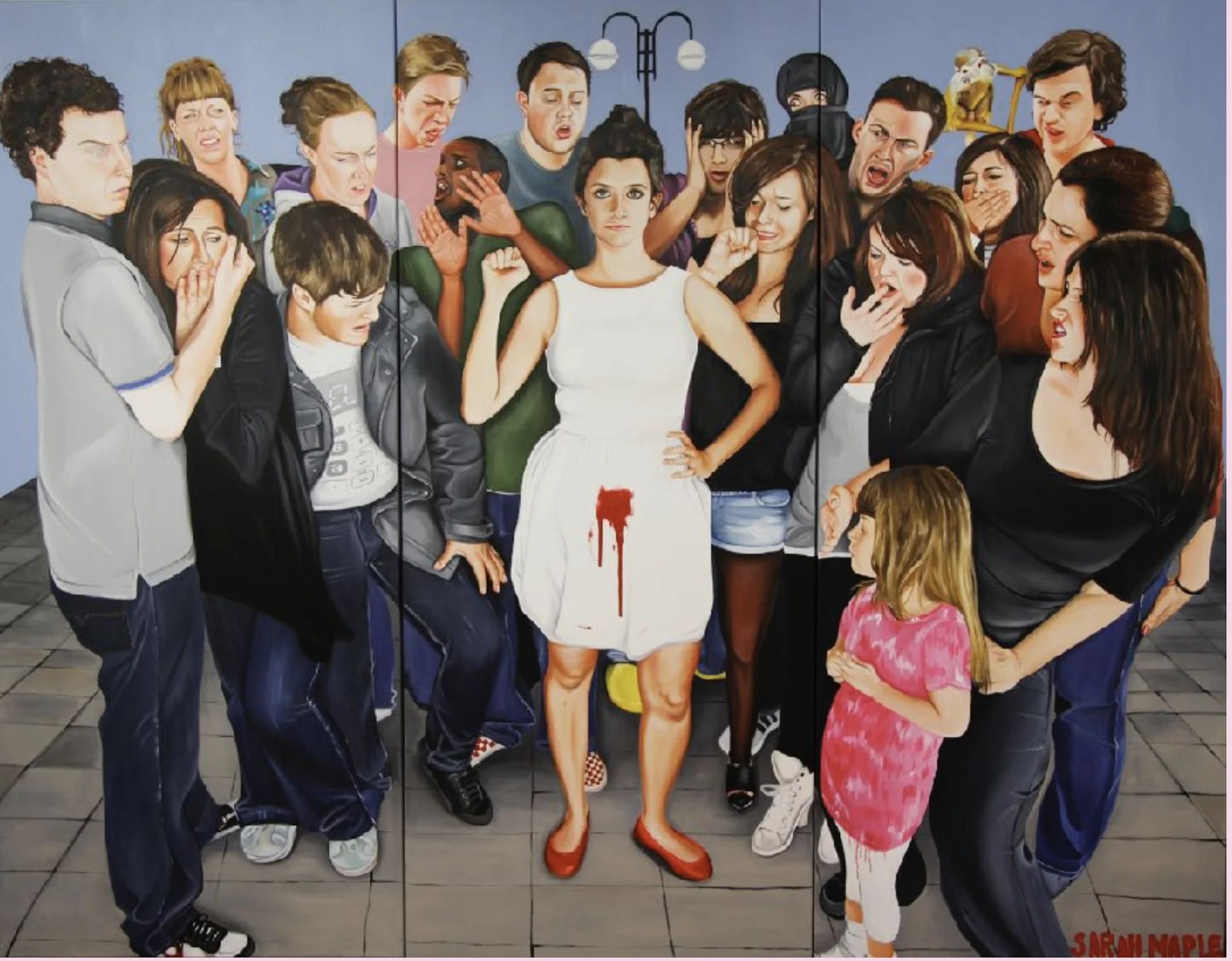 Sarah Maple, Menstruate With Pride, 2010-11 oil on canvas, 215 x 275 cm
Hello Sarah, thank you for finding time for 1883.
Can you tell us about your new exhibition, The Opposite of a Feminist, at GIANT?
I work with lots of different themes and media but this show focuses on my boldest feminist work from 2007 to now. It looks at women's bodies, victim blaming, motherhood, stereotyping and the status of women in the art world.
I'm also showing my new video art sitcom Sarah Maple's Nazi Sexy Shark Show which is an hour long semi autobiographical piece about my experience of the art world which fuses art and comedy. Some of this work can be difficult viewing so I'm very intrigued to see all this work from 14 years in one place.
As you were saying, the exhibition explores themes of feminism and gender discrimination. May I ask what being a feminist mean to you?
Well, I used to say feminism is about equality between men and women. When I first started making this sort of work in 2007, feminism wasn't being talked about at all and it was so hard to get anyone to support it. Getting anyone to even say they were a feminist felt great. But now I think things have moved on, yes we can all say we're feminists but it's not enough.
It needs to be an active thing. It feels like it's lost its meaning now. Feminism is a movement that needs to be fought for every day, just wearing a slogan t-shirt is not enough – as the suffragettes would say 'deeds not words'.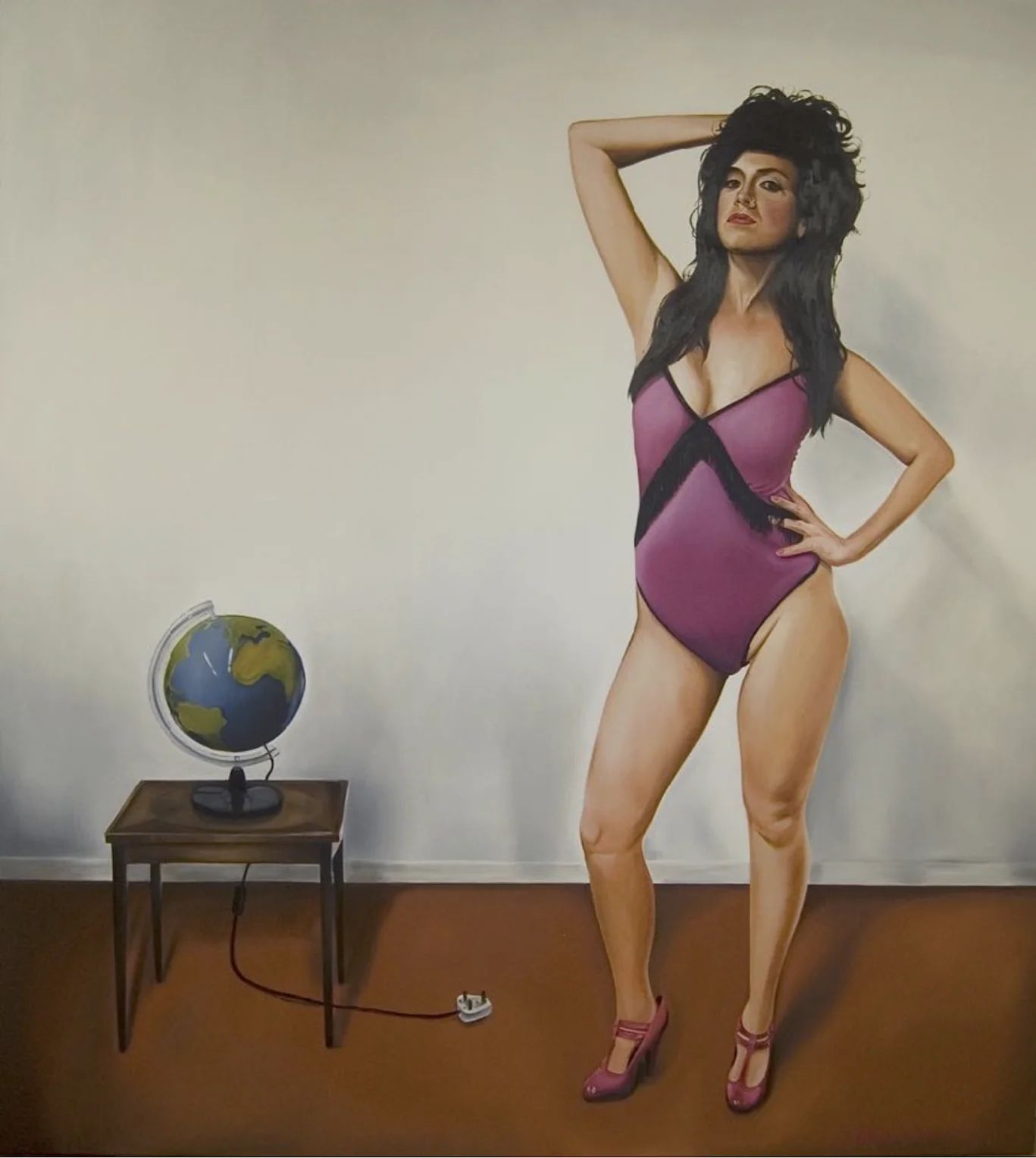 Sarah Maple, Plug It In Baby, 2012 oil on Canvas, 210 x 230 cm
Can you remember the moment when you began to consider yourself a feminist?
I was about 22 and making all this feminist work and had no idea that's what I was doing. In a few interviews people brought it up and I completely denied it, didn't want to be associated with it. But I have a friend who challenged me on it, she explained what feminism actually was and it was like a lightbulb went on! Everything suddenly made sense.
From then I completely embraced it and my work just grew and grew from there. That's why I always try a relatable approach in my work and I use a lot of humour to get the message across. Humour is extremely powerful!
What visual artists, writers and activists have influenced you the most over the years?
Barbara Kruger, Faith Ringgold, Paula Rego, Sarah Lucas, Gillian Wearing – the list of amazing women is endless! And I always forget some. With writers, Natasha Walter's book Living Dolls changed my life and I recommend everyone to read All About Love by Bell Hooks. Also comedy is a huge inspiration to me, especially a lot of the British comedies from the 1980's.
In a male-dominated society, female artists are offered fewer opportunities for exposure and face greater obstacles in their career paths than their male counterparts. How would you rate the UK arts sector with regards to supporting women artists in their career development?
I think there are some great institutions and Arts Council that do strive for equality and it's got so much better over the past ten years. But if you look at museum collections, gallery representation and auction prices for example, men still hugely outweigh women.
When I check out a gallery I always look at who they represent and count how many men there are to women and sometimes it's almost comical! Like the existence of women never occurred to them haha! There are some great women doing a lot to bring attention to this, like Kate Bryan and Kate McMillan. I think there needs to be a lot more done to support artist Mothers too.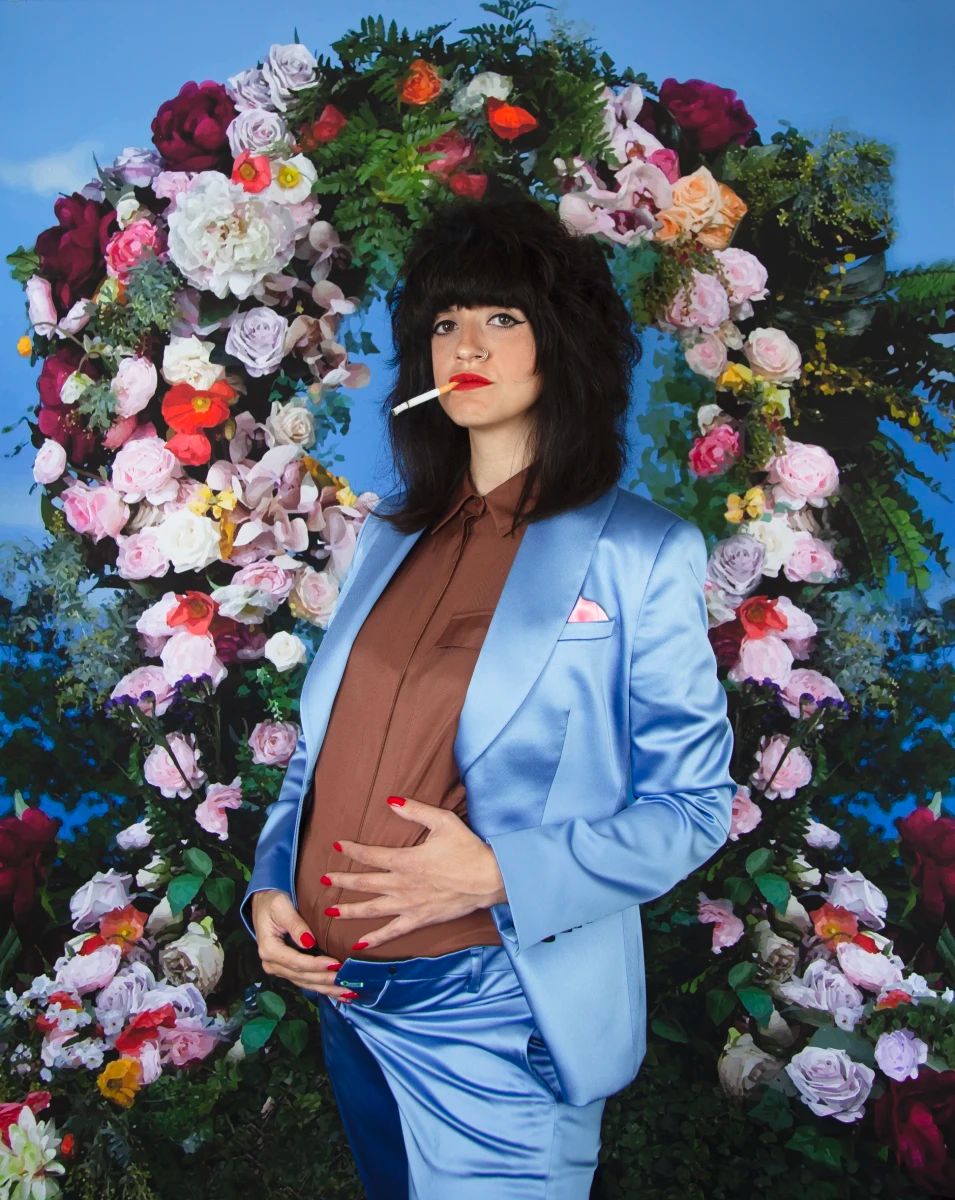 Sarah Maple, Self Portrait with Pocket Square, 2021 photograph in perspex, 96 x 76 cm
You grew up in a mixed-heritage family (Kenyan/British); how has your upbringing influenced you as an artist?
My Mum was born in Kenya but our background is Punjabi and my Dad was born in the UK. Being mixed heritage has hugely influenced me as a person and the work I make. I think this is where my interest in identity politics comes from.
I was a teenager in the aftermath of 9/11 so being a British Muslim around this time really had an effect on me. The portrayal of Muslims in the media was horrendous at that time (and in many ways still is). I think since then I've had this urge to fight back and challenge everything, art gives me the voice to do that.
Lastly, what's next for you?
Well I have some ideas but I'm taking at least a year to research and make a new body of work. There's been so much to process over the past couple of years and I want to try and make sense of it all!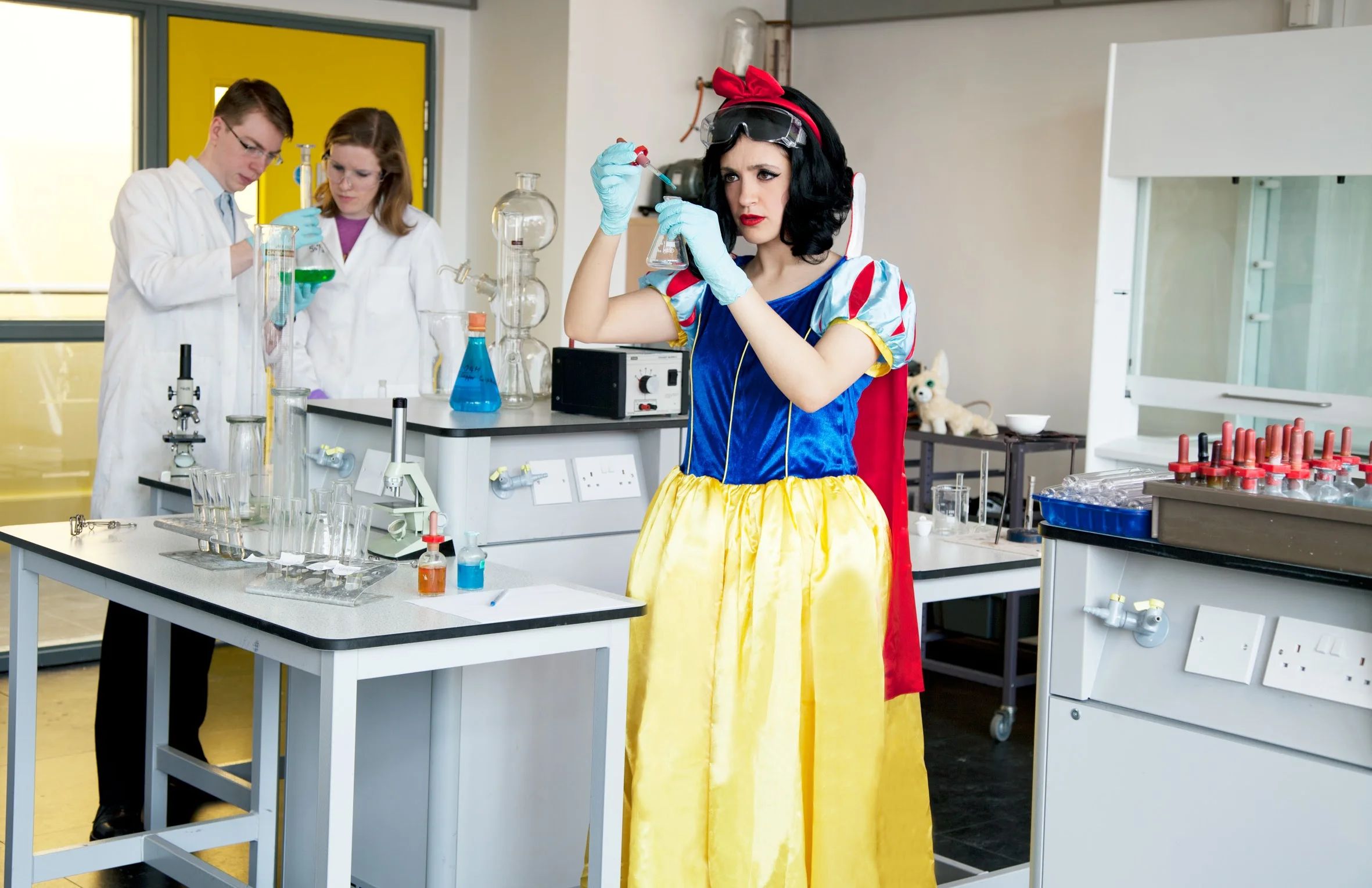 Sarah Maple, Snow White The Scientist, 2011
The Opposite of a Feminist is on display at GIANT until 13 February 2022.
Featured Image: Sarah Maple, The Opposite To A Feminist, 2009 photograph mounted on D-bond, 100 x 66 cm
Words and interview by Jacopo Nuvolari