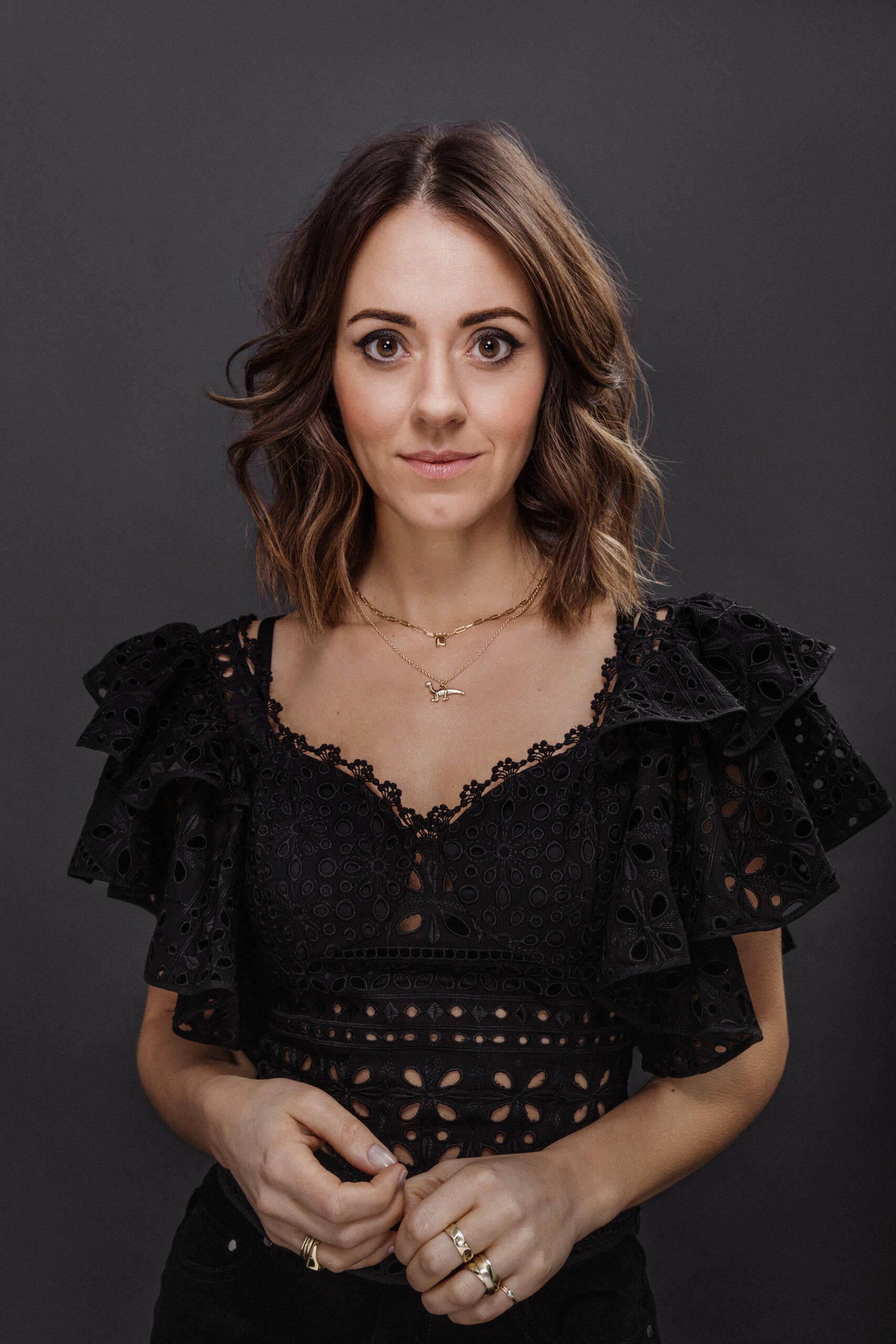 Susannah Fielding
It takes an actress with impeccable comedic timing and a distinct knack for realism in drama to play a TV morning show host — Susannah Fielding does more than fit the bill.
Despite it being a grey day in our respective cities of Toronto & London, actress Susannah Fielding is equal parts warm & welcoming — ready to discuss everything from the lines outside JD Sports to the colourful bookcase behind her during our Zoom chat. There's much to discuss; London is beginning to open up again, Spring has arrived, and the second series of the much-celebrated This Time with Alan Partridge on BBC One is finally gracing our TV screens again.
After working in the industry for over a decade, Fielding has seen (and played) it all; working feverishly throughout theatre, film, television and radio. It is her role as Jennie Gresham in This Time with Alan Partridge that has undoubtedly set her apart from other actresses in her field. As the poised & professional counterpart to Steve Coogan's chaotic (and sometimes downright insane) Alan Partridge, Susannah has been praised for her impeccable comedic timing with some saying she is one of the best comedy actresses gracing our screens to date.
In a candid discussion, 1883 caught up with Susannah and talked all things This Time with Alan Partridge, knowing your worth and learning to be uncompromising as an actress, and what she's manifesting for herself this year.
Your professional career started in 2007 — how would you say you've grown as both a human and an actress during that time? 
Wow, starting with a big but interesting question and one that I haven't given much thought for a while. I would say I was extremely naive but dead keen on making it work against all odds. When I left drama school, the odds were… definitely not in my favour, to put it lightly. 14 years later I'm still doing this and that's remarkable. I feel I know myself a lot better than anyone would by the time they are 35 — I know what my strengths and weaknesses are in terms of performance. I know when I get a script whether it's something I will get or not. We all have our idiosyncrasies, don't we? Things we are not naturally adept at. Also, I would say I'm better at asking for what I need which is a useful skill to have.
Especially as a woman in TV & film, there was a time where some actresses did not feel like they were in a place where they could ask for what they need. 
Absolutely. We're all afraid of asking too much or to be called a "difficult diva" or any other phrase that is assigned to women more readily than they are to men. It takes courage to stand up and say, Oh, that's not going to work for me. I suppose the longer you've been doing this, the easier it gets to ask for what you need and what you rightfully deserve. We learn things the hard way by not standing up or speaking up for ourselves, so I would say that's something I've learned in my professional career.
That type of thinking and action causes a ripple effect; an extra on-set might see you be adamant on something and they realize they have the permission to have agency and autonomy, too. 
You're right. We are led by example. The boundary of what is acceptable is set by what we see around us. I did my first job with actress Zoë Wanamaker and she was clear to the costume & wardrobe department that she needed pockets in her dresses because she uses them for props. It was a moment of realization — I can ask for a costume that works for me! Or people who ask for a particular make-up artist because they are the first person you see in the morning every day on set and that affects your experience of how you get into character. All of those little things feel small, but you actually watch it work for someone else and then you ask for those things yourself. It's an empowering experience. 
Are there any lessons in particular that you've learned that you've taken with you?
Thankfully, there is a big change in terms of not being in compromised situations and being asked to do things, wear things, or say things that you don't feel comfortable doing. Starting, I didn't have any confidence to set boundaries with that stuff and I learned quickly that you have to. I suppose the difficult thing is that you fear you'll lose the job and that so much of this industry is based on your reputation. It was tricky to navigate as a young actress. Watching the #MeToo movement unfold and seeing so many brave actresses standing up and speaking about their experiences was a learning experience; sometimes you have to risk your job to stand up for yourself and other people.  
In regards to acting, I would say asking questions is important. Don't pretend you know everything because no one does. I mentor young actors at Guildhall School of Music and Drama, which is where I went to school, and that's what I say to them! Don't walk onto a set and pretend you know everything because people love to be asked questions. Being curious is part of the fun of any job but especially this one. 
How has the experience of mentoring young actors been, especially during this time?
I love it. It's very challenging at the moment because they are doing all of their showcases and shows over Zoom when they are typically in live theatre performances, but naturally, as actors, we adapt as best we can. 
For those who haven't seen This Time with Alan Partridge, can you tell us a bit about the show and your character Jennie?
Alan Partridge is a character that's been in existence for over 25 years and has been on television and radio and YouTube and a million other reincarnations. The latest is This Time with Alan Partridge which is a morning breakfast magazine show. He's been brought back to the BBC and he's been placed in the show alongside my character, Jennie Gresham. She's incredibly confident, she's been doing the job for a long time, and she's used to heading up the show with her male counterpart. When her usual co-host falls ill, Alan steps in and then becomes a permanent fixture… much to Jennie's dismay. Anyone who knows anything about Alan will know he will never be the easy half of a pairing. He often says the wrong thing, he's always testing everyone's patience, and he is constantly wandering into the dodgy territory. 
Did you watch a lot of morning shows to prepare? That's fun research!
LOADS! I went to watch one being filmed live as well which was interesting because you see what happens when they cut to a segment or a commercial break. You see how the presenters switch on and off for the camera. I took a lot of inspiration from presenters like Susanna Reid, Alex Jones, and other female presenters. It's incredible to see how they all have their particular style so it's important to get that right.
In the last episode of Season 1, viewers saw you walk off the set due to Partridge and his antics. What can viewers expect from season 2?
It was a good cliffhanger, wasn't it? We maintain our jobs at the very least, but our relationship has developed since the last episode of season 1. Jennie has a great storyline and there are glimpses of her personal life which affects Alan as well! 
With a role like Jennie and any of your previous characters, is there something in particular that draws you in or is it a script-by-script basis?
It's not something you can necessarily put into words. I'm always attracted by comedy and when it's so well-crafted like this, you can see it's operating on lots of different layers and that always excites me rather than it being one-dimensional. Sometimes female characters in comedies aren't fleshed out and they tend to be the foil to the man's jokes, so I love seeing characters that have their comedic elements and they are well-rounded. 
The great thing about the show is that it touches on sensitive topics in a lighthearted way — thinking about the last episode of season 1 where Alan gets pulled over by the police and he implies that he's a friend of the police because he's white. How has it been to explore those types of relevant themes on the show and can we expect more in season 2?
That's a really good point and it's one where sometimes I'm on set asking "How close to the fine line are we right now?" But it's so cleverly done. There's something about Alan's voice that allows him to say things in a way that we find digestible and we can respond in a way that isn't offensive. It's crazy that such an unusual voice can allow us to talk about dodgy and complicated stuff without it crossing a line. There's plenty more of that to come!
I was reading an interview you did with The Times in 2019 and they said "best comic performers of her generation" — what does that comment mean to you?
What a generous line! [Laughs] It's a very, very nice thing for someone to say and I don't know if it's true, but I guess you're only as good as the roles you get to play. There are so many actors around who are just as good as me but you've never seen them do anything. I think it's about a lot of luck and I'm certainly tenacious and I haven't given up, but it's also just being in the right place at the right time and being given a part where you can showcase what you can do. 
Lastly, what else are you looking forward to this year?
Oh, I love that question. I'm looking forward to going to a festival; I love going to music festivals and finding the freedom of that. I feel very lucky in regards to work and I feel like I have a lot of what I need right now. Maybe … I will say I'd like to play a hard-ass detective in a crime drama. I think that'd be fun. I'll speak that into existence! 
This Time with Alan Partridge Series 2 can be seen on BBC One and iPlayer
Interview by Kelsey Barnes
Photography The Other Richard
Styling Holly Elgeti
Make up & Hair Charlotte Elizabeth Yeomans
Top fashion credits
Black top Net-A-Porter