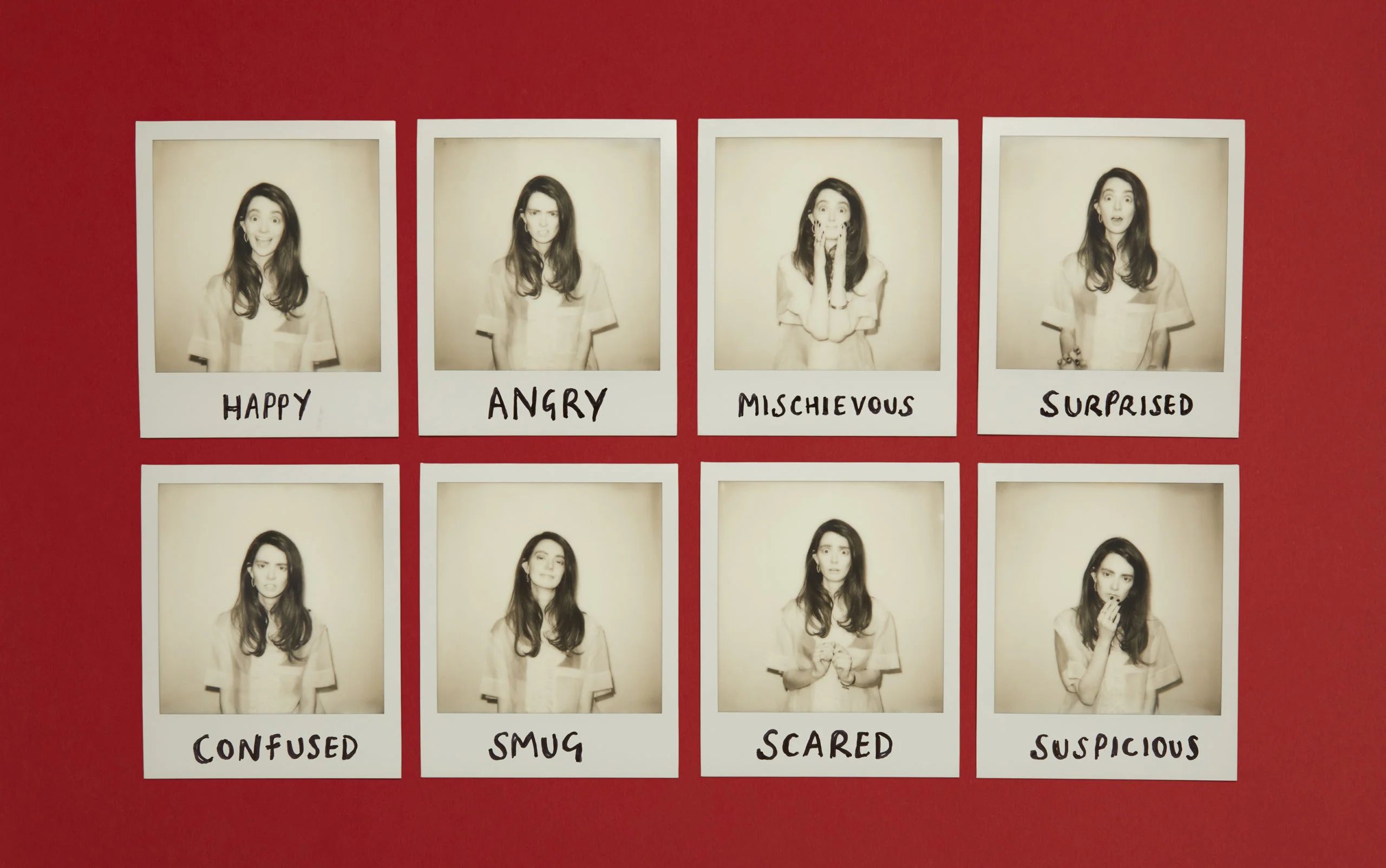 Tanya Reynolds
Tanya Reynolds feels like a dream come true as she plays out her dream roles on stage, television and the big screen.
Having graduated from The Oxford School of Drama in 2015, she has been stealing hearts and scenes in Netflix's huge hit Sex Education as the utterly adorable writer of alien erotica, Lilly Iglehart. Next month sees the release of beloved Jane Austen classic Emma. in which she naturally landed her dream role of Mrs. Elton.
Part after part, her effortless portrayal makes it seem like each role is being written for her as she carves herself a respectable career with depth and wit. In between all this, she's only thrashing out issues around nuanced feminism over at the prestigious Royal Court in Scenes with girls.
We sat down with Tanya to talk about womanhood and her artistic endeavours.
How does it feel to be performing at the Royal Court?
I've said it a few times that I feel like a cliché and a broken record, but it literally is a dream come true. I've wanted to work here for so long, I love this theatre so much and it's like Miriam [Battye] who wrote the play, it's like she wrote my dream play and then put me in it. It's just the best thing ever. I'm totally in love with it! So happy! And it's such a nice place to work, everyone's so friendly… aww… it's overwhelmingly lovely.
The New York Times describes it as 'the most important theatre in Europe' — what do you think it is that makes this place so special?
I think because of its unwavering support to new writers and not necessarily young writers, but just new writers because the theatre's whole ethos is that it has a commitment to new writing and it really does nurture writers from all different backgrounds and ages and yeah, I think that's what makes it such an important theatre.
Female friendships and the BFF storyline are as much mythologised as they are misinterpreted and stereotyped. How do you feel this kind of storytelling affects our relationships? And did you draw on any close female friendships of your own for this role?
Yeah, 100%. I mean, for me, when I first read this play I just… I mean I cried like halfway through it before it even got to the particularly devastating moments because I just saw myself in it so much and I saw my friendships in it. And for me, and the other girls who are in it, it feels like it's holding up a mirror to us and it's kind of showing a female friendship through all of its ups and downs, all of its ugly flaws and its gorgeousness as well, and it's not hiding from any of that.
As an actor, you get your character and you fall in love with them and you want to protect them at all costs, and you want to defend them. We found it really interesting through the rehearsal process how at first, and for a long time, we were so protective of our characters that we were like, 'Oh, no, I don't think she… would she? Isn't that a bit mean if she does that? Isn't that a bit rude?' And then it got to a point where we had to be like, you know what, sometimes we're all dicks, sometimes we aren't likeable and we have to actually let these characters be not liked by the audience sometimes because nobody is ever one thing all the time, and I think that with the depiction of women in films and in theatre there can sometimes be a need to want to represent only the good parts of us, the strength and the powerfulness — but sometimes we're weak, sometimes we're vulnerable, and that vulnerability isn't even weakness, that is strength in itself.
There are so many sides to the coin of a woman, I think sometimes we felt a pressure to only present the nice sides, the good sides, the strong sides, the inspiring sides of these characters… but actually no, we can't, because that's not real, because nobody is perfect and these characters, just like every woman, just like me and you, we're not perfect, we're really messy. You can't just present a certain version of anybody or any type of person, you have got to look at all of the bits of it, even if they're unsettling.
And female friendships can be just like romances…
Absolutely, and that's what this play is — this relationship, it is a friendship, but it is looking at it almost through the lens of a romantic relationship because they are, actually. They can be just as painful and when you fall out with a friend, it's agony because who do you go to? If you breakup with your best friend and she's the only person that you have on that level, well, then, who do you talk to about that? It's devastating.
I think it's also that thing where we are socially conditioned for sure, but what this play is confronting is how much of a women's desire to be loved and wanted; how much of that is social conditioning and how much of that is just what you want? There's one point where my character says, 'Do you want, or do you just want to be wanted? Do you just think that you want to be wanted?'… and I think that's so interesting because these are the conversations I am often having with myself, where I'm like 'do I want that or is that the narrative I've been fed my whole life'.
What was it like going into your first television role on Sky One's Delicious and to be working alongside screen veterans Dawn French and Emilia Fox?
Aww, it was so lovely. We had Iain Glen on set sometimes as well, and he was lovely too; I liked him a lot. Yeah, that was my first television role and it was amazing. When I first read the character description, I was like 'fuck, it's like someone's just written me down on a piece of paper'. Even the way they wrote her bill, they were like 'she's really willowy and she hides behind her hair and she's a big old mess' and I was like 'that's me!'
And Dawn French, like so many people my age, is like one of my fucking heroes, like my actual heroes! When I was younger, me and a friend of mine were obsessed with French and Saunders, like obsessed!! So, to have her play my mum was absolutely surreal. I was terrified to meet her because they say 'don't meet your heroes', but she was just everything I could have wanted and more — so lovely and warm and hilarious and from the second we met, she was like 'I'm your Mummy!' and she literally has become like another mummy to me now, she's just… oh, I love her!
Sex Education has been a huge hit for Netflix and has had greater reach than perhaps imagined. What do you think is behind this broad appeal?
Yeah, I think it's just the writing being so brutally honest but also imaginative and I think what's been amazing about it as well is that it hasn't pigeonholed itself into a particular box in terms of genre. Like, it's very British but it's also very American in its vibe and it's got a lot of tropes that you would normally associate with American teen shows, that 80's John Hughes kinda feel but it kind of does all these things so brilliantly and expertly across all fields.
And I think the writing is so honest and it's so intricate and imaginative and detailed and all of the characters are fully fleshed, fully formed, complex and layered that everybody can identify with all of the characters. So, you get some people who are like, 'oh, I'm so Lilly' or 'OMG! I'm so Maeve' or whatever, but I actually think everybody's like 10% Otis or 15% Jackson. I big-time identity with Lilly, but I also identify with a lot of the other characters too. I don't know, it's just tapped into something with the world, that the whole world has gone to, shit, yeah, I can see me in that. And the sex is NOT glamorised, it literally is educational! It's actually just a mega genius show!
Your career has gotten off to a brilliant start, how are you finding fame?
I left drama school four years ago and I didn't expect… I don't know… you just don't expect to…
Delicious was my first TV role and I did not expect that in a million years. I kind of thought that I would slog it away in unpaid theatre for 5 years before I got even the tiniest role on TV so, it's just… I mean, I literally don't have the words to be grateful. It's been mad. I've been really fortunate to have been given these opportunities for sure, so fortunate, but, it's also not easy.
It's not an easy job to do, actually and it's been a very illuminating 4 years and I think I've changed so much. Yeah, it's a bit overwhelming. Sometimes I have to sit back. Because we're so anxious as actors, we're just so concerned that we're not doing enough, that we're not good enough, that we're shit and all that anxiety around our careers, you compare yourself to other people. And I live in that constant state and every now and then, I have to take a step back and go, 'hang on, look where I am, like, I'm doing alright actually, it's ok'.
Even tonight, tonight's press night and I'm so nervous; I've been nervous all week. This morning, I was just freaking out about it, going 'Oh, God, what if it's terrible, what if…' and then I just have to be like, 'Hey, hang on, I've wanted this for so long. I've wanted to perform at the Royal Court, like that's literally been a goal and I'm here now and I'm doing it, I need to just enjoy it as well.' I mean, I obviously care about it so much which is why I'm panicking but you've got to just enjoy it too.
Emma. is out next month, and like Pride and Prejudice, has seen many, many productions — what do you think it is about these classics which continue to appeal to cinema-goers and production companies alike?
I think it's because they are stories that are beautifully told which is why they have become classics. I mean, 'Emma' is a gorgeous book; it's gorgeously written, it's funny and it's interesting. But I think as well, every time there is a new take on a classic, that take is birthed from the time that it's in. And I think that with Autumn's [de Wilde, the Director] film and with our production, there's something about the way that it is… it's not set in the modern-day, it's not a modern retelling but there's something about the way that she's made it and constructed it that just feels modern.
Do you have a favourite production?
I do love the Gwyneth [Paltrow] one. Juliet Stevenson, who I just think is divine and plays Mrs. Elton, is my favourite. I watched it years ago and I was tempted to rewatch it when I got cast in this but then I didn't. I couldn't. I was like 'I will never be Juliet Stevenson' and I know I'll make comparisons and I can't do that. Big, big shoes to fill!
Is there a writer or a book which helped shape you as a woman?
Oh, wow! Ooh, huge question! Oh, that's a great question. I think for me, it's probably a cliché but Sylvia Plath has been… integral to my development. I read 'The Bell Jar' when I was at school; I can't remember if I was doing my GCSEs, but I feel like I was doing my A-Levels, so I must have been 17 or 18 and you know when you just read something… and it's like it was already living in you somewhere and you read it and it's like, you're not even reading it for the first time; it's like reading feelings and thoughts you never thought you had or connecting to a book on some level that you have never connected to anything before and I've always read a lot. And with Plath, I like even her poetry… she has been a really big part of my growth. I just love her!
Lily in Sex Education is a talented writer, artist and musician. Do you have any similar hobbies?
I love to write. I love writing and that's something I always do. I journal. I think journaling is one of the best forms of therapy apart from actual therapy. So, I journal every day. I've never consciously done it, I just have done it; it's like muscle memory where I feel like if I am struggling with something, I just write it down and I figure it out and I don't know if it's something to do with being a natural introvert. I find things easier to cope with if I write them out, if I get them out of my brain — to just see it on a piece of paper, I don't know, nothing else quite makes me feel better. Sometimes when I'm out in the world when I'm with my friends and I'm having a lovely time, sometimes I feel like I need something and I don't know what that is and actually what it is, is that I just need to shut myself away for a day or an afternoon, and I need to write — anything, just whatever I'm thinking or feeling because I can't explain it but it just does, it makes room in your brain and I don't care if what I'm writing is crap, no one's gonna read it.
Any new creative pursuits you would like to take up this year?
I don't know if there's anything I want to start. Oh, no, wait, this is ridiculous. I can't even draw, and my Mum is like an amazing painter and artist and she makes amazing things. Actually my Dad as well, he's amazing at painting and stuff too — I suck at it, like suck so bad but what I really want to take up this year is, not pottery, but I want to sculpt. I think I would just love the methodical nature of it all. I really want to make people. And in my head, they are these beautiful Tim Burton-like figures but in reality, they will no doubt be horrible monsters! Misshapen, arms falling off!
And then Tim Burton will definitely cast them!
Where would you like to see Lily in Sex Education's storyline take her?
I think I just want her to be happy. Well, obviously! I think the way that season 2 has left off, there's room for her to be in this very healthy, lovely, loving relationship and I hope that it is healthy and nurturing and supportive, which I think it will be. And I want to see Lily's home life, I want to see where she's come from because we don't actually meet her parents and I think we meet all of the characters' parents apart from hers and I want to see them, I want to see who they are. I've got ideas in my head of what they're like already.
Team Credits
interview by Sonia Akther
photography Josh Shinner
styling Ellie Witt @ TheOnly.Agency
hair + makeup Rachel Singer Clark using Susanne Kaufmann and PAT McGRATH LABS
production Angeliki Sofronas
location Leman Locke, London
You can catch Tanya now in Scenes with girls at the Royal Court Theatre, London, until 22nd February.
[embedyt] https://www.youtube.com/watch?v=qZhb0Vl_BaM[/embedyt]
Emma. is in theatres from 14th February!
[embedyt] https://www.youtube.com/watch?v=qsOwj0PR5Sk[/embedyt]