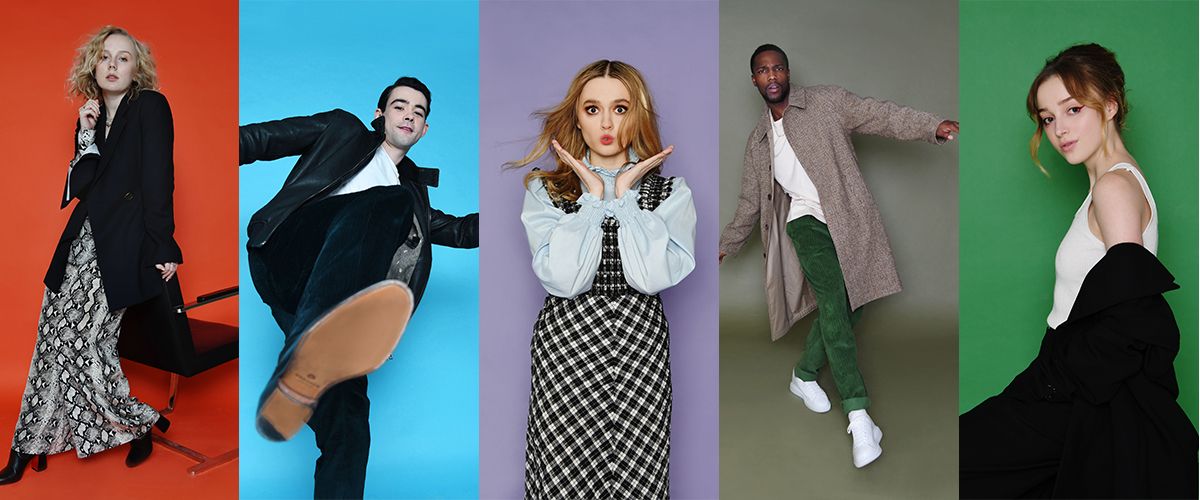 Ones To Watch: Film 2020
With the awards season in full swing, the year 2020 promises to be a luminous period for television and cinema.
The five starlets we've met will enlighten your screens with their gripping performances in the best television dramas and movies to come. They'll be sharing their creative superpowers — undeniable talent, infectious charisma, exquisite storytelling skills whilst inspiring youngsters to carve their own paths.
1883 Magazine presents Ones To Watch in film and invites you to meet actors Aimee Lou Wood, Tosin Cole, Phoebe Dynevor, Alexa Davies and Jack McMullen.
Aimee Lou Wood
Correct me if I'm mistaken, but you used to write plays in your childhood. Is there a movie or a play that you think deserves a better ending? For instance, Brad Pitt has mentioned that he would've shared the raft with Leonardo DiCaprio in Titanic.
I did, yes. And I'd make my very reluctant younger sister star in them. If I'm very involved and attached to a film, TV show or a play, I just never want it to end. I'm afraid of endings. I could stay in certain worlds forever. It could be the Midlands in the '80s in This Is England or Montauk in the '00s in Eternal Sunshine of the Spotless Mind — I just don't want to leave! One specific character who deserved a better ending is Hank in Breaking Bad. I was heartbroken. My mum actually got annoyed and told me to snap out of it because I seriously couldn't drop it.
What was the most peculiar research you had to conduct whilst getting ready for a role? Portraying the strong-minded Aimee Gibbs in Sex Education must've been one of those projects that made you say 'I didn't know this!'
Well, it's not called Sex Education for nothing. We learned a lot. We've spoken about it before, but our workshop where we copied animals' mating habits has got to be one of the most peculiar. Also, Richard Armitage and I went to plant trees and ate cold potatoes and pickled cabbage in preparation for Uncle Vanya which was fun.
What is Aimee Lou Wood's trick to learn her lines? 
I have a very good auditory memory and a terrible visual one so I just have to hear my lines out loud to learn them. I can learn them pretty quickly as long as I'm saying and physicalising them rather than sitting down reading silently to myself over and over again.
I think all the creatives, including actors, aim both to tell stories and leave their imprint in the industry. What is your impetus with regard to acting? 
Sometimes I have an existential crisis and think 'why did I choose acting?!'. Because there's no final goal or aim that you're reaching for and that can be quite unsatisfying. You give your entire heart, soul, time and life to something and then it's over, and you still feel insecure, restless and worried about when you're going to work next… And then when you get a job, it starts all over again. But that's also why it's amazing. Artists are all on this endless, infinite search for truth and meaning in an otherwise chaotic and random world. Acting makes me appreciate and notice the little details in humanity and life that other people might not see.
2020 will be an exciting year as we'll be able to see you not only in the highly-anticipated second season of Sex Education, but next to Claire Foy and Benedict Cumberbatch in Louis Wain and on stage in Chekhov's 'Uncle Vanya'. Can you give any details about the characters you'll be playing?  
It was wonderful to be Aimee Gibbs again for the second season of 'Sex Education'. Before 'Uncle Vanya' rehearsals started Aimee Gibbs was my number one favourite character I've ever played but now she's joint first with Sonya. She is a classic Chekhovian role that so many incredible women have played so I was very daunted at first. I soon realised though that she is so relatable and accessible because she is a hopeful and strong young woman who cares about the environment, her family and is privately suffering from unrequited love and the heartbreak that it brings. She feels like such a contemporary everywoman. I adore her. In 'Louis Wain' it was a joy to play one of the Wain Sisters. The Wains were a fascinating, artistic and eccentric family who existed in the Victorian era and we're kind of responsible for making Britain love cats… My character Claire and her sisters were wonderful women who supported their brother and their sister Marie through heartbreaking struggles with mental health at a time when it wasn't understood.
Catch Aimee Lou Wood now in Sex Education on Netflix and in Uncle Vanya at the Harold Pinter Theatre.

Tosin Cole
What was the most peculiar research you had to conduct whilst getting ready for a role? I've read that you had to perform your dance routine in front of a professional dance group Flawless in the EastEnders: E20 series finale, that must be in this list!
The most I've ever had to research was probably Frank in Burning Sands. Having to go into the history of the HBCUs [Historically black colleges and universities] in America and the history of the fraternities. This project was so dense with history and information that it was hard to stop seeking knowledge. The urge of finding out information to do the story justice, and giving me character fuel to ignite a truthful performance, because before this role I was totally of it all. But this role also required to learn a routine, but nothing compared to the E20 role. That role really put me out of my comfort zone. I thought I could dance because my friends would hype me up at parties, but then Flawless turn up and I'm supposed to outdo them. Yeah, right.
Is there a movie or a play that you think deserves a better ending? If so, how would you change it?
Wow. Okay. So. Yeah. Enemy directed by Denis Villeneuve who is one of my favourite directors at the moment and it stars Jake Gyllenhaal. Okay, so I wouldn't change it but, what the hell did the giant spider mean? It was just there, why? It attacked him. Why? Was it a symbol or a metaphor I didn't get. I need answers. Thanks.
Without any spoilers, what are you able to reveal about your character's, Phil's, development in critically-acclaimed Joanna Hogg's movie The Souvenir: Part II?
So, what can I tell you about Phil? You should watch it and see what happens. Cause I know and I don't know. Joanna Hogg has a unique way of filming; there's no physical script, no call sheet. You don't know really what you're doing until you get on set. You are kept in the dark or told the vaguest bit of information. Actors don't know who's playing who unless you dig around for information. And I love this way of filming as it keeps you guessing, keeps it fresh, present and it feels like you're living your character's life. Go check it out when it comes out.
What is Tosin Cole's trick to contain his nerves (or, perhaps, not?) before the camera starts rolling?
I tend to get nervous quite a bit, mostly on my first day of filming because it's new, fresh, and exciting. So, to contain my nerves I say a prayer. I try to control my thoughts, centre myself, control my breath, listen to music and just think of the character, the journey, and really immerse myself in it all, so I'm less me in a sense.
Tosin Cole can next be seen in AMC's 61st Street.

Phoebe Dynevor
Acting must be a part of your DNA, as your father Tim is a writer and your mother Sally is an actress. Did they encourage you to follow in their footsteps which led to a path in the creative industries? 
I think at first they were apprehensive about my desire to act as they're both aware of how tough this industry is. I started acting professionally at the age of fourteen so I was quite young and naive to it all at first. But once they knew how serious I was and how much I enjoyed it, they were very supportive.
As a professional, are you sensitive to other people's performances on screen? What is your favourite movie or television series finale that once again proved to appreciate the artistic industry that you're a part of?
I've always been mesmerised by other actors, and if I like a performance I'll watch it over and over again to understand their process. I'm equally intrigued by performances I don't believe, so I watch as much as I can. I love anything that explores the human psyche. Gena Rowlands' performance in A Woman Under the Influence has always stuck with me.
What is Phoebe Dynevor's trick to learn her lines? 
There is no trick to line learning. I wish I could be the person that reads them once and they're in my head, but I'm not. I've found the best way is to go over them right before I go to sleep and then they seem to stick.
One of the most awaited Netflix releases this year is the TV series Bridgerton, based on Julia Quinn's novels and adapted by Shonda Rhimes. Tell us more about your character, Daphne Bridgerton.
Bridgerton is set in Regency-era England and Daphne is a young debutante about to make her debut on the marriage mart. This season follows her evolution through this time. It's romantic, funny, dramatic, pretty epic and just a joy to be a part of.
What was the most liberating experience you've ever had on set? 
I find acting in itself hugely liberating but for me, the joy is unearthing a character. When you get to do a scene that's exposing and vulnerable, there's a release in that. I've had a lot of those moments on Bridgerton.
Phoebe Dynevor is currently filming Bridgerton for Netflix.
Alexa Davies
I absolutely loved your performance in Mamma Mia! Here We Go Again. It must've been one of those 'pinch me' moments as you're a huge ABBA fan. If you could choose one song to listen to for the rest of your life, which one of their hits would you choose and why? 
One ABBA song for the rest of my life?! Oh, my days. So many of them bring all those 'pinch me' moments flooding back. If I really had to choose, then I'd have to say that 'Voulez-Vous' is my favourite to dance to.
What was the most liberating experience you've ever had on set? 
Working with Paul Whittington [director of White House Farm] was an incredibly liberating experience in itself. The day we shot my character's, Julie Mugford's [note to readers — the former girlfriend of Jeremy Bamber, a character played by Freddie Fox] scene on the stand is a day I will never forget. The original scene itself was mammoth, with so much going on emotionally. We had an entire day to shoot it! To be able to spend that amount of time on such an important moment was amazing. On top of that, I had Paul Whittington who is the most nurturing director I've ever worked with and an outstanding cast of people who stayed in the room with me for every take, despite it being incredibly hot and uncomfortable.
What is Alexa Davies's trick to deal with her nerves before the camera starts rolling? 
Luckily these days I don't get very nervous at work. The first time I was on a set and filming a scene, I was 16-years-old! That's eight years ago and by now I've got my nerves under control. Preparation is always key.
Is there a movie or a play that you think deserves a better ending? If so, which and how would you change the disappointing finale?
I loved Netflix Germany's Parfum which was its take on the film Perfume: The Story of a Murderer. In my opinion, the film was great as well as the series. However, I was really disappointed by the ending. It felt very flimsy, and I almost thought like I'd wasted time watching the show. I don't know personally how I would change it as I don't like to dwell on these things, but that is the ending that comes to mind.
Meg's comeback in the second season of E4's comedy TV series Dead Pixels, ITV true-crime drama White House Farm, the empowering comedy-drama film Misbehaviour with Jessie Buckley, Keira Knightley — this year is marked with stratospherically impressive projects. Would you mind telling us more details about the characters that you'll be portraying? 
Funnily enough, the latter two are both real women, however, they are incredibly different. In White House Farm, I play Julie Mugford, the girlfriend of convicted murderer Jeremy Bamber, who became a huge part of the case when she came forward a month after the murders with a whole heap of new information. In Misbehaviour, I portray Sue, one of the women who took part in the protest of the Miss World Competition. Sue is an incredible woman. She was throwing flour bombs at Bob Hope when she was practically due to give birth! Being a part of telling both of these stories has been an incredible experience for me.
Don't miss Alexa Davies in White House Farm currently airing on ITV and keep a lookout for Season 2 of E4's Dead Pixels.

Jack McMullen
You've been working in the industry for over 17 years, proving your diversity in various genres — what audition do's and don'ts are you able to share with budding actors that proved to be successful for you?
Auditions can be daunting, but I think we mostly get in our way. It's hard when you want a job not to take all of that nervous energy into the room with you, but that only inhibits your performance. I try to leave everything else outside and be as relaxed as possible. It can be difficult just getting by as an actor, especially if you're not from an affluent background. If you're having to take low-paid jobs and work long hours, it's easy to forget that you've made a choice to be there; you've sacrificed stability to have a shot at doing the thing you really want to do, and I think there's some nobility in that. So it's important to know your worth. Be grateful when you get the opportunity to audition, but also know that they're lucky to have you there too — if nobody showed up to auditions, then nothing would get made. Do the work, learn the lines, be polite and turn up on time — those things you get for free.
What was the most peculiar research you had to conduct whilst getting ready for a role? Your brilliant portrayal of Charlie Agapiou in Ford v Ferrari must've been one of those cases. 
It was such a pleasure to play Charlie Agapiou, and the first time I've got to play a real person and spend time with them before the shoot. Charlie is a wonderful character with bags of wit and stories for days, but I would say it was probably the most peculiar prep I've done — 'I'm going to be pretending to be you for the next few months, any advice?'
I was wondering what is your favourite ever movie finale? Goosebumps, or tears of joy, or sadness included. 
You can't ask me that! There are so many good endings. I like when filmmakers don't wrap things up too neatly because life never seems to work like that. There's nothing worse than feeling like the movie ended 20 minutes ago and they're arbitrarily tying up loose ends. I'm a big fan of the Coen brothers and feel they do endings really well. I rewatched A Serious Man and Burn After Reading recently; they both have great endings which are kind of absurd in their own way.
What was the most liberating experience you've ever had on set?
I think that kind of freedom can come from the most terrifying of experiences. I did a play once where my character was strip-searched on stage, so I had to get fully nude every night. That was pretty liberating. Once you've done it a few times, the audience seems way more uncomfortable than you are. On the screen, I'd say working with Joanna Hogg on The Souvenir, Parts I & II. The way she works makes you feel naked in a different way. There's no scripted dialogue, just some structure and a destination, and takes can go on for 40 minutes or more. You're never told what she wants you to say, she takes the time to wait for you to find it yourself. She leaves the camera running for long enough for you to almost forget that it's there. You're liberated from the feeling of being watched. I love how her work feels so immersive, and I think it helps that she seems to draw these incredibly natural performances every time.
Currently, you're working on new BBC Two series The First Team, described as following the misadventures of three young football players. Who will you be playing? No spoilers, of course.
We've not long ago wrapped on The First Team, which was my first real crack at comedy. I play Jack Turner who's a young prospect at a premier league club. Football's given him such a sheltered existence that he's almost incapable of looking after himself; he's a wizard on the pitch, but completely incompetent in almost every other aspect of his life. We've had a proper laugh over the last few months. Iain Morris and Damon Beesley are great fun and it's been really nice for me to try something new.
Jack McMullen can currently be seen in 20th Century Fox's Ford v Ferrari and will next be seen in BBC Two's The First Team.
interviews by Miglė Kriaučiūnaitė 
Team Credits for:  Alexa Davies, Jack McMullen, Phoebe Dynevor, Tosin Cole
photography Jack Alexander
styling Ella-Louise Gaskell @ Stella Creative Artists
hair Daisy Holubowicz
makeup Justine Jenkins
styling assistant Bella Field
Team Credits for:  Aimee Lou Wood
photography Jack Alexander
styling Thomas George Wulbern
hair Patrick Wilson @ Caren using ghd hair and hairtalk extensions
makeup Emily Wood @ Creatives Agency using Sunnies Face