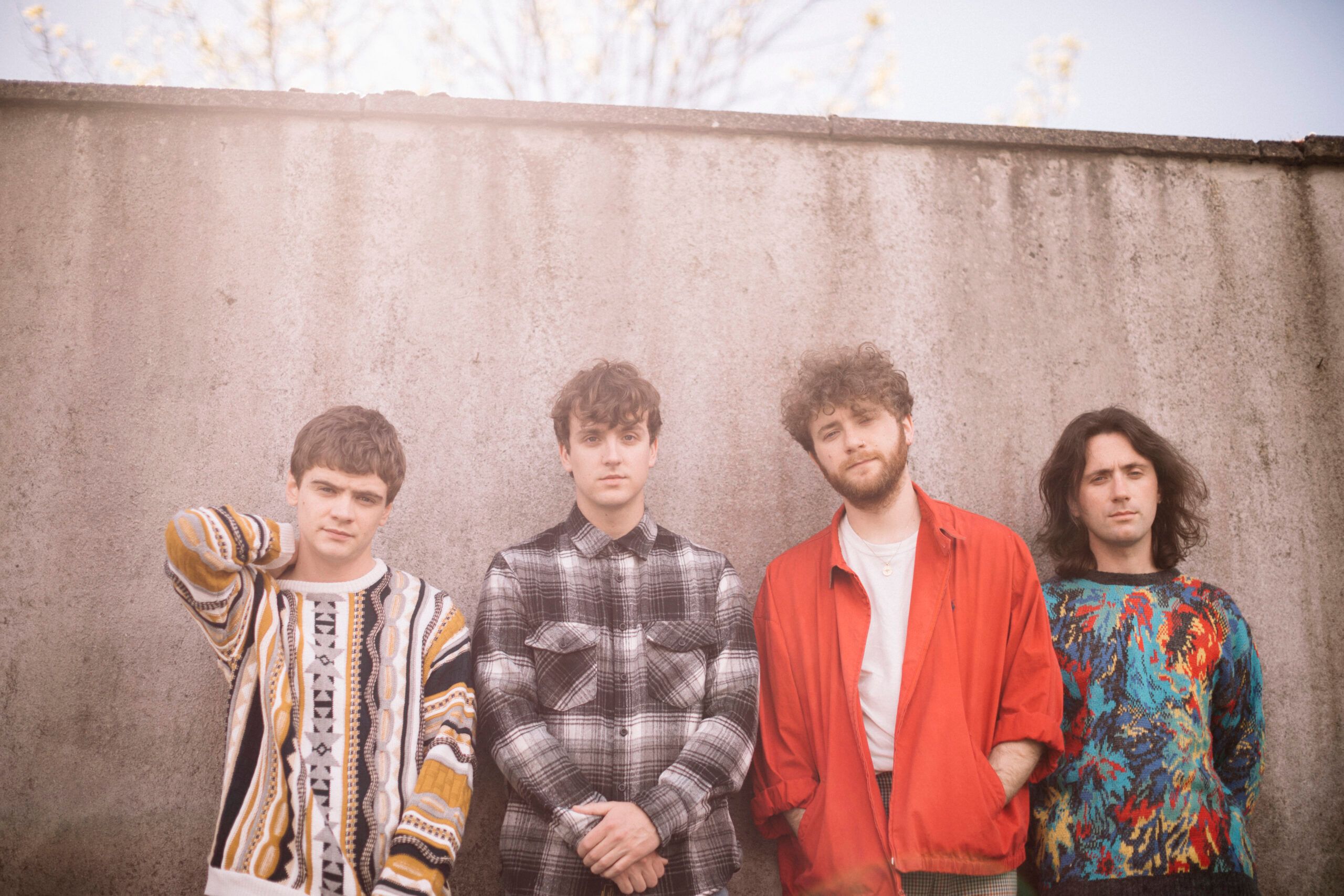 The Academic
Irish Indie-rockers The Academic band together like never before for their new self-produced EP, Community Spirit. 
The Mullingar-grown four-piece have acquired quite the following in their years on the music scene. Since forming in 2013, Craig Fitzgerald, Dean Gavin, and brothers Matthew and Stephen Murtagh, have already garnered support slots with Pixies, Noel Gallagher's High Flying Birds, and The Rolling Stones (upon Mick Jagger's request). Their 2018 debut album hit number one on the Irish charts and has been followed by a series of EPs, each showcasing the band's enviable ability to grow with their audience. 
Community Spirit, their latest EP, is a mix of both old and new. The record gives the upbeat hook-heavy anthems fans have come to know and love a self-reflective twist that nods at the musicians' maturity. In addition, while the EP was recorded in Stephen's and Matt's childhood home, reminiscent of the band's beginnings, the nature of the project added the role of producer to Craig's repertoire. The result is a collection of songs that are unlike anything the band has released thus far, but are still distinctly The Academic.
1883 chats with the band about growing in their artistry, making music during a global pandemic, and just what Community Spirit means to them.
Congratulations on the EP release! How do you think you've grown as a band since Acting My Age?
M: I think we've grown in every way. Acting My Age, while there was a little bit of collaboration on it, was the first EP we co-produced. Whereas, on this one, we jumped in a little bit further and did everything ourselves production-wise. I think we've become a lot more self-sufficient. In terms of the writing, I think we'd all say that this is our most mature release yet. This is more Craig's area, but the lyrics seem a bit more self-reflective this go around.
C: I think we've been lucky that we've been able to not rush into a second album and instead make some EPs. We toured an album about our youth and our adolescence for so long. Now, our minds have changed and our thoughts have changed. I think the EPs have been a nice way of practicing expressing feelings in a more adult or mature way. It's helped us with our confidence. I think we gained a lot of confidence in the last year.
Now, coming out of the pandemic, how do you think the Community Spirit release differs from last year's release? 
M: Last year when we released Acting My Age we probably thought, quite naively, that everything would be back to normal by now. Obviously, the world hasn't worked out that way. With the last EP release, we were completely blind going in as to what it would look like to release music in a pandemic. Whereas now we know what it's like to release an EP and not get to tour and have to focus all of our attention on putting it out into the world, doing everything on socials and press via Zoom and stuff. We're a lot more "in the know" about how the next couple of weeks are going to look than we were last time.
What do you think will surprise your fans most about the new EP?
C: The fact that we were all kind of forced to be back at home in our bedrooms, rather than being on tour and then trying to rush into the studio and get stuff down made this record a homecoming of sorts. We were all very near each other and had that space that we used to have when we were teenagers to relax. There was no pressure on the music. This EP is just the four of us, in a very calm place, making music in a room with no outside help at all. It's back-to-basics. I think anybody who's been a fan of ours from the ground up will enjoy that story and the process that we went through making it together. It was a very collaborative experience. 
As Matthew said, this record has a more self-reflective and almost more serious tone than your past releases, but it's still your classic upbeat sound. What in particular inspired this record?
C: It's funny. I don't think it had any specific inspiration other than the importance that we needed to do something for ourselves. The whole year had been so intense and so impersonal. We're used to living on top of each other, sharing beds in red roof motels. We just got to the point where we needed to make something for our own mental health. Something to keep us busy with no pressure. If it didn't turn out great, we wouldn't have put it out. The longer we spent together, the more we just fell in love with the process again. It's an important thing that I think we'll look back on as a band and say "this EP was us falling in love with music again."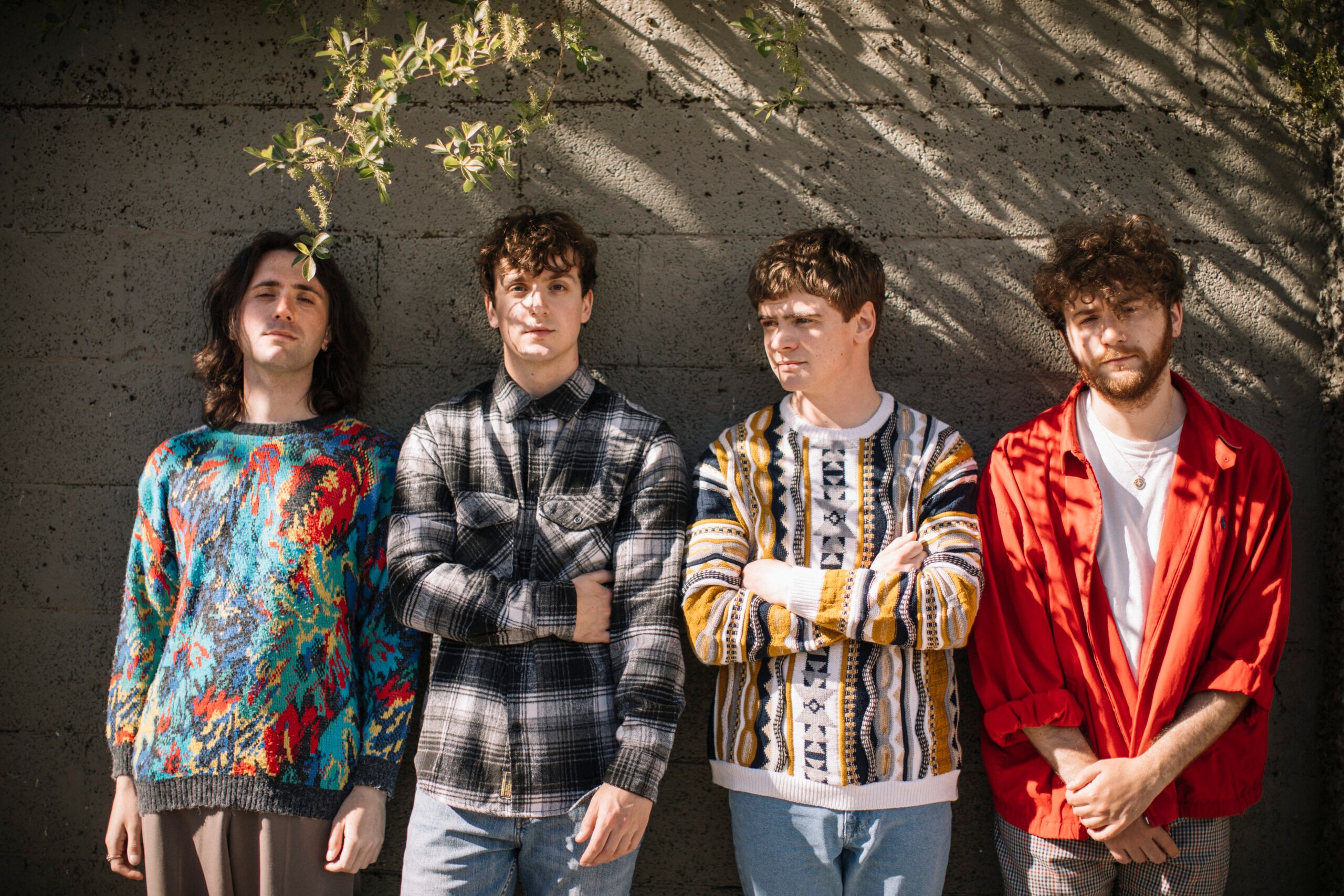 Would you go as far as to say that making this EP was therapeutic for you?
M: Kinda.
C: We lost our minds for a little bit through it all, but definitely.
D: We definitely would have lost our way without the rhythm and the routine of music and going on tour. We put out the last EP and we didn't get to do any tours or any shows. I think we found ourselves in a kind of limbo. We didn't know what to do next. I think the best thing we could have done was just sit down and write.
Tell me why you decided to call the release Community Spirit?
 M: Craig originally had it saved for a potential side project. Is that right?
C: Yeah. I thought Community Spirit was a cool name for a New Wave, Joy Division sounding, band. I had some stupid songs on my laptop that I was calling Community Spirit. It was a waste of a good title. Especially when it made sense for what we were doing.
M: Community Spirit ended up perfectly summing up the self-sufficient attitude we brought to the EP. Craig produced every single track. We recorded it in my family's home in my childhood bedroom. That title embodied, like Craig said, that idea of homecoming and the togetherness that we felt when we all rallied together.
So was Community Spirit written totally during the pandemic?
C: That's a really tough question. Let me think. There are two extremely old songs that we had written when we were teenagers: Kids (Don't End Up Like Me) and I Don't See Good. We have old footage of us on Steven's family's handheld camcorder singing those songs. But they were never recorded in any demo fashion. That happened because of the pandemic. In January, I kind of lost my mind not having anything to write about other than feeling awful. So I went through the archives. Those two weren't technically written in the pandemic, but they were kind of "revived" because of the pandemic. I think the rest are all brand new.
Going back to the fact that 'Community Spirit' was self-produced due to the pandemic. How did doing the production yourselves change your creative process?
C: It wasn't completely different because we're used to kind of jamming in the room together. When we were trying to decide if we were going to record something was when everybody was sending stuff back and forth via email, or a SoundCloud link. We didn't want this record to be done online with us all in different places. So, we pretty much made ourselves a bubble and met up every single day. In that way, it was still the four of us in a room. But, it was different because we weren't in a studio, we were in a bedroom. 
M: It was our first time ever recording with just the four of us. Every single time, to my knowledge, there has been at least one other collaborator in terms of a producer, an engineer, or something like that. But, when Craig added Producer on top of his role as lead singer/ songwriter etc., it meant that it was literally just the four of us. What I found interesting was when we were doing takes and we were discussing the production and the sound, we were completely in control. No outside collaborator was asking, "what if it was a bit like this?" Everything you hear on the record is 100% there because it was just the four of us. In terms of that, I feel like this EP is the truest version of The Academic so far because it's literally just our vision.
That's really cool. Is it a process you think you'll return to in the future?
D: Not for a while, I don't think.
No?
C: I desperately don't want to produce the next album. 
[laughs] You weren't like, "I love doing this. I'm gonna do it every single time," then?
C: No. It's different. Especially from being in the studio. We've been lucky enough to have worked with great producers. It's so nice when you're just in the room and you're the band and you play your songs. You do it a bunch of times and the producer makes the decision when you've done a good job. It's pretty hard to be listening to Stephen's bass takes, for instance, over and over and then going, "Oh, you didn't do great there." I don't want to do that anymore! [laughs]
Yeah, I guess I wouldn't want to be the bad guy either in that sense.
C: I hated it.
M: It was also something you were doing on top of all your other roles. Being a lead vocalist is probably the hardest thing to do in a band. Then, you're also the rhythm guitarist. Obviously, we're saying you produced the EP, but realistically you engineered it as well. It's too many roles for one man. He was one step away from becoming a one-man band! [laughs]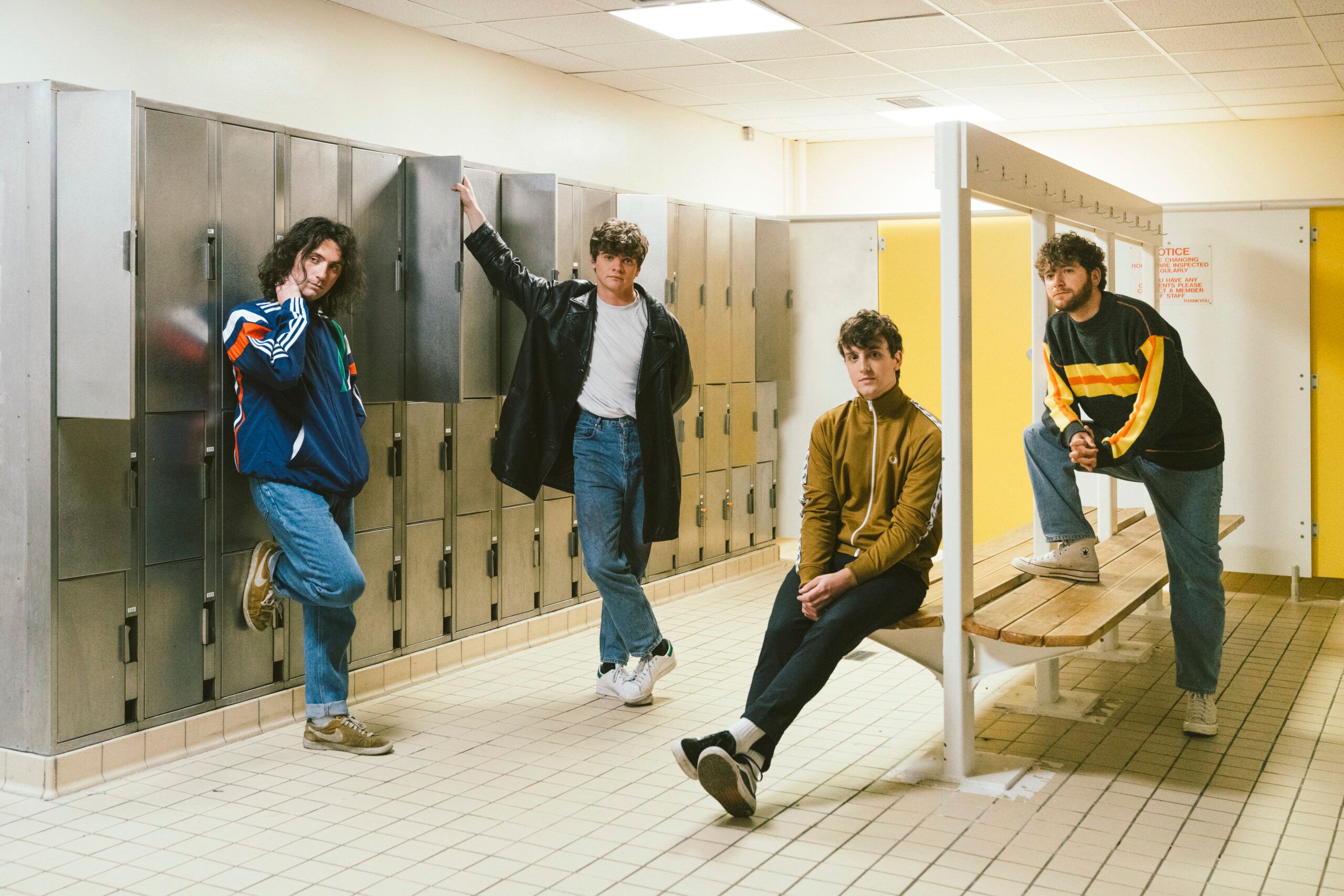 Is there a song EP that you're most proud of or that you're most excited for everyone to hear?
C: I think we would all say the same song. I Don't See Good was probably the song that was the most fun to put together. It's definitely more drum and bass-led, which is something we haven't done often. It's got a darker edge to it too. That's the one I'm excited about.
M: And since it's one of our old songs, it's fascinating to look back on what it was years ago versus what it is now.
Looking forward to 2022, you've announced you're playing the Reading & Leeds Festival. What are you most looking forward to about live shows?
C: The classic six bottles of beer in the fridge [laughs] and getting to see bands again.
M: I think that the live aspect of music is the part that we all love the most. Pre-pandemic we had kind of made a name for ourselves as a live band. Gigs have always been our favourite part. We love touring and can't wait to see people who do the amazing work in the crew and can't wait to jump back into that lifestyle of living out of your suitcase for however long you need. That entire lifestyle is what I'm looking forward to the most.
When you go back on tour, are you planning on touring both of the new EPs? How do you think they will mix in a live setting?
C: Yeah we're in a funny one. I think the gigs are going to creep up on us and we aren't going to be prepared, or have had conversations we probably should have had because we've never been in a situation where we've had to cut songs. We've nearly always been trying to build sets unless they're like half an hour and then it's fine. It'll be an interesting one. I think a lot of songs that we're just so used to playing that they have to be played could get cut and that's a new place for us.
M: It's interesting because we never got to see a crowd reaction to any of the songs on Act My Age, so we have no idea which songs off that EP would be good in the live set. Obviously, we can go off the popularity of the songs online, but an interesting element of live music is seeing songs that you didn't think the fans were gonna react to when hearing them live get big reactions. Sometimes those end up becoming like the best live songs. We're kind of in the dark at the moment. We might have to play every single song, do a really long gig and see which songs people like. [laughs]
Finally, what do you hope people take away from Community Spirit?
M: We hope that people see the evolution of the band. We hope that people see that this is a new version of The Academic. Again, we don't want to be releasing the same type of album or EP over and over. I don't think we've ever done that. So, hopefully, people enjoy that this is a new step and a new evolution to The Academic. Hopefully, they're proud of Craig for producing. [all laugh] Hopefully, the story of the EP comes across, that idea of homecoming that Craig was talking about and that kind of DIY attitude. If people can get something out of the attitude that we brought into the recording, maybe take some inspiration from that, that would be great.
Interview by Sydney Bolen
Community Spirit is out now.