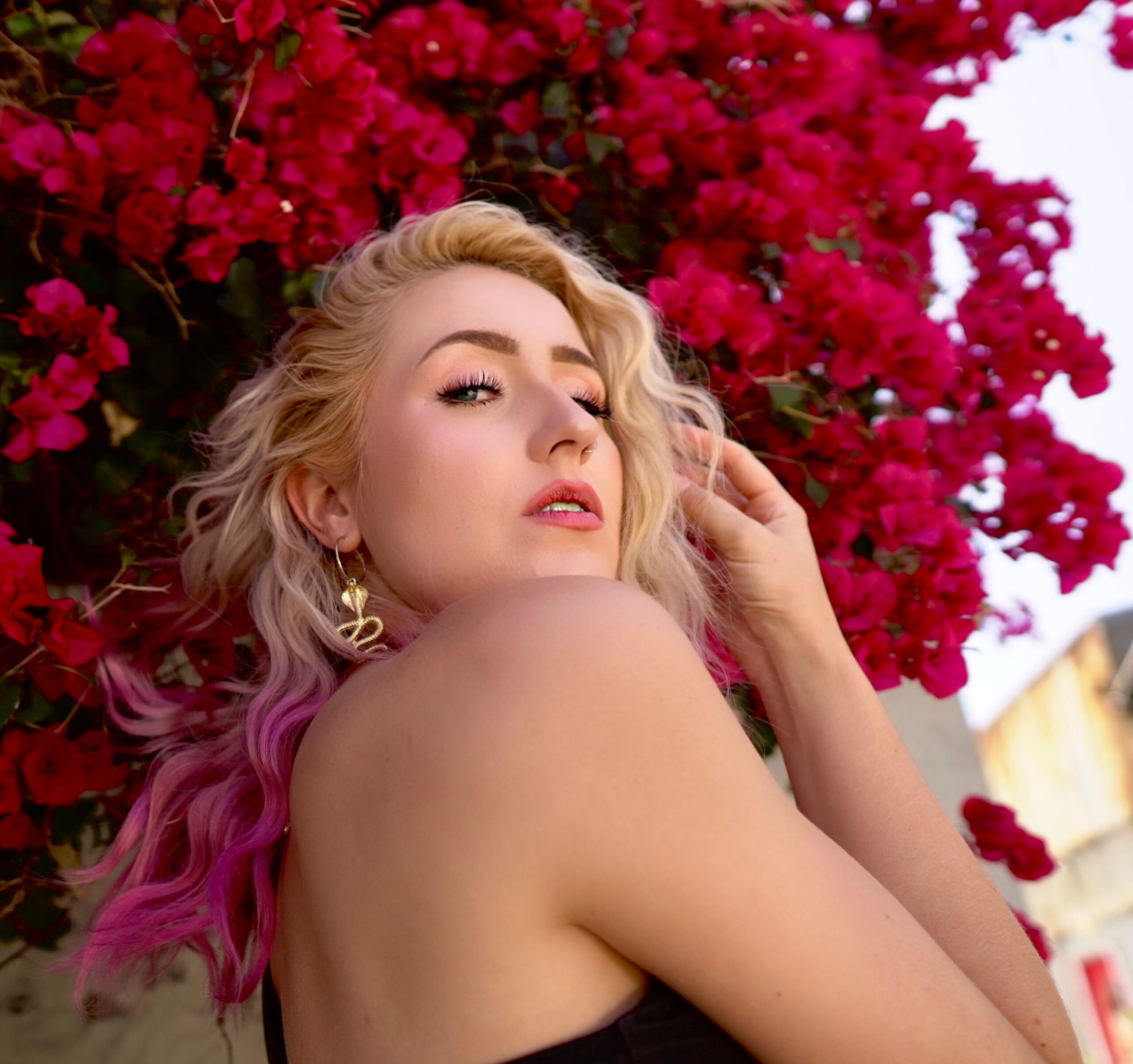 CRiDDLE
Pop-R&B artist CRiDDLE returns with her punchy new single All in My Head.
When it involves creating a powerful mantra, no one does it better than Hollywood-based artist CRiDDLE. Her latest single — the introspective and empowering single All in My Head — is one that many will be able to relate to as it navigates the emotions one feels when trying to survive in a world that's consumed with how we look and how we're perceived on social media. It's one of the first tracks from her forthcoming EP out later this summer. As CRiDDLE is a trained Opera singer, a passionate animal rights advocate, and a compelling singer, 1883 just had to have a chat with her and hear more about her journey in music.
Hey Crystal, how's your week been?
Hello, my week has been pretty good!  Been working on some new projects, one of which was filming the final scenes for the All In My Head Music Video!
You've just released the brilliant new single All in My Head, tell us more about it.
All In My Head was written because I wanted to write about how tired I was of picking myself apart and feeling like I wasn't enough.  It's quite common for artists to struggle with mental health, and I'm sure everyone has struggled in someway or another.  Focusing on trying to use positive energy and controlling my thoughts has been crucial to my survival as an artist.  Reminding myself that it's 'All In My Head' is powerful for me.  
The track is a super lovely pop-R&B track that really showcases your artistry. How does pop music enable you to express yourself better than perhaps other genres?
I have always loved Pop and R&B music, and think my voice is well suited for it.  I just create music that comes naturally to me.  I don't think it's a conscious effort of which genre best suits what I'm trying to convey, it just happens as I'm writing and creating.  I create music that I like and would want to listen to, and I'm proud of the message that this song represents in the process.
It's built upon some really lovely sonics, what inspires your sound?
I love interesting cadences and catchy melodies.  I also love stacking harmonies and creating instruments with my voice.  When Brian (the song'e producer) and I were creating the production, we definitely fit the beat around the syncopation of the lyrics and made it R&B & pop. 
The song touches on really prevalent themes, like mental health and social media. What did you learn about yourself when making this song and navigating these themes?
I started writing the song with the first verse- "I pick and pull at myself, wishing I was someone else'.  That line really set with me and I knew I wanted to go in this direction with the lyrics.  I've written about my struggles with mental health before but I hadn't ever been this vulnerable with it.  When people think of pop artists, they think of strength and confidence.. which I do have and I do represent in my music, but I needed to write this song because I knew people could relate.
You were classically trained as an Opera singer — how has this shaped who you are as an artist now?
I absolutely credit a lot of my vocal ability to being classically trained.  It's created a flexibility in my voice that I wouldn't have otherwise.  I use my head voice in a lot of my songs and transition between chest voice and head voice with ease.  I feel so blessed to have had the opportunity as a kid to be exposed to the art form of opera and to have that training I've built my vocal style off of.
What inspires your songwriting?
I'm inspired by life.  I'm inspired by relationships, my past, my dreams, my fears…  I'm very persistent, I just won't give up!  I moved to LA from Kansas City and I wait tables at a restaurant on Sunset Boulevard.  I still have aspirations of being a full time artist.  I have this drive that keeps me going and I write about it often in my songs.  I write about my future… about having the life I want someday.  I write about the fun stuff and the tough stuff… and everything in between.
You're preparing to release an EP later this summer — what can we expect from it? 
This EP will have some fun bops to dance to and some more reflective, lovey pieces.  I have one song where I get to talk my sh*t a little bit as well.  All of the songs were produced by Reddhawt, so they all have the pop/R&B vibes.. I'm very excited to share another body of work because it's been awhile since I've released a project.
What was the first album you ever bought?
The first album I remember owning was Mariah Carey- Greatest Hits.  Fantasy is still one of my favourite songs!
What has been a big highlight in your career so far?
Highlights of my career would be playing amazing shows in Los Angeles, doing incredible collaborations, creating music videos.. I'm so proud of how far I've come in my artistry.  I also had my song Falter placed on FOX's show 'Almost Family'.. that was pretty cool!
You're an animal and human rights supporter — tell us a bit more about your advocacy?
So I have been a vegetarian for over 8 years and am working on being a vegan (although I'm not a perfect vegan).  I use my social media platform to bring awareness to climate change issues, social justice movements, etc.  I proudly marched at (peaceful) BLM protests as well as protests for climate justice and Amazon warehouse unions.  I'm a supporter of local progressive candidates in LA that are running for office against career, corporate funded politicians.  I also wrote a song called 'Fire Burn' in response to the devastating bush fires in Australia that occurred in early 2020 (it's on Youtube).  I practice playing my part and using my voice to stand up for future generations.
What is something people would be surprised to know about you?
I don't know if it's a surprise but people SHOULD know that I have a cat named Fleur de la Floof aka Miss Floof and she isn't the flooffiest kitty in the world but she is pretty darn floofy…
Finally, what's your go-to karaoke song & why?
I love to sing either 'Longtime' by Boston or 'Hit Me With Your Best Shot' by Pat Benatar 'cause my dad raised me on classic rock and the Boston song is one of my favourite songs of all time.
All in My Head is out now.