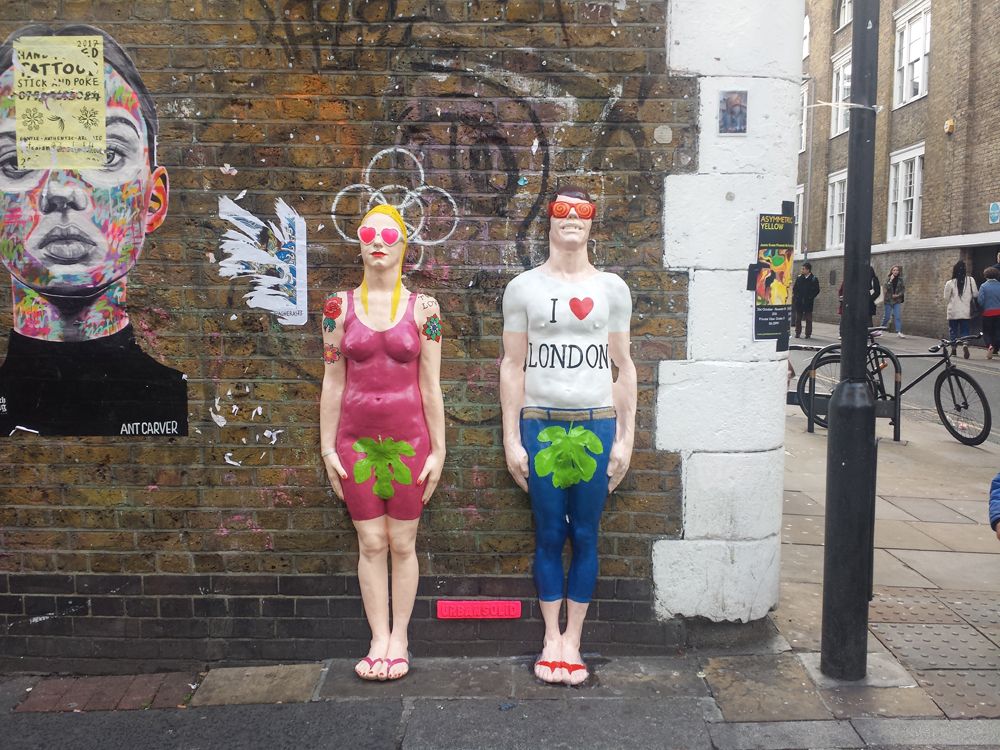 Urban Solid
1883 arts editor sits down for a chat with Milanese duo
Urbansolid to discuss their 3D installations taking over east London.
In a world gripped by fear and paranoia, art can't but be political, helping us decipher the complex dynamics of present day society.
This is the guiding idea behind the work of Urbansolid, a Milan based street art duo using plaster and cement to create unmistakable 3D installations that serve as a sarcastic commentary on our troubled times.
At 1883 we have always been keen on urban art, so we decided to drop Urbansolid a line to find out more about their art and working process.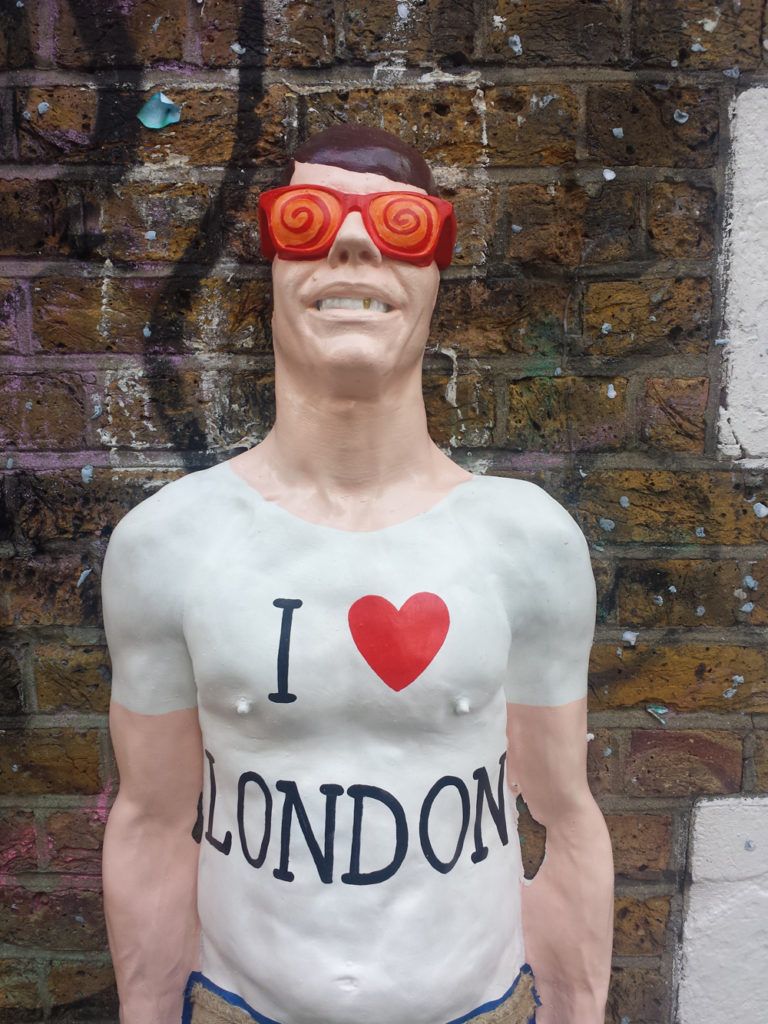 Can you tell us a little bit about your beginnings? When and how did you get into art?
Urbansolid started thanks to a friendship between two friends and a strong passion for Art and Sculpture. At the end of 2003, we both graduated Brera Fine Art Academy, where we took an interest in classical sculpture and moulding techniques. The impact of our formal training is evident when we physically make our sculptures. The techniques we learnt at University are precious and paramount for the creative process. After years of artistic studies we found a way to combine the classical sculptural method with the most avant-garde movement in the world.
How did the Urbansolid duo come about?
In 2009 we started our project with the intention of bringing graffiti art and wall painting to life, using the third dimension and materials that can stand the test of time. Plaster cast and cement became our first materials of choice as we could make any object we desired and being the perfect complement to a city landscape. We use different types of materials according to the place we exhibit our work. There are lots of "murals" and writings on the walls, but when you come across one of our artworks the first thing you notice is that it has a 3rd dimension, they literally appear to come out of the walls. This is a new concept for street art: we have changed the settings that sculptures are conventionally seen from galleries to the streets.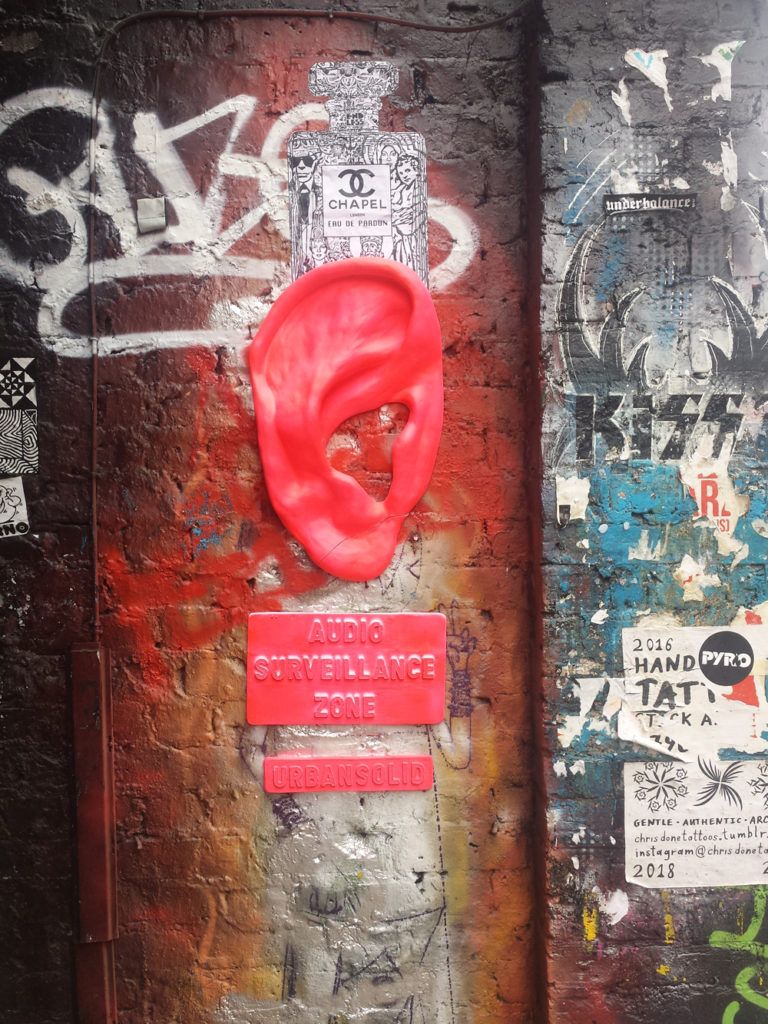 How would you describe your work style?
Our art is based on sculptures. The main idea is to produce anatomic mould, objects and moreover, working on the multiples. The walls of cities like Milan, London, Florence, Turin, Paris and many others are the perfect frame for our installations, giving the observers the chance to physically touch and come close to the artworks. We usually work in settings affected by severe urban decay, on crumbling and unused walls. We want to reach a wider audience in order to make our social commentary and the streets are the best and fastest way to reach our goal.
Our work style is based on creating a sort of open-air museum, a particular form of art for everyone to appreciate. This is the real street art's strength: a gift to and for our community where the artist is not confined to the piece of art in itself but is able to convey messages through the environment in which the art take its own shape!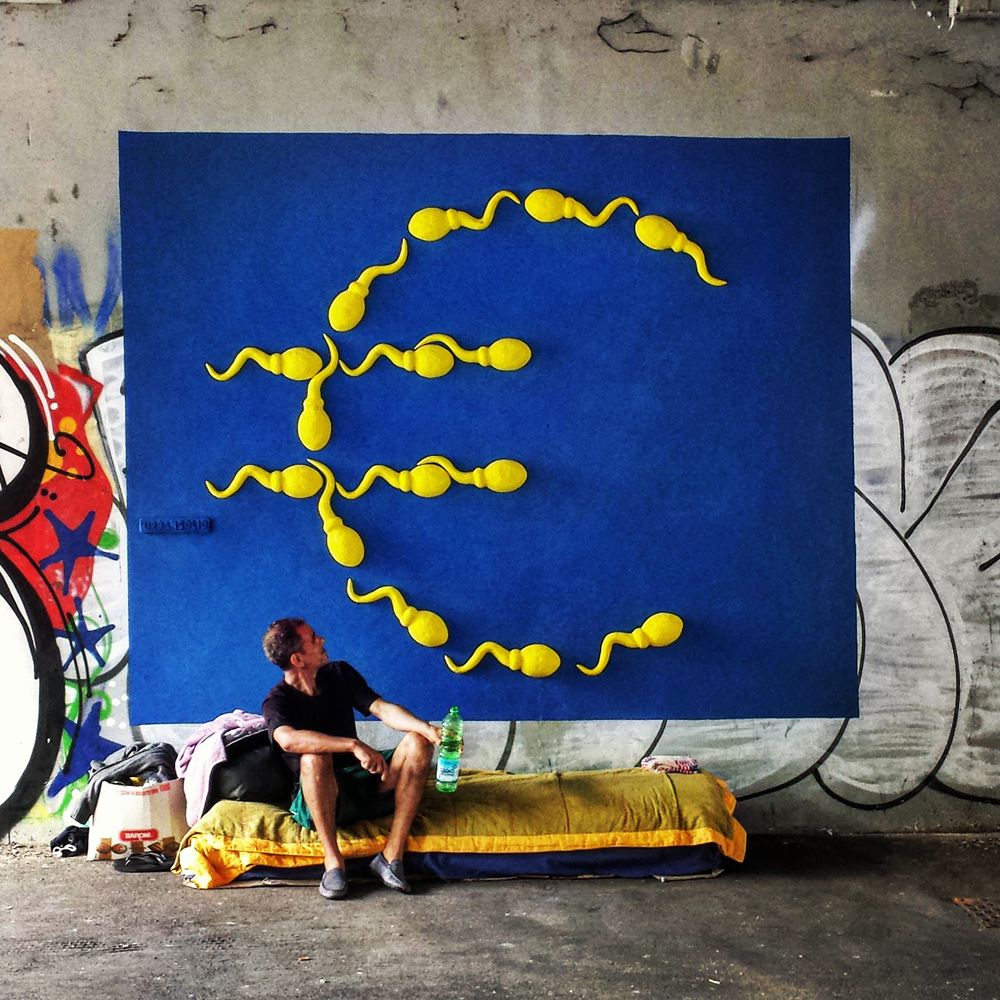 Can you talk us through how you make your artworks? How do you guys complement each other in the creative and working process?
Some of our works are created in our studio and then mounted on the walls of selected cities. Sometimes it is the city itself that gives us the inspiration to create a mould. We base our ideas starting from reality, denouncing the events that happen in our everyday life and in the world. Most of our artworks are linked to a specific subject and have a provocative, ironic meaning. The background is paramount to us and the specifics of using one wall over another is also part of the creative process. Our artworks create a visual and physical connection with the passers-by, people can interact with our sculptures not only by taking pictures with them, but also touching them and trying to guess how and why they are there and which is their meaning. We find great satisfaction from this!
As a duo, we work together during the creative process – bouncing ideas off of one another and finding the best way to represent our messages though art. We both physically make our artworks and then each of us gives more details and accuracy to them.
Far from being merely decorative, your art has a strong conceptual strand; what themes do you pursue? And where do you draw inspiration from for your work?
Our main source of inspiration is our society with its contradictions, nonsense and paranoia. Every installation is the result of the contemporary happenings dealt with a provocative but respectful way. Our pieces of art have always a meaning or a social message, because doing public urban art entails a great responsibility. The artist is the mirror of the society in which he is living in and, in regard to much street art's messages today, the perception of reality is quite alarming. Doing public art only for an aesthetic purpose it's trivial and nonsense to us. Lots of problems nowadays are common to the majority of people, giving them evidence makes people becoming aware of the situation. This artistic process bestows us with millions of different solutions and ideas for creating original artworks constantly connected to the event that happens around the world. We analyse the media, social networks and humanity in a sarcastic way. People are trying to survive and to wiggle out of this jungle known as the modern society.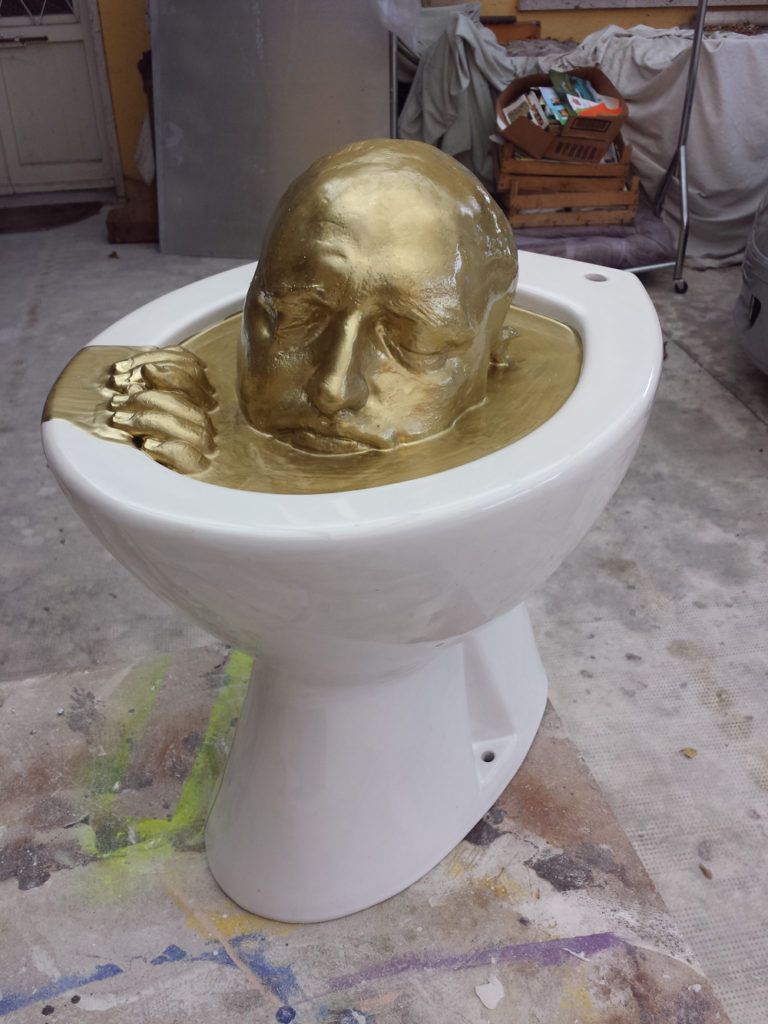 You guys have often worked and exhibited in London; how would you describe the art scene here? And what do you think is the biggest difference between London's and Milan's art scene?
London is one of our favourite cities. It is one of the most multicultural, modern and cosmopolitan cities in the world. Huge numbers of citizens and tourists traverse the city every day and night, giving artists great potential for visibility. Nowadays, the Shoreditch and Brick Lane areas are among the most popular zones in London, in a few years Brixton could be too. Lots of different bars, club, restaurants, shops and art galleries are growing fast, creating a perfect scenario for street art. Walking through these areas you can feel a particular atmosphere, almost that of an open-air museum, which changes colour from night to morning.
Although London and Milan are both multicultural cities and of great impact, the main difference we noticed between them is the possibility in London to find more legal walls and areas where an artist can express themselves. Moreover, the British capital is a paramount point of interest not only for Europe but globally. Sharing the experiences and conversation with people coming from all over the world is something amazing and crucial for our job. Milan is one of the most influential cities in regard to fashion, London is one of the most important regarding art.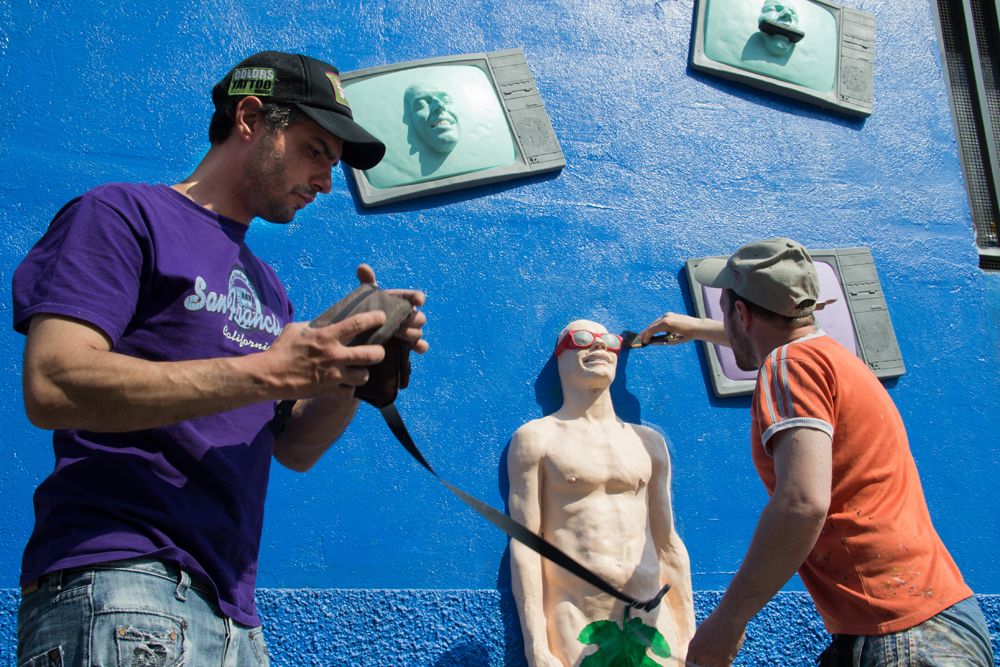 Speaking of London, can you tell us about your recent street performance in the city: 'Room Service'?
Among numerous urban character archetypes there is one in particular, 'the beggar' (or 'clochard') – as well as the road such a person chooses as home, that has been of particular interest to the Urbansolid brand. Some time back, when we were preparing for the exhibition "Out" – a free, open-air exhibition held by artists themselves in Milan – the Via Giovanni Pontano stage offered a multitude of preexisting elements for us to use in our work. Among them was a worldly figure, Irvin, who sat there on his mattress, abandoned to himself and resigned to "not be disturbed, as miserable, not worthy of gaze". This inspired in Urbansolid the need to use art as medium in which to project issues surrounding the vagrant, a figure who exists in the urban landscape but is concealed by his own nullity and the indifference of his fellow citizens. The street-beggar has – over time – assumed almost a day-to-day normalcy in society, which stops many of us from confronting the harsh realities of life below the poverty line. A life of continued renunciations and constant suffering, but, as mentioned, the cold indifference of others. The figure of the clochard has become a normal presence to the eyes of the metropolis inhabitants, who look at him from the tranquillity of their living room, their place of peace and escape from urban chaos. It is our intention, with the help of performance art, to emancipate this character; giving him a moment of expression of his own dispersed ego. 'Room Service' intends to subvert this experience and throw spotlight on those who live a lifetime in the shadows with the insertion of a new component, the waiter – garçonne – who in catering to such a figure, will force passing members of society to confront the shock of their perceptions. With this act, the beggar is allowed to occupy a position of privilege for a time. At least, for the duration of the performance.
Out of curiosity, what keeps you ticking over during dull times? What interests do you have outside of making art?
We have many interests in our life like everyone does, but art is our main passion. Our strength and power is that we are partner in this project but we are friends as well so we can support each other during dull times, keeping us focused on our work!! We believe in what we do and we challenge each other often in order to best bring meaning and dynamism to our work and ultimately reach our goals.
As a last question, what have you got in the pipeline for the next few months?
For the next few months we have lots of projects coming up and new ideas to bring to the streets. Beyond these, as always, we will keep a focus on the London scene.
Interview by Jacopo Nuvolari