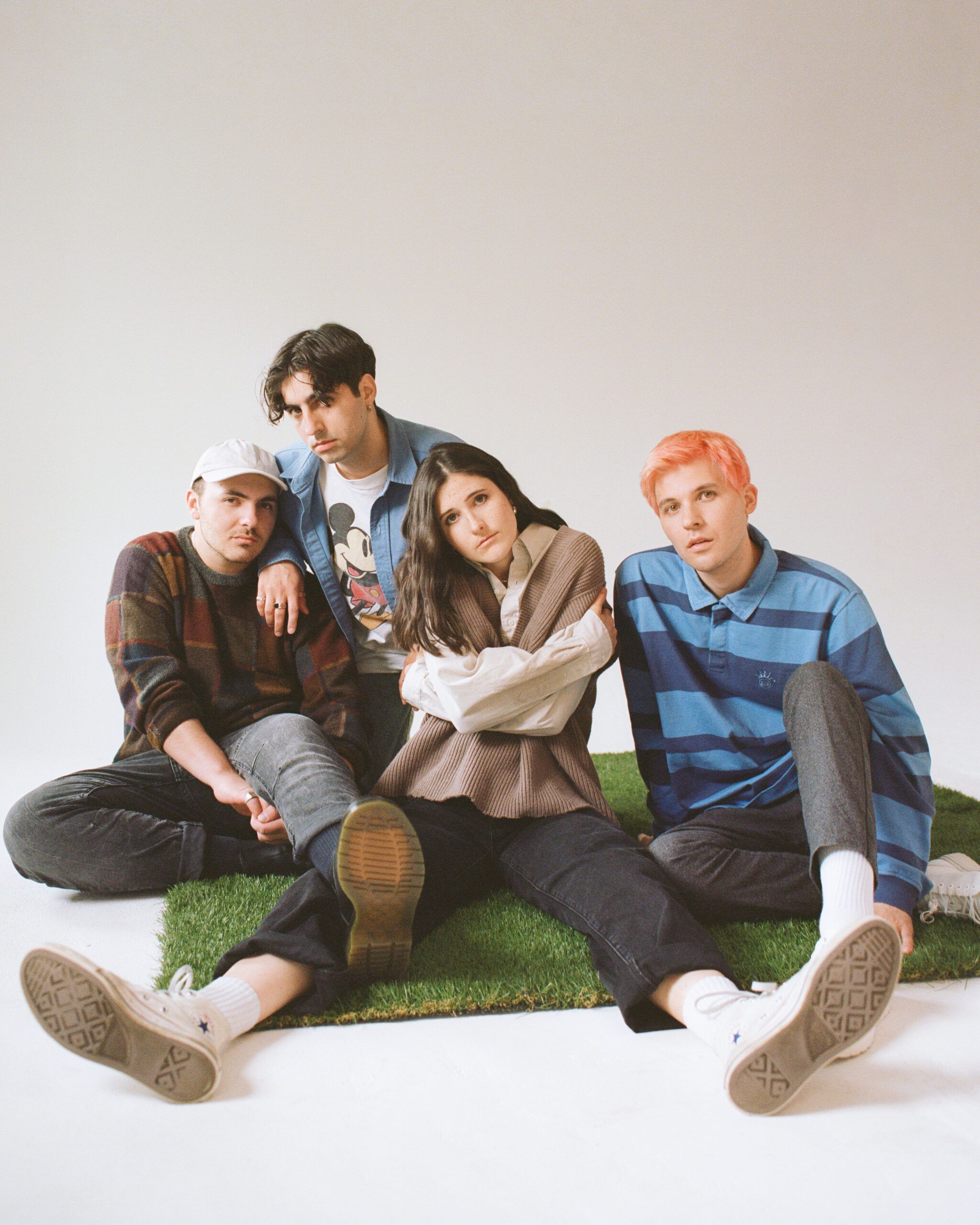 Valley
Last Birthday, the latest release from Canadian alternative-pop band Valley, showcases their unique ability to hone in on various perspectives.
Valley, comprised of Rob Laska, Karah James, Mickey Brandolino and Alex DiMauro, has had a very natural rise over the past few years. Since their start in 2016, they have released multiple singles, 3 EPs and a debut album, joined Lennon Stella and The Band CAMINO on sold-out North American tours, amassed over 2 million monthly listeners and over 100 million streams on Spotify alone, and most recently won a JUNO award for "Breakthrough Group of the Year" in 2020.
The band's latest release 'Last Birthday' continues to show their artistic growth. The punchy seven-track EP is the ideal follow-up to their 2020 project, 'sucks to see you doing better.' While Valley self-describes 'Last Birthday' as a mirror to what they affectionally call 'sucks,' their growth over the past year is evident. Still full of their intrinsic sound and style, the new EP is crafted with more intent and self-assurance. Proving Valley has gained confidence in both their ability and in what they have to say.
1883 Magazine's Sydney Bolen caught up with Valley to discuss their artistic approach to their new EP 'Last Birthday,' their growth as a band, and hitting the road again at the end of the month.
Congratulations on the EP! I really like it.
All: Thank you!
Looking at the numbers and how your fanbase has grown over the last few years, 'Last Birthday' seems to be your most anticipated release. How are you feeling?
A: I'm nervous but I'm also excited.
M: I'm weirdly calm.
R: I'm pretty calm.
K: I had a weird moment yesterday where I was like, "we are releasing another EP." ln the past we would take years between releases and we just released an EP in the Fall of last year. It feels odd to be releasing another just one year later. It took me by surprise, but it's very exciting. It's nice we can do more for this release as things start to open up because maybe we can have a little release party. For the last EP, we just sat in our house.
M: We did nothing.
R: We couldn't do anything.
M: A big difference is this time we're going on tour. Usually a release doesn't hit me until the day it happens, then I'm like, "oh shit. I hope people like it."
I feel like it's a good time to release because everything is coming back and things are getting busy again. I first saw you open for The Band CAMINO in 2019 and 'MAYBE' was just released. How do you think you've grown as a band since then?
R: We've grown a lot, both personally and in terms of our dynamic. We've grown as a band with the way we approach songwriting, production, visuals, and the overall aspects of being artists. I think 'MAYBE' was a product of our entire life up 'til then. It was about our high school experience and growing up in a little suburban town. We had a 16 song album to explain that experience. After that, we sat down and asked, "where do we go from here?" That's when the 'sucks [to see you doing better]' era began. We got more comfortable zooming in on certain issues and being more direct with what we had to say. 'MAYBE' was a very broad body of work; it had a lot of mystery, kind of like filling in a crossword puzzle. You have to listen to the whole thing and dissect it. 'sucks' and 'Last Birthday' both feel like more direct, honest statements. It's been cool to see how the music has reflected our personal growth. 'Sucks to see you doing better' was about heartbreak, comparison, and mental health, whereas 'Last Birthday' is a touch more hopeful. It's a different perspective on the same experience which is cool to see. We've all worked on each other. We all took a step into therapy and picked up additional hobbies and worked on our chemistry and band dynamic.
M: I think we've also experimented a lot with the genre. We worked on bringing in all sorts of different influences. I think we did that on 'MAYBE' but it was still within the indie lane. Looking back at 'sucks to see you doing better' through 'Like 1999' and into 'Tempo' and 'SOCIETY,' there are so many genres that we hit. Over the years as a band we've found so much new music and during the pandemic we were constantly finding music because we were sitting on Spotify all day. That's led to us experimenting a lot sonically and lyrically.
I feel like I could tell. The production on this EP is so unique. There are sounds I feel like I have never heard before, which in this day and age is hard to accomplish. Yet, the vocals feel very raw and simple. What was the thought process behind the sound of this record?
R: First of all, thank you. Second, there wasn't one.
A, M & K: Yeah, I don't think there was one.
It was an accident?
K: Yeah, I think the sound was an accident. We didn't overthink things. I think in the past we would have been very meticulous with the "sound." Every time we make a record or a song we understand how each other's brains work a little bit more.
M: We really leaned into simplicity.
R: Less is more.
M: Yeah. Only the things that needed to be in there are in there. It opened up space for people to be able to hear what we've done. There are fewer sounds, but those sounds are more intentional. Again, we were also just experimenting with genre more. We brought in elements of R&B, hip-hop, country, and all these other genres.
R: There are sounds we always lean back on. There are certain tricks that we favour. We do a lot of sampling, we'll take clips from TV shows or movies. We tend to use certain sounds that resonate with us, trigger our nostalgia or different kinds of feelings. We'll get particular about very specific things, but not as often as we used to. We'll still spend three hours on a snare sound, but that's very intentional. The snare on 'SOCIETY' is very intentional. It had to have a product of the 2000s, almost a Wheatus feel. Those are things we're really picky about, but we're not picky about every single thing anymore because then the songs sound too perfect or too robotic. They don't feel the same.
Speaking of all the different genre inspirations on this album, were there any specific artists that inspired you while working on the EP?
All: Lots of Mura Masa, SZA, Clairo, Doja Cat, Kacey Musgraves, Dan & Shay, Fleetwood Mac, Coldplay.
R: There's a lot of crossover with those artists. I didn't lean as much on other songs and artists as I've done in the past. We weren't bringing in as many references this time around. It's kind of cool. I think we're getting better at knowing where to point the arrow to create a definitive Valley sound.
I agree. I think that a lot of today's artists are cultivating a very distinct sound. Whereas, if you go back a decade or so, you can tell what era a song is from, but not necessarily who the artist is. Now, artists seem to be putting more of their perspective and personality into their music.
M: I love that. That's good to hear.
K: Yeah. That's nice to hear.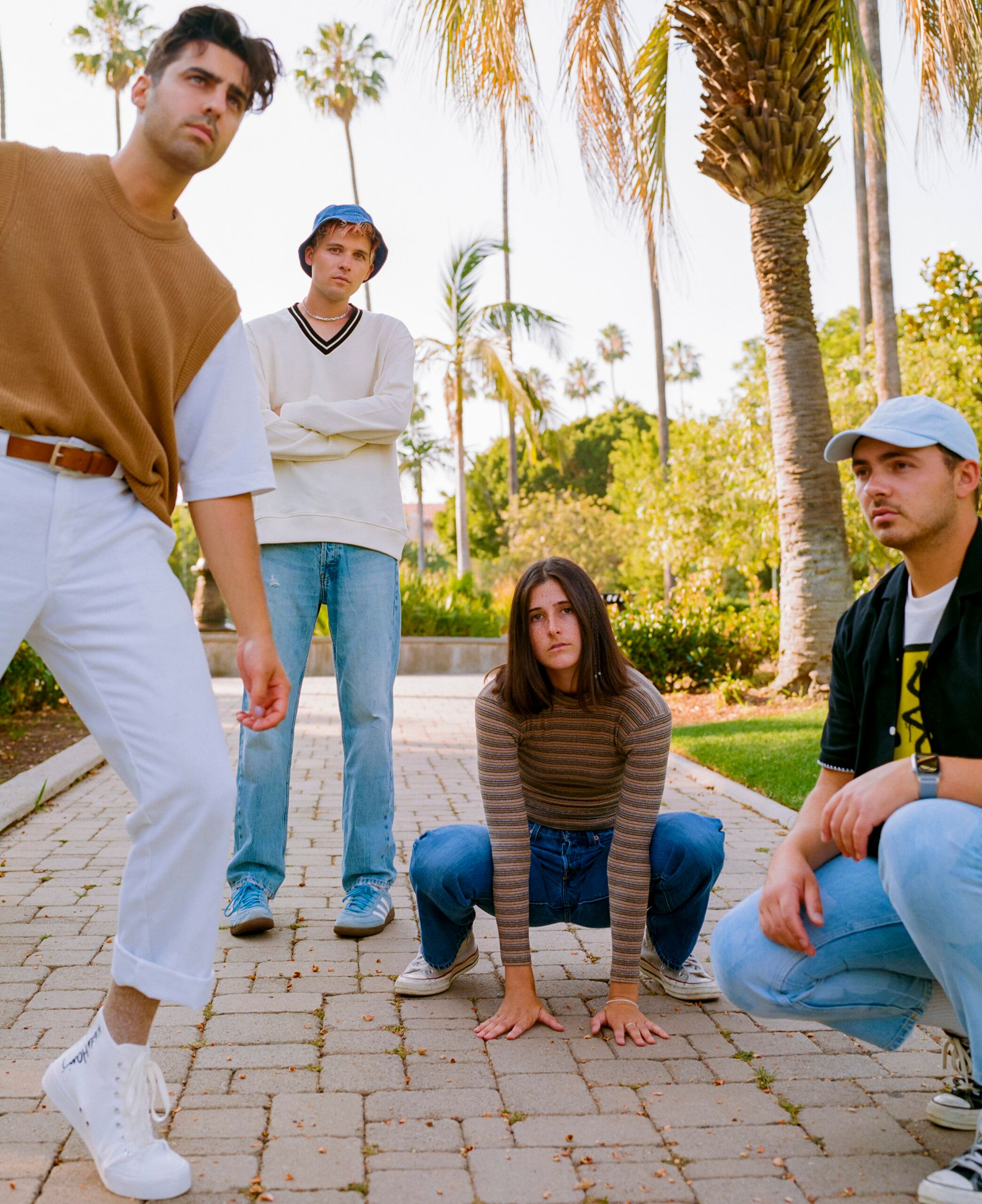 Good. I'm glad. Talk to me about the title of this EP. Why did you decide to call it 'Last Birthday'?
All: [laugh]
R: Oh boy. So, a few explanations. The first one I'll give you is the song called 'Last Birthday.' It's very special. All I can say is you will hear it one day. There's a plan for it, but we purposely held it back because it's an end statement piece for this era. It's the last thing we want people to hear after all these songs like it's the final act. Second, to pull from the first explanation and what I could give away is that this EP, as I said, is very much connected to 'sucks.' I see it as the other side and perspective of that EP. It feels like the best friend coming in and pulling you out [of the heartbreak slump], and saying, "let's go on a road trip and eat junk food." It has a more uplifting feel to it. There are still moments where we're reflective and kind of sad but in a hopeful and unconditional way. Even with 'SOCIETY' I know we're poking fun at the industry, but comes from our unconditional love for ourselves and our band to be the best it can be. The underlying theme of this EP is unconditional love. The message is "I'll be there for you no matter what."
Another angle which I think is important, and this will make sense with the song 'Last Birthday' when it comes out, is the fact that we make music because we can't not make music. We'd literally be dead somewhere if we couldn't make music. I think it's important for our fans to know that beyond us being a band, we are leaving these songs with them forever. Our songs will take on a life of their own after us. This music will be with our fans until they go and their kids go and so on. I like to think of 'Last Birthday' as that statement piece for fans, too. Music is one of the only things that takes on a whole new afterlife and affects people, even when the people that made it aren't here anymore. We're leaving these soundtracks for our fans and people to discover. It's so exciting to think about in 200 years someone will find Valley and have it soundtrack their day. Those are the three through-lines of this EP.
I was so curious because I knew it wasn't a pulled lyric or something of that nature.
R: Make it be known! We're not going to give away everything, but there is a song.
A: It's on the horizon.
Something to look forward to.
All: Always.
I wanted to talk for a second about 'Ain't My Girl.' It's my favourite song on 'Last Birthday.' I listened to it and felt like it had already been one of my favourite songs.
All: Yay!
Rob: You're the first person that's told us that.
Really? I'm not sure how it does this, but it reminded me of 'Mary's Song (Oh My My My)' by Taylor Swift.
K: I feel that.
Something about it felt so comforting and familiar. Yet, it is technically a sad song. Was that intentional or did it just turn out that way?
K: Ah, the "Valley" curse.
M: I've always wanted to say this in an interview and this is the perfect one because you are obviously a Swiftie. We talk about Taylor Swift in the song. In the bridge, the lyric is, "But Dylan told Taylor told Ashley." That is a very coded lyric that says it seems like you're living happily, but all of these artists — Bob Dylan, Taylor Swift, and Ashley, who is Halsey — and their songs have told me that you've been missing me because all those artists have so many songs about love and heartbreak.
Oh my gosh! I love that. That's so cool.
R: That song is really special. It's over seven years old.
Really?!
M: It's pretty much the firsts song we ever wrote together.
R: It's one of the first I've ever written.
A: It was ahead of its time.
R: The story of how it came to fruition is funny. We were in a cabin — the same one where we wrote 'Like 1999' — and every night we would have to drink and just relax. We're a pretty sober band, but one night we took little weed gummies, sat on the couch, and played around 60 old demos. They were all horrible and really embarrassing. Then, Alex put on 'Ain't My Girl' and we listened to it once. We were all silent and played it again. We were like, "Guys. What the hell? How did we not put this out?" The next day we rewrote some lyrics and brought it together, fine-tuned it, recorded it, and sent it to our team to see what they thought of the song. They loved it. They were like, "did you just write this?"
R: It's a classic story about the one that got away. I'm sure so many people are going to listen to it and understand the feeling. Sometimes it's not for better or worse. Sometimes it's just that things don't work out or people move away or things change and people grow. I'm really proud of how direct that song is. The songwriting is very tight and cohesive. Thanks for liking that one.
All: Yeah.
R: This is the first time we've talked about it in an interview.
Oh, you're welcome. It really was an instant favourite. I don't usually have instant favourites either. It usually takes me a while to figure out which songs I like the best.
M: It's my favourite one. It makes me feel the best.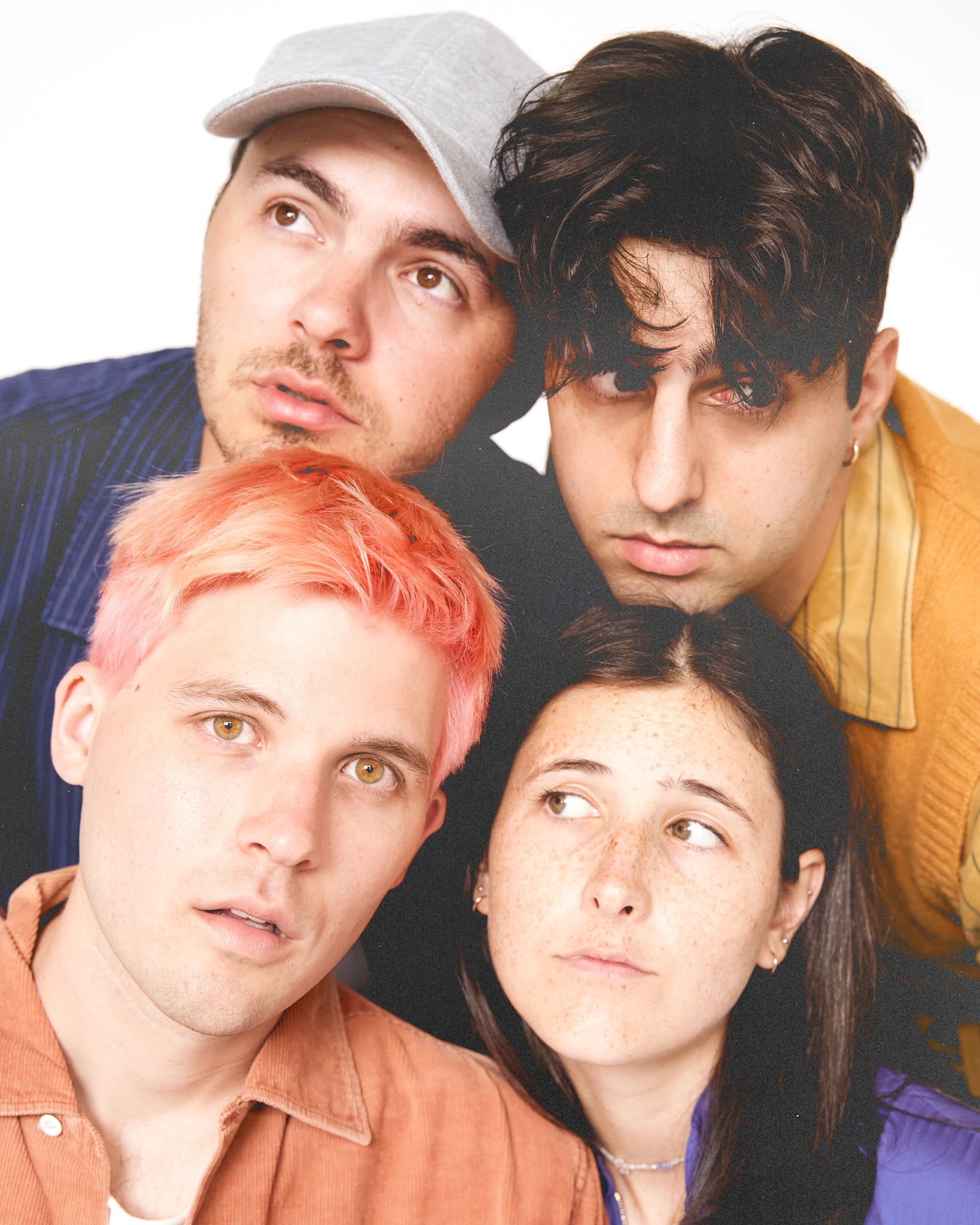 Watching the visuals that you have released so far for the EP, I have one question: what inspired the 'Oh Shit…Are We In Love' video? I was watching i t tracking and the Karah melted and I was like, "wait."
All: [laugh]
K: In that specific scene we were making fun of the classic rom-com meet-cute.
R: It's like what those stories make you feel like sometimes, like an almost icky feeling. That video came together in three or four days even though we didn't have a concept. We were talking to our friend Sahil, who directed the video, and decided all we wanted was something with an outdoor, summer vibe. Sahil sent me the video for Pharell's 'Happy' and that was a big reference. We took that idea and made it our own, but it still felt like it was missing something. Our A&R suggested we work with the animator, Joshua Drury. He came in and directed all the animation shots. We put those two ideas together, got our outfits, and shot it in a day. We didn't think about it much. We just spent the day running around the city.
M: It's supposed to just feel good and have a lot of "Oh, shit" moments.
I think it did.
All: [laugh]
To close, you recently played the Ryman with The Band CAMINO and Nightly and are set to open for COIN on their Rainbow Dreamland Tour that starts at the end of the month. What are you looking forward to most about getting back on the road?
A: I honestly want to get into a touring groove. While it was nice to play shows again, we were all over the place. We were in Ohio and then we played Nashville. Flying around and doing different stuff is a lot. It's super fun but in small doses. I'm excited to do a proper tour again. I love touring so much.
R: There's such solace in knowing what you are doing every day.
M: What am I most excited about with tour coming up? Every night I find something on stage to jump off of. It's a nice little challenge. Honestly, I'm not going to lie, it's the routine as well. I love waking up in the city and going to find the best coffee shop or whatever. I gave two answers sorry.
You're allowed. I don't have set rules.
All: [chuckle]
R: There's a song on the EP called 'Can We Make It? (Jim Carrey).' I'm so excited to play that. I've been waiting to play it live because I want to shout the bridge and the chorus with everybody. Since we delivered it and wrote that buzzer-beater bridge, I've dreamed of singing it with everyone. I'm also looking forward to playing 'Oh shit'. We've already played it and it's insane. That song is the most fun to play live.
K: I'm so excited to meet fans. I miss seeing all the people. I see their Instagram handles or whatever, but it's not the same. They're the ones streaming music. They're the "data," which you don't want to think of them as numbers — they're not, they're people. I'm a number to my favourite artists. Getting that face-to-face interaction is something that I value. It's really special to me. I find that's where I learn the most. When we started the band, we started for ourselves. We started it to make music and it wasn't about anyone but us. You get to a certain point where you realize, "wait, this isn't about us. It's about the community it creates." That holds true whether your fanbase is 100 people or 100,000 people. It doesn't matter because it's about the quality, not the quantity. I think that's why I really value meeting people. Obviously, I'm also excited about just being on stage, playing drums, and singing. I'm always so sad when we play our last song. I don't want it to end.
A: I never want to leave the stage. I'm stoked when we have our last grandiose song, but at the same time, I could do more.
R: Yeah, I could always do a few more.
'Last Birthday' is out now. Follow Valley at @thisisvalley.
Interview by Sydney Bolen