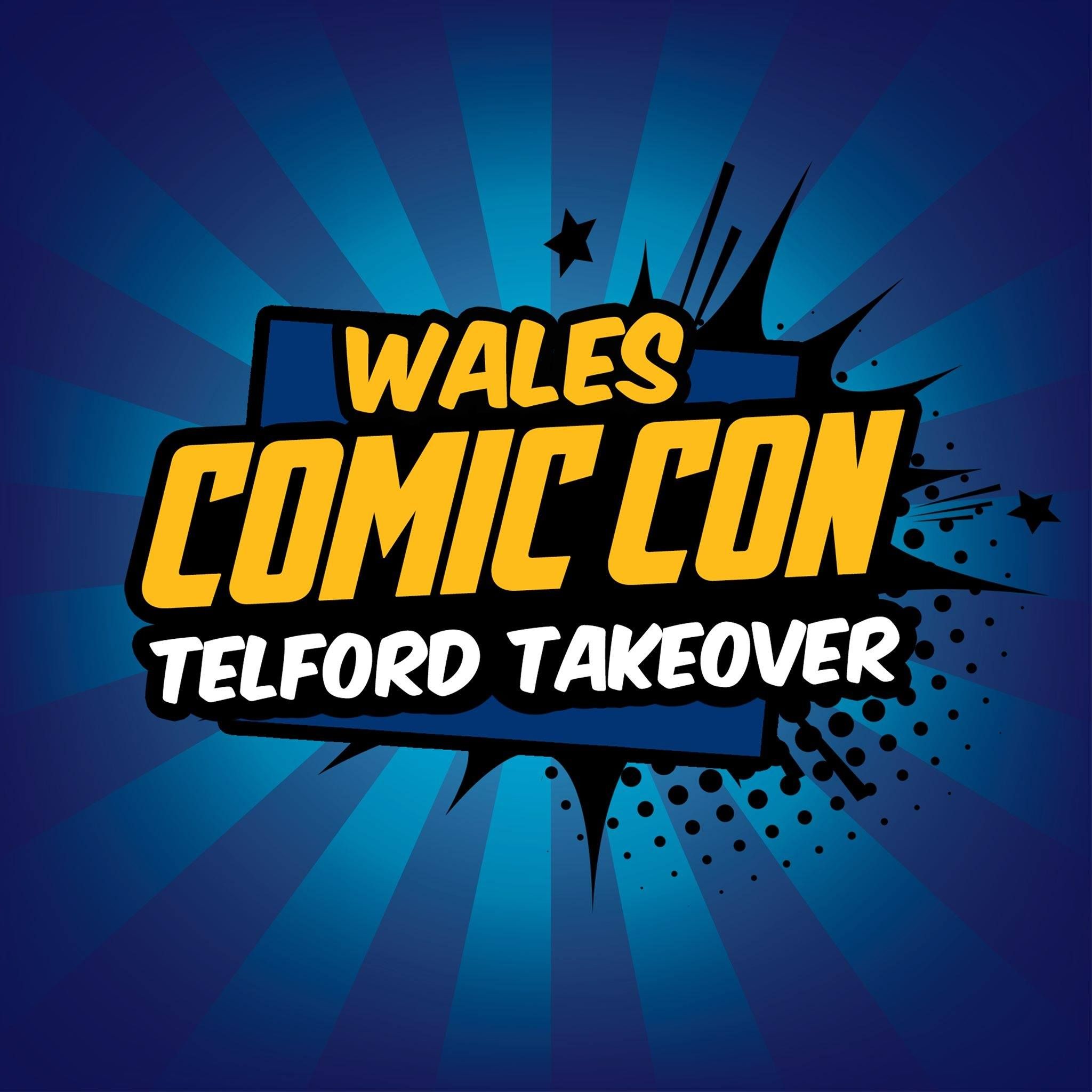 Wales Comic Con: Telford Takeover
Fifteen years on since its inception, Wales Comic Con: Telford Takeover, is proving it can hold its own against the bigger conventions.
Comic Con conventions take place year after year within numerous locations across the UK and are seen as a celebration of pop culture. Conventions give fans the opportunity to meet some of their favourite actors, illustrators and creators from film, TV, and of course comic books. One of the biggest titans of this industry is the MCM Comic-Con London event for example. The Wales Comic Con: Telford Takeover event which was founded in Wrexham, North Wales by Jaime Milner, is somewhat of an underdog when it comes to the UK Comic Con convention industry. Now with its April 2022 edition having just taken place, it has proven itself to be one of the UK's best conventions. 1883 Magazine attended the event on the second and third of April to see what all the fuss is about.
Firstly, let's clear one thing up before we dive into our experience last weekend, the name of the event. Yes, it was originally founded and took place in Wales but because of the event's steady growth and increasing popularity over the last decade or so, the event has had to move from Wrexham to Telford, Shropshire, in the last few years. Now, we must preface this article: there is an extraordinary amount to see and do at Wales Comic Con. With this being our first event we attended, we most likely only scratched the surface but regardless of that we're going to briefly run down some of our favourite elements and things we saw and did. Let's begin.
The guests
What drives thousands upon thousands of people to these conventions every year? Well, it's the talented guests of course. The event's big hitters were David Tennant [Doctor Who, Broadchurch], Evangeline Lilly [Lost, Antman & The Wasp], Bruce Campbell [The Evil Dead film], Andy Serkis [Lord Of The Rings, The Batman], Kevin Conroy [ the voice of Batman in The Batman Animated Series + The Arkham video games]. We could be here all day if we were to name each and every guest that attended the event. There were actors from Doctor Who, Harry Potter, Buffy The Vampire Slayer, Vikings, Star Wars, The Fresh Prince Of Bel-Air and more. You could even find  wrestlers from AEW, various voice actors from TV shows, films and video games, as well as gifted illustrators and authors from numerous comic books. The line-up was seriously impressive for the convention. With there being so many big names and so many people attending, there was always going to be queues for the autograph signings and photo opportunities, that's a given. From our experience, we did have to wait a fair length of time when we queued up to chat with David Tennant but it's forgivable because the crew and staff tried their best to keep order and everyone was polite and patient. It was a joy to see fans meet their idols and you could see that the guests were genuinely interested in having these fan interactions. One ginger haired fan who was waiting in line to meet actor/comedian Catherine Tate (who is also  ginger) made her laugh as she had brought a sign and collage of pictures of the fan with other ginger haired actors they had met previously.
The fans – cosplaying 
One of our favourite moments from the entire weekend was simply being able to meet other people who were at the convention. Dressing up as a character (cosplaying) is always encouraged at this sort of event, so it was a pleasure to see so many people try their hand at it. Whether it was someone cosplaying for their first time or seventh time, or if it was a shop bought outfit or something that was homemade, you could look around the three halls at The Telford International Centre and see an eclectic mix of characters. We spoke with a few of our favourite cosplayers that we came across at Wales Comic Con: Telford Takeover throughout the weekend.
Davros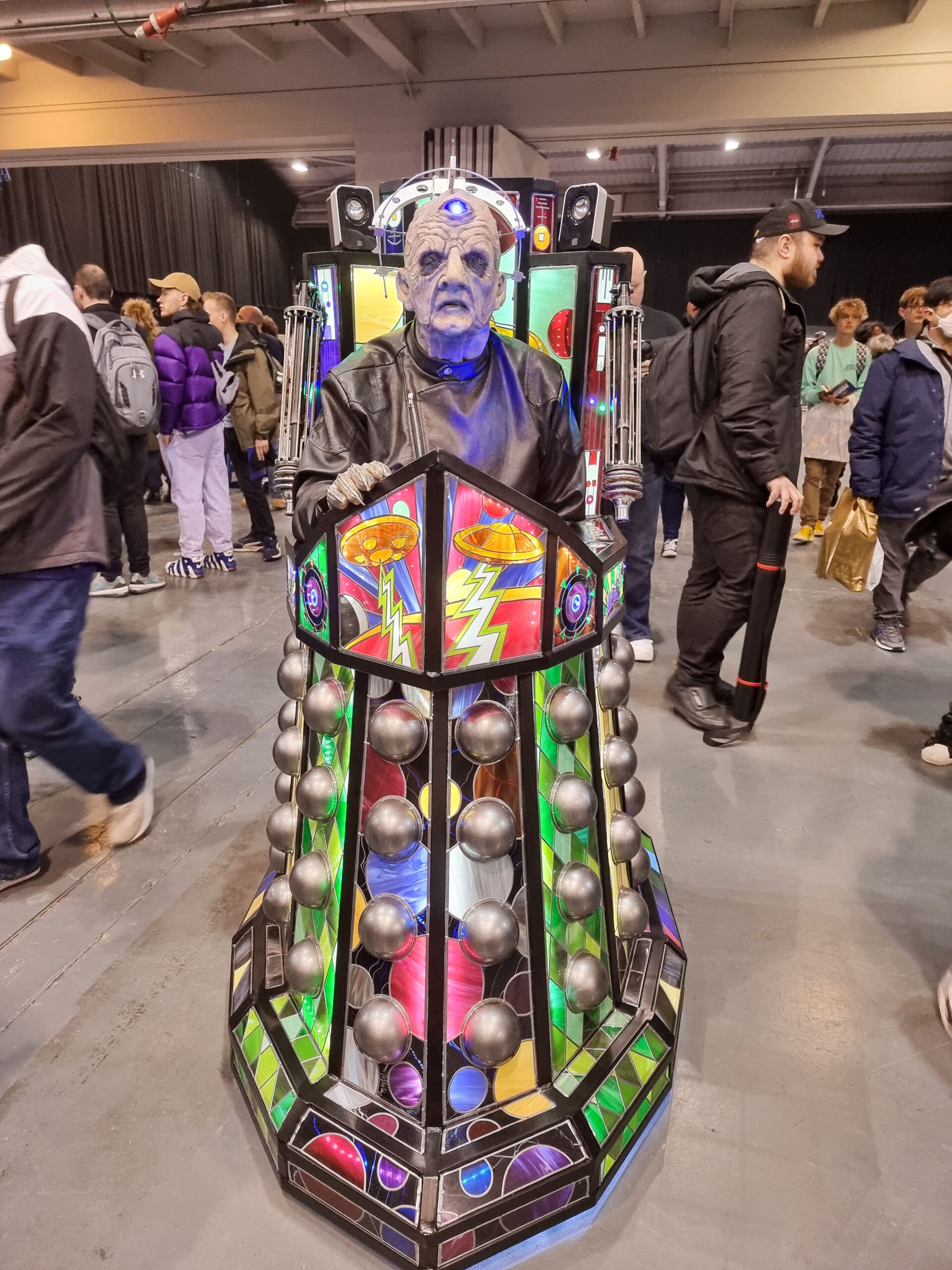 Anyone who is familiar with Doctor Who will instantly recognise this sinister villain as the creator of the Daleks, Davros. The Daleks are one of the most well-known reoccurring villains from the show. This Cosplayer is a frequent attendee at Comic Con events and his costume was superb, bonus points for his amusing business card that said "Thank you for taking the time to admire me – now go away stupid human". You can follow Davros by clicking here. 
The Loki variant Sylvie & Black Widow
Since launching on Disney + last year, the TV series about Marvel's god of mischief (LOKI) has been a huge success. Especially the character Sylvie on the programme. The character was cosplayed by Shannon McCrossan. The ever-popular super spy, Black Widow, from Marvel's Avengers was cosplayed by Ella. You can follow Shannon by clicking here and Ella by clicking here.
The Riddler & Red Hood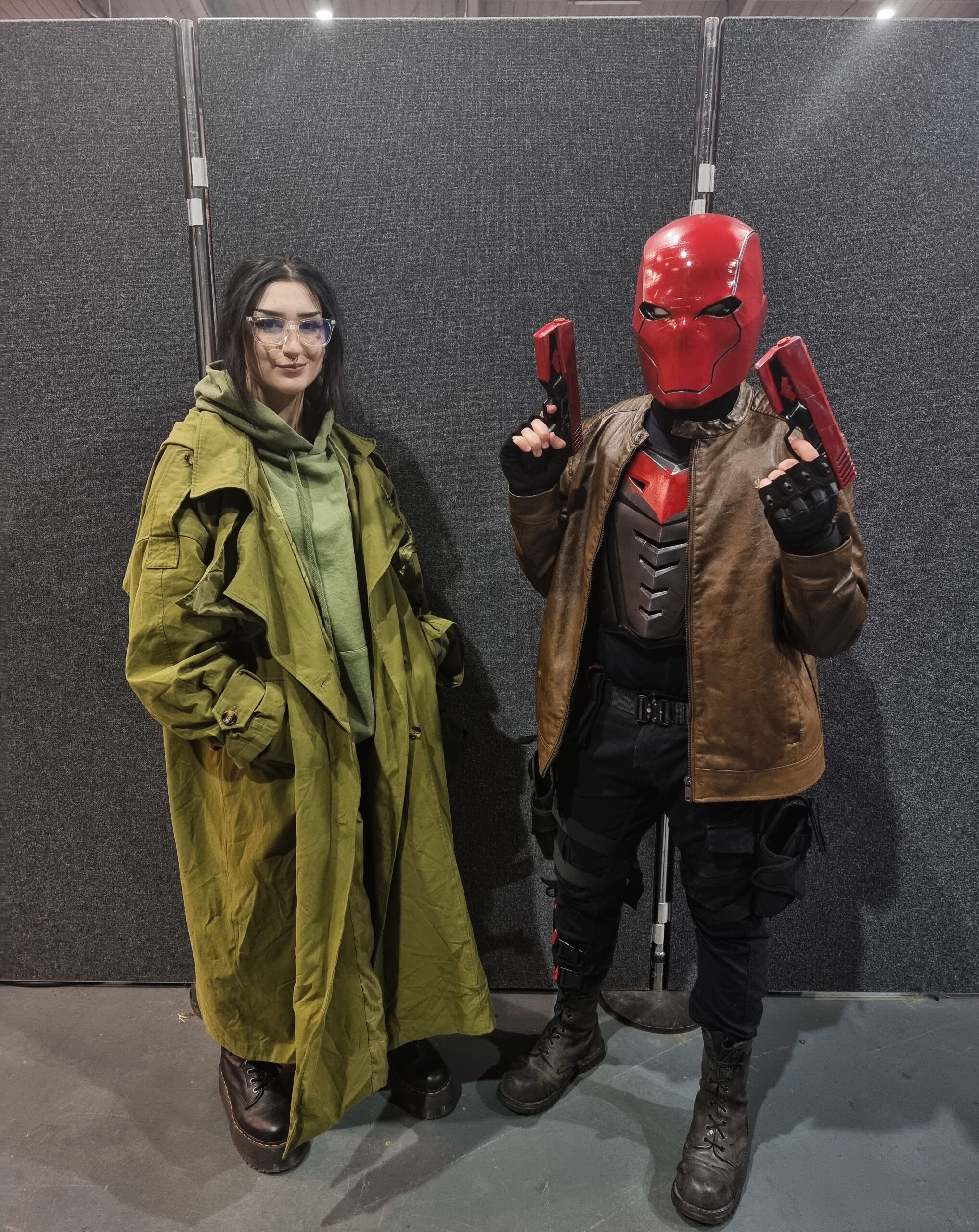 Matt Reeves's dark and gritty film The Batman not only introduced the world to a new take on Batman/Bruce Wayne with Robert Pattinson's brilliant portrayal of the caped crusader. We were also given a new and frightening portrayal of Batman villain, The Riddler by Paul Dano. We spoke with Ridley who explained that it was her first time at this particular convention. If you are a fan of the Batman lore or the current TV show Titans, you will be familiar with the character Red Hood which is ex-Robin, Jason Todd. Cosplayer, Matt painted the 3D printed helmet and pistols himself. You can follow Ridley by clicking here and Matt by clicking here.
The Scarecrow & Daredevil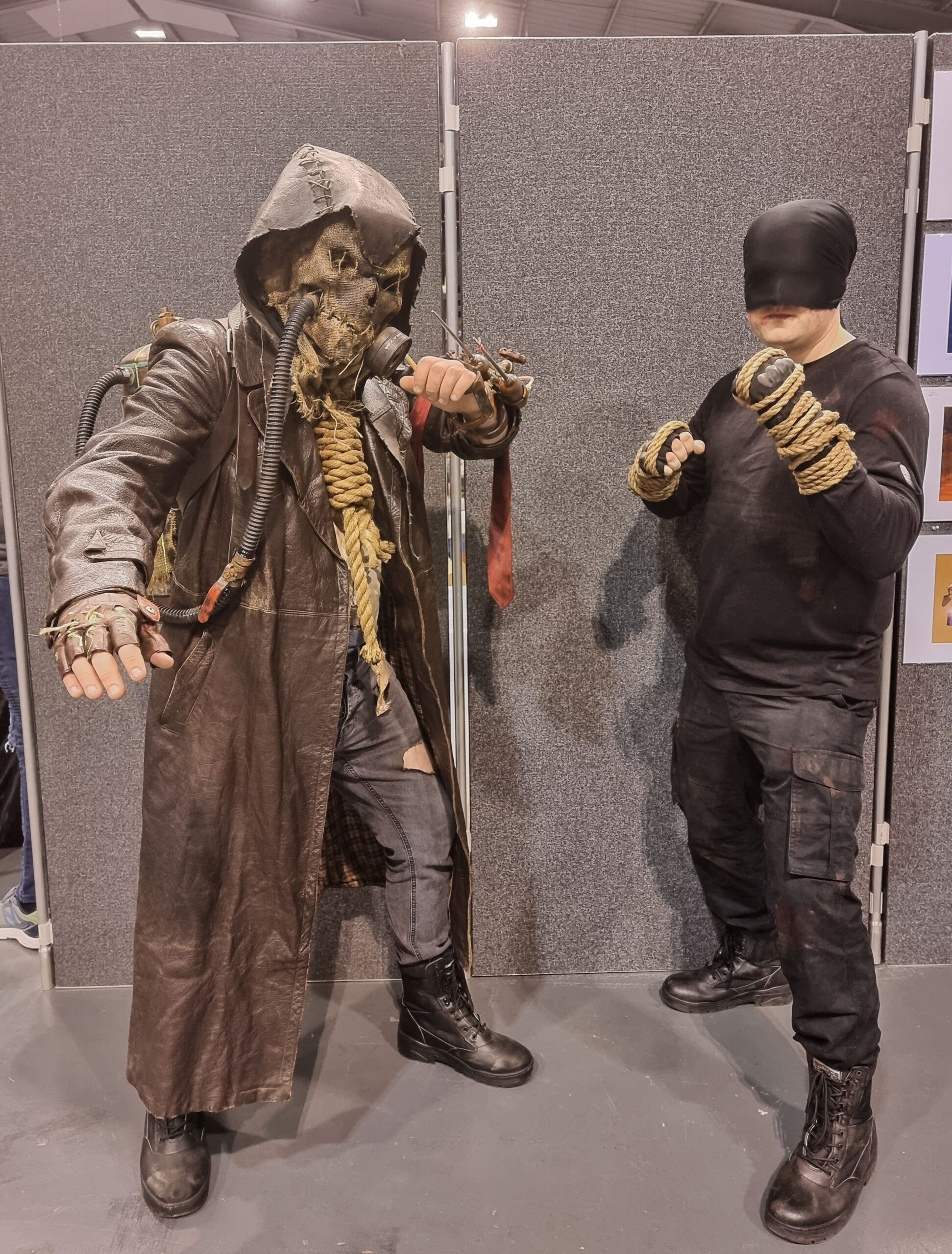 The DC and Marvel universes collide with these two cosplayers. DC Batman villain The Scarecrow is one of Batman's fiercest enemies, the character's real name is psychologist Dr Jonathan Crane and he often uses fear as a tactic and hallucinogens to overcome his opponents. Cosplayer Richard Waters (AKA The Dragon's Forge)  is an Artist and 3D Printer. This take on The Scarecrow was inspired by the Batman Arkham Games and his own take on the character. On the right we have The Dragon's Apprentice who was cosplaying as Marvel superhero, Daredevil. This costume was inspired by an early version of the Daredevil suit on the Disney + show of the same name. You can follow Richard by clicking here and The Dragon's Apprentice by clicking here.
Nightwing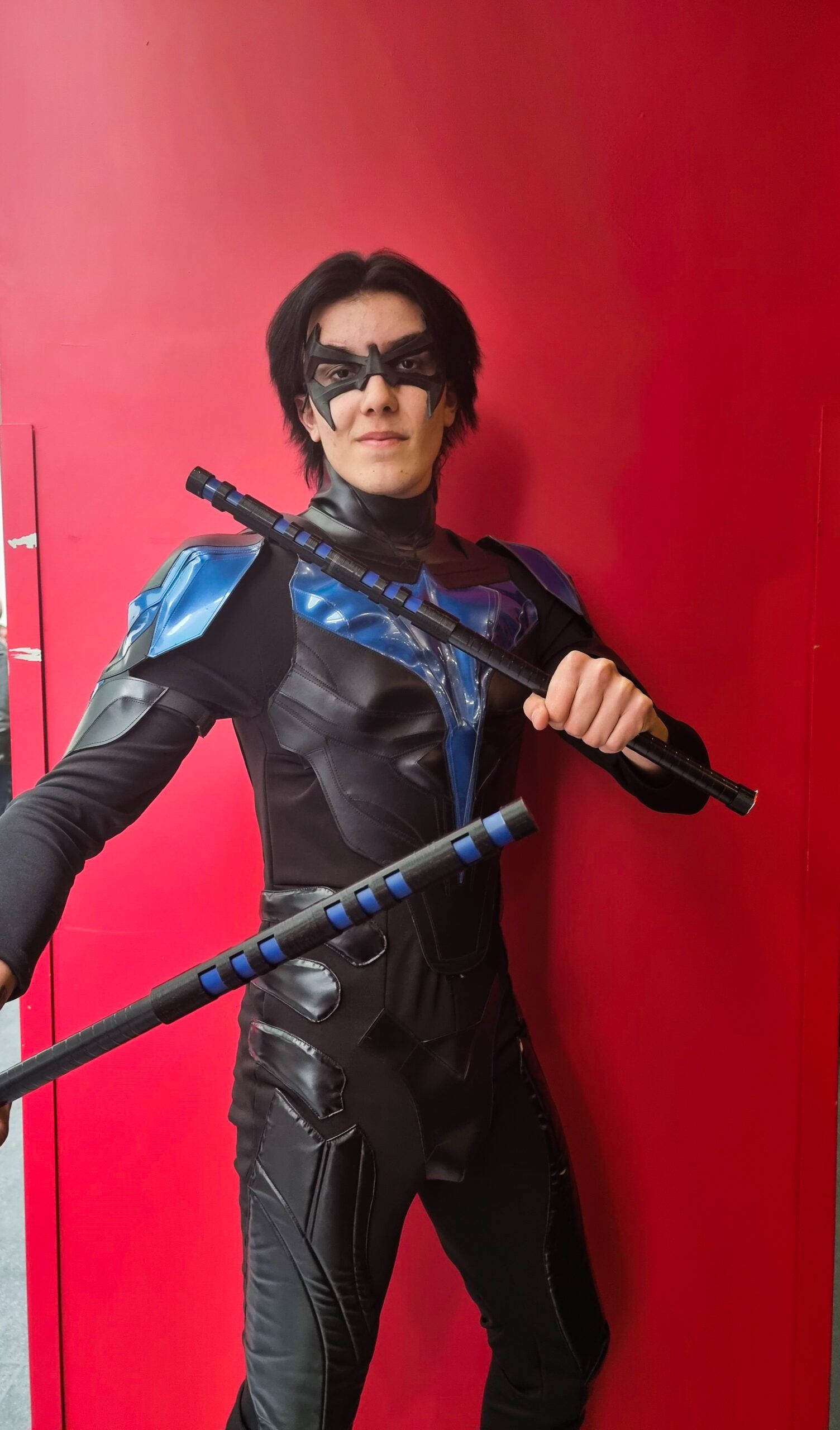 Richard John Grayson AKA Nightwing is a member of the Bat family. First having been taken under the wing of Batman as Robin, Richard 'Dick' Grayson becomes Nightwing after being dismissed as Robin as a teenager. Nightwing is normally the protector of the fictional city, Blüdhaven. You can follow Cosplayer William by clicking here. 
Cat Woman & The Riddler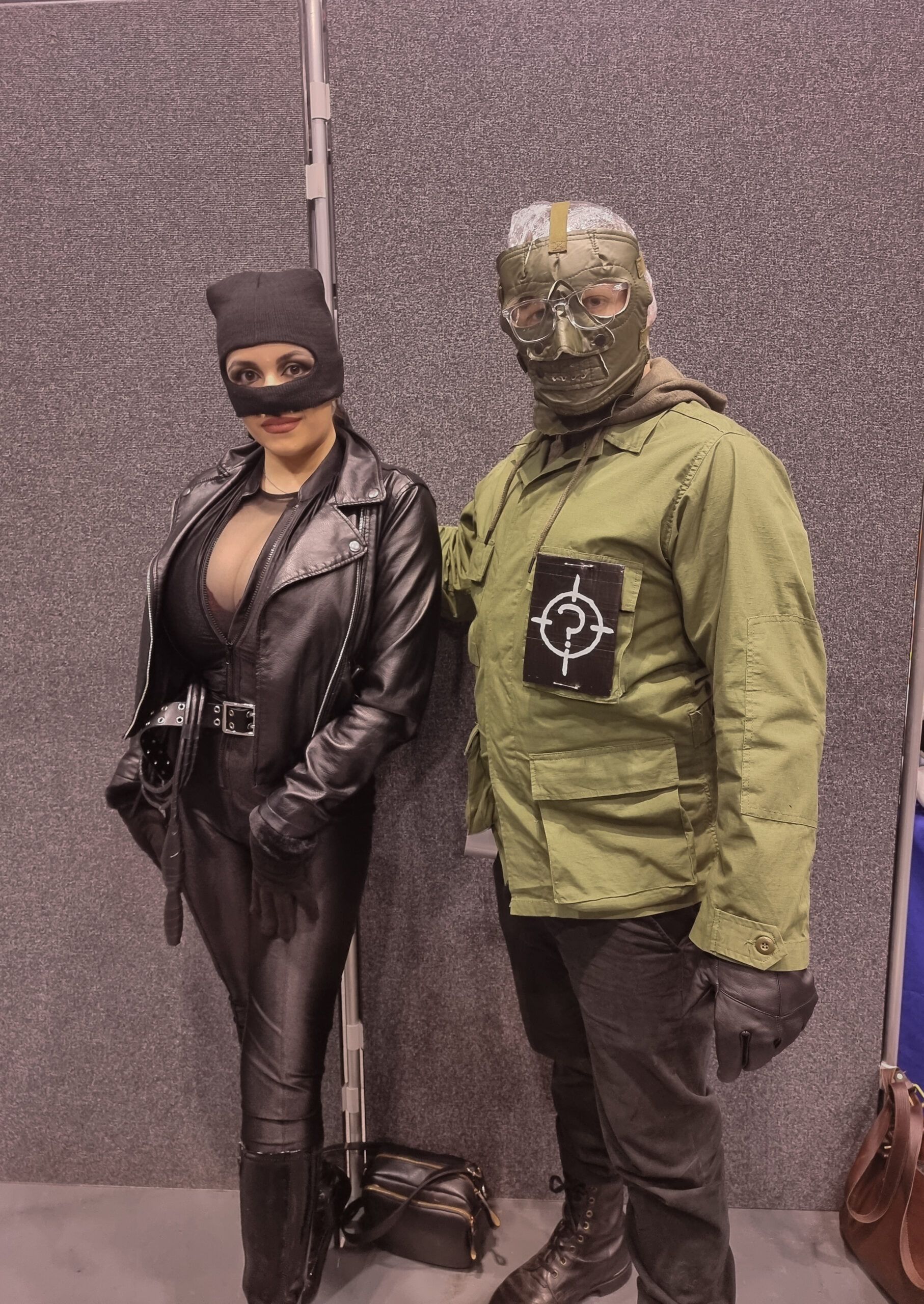 It's clear to see the impact that Matt Reeves's The Batman has had on audiences, as we bumped into more fans of the film. We spoke with actors and cosplayers Soheila Clifford and Gary Amos about their Cat Woman and The Riddler costumes. It was the first time that the pair had cosplayed but their attention to detail was impeccable. For Soheila's Cat Woman cosplay she put together pieces of clothing she already owned and turned a skipping rope into a whip. Gary  also assembled his outfit using various elements found at home. Thus proving you don't have to go out and spend huge amounts of money on an expensive costume to look great. You can follow Soheila by clicking here and you can follow Gary by clicking here.
The Q&A sessions
On both the Saturday and Sunday there were many panels being held. These Q&A sessions allow fans to hear the guests talk in-depth about their work in the significant shows or films they are associated with, it also gives fans the opportunity to ask the guests some of their burning questions. For example, there were actors from the iconic 90s Buffy The Vampire Slayer, as well as the show Vikings and Flash Gordon to name a few. On Sunday, we were lucky enough to get front row seats for two Q&A sessions. Side note: It was lovely to see the inclusion of a sign-language interpreter on stage whilst the talks were happening.
First off, we sat down for a panel with Kevin Conroy and Will Friedle [the voice of Terry McGinnis/Batman in the animated series, Batman Beyond] who both discussed their experiences in being cast in the shows. Both Kevin and Will explained that these roles were their first ever foray into voice acting, having both been stage and TV actors previously. It was particularly exciting getting to hear both Conroy and Friedle go into detail about the shows. Amusingly, at the start of the discussion, Conroy delighted fans by putting on his iconic Batman voice whilst making a joke. Conroy also went into detail about working with Mark Hamill, he said "Mark is just one of those actors that gives and gives. He is such a joy to work with". Kevin also spoke about how it is The Batman: Animated Series's 30th anniversary  and he also accounted his initial shock at being cast as old Bruce Wayne in Batman Beyond when he was only 45-years-old. Friedle spoke about how Batman Beyond was pitched to Warner Bros as the "teenage Batman" show and it was green lit instantly by the studio. Funnily enough, when the show had its debut pilot episode premiere, Will recounted how he saw Warner Bros executives walk out half way due to the programme's dark nature.
The second discussion we saw was all about Doctor Who. It featured previous Doctors Colin Baker, Sylvester McCoy and Paul McGann who played the sixth seventh and eight incarnations respectively.  They were also joined by Nicola Bryant who played companion to the Fifth and Sixth Doctors, Peri Brown. The group started by discussing their experiences in doing Doctor Who voice work during the pandemic, Baker mentioned he prefers audio work now as he "doesn't have to learn it and I look the same as I did in 1983" to which the audience laughed. The host, Dr Rhys Jones then asked the panel if, with the announcement of who will be playing the fourteenth Doctor sure to be imminent, had they heard any rumours of who it could be. Nicola said she has "no idea and I like the fact I have no idea" further explaining "i'm really excited because it's Russel (T Davies), it's going to be brilliant".  The whole discussion was filled with jokes and wisecracks between McCoy and Baker, which made the crowd laugh every time. It was McCoy's quick wit that made for the funniest moments throughout the Q&A. They also reminisced on when they first entered into the Doctor Who universe as viewers, recounting their personal favourite incarnations of the Time Lord. The room was packed for this discussion and it was a treat for any Doctor Who fan new or old.
The Stalls
In the main halls of the convention you could find a whole host of fantastic stalls selling everything from pop culture comic books and action figures, to food, artwork, handmade items and more. We briefly caught up with two stalls that caught our eye whilst at the convention. We must stress there was so much to see and do during the event, so there was plenty more of course.
Artists – Stephanie Walklett & Jessica Cadden's stall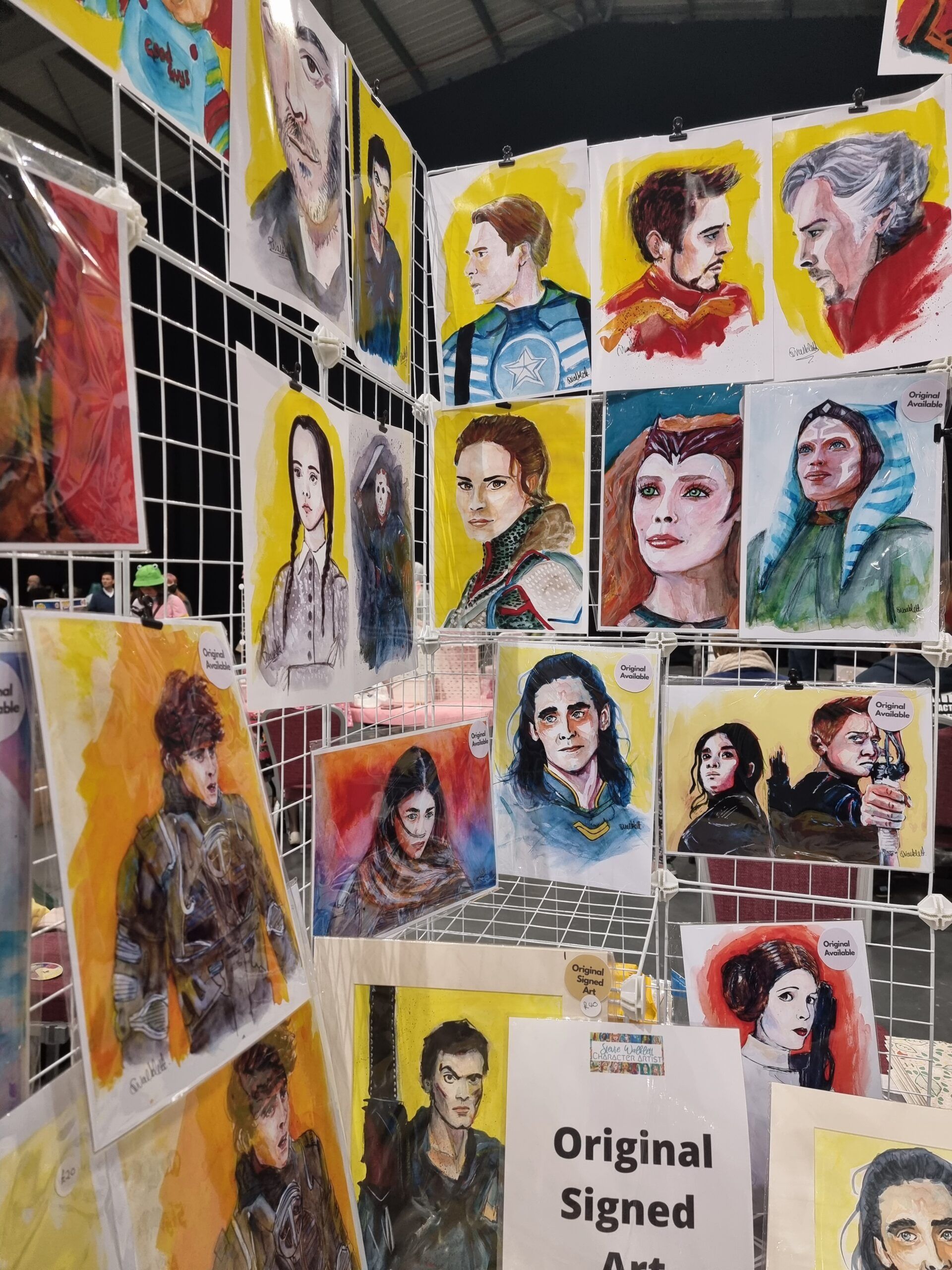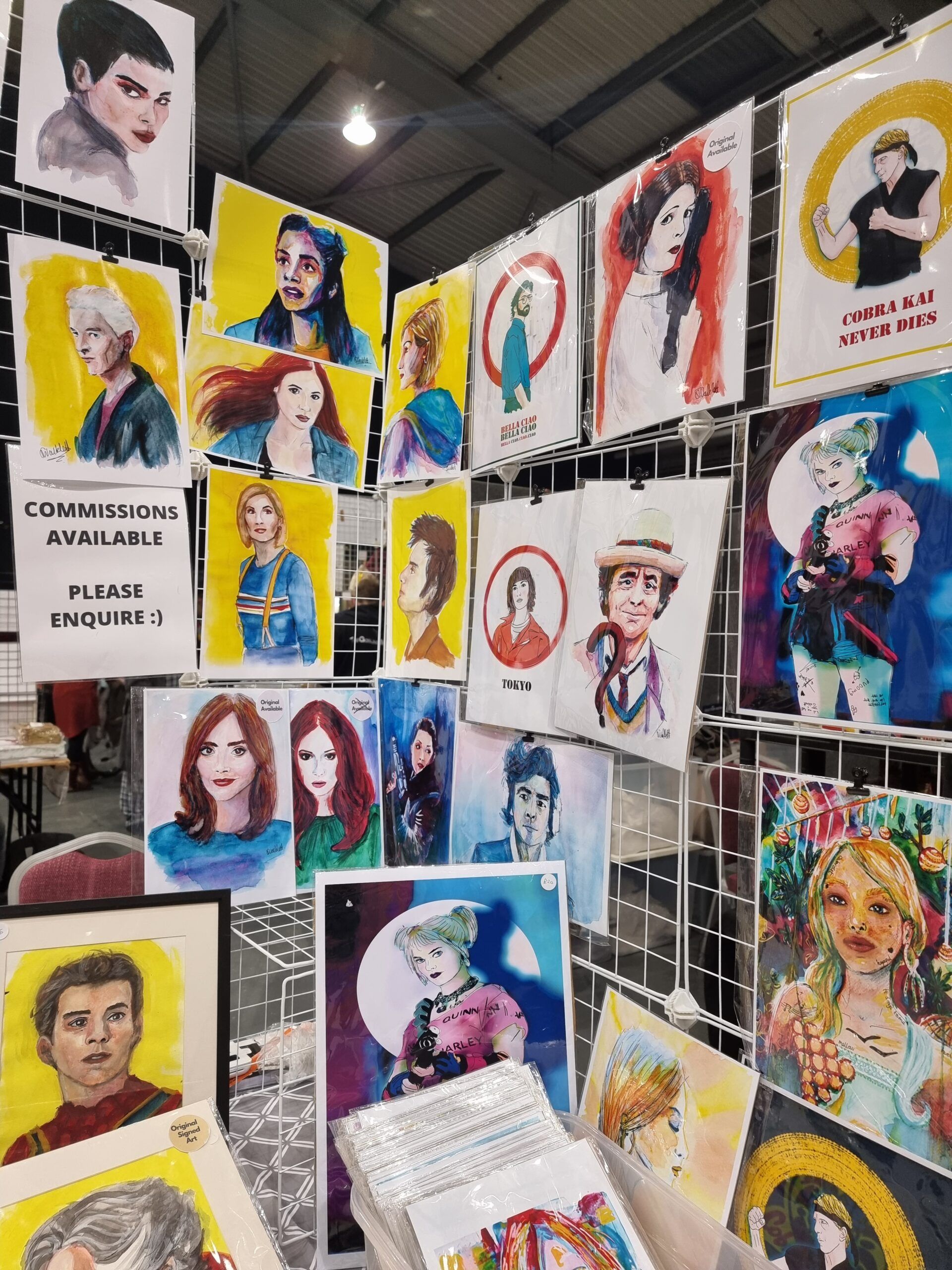 The extremely talented artists Stephanie Walklett & Jessica Cadden shared a stall at the Wales Comic Con: Telford Takeover event. The stall showcased a selection of original signed artwork and prints from the pair. Both artists are available for commissions, you can follow Stephanie by clicking here and Jessica by clicking here.
Lapin Crafts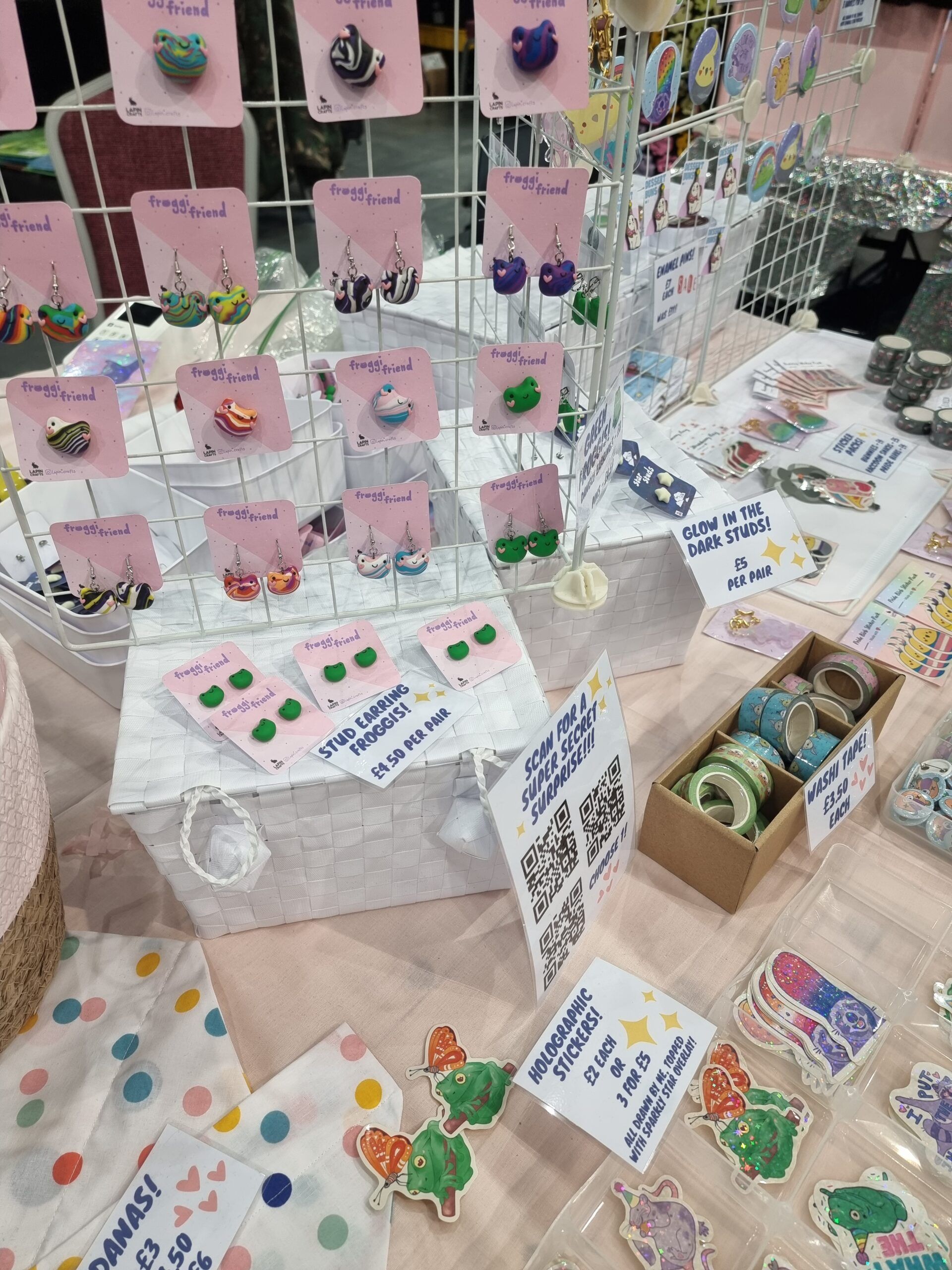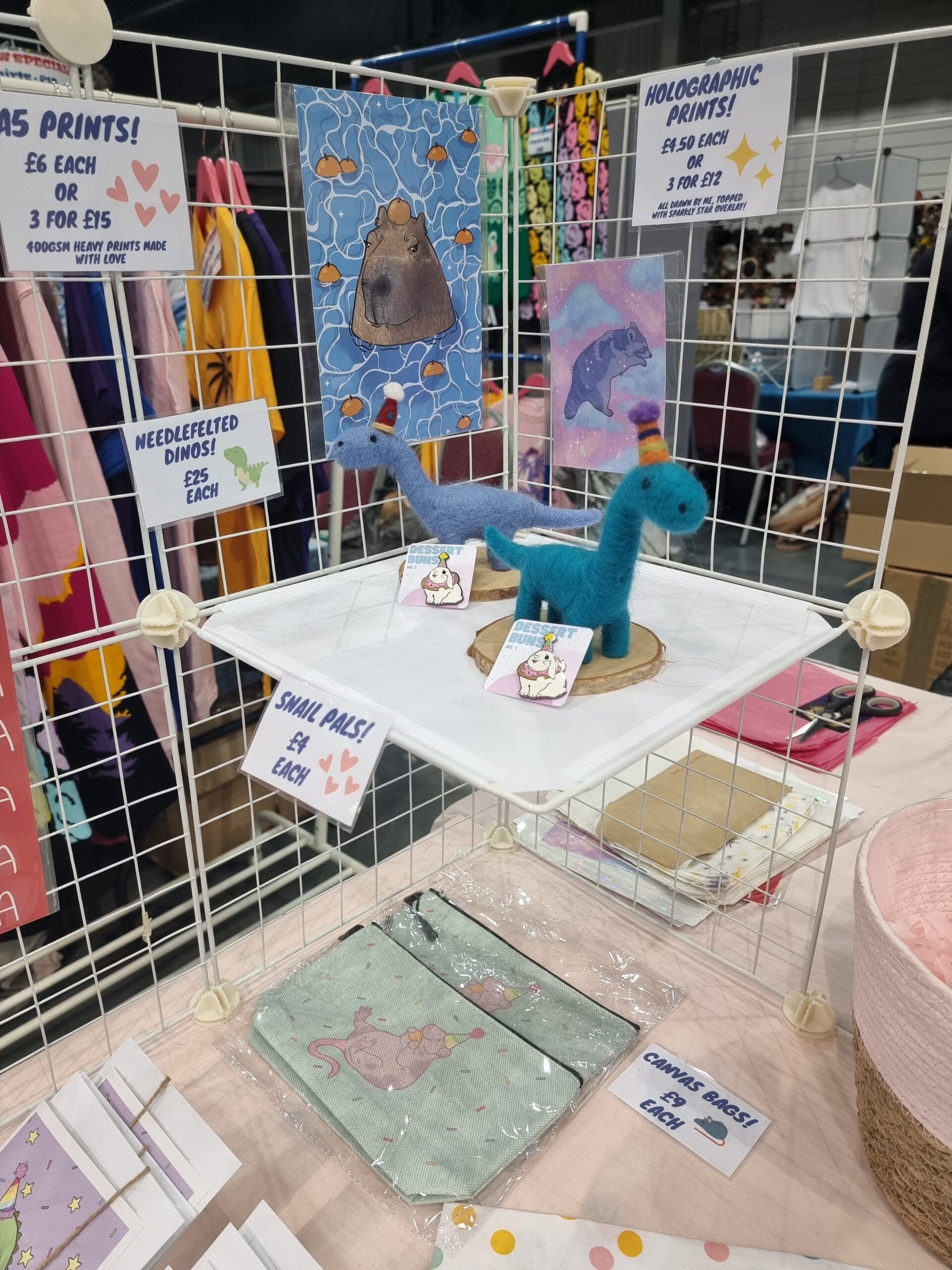 Founded by Olivia Hodgkiss, Lapin Crafts designs beautiful pieces of jewellery, as well as adorable badges, prints, stickers, plus so much more. This was Olivia's first year as a trader but she's been a fan of Comic Con for years. You can follow Olivia by clicking here.
A final note
Finally, One of the biggest takeaways from this convention was the sense of community, no matter if it was your first time going or if you were a veteran, it was a friendly, warm and inclusive convention that wholeheartedly gave fans some incredible memories to look back on.
You can keep up to date with Wales Comic Con: Telford Takeover by clicking here.
Article by Cameron Poole & Gabi Oates