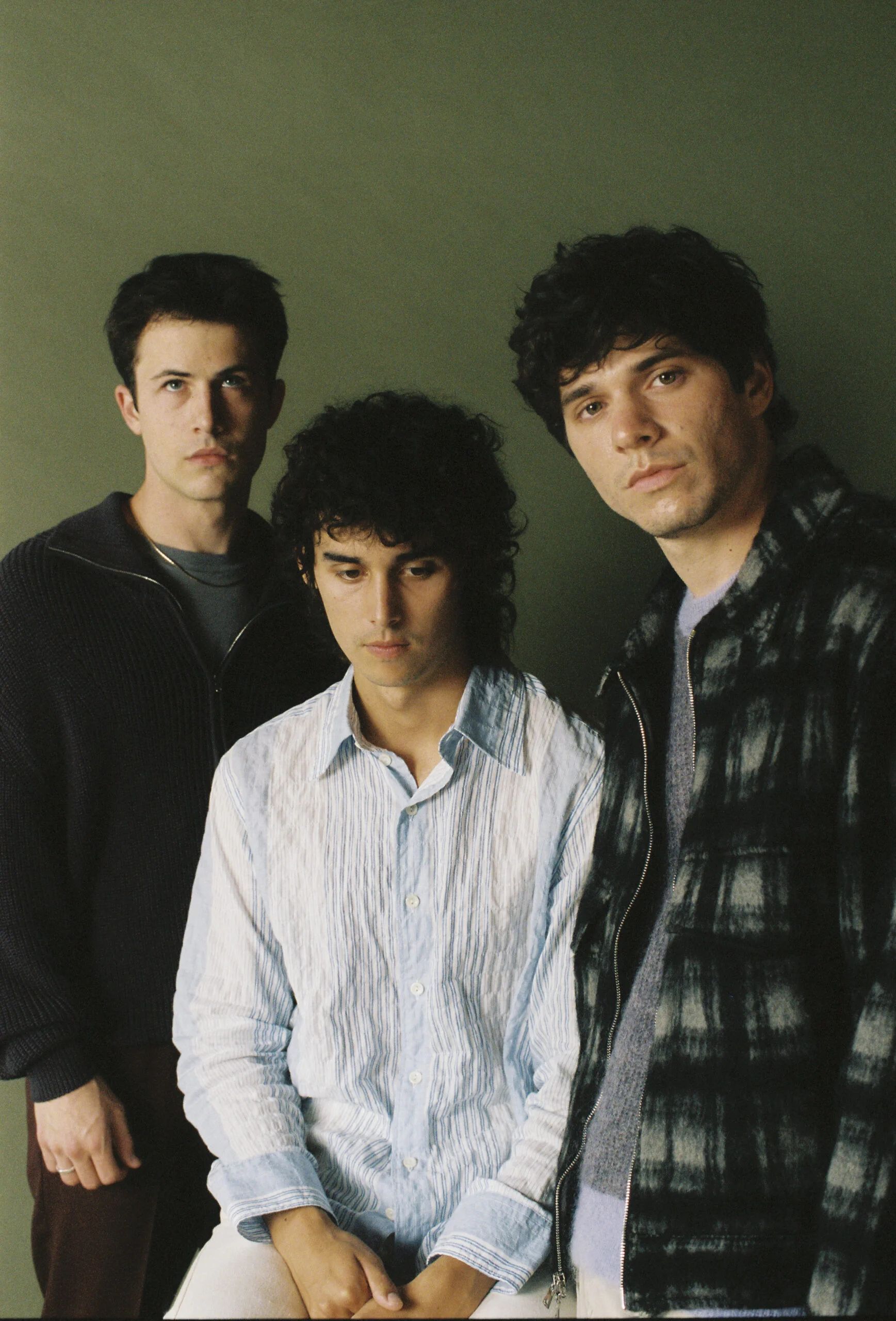 Wallows
LA-based trio Wallows share a glimpse into their next era on "I Don't Want To Talk".
After having released their critically acclaimed debut album Nothing Happens in 2019 and their Remote EP in February, Wallows have shared their latest single, "I Don't Want To Talk". It's a fresh and energetic new track that was produced by Ariel Rechtshaid (Vampire Weekend, Haim, Adele). Comprised of Braeden Lemasters (vocals, guitar) ,Dylan Minnette (vocals, guitar), and Cole Preston (drums), the indie three-piece have already gained legions of fans, gone platinum in the US, and sold-out numerous headline shows in various countries. But now with the release of "I Don't Want To Talk", Wallows are teasing their hotly anticipated and yet-to-be-announced forthcoming sophomore album. A record that is more "colourful and dynamic".
So to celebrate the release of their latest single, 1883's Cameron Poole caught up with Lemasters, Minnette, and Preston to discuss "I Don't Want To Talk", album two, and their plans for a a potential future Wallows festival.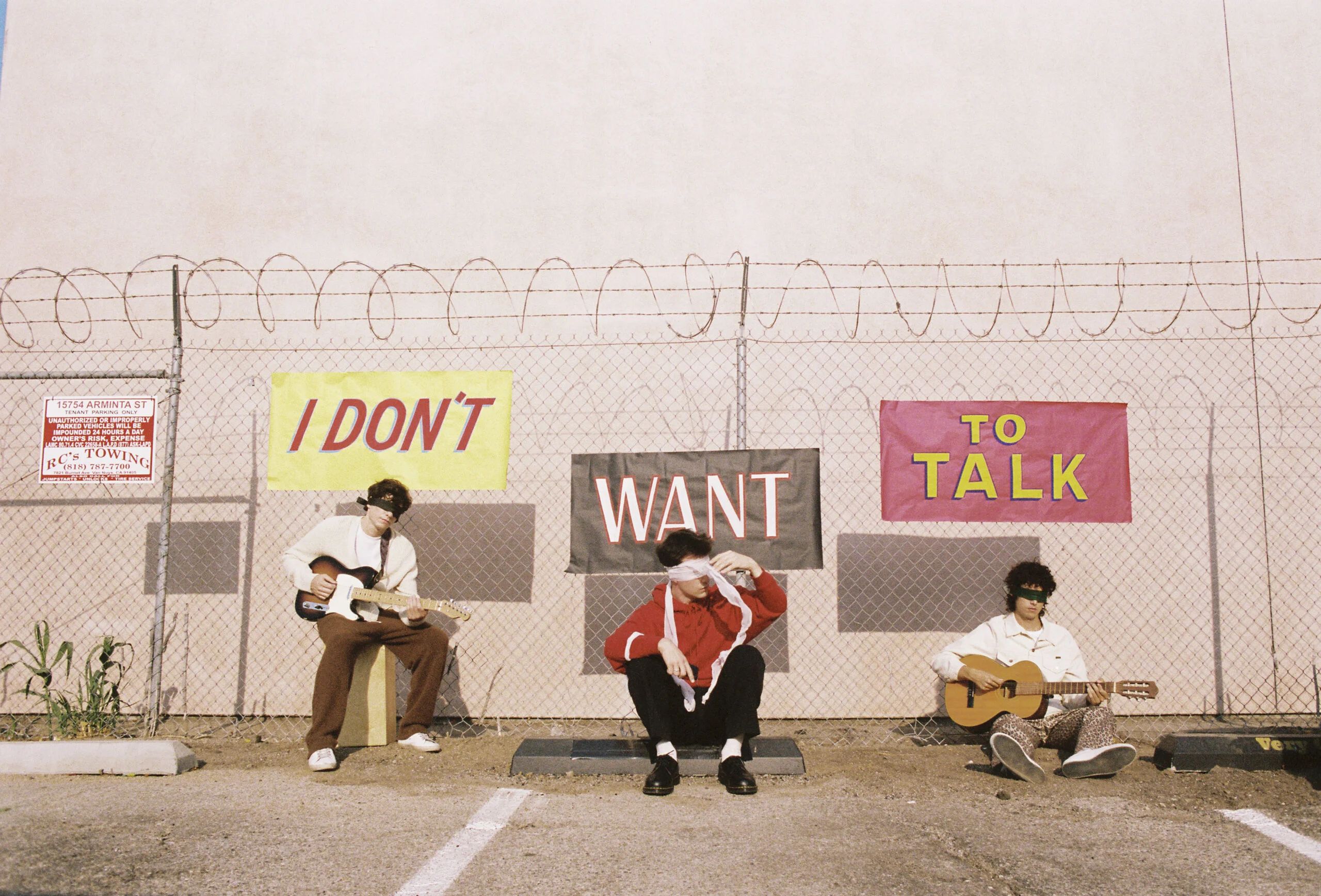 Hi guys, let's kick off by talking about your latest single "I Don't Want To Talk". It dropped late last month, how have you found the fan reaction so far? 
Cole: I think generally it has been good haha. I think the song is pretty upbeat and high energy, in sort of a classic old school Wallows way, so fans are excited and we announced the US tour too. So I think people are looking forward to hearing the track live.
For sure, you've already played it live right? It was before "I Don't Want To Talk" was officially released, we saw a Youtube video of it! But now people have heard the studio version, it should go down really well when performed live.
Dylan: Yeah, the first time we played it, we hadn't played in like over a year and a half. It was late into the set, so my voice was going away because I hadn't sung in a while. The live video of "I Don't Want To Talk" was circulating the internet and I was like, 'I don't want people to think this is what the song sounds like'. But yeah, I think it translated when it came out officially, for sure. Everyone played it very well, It was just my voice. I was like 'oh my god' haha.
It's been mentioned that this single is the first taster from your new  forthcoming sophomore album. I know you're keeping tight lipped about the record at the moment but what can you tell us about it? And what new-found skills or lessons have you brought to album two? You all must have learnt so much from working on your debut LP Nothing Happens and your more recent EP Remote…
Braeden: Yeah, I feel like working with producer Ariel Rechtshaid has offered a new dynamic. For me, the new album just feels more colourful and dynamic compared to Nothing Happens. Each song has a different kind of life and energy. Ariel really transformed a lot of the songs that we presented him as well. With our first album, it seemed like the best version of what we wrote, that John Congleton brought out of it, as he produced our first album. But with this record, a lot of the songs have had a mega transformation. You wouldn't know they were the same songs, even though they are.
Braeden: It's just the colours of each track, like maybe when we showed Ariel the tracks, they had more of a darker vibe. And then it turned into like a happy fun single vibe out of nowhere because Ariel is such a GOAT. I'm very excited and I think it kind of goes more places, it's potentially more condensed. I don't know, I'm just excited. With Remote, we kind of did that on a whim during quarantine and got rid of a load of ideas we were sitting on. People thought that Remote was the next step for Wallows but it was mainly just for fun. So that EP has taught us how to be more spontaneous as well. So, you know, that's kind of how I feel about the new album. I'm very excited for people to hear it.
Dylan: And on that note, I'm thankful for two reasons for Remote. First of all, I'm proud of it and I really liked that project from us. Secondly, I'm thankful because had we not made Remote and gotten some of those ideas out of our system, I think our new album would be very different. And I am very happy with what our album is, and I'm so happy that we got all of it out and didn't make something that would have been a hybrid version of our second album. If we hadn't made Remote, it would be really different.
Cole: Yeah, there's way more fresh material that was carried over through to the second album, so if Remote didn't exist, album two would be so different.
Dylan: Some of the songs from Remote would have been on the album definitely. So it's just crazy. 
That's interesting to know on and it's good to hear that you guys were able to do Remote and start Album two on a clean slate. You may not be able to say much but the fans really want to know if they can expect more vocals from Cole? 
Cole: I think technically, yes.
Braeden: Technically, yes.
Cole: It's like a small….I don't want to say too much about it. But technically yes, we check that box.
I think it's great that you all got together when you were kids via a music initiative/programme in 2009 called Join The Band. What was the experience like?
Braeden: It's funny, I had just moved from one place to another recently and I was cleaning out my room and I found the little laminate that I got from the programme and it says 'join the band'. So I had found my first joined the band laminate and was like 'oh my god'! It was just one of those weird experiences, I was playing music, Dylan was playing music, Dylan invited me to this thing and Cole was sitting behind the drums. We showed up and played a show and then we became friends and then we asked Cole to literally join the band that we had. It was like one of those little tiny bands you start when you're fourteen-years-old. We were these cocky little kids.
Cole: I definitely remember us being way more confident than we are now…
Braeden: We then sort of started playing in a real band and then never kind of stopped playing and now here we are. I remember playing Purple Haze, that was the first song we played. Our guy Rosh was on bass. 
Dylan: Yeah, shout out to Rosh, man. 
Braeden: I miss those times sometimes. But you know, life goes on.
Cole: Yeah, we were like blindly, impossibly confident at that time…
Braeden: As probably everyone was at that time.
Dylan: We were leather jacket wearing thirteen-year-olds. It's crazy.
From Clairo to Albert Hammond JR, you've worked with some cool artists. Who else would be on the dream list to collaborate with? We know she was on a remix of "OK"  but we would love to see a full-on Remi Wolf collaboration….
Dylan: It would be cool to do an original song with Remi for sure. I'm sure we should at some point.  But going into this next  album cycle once we officially start that, we really want to keep it about us. The album's shows who we are and It's very easy to digest. Not in the sense of the music but in the sort of aesthetic or theme we're putting down, it's all just about being us. So we haven't been thinking about collaborations very much or actively seeking them out.
Dylan: If we do more collaborations at some point, they would just happen organically. We're not really looking for anything but I'm sure we're going to do some exciting collaborations that are fun for us in the future. And I can't wait to see what they are. But I don't know, of course there's crazy people on the dream list that I know are out of the stratosphere…
Cole: Like  the Rhianna's or Arianna Grande's of the world.
Braeden: Damon Albarn.
Dylan: It's so weird, I was listening to the Gorillaz on the way here, that is so strange.
Braeden: Damon is cool.
Dylan: Anyway, there's tons of people but it's unclear what will happen and when. There will be something exciting at some point, for sure.
Dylan & Braeden, obviously you're both talented actors. So I've got to ask something about acting but I'm going to keep it brief, simply – if you were both to play a famous musician in a biopic, who would you love to take on and why?
Braeden: Oh, who would I be?
Cole: I know who you would be…
Dylan: How about Cole assigns us, how about that!
Cole: Braeden would play Alex Turner.
Braeden: Ok, I'm into that. I would dance in my underpants all day long!
[Dylan starts jokingly singing a country song.]
Cole: Who's that guy?
Braeden: Scotty McCreery!
Dylan: He did a cover, it wasn't an original.
Braeden: You would play him haha.
Dylan: I'd play Scotty McCreery at his American Idol auditions, we're gonna go with that, that's me.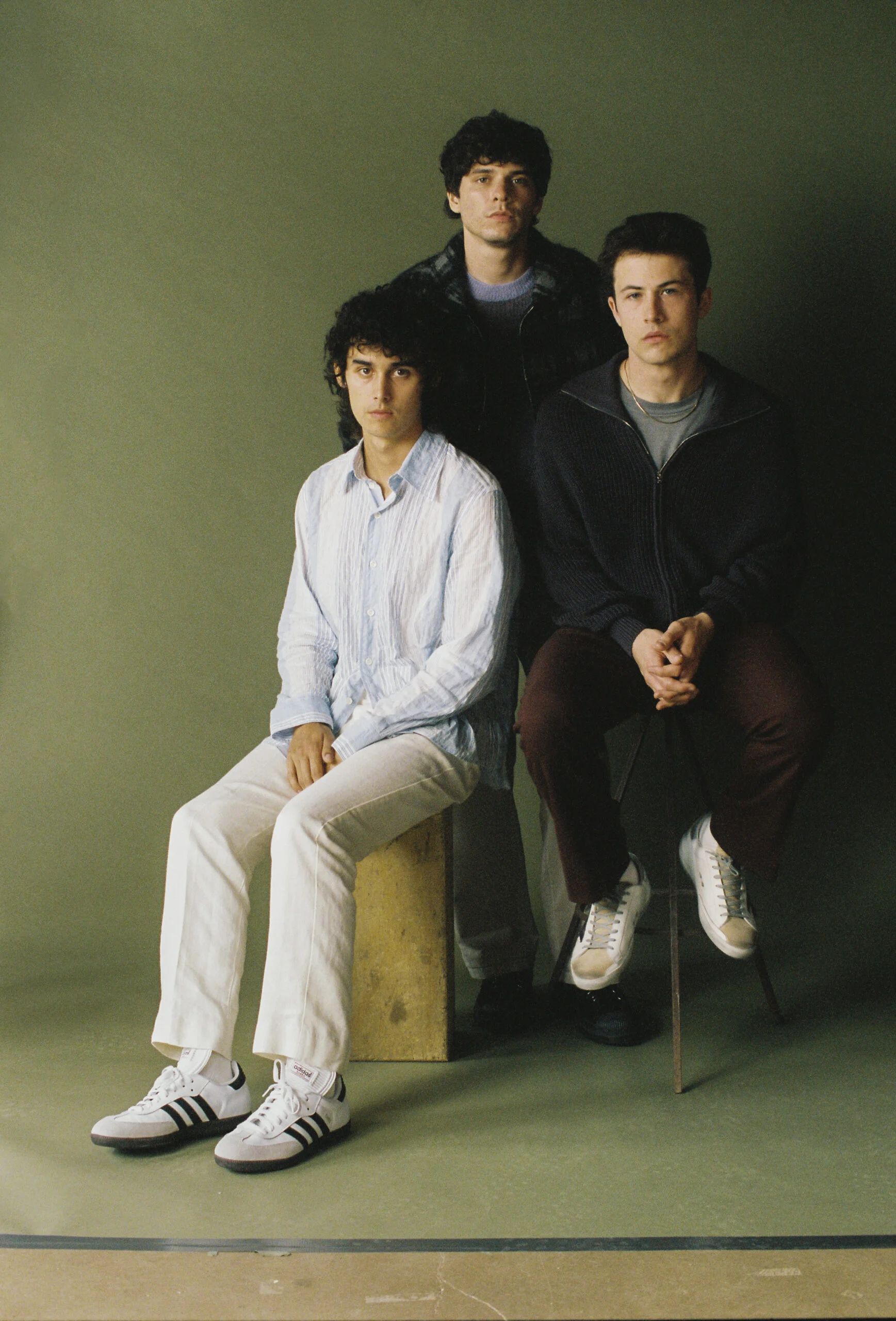 Cole, it's only right I ask you a more personalised question now! Let's talk about two things – in your opinion, would you say Club Penguin was the best MMO of all time? And on a more serious note, when you started learning the drums, what was the one song where you were like 'oh man, I need to learn how to play that song'?
Cole: haha, I think they shut Club Penguin down right? 
Dylan: You can still play it. But there's like adverts and stuff on it, it's weird. I revisited it a couple of years ago.
Cole: Really? 
Dylan: Yeah.
Cole: It certainly is an excellent game. Like for me as a kid, it helped with learning how to communicate over the internet when it was all still so primitive at that time. It was certainly a moment in time for our generation. So to answer your question: yes, Club Penguin is the greatest MMO RPG ever created haha. The first song I ever played on the drums was actually a Weezer song because I was into that game 'Rock Band'. You could play Weezer's "Say It Ain't So" in the game, so I then took it over to the real drums.
Ok, you're curating a festival lineup, who's playing 'Wallows Festival'? obviously you guys are headlining….

Braeden: let's go with The Marías… who else we got?
Dylan: I was going to say should we keep it close to our chest because we kind of do want to put together some sort of Wallows festival at some point in time and I don't want to let our secrets out of the bag if we are going to try and do it.
Braeden: Yeah, that's true. 
Cole: I mean like artists that probably wouldn't play the Wallows fest… but having like Frank Ocean play at it, that would be mad. 
Dylan: Yeah of course.
Cole: The elusive Frank.
Dylan: I feel like it would just be any of our homies that we can have that would make sense if we're headlining. So it would have to make sense that they are playing before us. Any of them that would be willing to play would be awesome and we do want to do something like that so it's funny you asked that because we've specifically talked about putting together a festival in LA at some point within the next couple of years.
Dylan: It's actually a real dream of ours, It would start out pretty contained and then probably it would have room to grow you know, so sort of like what Tyler the creator did with Camp Flog Gnaw Carnival. That festival started off as a one day small event and now it's a two day festival which will probably turn into a three day thing at some point, it's huge. And yeah, like we would love to do something like that.
Dylan: Yeah, There's tons of homies…
Cole: Yeah, The Marías. Just them haha.
Dylan: Yeah haha, it's just a two band festival.
Exciting, fingers crossed something can happen in the future. It would go down really well.
Braeden: You're invited, you're on the list!
Haha thanks, I'll make sure to get a ticket and fly out if it happens…
We need to talk about how you guys mentioned in a previous interview that one of your craziest gigs so far was in Glasgow, Scotland! As it had to be cut short right? Would you say you notice many differences between your audiences in the US compared to the UK? For example, US festival crowds seem so much more tame compared to UK festival crowds.
Braeden: I think festival wise, a lot of the time, I think you're right there. I definitely feel in South America as well. We haven't been there yet but it seems like those are pretty insane crowds. I was watching a Strokes live video and I was like 'oh my god'.  But I think Glasgow is still the craziest because people were just passing out left and right. They were dropping like flies.
Cole: It's the sort of thing that doesn't happen at our shows haha.
Braeden: It's like because they cracked the bottle open at 10am and I think someone almost threw up on Cole or something.
Dylan: That was a crazy time.
Braeden: I think they were all just dehydrated you know and that can make you just go in. But I feel there's a lot of great shows in the US too. Some crowds are actually kind of tougher than most, but Nashville, no offence Nashville you guys are always awesome. But sometimes… or that's what people say at least.
Dylan: But we went back to Nashville and thought it was way better.
Braeden: Yeah that's right, Nashville is a great one.
Cole: I think the kids in the UK that specifically come to see us are just like extra rowdy and down to get sweaty at the show, you know. But our crowds in the US and UK are always great for different reasons. I will say that in the UK it seems like people are extra excited to see a live band. Maybe it's also because of the extensive history of bands coming from the UK?
As you've all been friends and bandmates for years, what's one thing you admire about each other? hype each other up!
Dylan: I admire Braeden's ambition to keep moving forward and keep on trying to create for whatever the next thing is, even when we haven't completed a task at hand yet.
Braeden: I admire Cole's ability to take a step back and see a musical situation from a different perspective. usually at the last second where it really changes the dynamic of a song or an album.
Cole: Dylan constantly impresses me with his attention to detail when working on our record. His laser ears can catch things that not even the top mixers in the game can catch.
Finally, besides the North America tour in April, what's next for Wallows in 2022?
Braeden: Without saying too much, it's the album. Definitely shows outside of North America as well.
"I Don't Want To Talk" by Wallows is out now. Follow Wallows at @wallowsmusic
Interview by Cameron Poole
Photography by Anthony Pham