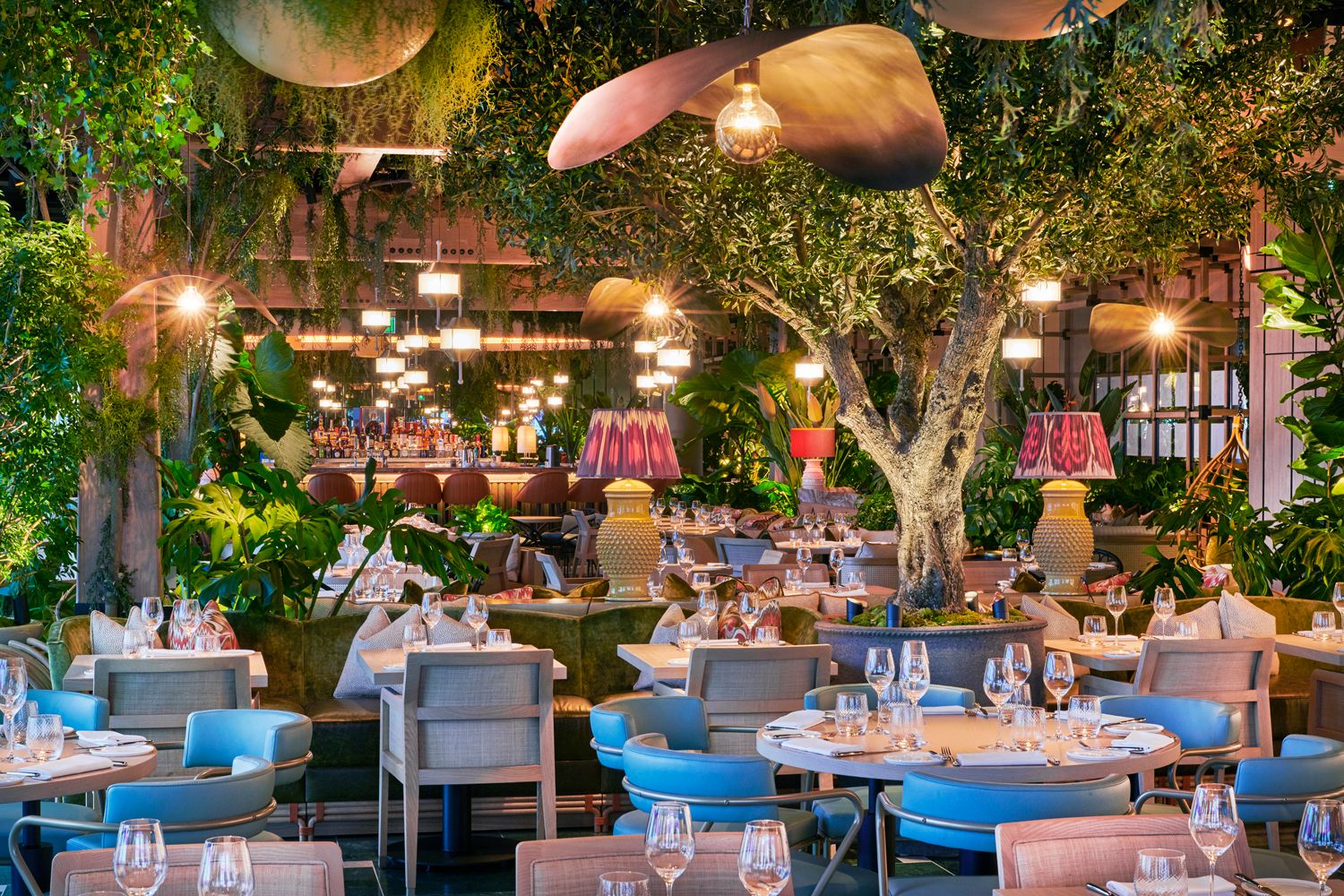 14 Hills
Introducing 14 Hills, London's newest indoor rooftop restaurant, high in the sky (14 floors up to be exact) at 120 Fenchurch Street.
It joins a long list of London's most 'Instagrammable' spots and aims to become the next hottest, 'must visit' destination. Like Gloria's Capri-styled 70's interiors or the prawn pink colour scheme at Sketch in Mayfair, 14 Hills now follows suit with its own distinctive identity — an indoor forest overlooking London.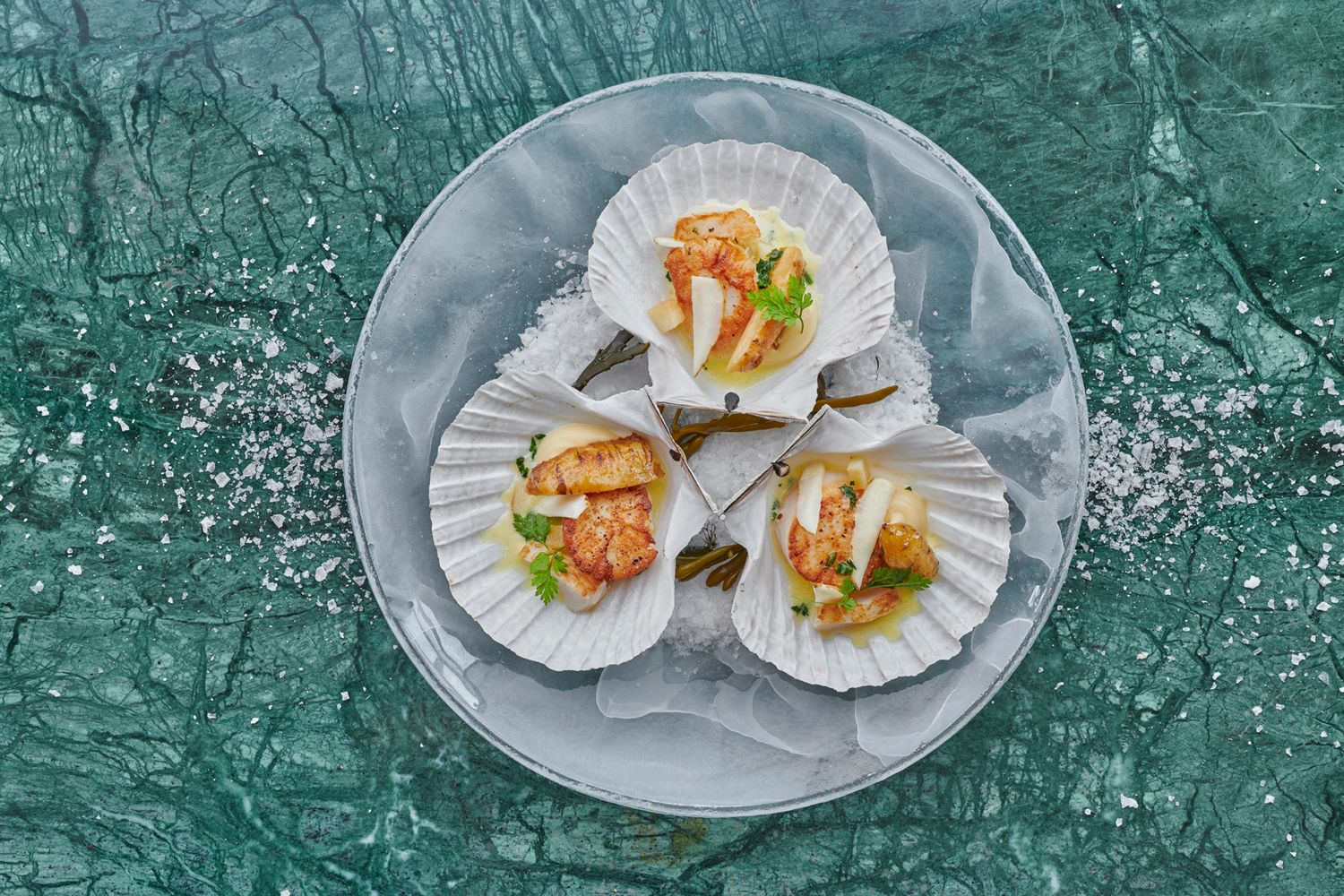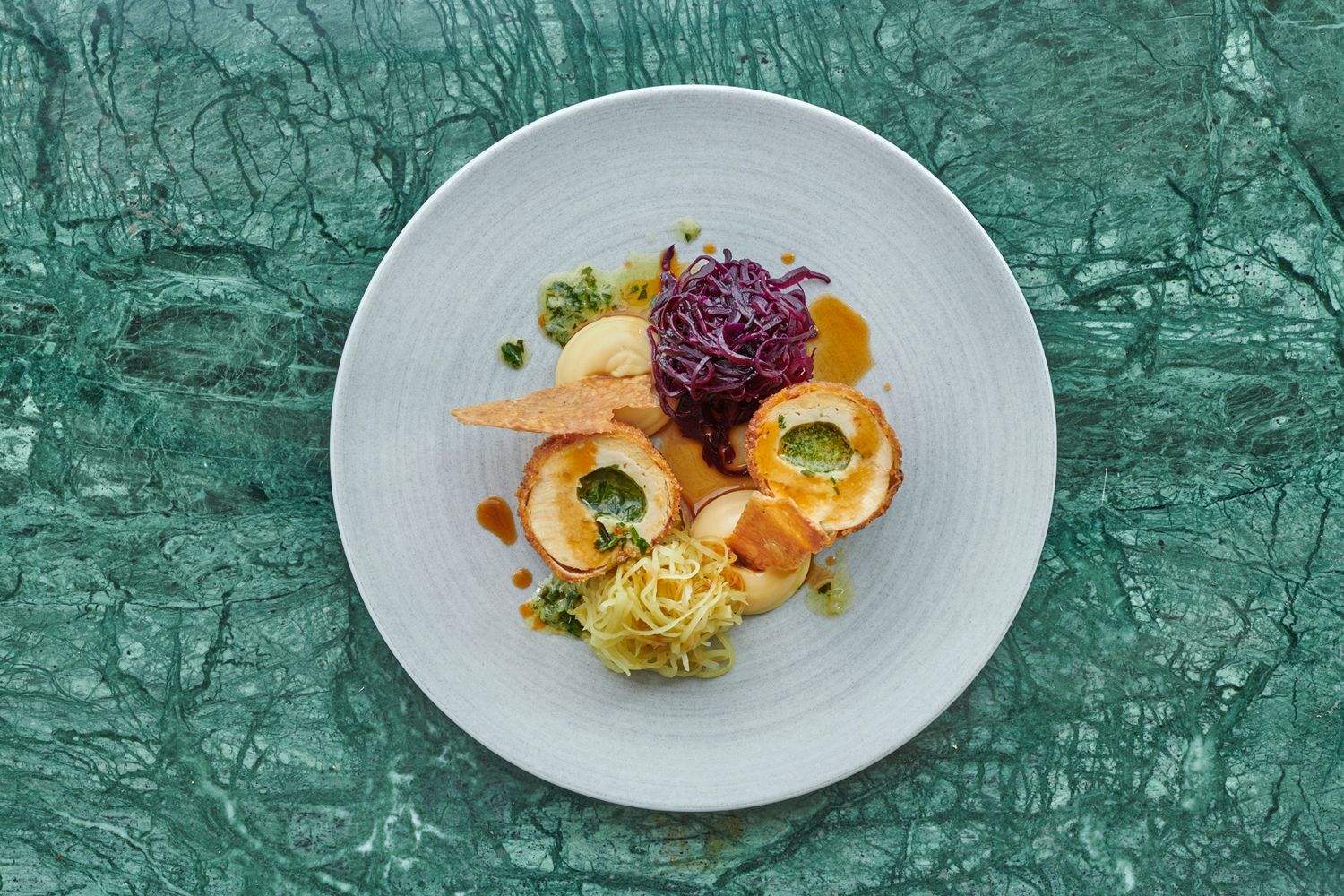 With enough trees and shrubbery to create your very own indoor greenhouse (there are over 2,500 plant variations), you can now enjoy spectacular views of London wind-free, at any point throughout the year. Sounds ideal, right?
The first glance into this other-worldly location begins at ground level as you enter the building's open foyer, that has a floral digital moving ceiling. When you're ready to head up, a heavenly white light elevator is called to whisk you up the fourteenth floor. As you enter the restaurant, it's the impressive bar that'll catch your attention first, followed by the epic amount of greenery and 180-degree views of the city.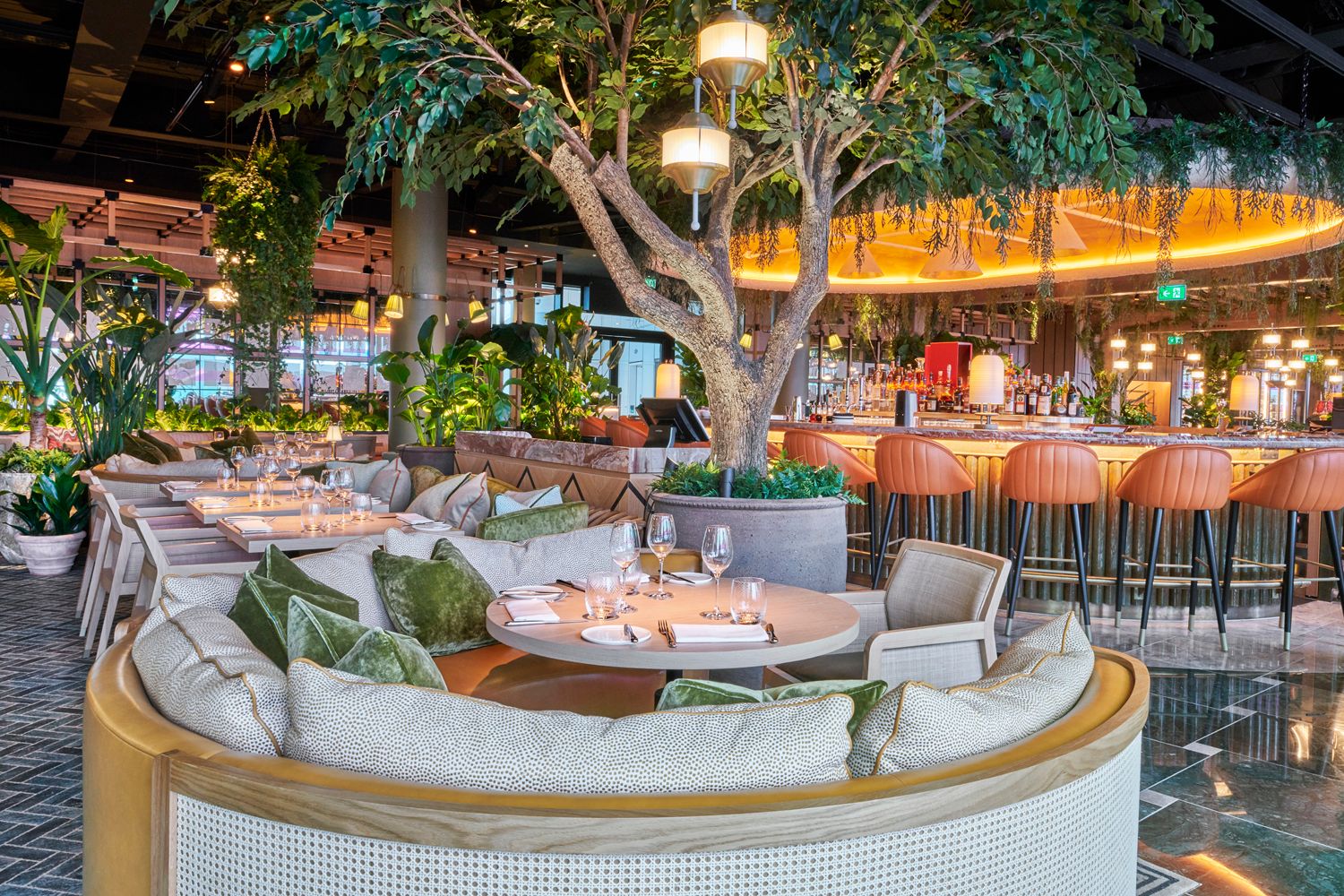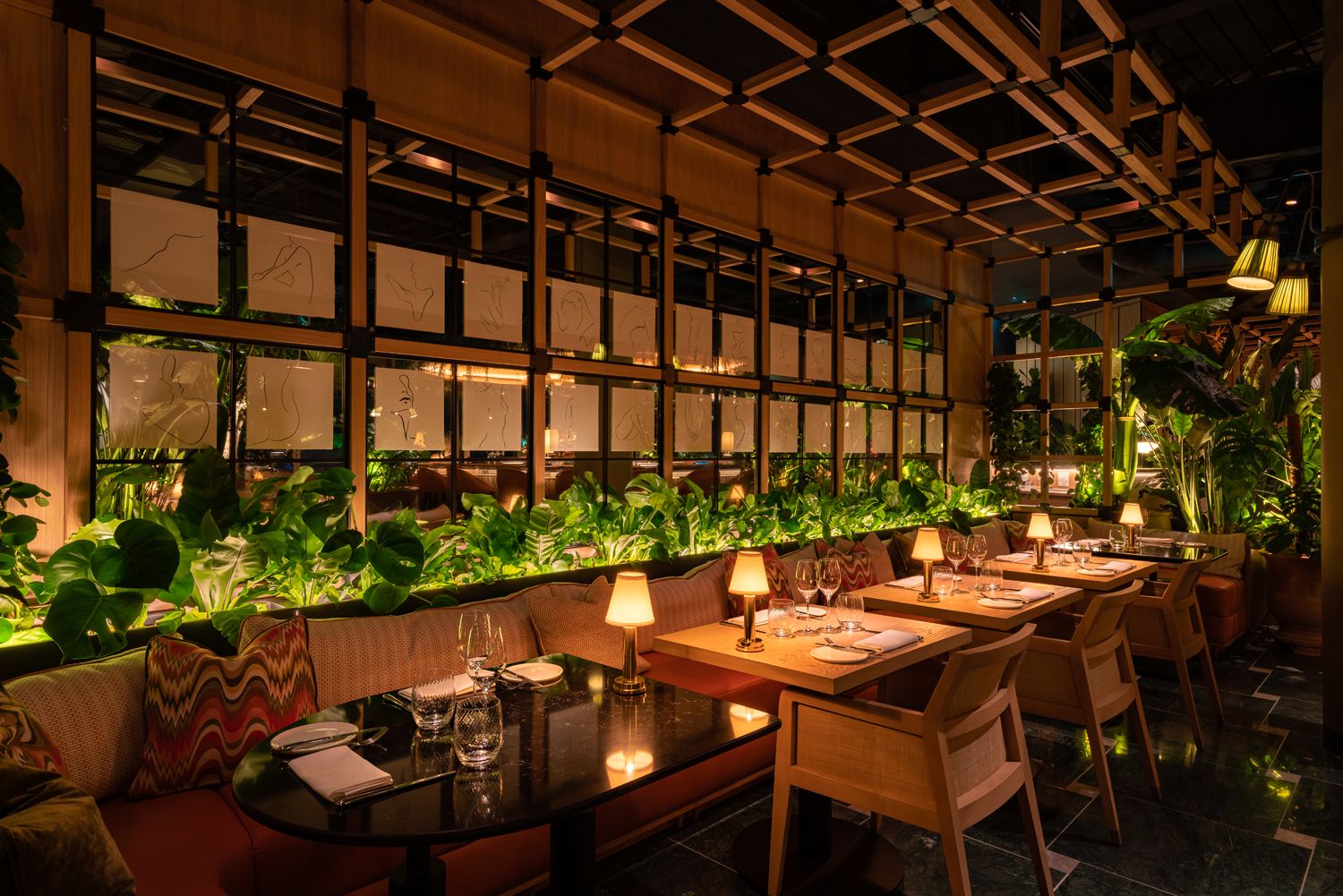 Our visit was mid-week, though it very well could have been a Friday, with several groups waiting patiently to nab a seat at the alluring bar that sits centre stage. The restaurant was almost full — apparently, a regular occurrence since its opening last November.
Spying a gap at the bar, we shuffled over to the A-lister seats. We sampled some cocktails recommended by our server; I gushed over a delectably fruity Crimson Sour with an egg-white head and fresh lemon, whilst my friend enjoyed a Fourteen 75 (both £12).
Over at our table — with panoramic views over the sea of lights down below — we took note of our neighbours for the evening. We were sandwiched between two tables; one was a young couple who clearly were no strangers to the more luxurious venues. To our left was an energetic group of forty-something couples who sat in a sofa cushioned corner, gazing out onto the city. They downed the last of their Malbec whilst chuckling at each other's jokes, before being subtlety slipped another by their observant waiter.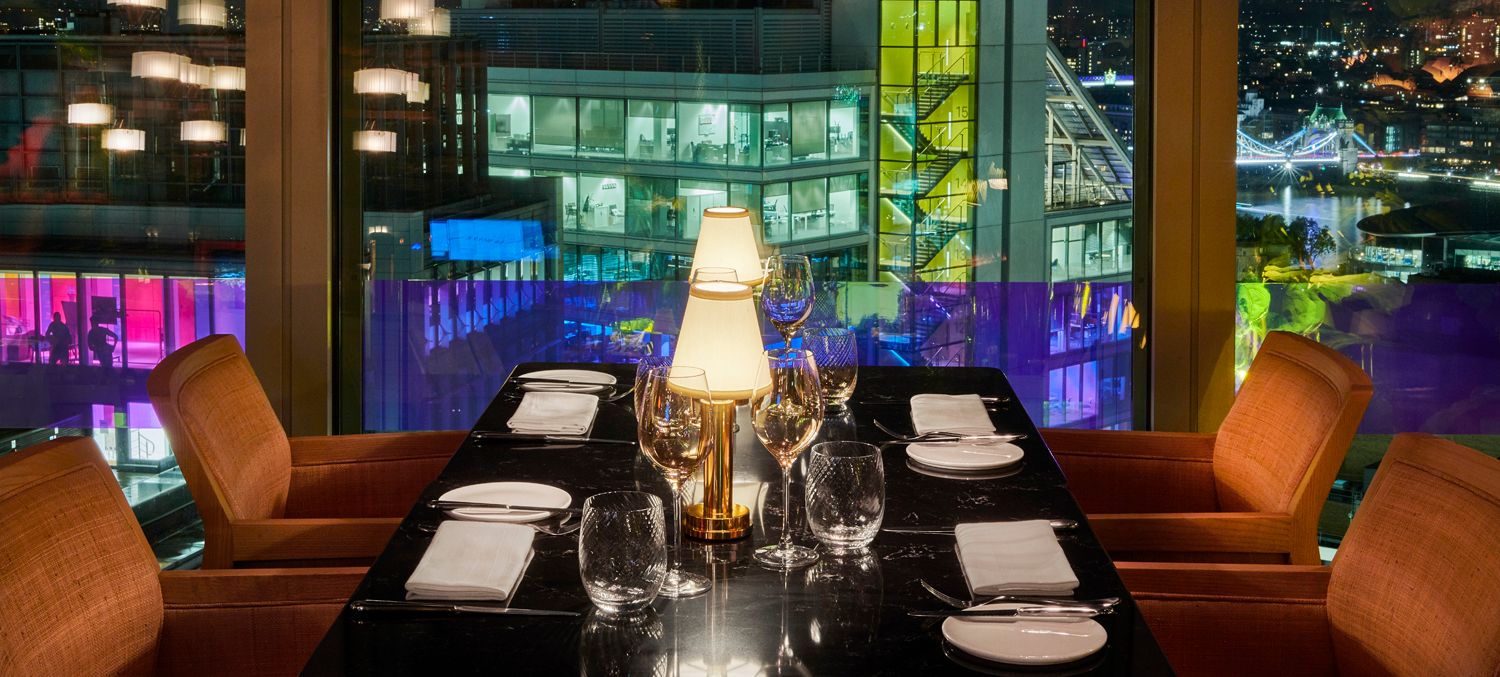 For starters, we went with our obliging server's recommendations, the Crab — served with grapefruit, chilli and coriander. We found the dish slightly disappointing at £17.50, given the size and plain flavours, though it worked well with the warm bread we'd also been served. The Chicory Salad (£16.50) had a mix of fennel and dill droplets, paired with tangerine wedges that balanced out the chicory. Both were light, which was exactly what we needed given the menu we were about to consume.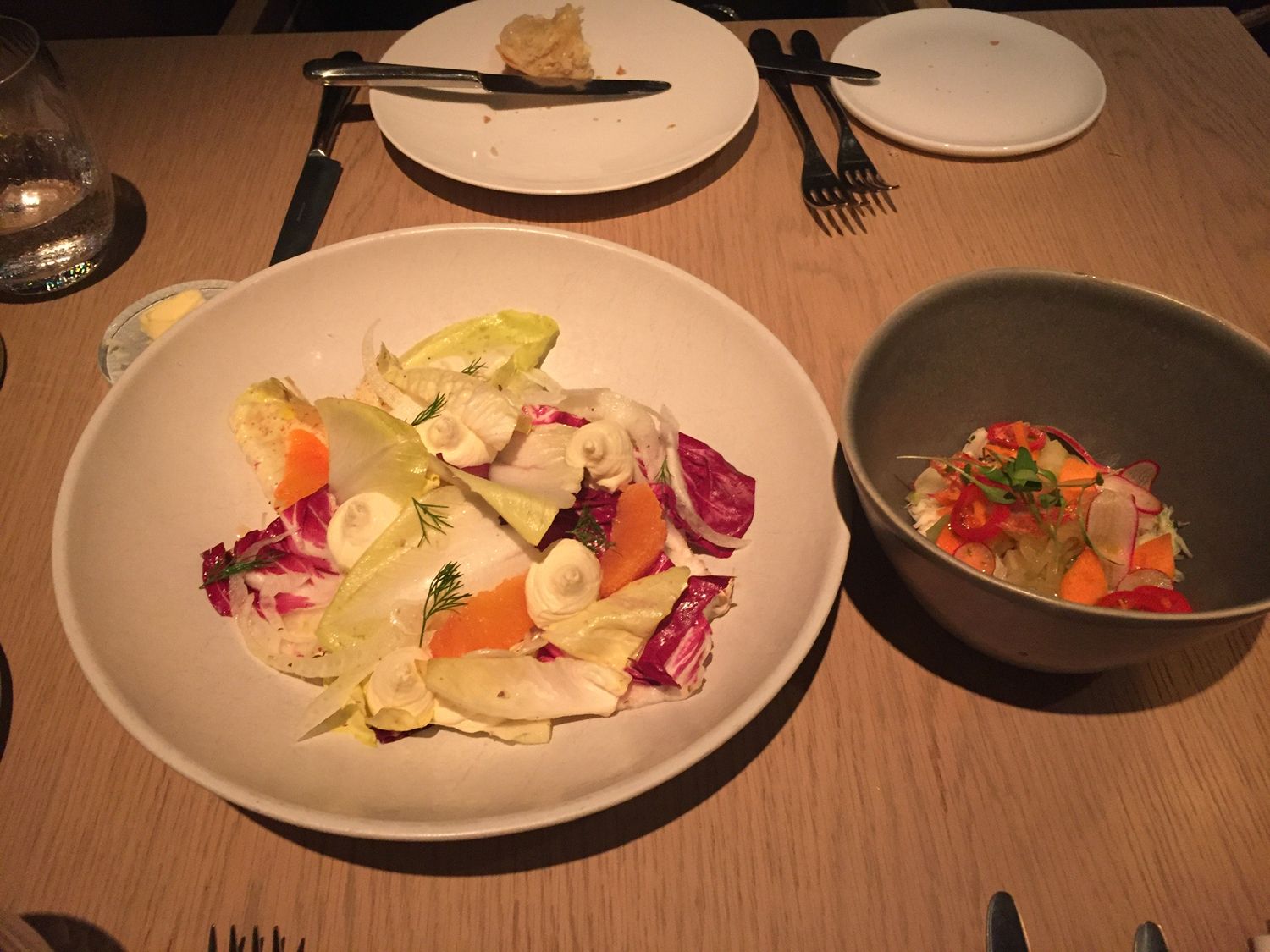 The restaurant, opened by the D&D London restaurant group, sits just one floor below London's biggest public roof garden which opened last February. French-born Thomas Piat, formerly the executive chef at Bar Boulud, has been handed the apron and crowned the restaurant's resident chef. He brings a traditional British menu to life with his French influences, offering a variety of hearty Sunday roasts and Saturday brunches as an addition to a staple À La Carte menu.
With a little persuasion from our sommelier, we sampled more cocktails. For myself, a punchy French Martini (£12) and for my friend the Lavender Hill (£12.50) — a Tanqueray gin-infused lavender with sweet Heering cherry liquor that most importantly had a bubblehead that required you to pop to drink, one of my favourites of the night.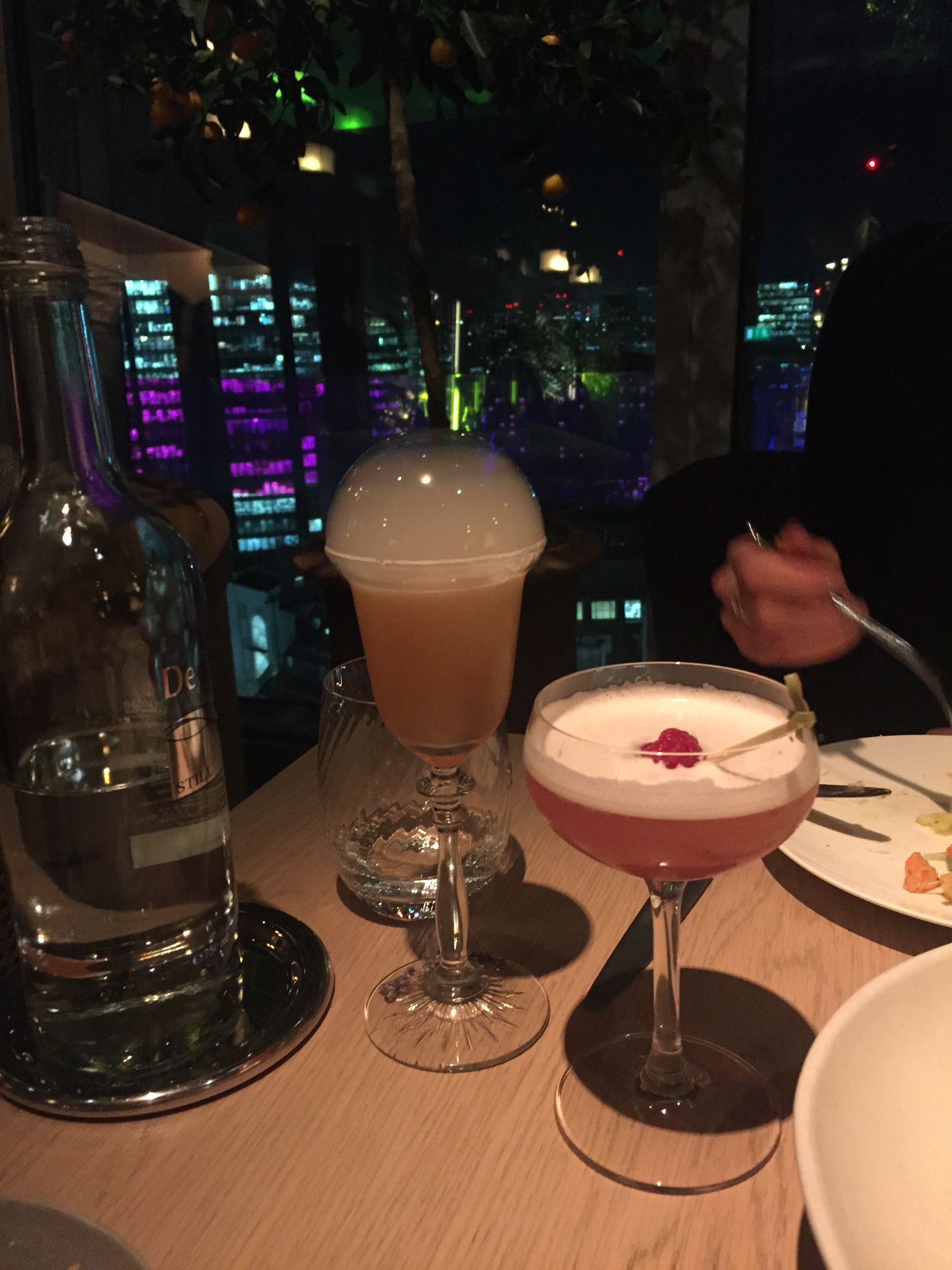 For mains, I chose the Dover Sole, that needed no accompaniment since I really appreciated the beautifully prepared fish, which was served with nothing apart from a wedge of lemon for company. However, it did come with a show by our waitress, who deboned the dish by our side — a nice added touch that makes the plate feel worthy of the price (£39.50). I ended up pairing it with a fantastic dish of creamy mash (£4.50) — served with not a clump in sight. My friend ordered the Wild Truffle Mushroom Tart (£20), which came with a crispy pastry base and soft black truffles on top.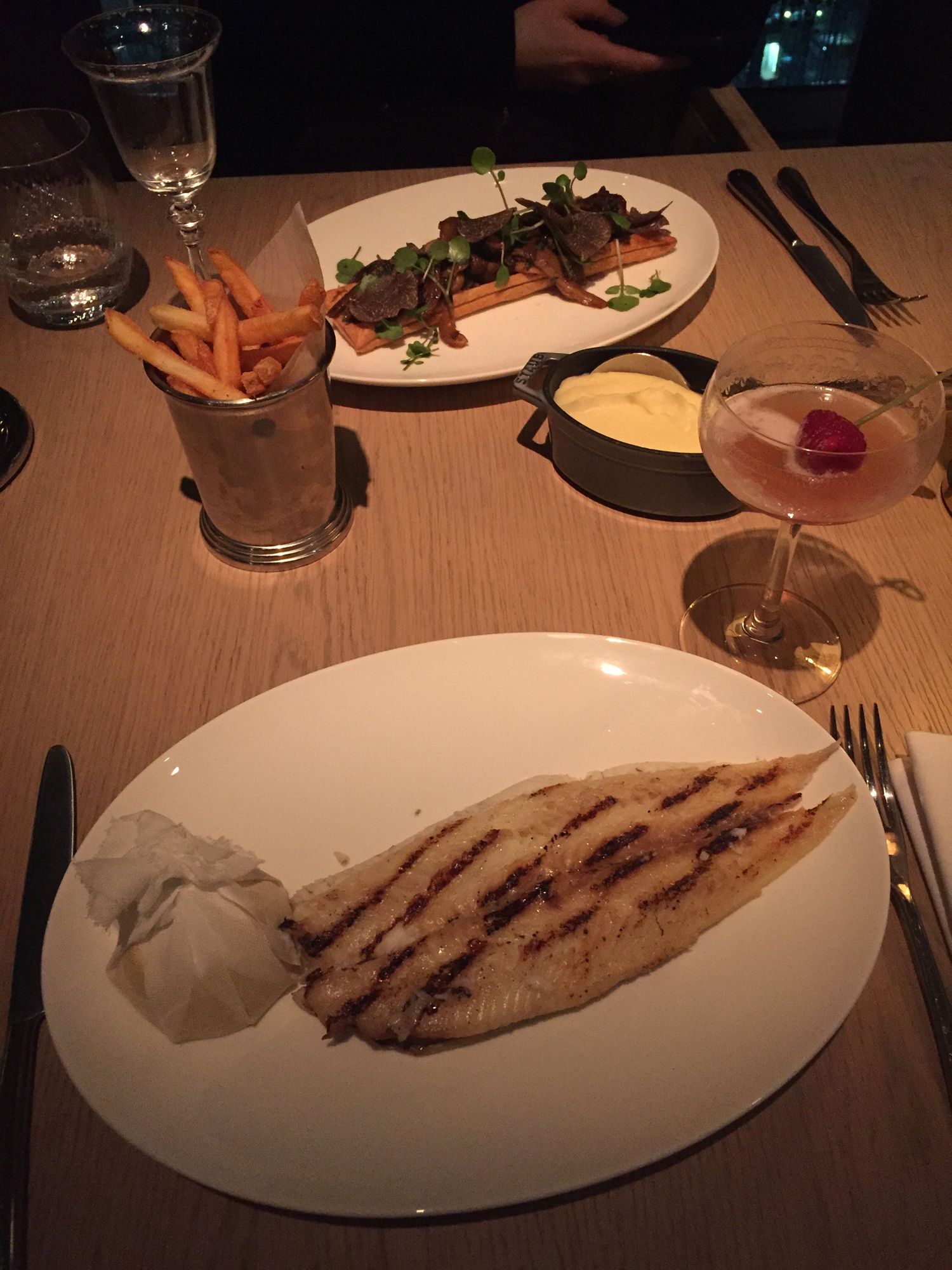 For dessert, we again went with our waitress's recommendations. To share, we chose a soft Chocolate Fondant cake, drenched in chocolate sauce and served with vanilla ice-cream, that was magnificently rich (£9). We also went with a rhubarb dessert, that had a delicious light shortcrust base with vanilla droplets and rhubarb pieces. Our attentive sommelier skilfully paired our dishes with some wines — I enjoyed a 2017 Saint-Joseph fruity red that was paired with the chocolate dish and my friend a floral white for the rhubarb dessert.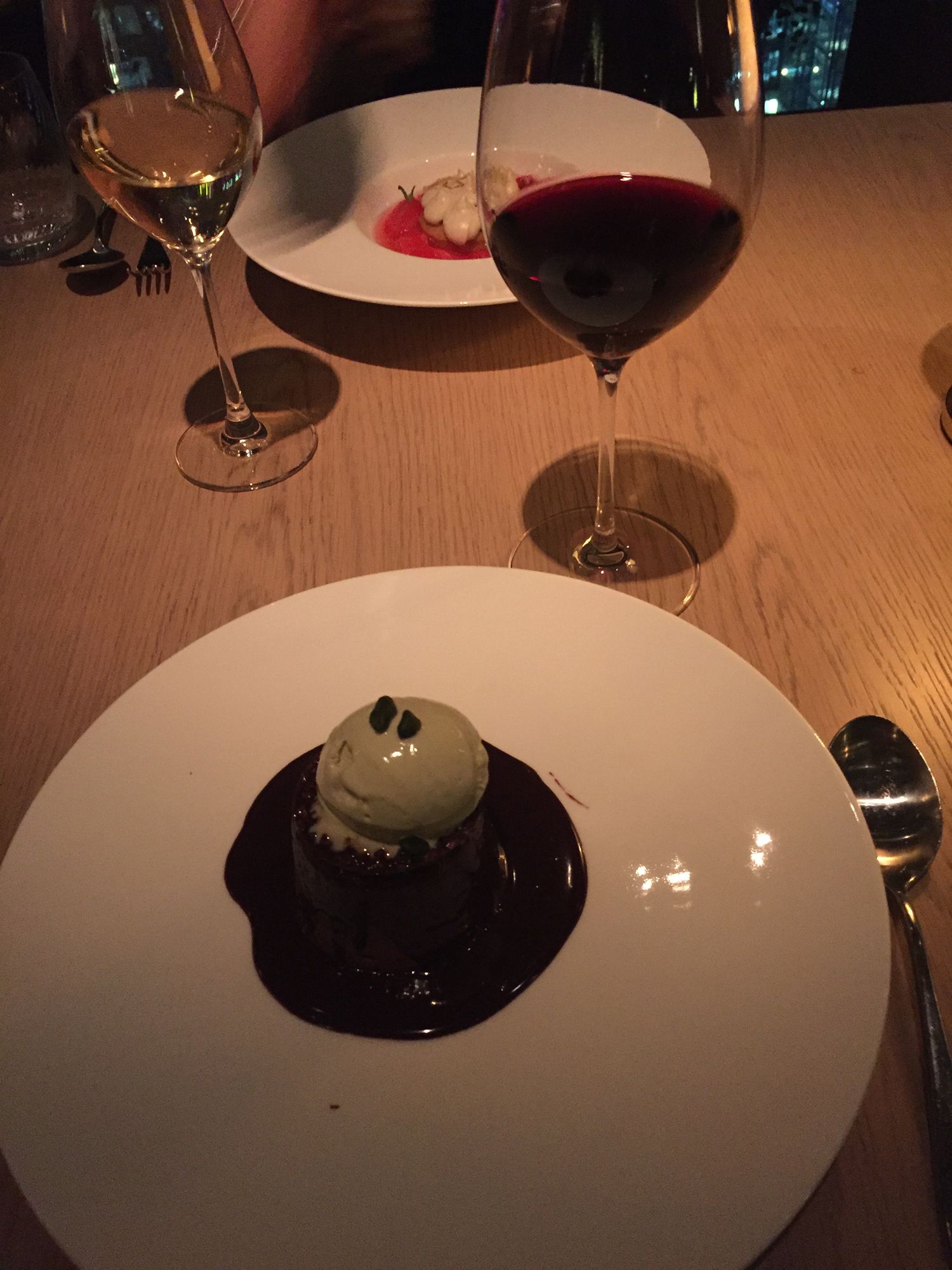 By this time, we had new neighbours, another couple to one side who were enthusiastically digging into a steak. The remaining restaurant continued to buzz as if no one had work the following day. We nearly followed suit, but instead, chose to call it a night and rolled out the door looking forward to our walk towards the tube to shake off our feast.
14 Hills is ideal for after-work cocktails, special dates and group catch-ups. Prices will vary — it's not the cheapest — but you'll certainly get your money's worth with good service, quality food and of course, those 'Insta'-worthy views.
For more info and booking visit  www.14hills.co.uk.
14 Hills — 14th floor, 120 Fenchurch St, London EC3M 5BA, Tel: +44 (0) 203 981 5222
words by Miranda Bunnis