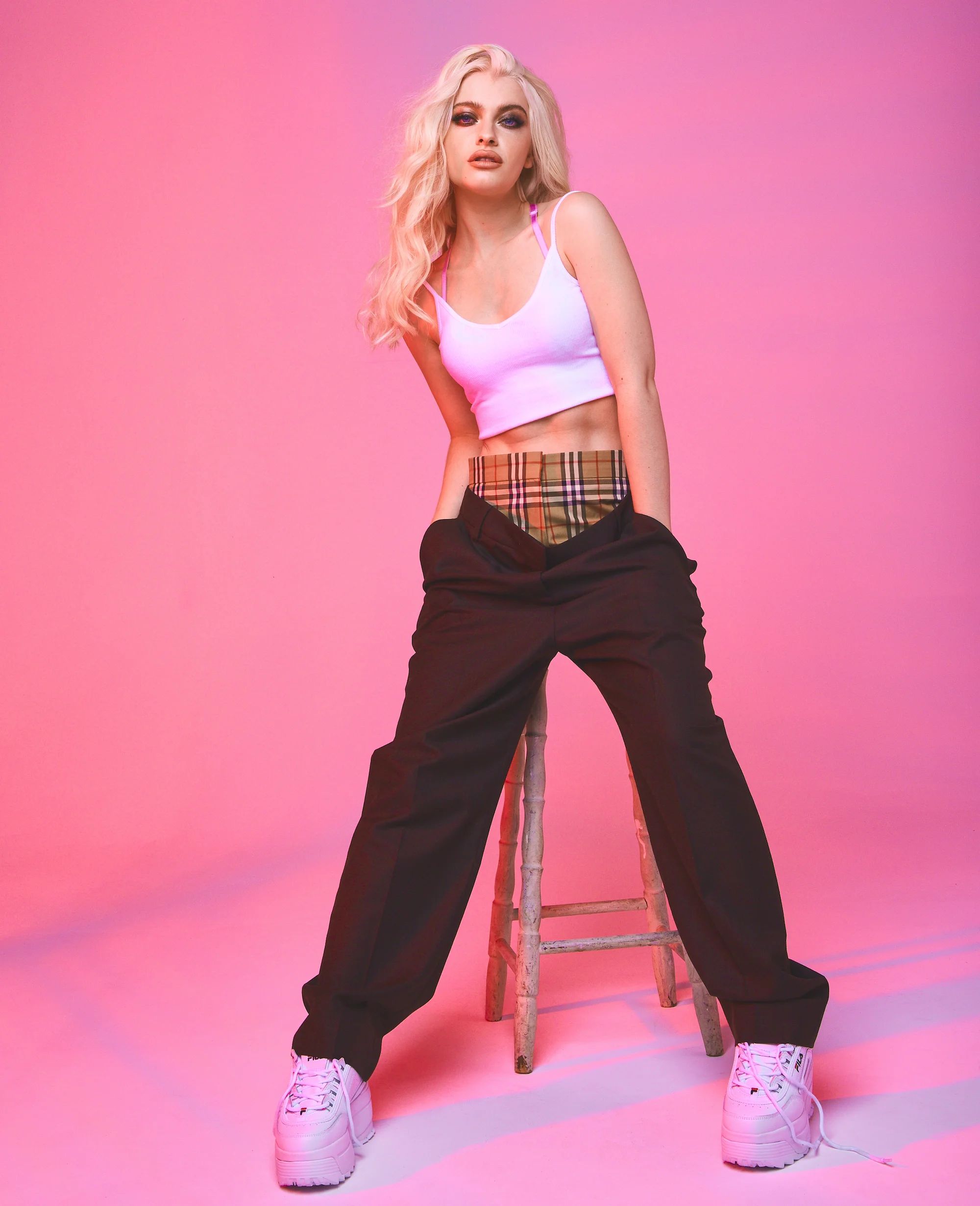 Alice Chater
Alice Chater is a ray of sunshine!
When we speak to the burgeoning British pop star over Zoom during lockdown, she's full of energy and warmth, and gives the impression that she's one of the sweetest people you'll ever meet. This demeanour is something she says she's retained all her life, thanks to her upbringing. 'Although people say, you've gotta be a bitch to get far in the industry, I don't think I would ever be that,' she states. 'It's not really in my nature.'
While Chater may now be the empowered, enthusiastic creative we've all come to love, she hasn't always been this confident, though. From being bullied at school to struggling with dance choreography, growing up, Chater found solace in the performing arts. Having a safe harbour in which to flourish helped Alice Chater grow into the star she is today. Her motto is to 'never take no for an answer'. No matter how many knockbacks you get, you just have to keep going if you believe in yourself. This outlook has undoubtedly got the triple-threat star where she is today.
We spoke candidly with Alice Chater about her upcoming emotional single, 'Two Of Us' which is being released today and the artistic visual concept that will accompany it, meeting her icon Celine Dion, her hidden talents, and much more.
First of all, how are you doing? How are you coping during lockdown?
Good, actually! I'm actually quite lucky because I'm here with my boyfriend because he's Swedish and he lives in Stockholm. He has a summer house which is a couple of hours outside the city. There's no one; it's so secluded. We're just staying here. 
One of your most recent releases was 'Lola' — a collab with previous 1883 cover star, Iggy Azalea. Who else would you love to create a song with?
I love The Weeknd; I love [his] music and his aesthetic, his visuals. Ariana Grande because of her vocals; I think she is amazing so I would love to work with her. Someone like Christina Aguilera because I grew up listening to her and very inspired by her music as well as Madonna. There's a long list of people I'd like to collaborate with!
You met your icon Celine Dion backstage at BST Hyde Park music festival last year. That must have been an incredible experience!
That was so amazing! I've grown up listening to Celine Dion and basically learning how to sing from her. She is the vocal template. She is so amazing. To be able to support her was crazy. I had my whole family there because it was special for them too. My parents always used to play Celine Dion for me when I was growing up, so it was a really special moment. To meet her was definitely the cherry on top. She was so wonderful and gracious, and I was a blubbering mess. I just broke down in front of her. I couldn't even say anything!
So, if there was ever going to be a duet with yourself and Celine Dion, what would that track be like?
I would love to do a Beauty and the Beast type duet. Definitely big vocals; big vocal ballad. I would love to do that! Big movie soundtrack vibes, definitely.
You're about to release the deeply emotional song, 'Two Of Us', which is about trying to save a fractured relationship. Could you tell us a bit more about it?
Well, the track is a very special song because it's the first time I've released something a bit more stripped back. I thought it was very important for me to do that with my next song to really show my emotion through the song and my voice. The track's meaning is about a broken relationship, trying to salvage it but knowing it's unfixable, and knowing that we're both going in different directions, and this probably will never work in the long run but we like to dream about it. The song was produced by MYKL who wrote and produced 'PILLOWTALK' for ZAYN. They're amazing musicians and I really loved the production that they've done on it. I'm very excited about it. I think that it's a great track.
What makes you most excited and nervous about releasing new music?
It is very nerve-wracking releasing new music after a while. The last song I released was my single 'Tonight'. Everyone always expects something. I think everyone's expecting my next release to be uptempo. I want to be able to shock people and show another side of me because there are layers. I like doing slower songs that have emotion. I'm very excited but definitely nervous as well.
Is there an album in the works? What else have you got in the pipeline?
Definitely more music. This year, expect a lot more music. I'm definitely working towards a full-length album in the future. But for now, just expect more songs.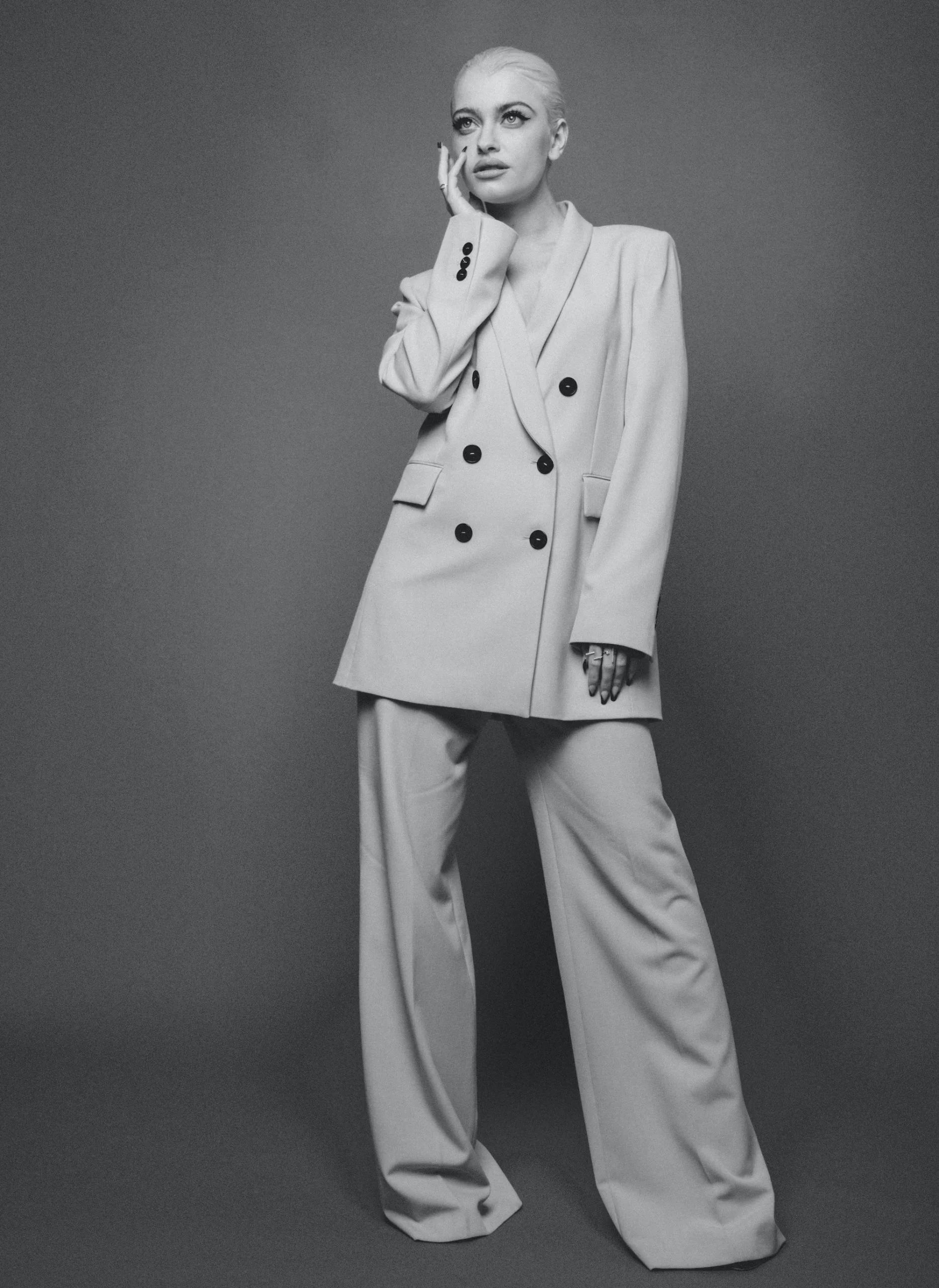 Your music videos are always so captivating and creative. What concept would you like to try for 'Two Of Us'?
I've shot the video already. I wanted [it] to be just myself dancing. It's an emotional piece of art. It's definitely more artistic. It shows another side to my dancing. I grew up doing ballet, my whole family are ballerinas, so this time I wanted to do something more balletic. It's visually really stunning and very well thought out. The choreography, me and Ryan [Walker] went through every single little bit to make it as special as possible and organic and original. It's definitely a video that hasn't been done before, which I'm very excited about. I think it will surprise a few people. 
You're a triple threat — amazing vocals, on-point choreography, and a passion for acting too. Which of the three have you had to work on most to bring up to point?
I probably had to work on my dancing the most. I think, even though I've danced since I was little, I've always found it hard to pick up things. It takes me a little bit longer but once I've picked it up and I know the choreography, then I know I can smash it but at first it takes me a while to pick [the moves] up. That's what I struggled with growing up.
When I had dance auditions, I would just freak out because I could never retain the choreography as quick as the other girls could. It would really put me down, and then I'd get really nervous about going to dance auditions. I'm really lucky as a singer that I can have a one on one with my choreographer, which makes learning a lot easier for me. I think singing has always come naturally to me. I can't remember not singing; it's always been there. I've been very fortunate to always know what I wanted to do from a very young age. I'm very thankful that I have this.
Do you have any hidden talents?
Because I grew up in Ramsgate [England] by the sea, my dad is a sailor and he taught me how to sail when I was younger. I had my own little dinghy racing boat and used to do competitions and races. I used to do a lot of sailing and water sports. That's something people don't really know about me.
You've previously spoken about your experience with bullying at school and that you found solace in performing. Do you still find catharsis in the arts today? What do they represent to you now?
They represent to me freedom; freedom to do whatever you want. The arts are amazing for being able to express yourself, and I think it's a great tool to release your emotions. It's great therapy, writing songs, talking about your experiences and your feelings. That's what's amazing with the arts — you can really help yourself by doing them.
Who would you say are your biggest non-musical inspirations?
Firstly, definitely my mum. She's amazing, she's such a strong woman. She's not just strong but she's very kind. I'm very thankful to have really wonderful parents who have brought me up to be kind. Although people say 'you've gotta be a bitch to get far in the industry', I don't think I would ever be that. It's not really in my nature.
I think what Greta [Thunberg] does is amazing. She's a young kid and she's speaking up against global warming. She's definitely made her mark and that's really inspiring. She's a voice for young people and the next generation.
What's the best advice you've been given?
Don't take no for an answer. It doesn't matter how many times you've been rejected. If you know that this is your passion and you know that this is what you wanna do and you think that you are talented, then you should keep going. There's always going to be rejections and people who don't think you're good enough. You can turn around to them and go, 'Ha! I told you so!'
interview by Aimee Phillips
Check out Alice Chater's newest single 'Two Of Us' below!