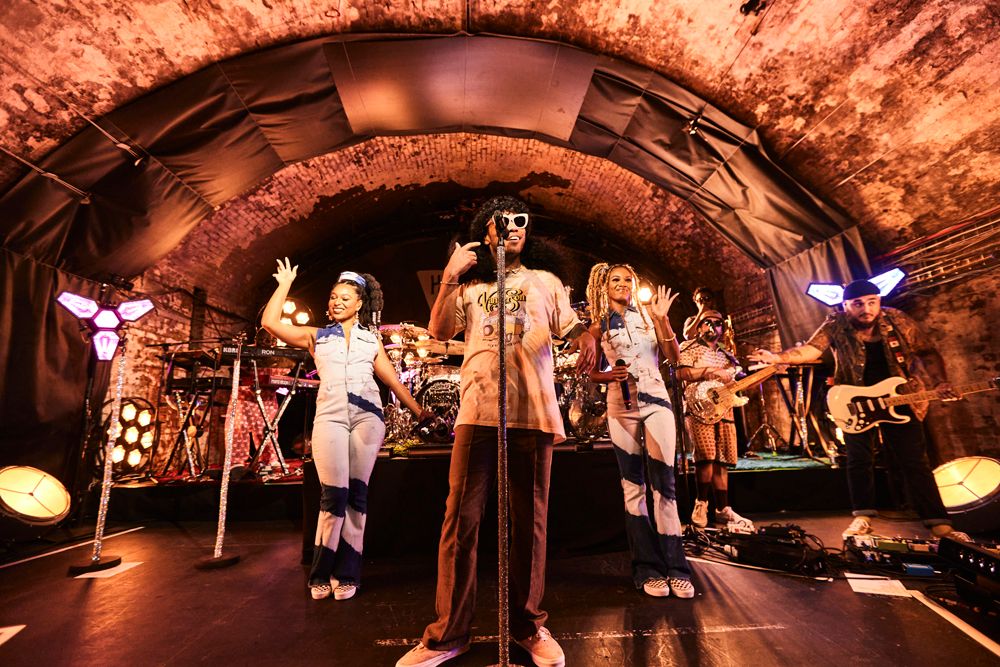 Anderson .Paak live at House of Vans
The dark, dank No.3 arch at House of Vans was the venue for the evening's performance from Grammy award-winning and Billboard 100 number 1 artist Anderson .Paak.
Hot off the stage from the previous two nights supporting the Red Hot Chili Peppers, alongside Thundercat, at the London Stadium. .Paak took to the stage dressed in his own Vans collaboration clothing with long black straightened / afro wig, bold white rimmed sunglasses and his trademark smile. Looking like a cross between Duane Dibley (Red Dwarf) and Dave Chappelle's impression of Rick James, .Paak delivered a high-energy upbeat stomp through his greatest hits and the sold-out crowd was rewarded with a seamless non-stop musical masterclass from .Paak and his band the Free Nationals.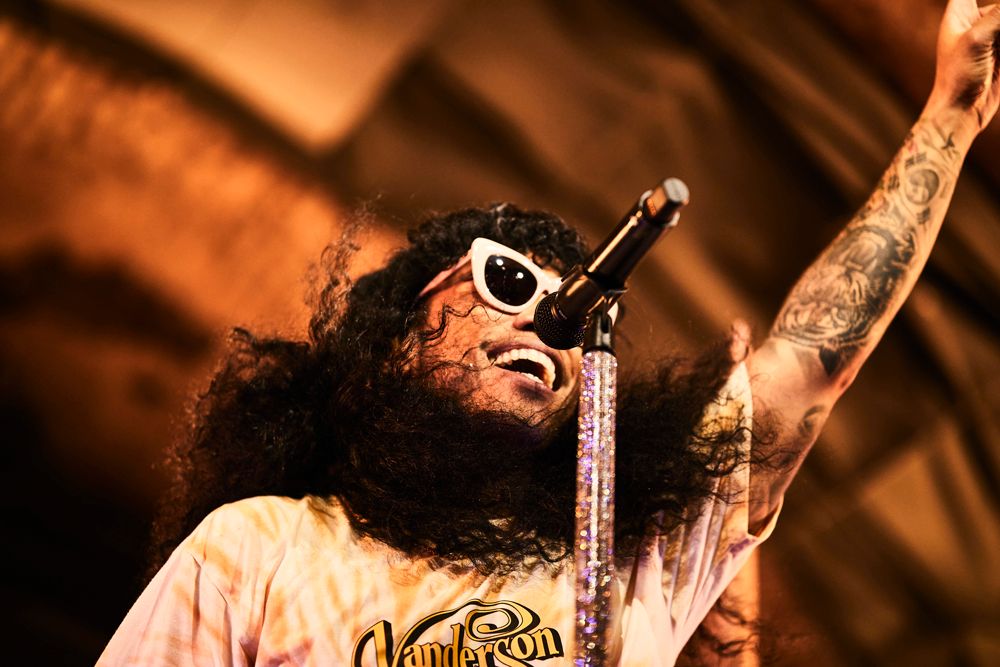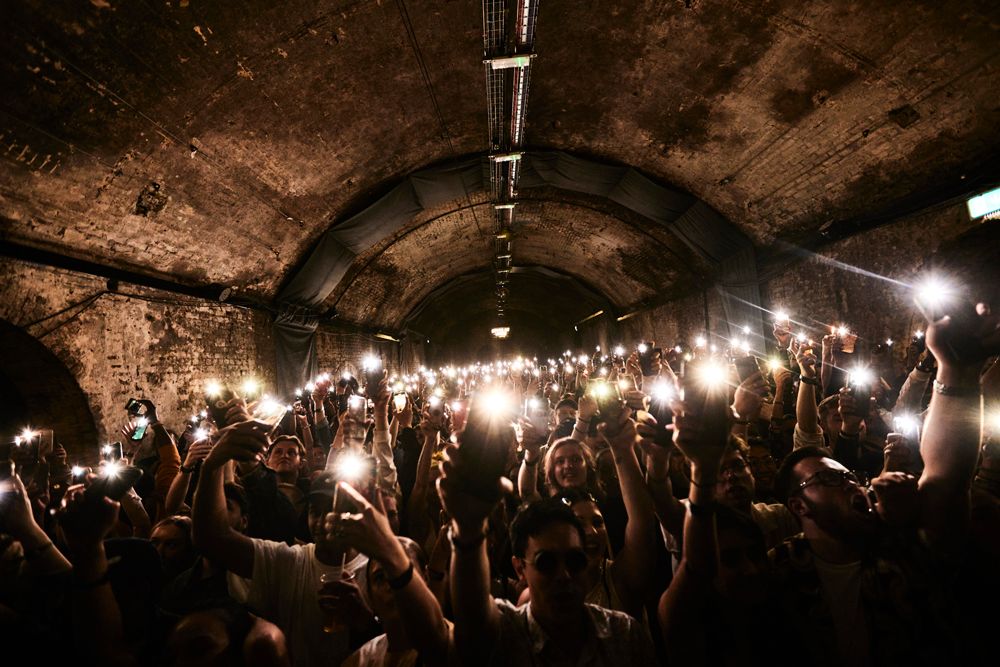 The evening commenced with a long trumpet solo that dropped into Heart Don't Stand a Chance as .Paak appeared on his sparkly glitterball drums that were positioned centre stage and backed by Hollywood style lighting. .Paak then spent the next hour traversing between drums and centre stage, delivering the perfect beat and vocals, normally at the same time. There were also interludes of synchronised dancing with his backing singers and a multitude of shout-outs to "London", where he admitted he hasn't been for three years and his trademark saying 'Yes Lawd" ringing out.
A natural performer, musician and entertainer, .Paak's music is hard to categorise as it flows from funk, to soul, to RnB, to pop, to hip-hop. He wears his musical influences on his chest, literally, as he has a giant tattoo depicting Stevie Wonder, Aretha Franklin, James Brown, Prince and Miles Davis. But one thing is clear, he's learnt from the best, and he's got the funk, got the groove and got the musical prowess. The gig went full force from start to finish, with .Paak dropping all his biggest bangers such as Am I Wrong (original song with ScHoolboy Q), Lockdown, Suede (actually a NxWorries song a band .Paak is in with Knxwledge), Come Down, Tints (the original features Kendrick Lamar) and King James.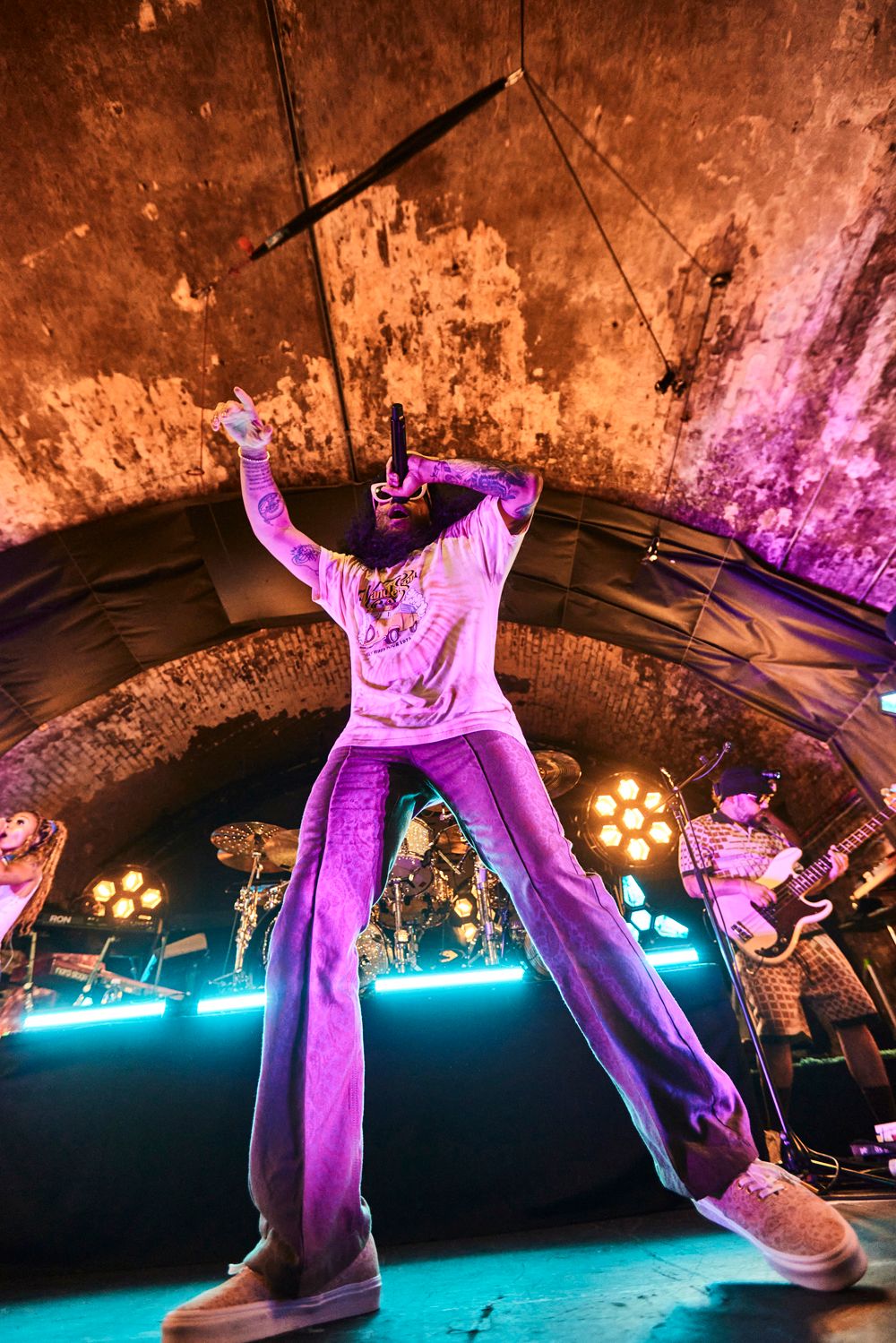 A mash up of hip-hop covers such as Biggie's Nasty Girl and 2Pac's California Love broke the performance up nicely alongside a song by the keyboardist Ron "T.Nava" Avant called Girlfriend that could almost have been Daft Punk. I even heard a few bars of Crystal Waters, Gypsy Woman dropped at some point. When the track Bubblin' was let loose, which won .Paak his first Grammy award for Best Rap Performance, it seemed like the sound system had been turned up as the heavy b-line rattled the venue like a high-speed train hurtling through Waterloo station a few metres away.
The Californian born, half Korean singer has come along way from being sacked from the weed farm he worked on and becoming homeless with his wife and kid. After dropping his initial stage name of Breezy Lovejoy he started working with Shafiq Husayn from Sa-Ra, then in 2012 he releases O.B.E Vol.1 and changed his stage name to Anderson .Paak (his real name is Brandon Park Anderson). But it wasn't till he released Venice in 2014 that he was 'discovered' by Dr.Dre and started really making waves across the globe. Having worked with Pharrell, Kaytranada, Andre 3000, Flying Lotus, Q-Tip and Bootsy Collins, in one form or another, and more recently Bruno Mars who he did an album with named Silk Sonic in 2021, .Paak has the world at his feet and deserves to be headlining festivals across the world.
But for now catch him while you can, and keep a look out for more gigs with Vans as he continues his 'Vanderson .Paak' collaboration, which started in 2021 with .Paak being announced as Vans' first ever global music ambassador. Having formerly worked for Vans at one of their stores in California, .Paak has had a close connection and history with the brand and let's hope it continues to deliver stadium-sized performances in tiny intimate venues.
For more information about House of Vans visit www.houseof.vans.eu, the Vans Anderson .Paak collection is available now at www.vans.co.uk/news/vans-anderson-paak-22.html