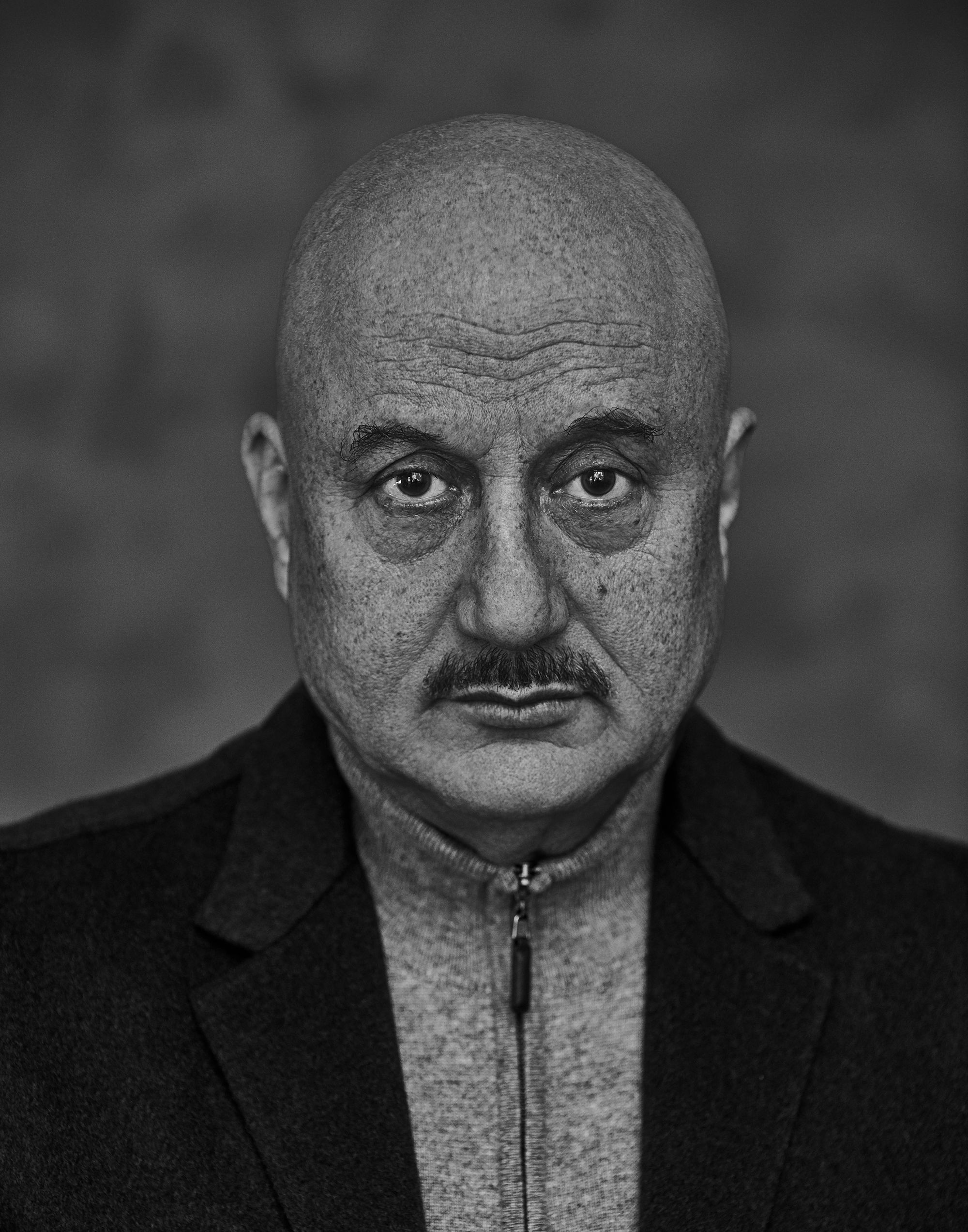 Anupam Kher
Growing up in a South Asian household, Bollywood was always a part of our lives. The vibrant musicals with their romantic storylines, earworm songs, choreographed dances, and actors that we grew to love.
One such actor is Anupam Kher, who has always been a staple in almost every Bollywood film I watched. It wasn't a massive shock to hear that he's got over 500 films in his filmography, but it was impressive and explained a lot about who he is.
Born in March of 1955, Kher grew up in a small town in Shimla, India. In 1978, he graduated from the National School of Drama in New Delhi as acting was always a passion of his despite the struggles he faced, such as living on the streets for a month. He started out performing in plays and even taught drama to students in Lucknow, India.
Six years later in 1984, Kher landed his first role, but it was unconventional. He was playing a 65-year-old man despite being 27 years old at the time. Still, he took the role and he gave it his all, establishing himself as an actor within the industry. From there, his career catapulted, and he has starred in numerous hit feature films and TV series in several languages since. A few notable credits include his roles in Bend it Like Beckham, Dilwale Dulhania Le Jayenge, Kuch Kuch Hota Hai, Veer-Zaara, Silver Linings Playbook, The Big Sick, and most recently Hotel Mumbai.
His performances have earned him a record number of 8 Filmfare Awards in a row. He also received the Outstanding Contribution to Indian Cinema Award at the 2018 International Indian Film Academy (IIFA) Awards. Furthermore, he is currently the chairman of the Film and Television Institute of India (FTII). Aside from acting, Kher has written a bestselling motivational book, 'The Best Thing About You Is You!', and most recently an autobiography titled 'Lessons Life Taught Me, Unknowingly: An Autobiography'. Kher is a well-loved motivational speaker as well and has spoken at institutes like Kellogg School of Management, London School of Economics, New York Film Academy, Babson College, and more.
Currently, the actor is residing in New York City where he's shooting his latest project, NBC medical drama New Amsterdam. We spoke about his journey so far, the differences between Hollywood and Bollywood, and how he's reinventing himself in a whole new city both personally and professionally.
You actually struggled quite a bit at the beginning of your acting career, was there anything that really made you determined that this was the right direction for you?
Well, I was a trained actor and when you're a trained actor you've done four years of training. And when I came to Mumbai to make it in movies, I had told myself giving up is not an option. In life, otherwise, also forget about not wanting to be an actor; I have never thought that giving up is an option. But not a little bit of struggle…my struggle was quite hectic. You feel that you are struggling more because you are a qualified, trained actor. In those days, in the mid-80s, the concept of a trained actor was not there in India. Now everybody's trained – now I have an acting school, also. I had no choice. I had to make it.
How did your parents feel about your career choice?
I had the most amazing parents in the world. My father is no more, but he was the most encouraging person. Even though he was just a clerk in the forest department and did not know much about what should people do or what should children do. His one sentence changed the course of my life. He said, 'Failure is an event, never a person'. So, he never said do this and do that; he said whatever makes you happy, just do it. And one of the reasons that I could make it is because my parents were like that. Because when you have the support of your parents, even in bad days, they can really lift your spirits. We're basically scared of our parents that if you are not in the kind of profession they wanted you to be in, then you are scared of their reaction, but over here, there was no such thing.
You continuously work between Bollywood and Hollywood, which do you enjoy working in more and why?
So, it's very difficult to answer that question in the sense that I like to work. For me, with work comes work. It's such a joy to be able to work. It's such a wonderful feeling to be able to work because in my profession you get to meet so many people. Everything is a learning experience. Traveling to those places that you work is an experience. Meeting technicians, directors, producers, writers is an experience. So, I will say that Bollywood has given me my strong foothold and Hollywood, with whatever work that I have done, has given me a certain amount of international or global exposure. Yeah, but I love working with both; I love work. So, wherever I go, it doesn't matter. I've produced a Bengali film; I've done acting in a Bengali film, I've done a Marathi film, a Punjabi film.
Having been in Bollywood for as long as you have, what would you say have been the biggest changes in the industry and filmmaking?
So, I think ours is a very young industry. We are just 72 years old, independence wise. It's a joy to be working within Bollywood film because we celebrate life. We make cinema to entertain people not necessarily to make them think. In India, the middle-class and lower-middle-class people used to go and see movies. They went to movies only to get a sense of relief, happiness, joy, and that's what we were giving to them. Because in their real lives, there are so many other reasons to think. We make films which I thought were larger than life, but beautiful. Now we make all kinds of cinema, all kinds of things. Working here gives me a certain amount of professionalism. We make films in a relaxed manner. Over here everything is professional. I love working here because I'm a trained actor. But half my life went into actually thinking that I've made it, that I'm actually there in movies. So, like in life, 90% of life is monotony and 10% excitement. Similarly, going to work for me is a joy because for a small-town boy from Shimla, making it is a fantastic feeling.
Can you tell us what's in store for your character, Dr. Vijay Kapoor, on New Amsterdam this season?
We have wonderful writers, we have really, really amazing writers and I must say that they don't tell us for more than one episode of what we are going to be doing. Really, if we are shooting for episode three season two, we will get the script of episode four. That's it. We don't know what's happening beyond it. When in episode two season two Ella gets pregnant, I almost fell off the chair when I was reading that script; never expected that to happen. But what I think is phenomenal about this series is the compassion of every character towards their profession, towards the patient, towards making things better. I was telling somebody the other day they are not doctors with a stethoscope. They are also doctors with heart, and their hearts beat for everybody. They have not yet sold them themselves to this possibility of doing things just for the money part of it.
You've started a laughing fitness class. Can you tell us about why you feel this is important to incorporate into our everyday lives?
I feel that in bigger cities because of the work pressure and stress, people are mostly in a bad mood. New York is supposed to be a very happening city. It's like Mumbai, it gives a chance to everybody. But I also see a section of people always in a bad mood, impatient. I've had some personal experiences. So, this is an attempt to bring in an element of laughter and smile in people's lives. Whatever people join us, we call them brand ambassadors of happiness. It's a great exercise for health. It's a great breathing exercise, it's great for your stress, it releases blood pressure. Those are medical reasons. The phrase laughter is the best medicine has come from there. And I thought rather than just thinking and becoming like one of those commuters or one of those people walking on the streets in a bad mood, let me make a contribution in this beautiful city with conducting these classes. It's called LOL with Anupam Kher. Riverside Park Conservancy has given me a space and it's been fantastic. In the first session we did, we had about 97 people and yesterday we had 137 people. And it's going to become bigger and bigger and bigger. It's a wonderful one hour and 45 minutes session of laughter, smiles, breathing exercises. Everyone is smiling and there are no stand-up comedians. There are no jokes, there are no jokers. You just have to physically laugh because the body does not know that you're faking your laughter or whether you're actually laughing. As long as the process of laughter is something you're going through, it's fantastic. So, I want to do it in other places. I want to do it at charitable places. I want to do it with corporations. I did it with my fellow actors, not the lead actors but other actors on the set of New Amsterdam. So, this is something where we just need a small space to laugh.
What personal experiences have you had?
It started from this incident, basically. I was in the elevator and there was this elderly lady who was carrying a puppy in her arm. So, you know, we South Asians have a habit of chatting. So, I was playing with the dog and I was saying to the dog, 'Hello'. Suddenly, she turned around and she said to me that he does not talk to strangers. So, I looked at her and I said, 'I was saying hello to you. Not to him, not to the dog.' So another incident, I was walking and somebody ran into me because I was in the middle of the road or something like that. It's like a drug to be in a bad mood. It starts becoming a persona. You start enjoying being like that person.
What inspired you? Was it something you always wanted to do or something that you thought would help mental health with it being spoken about and discussed more openly?
About four years back, I was not sleeping. I was having sleepless nights for almost one year and becoming an insomniac. So, I went to my eye doctor and I asked him 'can you give me some eye drops or something which will make my eyes moist because the lights are too much on my eyes?'. He listened and asked why do you want this and I told him because I'm not sleeping. He said, 'Mr. Kher, if you don't mind me saying this, but you will need a psychiatrist rather than an eye doctor.' So, I laughed because I just finished writing a book, which was a bestseller, about life coaching. But I went and met this doctor. And then I discovered that to talk about mental health is the most important thing. Because, first of all, we need awareness. You do not know how many people are suffering because it does not have physical aspects to it. If you have a fever, you know that, but depression has no physical science. Unless somebody is actually taking note of you that you're sleeping too much, you're just not laughing. So, then I did become kind of an ambassador of talking about mental illness and mental health. And it's important. It's important because it is a very silent disease. And it's more prevalent today among youngsters. They are constantly dealing with the machines, like their mobiles because their human touch is not there. So, it's important to talk about it. One of the reasons for doing LOL with Anupam Kher is because of this because you need to come out and force yourself to laugh.
You have worked with so many people in the industry, with humor being such a big part of your personality – who has made you laugh the most on previous roles?
We have fun on the sets. I think one of the major differences between working over here and working in India is that there is a lot of fun that takes place in India as compared to that over here the work is very, very seriously done, which has its own great qualities. In India, we will sort of stop by and say let's have a cup of tea and then we will do the shoot. We don't get easily fired in India, so there's a certain amount of relaxation, and yet we produce more than 1000 films a year…yet there are 1.3 billion people who like to watch our movies. So, I have fun with everybody I think I've had fun with Akshay Kumar…Shahrukh Khan. I had a great time when I was doing Silver Linings Playbook with Bradley Cooper. I had a lovely time with Gerard Butler when I was doing A Family Man. I'm an easy person on set. I like to make an atmosphere that's easy to be in because I enjoy my work. So, I am the comic guy on set. I love to make people laugh.
Which project or role would you love to have land on your lap?
Oh, every role is a blessing. When I was struggling and on the streets of Mumbai being homeless, I promised God that God, give me work and I will never complain. I have never complained. But there are some movies which you like for various reasons. When I did a film with Ang Lee, I had only three scenes at the end of the film. It was a Chinese film called Lust, Caution. I did a film with Woody Allen [You Will Meet a Tall Dark Stranger] just to sort of stand in the same frame and shake his hands. I was thrilled! I was happy that Silver Linings Playbook happened to me, but my first film Saaransh, which I did when I was 27 and I played a 65-year-old man, was phenomenal. Dilwale Dulhania Le Jayenge was fantastic. Kuch Kuch Hota Hai, as well…movies that you grew up with.
I did! The last two especially meant a lot to me. What was it like playing a character nearly 40 years older than your actual age?
It was a phenomenal role. Today, I'm 515 films old and it's only because that was my first film and it established me as an actor. People could not believe that I was actually a 27-year-old boy. They thought that I was actually an old man who's acting at an old age. It was difficult. I was not married. I didn't have a child. The film is about a father who has to go through the death of his only son in New York. I had just begun my life and to be able to do all that; I think it gave me a great education, not only about cinema but about life also. Because when you're playing someone almost two and a half times older than you who's dealing with death, who's dealing with life, etc., you have to internalize it. It becomes education.
Did you find it therapeutic while writing your autobiography? What did you learn about yourself when looking at your life journey so far in hindsight?
That it's a wonderful life. I'm very proud of the way I've conducted my life. A small-town boy, clerk's son sitting on the 31st floor of a Manhattan building overlooking Hudson River, talking to you. I have really arrived. And yet, I feel like a newcomer because that's what I wanted to do. The whole idea of me shifting to New York was because I was getting a little worried. People in India are calling me a veteran, thespian, legend. That's very nice of them, but they are also indicating that I need to retire now, and I feel that I'm far away from thinking about my retirement. So, I thought let me discover new horizons, the most difficult horizons. I'm a Hindi-speaking person. I don't think in English. So, for me, doing an English-speaking series, and that's also a medical drama is…sometimes you need to cross the boundaries to your own boundaries to discover your courage.
Are you enjoying living in New York? What are your favorite parts about it?
Oh, I love being in New York. One of the main reasons for doing this series was because it was being shot in New York, and my producers know that. Maybe I would have not done it if it was being done somewhere else. I think it's a very vibrant city. It's literally the multicultural capital of the world. It has its own pace, it's a very large-hearted city like Mumbai. It's the city that doesn't sleep. You meet people on a day to day level who are not judging you. I love to go explore. I live near the Lincoln Center and the cultural hub is there. I have discovered most of the restaurants here. All kinds like Indian, French, German, Japanese…I'm a foodie. And I never knew how to swim, but I've started learning swimming at this stage of my life and it's fascinating. It's an amazing feeling. I walk so much over here too.
Do you ever meet other Bollywood actors when they're here, like Priyanka Chopra?
Yeah, I met Priyanka. Rishi Kapoor was here. Whoever is in town, if I'm able to then, of course, I meet them. Forget about an actor, whenever I see Indians on the streets, I feel very happy. I never paid for a yellow cab ride. They are all Indians, and they never charged me any money.
You're very active on social media. Platforms like Instagram, Twitter, etc. have really accelerated in growth and usage, especially for the entertainment industry. How do you feel about it and how do you think it has helped your career?
It's a great learning platform. If you want to learn things about life, people, general knowledge, social behavior, or if you want to convey things to the world, it's a great platform for that. And I have used it to sort of spread good word, spread optimism, spread inspirational things. My mother is very famous for it. I do some videos with my mother. I do Q&A's. Of course, there is trolling and there is negativity, but then that's also in life. Everybody has a platform so if you ignore that…there's so much to do. My autobiography has just come out and I had gone to a gala where I met Mr. Ban Ki-moon, the ex-Secretary-General of the United Nations, and I gave it to him and somebody took a video and I put it up. Today one of the greatest sarod players, Amjad Ali Khan, he met me. So, there are so many things which you can do; you can change people's lives, you can add laughter to their lives. I'm an optimistic, constructive person, and I enjoy it. Social media is only not good for people who don't know how to deal with it. I do get upset when somebody is abusing me when somebody is criticizing me, or somebody is being nasty. I do get upset, but I don't let it bother me so much.
Team Credits
interview by Naureen Nashid
photography Christian Blanchard @ ADB Agency
styling Ise White
grooming Nicole Blais @ Exclusive Artists using skyn ICELAND
casting + production Angeliki Sofronas

'Lessons Life Taught Me, Unknowingly: An Autobiography' by Anupam Kher is available on Amazon.
New Amsterdam is currently airing every Tuesday on NBC!
[embedyt] https://www.youtube.com/watch?v=Ey8s-aPy2l0[/embedyt]