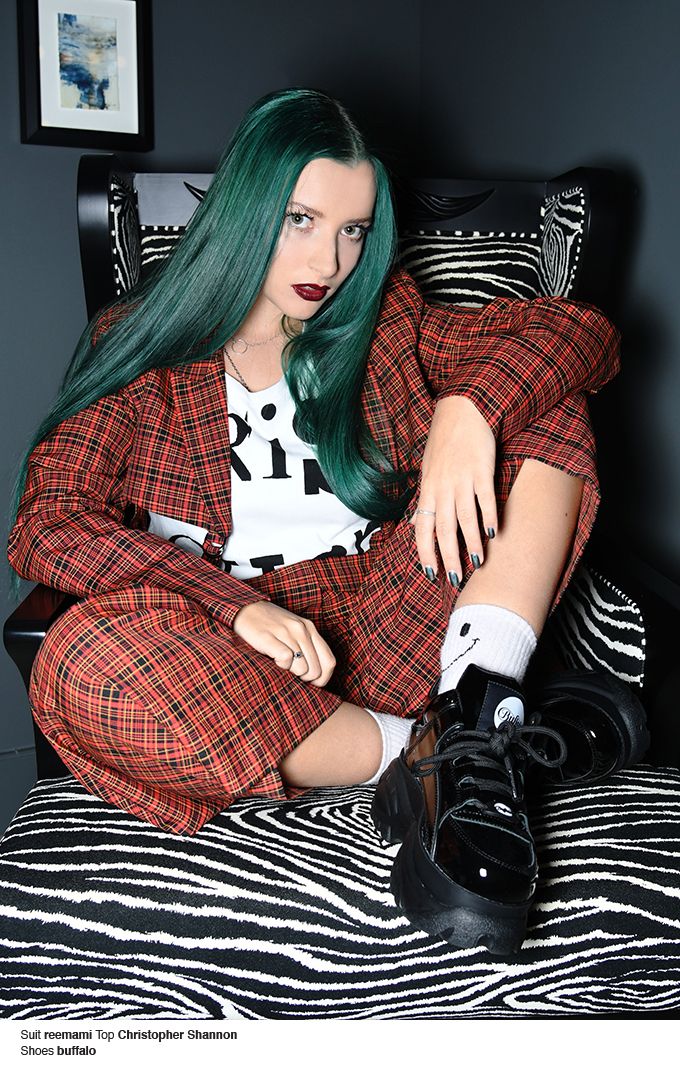 Au/ra
She is only 16 years old but Au/Ra is already living a full-on pop star life. Growing up in Ibiza to German parents – who are both successful in the music industry themselves – she moved to the sunny island of Antigua at the tender age of five where she then spent most of her childhood.
Already in her early teenage years she would go to her first studio and recording sessions and ultimately released her debut single 'Concrete Jungle' which immediately gained major attraction by listeners and music platforms worldwide. Au/Ra's popularity and fanbase is rising with the minute – this year she has been touring alongside the likes of Lewis Capaldi and Alma, among others, and also performed her very own headline shows in London which were all sold-out. Her music, a captivating blend of alt-pop and synth elements, continues to amaze her audience. We had a sit-down with her and spoke about her debut EP 'X Games', her favourite Studio Ghibli film and living an unusual teenage life.
In your childhood you have pretty much lived a nomad life – which country would you consider calling your home?
I think it would be Antigua because I pretty much grew up there, it's my childhood country. But also obviously Germany because my parents are German.
How did moving to so many different countries in your early childhood shape you?
Oh, it definitely shaped me in many ways. Antigua really grounded me. It's so interesting there, the attitude is different. Sometimes we don't have any power and we need to preserve water and it definitely makes you appreciate these things a lot more. Also, everyone knows each other. So yeah, all in all it has grounded me.
Do you ever wish you could have a normal childhood though? Considering you are pretty much living a popstar life now!
Sometimes I have these moments, yes, because I never had a normal childhood. I don't go to school like a normal teenager so sometimes I wish I could go to prom and all that. But instead I get to travel a lot and tour so I wouldn't trade it at all.
How do you keep up with your education then?
I'm actually doing online schooling, it saves me a lot of time. I barely have time but yeah, that's what I do.
That does seem like a very good alternative. I found out you are really into Japanese culture, aren't you? I was wondering, what is your favourite Studio Ghibli film?
I grew up with a lot of them. My favourite would probably be Princess Mononoke or Castle In The Sky. I love them. My favourite would probably be Spirited Away. I love Spirited Away! I love all of them, but Princess Mononoke and Castle In The Sky are my favourites. I was way too young when I watched them but whatever.
Have you ever been to Japan then?
No, never! I am dying to go. A few people I am working with have been to Japan and told me it is incredible.
If you ever go you might probably want to move there.
A lot of people told me that! It's such a different culture. Before I go to Japan I would want to prepare for it, like learn the language.
Let's speak about your current EP X Games.
The EP is titled X games because of the song. It's about conflicting feelings, and friendships being painful. It's just a lot about my emotions and feelings. The meaning behind the 'X Games' word could be seen as the 'x' in texting or even sports games, who knows!
Also, your current single Emoji isn't really about Emoji's, is it?
Oh, no it isn't! I love writing about metaphors. You can interpret it however you want but basically it is about friendships you have online and the fear of meeting them in real life and them not living up to your expectations at all.
Love that! Next to releasing a lot of music you have also been touring quite a lot last year. You have toured with Alma, Lewis Capaldi and Tove Styrke.
Tove Styrke actually taught me how to pronounce her name correctly. No, but it was really good. I was the opening act and it was awesome. I learned so much.
What are key things you have learned from touring?
It's really important not to go crazy and to prioritise health. You have to continue to eat well, too. Some people eat McDonald's every day because that is all there is but you have to eat healthy. I have also experienced a few technical difficulties when things didn't go as expected so I have learned how to deal with those things.
Au/ra's 'X Games' EP is out now, for more info visit www.heyitsaura.com
Words by Antonia Künzel
www.antoniakuenzel.com
Photography Jack Alexander
www.jackalexanderphotography.co.uk
Stylist Thomas George Wulbern
@thomasgeorgewulbern
MUA Amanda Bourne
www.amandabournemua.com