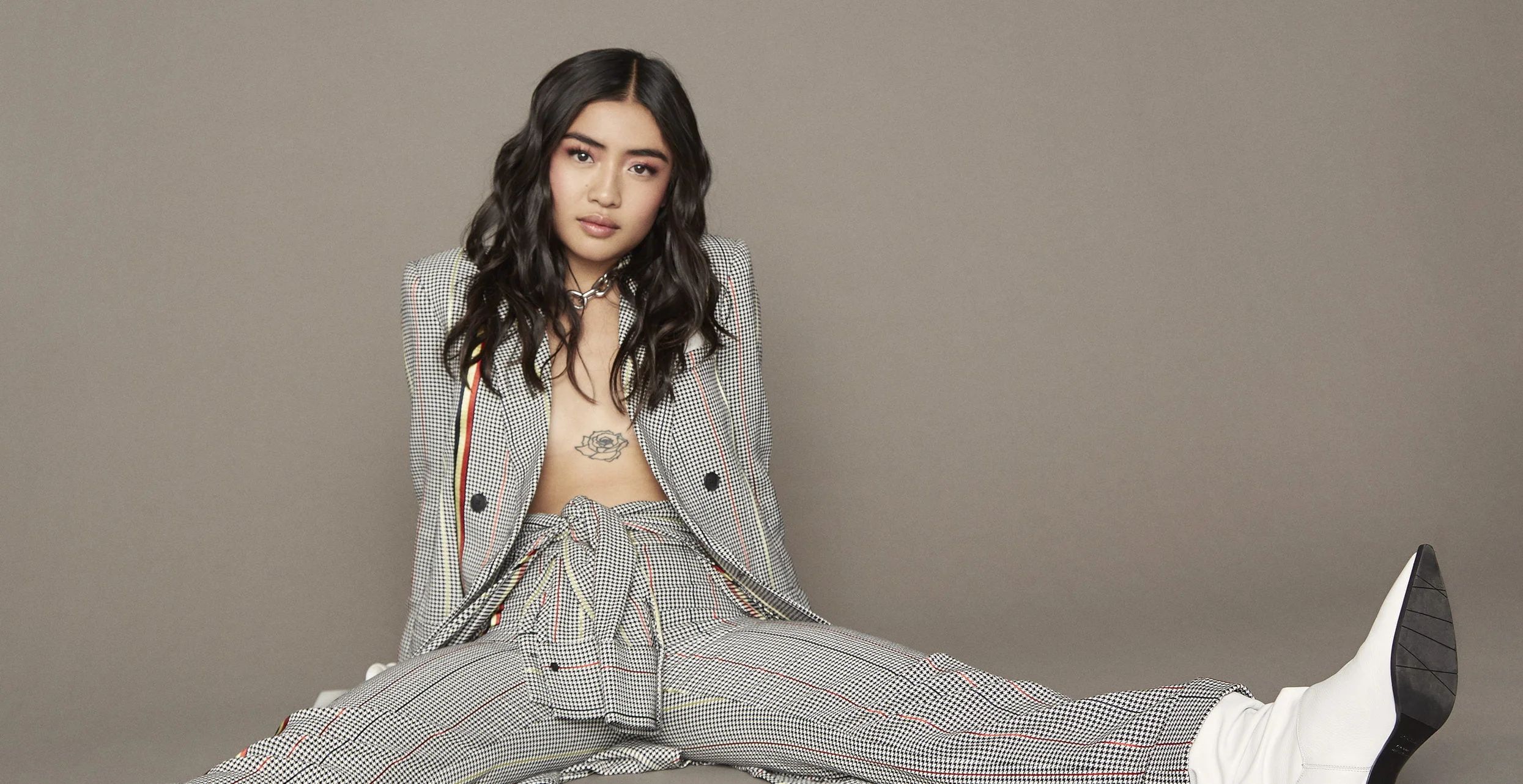 Brianne Tju
Just minutes before our interview together, actress Brianne Tju made an appearance on my television screen, filling the humble image with a tangerine Jeep as she cruised down the highway in pursuit of a lush South American beach.
The day before, she was all over my Twitter feed as fans revealed the second season of Light as a Feather, and before that, making headlines for the unusual spot she found for meditation while filming…
With all this being said, if you've yet to take notice, Tju's quickly turning into a pretty big deal.
'…I was just driving to a callback today,' the twenty-one-year-old recounts, 'and I wasn't expecting it at all, but I was like driving past this huge wall in LA and it was just [47 Meters Down: Uncaged] like the whole poster blown up, and I was just like, What the fuck?'
Below is the rest of our very interesting conversation with Tju, in which she addresses how long it took her to binge-watch the latest season of LAAF, VR exhibits, and of course, falling asleep underwater.
Season two of Light as a Feather is now streaming, congrats are in order. Have you binged-watched it yet?
I have, I did [laughs]. I got on that right away, as soon as it dropped. It dropped at nine o'clock here, so I just started watching it and I got three episodes in and then I made myself go to bed. And yeah, I probably finished it within three days. I was really proud and happy with the way it turned out, and I'm so excited for people to see the second half in October because there's a lot of twists and turns and I think it's gonna be really exciting.
For those of us who have yet to watch the show in its entirety, could you put us in your character Alex's shoes this season?
Yeah, so she's trying to rebuild herself after losing her friends the first season and getting over her addiction. And I think this season she really is dealing with identity pressure from her sister [Alisa Allapach] and just kind of trying to figure out who she is now that she doesn't have people to hide behind, which was Olivia and Candace in the first season. And so now she's trying to turn over a new leaf and be honest and be the best person she can be and get into college. With that, it's hard with the curse 'cause it's messy and you have to do things that you don't necessarily want to do, and she's trying to find that balance of who she is as a teenager but also as a human being, and what doing the right thing really means.
Correct me if I'm wrong, but I've heard she gets a girlfriend this season?
Yeah, she does! It's really exciting to kind of be able to explore that side of her. What I really liked in the first season is that we didn't make her sexuality the point of interest – like it's mentioned, but not even as a throwaway, just as an 'it is what it is.' And so for this season, for us to really be able to dive into that and kind of see how Alex responds to losing all her friends and having this new person come into her life – cause she's always been kind of lonely, and her parents have always kind of been distant – to have someone she can count on who supports her is really great.
Have you noticed the fan reactions from that?
Yeah, it's really cool on Twitter and Instagram to see that the fans really like Peri and Alex together. I think me and Adriyan did a good job of making a true connection in such a short span of time on TV since it's only eight episodes, and it moves so quick since they're only like thirty minutes. But to make it go from being awkward to try to make it as realistic as possible, 'cause they didn't all of the sudden just fall in love, you know? They had those awkward moments and had to get to know each other, and then it just blossoms into something really beautiful.
Moving on, a few weeks before the show's streaming date, you were actually at VidCon when there were two VR experiences dedicated to LAAF…
Yeah, it was so cool.
Did you happen to try any of them out?
Yeah! I mean, well I kind of had an idea of what it was gonna be like because we did a whole shoot for it, like a body scan type thing. But it was really cool to see how it all came together. [Karen Singer] directed it and kind of put the whole thing together – she's incredible, and it was really weird to see myself talking to me [laughs]. But yeah, it was really interesting and this technology had never been used in that way before so it was kind of groundbreaking and hopefully, you know, it expands.
Tell me about 47 Meters Down: Uncaged which you were working on during the offseason of LAAF, the project where you fell asleep while shooting underwater?
Yeah! And I'm not even kidding about that, like I know everyone's like, 'Oh my gosh, that's so dangerous.' But I was in good hands; we had so many incredible safety divers who had our backs constantly, and we were trained really well by AJ, our dive instructor. So the reason I got so relaxed in the water was because I had to learn how to meditate, because we're in the water for so long filming in tunnels in a tight wetsuit, and your face is in this mask which is basically like a box over your face. So I'm a little claustrophobic and in order for me not to panic I needed to you know, learn to meditate. And I did underwater. I got so comfortable that a couple of times while they were setting up shots – which sometimes takes a while – I dozed off.
What does that even feel like?
You know, the closest thing I would imagine it feels like is… [pauses] there's no gravity, you know? You kind of just float around, and obviously we have control because we can fluctuate the air in our BCD's so we have buoyancy. So, you have control. But for the most part, it's kind of just unlike anything else, 'cause you're just floating and it's so peaceful. And when you're in the mask all you can really hear is yourself breathing, so it's actually really easy to meditate since that's all you're kind of focused on.
Could you say that was your most challenging role to date?
I think physically, yeah. It was the most demanding and challenging role, 'cause I've never done anything like that. I mean, I'd never scuba dived before this movie, so I became scuba certified for it and then did a lot of training with the girls: I did an ocean dive in the Dominican, and then two months in the tank in London. And yeah, it was very challenging to kind of balance not only the physical but the emotional aspects of my character. And at the same time, it kind of made it easier because you're doing exactly what your character is doing in the movie, so in a lot of ways it was very reactionary and it came very naturally. But physically, I would say it was the most challenging.
Well, if you're not afraid of falling asleep in the water, tell me – what are some things Brianne Tju is terribly afraid of?
[Laughs] I am… so afraid of centipedes, it's embarrassing. I'm deathly afraid, like if I see one…
Oh my gosh, I don't even like to say the word 'cause then I start picturing it and it makes me cry.
Has it always been like that?
I had a bad experience when I was thirteen, maybe fourteen. I don't know, I was in high school. And I woke up one morning, and me and my family had just travelled to Indonesia, so all our luggage was in the house and I brought my luggage to my room and I went to bed. I woke up in the morning and in my laundry basket there was a huge centipede and it freaked me out. I started screaming and crying and my mom thought I was dying, and I was just so shaken up by that experience that I can't do centipedes.
Team Credits
interview by Hailey Johnson
photography Martina Tolot @ Picture Matters
styling Nicolas Bru @ TheOnly.Agency
hair Lucy Gedjeyan @ Cloutier Remix
makeup Jenna Garagiola @ Cloutier Remix
Season Two of Light as a Feather is currently streaming on Hulu!