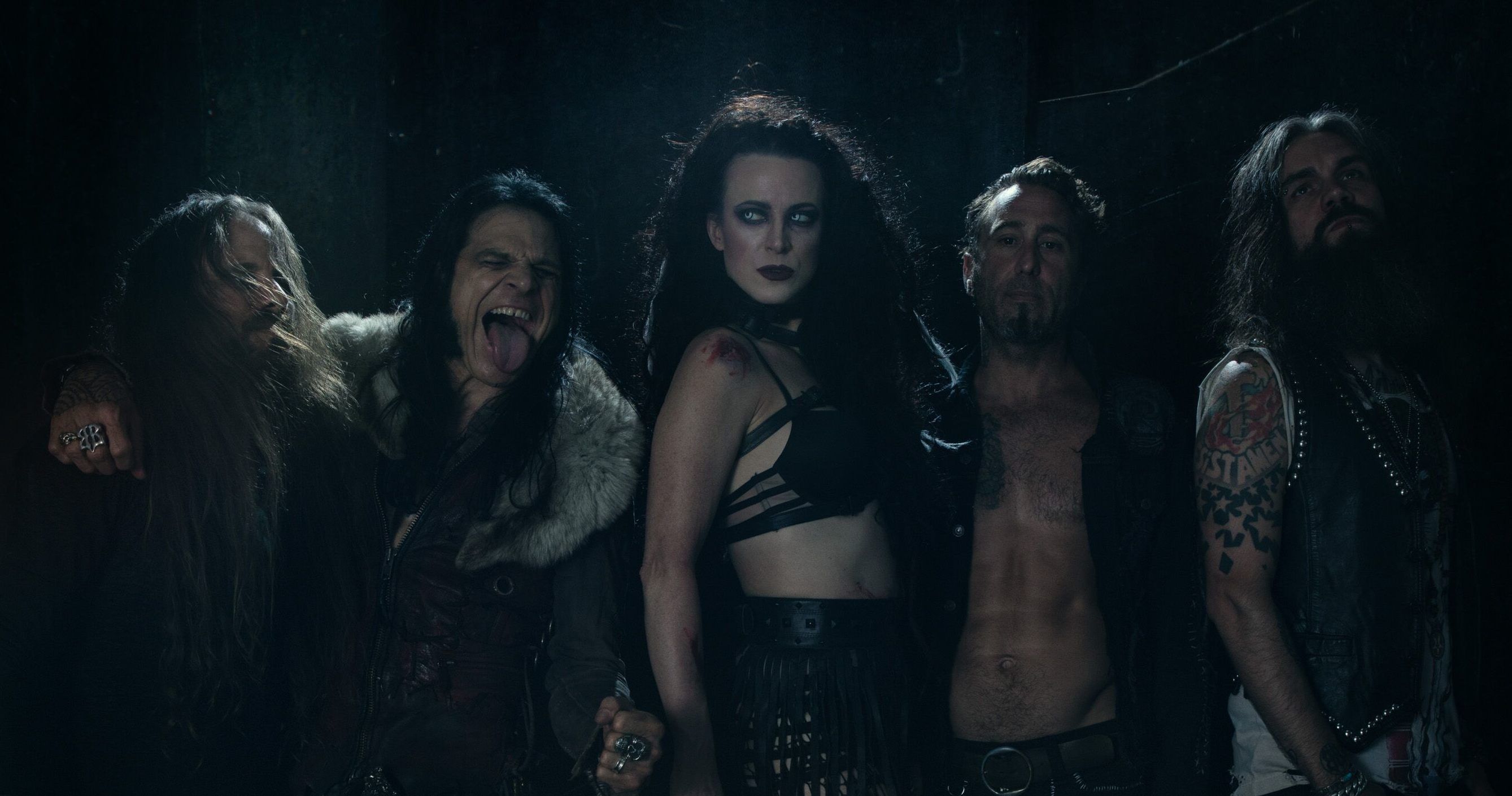 Calico Cooper – Beasto Blanco
Calico Cooper has been voted one of Maxim's '20 hottest rockstar daughters', is a film director, actress, makeup artist and stage designer, and the list goes on. She is also the lead singer of her band Beasto Blanco – Calico Cooper is a multi-talent, without a doubt.
Growing up as the daughter of ultimate rock legend Alice Cooper, she was surrounded by the showbiz lifestyle from quite early on already, and ultimately got hired by her dad to design his stage and perform alongside him during his shows. This experience gave her huge credibility and respect; through her incredible talent, she gained a loyal fanbase. Eventually, she started her own band Beasto Blanco, a rock band that makes you forget all your troubles through their lively, theatrical and energetic live performances and records that truly portray their passion for music.
We speak to Calico about all things Beasto Blanco, characters on stage and how to break into the world of film and TV.
You're an all-round talent – from directing to styling to makeup, you do it all. Is it all self-taught or how did you gain the talents for those skills?
Necessity is the mother of invention, you know, and I had always dreamed on a big scale. When I think about wanting to direct a video or stage a show or whatever, I want to do it on a big level. So, I started learning how to use a camera, how to do makeup, how to do hair, lighting, etc. Because then I could do a big production – all by myself.
Wow, how long did it take you to learn it all?
For me, it's about exposure and I toured the world and acted on stage with my dad for many years, and I'm classically trained in ballet, professionally! I was in class for 10 hours a day. I then came to LA and went to the Stella Adler Academy where I learned stage design and direction and that all culminated into my band Beasto Blanco. And then I knew that this is exactly what I wanted to do.
When you were only 18, you were hired by your dad to do the choreography and bring the tour to life basically – what was that experience like? Do you think that was your big break, considering you gained a major fanbase through that?
I think so. And obviously he is a legend and I don't think I was as aware of it until I started touring with him. But then I met his fans and started seeing the level of dedication from his fans, I didn't think it was possible. I was basically his student for 11 years. He knows how to make an audience lean in, and it's not about shock. It's that these people want to be part of his world and he showed me how it's done. I learned from the lighting guys, from the dancers, everyone. No second was wasted. So, when I decided to do Beasto Blanco, with one of my dad's bass players – we wanted all our talents to blend and shine. We do theatrical Rock 'n' Roll, it's so fun. What is special about our mix of guys is because they all have the X factor, and I jump around like a Rock 'n' Roll Spice Girl. And everyone has their favourite beast, it's really cool. It's not something I thought I'd ever wanna do. I was more into doing TV and film; I still am, but I saw my dad's fans wanting to escape politics, and escape everyday life and it really hit me.
How did the name come about anyway?
So, the idea is that we all have this beast, this pure power glowing inside of us. But we have to obey the rules, going to work and so on. The beast is your hulk, what you'd look like. Everybody is different; when I am on stage, I can see it come out. I'm not saying like 'Ah, I'm capable of so much more' and then going to bed and not doing anything. I'm talking about like 'I'm here!'.
About your stage outfits – how long in advance do you get ready before a show and need time to prepare everything?
It's important to me to share a dressing room with the guys because that is part of it. It's really important to me. I'm one of the characters in the band. The funny thing is, the guys already look like that. They have tattoos, beards, nipples pierced – I'm not as cool as them, I don't have these things. I'm a sundress, flip-flops kind of girl, I like to feel at ease. I'm very into high fashion as well, none of the guys get that. They allow it, they let me go on and on about it. But with the costumes, we create the looks. It takes me a good hour to get into it. The minute the lights go out there's a switch in me. I become the beast, the She-Beast. I have no choreography on stage, I never know if she is gonna show up, I just hope. I stand on the side of the stage, lights go out – and every time, she shows up.
So, you on stage is just a character that you invented?
Yes, it's weird because I never put any thought into it. Every record and tour I look different because I'm always at a different stage. The guys get so frustrated because I never try on my costumes beforehand. I make them, I sew them but never try them. I just have an idea in my head and trying it backstage feels better. You're never gonna see the same Beasto show twice. It's about the audience, but I do this every year. So if there is no exploration, what's the fun?
When did you first know that you wanted to follow in your dad's footsteps? And speaking of Alice Cooper, do you ever feel like you get compared to him when he was in the career stage you're at right now?
People really love comparison and categorising things, so when it comes to Beasto I actually thought it would be much worse. I didn't do it for a long time because I was afraid but then I realise the word beast keeps coming up, and I am a completely different beast. We are not doing what he did, we are firing off CO2 cannons. The only common thing is that we created a world people wanna be in. They compare my stage presence, which I appreciate.
You're an actress as well, having starred in multiple TV shows and films. How do you personally combine music and acting? Does it go hand in hand for you and can you learn something from one thing and apply to the other? if so what?
I think they are definitely sisters, artistically. I love acting, 90% of my Beasto shows is acting, and a lot of people like that. That takes it into a different category. But it's a great time for actors, with all the networks, streams and so on. There are great opportunities for commercial success. I wish I had the time to do plays, but now I'm getting that live fix with Beasto. It's really about the crowd. Everyone on a TV set is doing their job, and you have to do it all over again and don't get feedback. It's just different. For everyone who wants to get into acting and thinks someone is gonna hand it to them, they won't. It's a highly competitive industry. I had the privilege of being the director once and I saw how much more goes into it. It's crazy, at one point I directed a commercial where I wanted to hire this brilliant actor and thought for sure he gets the job. Well, I presented him to the finance board, and they said he looks too much like the funder's brother. So, he lost the job. It's not all about talent. It's a lot of perseverance, but the successful artist is one who doesn't compromise himself and has an unofficial business degree. You have to know the politics and what matters, and what doesn't. It hurts me to see people heading from the middle of America to LA for expensive acting schools. Somebody needs to stop them; I know what I'm talking about because I've done all that. It's hard to get in, and impossible to get out. [laughs]
So, how did you get into it?
Well, my plan was to go to all these prestigious schools because I thought the harder I work, the more chances I will have. But nothing was happening, I was working really hard. I heard a friend of mine doing a re-imagining of Halloween and I thought it was everything I'm not about. But I thought about it a lot and then asked if I could get a part, but he already started filming. So lesson number 1, trust your instinct. He was nice enough to say that they were looking for extras. And that's how I got my SAG card, for being in one or two scenes in it. Without that, I wouldn't have gotten my SAG card. The scene didn't even make the movie [laughs]. But that's how I got into the big boy room.
Finally, is there new music coming soon? 
Yes, we have released a single 'Solitary Rave' and it'll be out on every platform. Our current record is We Are, and that's the second single!
Written by Antonia Künzel
Check out Beasto Blanco's latest video for 'Solitary Rave' below!