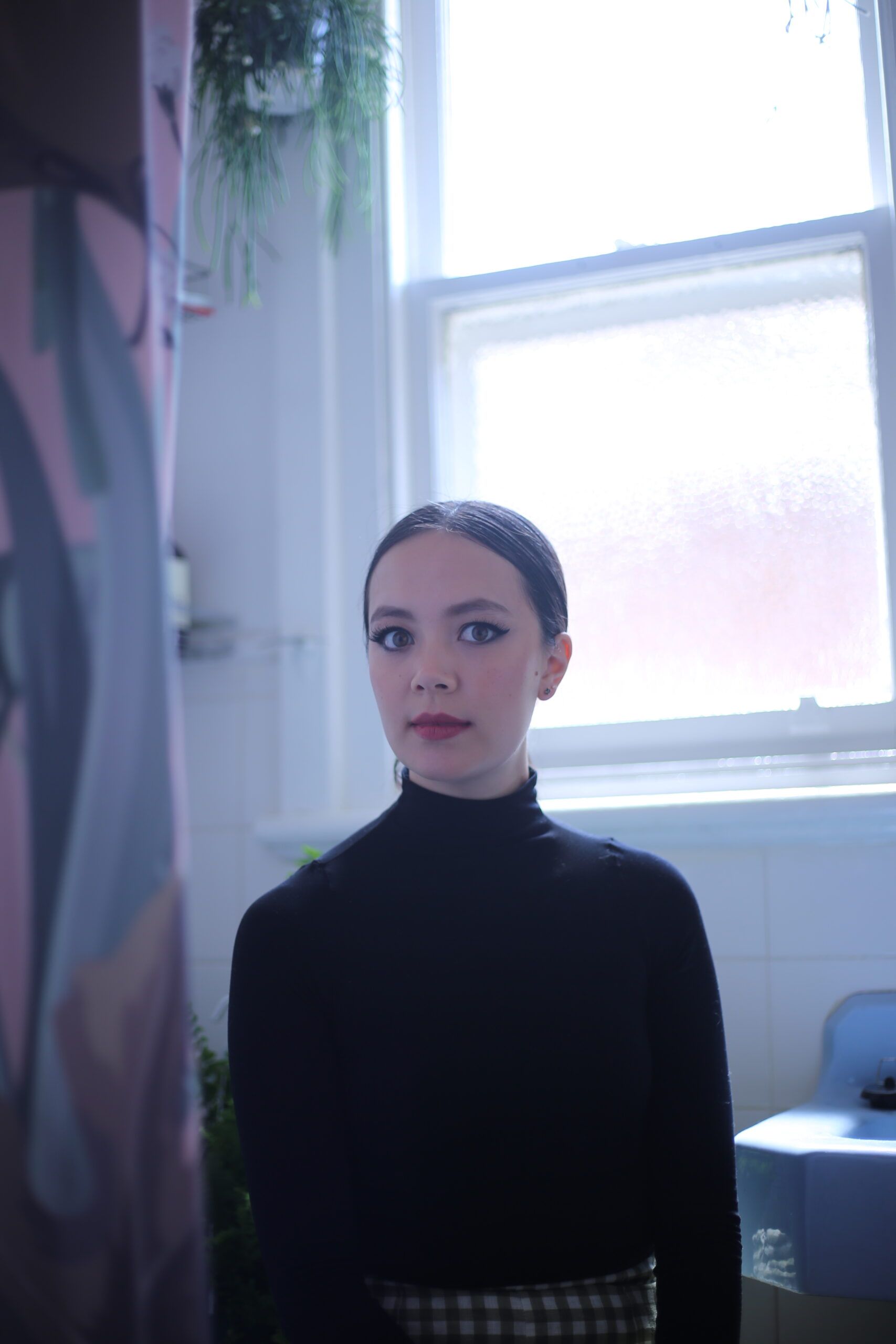 Charlotte Nicdao
If you've seen it, you know Apple TV+'s Mythic Quest is the perfect blend of heart and humour and Charlotte Nicdao, its lead actress, is no different. 
Originating from Melbourne, Australia, Charlotte Nicdao never dreamed she'd end up in Los Angeles. When the classically trained musician decided to pursue an acting career, her dreams remained within her country's borders. With a few national credits under her belt and a role in NBC's Camp, Nicdao's agent suggested she try her hand at LA's infamous pilot season. It was only then that she even considered making the trip. For Charlotte, the classic Hollywood struggle had a happy ending – landing her dream role.
Nicdao eventually booked the role of Poppy, Mythic Quest's spunky and intelligent lead engineer. After its initial 2020 release the nerdy workplace comedy garnered quite the devoted cult-following fanbase, earning it two special episodes on the streaming platform and praise from critics for its use of comedic timing, relatability and character development. 
To celebrate season 2, 1883 caught up with Charlotte about her bi-continental life, filming during a pandemic and, of course, all things Mythic Quest.
Now that you have done productions in both the US and Australia, are there any differences between the two and if so, what are they?
Big differences. I honestly love working both in LA and in Australia for different reasons. I think the industry here in LA is bigger; there are more people involved in the industry here and, to be blunt, there's just a lot more money, which means that things can be more ambitious, there can be more artists and crew involved in every aspect and production becomes quite a fun and expensive thing. Whereas in Australia a lot of the shows I've worked on there you're often trying to problem solve and figure out how to get the best thing completed with a lot fewer resources than in LA. It's fun, in a way, because you're MacGyvering your way through production sometimes and it makes everyone feel like they're working as a team to get something done. Teamwork is my favourite thing about working in the TV industry. 
Speaking of teamwork- The Mythic Quest team are comedy legends in their own right. A lot of them come from Always Sunny in Philadelphia. What is it like to be part of that team? What's your favourite part of filming the show?
It's pretty incredible — it's not lost on me that I'm working with some of the legends of this business and Always Sunny is such an iconic show. I remember the first couple of episodes of season one of Mythic Quest and I was shooting these scenes with Rob McElhenney, who is incredible. I just kept thinking, "Oh my god I can't believe they've given me this job and they're letting me work with this legend." 
Ultimately, part of the reason that team has found so much success is that they are so generous, so warm and welcoming, and are an absolute joy to work with and they're extremely collaborative. It's not like you're going into work with these — I call them geniuses all the time I think that they are — and feeling, "Oh, I better be quiet and stand in line and do my job and try not to mess up." It's quite the opposite; you feel like you were hired for a reason. We all get along, we're all great friends, and then on top of that, you do feel like you have the freedom to contribute and to have conversations about the work that you're doing and what you feel about the character. That's a really exciting environment to work in. I feel like I lucked out because you hear horror stories about Hollywood sometimes and I've honestly yet to experience that because this show and everyone I work with is amazing and lovely and we're like a family.
I adore Mythic Quest. I have reverted to my inner nerd while in quarantine and the show just fits right in with that. 
Well, firstly, thank you so much! I do love to hear that. Mythic Quest is the type of show you get obsessed with. I love nerdy shows and I love workplace comedies, and when we were making it I hoped people would resonate with those themes so it's so special to hear feedback like that. 
Your character, Poppy, is my favourite on the show, so I was wondering, what do you like most about the character and how does it feel to play her?
When I first read the script for the show, Poppy was the character that I thought, "Oh my god, I have to play this role." Even on the page, I was so excited about who this person was; I loved that she was a flawed heroine and that she was successful and in so many ways is extremely confident in her abilities, but at the same time is flailing in other areas of her life and sometimes kind of being a jerk. The casting process was this tricky thing where I think they had originally envisioned Poppy a little bit differently. 
Oh really?
Yeah! For one thing, I think she was meant to be older. Throughout the casting process, I kept saying "I really really want to play this role." I was so glad that when it came down to it they found a way to make me work in the role because getting to play this character is everything that you hope you might get to play as an actress. One of the things I love about playing her is that she and I are very different. I feel like I go through the world very very conscious of what everyone around me is feeling and thinking. I'm the person at the party that's constantly scanning for anyone that needs a top-up or a snack or needs to go stand outside for a while or whatever, and I feel like Poppy is the opposite of that — she really can't see outside of herself, she's pretty selfish, and she's got a huge ego. Even though I think she has a lot of endearing qualities, those things kind of make her a difficult person and she just doesn't care. Getting to inhabit that — to be difficult and not care — is very, very fun.
In season 1, Poppy goes from being the seemingly under-appreciated lead programmer to being promoted to the co-creative director which I think she deserves and where I am hoping she thrives. It seems like her chance to shine. With being in LA — constantly knowing and hearing people say they just need that one shot, they know they would be good at something if someone just gave them the chance — Was her arc one you could relate to as an actress?
There is a scene in episode nine of the first season where Poppy is given everything that she dreamt of when she was promoted to co-creative director. We start this scene where Rob and I are standing in front of the staff at the office and he hands me this very symbolic prop—this shovel—and I hold it in the air and everybody cheers. I just remember shooting that scene and feeling like I was going to cry because we shot it at the end of the season and I felt like I had just shot this TV show that if you had asked me five years ago to write down on a piece of paper: "What is your dream job?" I would have written this show and this character down. To shoot this scene where Poppy realizes all her dreams are coming true and holds this shovel in the air while I'm looking around the set and realizing that all my dreams have come true was very emotional for me.
For obvious reasons, the quarantine episode is so different from the season 1 episodes. What was it like filming that episode? 
There was something about that episode that almost felt like guerilla filmmaking because we were figuring it out as we went. Like I mentioned before, in Australian productions there's this sense of problem-solving to try to figure out how to make something work and this episode felt like that because we shot it remotely. All of the cast were in our own homes with iPhones and the entire crew was involved in making that episode work but all on Zoom. There were things that we were coming up against that you wouldn't ever come up against on a normal film set. It was really fun to get to work so closely with every department to figure out how to make it work.
Wow, that must've been challenging!
We were a month or two into lockdown when we shot that episode and it was comforting and triumphant to be able to do something. We were getting to go back to work for a couple of weeks to shoot this, even though going back to work meant setting up a phone in our bedrooms. We would shoot these scenes whilst the entire crew would be in a Zoom room watching each take to check that it was all going the way it was meant to. Sometimes, if I wasn't shooting, I would log into that Zoom Room so I could watch Jessie, who plays Jo, do one of her scenes. It was very much like sneaking on set to watch a scene that you're not in just because you love the show and your colleagues so much, so that was special. 
Was there anything in particular about that episode in particular that resonated with you?
Poppy goes through this storyline where she's discovering how lonely she is and how much she's struggling, which I feel like everyone is or was going through to some extent. It felt really important to be able to tell a story to connect to people during such a difficult time. There's a scene at the end where Poppy breaks down and that was challenging for me because it felt very real; I was trapped on the other side of the world with the rest of my family and had no idea what was going to happen or when I was going to be able to see anyone again. It was extremely gratifying when that episode came out and got the results that it did. I got so many messages from people just saying, "I felt this way and I didn't know how to put it into words and I didn't realize that anyone else was feeling the same way, until I watched this episode." It did everything that we hoped it might do in terms of making people feel a little bit less alone.
It was important to us not just to make a few Zoom jokes, but also to remind people that we're all human and, as cliché as it sounds, we are all in it together to some extent.
What was it like going from Zoom meetings to back to in-person meetings to film season 2?
It was amazing to get to go back to work. We shot last year under really heavy safety protocols. I'm extremely lucky in that I truly love my job and I love the people that I work with, so in a lot of ways from the moment we shut down I was constantly counting down to when I was going to get back to work! The cast is all close and we felt like we'd found this sneaky little loophole where nobody was able to see their friends, but we were able to go into work and see each other under these safety protocols. I'm just so proud of the season of TV that we've managed to make under difficult circumstances. It's taken what we built in Season 1 and ran with it — it still has that funny workplace comedy vibe to it, but some episodes are really surprising and unexpected. I'm excited for people to see what we managed to pull together.
Without giving anything away, is there any advice that you would give Poppy, knowing where we've left off with her as an audience and what happens for her in the current season?
The advice I would give Poppy is "Be careful what you wish for." As so many people have discovered, sometimes when you have a picture of, "well, once this happens everything in my life will be perfect," and then that thing happens, you find that it's not all that it's cracked up to be. Without giving anything away, I do think that in the second season she's faced with a whole new set of challenges that she wasn't anticipating and she doesn't have the social tools to navigate yet.
My final question is just a fun one — if you could choose a leading role in any of the iconic movie franchises like Marvel, DC, Star Wars Jurassic Park, which one would you choose, what kind of character would you want to play, and why?
Okay, so it definitely would be Star Wars. I love Star Wars; I started loving Star Wars when I was a tiny child. I used to make Star Wars fan films when I was eight years old and that was probably one of the things that got me into the idea of moviemaking. When I was nine or so, I started a Yoda fan club at school; I got the email from every kid in my class and sent everyone pictures of Yoda that I found online. I loved Yoda. If I could choose a role for myself, it would be a Jedi Master of some description. If they could somehow find a way to tie my storyline into a bunch of scenes with Yoda then I think I could die happy.
Mythic Quest season 2 can be seen on Apple TV Plus.
Interview Sydney Bolen
Photography Bayden Hyne
Stylist: Lucy Warren for The Only Agency