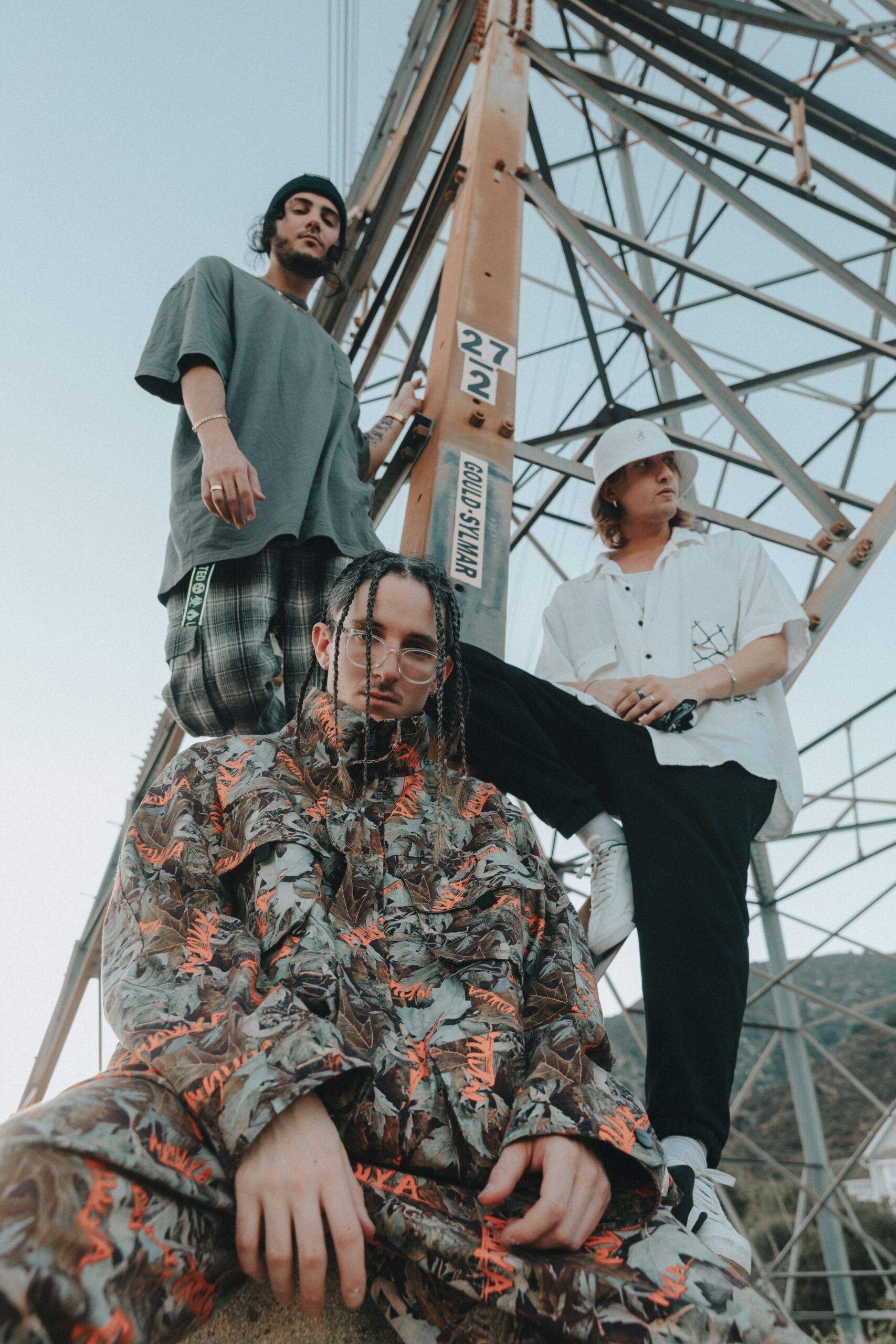 Chase Atlantic
If you had to sum up alt-R&B group Chase Atlantic in three words, it would be: stylish, unique, inimitable.
The australian trio consists of lead vocalist Mitchel Cave, rhythm guitarist & vocalist Christian Anthony, lead guitarist, and saxophonist & backing vocalist, Clinton Cave. Thanks to their distinctive sound, beautiful lyricism and otherworldly production, the group have nearly amassed a billion streams worldwide, toured in numerous countries, and gained a cult following. After dropping their third studio album, BEAUTY IN DEATH, earlier this year the group have released the new version of the blistering stand alone single "OHMAMI", this time it features a verse from renowned vocalist, Maggie Lindemann. So to celebrate the release of "OHMAMI" feat Maggie Lindemann, 1883's Cameron Poole spoke with Mitchel and Christian all about the track, music production and more.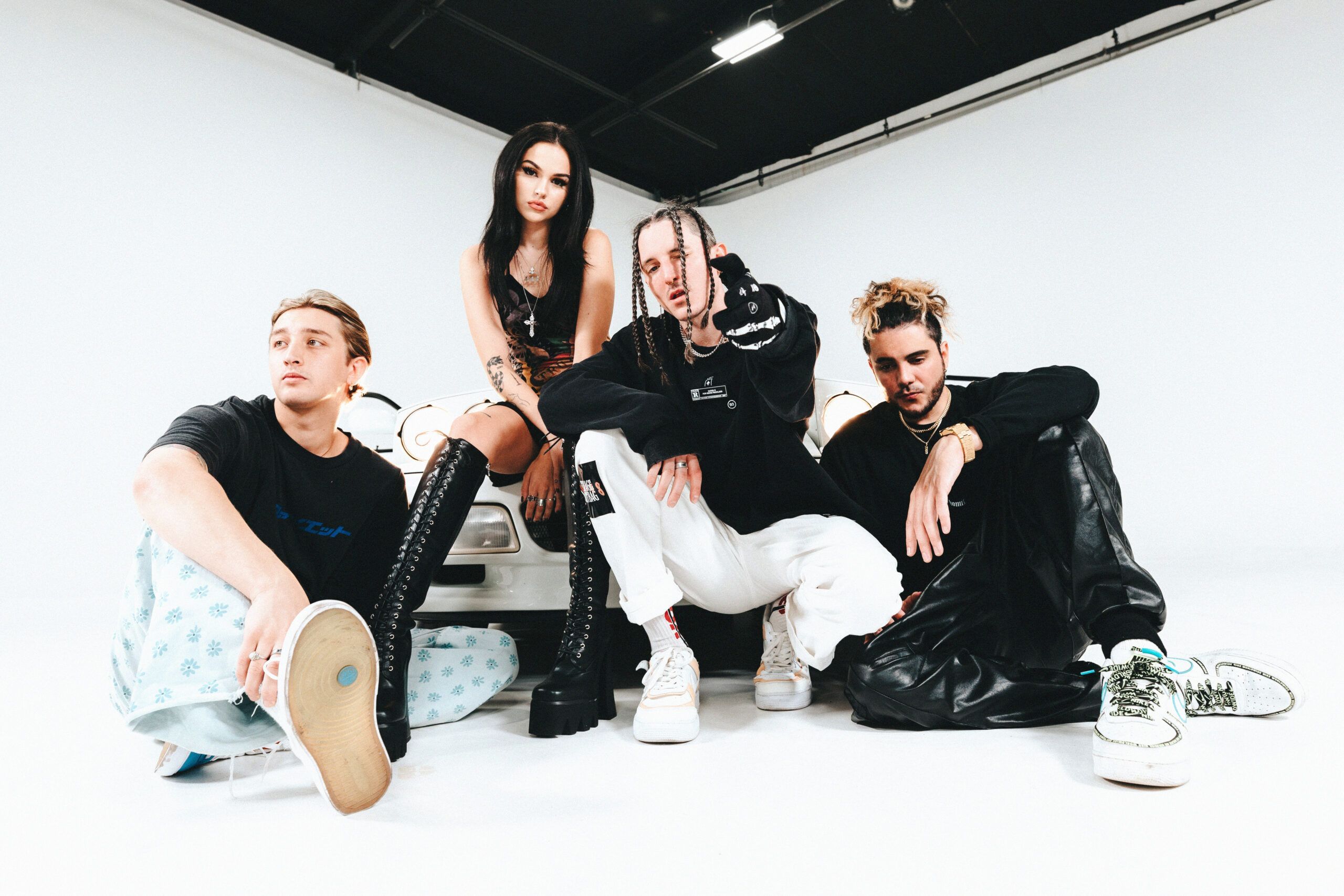 Hi Mitchel and Christian, let's talk about the new version of your single "OHMAMI", it has a killer feature from the brilliant Maggie Lindemann. How did the collaboration come about?
Mitchel: So we started a whole TikTok trend just a short while ago with an open verse on "OHMAMI". And then Maggie Lindemann made a video for the verse…
Christian: It sounded so solid, it was already produced really well. It sounded good, it wasn't scrappy, it was really well done. 
Mitchel: Maggie sent it over to us and we were like "fuck yeah, let's do this thing, why not."
Christian: It was perfect because we were looking to do a remix of the track, our goal was to have a woman reimagine that whole verse, which I think she did such a killer job with it. I think people are really going to think the same. She understood the assignment.
We're loving the TikTok challenge where you've invited fans to duet and add their own feature to the song. Have you seen any good fan features so far that have really impressed you guys?
Mitchel: Bro, that's the thing, there are so many talented kids out there, so many aspiring artists. Even watching a few of them like, if they do write original songs or if they ever get into writing original songs and get good producers with them, these kids can be the stars of the next generation, you know what I mean?
Christian: I saw a girl from Brazil and she was saying  on the video: 'well, since you know the song has kind of got a Latino influence/Latin influence', she came in did a sick verse as well. She just did it with a camera and did a cool verse.
Mitchel: There is a lot of really talented kids out there. They sound better than us haha.
The track's Tarantino inspired visuals were pretty cool as well, it must have been fun to shoot…
Christian: Yeah, he's our favourite movie director. Mitchel's favourite movie is Django Unchained and I'd say my favourite from him is Once Upon A Time In Hollywood. We're just huge Tarantino fans. Even going back to our song "Triggered", that reference there where Mitchel says "Tarantino killing love", even that from "Triggered" which was our a second proper music video, we were like 'let's make the music videos, always a movie and not just to throw away' or when we do cool throwaway ones where it is completely different.
Mitchel: We literally had one day to throw it all together, all the props, outfits, and we kind of just winged it. But I feel like everything that we do as Chase Atlantic, whether it's last minute or whether it's planned out, it always has the same quality. The fun part is trusting the process and being like this is 'gonna be a dope video' and it does.
Christian: And also just trusting in ourselves, I feel every time we go to other people, It's nice to have them do their own spin but nobody can capture us as well as us. Our videographer, Jake, films it and directs it and then we give the final verdict as we get really involved. We make up scenes and give feedback like 'toss the bag there' or 'open this up', it's really nice to be able to chuck around ideas.
Mitchel: Being on the go is kind of our whole thing, even with music, we're very spontaneous and just let the creativeness come to us rather than trying to plan it out or have too much formula behind it.
That's nice, I appreciate that as you're both creatives, inspiration can strike at any moment, so being spontaneous is good.
Mitchel: When inspiration is striking you, you can get distracted. We're very easily distracted so we have to act upon it immediately and then you'll just see one of us run upstairs and start making a beat.
Christian: If someone has an idea, whether it's related to music or video, we're never going to just turn it down, we'll always be like 'alright, we'll give it a shot'. There is no harm in trying.
Mitchel: And then if it does sucks, the majority rules.
Undoubtedly the group's alt-pop/R&B sound and visual  aesthetics are completely striking, it grabs your attention in the best possible way. Before you all released music under the name of Chase Atlantic, you all worked together under the name K.I.D.S. (Kind Imaginations. Destructive Situations.) for a very brief time. How important was the visual element to the group? Was it always something you wanted to implement from the start or did this grow/develop over time?
Mitchel: Yeah, it grew and evolved over time. Even if we look back like a year from now, it's still like 'why did I look like that?' Then you look back three years and you're like 'how could I ever look like that'. I think the style and the fashion and the whole like appearance of Chase Atlantic happened very naturally due to the progression of confidence building throughout this music making process.
Mitchel: I think we're definitely making music that is way cooler than the music we were at the start. When we started making this kind of new Chase Atlantic sound rather than all the old EPs, we definitely started to get more of a demeanour, a little bit more stylish. We're more aware of what is going on in terms of the fashion world, we're more aware of new artists and genres. It's all happened very naturally. Now, we're at the point where I don't think we can get any cooler haha.
You're always developing as artists, so that includes the visuals as well, not just the music side of things.
Christian: Yeah, it's about the people who actually like the music, so Chris, with the help of us, does the visuals. Just having his third perspective… he was with us the whole time we made the latest album. And so he's got such a good insight into how Chase Atlantic songs are made and just hearing his ideas on what he thinks visually the songs look like… he's really been a great help to us.
Mitchel: He's not afraid to speak his mind openly, and if we all disagree with him we're like 'shut up, Chris'. But that's the thing, communication is key and we don't try sweep it under the rug. If we feel a certain way about something, then we address it. That's how progression works and it's how we are able to do what we do.
Thanks to your otherworldly sound, Chase Atlantic has racked up 957 million streams worldwide, gained fans all across the world and toured in 15 countries…
Mitchel: We're one of the few groups that honestly cares about the numbers because every single one of them is a consuming individual person, a real human being. It's something you have to remember because it's very easy to come complacent and disconnected with the whole number thing…
Christian: It's because we started out by ourselves looking at the analytics. We watch those numbers and you know, our parents are always so great on updating us all that.
Mitchel: They tell me shit that I don't even know about.
For a band with such acclaim to their name, certainly in the UK, Chase Atlantic still feels like a somewhat underground band with a cult following. Is this something you guys notice at all when travelling around when touring? It does feel that TikTok has helped the band get even bigger though which is amazing…
Mitchel: Thank you, surprisingly, with the whole TikTok thing, it happened so naturally. We weren't even on TikTok when it started happening.
 Christian: Yeah, our friends were into it and making their own trends. At the start we were like, even though we know a bit about social media when it came to TikTok, we were a bit like 'this might be a little bit too new for us', we don't really understand the dancing and stuff….
 Mitchel: But the whole takeaway is that it's happening naturally, we don't have to force anything,  we're not trying to get on TikTok and start new hashtags and trends.
Christian: You can see when people are forcing, when the labels are telling a band to do something for TikTok. You can just see how fake it is, you can just, just smell it to through the screen. Or the songs that come from it that are obviously trying to make it TikTok famous.
Mitchel: I mean the successful people like Drake did "Toosie Slide" and he did the dance for it.
Christian: Yeah, whereas DojaCat, every single she releases just happens to blow up on TikTok naturally.
Mitchel: It's good to have a platform where a lot of people who are on TikTok, they might not necessarily know the band or anything about us, however they know of us which is the best part. So now that they can share that music around on that platform. We don't really have to be fully invested into it, we just let it happen naturally which is the best way.
Christian: I still love the idea that we can still be viewed by people as underground, even with this as you say this cult following and our shows…
Mitchel: That's what makes it cool.
Christian: We're not doing 10,000 people shows but we're doing 2,000 or 3,000 people now.
Mitchel: If you progress, you progress. But if it's underground, it's cool haha. Everyone's like 'oh it's underground so I can still get on board well before that ship has sailed.'
Christian: It's a nice feeling. I like to hear that. It's cool as opposed to overrated.
Authenticity is key and you can tell it's real with you guys. I always see comments on your videos where they're like 'Chase Atlantic is my favourite secret underground band', they don't want you guys to get bigger…
Mitchel: What they say doesn't change how the music is accepted and viewed… let them think whatever.
Christian: it's like the good and the bad or the sweet and the sour, the fanbase do support us. So when they see us achieve something, they're proud but then I can see that they're also like 'I don't want this to become like bigger'. I've been here for so long since the beginning, I can see when someone says like, 'oh I love him'.
Mitchel: 'I love Chase Atlantic, he is a really cool artist.'
Christian: It doesn't bother us.
Mitchel: It means nothing to us, It's good that  they like the music. If they said it's shit, and they don't want anyone to know about the band because the music is shit, then that is a different story.
Christian: It's all about the music at the end of the day.
Mitchel: I think it's just human nature, I find myself even with artists that I knew of before they were big and they get bigger and I'm always like 'I knew him before.'
For sure, either way the fanbase seems quite wholesome and nice.
Christian: 99.9% of them are the best.
Speaking of touring, you've finally got a US headline tour booked to start in October…
Mitchel: It's a little nerve wracking but it's good. You've got to dive in headfirst, I mean when you're not ready to jump, that's when you jump.
Besides the playing live and seeing the fans aspect, what are you all really looking forward to doing on tour? Is there anything you've really missed like working with your crew or exploring new cities?
Mitchel: Hopefully we can explore more cities because we normally go there and we've always been so hands on..We've done all our load ins, we have to be there the same time as everyone else but on this tour we're gonna have a few more hands on deck which is really helpful.
Christian: It's going to be the first tour where I think we'll have a bit more free time.
Mitchel: We are able to pay them as employees and now we can actually go out and see some more of the cities.
Christian: I think my favourite part apart from the shows is when we do have a little hour free, all five of us just go to a restaurant or bar or something and just have fun. It's those little moments before a show where we kind of take a second to just sit back and relax.
 Mitchel: This time we don't have to go back and be like 'alright, now we have to go set up'.
Christian: This one's going to be the best tour for us so far and I think it's going to be the best shows by looking at the production we have planned.
Mitchel: It just gets better and better each time, I think.
Christian: The travelling is rough. Everyone gets sick.
Mitchel: It's physical and it strains your body. I'm definitely not missing these things.
 Christian: The gas stop station food…
Mitchel: A lot of Subway but from places where you don't know if they have fresh ingredients there.
Christian: I think it's gonna be a cold tour because it's winter. We got caught in a blizzard once and you just see all the trucks pull over and I think we spent like three hours just in the middle of this blizzard, in this little bus.
 Mitchel: it's fun but it sucks when it is really cold…
Christian: It's just a bit tough especially with sickness as well, you get those colds….
Mitchel: Yeah, you're trying to  keep your voice intact when you're breathing in freezing cold air, it's not good for you. But It's part of the job!
Christian: Especially when you go from -29 degrees and then you go to Texas El Paso and it's 125 degrees haha.
 Mitchel: And then the air conditioning is broken, and you faint for ten seconds after the show haha…
Christian: There's just a whole month of preparation before you go on tour, we're on a countdown now, so it's like 'shit, we have to get ready'.
Mitchel: We've been living so well here and being able to do our own things and we've been working on our mental and physical health a lot. So tour is going to be a little challenging because we we're doing a lot. Last time we toured we had a two years break.
Christian: We  were non-stop for three years, so the two year break helped. I think we're in another three-year tour cycle, fuck haha.
I'm sure the tour will go really well! Touring really is like you're preparing for a marathon…
Mitchel: Yeah, but it's always worth it for those shows. That one hour on stage is pure ecstasy…
Christian: The fun thing is  we're all in it together because these fans are all coming down to the show. They're coming to party with the you for that one night or multiple shows. Once you walk on stage, you have a whole different persona that comes out and the adrenaline kicks in. You might be so sick and as soon as you go on stage, it's gone.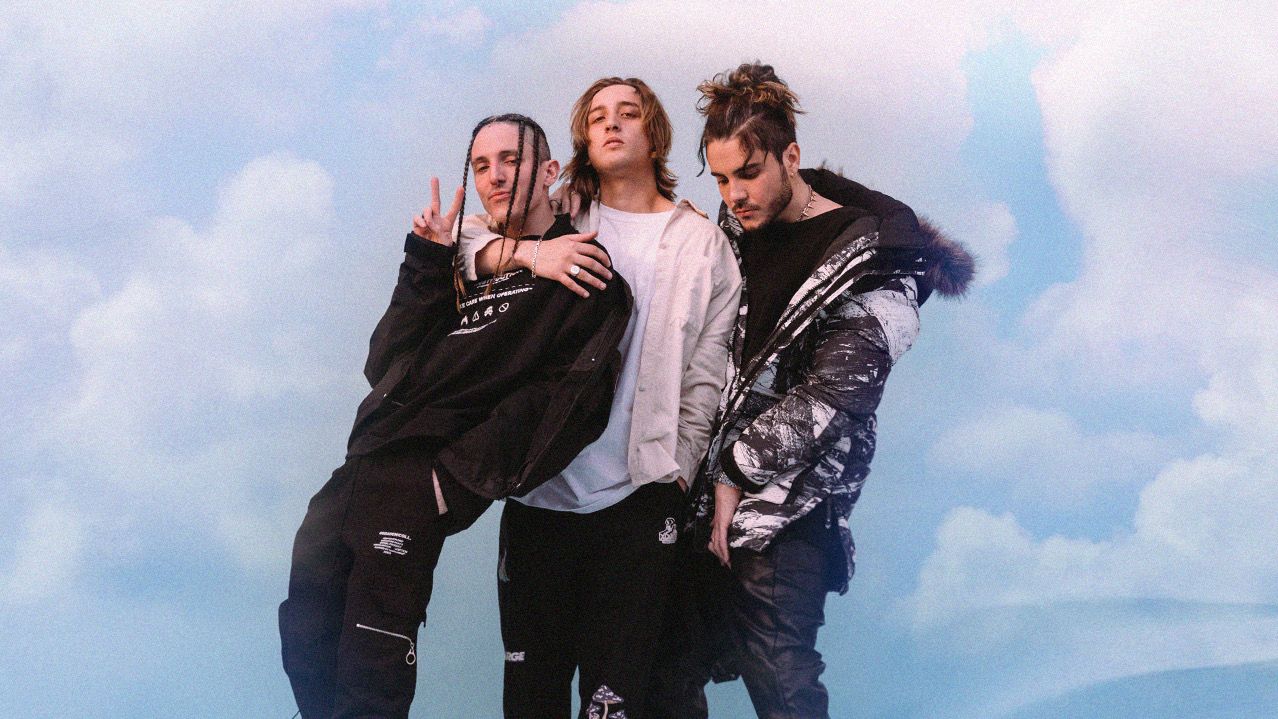 Chase Atlantic's third studio album, BEAUTY IN DEATH, dropped in March this year. It's becoming a growing trend where artists and bands release an album and they all ready have new material written or in the works because they've had more time to work on songwriting due to the pandemic. Can we expect to see even more new music in the near future?
Mitchel: We don't stop making music, we're like a little music making factory.
Christian: We're working on something right now which is already 50% done. And then while we're on tour, I think we'll be working on something else.
Mitchel: We're always working, even when we don't know we're working, we are working. 
Christian: We're going to have something done before the tour starts.
Mitchel: Luckily, making music is a hobby as well as a job for us. It's our passion.
Christian: We don't have to go to a studio or anything, I was in bed last night and I heard Mitchel making this great song and I was like 'cool lets work on that one'. 
With the band being a predominantly self-produced project, what would you all say are the main lessons you've learnt from producing all three of your studio albums so far?
Mitchel: The main thing is to just keep evolving that's the most important thing. You don't want to stay stagnant and keep churning out the same music over and over again.
Christian: Yeah, try new things. Don't get too comfortable with one thing or sound, otherwise you look at your songs and you're like 'shit, I've made four of the same songs.' I've found that there's a weird kind of contrast because there's also the idea of keeping production simple as an idea at the start, so you have more room to build upon it. But then Mitchell is so intricate and gets so into the details of production. You just have to keep it simple, without it being sloppy.
Mitchel: A lot of producers are like 'I made this beat in five minutes' that's not flex. Sure, it may sound call but you didn't  means you didn't go into detail with the production of it.
Christian: It could be a cool idea but it's got a lot of work.
Mitchel: There's just so much intricacy in the not only the vocals, and the guitars but the actual production is the backbone of the whole thing.
Christian: Before we do any of the guitar work on a track, the instrumental needs to stand by itself, so that is important.
It must be so fun but so consuming as well because there are so many different ways to record instruments, use samples, and experiment…
Mitchel: You're absolutely right, it's fun, but it is tiring, and if you try and do it too often you can wear yourself out very easily. You can hit creative blocks.
Christian: Definitely, you do hit a wall. Mitchel's really good at finishing an idea till the end  but I have to have some time out.
Mitchel: I don't know if I'm at full capacity yet again when finishing an idea, I still have to work my way through it.
Christian: For me, if I made 30 songs, there would probably be  one that I'm happy with that I can use and show around. It's just trial and error, you go through something and then you just hit a wall.
Mitchel: The stuff we personally produce and that we don't feel is potentially good enough, someone else can be like 'yo this is actually an amazing idea'. And that's the beauty of having  three producers in a band. You can see the potential rather than just being by self and saying 'alright, that's not good enough'. And then second guessing everything.
Christian: It's also nice to be across the room from each other because you can offer each other advice. For "OHMAMI" I remember II was starting it and had  a little Afro beat in the middle but I also tried doing the beat straight. And then Mitchel told me to keep the beat straight. It's nice to have that.
It's good that you guys can bounce ideas off each other. A different perspective is needed some times…
Christian: I sometimes find a cool sample and I'm like ' Mitchel would be way better to make a song with this' or you find a new VST  and I'll tell the others to check it out.
Mitchel: I suck at finding samples, I don't browse, i suck at browsing I get lazy. I'll use the first thing I find and I'll spend  two hours trying to make it sound good.
Christian: I'm the opposite I spend a lot of time trying to find a cool sample and just on the way I collect a lot of things.
Mitchel: Christian is a little scout of good melodies and good chord progressions.
Christian: Yeah, but then Mitchel is the one who's incredible at drums…
Mitchel: No you are!
It's all a team effort!
Mitchel: You have to keep team morale up, that's the most important thing. Back each other up,  don't pull each other down.
As the group has worked with a few different artists now on collaborations, is there anyone in particular you would love to work with? I think the internet would explode if Chase Atlantic worked with both The 1975 and The Neighbourhood on some tracks…
Mitchel: What's crazy about that question is, if you were to ask us that question like, say, a few months ago, we would have said No Rome for instance. And then it always comes to fruition and you're like oh shit, all the sudden we've got a song with No Rome. I didn't expect that to happen.
 Christian: We've even tried before with The Neighbourhood and it's funny enough that it was for our track, "Swim". We were trying to get Jessie to drop a verse on it but it just never came to fruition.
 Mitchel: It all has to happen naturally.
Christian: "OHMAMI" is the first song collaboration which has really been with someone that we did not know. As Maggie was from TikTok, we actually met her for the first time yesterday and she is really cool. But everything else we have done is with friends.
Mitchel: The main thing is that they have to fuck with us. If they don't fuck with us and they're just doing a verse like then what's the point.
Christian: For "Please Stand By", Mitchell and DE'WAYNE wrote that one, and then there was an open verse. I think it was like three or four weeks before we released the album, we sent it to Xavier Mayne and said 'we think you sound really good man'.
Mitchel: He was then like 'I don't think I can do it man, it won't be good enough.' But we knew he could do it and we weren't worried.
Christian:  When we did the verse for the first time, he killed it. He understood  the assignment as well.
Mitchel: You need people that you're going to collaborate with not only just because you want to collaborate with them, but it needs to be a two way street. 
Christian: We also surround ourselves with people that we respect sonically, you know, we wouldn't  hype someone up if we didn't mean it.
Mitchel: If a collaboration is shit, we're not mean, we're nice but if it's not good enough, we're not going to just accept.
 Christian: But so far, I can't think of one verse from anybody that hasn't been amazing.
Mitchel: It's all about choosing carefully.
For sure, is there anyone else then that you would like to work with?
Christian: Just off the top of my head from the UK, I would love to do a song with Bring Me The Horizon, Oli Sykes is just…
Mitchel: We've been around him like multiple times I the studio because he works at the same studio that we sometimes work at.
Christian: I honestly get a bit nervous around him, he's just a fucking cool guy. He is someone who I listened to and I really feel like we could do a perfect blend for a cool heavy, new age, song which would be fucking sick man.
Mitchel: They released their album and it sounds like something that's  leaning more towards the electronic side of things which made it seem like it was kind of our sound and their sound was blending together in a similar way.
Christian: I listened to the live version of our song "PARANOID"  that we did and I was listening to it back and I felt like that this one could actually be a BMTH song. We even put a little bit of the electric guitars into our normal world…
Mitchel: And then you just add a little R&B in there and it just comes a beautiful thing.
Christian: I think us being in a room together would be really cool. And then obviously, we'd love to get into the room with people like Travis Barker…
Mitchel: The Weekend…
Christian: Rick Rubin, he's a great producer. Drake, I mean there are so many people that we just want to sit and watch work. 
Mitchel: We're fans of music, every musician has to be a fan at some point. You can't just be a musician, you know.
Christian: What you said with the 1975 and The Neighbourhood, those two guys were such big influences for us early on when we started. So just to be there and watch them and for them to know that they've helped us on our journey…
Mitchel: Not in a cocky way or an arrogant way, it's crazy to see like our numbers going up and reaching the levels of these people we've admired for so long. That's also a really big deal for us. The amount of times I have had conversations with people back home like in high school, about what everyone is listening to, we'd talk about The 1975 and be like 'yo, have you heard the new album?' and the fact  that sort of conversation is happening about us is exciting. There's actually people actively sharing our music and talking about us somewhere in the world like in high school.
Christian: I just saw that our Spotify is going crazy in São Paulo and Istanbul which is cool and weird.
Finally, what would you all say is the main message you would like to convey with your art – what would you hope fans take from your music?
Mitchel: Inspiration! Like we were talking about earlier, I want them to be inspired enough to start making their own music or start doing their own art or find their own dreams because that's what music did for us.
Christian: Yeah, I mean If you want to get into music or something, you need to go into it for the music, don't go into it to become successful or anything. It starts as a hobby and then becomes a career. Make sure to work hard!
Mitchel: You can speak openly about mental health through music as well. I mean if you struggle to talk about it in real life, put it in a song and then they can listen to it. Using music  is such a good way to convey a message through melodies and it often brings up emotional feelings that you can't just get across with words. Finally, we also want to convey a message to never give up.
"OHMAMI" featuring Maggie Lindemann is out now. Follow Chase Atlantic @chaseatlantic 
Interview by Cameron Poole