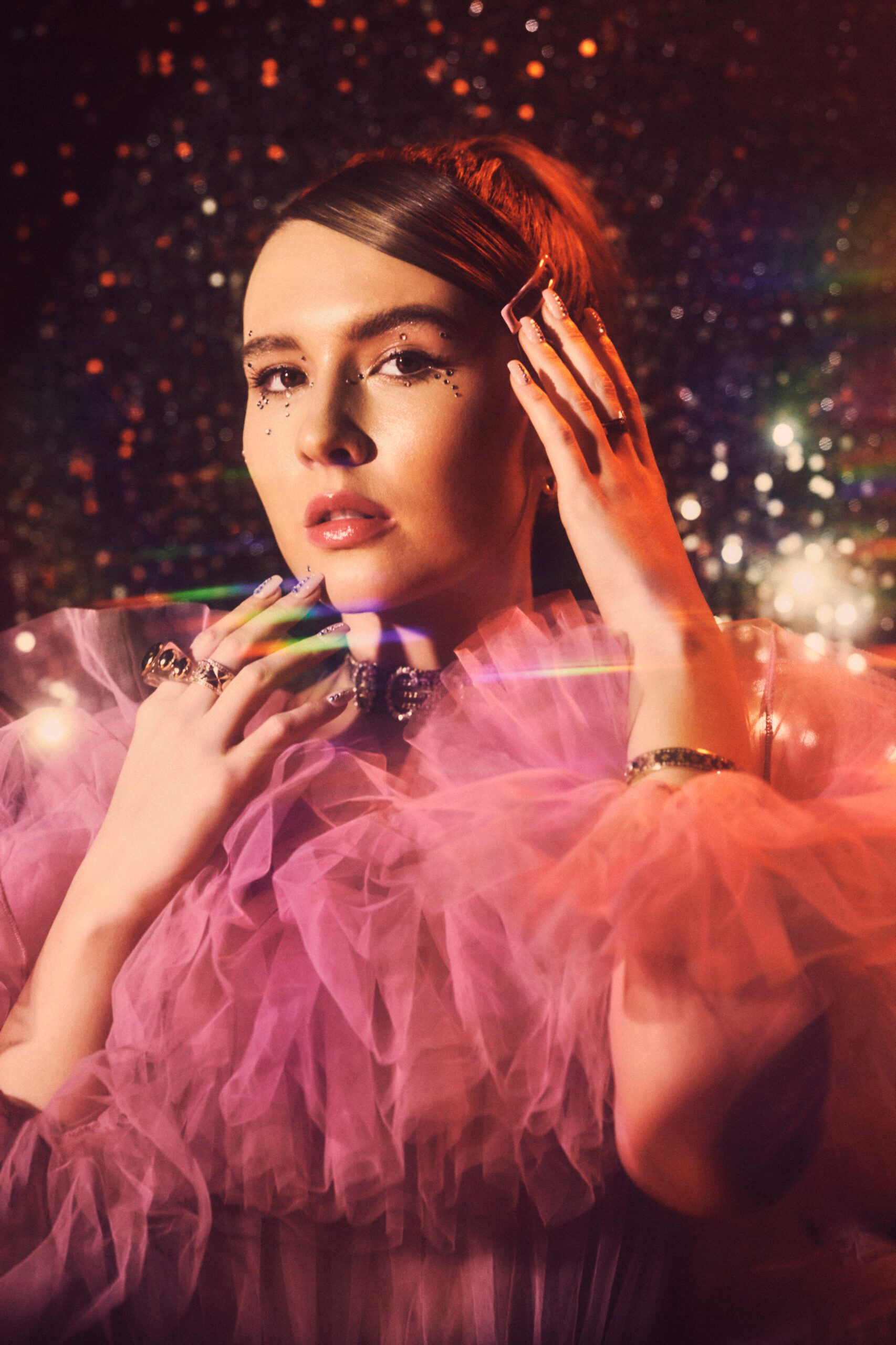 Mimi Webb
In the span of one year, Mimi Webb has gone from aspiring singer to a charting artist with more than one hit in the top 20 at the same time.
The Canterbury-born star has spent the majority of 2021 dominating the airwaves and streaming platforms with her heartfelt ballads Good Without and Dumb Love and plans to do the same with her upcoming new single, 24/5. 
As Webb's popularity continues to grow, she performed her first ever festival set at Reading on August 27 to a packed-out crowd on the Radio 1 Dance Stage. With fans chanting her name and knowing every word to her lyrics already, the future for this young powerhouse appears very bright and exciting. 
1883 caught up with Webb after her set to discuss what her first festival experience was like, all about her new single and debut EP, Seven Shades of Heartbreak, as well as her sold-out UK and Ireland tour in October/November. 
How was performing at your first festival? Was it everything expected you expected it to be?
My first ever festival! Oh my gosh, it was the most incredible experience. Until you're actually up there, you never understand what it's really going to be like. You know, it's my second ever show as well. I've gone from my 50 capacity show, straight to this. When I was three songs in, I was like I've gotta do this, let's rock it out! Just to see the reaction, it was incredible. Everyone was there, it was so full, everyone had their torches out, singing the songs, I was like… is this actually happening?! 
Were you cautious before you went on stage at first because you performed ballads in a dance tent?
Definitely, at the start I questioned how it was going to work because everyone in there is so dancey, I felt like I wouldn't be able to do this, that, or the other. But as soon as I got up there, I heard the instrumental and the music playing on the speaker, I was like this is it, this is sick.
I know you've only done a handful of shows, but do you get nervous beforehand?
I think with this I did get nervous. The hour before I was getting really nervous, I questioned how I was going to do this but when I heard them chanting my name, that hyped me up and I ran out!
You performed your new single today and I see you've been shooting the video for it recently. Tell me all about it.
Yes, I've shot the video, I'm so so excited. We're finishing a few bits up for it on Sunday, I can't wait for it to come out, it's coming out so so soon. It's called 24/5, it's being announced next week. 
The video is about two different sides of me with a yin and yang vibe. It will show off the before and after a relationship with a comparison of those two people.
2021 has been a crazy year for you. Especially having Good Without and Dumb Love in the top 20 at the same time. That must have felt surreal?
Oh my gosh, it was just crazy to even think that is even possible, especially with Good Without having such an incredible moment, and then Dumb Love comes and does that at the same time. I'm now so excited to get the next song out and the body of work that's coming.
You've got your first Live Lounge next month. Have you started rehearsing?
Yes, we've been rehearsing within getting ready for Reading. Next week I'm going to LA and then when I get back I will be focusing on the Live Lounge song. I can't wait to do the cover that I'm doing.
Can we have a hint for what song you will be covering?
It's a male song that has blown up and I basically wanna do my own version of it. It's a big pop tune. 
Are you going to perform it in a similar way or are you going to make it ballad-like?
I'm going to mix it between the two to keep that tempo and have that emotional approach with the lyrics. 
In October, you will be kicking off your first UK & Ireland tour that is completely sold out. How does that feel and what can fans expect? The last time I spoke to you, you said you were hoping for your later shows to have more budget.
It was so crazy, I was like.. wait, guys, what is the update? They were like, there is no update, it's sold out! It's so surreal. The tour will have more lighting and visuals. With the instrumentation, we've really taken our time to make sure the sound is the best it will be. We've done a few changes to the songs to make it more live, especially with intros. 
Since all your success, have people reached out to you to do a collab?
I've had quite a few people reach out. Some of them are people I absolutely love and think their music is incredible but for now, we're trying to focus on laying down my sound and building a name for myself. I want people to get to know me and my story through my own songs.
You've spoken about a body of work coming out. Is an EP locked in yet and can fans expect it to be out around the time of your tour? With five songs out already, how many of them will make the project?
Yes, that is locked in and will be out around the tour on October 22. We're starting from Good Without and Dumb Love and then the rest will be all-new songs. There are seven tracks in total. 
Have you done all the artwork and figured out a title already?
Yeah, we did the shoot two days ago actually. We've just got to pick which photo to make the cover. It's so hard to actually decide. The title is not named after a song or lyric, it will sum up the project on the whole. It's called Seven Shades of Heartbreak.
Mimi Webb's single 24/5 is out now and debut EP Seven Shades of Heartbreak is available to pre-order here. Follow via @mimiiiwebb
Interview Fabio Magnocavallo