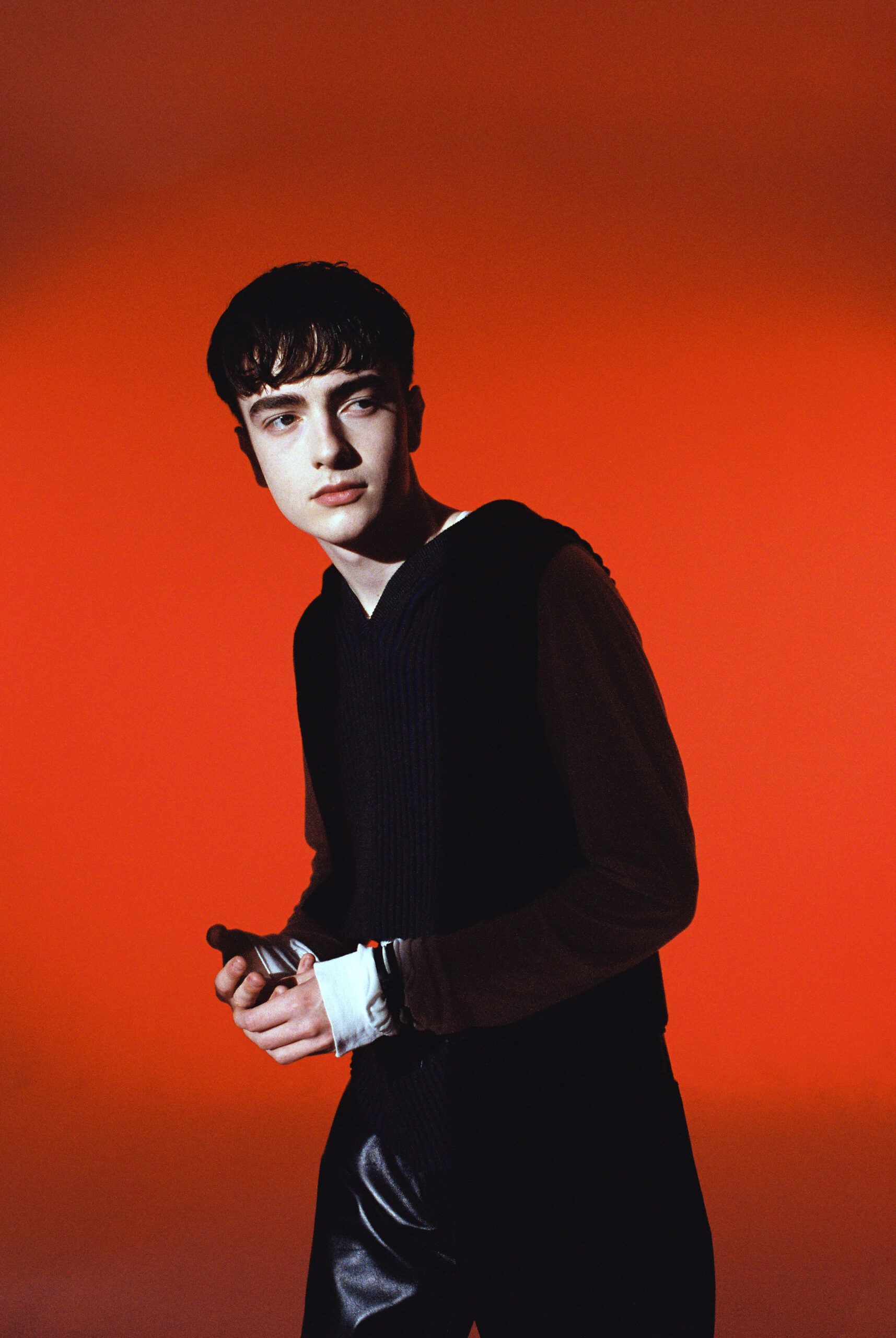 Dylan Fraser
Dylan Fraser is Scotland's latest musical export and thanks to his unique songwriting ability, it's only a matter of time before he dominates the rest of the UK and beyond.
Hailing from the sleepy town of Bathgate in West Lothian, Scotland, Dylan Fraser has quickly been making a name for himself. At only nineteen-years-old, the artist has built a repertoire of songs that are vocally stunning, cinematic, and layered with vibrant textures. It is Fraser's lyricism and tales of teenage life, romance that has helped him garner a huge online fanbase. The singer's debut EP The Storm was released at the end of 2020 and received five million global streams. This resulted in him earning shout outs from the likes of Sam Smith and Sir Elton John. Alongside radio support from Annie Mac, Zane Lowe and Jack Saunders.
Now, the young artist is back with his latest release I'd Rather Be Here, a single that is taken from his forthcoming new EP which will be coming this summer. So to celebrate this, 1883 Magazine spoke with Dylan Fraser about the new track, songwriting and the reaction to his debut EP.
Hi Dylan, let's talk about your new single I'd Rather Be Here, what was the inspiration behind it and how long did it take you to pen the track? 
I'd Rather Be Here is about someone who meant a lot to me but wasn't necessarily good for my mental state. There was a lot of negativity involved and it was really starting to wear me down. It put me in a tricky situation, because you know that feeling where you care so deeply for someone that it almost feels better to stay in the shitty situation? It was that, basically – staying in a situation rather than addressing it and having the fear of potentially losing that person. That experience sparked the lyric "I'd rather be here than nowhere at all". I wrote the majority of the track in about 30/40 mins and then took it into the studio.
You're from Bathgate in Scotland, how has being from a small town in Scotland inspired your sound? And tell us about how you first got into the music industry.
It helped inspire my sound, as there wasn't a lot going on so I naturally gravitated to the internet and that's where I discovered most of the music/art that I love. I started writing songs and playing gigs in pubs and venues around Scotland when I was 12/13-years-old and then dropped out of school when I was 15 to go to college, where I studied music. Whilst in college, I started my own social media company, so I dropped out and started travelling down to London and took any studio session I could get. Slowly but surely, I started to network and meet a bunch of people in the industry and it all just kind of spiralled from there. I found my main collaborator, Jonah Summerfield, in that process too; I basically make all of my music with him now.
Thematically, your work touches upon adolescence, dreaming big, self-validation and finding purpose. What are the challenges with writing about these subjects and is there anyone else who uses these themes in their songwriting that you really admire?
I think the challenge with songwriting as a whole is that you have to deconstruct your thoughts and really dig deep to understand what something means. Sometimes that's super exciting; finding a new way to say something, but sometimes it's rough and you really have to rip apart your emotions to find out what it is you want to say. I really admire artists like Thom Yorke, EX:RE, Trent Reznor and Lorde – the way they can express their emotions in such interesting ways that really make you think.
With your debut EP, The Storm, having dropped last year, you've already made quite the impact. Sam Smith, Elton John and Zane Lowe have all supported you, tell us about the moment when you found out that they all liked your music and why do you think they were drawn to you music?
It's been crazy, honestly. I grew up hearing their music on the radio and I've obviously seen what impact they've had on the industry, so it's been really insane that my music has managed to travel into their worlds. Zane Lowe is one of my favourite interviewers of all time. I love the way he really takes the time to listen and understand the music he's listening to, and it really shows when he conducts the interviews. I was super grateful when he premiered my song Face Tattoo on his Apple Music Show. I can't speak for others but I hope the reason people like my music is because they can connect or relate with the themes/topics I am touching on in my lyrics.
Speaking a bit more about your debut EP, you also made an accompanying zine to go alongside it and you self-directed all the visualisers for the tracks on the EP. How important is it for you to have control of the aesthetic side of your work and not just the music?
It's really important to me. I always think music and visuals go hand in hand and when they both come together seamlessly, it can create some pretty special moments. When I'm writing, I can see visuals popping up in my head. Certain lyrics/words can take me to a new place. I just love the fact that I can create a visual world around the music I make. It's something that I want to continue exploring.
Gucci Sweater was the first single you put out this year, it's gone down a storm with fans and critics alike, it really feels like it's only a matter of time until it blows up even more. Tell us why the track is so special to you.
This track is super special to me because it kind of happened by accident. I'd had the lyric "you can still cry in that Gucci Sweater" in my notes months before the song was written. I'd been in the studio all week and it was getting to the end of one of my London trips, so I decided I might as well give this lyric a bash and see what happens. So, after many tequila shots, Gucci Sweater was born. We recorded vocals at 2 am in the living room – a bit hammered – but it all worked out haha.
In your opinion, who do you think are the most incredible artists and musicians that Scotland has produced over the years and why? Arguably you could say that the 2010s produced the talented musicians' Lewis Capaldi and Nina Nesbitt. Is there anyone you would pick from the different decades? 
Hudson Mohawke, Paolo Nutini, The Jesus and Mary Chain, Cocteau Twins.
Finally, do you have anything you want to share with our readers? Can we expect anything exciting to happen later this year?
Expect the unexpected. And expect more music, and hopefully some shows!
Dylan Fraser's new track, I'd Rather Be Here, is out now on Asylum/Atlantic. Follow Dylan via @dylanfrasermusic
Interview by Cameron Poole
Photography Rory Griffs